7 Mailshake Appy Pie Integrations to Automate Your Processes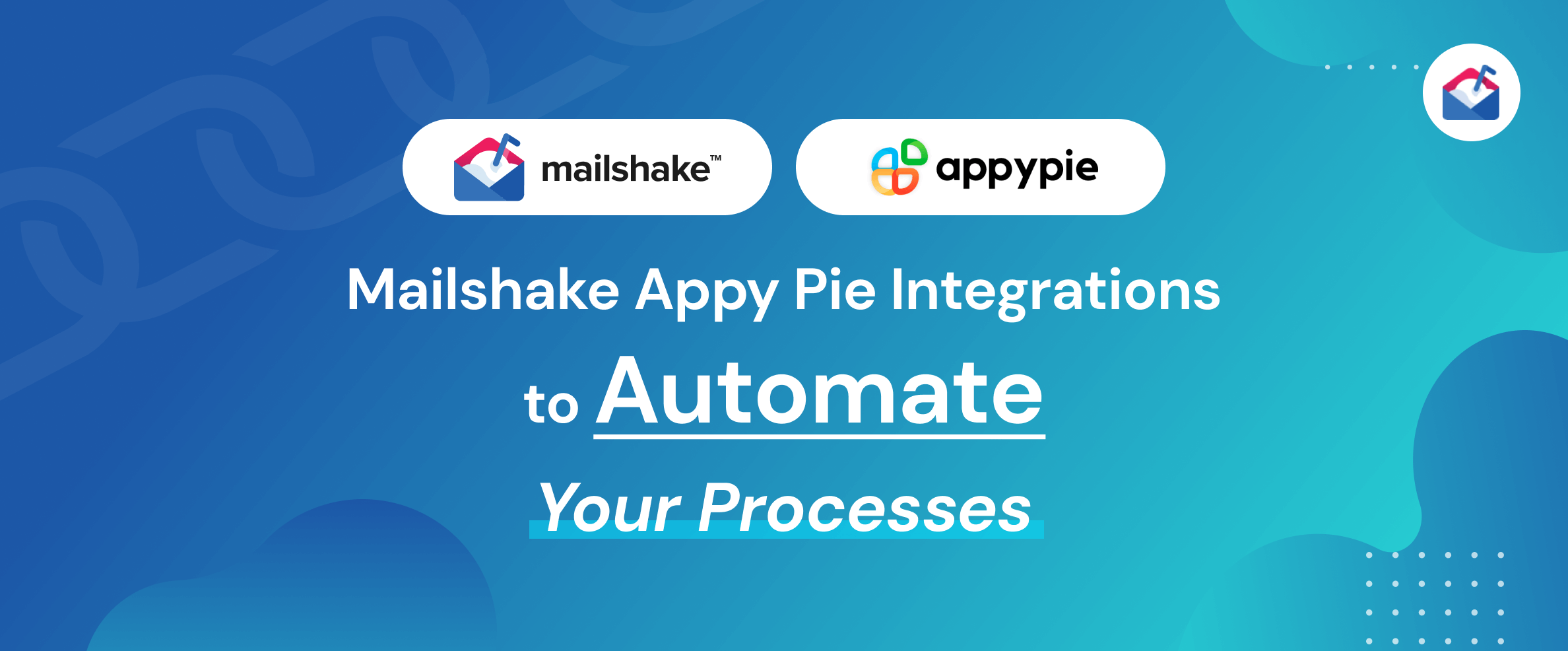 Integration with Appy Pie makes life even sweeter for Mailshake users. The no-code app-building platform connects Mailshake with other popular software services to automate processes and save you time.
Here's just a slice of the potential ways this combo special can help take tasks off your plate:
Connect Your Customer Data with Freshworks CRM

Track lead status and link customer data such as company information, contacts, opportunities and more with this Mailshake-Freshworks CRM integration. By connecting your CRM and cold email outreach platforms, you'll have better control over important processes like lead acquisition, nurturing and conversion. Start understanding your prospects' preferences and building relationships today.
Schedule meetings – and pause sequences – with Acuity Scheduling


This Mailshake-Acuity Scheduling integration makes booking meetings with your prospect easy. In addition to linking your calendar to share availability, Mailshake can also pause your sequences when a meeting is booked, ensuring your prospect won't receive unnecessary follow-up messages.
Find your prospects on LinkedIn

For B2B businesses, LinkedIn offers endless potential for sourcing prospects, building relationships and driving potential customers into your pipeline. This Mailshake-LinkedIn integration allows sales reps to collect and gather information about their prospects, such as job title and company. Use this info to build your mailing list, and let Mailshake work its magic from there.
Add text messaging to your sequence with SMS Alert

The best cold outreach sequences include multiple touchpoints, and this Mailshake-SMS Alert integration allows you to consolidate your email and text messaging to a single interface. Build your contact list once and use the integrated programs to deliver your message to your prospects whenever you want, wherever they are.
Share Large Files Using Dropbox

Want to share a video or image-heavy case study with your prospect? No need to worry, as this Mailshake-Dropbox integration eliminates concern regarding the number of attachments or their size. Your team can also create a culture of sharing, as users enjoy easy access to stored documents without going through complicated procedures or asking for permissions.
Track Your Time with Toggl
Knowing how much time you're spending on cold email outreach will allow you to better manage your return on investment and plan your day. With this Mailshake-Toggl integration, you can track your time and manage your email messages without spending extra seconds switching between applications.
Thank Your Customers with Judge.me

Shopify users can take advantage of this Mailshake-Judge.me integration to automatically send follow-up emails to customers who made a purchase in their online store, as well as those who left a review on Judge.me. Engaging your customers directly and showing appreciation for their support can help build a long-lasting relationship with your company.
Discover a full menu of additional à la carte integrations
This list is only a taste test of the wide menu of integration opportunities offered by Appy Pie and Mailshake. New connections are always in development and consideration, as noted on the Appy Pie website. While many integrations are available in basic plans, some require premium account access.
Mailshake also offers a number of native and third-party integrations. With these tools available, cold email outreach has never been as efficient or connected. Build out automation processes, watch your revenue increase and enjoy having a bit of time back in your day.