15 Essential Tools For Digital Marketing Teams In 2022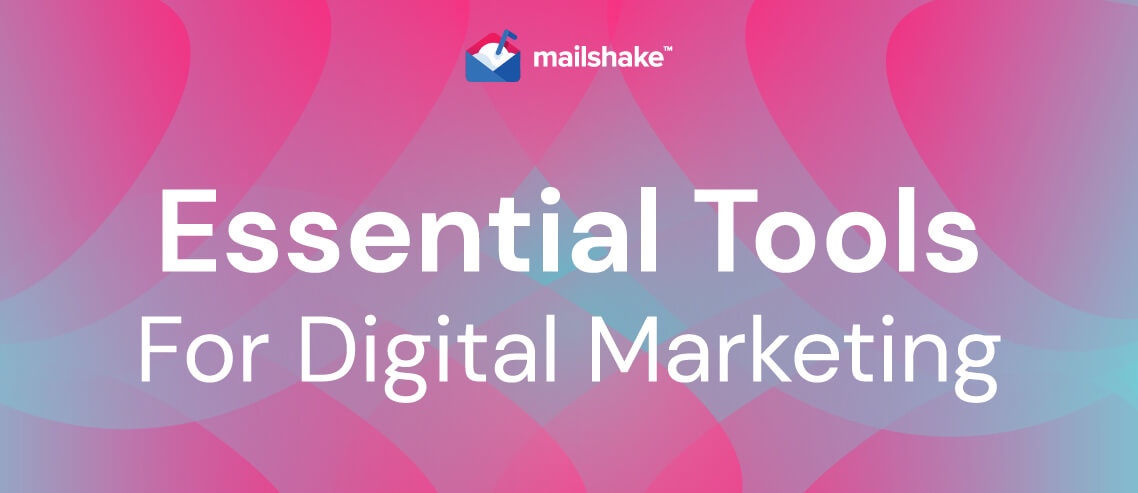 The digital marketing domain is vast and dynamic. The amazing and easy accessibility of the internet to 4.66 billion active users worldwide means that businesses have a golden opportunity to identify and connect with potential customers through various digital marketing tools and social media platforms.
Digital marketing entails using different modes of communication to connect with the target audience segment – Email, company websites, social media platforms, online content, paid advertising, text messages, and multimedia messages.
Digital marketing teams have the responsibility to create brand awareness and generate leads through various digital channels.
That said, digital marketing teams have a lot on their plates to help businesses generate healthy organic traffic, which in turn, leads to more sales and increased revenue.
Digital marketing teams are entrusted with the responsibility to plan result-oriented digital marketing campaigns and execute a range of tactics, strategies, and tools to enable businesses to hit their target marketing and sales goals right on the mark.
In this blog post, we have compiled a list of 15 tried-and-tested tools for digital marketing teams that can help them execute marketing campaigns effectively across different digital channels, and help your business gain a competitive edge over others.
You may be familiar with a couple of  tools listed here while others might be new to you. Let's take a look at these popular tools that are used by a large number of digital marketing teams across various industries.
15 Digital Marketing Tools Teams Can't Live Without
1. Mailshake (Sales Engagement & Automation Platform)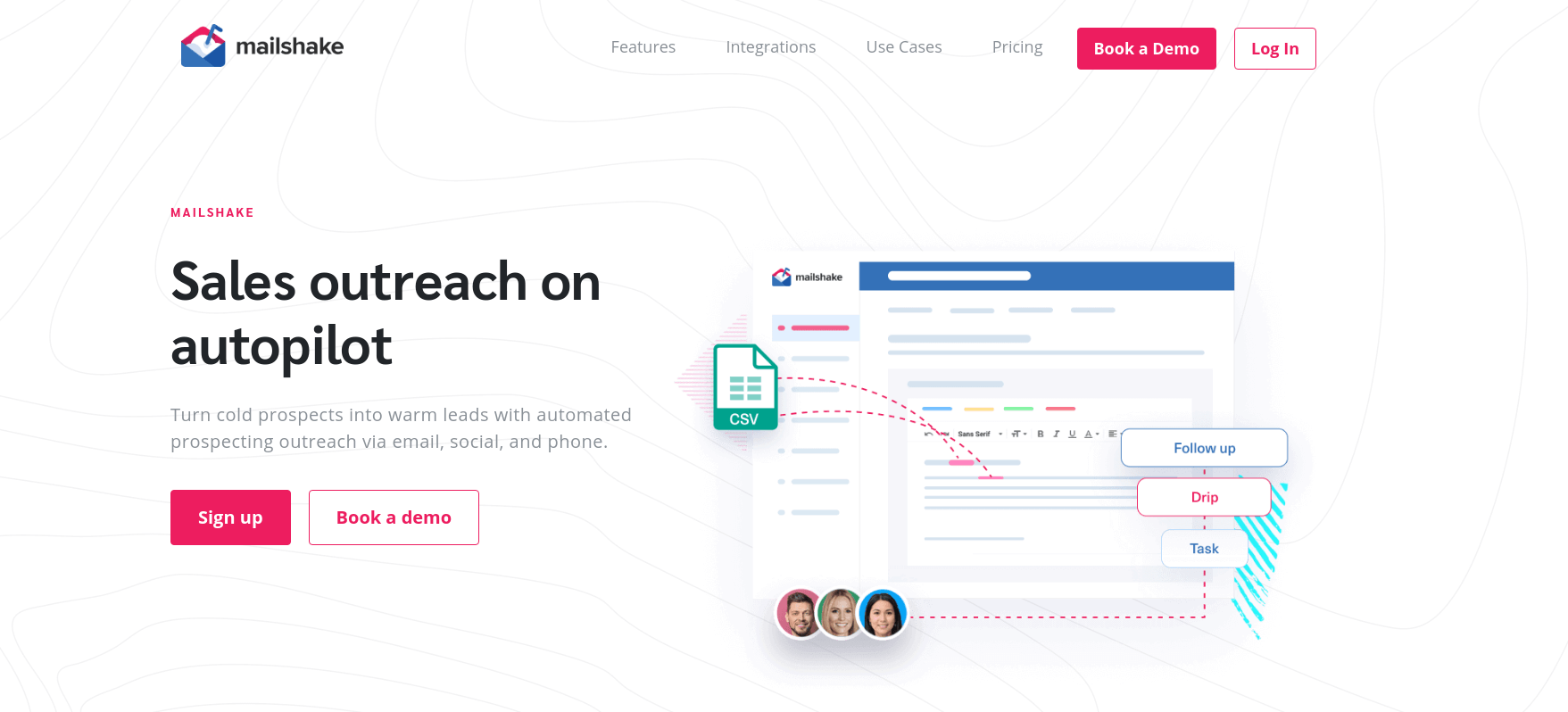 Mailshake.com is a sales engagement & automation platform that makes it easy for digital marketing teams to connect with more prospects, book more meetings, and generate more sales through automated processing outreach via email, social, and phone. You can contact thousands of potential customers at one go through personalized email campaigns, maximized deliverability, fully-automated follow-ups, and proven templates. YOu can monitor opens, clicks, and replies for every email you send, and find out which part of your sequence is converting with Mailshake Lead Drivers.
Main Features Include:
Fully automated email outreach
Powerful analytics
Lead catcher
Dialer
Multi-channel outreach sequences
Mail merge
Follow-ups
Pricing: Two plans are offered. The Email Outreach plan is priced at $44/user/month. The Sales Engagement plan is priced at $75/user/month.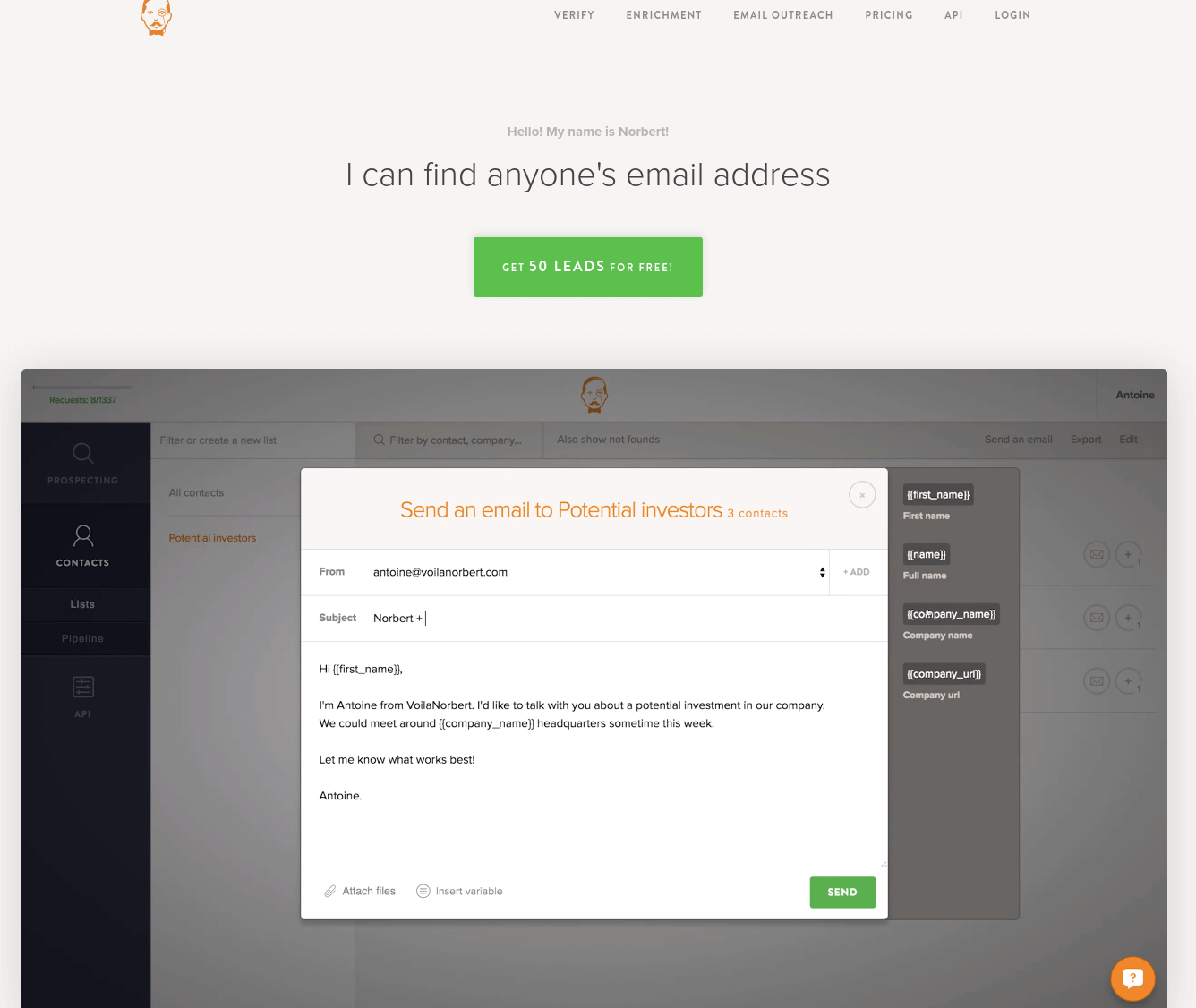 VoilaNorbert is an email finding tool that enables businesses to find new email addresses to enrich their cold-emailing process while also helping them to verify their existing email database. VoilaNorbert has built up a mammoth database of B2B email addresses, which takes the time-consuming, tedious process of finding email addresses out of the picture. The tool also offers an unmatched number of integrations (Google, Zapier, Salesforce, Hubspot, Close.com, etc.) and enhancements. It is scalable, which means teams of any size can easily use it.
Main Features Include:
Lead enrichment
Domain search
Company search
Social network search
Bulk domain search
Email tracker
Social URL search
Chrome extension
Pricing: The Paid Valet plan starts from $49 per month for 5 bulk workers.
3. ProofHub (Team Collaboration and Project Management)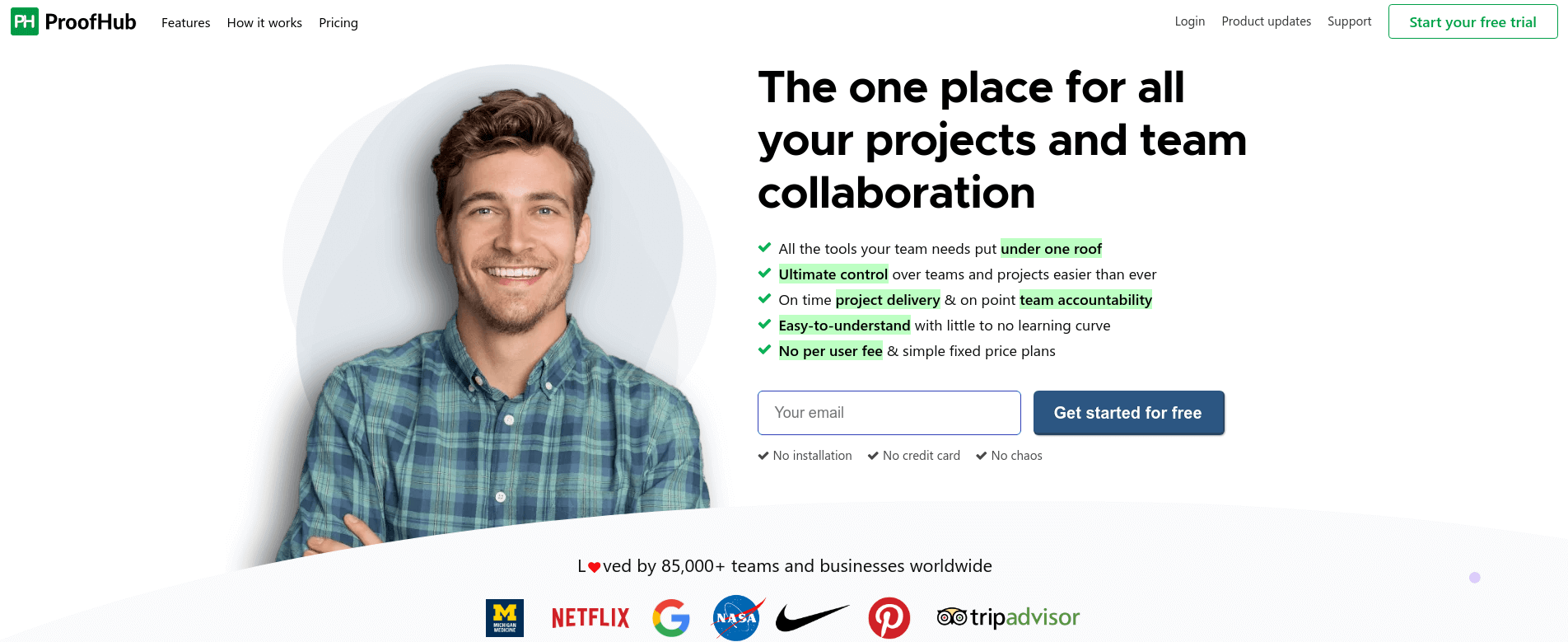 ProofHub is a team collaboration and project management software that enables digital marketing teams to collaborate seamlessly across projects. ProofHub offers a range of features in a single location to eliminate the need for digital marketing teams to switch from one tool to another. A minimal learning curve and affordable, fixed pricing plans make ProofHub an ideal choice for small businesses and startups with a limited budget. The tool provides a centralized platform for digital marketing managers to have a Bird's eye view of all tasks and activities, which helps them to check the project progress and have greater control over projects and teams.
Main Features Include:
Online proofing
Group chat
Task management
Time tracking
File management
Custom fields
Table view/ List view/ Kanban view
Gantt charts
Scheduling calendar
Pricing: The Ultimate Control plan is priced at $89/month/billed annually.
4. Sprout Social (Social Media Marketing Tool)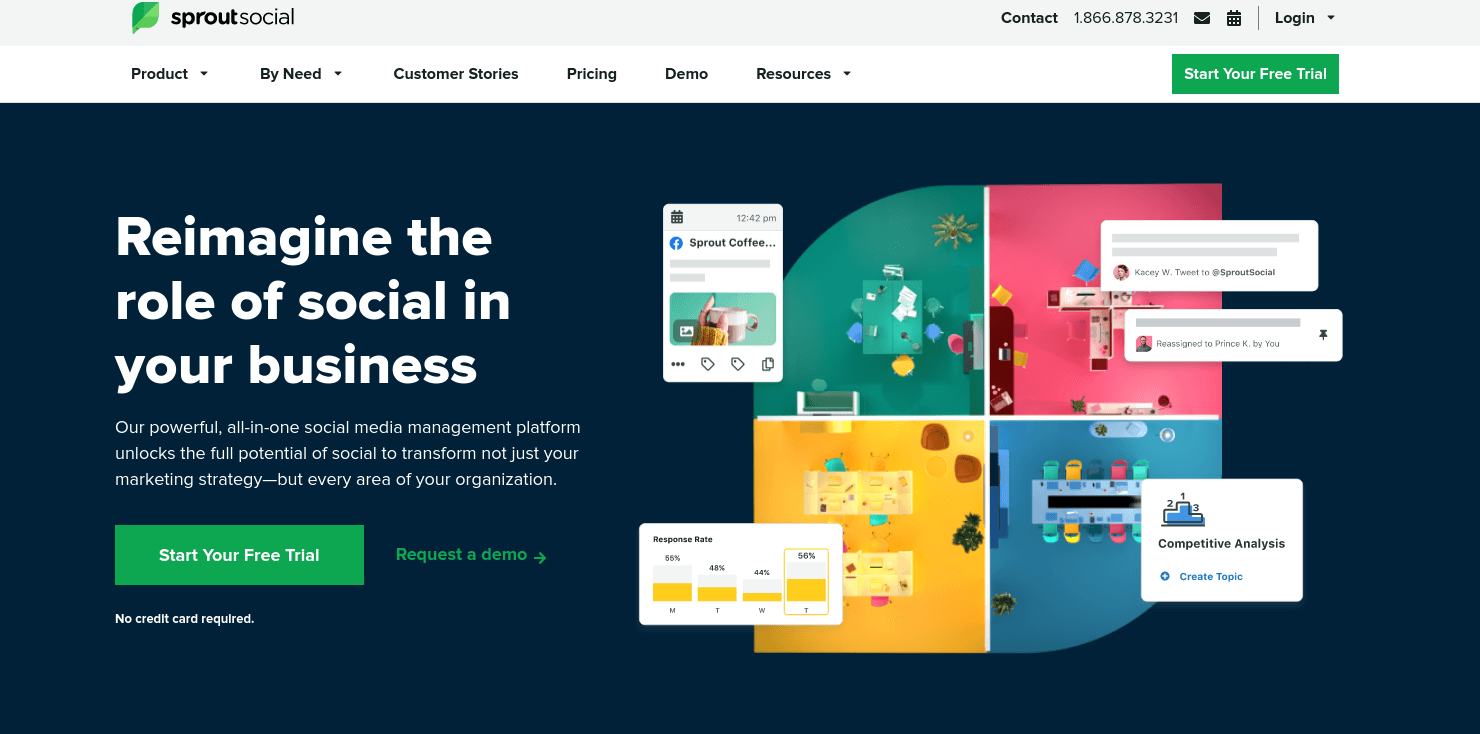 Sprout Social is a powerful social media management platform that enables businesses to reach out to target online segments and engage them to improve chances of converting leads into seals. Using Sprout Social, digital marketing teams can organize their content calendar and schedule their social media posts across various platforms in a centralized place. Digital marketing teams can publish their posts when their followers are most active, which helps businesses to instantly catch their attention and engage with them. You can analyze and track trends on social media to inform brand and business strategy.
Main Features Include:
Unified social inbox
Message spike alerts
Review management
Task assignment
Message tagging
Social analytics
Reports and Dashboards
Publishing and Scheduling
Pricing: The Paid Standard plan is priced at $89/user/month/billed annually.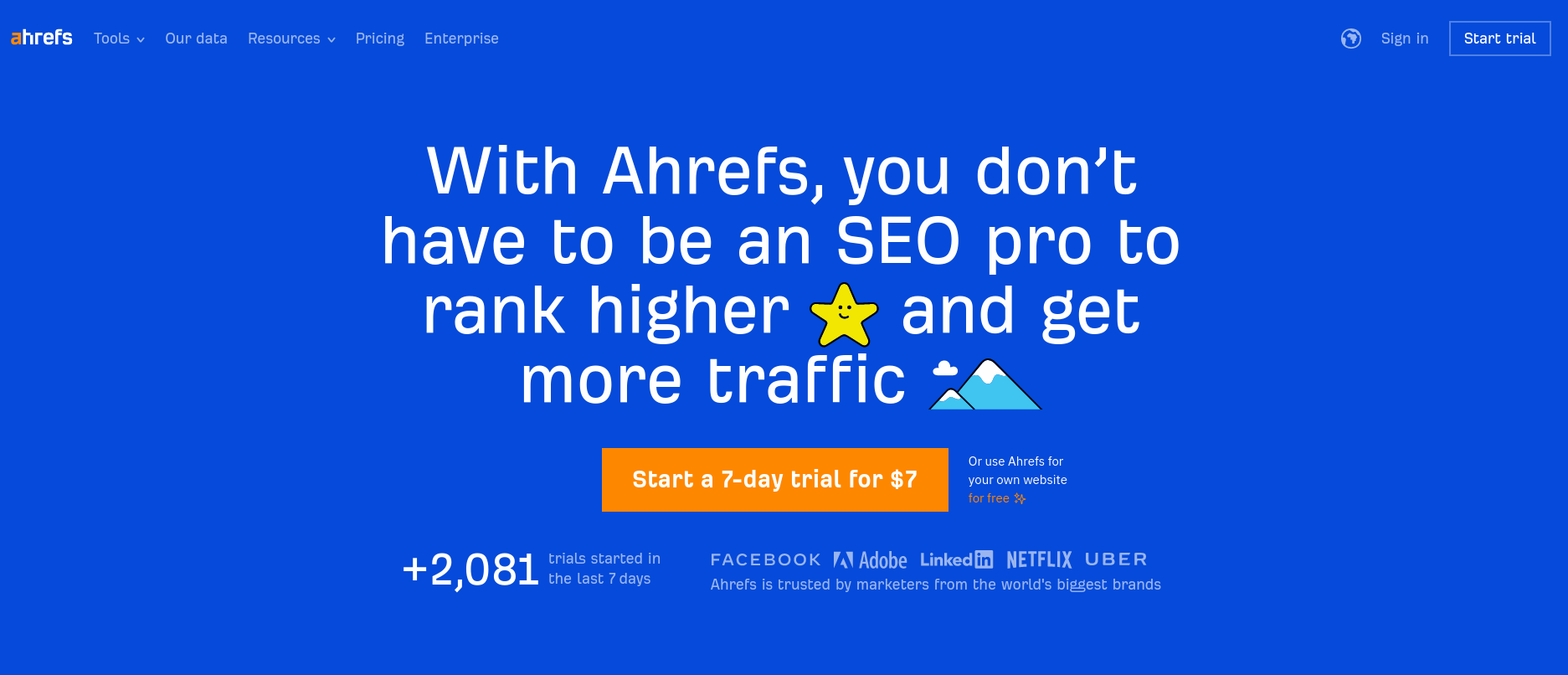 Ahrefs is a popular SEO software tool that offers a host of tools to digital marketing teams for link building, keyword research, tracking website rank, competitor analysis, and site audits. The best thing about Ahrefs is its ease of usage. You don't need to be an SEO expert to rank higher and get more traffic. Using Ahrefs, digital marketing teams can check any URL's top-ranking organic keywords and even track how much traffic the competitor website generates for any given search term. You can optimize your website, study what your target customers are searching for, analyze your competitors, and much more.
Main Features Include:
Dashboard
Site explorer
Keywords explorer
Site audit
Rank tracker
Content explorer
Pricing: The Paid Lite plan starts from $99/user/month.
6. Unbounce (Conversion Optimization Tool)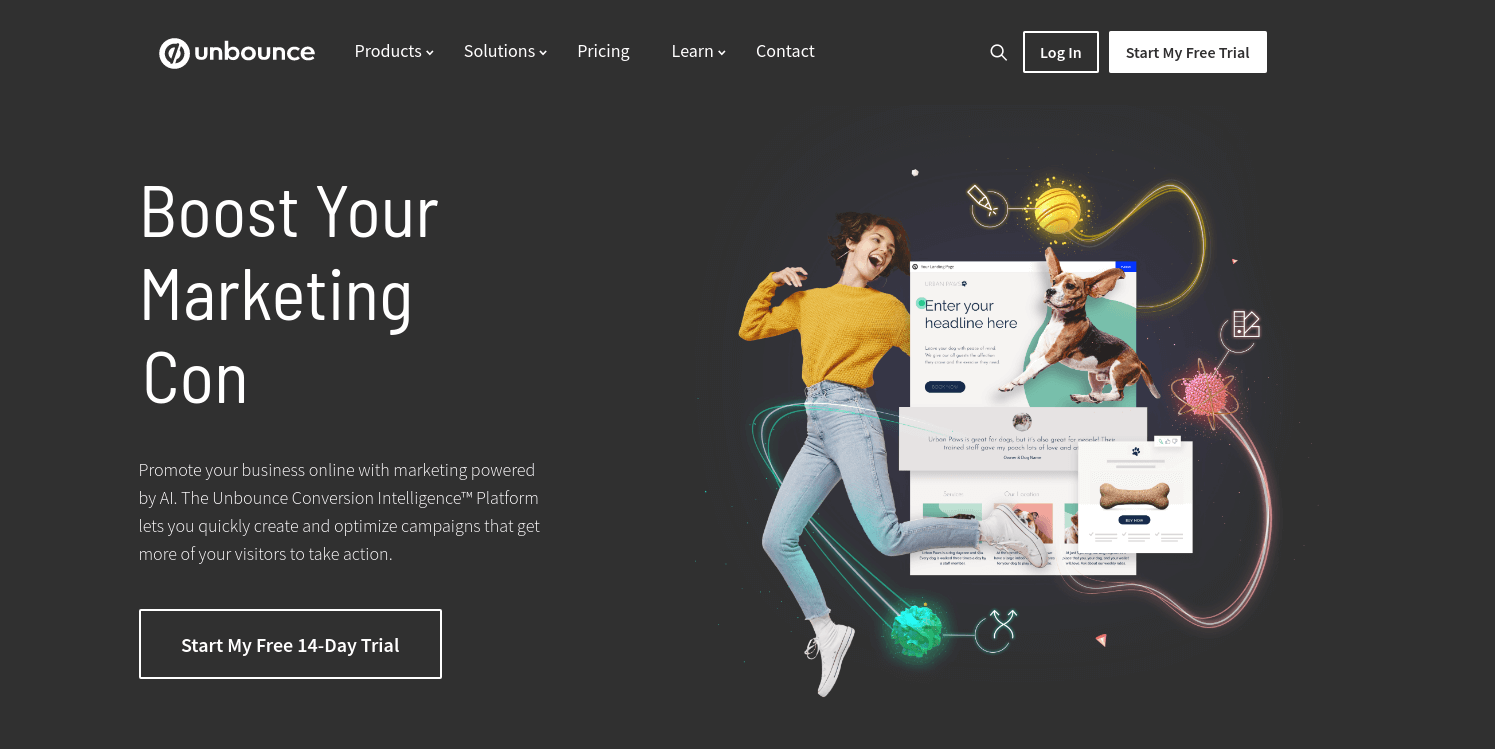 Unbounce is one of the popular landing pages and AI copywriting platforms. This drag-and-drop builder enables you to create and publish your own landing pages, and you do not need a developer to code these. Digital marketing teams can use Unbounce to divert traffic to specific landing pages to increase conversions, and the tool integrates smoothly with popular CRM's, analytics platforms, and email software. The tool enables you to carry out A/B testing to increase conversions for your landing pages as well as create visually appealing landing pages. This is a tool that any digital marketer would like to use for its ease of usage as well as the ability to provide information on which landing pages are your best performers.
Main Features Include:
Landing page templates
Smart traffic
Easy client management and collaboration
Pop up builder and sticky bar
Drag and drop builder
Dynamic text replacement
AMP landing pages
Pricing: The Paid Launch plan is priced at $80/month.
7. Moosend (Email Marketing Tool)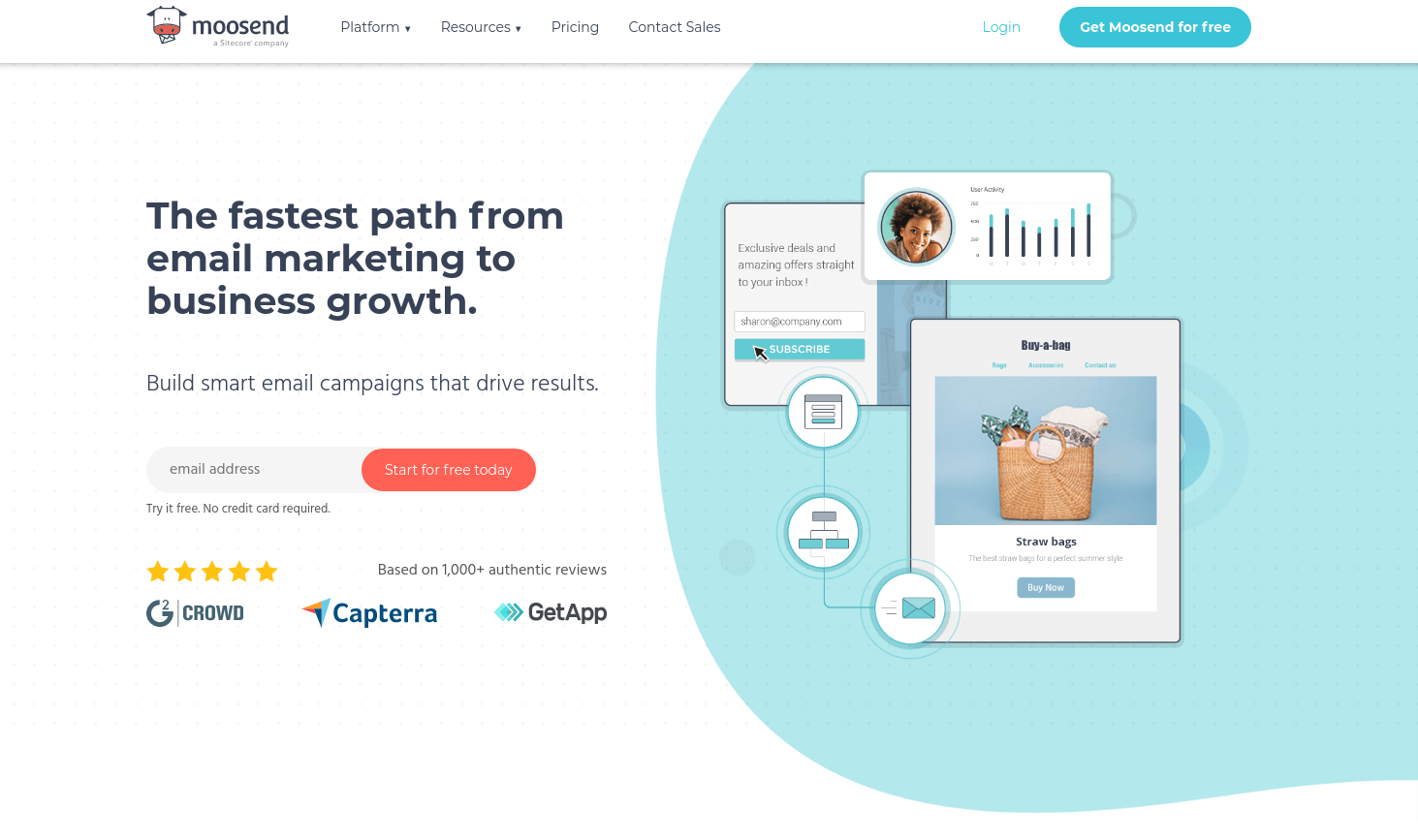 Moosend is an email marketing software and marketing automation platform that allows digital marketers to create smart email campaigns that drive results. Counted amongst one of the most user-friendly and affordable email marketing tools, Moosend is packed with a host of features that enable digital marketers to create the most responsive newsletters to engage and delight their subscribers. State-of-the-art marketing automation features help to save valuable time for digital marketing teams as they can schedule their campaigns and track their performance.
Main Features Include:
Custom sign-up forms
Email marketing automation
Build and grow email list automatically
Triggers, filters, automated actions
Responsive newsletter templates
Email list segmentation
Reporting and Analytics
Data integration and storage
Pricing: The Paid Pro plan is available for $8/monthly/ 5 team members.
8. Visme (Graphics Creation Tool)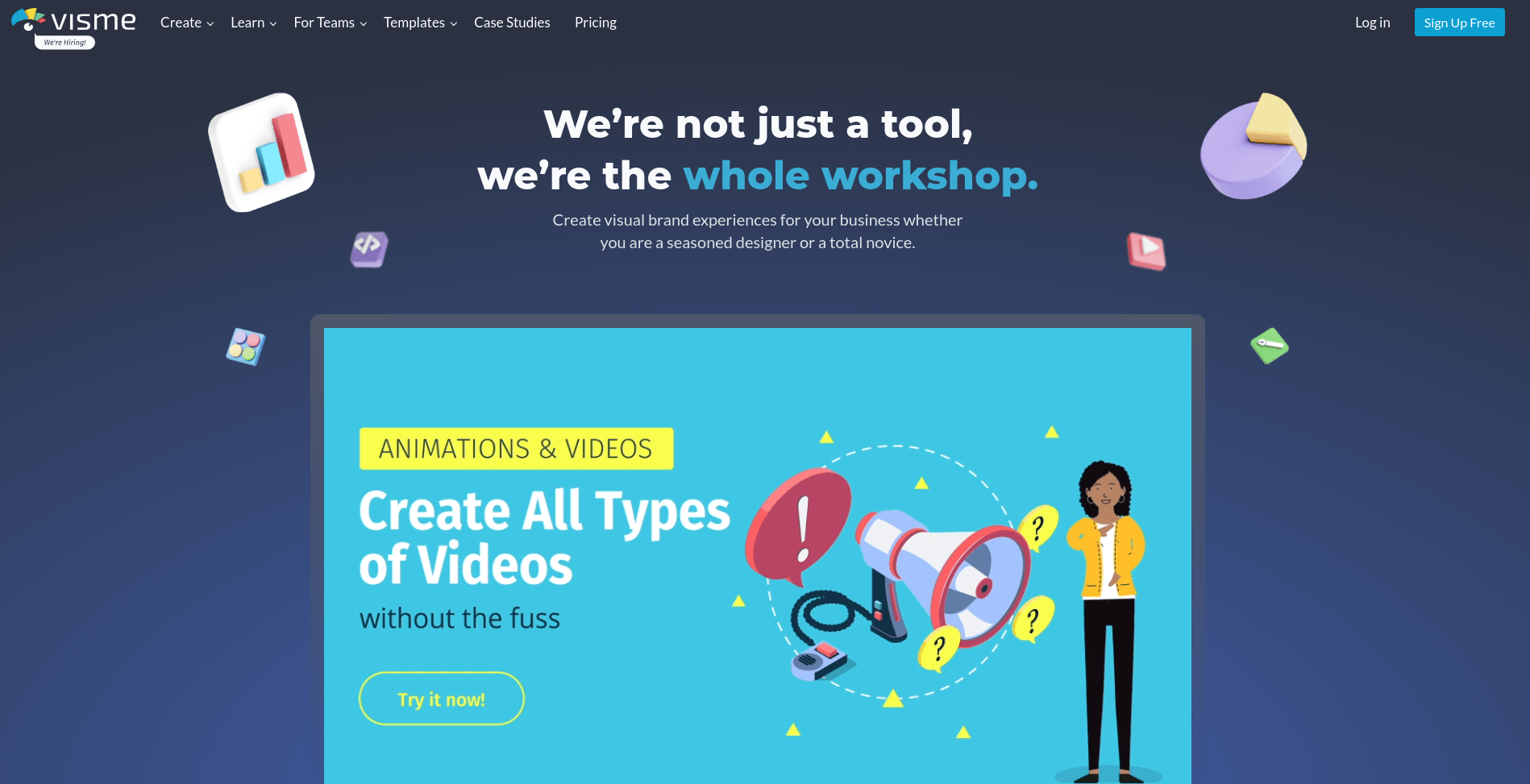 Visme is a data presentation and visualization tool that helps digital marketing teams create visual brand experiences for their or their clients' businesses. Even non-tech-savvy users can create highly engaging and highly impressionable presentations and infographics. Visme can also run offline and can be used across diverse business fields and professional areas. The tool contains several pre-defined templates to save your time.
Main Features Include:
Sleek interface
Drag and drop designing
Over two million free images
Animated illustrations
Detailed knowledge base
Chart-building tool
Beautiful slides and presentation tools
Integrations with top cloud-storage apps
Pricing: The Paid Standard plan is priced at $15/user/month, billed annually.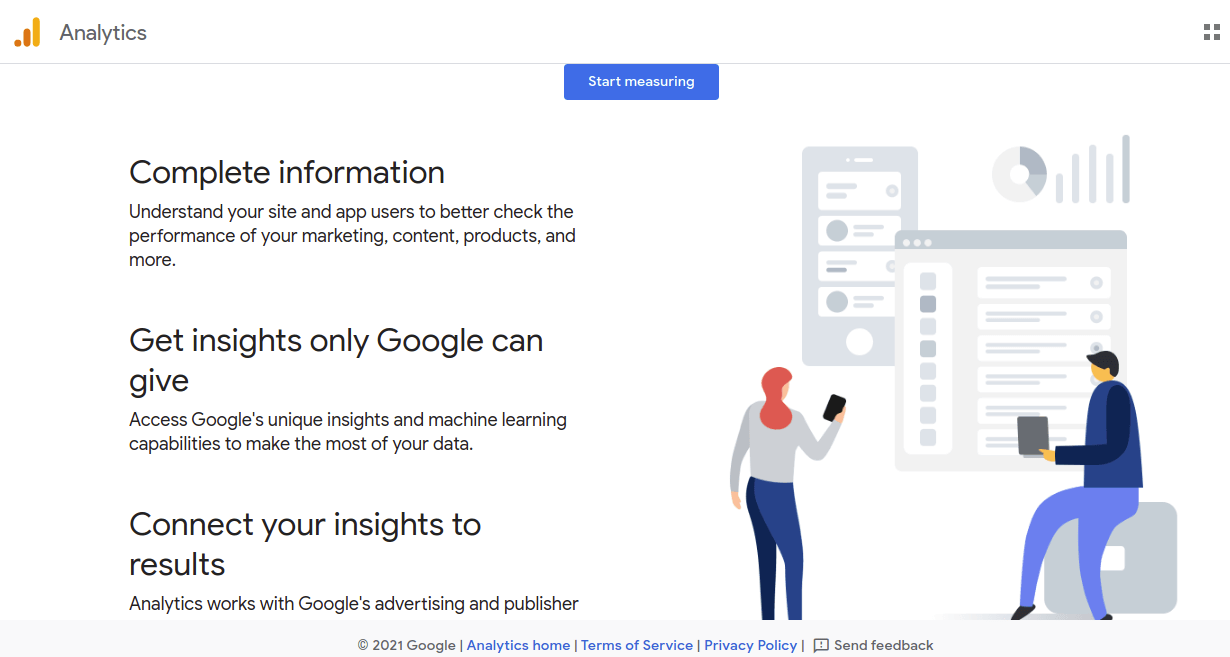 Google Analytics is considered as the gold standard for website analytics. It is a free web analytics tool offered by Google. These days, digital marketers are required to have some level of Google Analytics expertise to track and analyze the user behavior, user experience, online content, device functionality and more. The tool tracks and reports website traffic and acquires user data from each website visitor by using page tags. Google Analytics is a widely popular tool among digital marketing teams as they can access valuable insights into customer behavior analytics, improve marketing campaigns, drive organic website traffic, and much more.
Main Features Include:
Custom reports
Flow visualization
Audience reports
Traffic reporting
Conversion tracking
Keyword referrals
Third party referrals
Custom dashboards
Pricing: FREE
10. Trello (Collaboration Tool)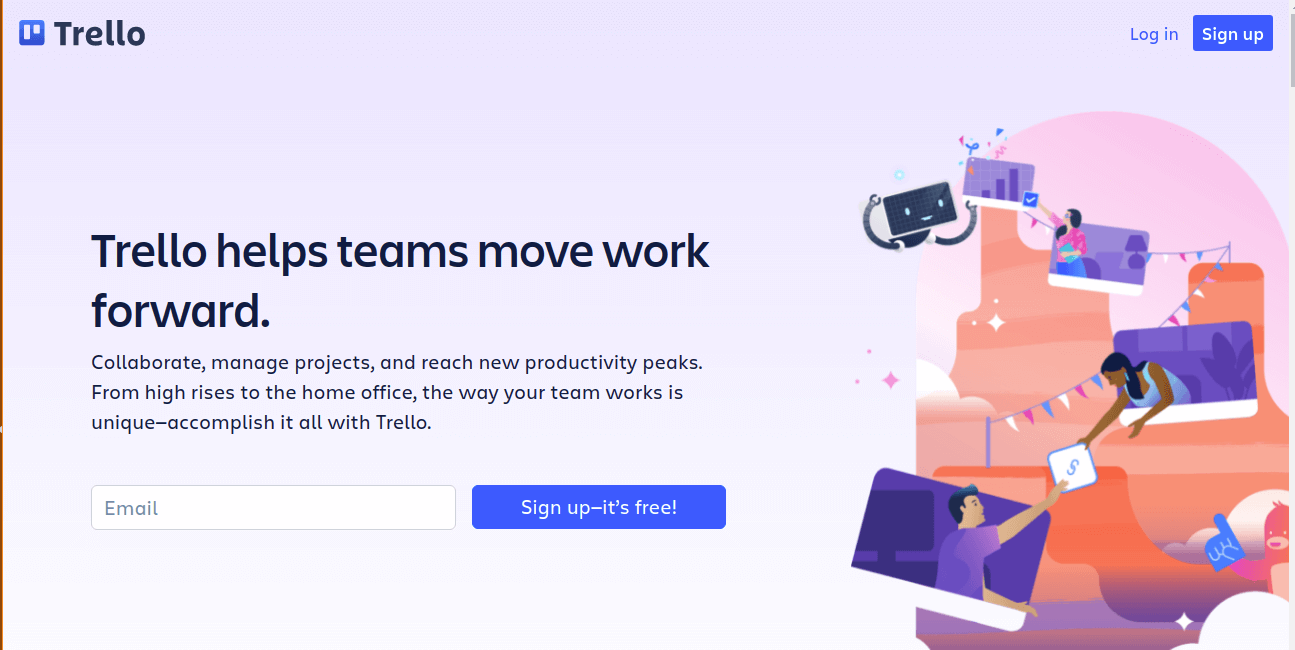 Trello is a collaboration tool that offers an easy and flexible way to digital marketers to manage projects and collaborate on them. Trello offers board, lists, and cards, which can be used by digital marketers to quickly set up and customize workflows for just about anything. Teams can use different views – Board view, Timeline view, Calendar, and Table view to stay updated in a way that suits them the best. The tool is also used by many digital marketing teams for content management. Additionally, it's easy to assign multiple team members of a digital marketing team to a card, so you know who's supposed to work on what task.
Main Features Include:
List and Cards
Task assignments
Timelines
Productivity metrics
Calendars
Butler (no-code automation)
Power-ups (integrate top work tools)
Pricing: Free Basic plan. The Paid plan starts from $5/user/month, billed annually.
11. Slack (Business Communication Platform)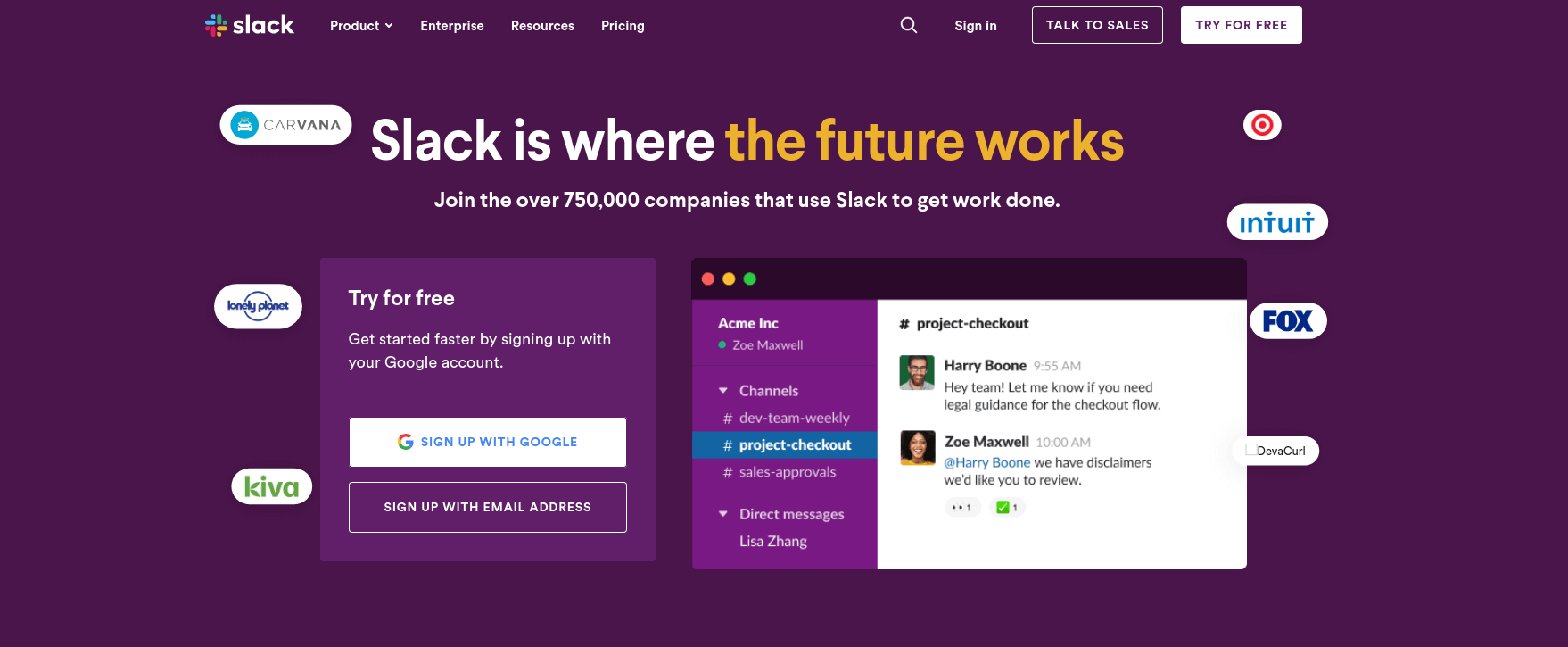 Slack is one of the most popular communication tools that is preferred by digital marketing teams for instant messaging, sending and receiving files, and collaborating on them. Slack started out as an instant messaging platform, but has grown into a communication-cum-workflow tool that can be used easily by companies and teams of any size. The tool offers an excellent space for digital marketing teams to operate in channels designated for exchanging certain information. You can join or leave the channel as needed. Slack also offers wide-ranging integrations with many other channels.
Main Features Include:
Channels
Slack connect
Messaging
Voice & Video calls
Advanced search modifiers
Lightning quick navigation
Workflow builder
File sharing
Enterprise key management
Pricing: A Free plan is available. The paid plan starts from $2.67/user/month.
12. Asana (Workplace Management Dashboard)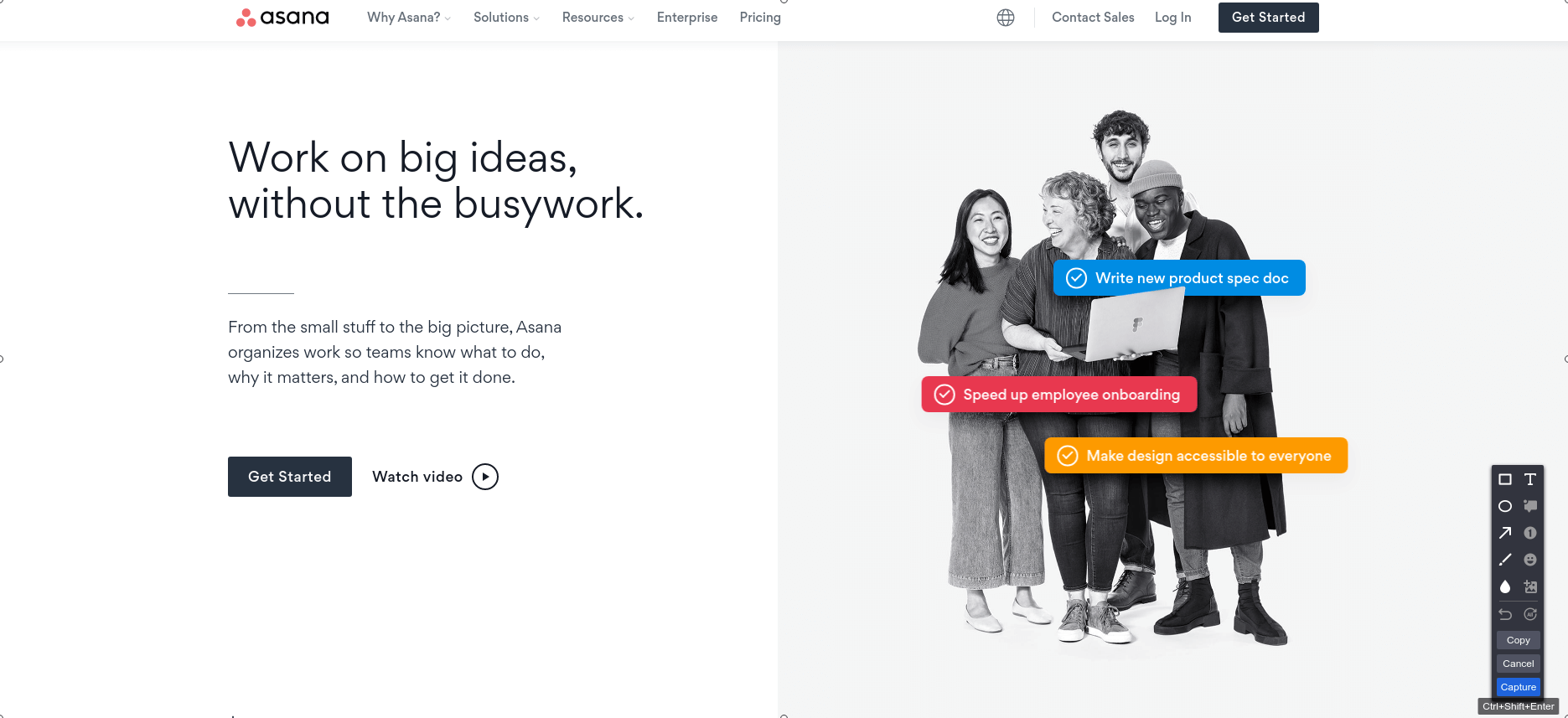 Asana is a collaborative workflow management system that enables digital marketing teams to organize and collaborate on their work in a collective space. With Asana, digital marketing teams can see instantly what they need to do, which tasks are a priority, and which tasks are pending. With more than 200 integrations, you can manage all your work in a centralized location. The Portfolio function of Asana enables you to keep track of every project's status to make sure that digital marketing teams are on the same page regarding the work progress and crucial notifications. Real-time charts and other visual highlights help users to share status, spot potential problems, and keep work on track.
Main Features Include:
Goals
Timeline
Portfolios
Workload
Automation
Views and Reporting
Admin controls
Communication
Pricing: A Free Basic plan is available. The Paid plan starts from $10.99/user/month,billed annually.
13. BuzzSumo (Content Research Tool)
BuzzSumo is a powerful online content research tool that can be of great use for digital marketing teams. Using BuzzSumo, you can look up trending topics, find and analyze the most engaging content on the web. The tool saves the time of digital marketing teams to search and filter popular topics on the internet. You can also look at your content analytics and measure performance accordingly. The tool also helps you to identify the most popular influencers and get in touch with them. Digital marketing teams can perform competitor analysis and they can know where they stand in comparison to them.
Main Features Include:
Reports and Dashboards
Social analytics
Database
Outreach
Campaign analytics
Content management
Social media integration
Data import/export
Social media integration
Pricing: The paid plan starts from $99/user/month.
14. Buffer (Social Media Toolkit)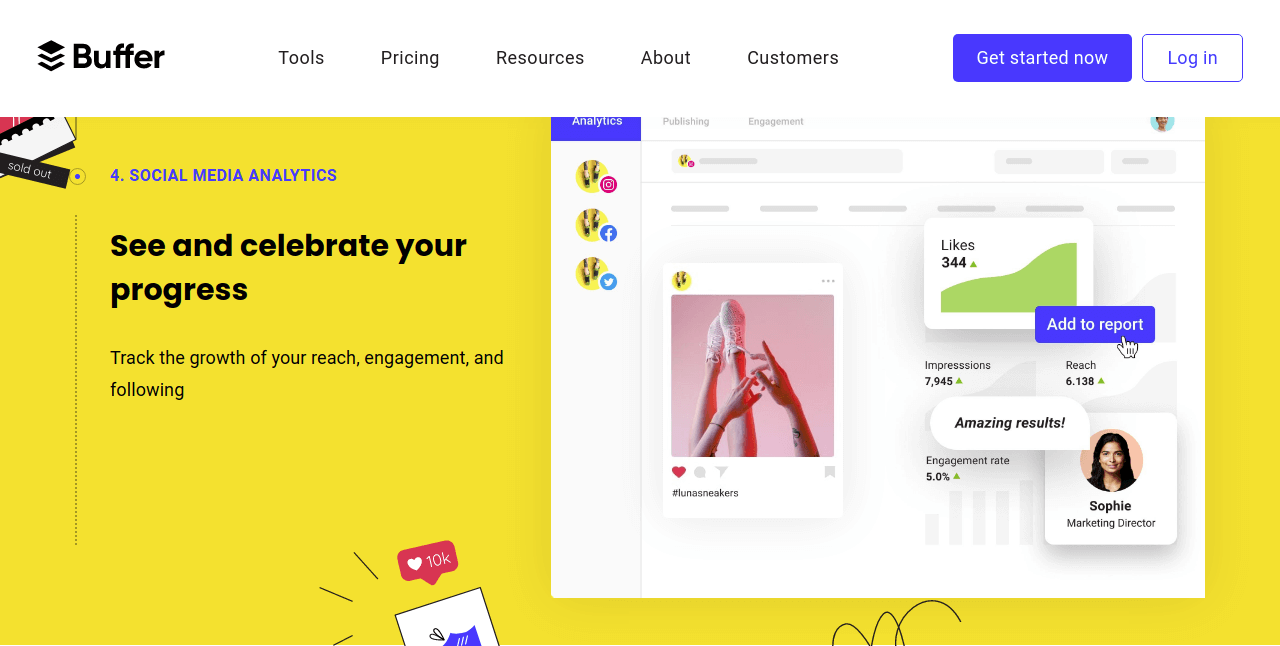 Buffer is a multi-purpose social media marketing software tool that is of great utility for digital marketing teams. Using Buffer, you can plan and schedule your social media campaigns in one place, which saves a lot of valuable time. You can measure your social media performance in a few clicks, and check what type of posts are working and which posts are not leaving any impression on your target audience. Using these analytics, digital marketing teams can create more engaging content to draw in more traffic. Simple user interface and intuitive set up flow of this tool makes it easy for those who are new to the digital marketing domain.
Main Features Include:
Informative social media analytics
Multiple posts and tweets
Social profile sharing
Profile management
Multimedia format sharing
Analytics and Insights
Profile management
Multiple posts and tweets
Social media calendar
Pricing: A Free plan is available. The Paid plan is priced at $5/month, per social media channel.
15. Chanty (Team Communication & Collaboration Software)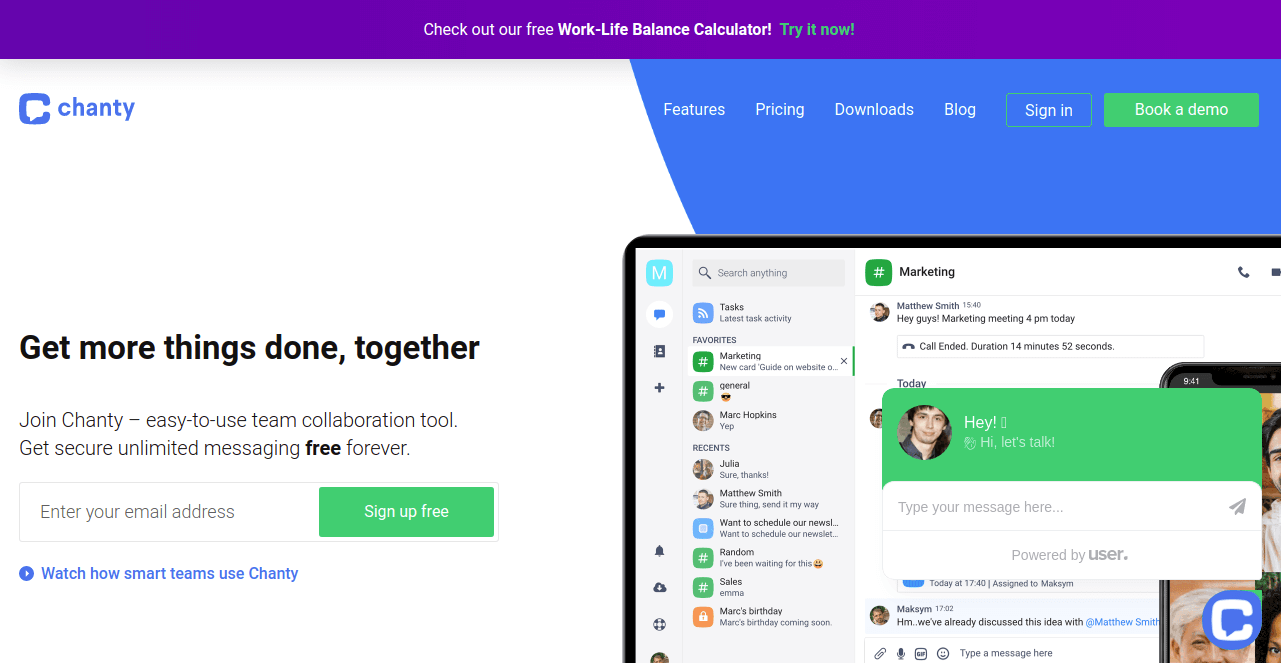 Chanty is an easy-to-use team collaboration and communication tool that offers secure and free unlimited messaging free of cost to users. Chanty's simple interface and advanced features make it easy for remote team members to get work done from anywhere. The tool is designed to boost team collaboration and reduce the time your team spends on emails, meetings, and communication with colleagues. Faster file sharing and customized notifications makes sure you never miss a thing. Chanty has a 24/7 support team that is always available so users can have a memorable experience.
Main Features Include:
Teambook
Code-snippets with dev-friendly formatting
Task discussions
Kanban board view
Real-time collaboration
Context-based discussions
High contrast dark theme
Pricing: A Free forever plan is available. The Paid plan is priced at $3/user/month.
Conclusion
Digital marketing teams need to be on their toes to help their businesses draw in increasing organic traffic, generate leads, and convert them eventually to actual customers. By using the best tools, digital marketing teams can automate much of their tedious marketing tasks and streamline their marketing campaigns.
You can combine the powerful tools listed in the blog to meet your varied sales and marketing needs across various channels. Stay on the top of your marketing game with these tools and execute your marketing strategies exactly as you plan them.