Outbound Sales On Autopilot: How To Get From Lead to Deal with Maximum Automation
Outbound Sales On Autopilot: How To Get From Lead to Deal with Maximum Automation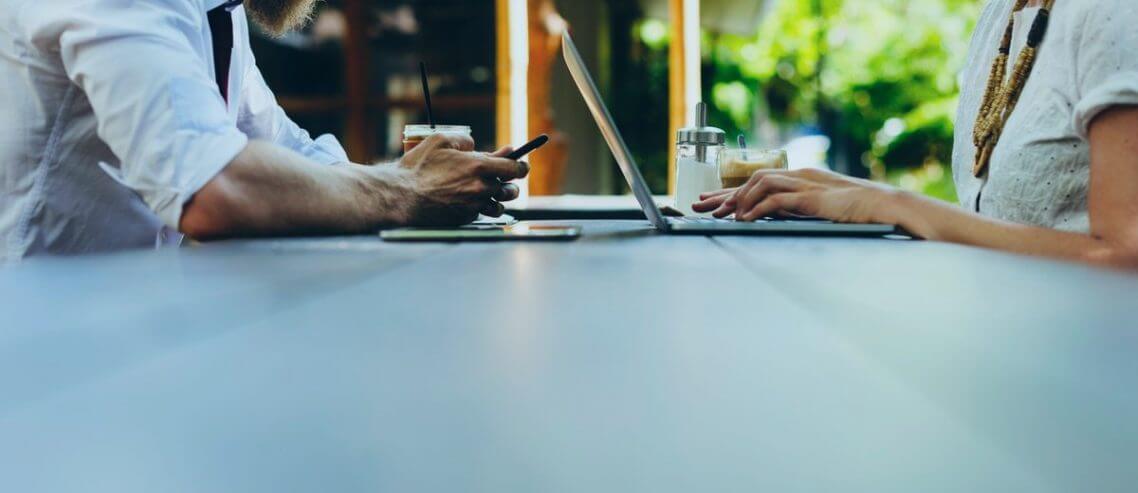 Let's kick this off with a question:
How are your sales reps spending their time and energy?
Wrong.
You shouldn't have to think about that.
You should have said selling before I even finished the question. Instinctively.
Now, think again. What does selling actually mean?
In my book, it means talking to prospects and building relations.
?? Reaching out, asking questions, listening, telling a story, balancing needs, fine-tuning value, negotiating terms and closing deals.
In a perfect world, sales reps are doing only that and none of the mindless admin work: entering data, researching leads and writing emails.
Every minute a sales rep is not talking, he/she is leaving money on the table.
The good news is that technology is getting us closer and closer to that perfect world. Apps and workflows are enabling sales people to put tedious work on autopilot and focus on building meaningful relations at scale ?.
The bad news is that I still see more people working for technology than the other way around. Automation is hot, not just in sales, but a lot people end up slaves of apps in their pursue of machine-like efficiency.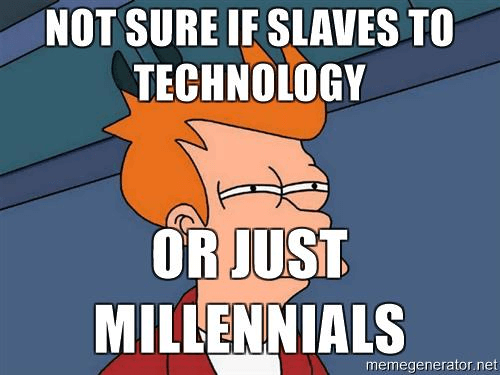 The point of sales automation is to take sales people away from devices and into conversations. Mailshake wants to give you the power to send highly personalised emails at scale, while at Salesflare we're building a CRM that frees you from data input.
Different stages of the sales process but the same goal:
We want you to be human and talk to as many people as possible.
I'll show you how to use tactics and tools to build a sales machine that enables you to do just that. All the way from lead to deal. As automatic as it can get.
First up, I'll hit you up with automated lead generation techniques that should get you a steady influx of qualified prospects to fuel your sales machine. We'll be covering LinkedIn and Twitter automation tactics combined with email finding hacks and data scraping.
The idea is always the same: start from a pool of qualified leads and figure out a way to get to their LinkedIn profiles, work email addresses for cold email and personal email addresses for Facebook Ads.
Next, we'll go into targeting with a prime focus on cold email and the automation thereof. Automatic influx of newly found leads into your cold email campaign without you having to look at it.
Finally, the setup of CRM flows so you don't drown into your spectacularly deepened pool of leads.
Our goal is to automate as much as possible, from the initial lead gathering up to the point where real talking is needed. The point where you can't be replaced by a robot anymore.
Let's dive in! ?
1. You'd be surprised by what you can turn into leads.
No machine can run by itself.
You need to fuel it and in sales that fuel is made up of leads.
There are about 3,5 billion people on the Internet. If you're not finding leads, you're either building a product nobody needs or you're looking in the wrong place.
Or it's right in front of you but you don't realize it.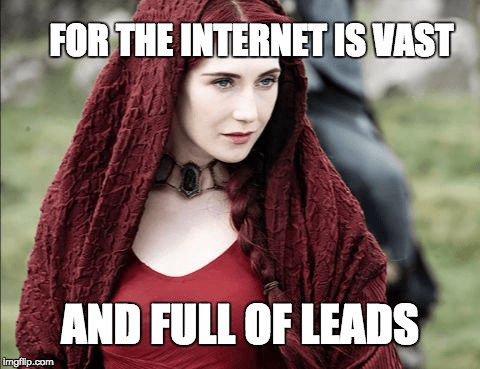 Not all leads were made equal. Not all leads are obvious.
Depending on your preferred targeting option, there are tons of ways to enrich a piece of data straight up to the point where you can reach out.
The data is out there. All you have to do is crunch it to your advantage and use it as oil for your sales machine. Automated, of course.
And yes, I'm talking about qualified leads — people that fall within your target market and are supposedly in need of your product.
If you know who your targets and where they're hanging out, you're already halfway there.
Next, I'll show you a few ways to automagically source leads.
My goal is not so much to show you these tactics, but to get you acquainted with the mindset you need to come up with these tactics yourself.
Over the last year, I've developed powerful strategies to get leads from different social platforms, as well as through data scraping and enrichment.
I'll get you a glimpse at the best stuff right here.
#1. LinkedIn Automation
If you're ever going to talk on the internet, do it on LinkedIn.
Nowhere else do you have so many relevant people in the same place.
Automation will help you to get more leads by building network faster. You'll get to talk to more people by scaling your reach and build meaningful relations on the fly.
Whether you make sales on LinkedIn itself or just warm up the lead to opt-in on your email and Facebook ad: time spent on LinkedIn is time well spent.
Especially if you can have a bot do the dirty work for you.
1️⃣ Auto-visit and scrape LinkedIn profiles with Dux-Soup
My all-time favorite growth hacking tool is Dux-Soup ?.
Dux-Soup is a Chrome extension you can auto-visit LinkedIn profiles with.
If you let this thing loose on a list of LinkedIn profiles, it will auto-visit all of the profiles and scrape their data: names, roles, companies, domains plus social media profiles and emails if made public by the user (usually not). Exportable as a .CSV file.
All of these people will get a notification of you visiting them and a lot of them will visit you back. Make sure your profile hints at the value you have to offer and you'll be getting new connections, introductions and leads without lifting a finger.
Here's a search query in LinkedIn Sales Navigator for founders, co-founders, and CEOs of Internet startups in Berlin.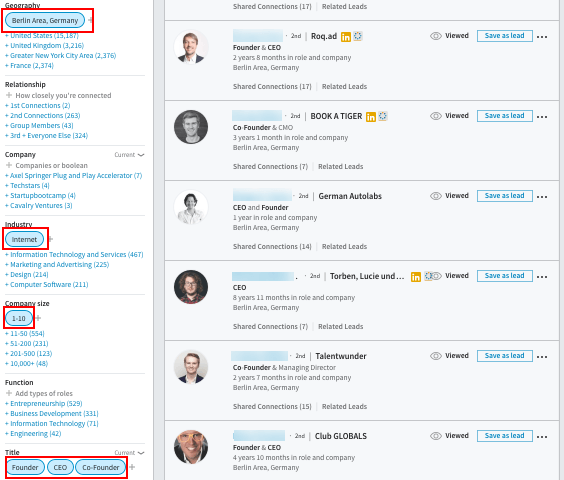 These are typically tech-savvy, entrepreneurial decision-makers likely interested in automated solutions for sales pipeline management. Textbook Salesflare customers.
They'll get a notification of me visiting them and see my tagline: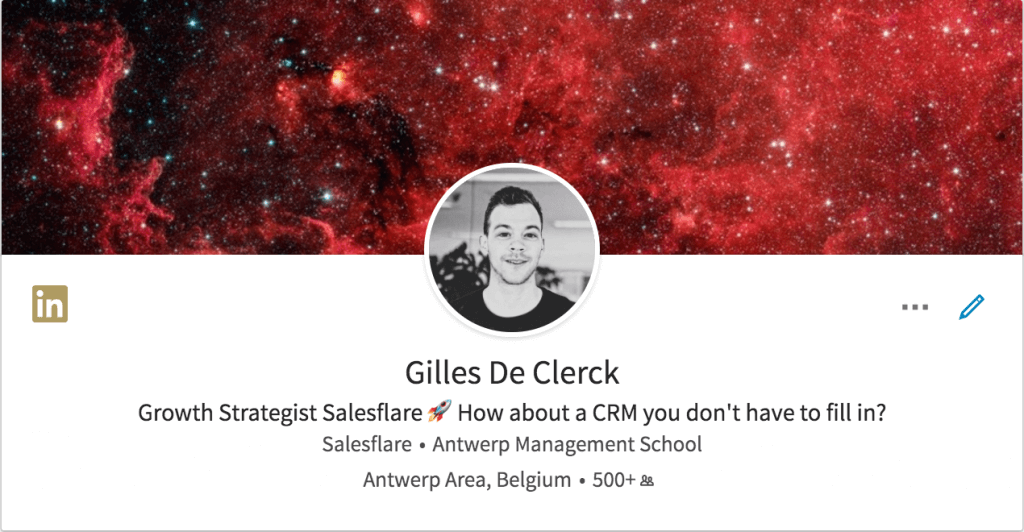 If they click through, they'll find out all about Salesflare and the benefits it can bring them.
It usually takes more to get a prospect to bite, but this is just the beginning.
At this point, they'll have seen Salesflare's name twice and are warmer than they were before. Now that know who you are, you can start putting the moves on them.
Dux-Soup works with free LinkedIn accounts but if you have some cash to spare you might want to consider upgrading to Sales Navigator. It enables you to auto-visit more profiles before being blocked and the more powerful filters will get you better leads.
2️⃣ Gather email addresses with Dux-Soup
There's more to Dux-Soup than meets the eye ?.
Upon unleashing it on a list of profiles, it will ask you if you want it to get email addresses for each profile.
One email address is worth one Dux-Soup point.
You can buy these points or…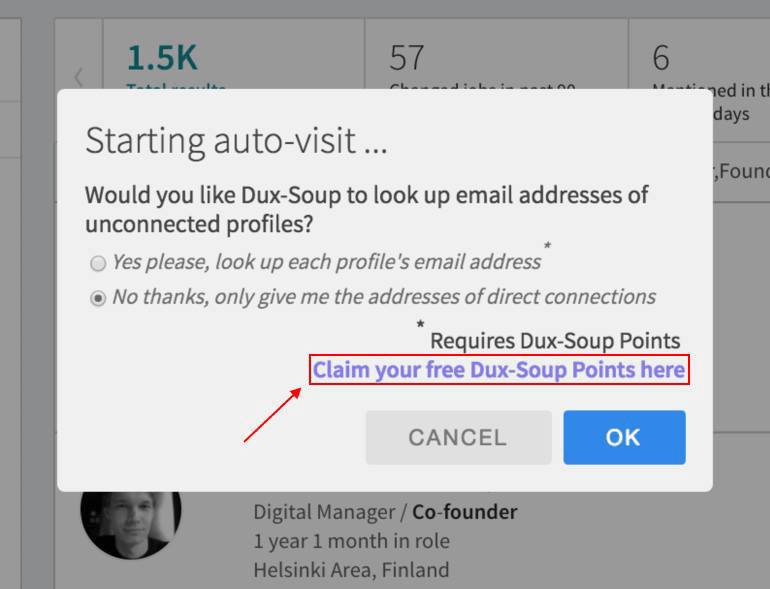 (This is where it gets sneaky)
You can trade in the email addresses of your LinkedIn connections for free Dux-Soup points.
?? This is their way of sourcing emails. A pretty effective one for that matter: I found the return rate to be around 90% (?).
What's more: these are often personal emails. Back when LinkedIn was taking its first steps, most people signed up with their personal email and never bothered to change their primary email addresses to their work email.
Now, what's the first thing that pops into your mind when you read personal emails?
? Facebook Ads. Yes, sir!
If you don't feel comfortable trading in your connections' email addresses, you can take the scraped data and run a .CSV with first name, last name, and domain through an email finder tool like VoilaNorbert.
3️⃣ Auto-connect with 2nd-degree connections
The Dux has one more trick up its feathers.
While auto-visiting profiles, you can have Dux-Soup send automated connection requests to 2nd-degree connections. Plus a personalized note using variables for name, company, and role.
Behold the connection invite I've been sending hundreds of prospects last week ??.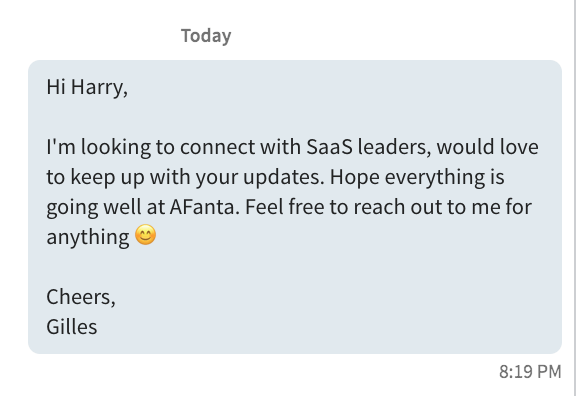 About 1 in 5 accept.
They're now in my network — I can talk to them, I can help them, I can delight them with content and I have their email address.
Automate to scale reach, be human to build relationships
If you're looking to get leads out of LinkedIn, you'll have to go beyond hitting connect and invest in building real human relations.
This is where you start talking.
But how do you talk to all of those automated connections?
Simple: you automate more.
With GPZ LinkedIn Tools you can mass-message your LinkedIn connections.
(Another option would be LinkedInHelper. Whatever floats your boat)
I know, I know — first I get all dramatic about how you have to talk to people and then I tell you to automate your conversation starters, but…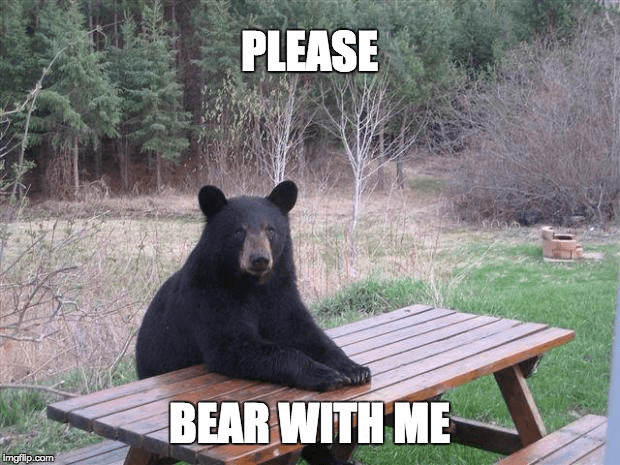 Think about this:
How different are your 1000

hellos

going to be?

Count on having a 60% response rate
?? It makes sense to send 1000 hellos with one click and spend your energy where it really matters: talking to people that say hello back.
You can automate openers, but anything beyond that is too much.
As soon as the Hey, nice to meet you too! hits, it has to be all you.
Here's an example of an automated opener I regularly use:
Hi [FirstName], great to connect! What's keeping you busy these days?
Don't connect with people because you want to sell to them.
Connect with people because you genuinely want to get to know them.
Be curious, ask questions, listen, help out where you can and throw a couple of jokes in while you're at it.
Don't bother faking this. People smell a phony from miles away. Even over broadband.
If you show genuine interest in people, they'll reciprocate.
They're wired to do that.
If you ask what they're working on, they'll ask what you're working on.
If you ask if you can help them out, they'll ask if they can help you out.
If people know, like and trust you, they'll choose you over someone they don't.
This is the key to selling on social media and beyond ?.
Yes, this is the opposite of automation but that's kind of the whole point.
Automation is meant to free up time you can then invest in stuff that requires you to be a human being.
What you're left with:
a bigger and more relevant network

meaningful relations with prospects

warmed up leads

work emails for cold emails

personal emails for Facebook Ads (pro tip: load your LinkedIn connections into a Facebook Audience)
For more LinkedIn lead generation tactics, check out this Playbook.
#2. Make and Scrape Twitter Friends
Don't spend too much time on Twitter.
The platform is suffering widespread bot behavior.
A lot of the engagement going on is fake.
Guilty as charged: I auto-follow/unfollow based on keywords and other accounts they follow.
It allows me to connect with possible prospects and paves the way for the one and only thing that does still work on Twitter to establish relations: talking.
Ultimately, we're interested in Twitter handles. They won't do much for you by themselves, but you can turn them in so much more.
I'll show you how to find relevant people on Twitter (customers, influencers, ambassadors) and go from their Twitter handles to LinkedIn profiles and email addresses.
1️⃣ Jooice it up real nice
Jooicer is a Twitter automation tool I use for two things:
auto-follow profiles based on keywords in their bio + accounts they are following + unfollow if they don't follow me back within a week

send out personalized conversation starters to new followers
A conversation starter does not equal starting to sell yourself and fire off stupid ebooks nobody asked for.
Don't be that guy. One strategy is to find out what their hobbies are, from sports to day trading, it doesn't matter. Show interest and ask questions instead.
Make it conversational and funny. Humor always works. I've been asking people about their favorite pizza flavor for the past two months.
People talk about what they love and who doesn't like pizza, right?
This opens up other topics like where they're from, if they're vegetarian and, finally, what they're working on.
I've gotten so many responses on this message that I'm thinking of making a pie chart (pizza chart?) out of my Twitter's audience pizza preferences.
Here's another example from Jeroen Corthout, one of Salesflare's founders: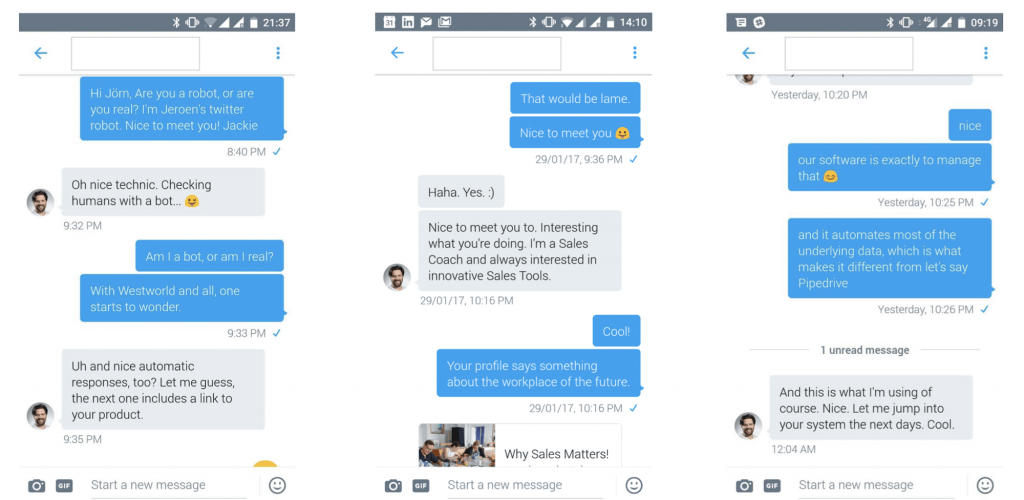 Automate to scale reach, be human to build relations.
You know the drill by now.
Warming up leads yet again. We'll be picking this up later.
2️⃣ Your competitor's Twitter Friends are your leads
"He means Twitter followers right?" ?
Nope, I mean Twitter friends.
?? Somebody's your Twitter friend if you follow them and they follow you back.
You share a mutual interest with them, making them more than just a random follower.
This applies to your competitors too. Their Twitter Friends are often customers, ambassadors or influencers.
Whatever they are, they're important. They're important to your competitors and they're important to you. These are people that haven't already shown interest in the type of value you're creating. They're leads.
Time to get to know them. Scrappy, scrappy ⛏.
You can use FriendOrFollow to get a full list of your competitors' Twitter friends.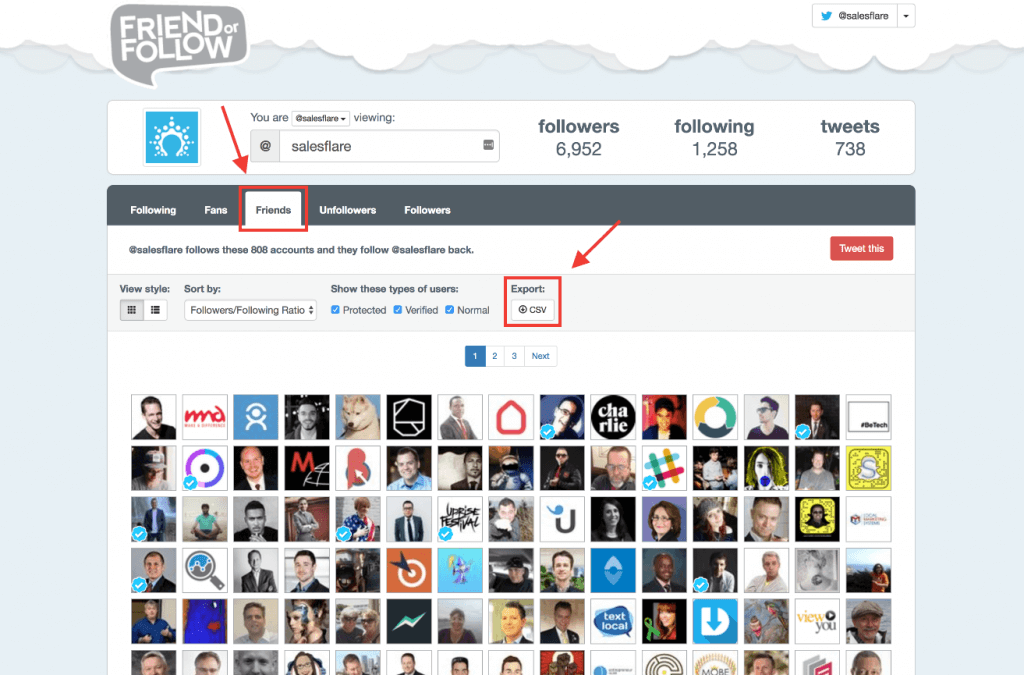 To get everything in a nice sheet, hit Export as .CSV — you can do this on a free trial.
3️⃣ Product Hunt upvoters
The next big thing are Product Hunt upvoters.
Product Hunt's community is packed with early adopters. Track down products similar to yours and you'll have yourself some fresh leads.
Pair up your PH Developer Token with this little tool to get a list of all the people who upvoted a product.
You'll be paid in Twitter handles.
4️⃣ Use Twitter handles to get to the good stuff
You now have Twitter handles of your own Twitter friends, your competitor's Twitter friends, and Product Hunt upvoters.
You have gold in your hands, you just don't realize it yet.
Here's some stuff you can do to turn them into real leads:
Get personal email addresses by pairing the Twitter handles with '@gmail.com' and run the list through an email verifier tool.

Match Twitter handles with LinkedIn profiles by running them through

FullContact

(+ other great stuff, look below)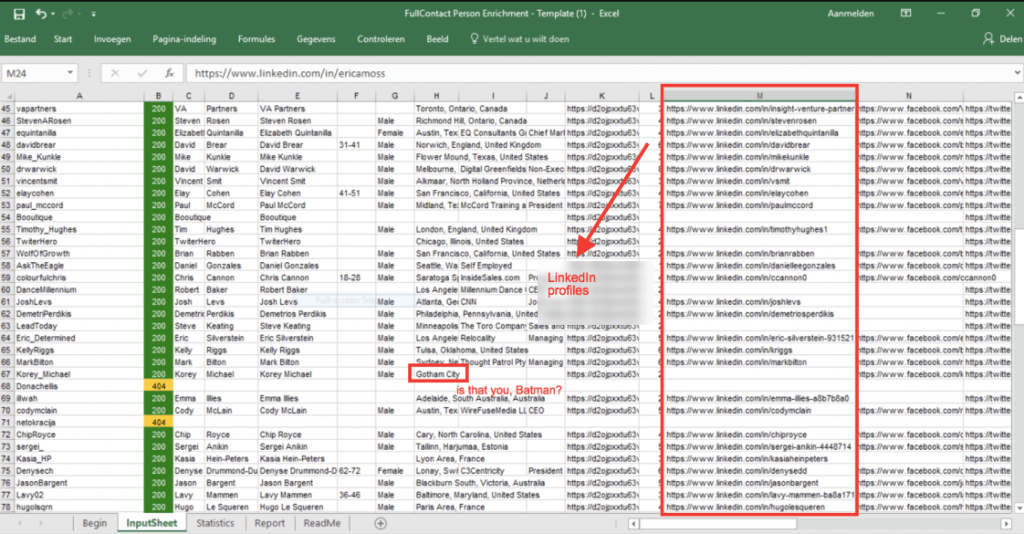 Get personal emails by running the found LinkedIn profiles through Dux-Soup using its 'Revisit' feature.

Get work emails by running a list with first name, last name, and domain through a prospector tool like

VoilaNorbert

.
If you feel like these instructions are awfully vague, that's because they are. This guide will be the light in your darkness.
#3. Website scraping
With prospector tools like VoilaNorbert you only need three things to find someone's email address:
LinkedIn hands you this on a silver platter and we covered how you can get from Twitter handles to LinkedIn profiles. Add Dux-Soup to the cocktail and you get even get personal email addresses fit for Facebook Audiences.
Everything is connected and there's always a way to get what you need.
That goes beyond LinkedIn and other social platforms. There's plenty of other places on the Internet where you can get your sauce.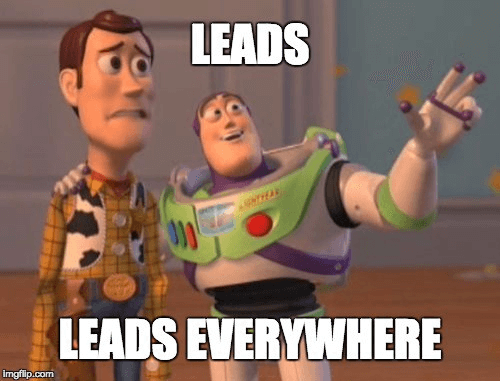 Take review websites.
They're basically customer databases waiting for you to dig into them.
I used to spend hours on SaaS review websites to get to know my target audience and their needs. Then I moved on to putting the moves on them.
With a basic web scraper like DataMiner you can get the data you need with just a few clicks.
Capterra makes for a great use case here. If you're in SaaS or you've ever been looking for some new software, I'm sure you're familiar with it.
Every Capterra review provides you with the name, company name, company size, role and industry of the reviewer.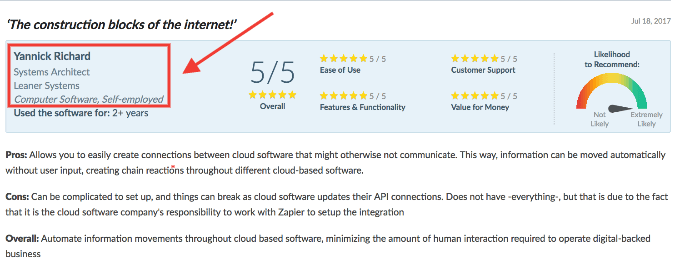 You can easily scrape this ?.
If you want to go totally crazy you can even scrape the ratings along with them and only target the people that gave low ratings to your competitors.
The company domains we can get from the company names. We can do this by having a bot automatically run search queries for the company names in a search engine (Google or DuckDuckGo) and scraping the first result. Or you can use VoilaNorbert which is one of the few email finders that can get you emails from just the company names.
It all sounds more complicated than it is.
I shared my tactics and scrape scripts in this guide on how to steal customers from your competitors.
It includes detailed steps on how to scrape websites like Capterra and features two scripts:
finding company domains based on company names (which you don't need if you're using VoilaNorbert)

finding LinkedIn profile URLs based on names and company names
You can use these scripts with PhantomBuster, a platform that enables you to automate repetitive data scraping tasks like these.
2. Put the moves on.
Time to play.
You now have enough data to launch multiple targeting tactics, such as Facebook Ads, LinkedIn outreach, Twitter following, and cold email.
Or, you know, all of them.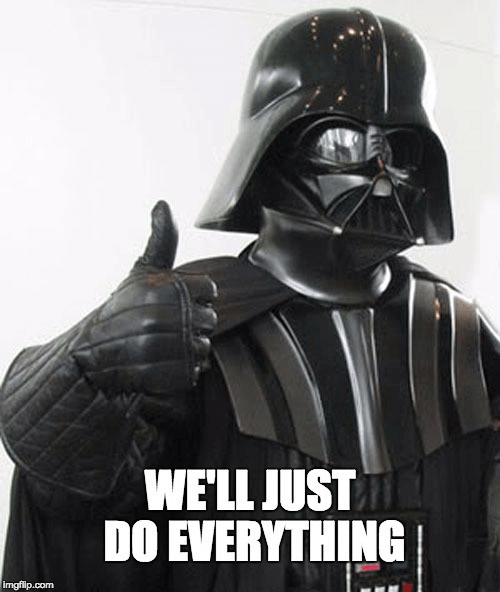 You can fight the battle on multiple fronts and create multiple touch-points to butter up your lead.
That cold email doesn't have to be so cold.
You can auto-visit someone on LinkedIn, grab their personal email with Dux-Soup, show them a Facebook Ad and then send them a killer 'cold' email.
Another one: connect with a lead on LinkedIn, strike up a chat about their needs, show them a Facebook Ad with high-value content and combine with an opt-in for your free trial.
Once your Facebook Audience is big enough, you can dramatically scale your reach by creating a Lookalike Audience out of it.
Possibilities are only limited by your creativity.
For Facebook, I'll leave you with this Playbook to get you all inspired.
For cold email, let's have a look at some automation awesomeness ?.
Mailshake it like a polaroid picture
Out of all the email automation out there, Mailshake is my chosen one.
It's powerful, yet ridiculously easy. Automated sequences, advanced personalization options, all sorts of quality templates plus email and link click tracking. Need I say more?
You can make flexible sequences with automated follow-ups that automatically break off when the prospect replies.
They're also the guys behind the best cold email guide I've read to this date. I can just make it easy for myself and refer you to that.
☝? I do still have one piece of advice.
The biggest mistake I made when cold emailing didn't have anything to do with the emailing itself.
Let me give you an example. I'd send out emails like this:
"Hi MARK, I noticed you work at Facebook INC."
See what I mean? Writing names in capitals pisses people off. It feels like you're screaming.
You also don't put something like 'INC.' behind the company name.
You also don't email Mark Zuckerberg if you're a startup targeting companies with a headcount smaller than 50.
This has "automated marketing email" written all over it. You don't want that.
You won't get a response. You won't get a meeting. You'll hurt your brand. And you'll make a fool out of yourself.
This is what happens when you don't cleanse your data before shooting it up your email automation tool.
Your data will never be 100% accurate and/or relevant.
Wrong names, people having 'MBA' behind their names or 'Dr.' in front of it, words in capitals, missing or misplaced data, company names not suited to refer to… The list goes on.
Or just people in your list you REALLY don't want to email. No matter how targeted you auto-visit in LinkedIn, you'll always pick up people you shouldn't be emailing.
?? This is why you shouldn't sleep on data cleansing.
Yes, I know it goes against the idea of not spending time on mindless admin work but it's a tradeoff you're going to have to live with if you want to get it right. For now at least.
Automation already dramatically scales your reach and increases your chance to outmaneuver your competition. This is not the time to get lazy. Quality still counts.
That doesn't mean you have to do it yourself.
There are tons of people on freelance websites such as Upwork eager to be your data janitor. Just make sure to provide them with very specific instructions so they can get it right.
Automate your lead influx to Mailshake with Zapier
Mailshake is already automation awesomeness but it can get better.
If you've never heard of Zapier, you've been missing out.
Zapier allows you to connect a whole bunch of apps (1,000+) and make 'em work together without you having anything to do with it. Just tell it what you'd like it to do.
The idea is pretty simple: each app has a series of triggers and a series of actions. You can create a flow where a specific trigger in one app triggers an action in the other one.
?? Such an automatic flow is a 'Zap'.

In a manual world, we'd have to feed Mailshake leads by importing .CSV files with data every time again. But you can also have Zapier take care of this for you.
We've been using VoilaNorbert quite a bit going through all the different lead sourcing tactics. LinkedIn scraping with Dux-Soup and website scraping left us with names and company domains/names VoilaNorbert can grab email addresses for.
Instead of exporting that data to re-import it in Mailshake, you can set up a Zap that automatically pushes every new contact found in VoilaNorbert straight to Mailshake.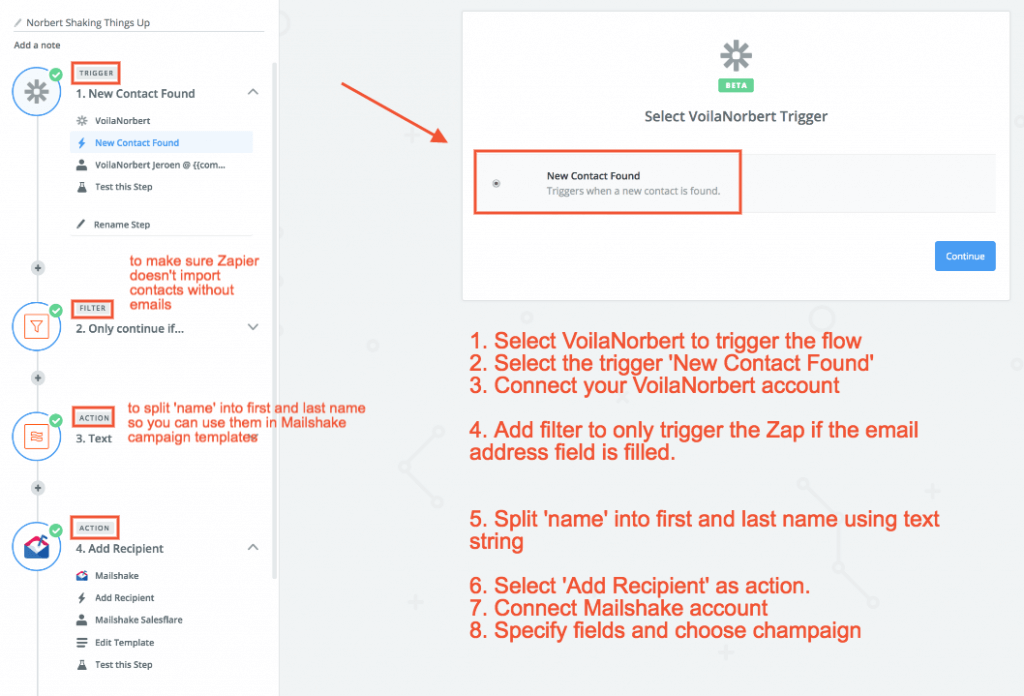 Four steps, that's it.
First, you select the Trigger. Search for VoilaNorbert and select 'New Contact Found' as a Trigger and connect your account. This means that whenever VoilaNorbert finds a new contact, it will automatically push it to a Mailshake campaign.
To make sure the Zap won't be triggered if a contact in VoilaNorbert doesn't have an email address attached to it, we'll add a Filter. Select 'Only Continue If…' and set the field 'Email' (which will show up if you've successfully connected your VoilaNorbert account) to 'Exists'.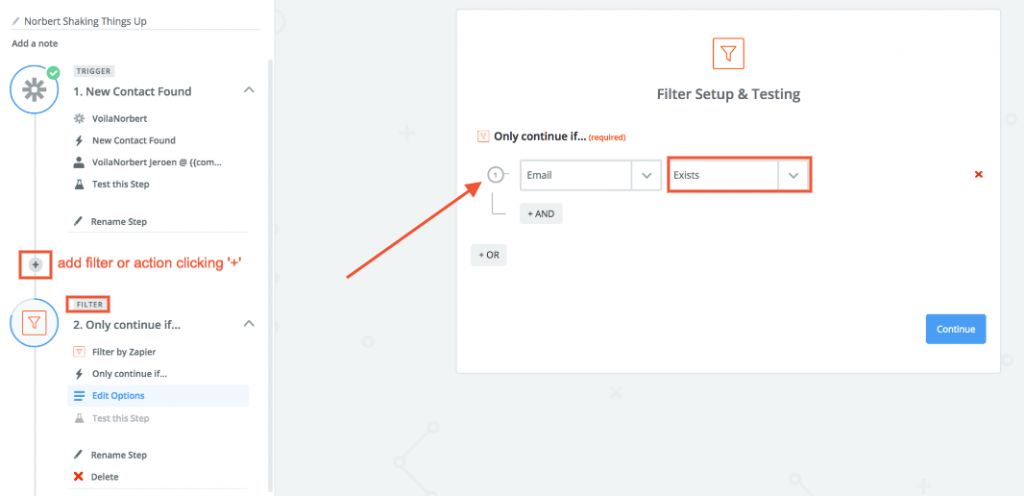 Next we need to split up the 'name' fields to get just the first name we can use them in our email copy. Add another step by clicking '+', choose 'Action' and then search for 'Formatter by Zapier', then 'Text' and choose 'Split Text' from Transform. Then go on to select 'Contact's Name' to split the name into first and last names.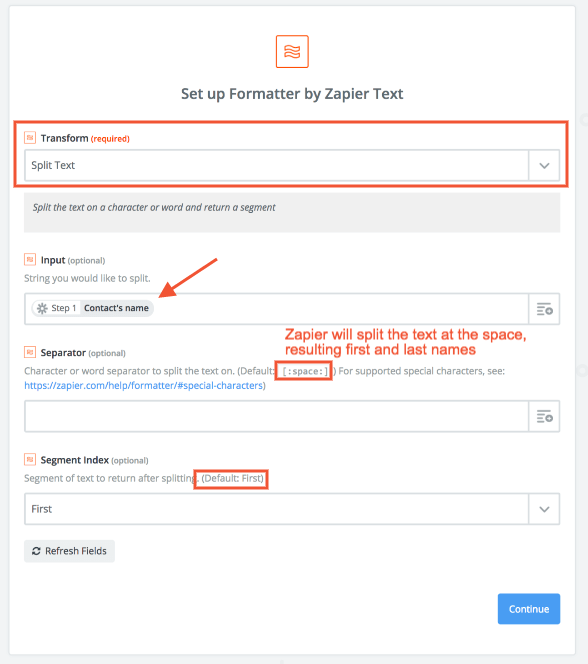 You can leave the two other fields as they are — good to go. If you also want to have the last name separately, you'd need to repeat this step but put 'Last' instead of 'First' in the last field.
Now we can bring Mailshake in on the party.
Select 'Add Recipient' as Action and connect your account.
Then match the fields from VoilaNorbert to Mailshake's.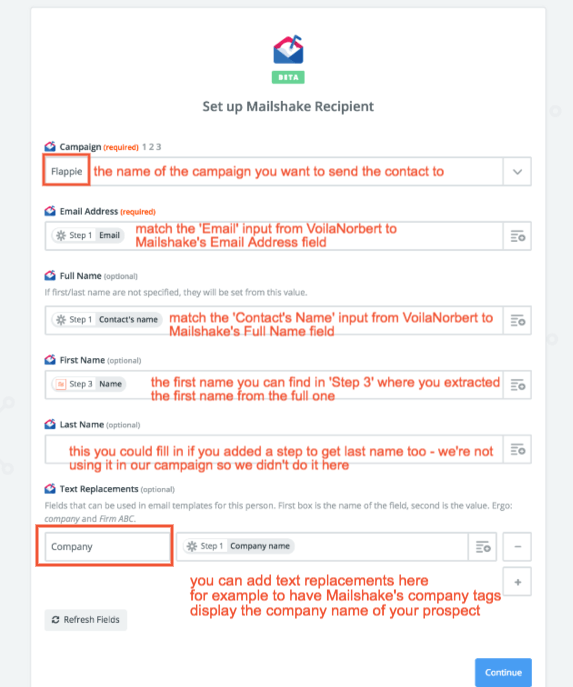 Done. Hit it!

If the Mailshake Campaign you attached to your Zap is active, the new-found contact will be automatically included and sent an email.
It's currently not possible to have Zapier only source contacts from a certain subgroup you made in VoilaNorbert.
To have more control over the leads that are added to Mailshake, you can do a similar thing with a Google Sheet. You'd then export a certain group of leads from VoilaNorbert and add them into the Google Sheet you'd have pushed to Mailshake with Zapier.
If you want it automatic, you could have New Contacts pushed from VoilaNorbert to a Google Sheet and then add another step where you push certain contacts from that Google Sheet (containing a column with a certain tag you'd add) into different Mailshake campaigns, based on the tags.
Just to show that possibilities are, once again, only limited to your own creativity.
My advice: just play around with it. It's not rocket science.
And if you're stuck ?? hit me up on Messenger.
3. How to not drown in your own pipeline
At this point, you should be swimming in leads and firing off thousands of cold emails in your sleep.
But you're not done.
My mom used to tell me to never bite off more than I could chew.
?? Don't scale your leads if you can't handle them.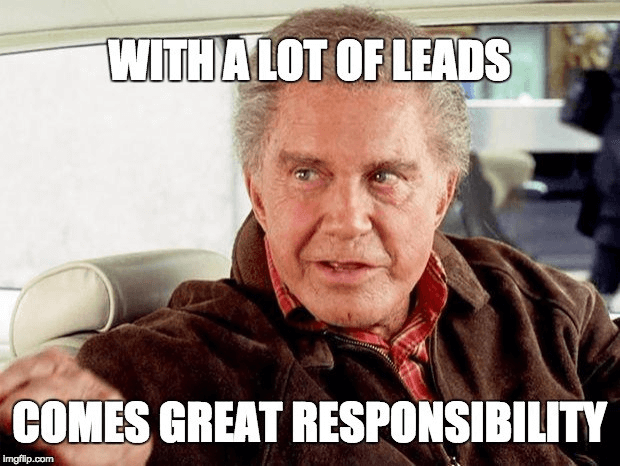 You may have the most leads and the sickest automation in the world, the only thing that will keep you afloat are sales.
No fish worth catching bites the first time you lower your lure.
Success in sales requires patience, nurturing, value and availability and you'll need to equip yourself accordingly if you want to keep on giving every single lead the attention they deserve.
You won't just be missing out on sales.
If you don't suit up for the occasion, all those leads and emails will come back to hit you in the face like a boomerang. You'd be mopping the floor with the water running.
Yes, you need a CRM tool. Something that allows you to talk to your leads instead of having you spend the rest of your life keeping the system up-to-date. More sales assistant than spreadsheet.
Salesflare can float your boat here. It fills out your address book, keeps track of interactions with leads and tells you what do to when with to-dos and reminders. You just have to move the deals through your pipeline while sipping your coffee.
While Salesflare already has quite some automation under the hood, things will really start to heat up once you bring in other apps to the party.
Automatically push new leads from Mailshake to your CRM
At a rate of thousands of emails a day, just adding leads to your CRM for every prospect that replies will already be a real time-sucker.
(In Salesflare you can do that with a single click from within Gmail, but still.)
The most straightforward automatic option would be to create a flow where a new opportunity is automatically created in Salesflare when a prospect replies to a cold email.
But what then with people who reply something like 'unsubscribe' or 'stop sending me damn emails'? You can add filters in your Zap to not continue the flow if the body of the email contains certain words.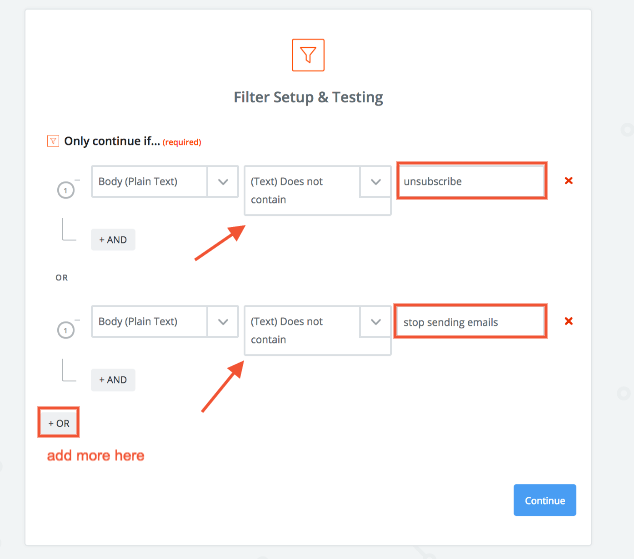 This would filter out most negative responses but it won't be perfect.
However, once a prospect has replied, it should be you anyway replying and not an automated flow so you'll filter out the ones that slipped through the maze yourself.
There's another way too.
Mailshake has a great feature called 'Leadcatcher' that allows you to capture leads based on multiple conditions you can set yourself.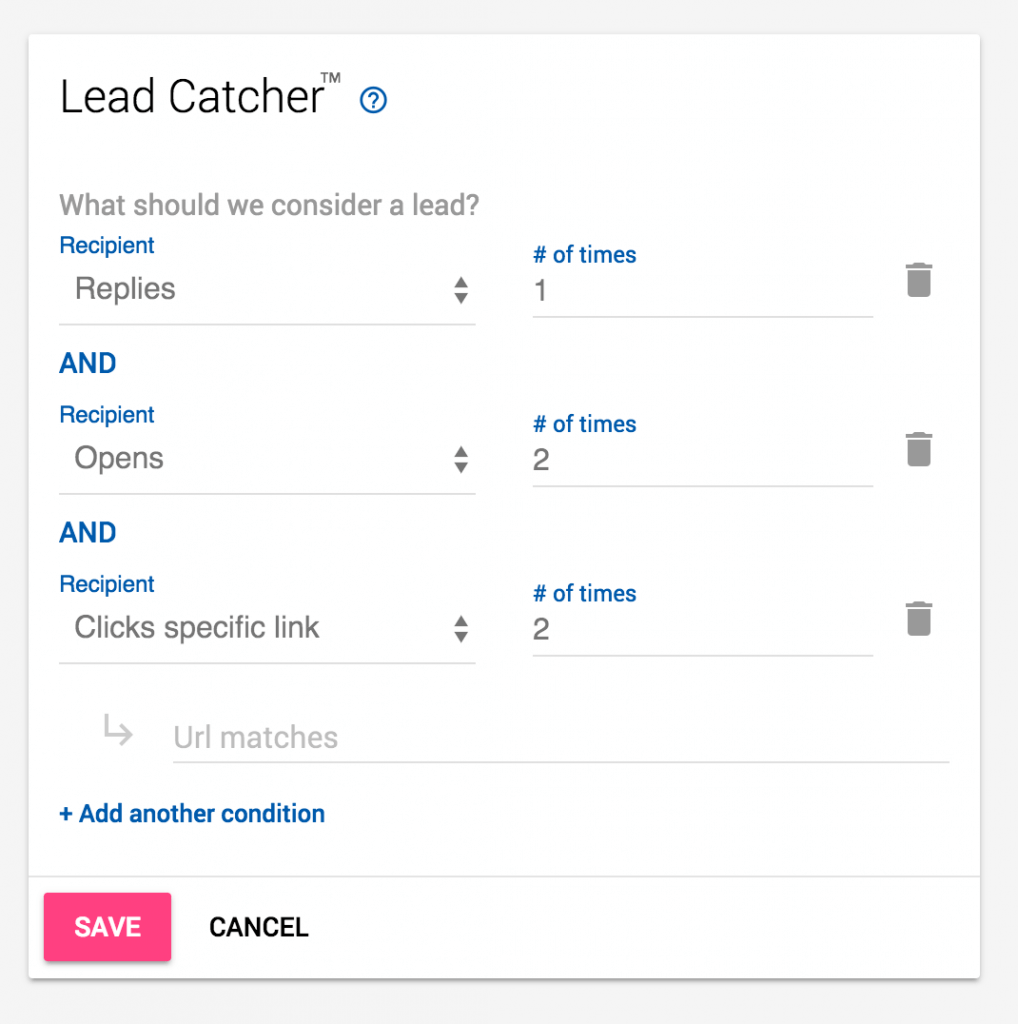 A recipient that replies, opens your email more than once and clicks a specific link more than once, will most probably be a real lead.
You can't filter on keywords like 'unsubscribe' yet — that would close it up real nice — but that's just a matter of time.
To set up a flow where new leads from Mailshake's Leadcatcher are pushed to Salesflare as opportunities, select 'New Lead' as trigger in Zapier.
To create an Opportunity in Salesflare, you first need to have an Account made, so we'll need two Actions in the Zap: first we create an Account from the Mailshake lead, then we create an Opportunity for the Account.
First select 'Create Account' as Action for Salesflare, then match the Mailshake fields 'Recipient Full Name' and 'Recipient Email Address' to Name and Email.
---
Salesflare will automatically enrich the data with more information like company, company size, social media profiles, a picture and possibly a phone number.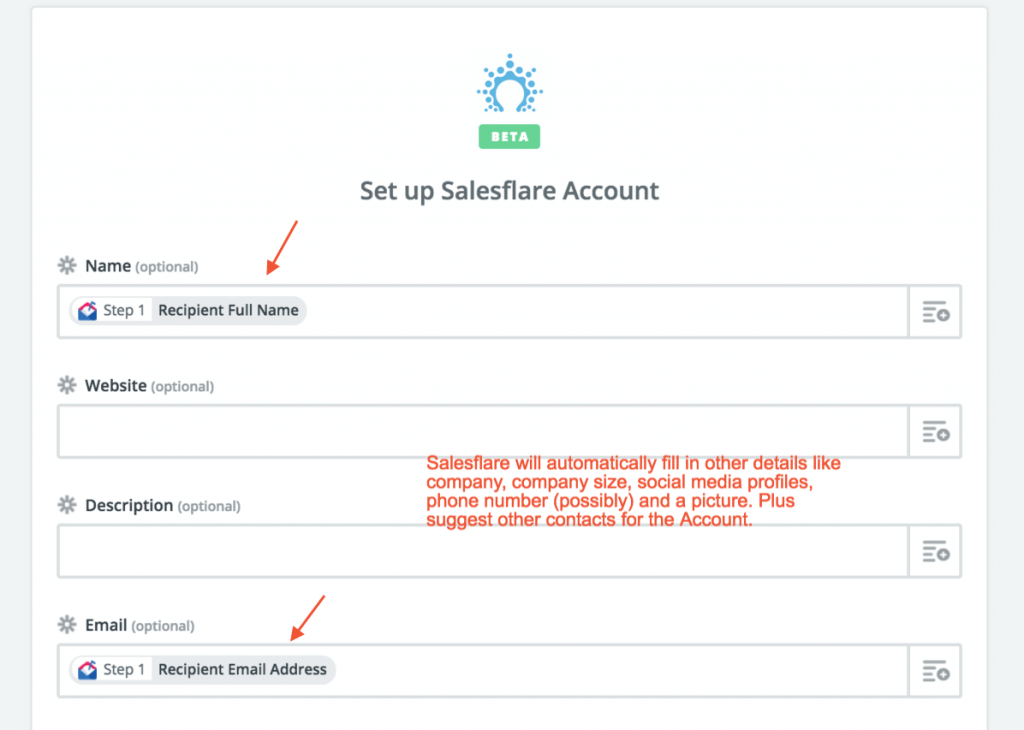 Now add a second Action (third step) in which you'll go for 'Create Opportunity'.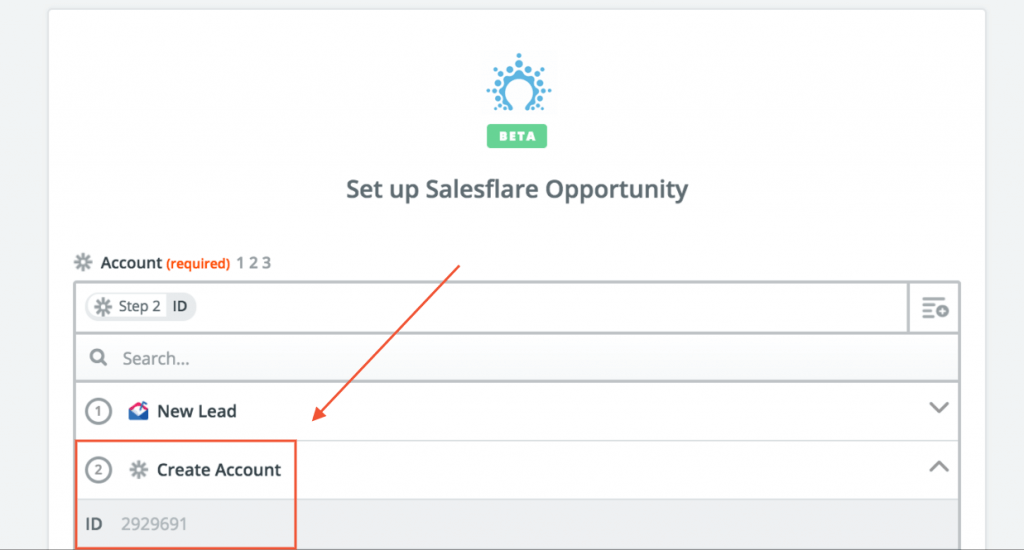 First thing you'll have to specify is the Account you want to create the Opportunity from. When clicking the field, you'll see that you can now select the Account you created in Action 1.
Turn the Zap on.

If a recipient now opens your email at least twice, replies at least once and clicks specific links at least twice, Salesflare will automatically create a new Account and Opportunity for that recipient.
Other stuff you can specify for new Opportunities are owner, assignee, value of the deal, pipeline, pipeline stage, estimated close date,… Just about anything.
That lead is now officially in your sales pipeline.
Let's back up a bit.
In the previous section, we set up an automated flow to automatically add newly found contacts in VoilaNorbert as a recipient for Mailshake campaigns.
Let's go over what happens if you use that Zap with the Zap we just made:
A new contact is found in VoilaNorbert, for example using the Prospector tool on a bulk upload of leads you scraped from LinkedIn.

The contact is added to a Mailshake campaign and is send an email sequence.

As soon as the recipient corresponds to the lead criteria, it will be captured by Mailshake's Leadcatcher.

The new lead is pushed to Salesflare. A new Account is created + a new Opportunity. Salesflare automatically enriches the lead with data.

Salesflare keeps track of interactions like emails, email opens, link clicks, website visits, meetings and phone calls by integrating with your email, phone and calendar

It will create automated to-dos and send you reminders to make sure you follow up when you should
All of this happens without you doing anything.
Everything flows from the moment you prospect to the point where it takes a human being to nurture and close a deal.
Can't get enough?
Maybe you want your whole sales team to be notified every time a new opportunity is created in Salesflare? Say, have it pop up in a Slack channel?
Piece of cake.
Add a new action and search for Slack.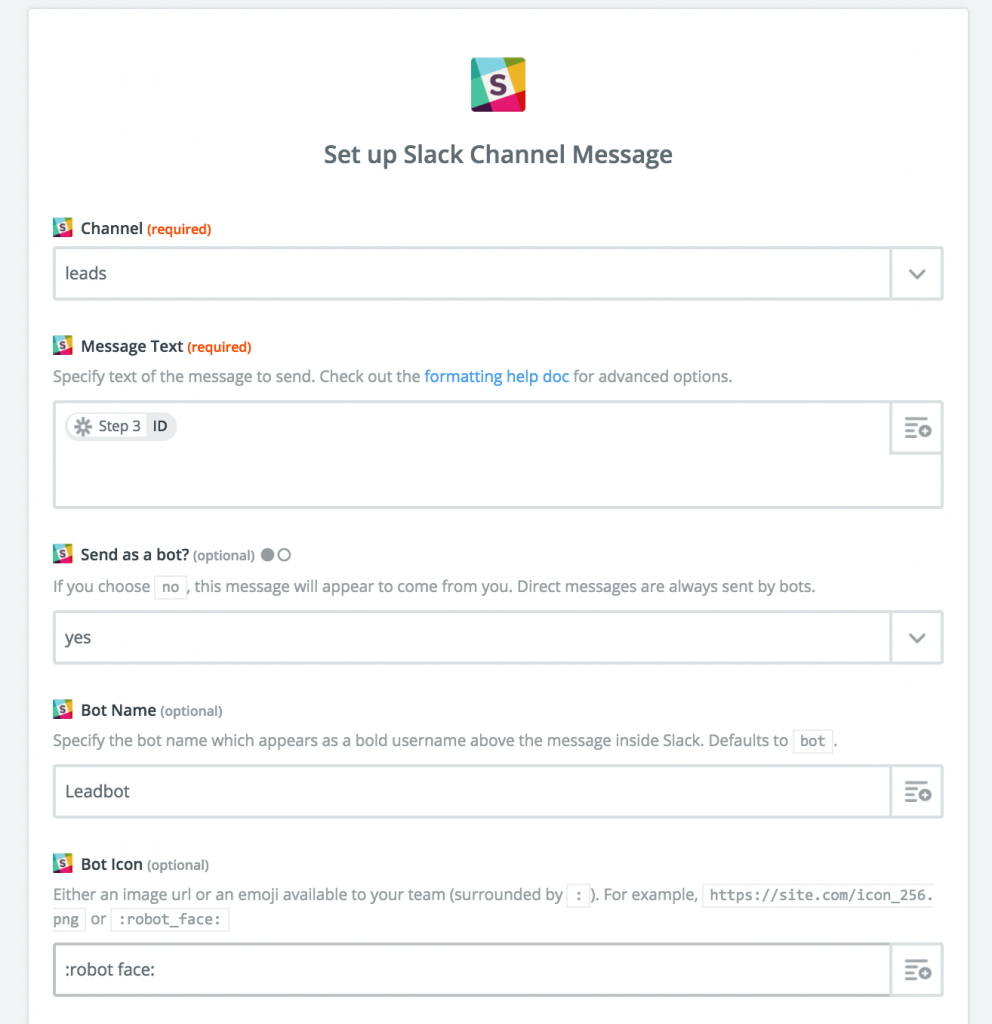 You can choose the channel to get notified it, you can set the message specifying all sorts of data going from Opportunity owner to pipeline, pipeline stage, close date, value, etc.
Work smarter, not harder
Technology has matured up to the point where it doesn't need adult supervision anymore.
Take advantage of that. Have it take care of the stuff that doesn't require your human heart and mind.
Humanity and efficiency don't have to be mutually exclusive.
I hope you got value out of this post.
If you have any questions or think I can help you with something else, feel free to hit me up on Messenger or connect with me on LinkedIn. I love to chat ?