SaaS SEO: The Ultimate Growth Strategy Framework, Proven by One SEO Agency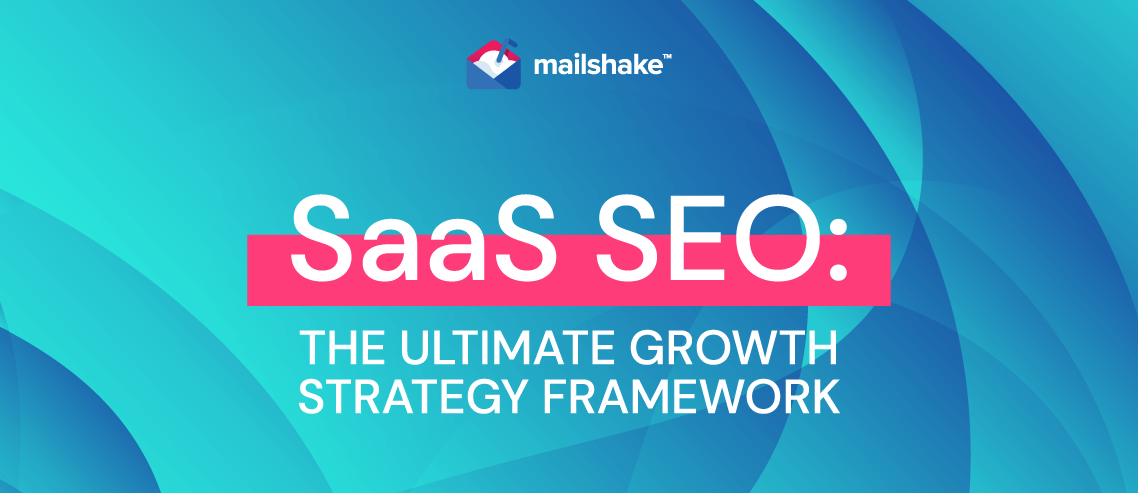 Looking to boost your SaaS sales? SEO is an essential component in the growth journey of all businesses. A robust SEO strategy will bolster all of your digital marketing efforts and sales engagement platforms. It's what helps organizations gain visibility on search engines, target high-quality leads, and—ultimately—generate those much sought-after conversions. SaaS companies are no different.
The steps to optimize for SaaS SEO include aspects of technical SEO, site audits and gap analysis, keyword research, and content optimization. Each of these builds a healthy reputation for your SaaS website and can improve your ranking.
So, without further ado, let's dive in!
What is SaaS SEO?
SaaS SEO is search engine optimization specifically tailored towards Software as a Service companies. It's a way of increasing organic traffic to SaaS company websites and boosting rankings on search engine results pages (SERPs).
(source)
With a solid SaaS SEO strategy, companies fuel growth by increasing organic search visibility and driving more consistent and valuable traffic to their websites. That means traffic made up of people who are looking for information about your software or looking to purchase software.
What is SaaS marketing and is it any different from regular digital marketing? Well, yes. SaaS SEO is specifically targeted toward helping software companies rank, but still functions in much the same way as regular SEO for other types of businesses and organizations. Both SaaS and non-SaaS SEO are based on satisfying the same Google ranking factors, including quality backlinks and content.
SaaS SEO can be supported by other digital marketing methods like PPC (pay-per-click) marketing, social media advertisements, and affiliate marketing. These tactics can help companies onboard new customers in a short space of time.
However, an over-reliance on non-organic acquisitions should be avoided. As soon as your campaign ends, so will your traffic. SEO on the other hand, builds long-term, organic traffic, making it cheaper and more sustainable.
accelerate takes a 360-degree approach to SaaS SEO that incorporates technical, on-site, and offsite SEO. This three-pronged approach has had great success with SEO clients from within the SaaS industry. The proof is in the numbers. Working with accelerate has helped top SaaS companies like RingCentral increase their organic traffic exponentially (by +1324% no less).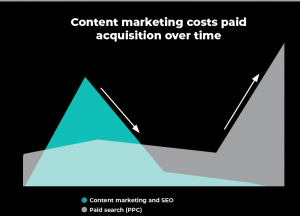 (source)
The Wide-Reaching Benefits of SEO for SaaS Companies
SEO is an essential component for any SaaS growth strategy that impacts and boosts all corners of business.
SEO is what positions your products and services in direct view of your target personas and guarantees that you'll be reaching the largest possible network of potential customers.
By focusing on organic SEO over other marketing tactics like PPC, companies can lower their marketing costs whilst still driving conversions and building their business.
Benefits include:
Increased traffic & conversions: With optimized SEO your site ranking will increase, leading to more high-quality traffic made up of people actively interested in your products/services.
Here's a case in point. By working with accelerate, the omnichannel retail management system provider, Brightpearl, was able to meet and far exceed targets. In fact, this partnership was nothing short of record breaking.
By mobilizing the combined efforts of SEO, on-site content, website migration, and high-profile content partnerships, Brightpearl's non-branded organic traffic increased by a staggering 950% in just one year alone.
Boost visibility: Search engines favor sites with well optimized SEO, by placing them higher on the SERP. With your website ranking higher you'll generate more leads.
Target high-quality leads: With targeted SEO you'll drive traffic from prospects who are actively seeking your services and want to find out more about your company. These are the searchers who are more likely to become qualified leads.
Our SEO Methodology
At accelerate, we approach every SEO strategy with our three-step process. We look at each client's technical, onsite, and offsite strategy in full, 360-degree detail, and tailor our steps from case to case based on the unique goals of each client.
Each step can encompass a range of strategies based on the particular pillar of SEO being focused on for the given client.
1. Diagnostics
The diagnostics stage is about digging deep into the challenges and opportunities present in your business. We conduct AI audits of your entire technical SEO output, onsite content, and offsite links, and support this with further competitor intelligence reporting and gap analysis, in order to identify key areas for optimization.
2. Strategy
The strategy stage is about constructing a strategic roadmap and integrated solution for your online presence. We tailor bespoke SEO strategies to address every type of search query and support your marketing initiatives. No stone is left unturned.
3. Execution
The execution stage is about putting optimization into practice. We will upgrade your SEO framework and use our AI tools to craft an enhanced user journey. Finally, we cement these strategies with a robust backlink network of high-traffic, authoritative online domains and publishers.
The 360º Approach of Our SaaS SEO Framework
As part of our 360-degree approach to SaaS SEO, our three-part framework optimizes all areas of marketing. Using this tried and tested framework, we work with you to create bespoke solutions that will boost traffic and turn that traffic into sales.
Technical SEO
SEO isn't all about content. We start with technical optimization. Technical optimization includes things like website speed, asking usability questions, removing duplicate content, correcting broken links, and rectifying any other errors. It's basically a big spring clean for your website that ensures you've got a slick online presence that meets all the necessary search engine requirements.
Our technical optimization process includes:
1. Site Audit and Gap Analysis
We check all the technical aspects of your website's SEO and identify any fixes that need to be made to maintain your website's health. We then conduct a gap analysis to compare your website's current state with its ideal state. This helps us identify key areas and opportunities for improvement.
2. Site Migrations
If necessary, we may decide that your site would benefit from an SEO site migration, which would mean transfering your site to a different domain. This might be the case if you've recently acquired another company, or you're embarking on a rebranding strategy and need a new domain to match.
3. Site Speed
At this point, we'll check your site speed to make sure everything's ticking over efficiently. Faster site and page loading times enhance user experiences, decrease bounce, and increase average time on page.
Case Study: Bank of Wales
Our technical optimization process brought great success for Bank of Wales who saw their SERP rankings increase by a staggering 890% for business-critical keywords. Thanks to our custom analytics solutions, Bank of Wales was able to adapt their marketing tactics in real-time and react to fluctuations in the market and amongst its target audience's behaviors in real-time.

Onsite SEO
Once your technical optimization is spot-on and your website experience is seamless, it's time to turn our attention to onsite SEO. That means ensuring that you're meeting your target audience's search intent with meaningful, targeted, high-quality content.
Our onsite SEO process includes:
1. Content Audit and Analysis
During a content audit and analysis, we assess all of the content on your website to identify its strengths and weaknesses against relevant key performance indicators (KPIs).
This is a quantitative analysis that we use to identify what types of content perform best, and where a content refresh would be beneficial.
2. Keyword Analysis
When we think of SEO, keyword research is often the first thing that comes to mind. Keywords are super-duper important for organic search engine rankings. All strong SaaS SEO strategy frameworks prioritize effective keyword research.
We will identify searcher intent to determine which keywords your target users are searching for, and embed these in your own content. Then we generate a targeted keyword list to inform your overall SEO content strategy.
There are three main keyword categories to target. These are (i) top of the funnel keywords, (ii) middle of the funnel keywords, and (iii) bottom of the funnel keywords.
Top of the funnel keywords
These are the keywords that your prospects are searching for in order to find a solution to a problem or query. Placing top-of-the-funnel keywords in company blog content is a great way to spread brand awareness.
Top-of-the-funnel keywords typically generates high search volumes but relatively low conversion rates. Customers are still in the "discovery" stage and will need to do more research before making a purchase.
Middle of the funnel keywords
These are keywords that your prospects are searching for when they already know that a product/ service exists to solve their problem. Often these keywords will lead searchers to landing pages, product pages, and/or feature pages.
At this stage, searchers don't have in-depth knowledge of these solutions, so they're searching keywords to help them with further research before buying.
Bottom of the funnel keywords
These keywords are designed to target customers who have purchase intent. They're on their way to making a final purchasing decision. They've already discovered and researched your company's products/services and those of your competitors.
At this stage we'll build a comparison keyword strategy. Once customers reach the "decision" stage, they tend to weigh up their favorite solutions against each other. As such, it's important to include comparison queries that will set your brand apart from competitors and win the customer.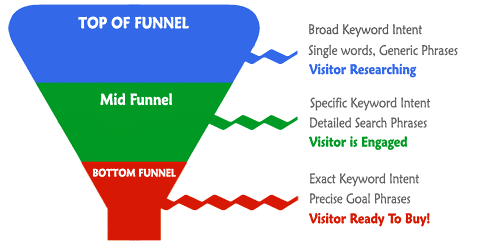 (source)
3. Page and Content Optimization
Next, we develop a content strategy for SaaS. This makes your company a trustworthy source of information by providing rich, meaningful, and educational content that provides customers with the answers they've been looking for. High-quality web content will establish your company as a trustworthy industry leader.
Each piece of content offers an opportunity to place search keywords strategically to help your site rank and encourage prospects to traverse further down the sales funnel.
We will incorporate the existing pages on your website, as well as adding additional branded content such as a company blog. Your blog will be a source of relevant information, thought leadership pieces, and offer customers with solutions to their problems and queries.
Via your blog, you'll have opportunities to discuss longtail topics and keywords to generate longer-term engagement. By doing this you'll rank better over time and increase authenticity in the space.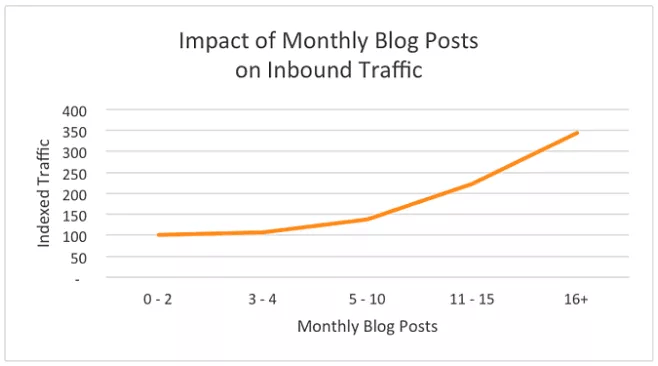 (source)
Case Study: RingCentral.com
RingCentral's success has been a testament to the power of onsite SEO. RingCentral wanted to expand their core service offerings to new markets. Their objective was to boost non-branded traffic to their website by 500%.
Together, we did that and much, much more. By working with accelerate, RingCentral.com increased non-brand traffic by no less than 1185%.
Offsite SEO
The final stage making up our framework is offsite SEO. This involves working with high-authority domains like BigCommerce, Hubspot, G2, and Drift to secure content partnerships that result in increased organic and referral-based traffic.
Our offsite SEO process includes:
1. Link Audit and Analysis
We will evaluate your links and assess whether they're sufficiently optimized for site ranking and target keywords. By analyzing all links leading to your website, we can find any potential problems within your backlink profile and fix them asap.
2. Link Strategy
Post audit, we'll develop a robust SEO link strategy. This process is called link building and involves getting high-authority websites to link back to your website. This signals to search engines that your site is a high quality resource.
3. Competitor Link Analysis
Our competitor backlink analysis is a process of reverse engineering all of your competitors' backlink profiles. We will build equivalent links on your site to help you rank higher on SERPs and generate more traffic to your website.
Case Study: Brightpearl
Brightpearl saw great success working with accelerate. The company came to us looking to improve search rankings and connect with core customers throughout the sales funnel. After auditing Brightpearl's website we uncovered critical issues and optimized core site pages, resulting in a 950% increase in organic traffic.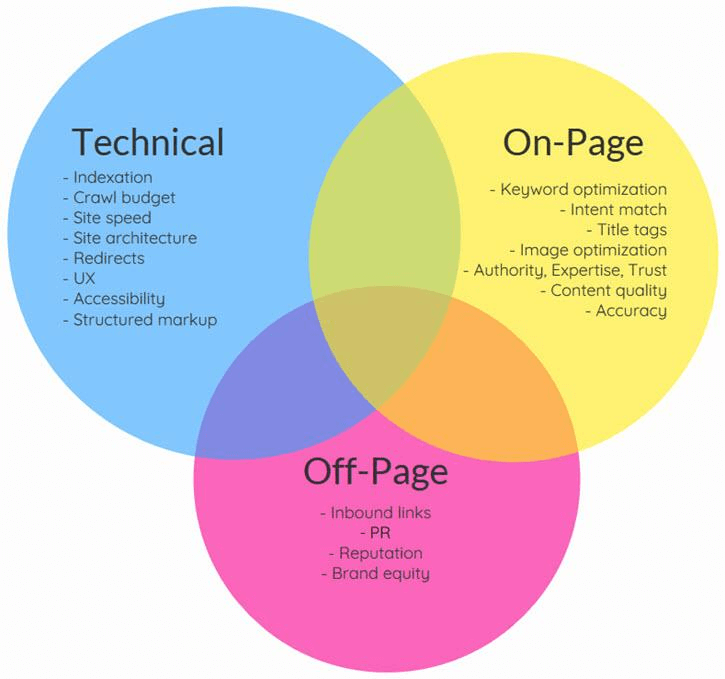 (source)
In most cases, when working with clients, we tap deep into at least two of the above SaaS SEO elements. Depending on your specific goals and objectives, we'll tailor an approach to target your unique pain points and start driving results.
SEO is Fundamental to SaaS Success
SEO is essential for any SaaS business strategy. That's why accelerate adopts a complete 360º approach to SEO for all clients. We firmly believe that this is what will give SaaS companies the upper hand. And we've got the results to prove it! With your own SEO framework in place, you'll start ranking higher and generating high-quality leads that convert in no time at all.