Cold email is one of the most popular and effective sales tools available today. It's less intrusive than a cold call, and more personal and persuasive than most other types of advertising. But it's getting more difficult.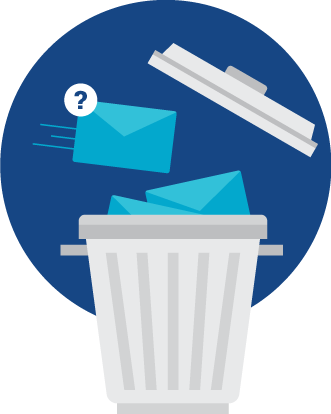 The average office worker receives 121 emails a day. That means emails from unknown senders are often ignored – and on top of that, there isn't any guarantee that the emails you send will find their way into your recipients' inboxes in the first place.
So how do you overcome these obstacles and fine-tune your cold email game to crush your goals?
Our Cold Email Academy video series has those answers, and a whole lot more. The following 19 videos will teach you everything you need to know about creating cold emails that convert.
Big thanks to Nate Wright and David Begg of Inbox Attack for sharing their hard-earned insight and expertise. They go deep with their battle-tested tactics and strategies learned from crafting and sending over 11,000 email campaigns.
From

Are you giving enough consideration to the "from" element of your emails? Odds are, you're not. Learn what makes the sender so important and how to leverage it for your benefit.

Subject Lines

How much do subject lines really matter? Find out while discovering how to write subject lines that get your emails opened.

Message

Wondering what should sit in the body of an outreach email? Learn how to write emails that convert in.
Personalizing

Personalization is arguably the most important element of every cold email, and can be the deciding factor in whether or not you succeed in making a connection with a stranger.

Testing

Most people don't do enough testing – or any at all. Find out which elements of your emails you should be testing, and how to do it right.
List Management
Where Do You Find Emails?
There are many ways to locate email addresses and turn them into lists to leverage in email campaigns, but some are more effective than others.
The best outreach lists are small and highly-qualified. They're typically built using a mix of manual prospecting and scraping tools like Voila Norbert. You can even further streamline the process by using an integration tool like Zapier.
So where should you go to find prospects? Google is the obvious choice, but it's far from your only (or best) option. Our go-to platform is LinkedIn. Invest in a premium account so your searches aren't limited, and then send (personalized) connection requests to a narrow group of highly-targeted prospects.
With the right targeting and a persuasive message, 20-60% of your connection requests should be accepted (and you'll automatically get each of their email addresses, too).
Want to learn more about how to find emails and create lists? Hear outreach expert Nate Wright's thoughts on building better email lists, faster, in the video above.
List Management
Scrubbing Your Email List
Email programs have never been better at stopping spam. You obviously want your emails to evade spam filters for deliverability, but there's another concern: If the emails you send bounce regularly, your email service provider may "fire" you, and eventually, blacklist your domain.
This means regularly scrubbing your email lists of "dead" addresses is essential – no ifs, ands, or buts. It will preserve your domain and up the effectiveness of your campaigns.
Thankfully, scrubbing is easy – simply verify your lists en-masse using tools like Bulk Email Checker or Voila Norbert. Alternatively, Mailshake now offers a new List Cleaner feature.
For more on how to scrub email lists (and why failing to do so is not an option), view our video with outreach expert Nate Wright above.
List Management
Prepping for Personalization
This is where you're going to make money, or lose it. Effective personalization (or lack thereof) can make or break your campaign. In fact, poor personalization is the number-one reason cold email campaigns fail – period.
Personalization is even more important than the copy itself. But how can you do it effectively, without spending hours writing a custom email to every contact? Merge tags.
Merge tags are the fastest and most efficient way to personalize emails – you just have to know how to use them, and use them right.
Should you use a contact's first name? Can you add social proof or name-drop with merge tags? Have you implemented a backup that will account for blank spaces in your email list? This video can help you answer all these questions, and more.
Get expert advice on leveraging merge tags for email personalization in the video above.
List Management
Customizing Your Approach
The key to getting responses to your emails is tailoring them to your individual customers. While sending out the same copy-and-pasted email to hundreds of people might help you cover a lot of ground quickly, it's not going to get you the results you're looking for.
If you want to write emails that engage, it's best to spend some extra time to personalize each one you send out. You can start with merge tags for the receiver's first name and industry, but it's even better to go the extra mile and comment on a specific part of their work. For example, if you liked one of their recent blog posts, mention your favorite part in your email. That way, they'll know that email was meant specifically for them.
While there's no shortcut to finding out that information, Mailshake can help you drastically speed up the actual writing process by adding merge tags for your custom text. Then, all you need to do is input your custom info into an importable spreadsheet, and Mailshake will do the heavy lifting for you.
Learn how to speed up your personalization workflow and get some expert tips in the video above.
Deliverability
The Basics
Deliverability is one of the most complicated components of any cold email campaign. Consequently, it's all too often overlooked.
Don't make that mistake. You can easily get a leg up on your competition by learning two things: how deliverability works, and how you can apply this knowledge to maximize your hit rate. So here's lesson one: what happens when you send an email.
The recipient's server will check the sender's records, the reputation of their domain and delivery server, and finally, the content of the email.
It sounds simple, but don't be tricked into thinking deliverability is just a box-ticking exercise – email servers are more sophisticated than that. Who you're emailing, the strictness of servers, and the "red flags" they're looking for all make a big difference – and they're going to vary a lot between industries and institutions.
Get more insights into the basics of email deliverability – and how to get more of your emails into the inbox – by watching our video above.
Deliverability
DNS Records
Think hitting "send" is all there is to successfully delivering emails? Think again.
There's a whole lot happening behind the scenes that helps determine whether or not your email makes it into your recipient's inbox.
Your DNS record is just the start. This consists of the:
SPF (Sender Policy Framework)

DKIM (DomainKeys Identified Mail)

DMARC (not necessary but very beneficial when emailing contacts with extra-strict servers)
Why does all of this matter? If an element of your DNS record is incorrect or missing, you could be blocked at the server level. In other words, you won't even make it into a spam filter. This means checking the health of your DNS records is critical to the success of your cold email campaigns.
Get a breakdown of how to do this in the video above.
If you want your emails to make it into the inbox, you need the right tools. Use Mailshake? It now has a real-time analyzer that will highlight potential problems with your emails that could affect deliverability or response rates.
MX Toolbox will check the health of your DNS records and similar data.
Want to get out of Gmail's Promotions tab? That's tough, but GlockApps can help get you into Primary instead.
You can even send your outreach email to Mail Tester, and the site will score your email and provide a checklist of deliverability-based changes you can make to boost success rates.
If that's not enough, you can also increase deliverability by moving to a different email service provider (hint: G Suite), changing your sending domain, or switching to a better DNS manager.
Learn all of these deliverability-boosting tips and tricks and more in the video above.
Deliverability
Domain Warming
When you start a cold email campaign, there's always a risk that one of your receivers is going to mark your email as spam. It's bound to happen at some point, and when it does, it can affect the deliverability of all your future emails from that domain.
So, what can you do to prevent that? While you can't eliminate the risk entirely, you can minimize its impact on your future business communications by using alternate domains. That way, even if you do get marked as spam, emails from your primary domain won't be negatively impacted.
But using alternate domains isn't as simple as setting one up and sending out some cold emails – you'll still need to warm it up first.
Learn how to use alternate domains to mitigate risks in the video above.
Deliverability
Engagement
When it comes to email, the saying "no news is good news" doesn't hold up. While you might think that getting a "no" is worse than simply not getting a reply, flat-out rejections can actually be helpful.
A more applicable saying is "any engagement is good engagement". Even if you're only getting a bunch of "no thanks" replies, you're still racking up engagement, which will improve your deliverability and, as a result, your chances of getting a "yes please!".
The key to getting the engagement rolling is to ask questions. Instead of leaving off by saying you'd like to hop on a call, rotate some other questions like "would this interest you?".
Learn how bad news can be good news in the video above.
Many marketers pay little to no attention to the "from" element of their emails, but that's a huge mistake. It's the first thing recipients see, and it has a big impact on how they'll respond.
Why?
Because we want to communicate with people, not bots or businesses.
Create emails that look like they're being sent by an individual, not a company. You can be an individual at a company, but that human element is vital.
Learn more about the importance of the "from" element in emails and how to leverage it correctly, in the video above.
Writing Emails
Subject Lines
Email subject lines are one of the most important elements of cold emails. They can even be deal-breakers – right?
Well, not necessarily. The emphasis put on them by marketers and other experts can certainly make it seem that way, but they might not be as important as you think.
That said, they do influence open rates, so you shouldn't overlook them entirely, either.
Here are a few best practices to keep in mind when writing effective subject lines for cold emails:
Keep it short and sweet.

Avoid using prospects' first names. This can be effective in ecommerce, but B2B is different.

Never, ever try to trick recipients with a "bait and switch."
Learn more about writing subject lines that get emails opened in a few minutes flat by watching our video above.
Stressing about what to put in the body of a cold email? Simplify things by getting back to basics.
Start with your intent. What do you want recipients to do as a result of reading your email? Understanding this will make it much easier to write both your email and your subject line.
But don't stop there. You also need to think about what salutation to use, how long the body of the email should be and what it should contain, when to include a CTA and how to frame it, and what to include in your signature.
There are also some best practices that should be followed, without fail. Be benefit-driven, add value, and never exceed three sentences per paragraph. Don't forget about the footer, either. It's often overlooked (or forgotten entirely), but it's a great place to include further personalization, another reason to buy, or an extra CTA.
For more on what you should (and shouldn't) include in the body of a cold email, take a few minutes to watch our video from outreach expert Nate Wright, above.
Optimizing Emails
Personalizing
Cold email personalization is simple when you use merge tags, but what tags should you use and how should you be using them?
It's easy to go overboard and make an email that should sound human and personal feel forced and unnatural.
It's even easier to underuse merge tags, and miss opportunities to streamline the process of creating uber-personalized emails – emails that successfully convince the recipient it was written for them, and them only.
Learn more about getting the best out of merge tags in the video above.
Optimizing Emails
Follow-Ups
What's your approach to follow-ups? Are email sequences your thing? Or do you not see the value in sending follow-ups at all?
How about approach number three: sending the first round of follow-ups manually?
It takes more time. It's a little more effort. But you'll be rewarded in increased replies and conversions.
Your subsequent follow-ups can be automated as part of a sequence, but there are still some stipulations. Timing is key, and how you leverage your previous emails makes a big difference.
Think of sending follow-up emails like continuing a conversation, and you may see a significant uplift in the results they get you.
Learn more about crafting effective follow-up emails in just a few minutes by watching the video above.
Optimizing Emails
Testing
You should always be testing. That's a given. But what should you be testing? A conversion doesn't necessarily equal success. An opened email is not a sale.
Too often, people measure the success of an email campaign based on that metric alone.
Those people are doing it wrong.
Open rates tell you that your "from" name and subject line are working, but that's all. Reply rates, link clicks, and meetings scheduled matter more – but how much money your emails make you is the most important metric of all.
Monitor the right metrics and test regularly, and you'll benefit from invaluable insights that can help you increase the effectiveness of your cold email campaigns.
Learn more about effective testing with outreach expert Nate Wright, in the video above.
Advanced Cold Email Tips
Account-Based Do Not Contact
Sometimes, reaching out to the right people is all about not reaching out to the wrong people.
Whether it's previous customers who have unsubscribed from your list or simply clients you know don't take well to receiving emails, it's important to maintain an up to date do-not-contact (DNC) list to avoid the landmines in your email list.
With the help of tools like LeadFuze, it's easy to filter your email list, export a list of the contacts you want on your blacklist, and then import that list into Mailshake to ensure they're unsubscribed and won't be receiving any future communications.
Learn how to create an account-based do-not-contact list in the video above.
Advanced Cold Email Tips
Human-Proof Your Copy
When writing emails, far too many people think that being distant and business-y is the best way to show that you're capable, know how to navigate the space you're in, and can get things done.
But the reality is that even when you're doing business, there's always another person at the other end of that email who's going to react to it on an emotional and human level.
Sure, AI may be trending, but just because you might use ML to help with your data analytics doesn't mean your emails should send like an experiment in the Turing Test. Keep your emails warm, friendly, and reach out to your contacts as a fellow human trying to make a connection, not as a shark trying to land a sale.
Get expert advice on how to humanize your emails and boost your engagement in the video above.
Advanced Cold Email Tips
Sequencing
A good email sequence is like a good piece of music: it ebbs, it flows, it peaks, and it concludes in a satisfying way. If any of those pieces are out of order, the music won't work, and your email sequence won't convert.
To perfect your email sequences, you'll need to master a subtle dance that requires just the right amount of pushing forward and easing off at the right times. Plus, you'll need to make sure you completely avoid three major mistakes that can sink your email campaigns in an instant.
Learn how to avoid the Big 3 email sequencing mistakes in the video above.
Advanced Cold Email Tips
Re-Engagement
Even the strongest relationships can have periods of radio silence. So, how do you strike up a conversation with your contacts when you haven't spoken in ages?
The trick is to offer some "proof of life" behind your emails. Write subject lines that are timely and prove there's a real person behind your email, not just a bot churning out hundreds of emails a day. Keep the copy personal, unique, and human - and don't be afraid to show some vulnerability either.
Get expert tips on how to re-engage your clients in the video above.