Top Sales Courses to Help You Earn Bigger Commission Checks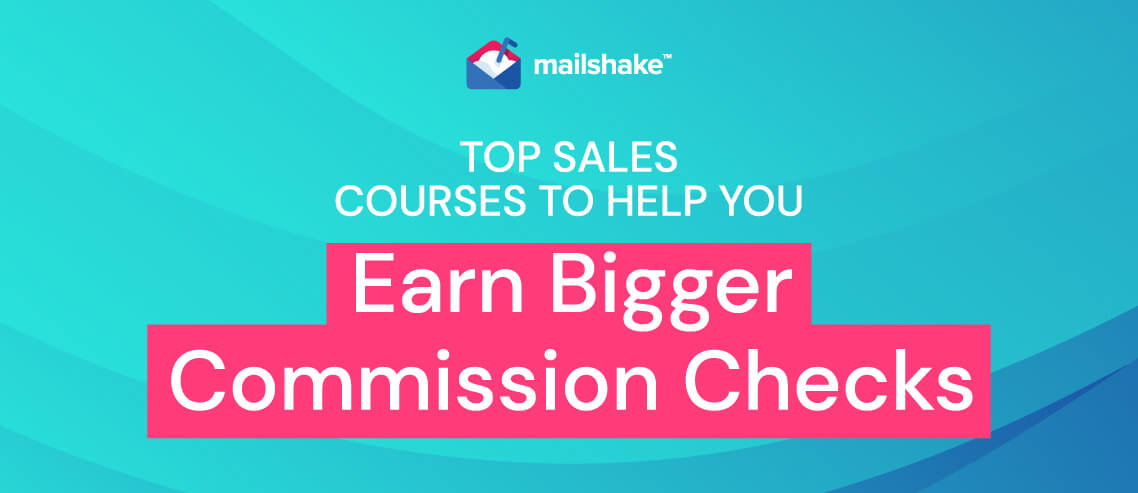 When it comes to earning bigger commission checks as a salesperson, one of the best things you can do is invest in your skills. Commission is all about performance, so every step you take to improve your knowledge and skills will come back to you in the future.
To help you do this, there's an endless list of sales courses.
With so many options to choose from, it's difficult to know where to begin your search, so we've done some of the research for you and put together our favorite sales courses.
Where to Start on Your Search for Sales Courses
Online learning has never been more convenient. Nowadays, you can find high-quality courses for virtually any subject, allowing you to study in your own time and boost your skills.
While there's an endless number of independent courses, a good place to start your search for sales courses is on the big platforms: Coursera, Udemy, and LinkedIn Learning. These sites provide individual creators a platform to create their own courses, resulting in a huge library of courses for you to choose from.
The big benefit of these courses is that you know what you're getting. The software is going to be high-quality and glitch-free, and you've got a host of reviews to help you pick the right course.
Of course, the quality of the course will depend on the original creator, but there's a lot of social proof to help you make your selection.
1. Coursera
Coursera is a huge open online course provider that works with some of the biggest names in the world including Google, IBM, and a host of reputable universities.
A quick search for sales courses will bring up a range of options from big-hitters such as Northwestern University, HubSpot, Yale University, and Goldman Sachs.
Each course has its own curriculum, enrollment options, and instructors, so it's worth doing your research to find the one that best fits your needs. The great thing about these courses is they're backed by big names, so when you complete your course and earn your certificate, it means something in the business world.
2. Udemy
Udemy works on the same principles as Coursera, providing individual creators with a platform to launch their own courses.
One of the big strengths of Udemy is the sheer number of courses it offers. With over 150,000 courses available, you're bound to find the knowledge you're looking for. The difficulty might be deciding which course is right for you, and in a crowded field like sales, it can be a little overwhelming.
Like with Coursera, there's a lot of social proof (something you'll learn to use in your sales) to help you make the right decision though. Search by star rating to see the highest-rated sales courses, and read the latest feedback from real-life students.
3. LinkedIn Learning
Everyone's heard of the social media platform LinkedIn, but not so many have heard of LinkedIn Learning.
LinkedIn Learning is an excellent resource, giving you access to thousands of courses. With LinkedIn Learning, you have the option of paying a monthly subscription for full access to over 16,000 courses, which works out at amazing value.
Just like Coursera and Udemy, the platform is backed by a huge name that continues to invest in its software. This means you can expect great deliverability, and courses that are optimized to help you learn at your own convenience.
Most Popular Sales Courses
Of course, it's not just the big platforms where you can find high-quality sales courses. There are also lots of independent companies and experts that offer great insights and high-level training (we've also got some good free resources).
When you're choosing your sales courses, you should always make sure to do your research. Remember that anyone can create a website and put a sales course on it, so pay attention to the curriculum, who the instructors are, and the reviews the course has had.
Here are some of the most popular sales courses at the moment.
1. Sandler
Sandler is a big name in professional training and it offers some great sales courses to help you improve your skills.
While other courses teach you to "play the game," Sandler aims to "break the rules and change the game," learning how to work smarter, sell more, and sell more easily. Sandler's aim isn't to teach you soft skills, but to discuss the core ideas that are going to help you sell better, giving you a definitive path towards sales mastery.
With eight sales training programs and four online sales training courses to choose from, Sandler's platform can help you improve every area of your sales career.
2. JB Sales Training with John Barrows
JB Sales believe that everyone can learn to sell better, and they've made it their mission to make this happen. Noticing a lack of formal academic sales training available to professionals, the team put their decades of experience together to create valuable sales courses.
This training has been implemented at companies like SalesForce, Forbes, GE Digital, and Marketo among many others, with very successful results.
For just one dollar a day, the program is designed to overcome obstacles through real-time mentorship, access to high-level content to improve your skills and build your network through an engaged community.
3. Sales for Starters with Josh Braun
Josh Braun's Sales for Starters is an ideal intro to outbound sales, giving you the kickstart you need for your career or business.
One of the key principles of the course is teaching you how to do sales without feeling "salesy," and as they put it, "gross." Many people don't see sales in a positive light, but it's a natural part of life and business. Being able to do it in a positive, natural way can bring you great success, and this is something Sales for Starters can help you do.
This is a great course for people who want to feel more confident and natural when speaking to potential customers.
SaaS Sales-Specific Training
SaaS products have taken off in recent years and there's lots of demand for salespeople with SaaS-specific experience. While SaaS sales rely on the same key principles as any other form of sales, it does have its own nuances.
If you're looking to improve your skills, then the following SaaS sales courses can be a good investment.
1. Aspireship
Aspireship brings together some of the leading voices in SaaS to help equip people with the skills to succeed in SaaS sales.
Not only are these courses expertly optimized to give you the skills you need, but Aspireship also partners with big-name brands to help get you hired.
The four-week, 20-hour course is designed with your career in mind, and its pricing structure is extremely affordable. Tuition is 100% free, so if you complete the course within your 30-day membership, then there's nothing to pay.
2. Elevate
Elevate is another tech sales course with a big focus on getting you hired.
The ten-week course teaches the critical skills you need to thrive in SaaS sales, and it's had great success in placing graduates with some huge brands. Elevate members have gone on to work for Microsoft, Outreach, StretchSense, and Qualio among many other tech brands.
85% of members land work in full-time SDR sales roles, earning an average starting pay of $65,000.
Final Thoughts
Whatever stage you reach in your sales career, there are always new things to learn.
Whether that's understanding how to sell new SaaS products, or simply doubling down on your knowledge, there are some great sales courses out there. With so much choice, the problem isn't finding a course, it's finding the right sales course, and this is where your research comes in.
Understand exactly what you want to achieve, and the skills you'd like to learn and work from there. Make the most of reviews, and try to look at the outcomes other students have had.
Some of these courses have great connections within the industry and can open up new doors for your career, so they're well worth the investment.