Finding The 'Right' Email Address Without Wasting Time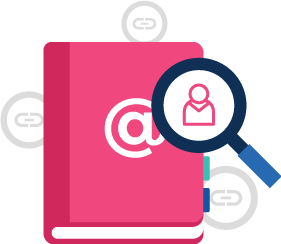 Writing great emails – using the tips from Lesson #2 – is only half of the cold messaging battle. As you perfect the language used in your cold emails, you'll also need a plan for finding the addresses of the people you want to reach.
I've compiled a list of strategies, tools and other resources below. Pick the ones that best suit your industry and sales style, and then get to work!
Where to Find Email Addresses
The communities you're already a part of can be rich places to mine potential contacts.
LinkedIn
Sample Strategy: Export your contacts to capture work or personal email addresses from your connections.

Per LinkedIn, you'll need to take the following steps to export a list of your current connections, including their email addresses:

Click the My Network icon at the top of your LinkedIn homepage.
Click Your connections on the left rail.
Click Manage synced and imported contacts near the top right of the page.
Under Advanced actions on the right rail, click Export contacts.
Click Request Archive.
You will receive an email to your Primary Email address which will include a link where you can download your list of connections.

Use the Instant Data Scraper Chrome plugin to scrape contact information from LinkedIn Groups

Join as many Groups as possible in your industry to increase your possible connections
LinkedIn currently limits scraping tools to roughly 2,750 records
Check out the full tutorial from GrowthPack.co's Tzvika Avnery here

Follow the company pages where your key prospects work to find their email addresses and others' contact information
Autofollow 2nd connections to increase the size of your network
Twitter
Copy your competitors' followers' Twitter handles, match them the LinkedIn profiles using FullContact, and scrape their visible email addresses on LinkedIn.
Start by creating a list of the Twitter handles following your competitors. Check the tools described below to automate the process – or, for a manual alternative, Bill Sebald of Greenlane offers a 5-step process using copying, pasting and filtering within Excel.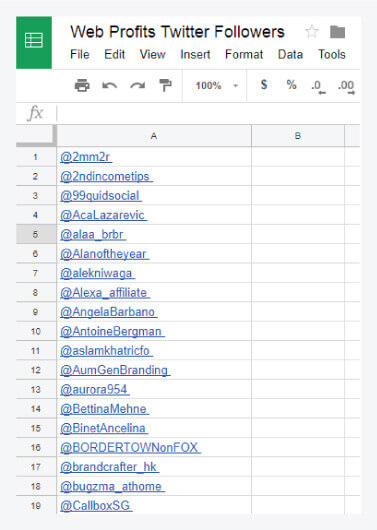 Next, use the process described by Salesflare to enrich your Twitter data with LinkedIn profiles through FullContact, using its Personal Enrichment Template:
Make an account over at FullContact
Download the Person Enrichment Template (Excel Macro File)
Log in as developer to get an API Key
Open up the Person Enrichment Template and fill out your API key
You're ready to enrich contacts. Select Twitter handles as source
Go to 'InputSheet' and paste the Twitter handles
Go back to Begin and hit 'Populate Contacts'
With your new list of LinkedIn profile URLs, you can use the Dux-Soup tool to auto-visit each profile and scrape the visible email addresses into a new list of contacts.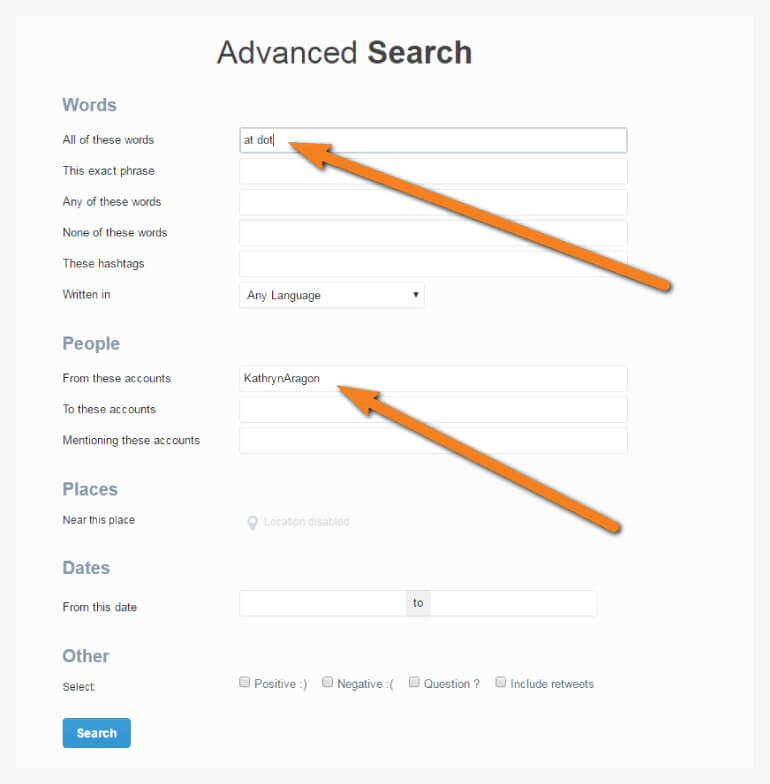 Facebook
Download your Facebook data to extract the contact information of your personal connections (image source: TechGYD).

Other Opportunities
Use the strategies described below to find relevant contacts. Then, match them to the correct email addresses using the tools described in the next section.
For many of the strategies described above, both manual and automated approaches exist. Whatever approach you take, remember that not every raw email address you scrape will be a viable prospect. Do your due diligence to qualify each new contact before reaching out.
Tools to Help
There are plenty of different tools to assist you in executing the strategies above. Choose from the following based on your needs and your comfort with technical complexity.
Direct Search
The processes above describe different methods for connecting with possible prospects, though most of them require some level of validation to ensure you eventually mail only the right ones.
If you don't want to do the leg work required to use these techniques, the tools below are intended to help you find the right contacts and their email addresses in as straightforward a manner as possible.
Each has a different focus, process and price point. Review all of the options below to find the right email capture and validation tool for your needs.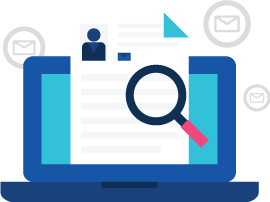 Data Scraping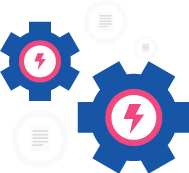 If you're comfortable executing more advanced data scrapes, the following tools will help you parse and collect massive amounts of contact data quickly.
Though the tools below aren't necessarily email-specific, they can all be adapted easily to that particular use.
Other Tools to Explore
FriendOrFollow – To expand your network by finding people you've followed who aren't following you back yet on Instagram or Tumblr
EmailPermutator+ – To test various combinations of possible corporate email addresses (HINT: enter these into a draft message in Gmail and let Rapportive identify the correct one)
Mailshake's Lead Catcher – To validate the leads you've reached out to using the methods described above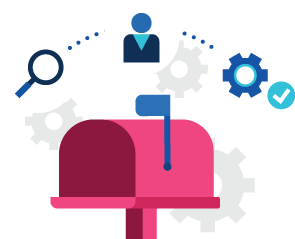 This isn't a comprehensive list of all the tools out there. It's a starting place.
Give the strategies and tools described above a try. As you improve your skills at finding and validating email addresses, you'll likely identify other options and opportunities that make your future cold emailing campaigns even more successful.