The 17 Best Affiliate Marketing Software for 2023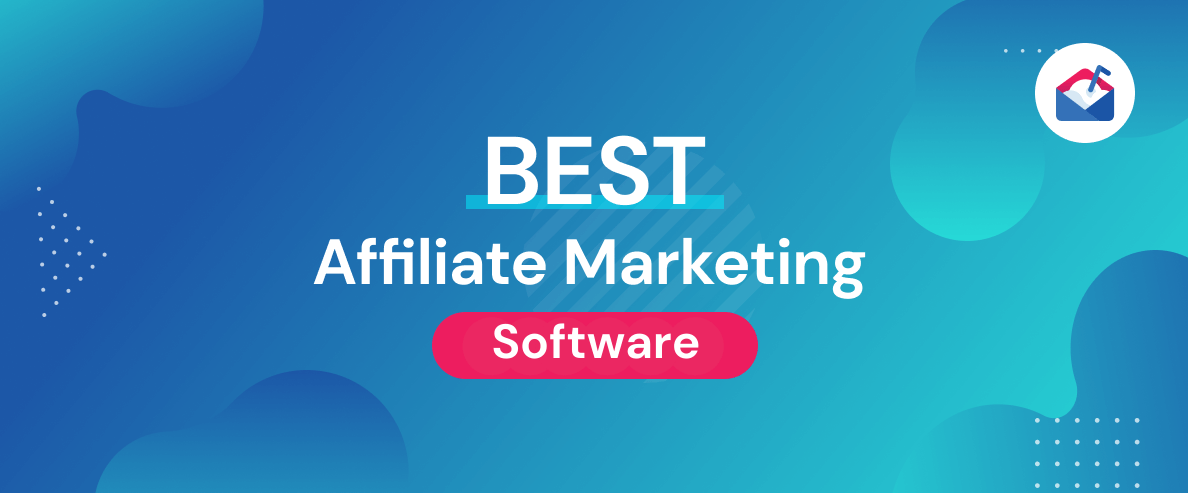 What is Affiliate Marketing?
Most people now search digitally for information about products and services in what's become an incredibly crowded marketplace. To stand out on the internet and make sure they get noticed, online merchants are having to rethink how to allocate their marketing budget. Many are turning to affiliate program management as the solution.
Affiliate marketing is a pay-for-performance marketing program where the selling of products and services is outsourced across a digital network of third-party publishers. According to Investopedia, it is:
"An advertising model in which a company compensates third-party publishers to generate traffic or leads to the company's products and services."
The third parties are termed 'affiliates', and they're paid commission fees to incentivize them to promote the company.
The uptake in affiliate marketing has been accelerated by companies like Amazon, Shopify, and WordPress. They've perfected the practice, inviting bloggers and content creators to link to their pages to receive an advertising fee when a purchase is made or desirable action taken.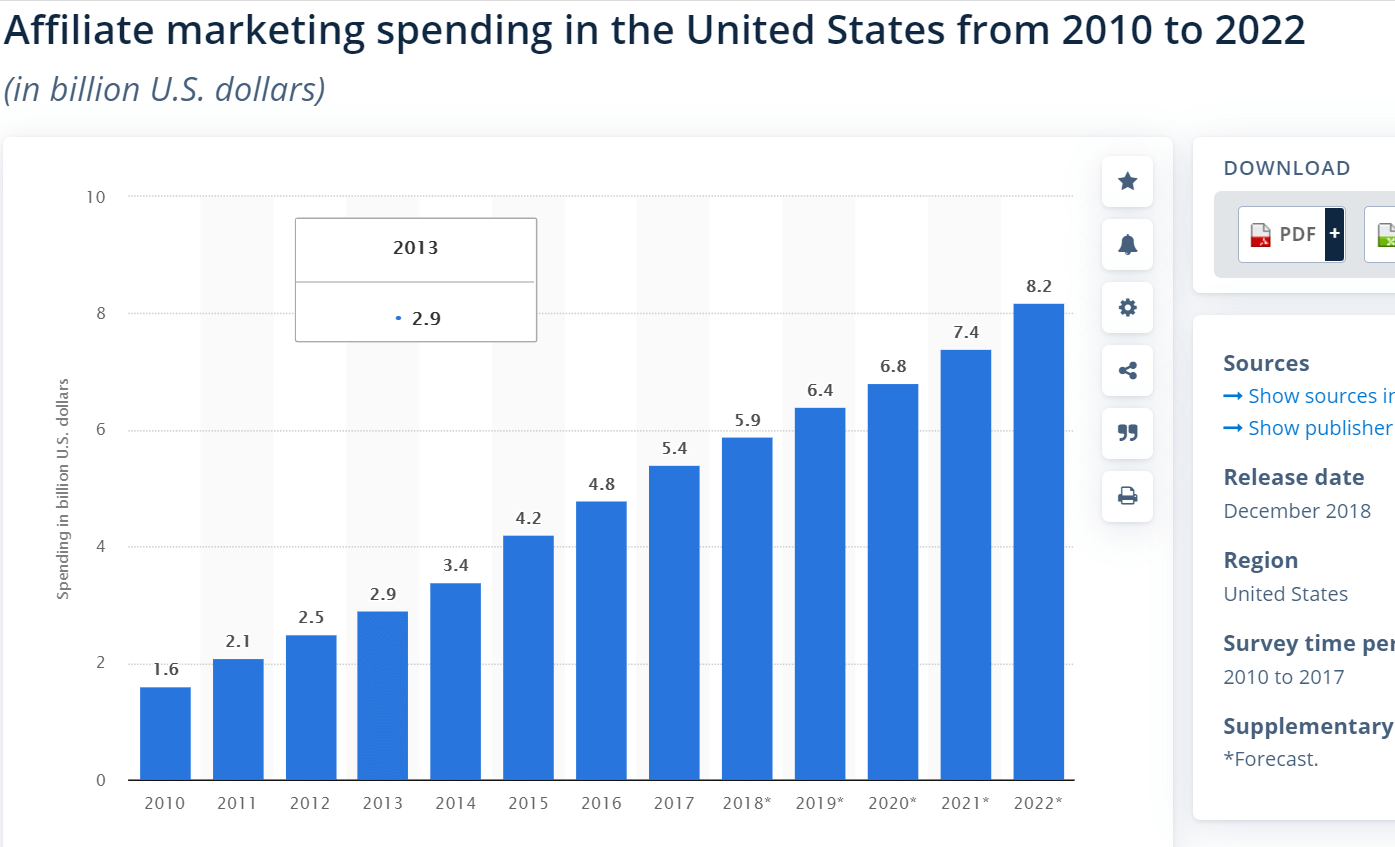 Affiliate marketing has helped businesses adapt to and thrive through the recent tricky market conditions. It provides a way for companies to tap into new digital marketing channels and introduce their brand, product, and services to new audiences.
Why Consider Using Affiliate Marketing Software?
Whether you're a seasoned post affiliate pro or thinking of starting your own affiliate program from scratch, you need effective tools to help build your affiliate network, boost brand visibility, and monitor your campaigns. In effect, you require robust affiliate marketing tools at your disposal.
In this post, we'll examine what to look for in affiliate marketing software and introduce you to 17 of the top affiliate marketing solutions that can help you achieve your affiliate marketing goals.
How To Choose The Best Affiliate Marketing Software For You?
Whether you use affiliate marketing as an additional revenue stream or it's your main source of income, it's crucial to find the best programs. With so many solutions to choose from, however, finding the right one can look like a daunting task.
Luckily, with a little guidance (you'll find that in this post), selecting the right affiliate marketing software may not be as challenging as you first think.
When choosing a software solution, here are some things to bear in mind.
Choose an automation solution with robust affiliate tracking software so calculating commissions and payments is error-free. When mistakes creep in, you otherwise lose affiliates' trust in the program and demotivate them from working with you.
A solution should have customizable affiliate links, resource repositories, and fraud detection, and let you track lead generation.
Find a provider that fits with your niche and your business workflows.
Prioritize security. This is vital to protect you, your affiliates, and your customers from fraud. Check your proposed provider has top-level security features that are able to block suspicious activity.
Choose a provider that enables you to set different commissions for different affiliates, so you can run programs based on the number of sales or clicks etc.
Choose management tools that offer the functionality to run multiple unrelated programs from one account. The more your company grows, the more campaigns you'll be putting out there, so you need software that can handle all your marketing efforts with continuous integration. This will help you stay organized with all your partners.
The solution should be easy to set up and use. It shouldn't require installing additional software, plug-ins, or tools. Ideally, it should work via your browser. It should have a user-friendly interface that eCommerce platforms and new affiliates can start using right away without training. The interface should be customizable and enable you to manage everything from one place.
Your software should be integrative and provide you with payment gateways and shopping cart solutions, as well as connect to your eCommerce platform of choice, CRM, and email marketing solutions.
The 17 Best Affiliate Marketing Software Solutions in 2021
There's plenty of affiliate marketing software to choose from. To help you narrow down your search for an affiliate marketing software provider, we've tracked down some of the best affiliate marketing solutions. Let's take a look.
1. Affise
Affise is a platform designed to help brands, advertisers, and agencies scale their relationships. The software offers a host of cutting-edge tools to enable affiliate marketers to kickstart and manage their affiliate network efficiently, along with multiple ways to measure performance (including 50+ data breakdowns), so you can track, analyze and optimize campaigns in real-time.
You can configure Affise's user-friendly dashboards any way you want and make use of real-time BI tools.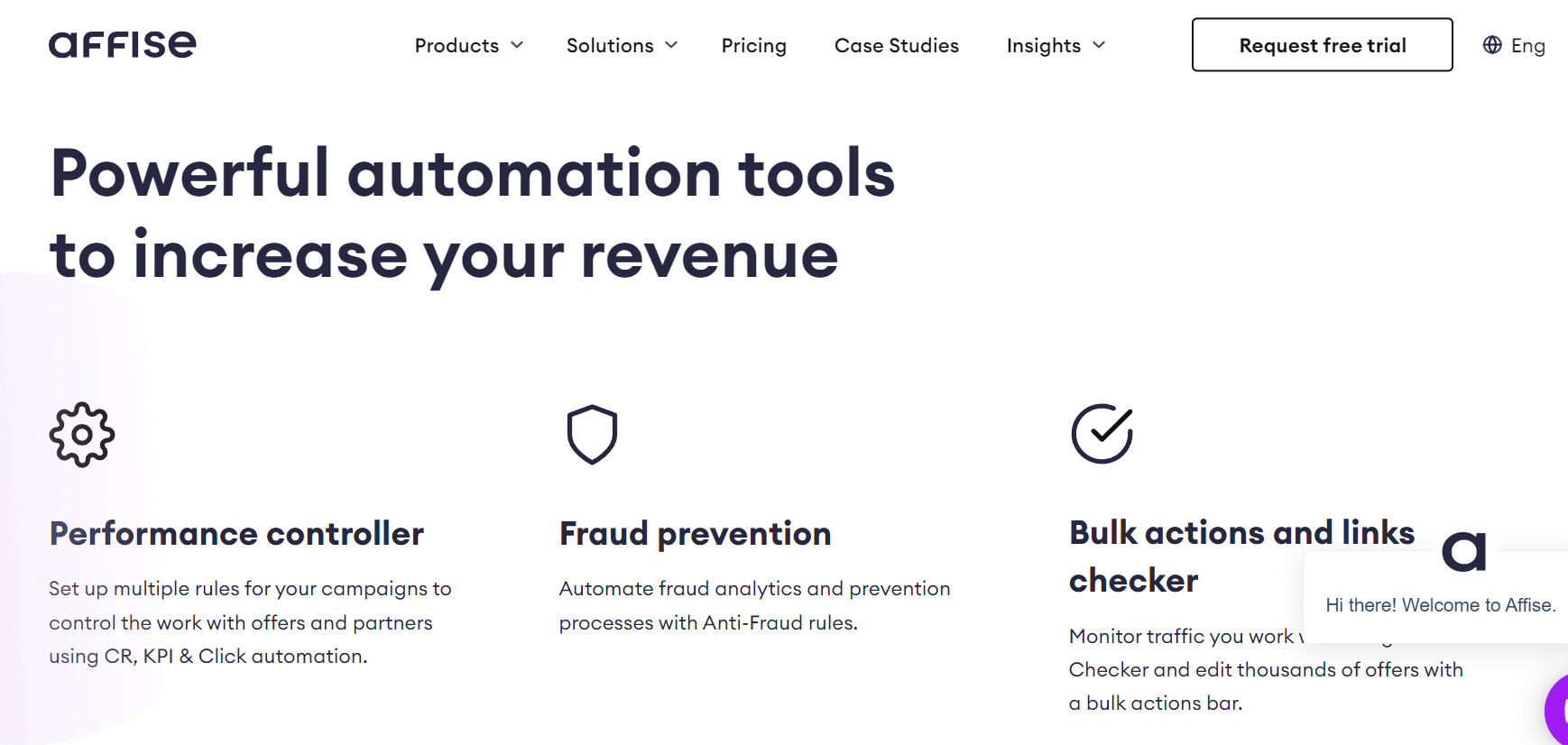 Affise software also features top-level built-in security to prevent instances of marketing fraud from wreaking havoc with your campaigns.
Getting started with Affise is easy, with a full onboarding package and personal onboarding manager, as well as 24/7 ongoing support. The software's automated offers pulling service will ensure you achieve your KPIs too.
Affise integrates with most popular third-party applications, including the Appsflyer marketing platform. And, when it comes to pricing, you can try Affise for free.
Pros
Gets rid of manual work by automatically transferring data and connecting with open offers
Affise Reach allows brands and partners to quickly partner up
Cons
Additional charges for some extra features
2. AffTrack
The Afftrack affiliate marketing platform provides you with all the tools required to grow an affiliate network. It's a real-time solution for companies of all sizes in the affiliate industry, with various packages available to manage affiliates and advertisers.
With API integrations, reporting portals, and analytics, you can transfer and filter traffic and block low-quality traffic from reaching merchants.
Pros
Customizable interfaces and integrations
Redirects flows to ensure traffic is always monetized
Cons
3. Amazon Associates
Amazon Associates is one of the world's biggest affiliate marketing programs. It features millions of products and program link-building tools for affiliates to direct audiences to recommended products where they can earn money from qualifying purchases or other actions e.g. users signing up for a free trial.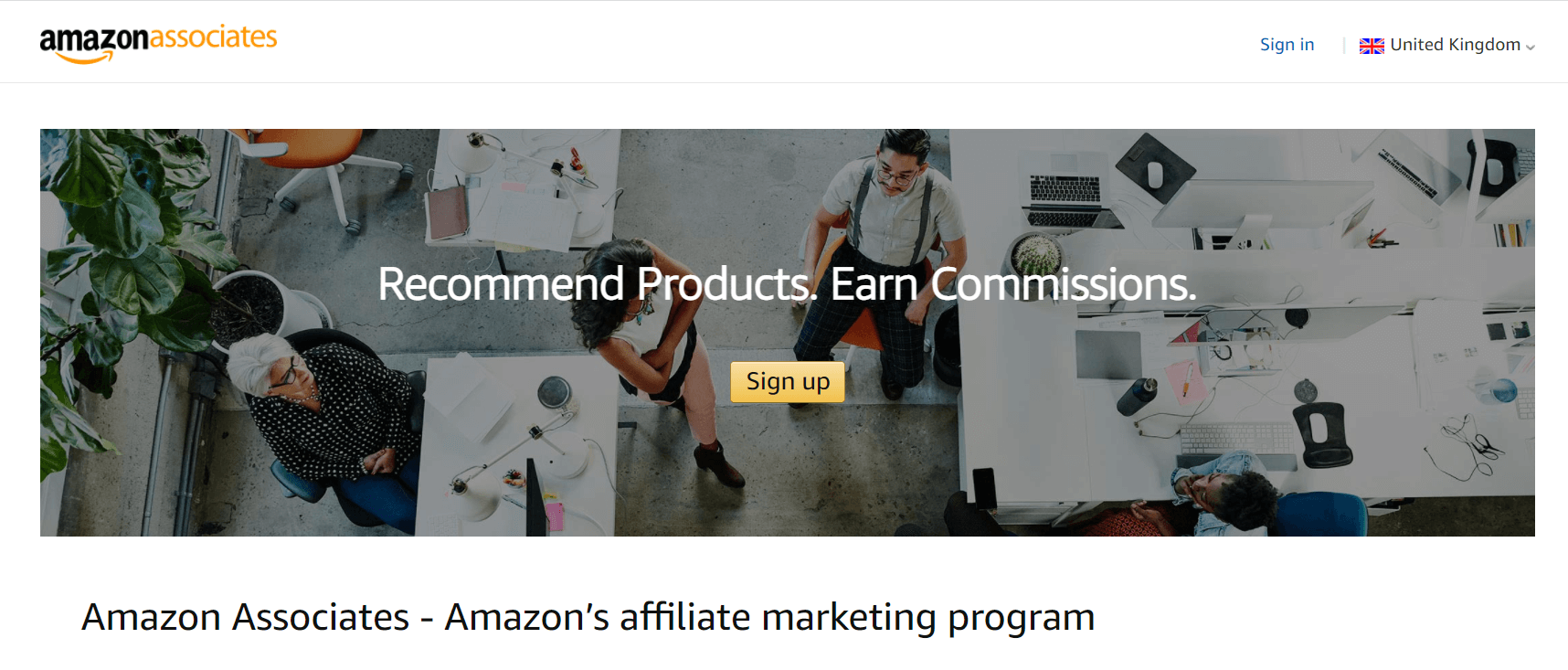 Bloggers, publishers, and content creators can qualify for the program if they have a website or mobile app, and influencers with established social media followings are also invited to participate. Affiliates can earn up to 12 percent in commissions.
Pros
Affiliates earn commissions on everything purchased, even high-ticket items
Commissions can be earned on international items
Customers trust Amazon
Cons
Commission rates are relatively low
There's a short cookie length (just 24 hours)
No payments are made until the returns period is over
4. Awin
Awin is an affiliate marketing program with access to 225,000 + active publishers. Designed to help advertisers grow their online businesses, it features a range of powerful tools to optimize affiliate partnerships.
There's an intuitive and easy-to-use interface and extensive reporting suite to enable marketers to track and optimize campaign performance in real-time.
Pros
Easy navigation and a user-friendly affiliate dashboard
Good educational resources
Cons
Less-than-seamless third-party integrations
5. FlexOffers
FlexOffers is an award-winning affiliate marketing network that offers comprehensive solutions to brands, advertisers, and publishers. Users can access multiple marketing, data, delivery, and payment solutions to create profitable partnerships.
With 12,000 + affiliate programs and an expanding number of applications, including content feeds and text links, customers can comply with marketing standards and expand their reach.
Pros
FlexOffers has a large number of brands to suit different niches
Great for smaller publishers since you keep all traffic in one place
Cons
There could be more room for customization and attribution
Images aren't updated often enough
6. ShareASale
ShareASale's network connects online retailers with 225,000 + affiliate partners worldwide. Designed as a solution for agencies, merchants, and affiliates, the software offers cutting-edge technology with real-time insights into performance metrics, affiliate partner activity, and personalized diagnostics.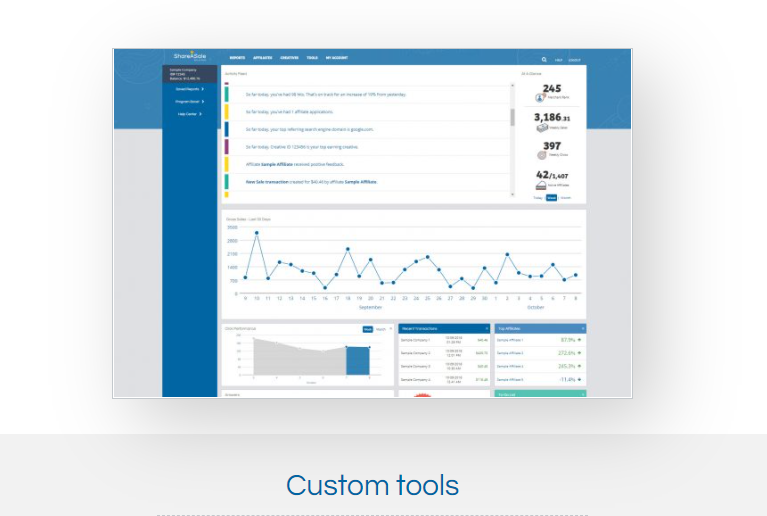 Pros
Shows you when a merchant's account is low on funds
Good reporting and linking
Cons
7. Clickbank
Clickbank has a large pool of affiliates (100,000) ready to grow a brand's sales, along with multiple tools to optimize affiliate marketing campaigns. With a presence in over 200 countries, it's suitable for new or super-affiliates, with a marketplace featuring a vast number of offers, all of whom have been onboarded via a rigorous process.
Pros
Clickbank offers some of the highest commissions (up to 90 percent)
It has a reputation for paying on time
Cons
Some users report technical problems when getting started
8. JVZoo
JVZoo enables users to instantly connect their business with millions of paying customers and top-performing affiliates. Customers can quickly add an affiliate program to any offer via a streamlined process.
Affiliate commissions are paid directly into JVZooPay accounts every time a sale is made. Commissions are automatically repaid and compliance is assured.
Pros
Free to join
Good customer service and prompt payment
Cons
High subscription fees after a free trial period
9. Trackier
Trackier claims to transform how marketing campaigns are managed, with machine learning tools that enable users to track, measure, and optimize. It's a one-stop solution where advertisers, networks, and affiliates can set up, run, and review.
Features include fraud detection, real-time KPIs, and over 100 AdNetwork integrations, all run from a single unified environment.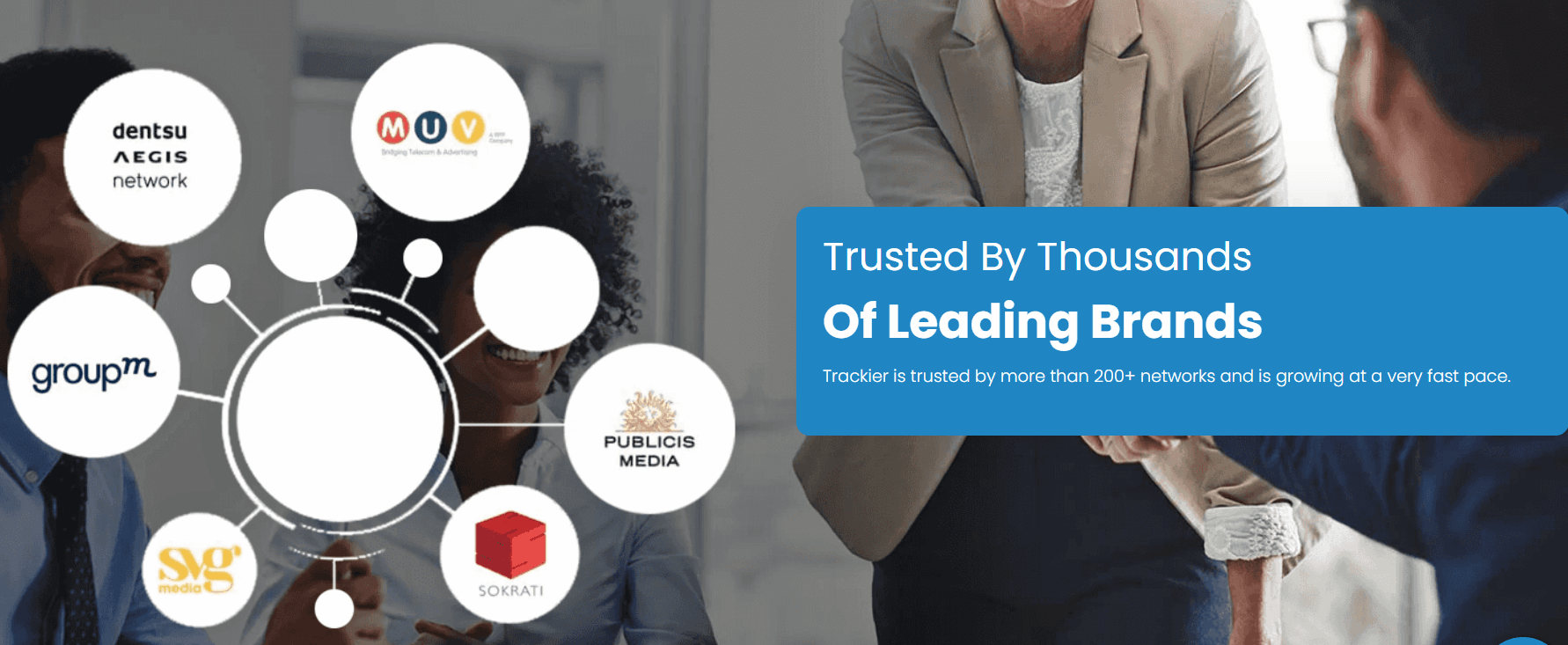 Pros
24/7 support
Easy to set up and manage campaigns
Cons
Problems with certain functions e.g. campaigns sometimes disable options
10. PayKickstart
PayKickstart has been credited with reinventing subscription billing and affiliate management for online businesses. Users can unlock new growth channels by deploying affiliate programs that reward partners for referrals.
The software includes out-of-the-box customizable tools that make it easy to manage affiliate partners at scale. Users can approve or deny affiliate requests via their mobile app and use advanced tracking features.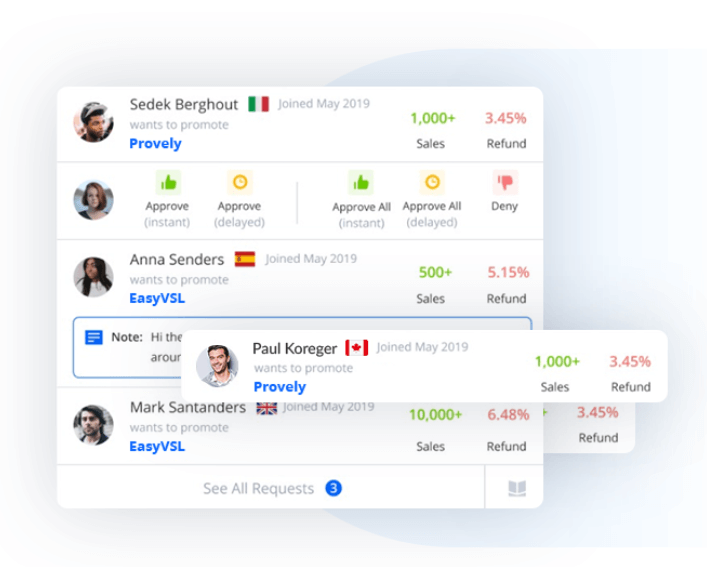 Pros
Excellent customer service
Simple payment process
Cons
Can be tricky to set up
Reporting can load slowly
11. Rakuten Marketing Affiliate
Brands and agencies work with Rakuten Advertising to connect with diverse audiences across their digital media properties. Rakuten Group has a vast inventory of members, coupled with proprietary technology and a global publisher network of over 150,000, helping to drive business growth for customers.
Their global affiliate network is highly ranked, and brands receive expert support, innovative products, and can expect to form strong partnerships.
Pros
Integrates with major third-party apps
Cons
The affiliate program can be buggy
Customer support can be disappointing
12. CJ Affiliate
CJ Affiliate enables users to reach and influence a worldwide audience on and offline. Designed for brands, publishers, and affiliates, the platform utilizes cutting-edge optimization technology that offers unlimited opportunities for connecting to new customers.
Affiliate personalization solutions provide new ways to unlock multi-device customer journeys. Cookieless tracking delivers a privacy-friendly solution to ensure uninterrupted tracking in all environments.
Pros
Cons
Poor customer service
A confusing website
13. ReferralCandy
ReferralCandy is designed to grow sales via word-of-mouth marketing. Brands can reward customers for referrals with automatic rewards.
The software enables you to streamline and track referrals and understand how many additional sales you're making. ReferralCandy provides ways to deal with fraud and spam and works with a host of third-party applications.
Pros
Easy to customize with a clear and simple interface
Cons
Could offer more granular control around certain functions
Support team could be more responsive
14. Refersion
Refersion software allows you to track ambassador, influencer, and affiliate marketing programs. The solution can be integrated with major eCommerce platforms and enables users to track digital sales from anywhere in real-time.
Automated commissions save customers time, and it's possible to set up unlimited commission structures as well as create recurring performance reports. The personalized affiliate portal includes an analytics dashboard where users can view commissions and payments.
Pros
Affords users a high-level view of campaigns
Easy to set up with a user-friendly interface
Cons
Need a separate login for each brand you partner with
No cross-device tracking
15. Rewardful
Rewardful is aimed at helping SaaS companies set up and track affiliate and referral programs with Stripe. Once the account is connected, you can allow Rewardful to track referrals, discounts, and commissions.
Users can get started with an affiliate program in minutes and quickly unlock a new growth channel. The program can be run from one centralized location, whether you're managing white-label affiliate programs or an in-app customer referral program.
Pros
Easy setup, and clean and minimalistic UI (plus templates)
Features an affiliate finder to help you search for affiliates on the web
Cons
Only medium integration and migration risks
Software is designed for smaller businesses only
16. Kartra
Kartra states you can manage an army of affiliates selling your products from one simple and organized space. You can see how much, by when, and who to pay in real-time. Its built-in management system offers users the option to tune, incentivize, pay, and communicate with all their affiliates in just a few clicks.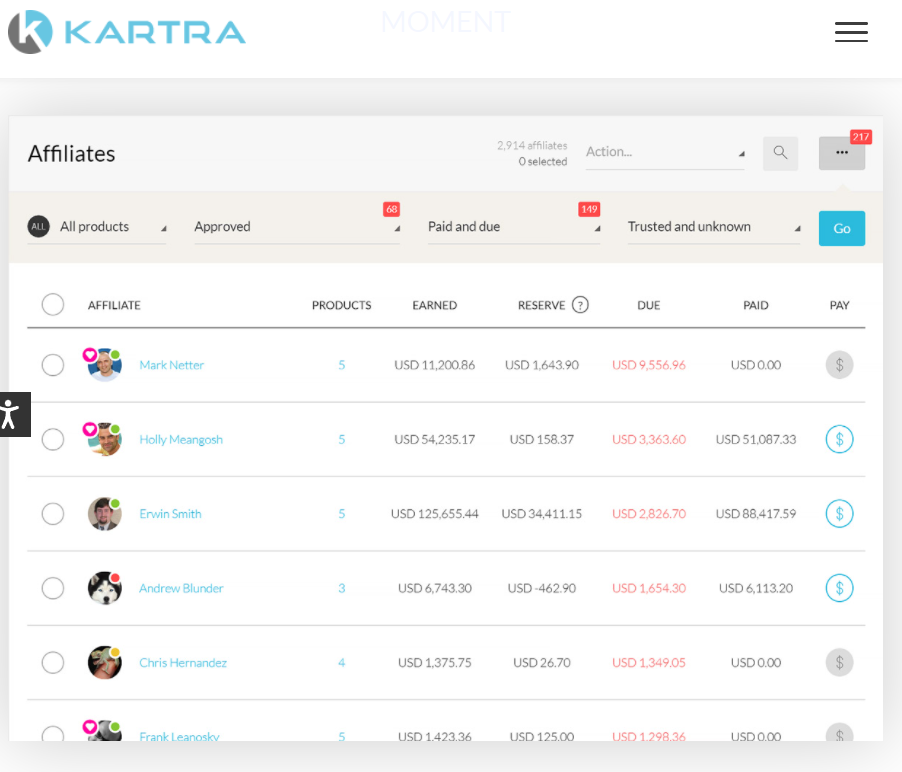 You can offer flexible commissions, payment milestones, review and approve affiliates, and use PayPal Adaptive Payments.
Pros
You can create customized landing pages for your affiliates
Ability to set up different tiers in your affiliate program
Cons
Some API integrations are not self-evident
Problems with email set up
Sales analytics are somewhat limited
17. LinkMink
LinkMink makes it easy to track affiliates and affiliate sales and manage them using Stripe. The software matches real revenue to affiliate commissions to enable them to have risk-free growth.
Built with SaaS companies in mind, LinkMink enables affiliate tracking with software that can handle recurring revenues, commissions, refunds, and monthly payouts easily.
Users can automatically approve commissions and segment affiliate groups so you can apply different revenue structures to different affiliates.
Pros
Easy to automate and track affiliate commissions
Auto approvals save lots of time
Cons
Very focused on solving one problem (affiliate management) so lacks many features you might seek in a more sophisticated affiliate software system
Has limited integration options
Conclusion
Good affiliate management software, allows you to create and manage affiliate programs by providing you with tools to closely monitor progress. The affiliate marketing software programs outlined cover the essential functions and features you'll need to carry out your affiliate campaigns.
When you're searching for affiliate marketing software, opt for a trustworthy solution that services businesses like yours. Ensure this has the right integrations and is compatible with the payment options you offer. Choose a software that's aligned with your advertising needs and that's easy to start using – ideally without having to employ a professional.
Most of all, when you're new to the world of affiliates and working out how to become an affiliate marketer, make sure you pick your vendor carefully. Opt for a supplier that offers you a free trial so you can test it out and see if it works before you subscribe.