Best Cold Email Software Solutions of 2023 [Guess What's #1]
Best Cold Email Software Solutions of 2023 [Guess What's #1]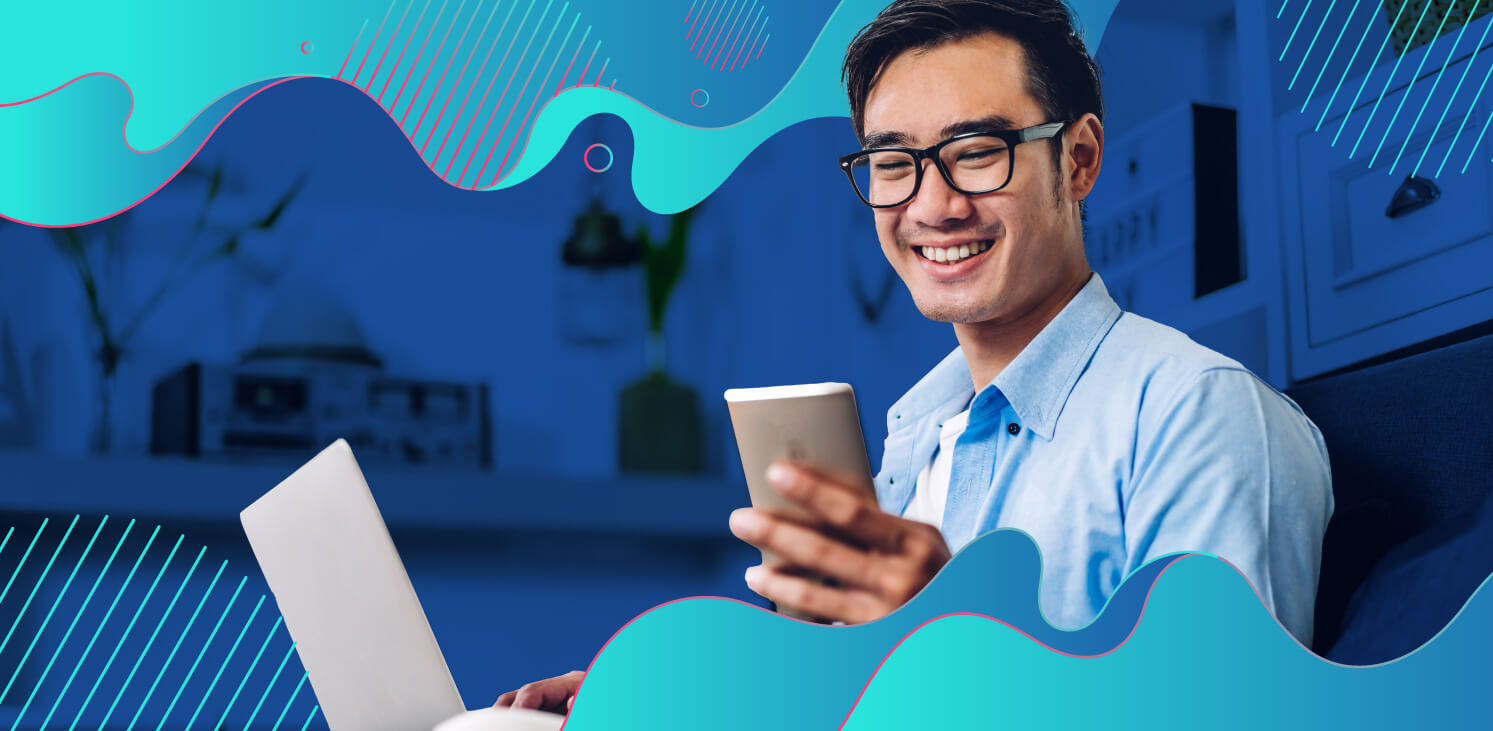 So you're looking for the best cold email software to help you automate your sales outreach efforts. Well, we've got a whole list of excellent cold email tools that will help you make amazing first impressions with your prospects through emails at scale. That way you can connect with even more potential customers, improve your reply rate, and ultimately win more business.
You're reading the Mailshake blog so of course we'd love it if you decided to use Mailshake. But we honestly care more that you pick any cold email software—even one of our competitors—than see you waste your time sending your emails manually. Automating cold outreach is going to save you so much time and grow your pipeline. So let's get into it.
1. Mailshake
Okay, we're biased. But Mailshake is great—especially if you're working at a small or medium-sized business. It works for cold email outreach as well as cold calling and cold connecting on LinkedIn and other social media channels. Sales teams that are small but scaling love Mailshake, as do founders seeking to grow their customer base and marketing agencies doing link building.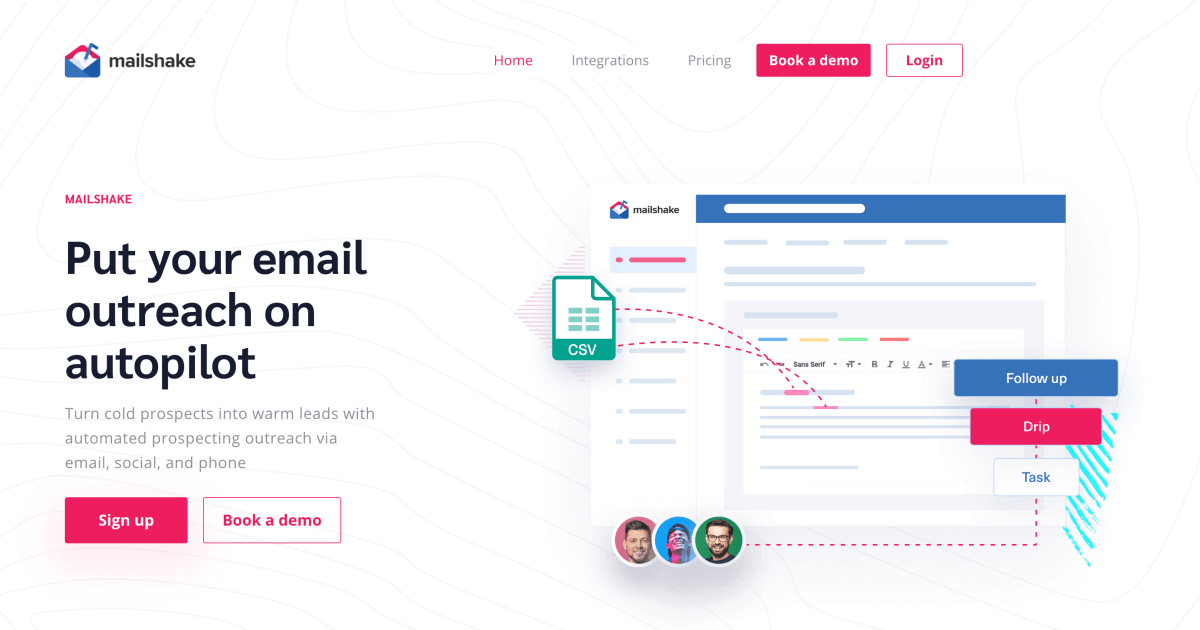 It's great for sending personalized emails that go beyond the usual dynamic fields. Plus, you can add automated follow-ups to your cold email campaign that automatically turn off as soon as your prospect replies.
Pros
Built-in deliverability tools make sure emails don't land in spam and improve your conversion rate
AI email writer saves you time crafting effective sales email copy and improves your response rate
Native integration with the 3 most popular CRMs: Salesforce, HubSpot, and Pipedrive
Includes cold email templates that give you a great starting point
Includes monthly list-cleaning credits for a built-in email verification tool to make sure your contact list is up-to-date and improve bounce rates
Works with all email providers (Gmail, Outlook, SMTP)
Rated #1 easiest to implement on G2 (Winter 2023)
Upgrade to Sales Engagement plan to create sales sequences with cold email, cold calling via power dialer, and social selling
Cons
No free trial (but there is a 30-day money-back guarantee if you aren't satisfied)

Pricing
Email Outreach Plan: $58/user/month billed annually.
Sales Engagement Plan: $83/user/month with an annual subscription.
All plans come with a 30-Day Guarantee
See more details here.
Scale your prospecting
Mailshake helps you transform cold prospects into warm leads via automated outreach.
2. Salesloft
This is the market leader for a reason, and their Pricing page suggests they have options for revenue teams of all sizes. They have a boatload of powerful features, but you have to request a quote for pricing. So there's some friction and a lack of transparency. But this is a great solution if you're a sales manager leading a large teams of SDRs sending mass communications to cold prospects.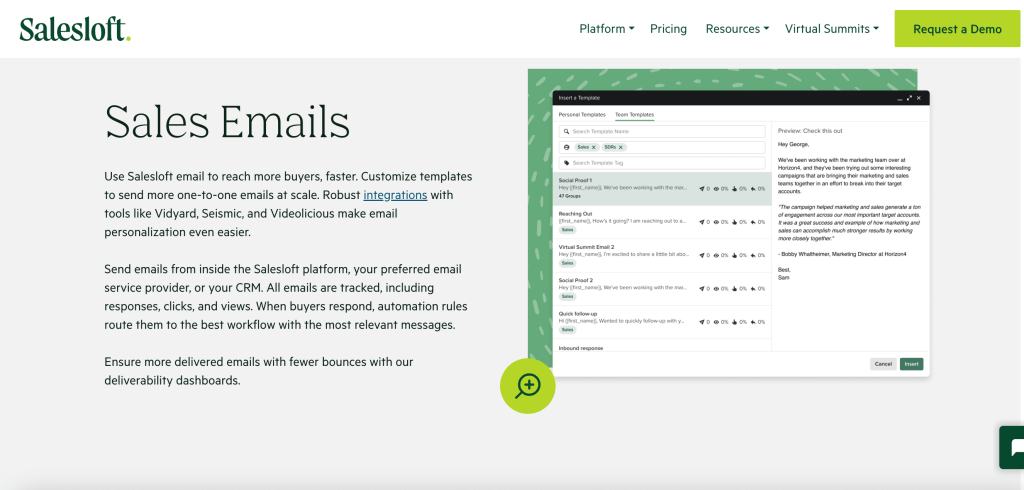 Pros
Market-leading sales engagement solution
Ideal for enterprise teams
Robust platform with nearly endless features
Cons
Pricing
Salesloft have 4 plans that consist of:
Prospect
Sell
Engage
Enterprise
Pricing is not provided on their website and is by request only.
3. Outreach
Okay, so we said Salesloft is the market leader, but Outreach is probably tied for first here. Again, they're not transparent about pricing, but they're a great solution for enterprise sales teams. Outreach, like Salesloft, is an all-encompassing solution that's great if you're a well-funded company with extra money burning a hole in your pocket. They're both great cold emailing tools for larger organizations.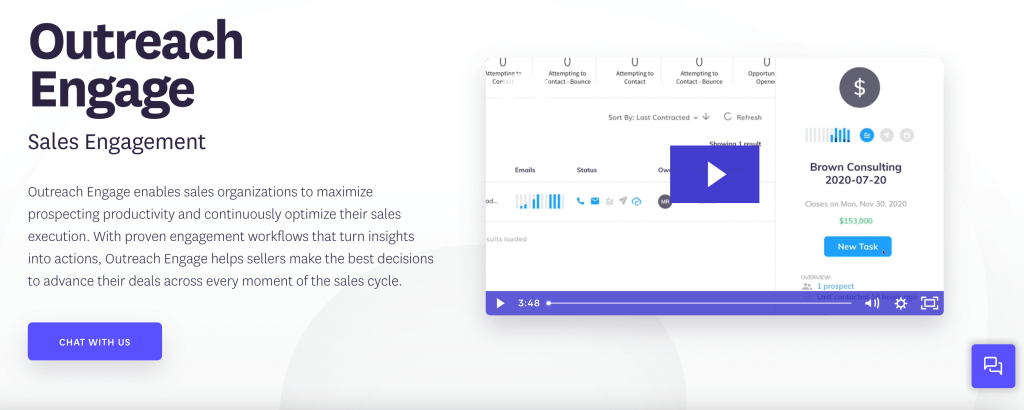 Pros
Cons
Pricing
4. HubSpot
As you probably know, HubSpot provides great email marketing software. They're great at tracking all your customer engagement—both marketing activities and sales. You can definitely run your sales sequences in this powerful tool.

Pros
Also has email marketing tools so you can have all your sales and marketing sequences in one place and get detailed analytics on everything
Built-in CRM so all your lead data is in the same spot at your sequences with no need to import
14-day free trial available
Cons
Need to upgrade to an Enterprise plan for advanced permissions, sales analytics, conversation intelligence, predictive lead scoring, and other valuable functionality
Pricing
Sales Hub Professional starts at $450/month for 5 users (cold email tool only available with Sales and Service Hub Professional)
5. Mixmax
This one is growing in popularity with big names like Canva and Meltwater using it. It's targeted at anyone helping with the customer experience, so not just your cold emailing but also emails to current customers. It's something your team can use throughout the sales process, even post-sale.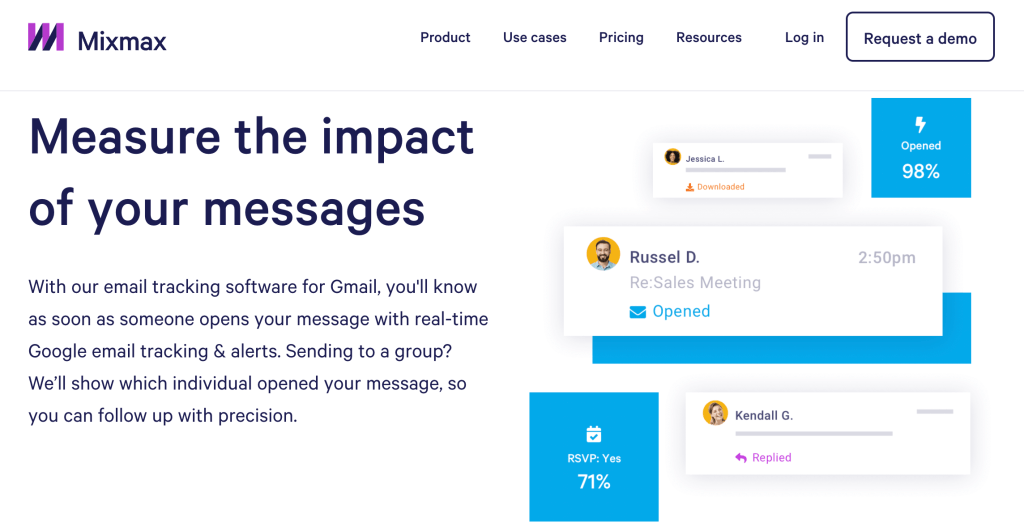 Pros
Works directly within Gmail
Great for both AEs and CSMs
Customer reviews are mostly positive
Cons
Pricing
$49/user/month for Growth Plan (Sales Automation)
6. Reply.io
This is another great sales engagement platform for automating and scaling your outreach across channels. Their Chrome Extension even lets you find verified email addresses on your prospects' LinkedIn social profiles and add those leads to your email outreach campaigns.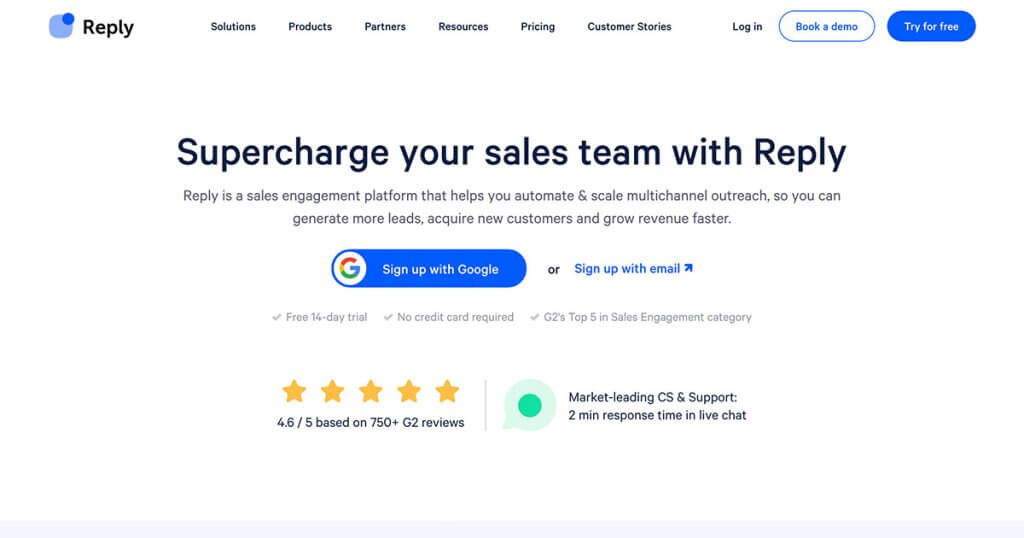 Pros
Semi-automated LinkedIn outreach tasks
Numerous smart features
Agency plans available
14-day free trial
Cons
Email warm-up tool costs extra
Pricing is more expensive for smaller teams and only gets more affordable for plans with 10 or more users
Pricing
$70/month/user (starts at 3 users)
7. Woodpecker
This is another great way to send outreach emails. They focus specifically on helping B2B companies connect with their ideal customers. They also have powerful integrations with multiple CRMs, Calendly, Google Sheets, and much more. It's a good option for sending unsolicited emails as they focus on deliverability.

Pros
Email validation and warm-up features make sure you land in the inbox
Customizable plans start at an affordable price and go up with add-ons
Email signature generator
7-day trial with no credit card required
Cons
Limited number of daily contacts with introductory plan
Add-ons get expensive
Pricing
$39 monthly per slot (up to 50 new people contacted daily)
8. Yesware
They say on their website that they're a great solution for when "enterprise software is overkill" and this is a great way to describe their cold email automation solution. They even have a free version that provides some basic functionality so you can test it out.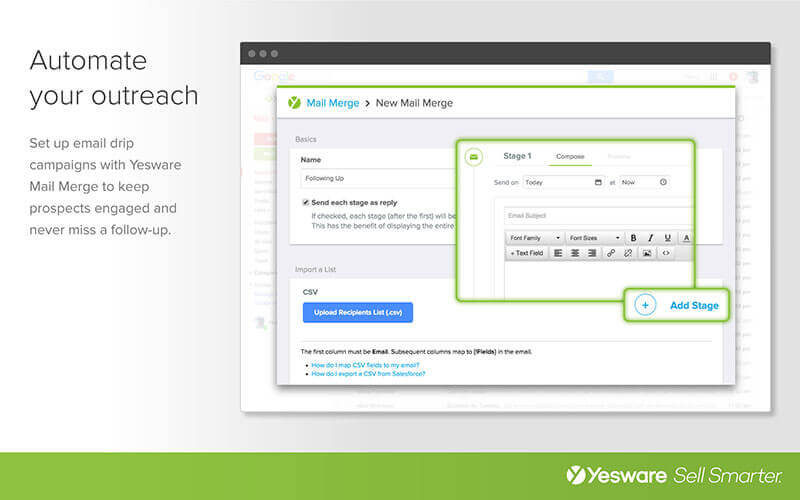 Pros
Lives in Gmail or Outlook inbox so you can maintain your processes
Free version available with basic email open tracking, attachment tracking, etc.
Yesware U provides training videos and articles to support you as you learn how to use their cold email platform
Cons
Salesforce integration costs extra
Pricing
$85/seat/month Enterprise for monthly plan (sales teams using Salesforce CRM), but there is a very basic free version available as well
How to Choose the Right Cold Email Software
All of these options are better than sending your cold emails manually through Gmail or Outlook. They'll all help you automate your cold email process so you can scale your company's outreach and get in front of more prospective customers. But here are some questions you can ask to figure out which cold email outreach tool is the best for your business.
How many emails per day does the software allow you to send? How many emails per month?

What type of email tracking is included? Are there advanced analytics?

What email automation features are included? Are there automatic follow-up emails?

Can you send personalized email campaigns?

Is there advanced scheduling?

Does it help you source and refine your email list?

What email service providers does the software work with?

Do they provide cold email templates? Can you create custom email templates?

What's included with the basic plan? And what requires an upgraded pricing plan?

What are the customer ratings like? 
Jump-start your cold outreach strategy instantly with our proven templates
Okay, Let's Be Real. We'd Prefer If You Chose Mailshake.
We're clearly biased and want you to pick Mailshake. Of course, we think we're the best cold email software. But we have a good reason for it. Mailshake lets you put your sales outreach on autopilot without it feeling automated. You can send personalized messages at scale. There are built-in deliverability and AI writing tools. Plus, it provides real-time feedback on your email sequences while you're writing them. It's the best way to send cold outreach campaigns to your prospective clients and win more business.