15 Best Email Signature Generators for Business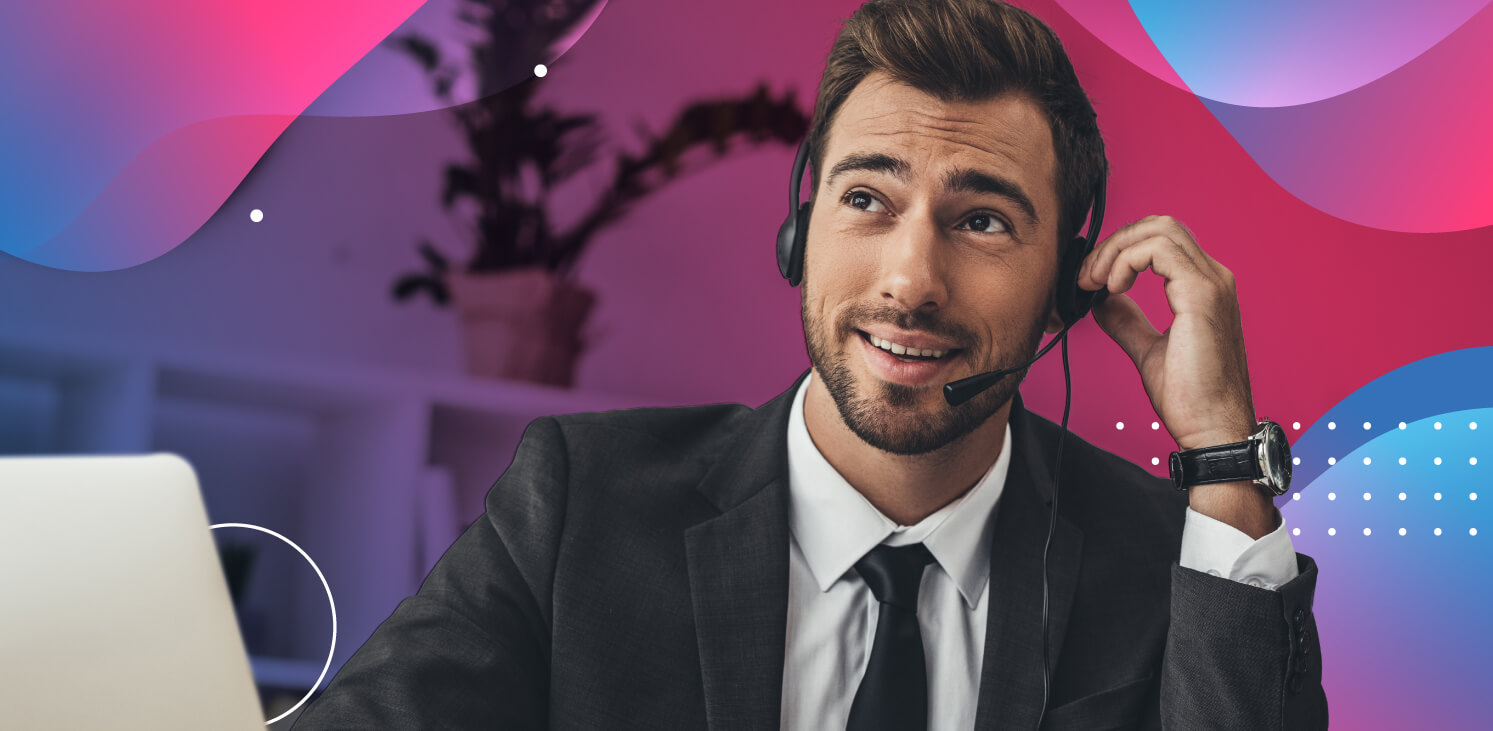 As a salesperson, it's in your nature to close as many deals as possible. But finding leads is hard… really hard. You've probably already got business cards, sales flyers, and a nice smooth sales pitch. But when was the last time you thought about your email signature? Probably never, right? In this post, I'll show you all the best email signature generators for business and how they can help you get more leads and in turn, more sales.
What Is an Email Signature?
An email signature is more than just a name. It's a sign of legitimacy that draws the recipient's attention and showcases your brand. 
It doesn't need to be complicated, but it does need to be clean, simple to read, and show that you're easily contactable. You're emailing this person for a reason, and normally you want a response, so show all the ways people can contact you and make it easy to do so. 
A good email signature will often include:
When you lay this information out in a neat design, it allows people to quickly get a picture of who they're communicating with, encouraging them to reply. 
How Does a Business Email Signature Help?
Before we get into all the generators and tools, here's what an email signature does:
Makes you legit
Emails are easy to use; so easy in fact that there are people who take advantage of it in the wrong way. Adding an email signature makes whatever product or service you're selling believable and eliminates any shred of doubt from your recipients.
Shows your recipients how to reach you
Providing other ways of contacting you can help widen your scope and makes it convenient for your potential customers to get in touch with you.
Click tracking
Every salesperson understands the importance of statistics. Luckily, you can track whenever a customer clicks on a link in your email signature, giving you insight knowledge about which products your customers want.
Increases trust
The most important thing to establish between you and your potential customers is trust. Having an email signature shows that you're real and you take business seriously. Gaining your customer's trust is a large prerequisite for closing a sale.
Brand recognition
This helps introduce your brand to those unfamiliar with it while also providing comfort to your existing customers that recognize your brand.
Special offers
Banners and special offer links can be added (and tracked) to your email signature so that your customers know what hot promotions you have available.
Going the extra mile to give your customers a personalized experience is paramount to success. However, being a salesperson isn't just about advertising a product or service and hoping that customers see it. It's about attracting the right customers and making the purchasing journey memorable.
Disadvantages of Email Signatures
The fact that almost everybody you ever email uses an email signature is a pretty sure sign of the benefits, but there are some disadvantages too. 
One disadvantage with email signatures is deliverability. Different email providers and different devices will show emails in slightly different ways, and this means it's hard to tell exactly how your signature will be displayed. 
You've also got to be careful with the size of the images you use. If you embed an image into your signature, it won't necessarily show when someone opens their email, but it will increase the size of the email, potentially affecting deliverability. 
Another problem that businesses often incur is that they spend lots of time creating an optimized brand signature for employees to use, but they tend to personalize them and deviate from the brand identity. 
At the end of the day, these are small details. The advantages of a good email signature far outweigh the drawbacks. 
Email Signature Best Practices
1. Stay on Brand
Consistent email signatures will not only standardize the branding across an organization, they'll also allow your team to make sure that the actual signature content is optimized for success. There are good and bad ways to set up the "business card" portion of your email signature (name, title, phone number, etc). Certain fonts are more appropriate than others (please, ditch the comic sans) and some things are just plain outdated or unprofessional (long quotes after each sign-off, for example). Reading up on best practices can guide you to use this space most effectively and make sure you're being taken seriously.
Example 1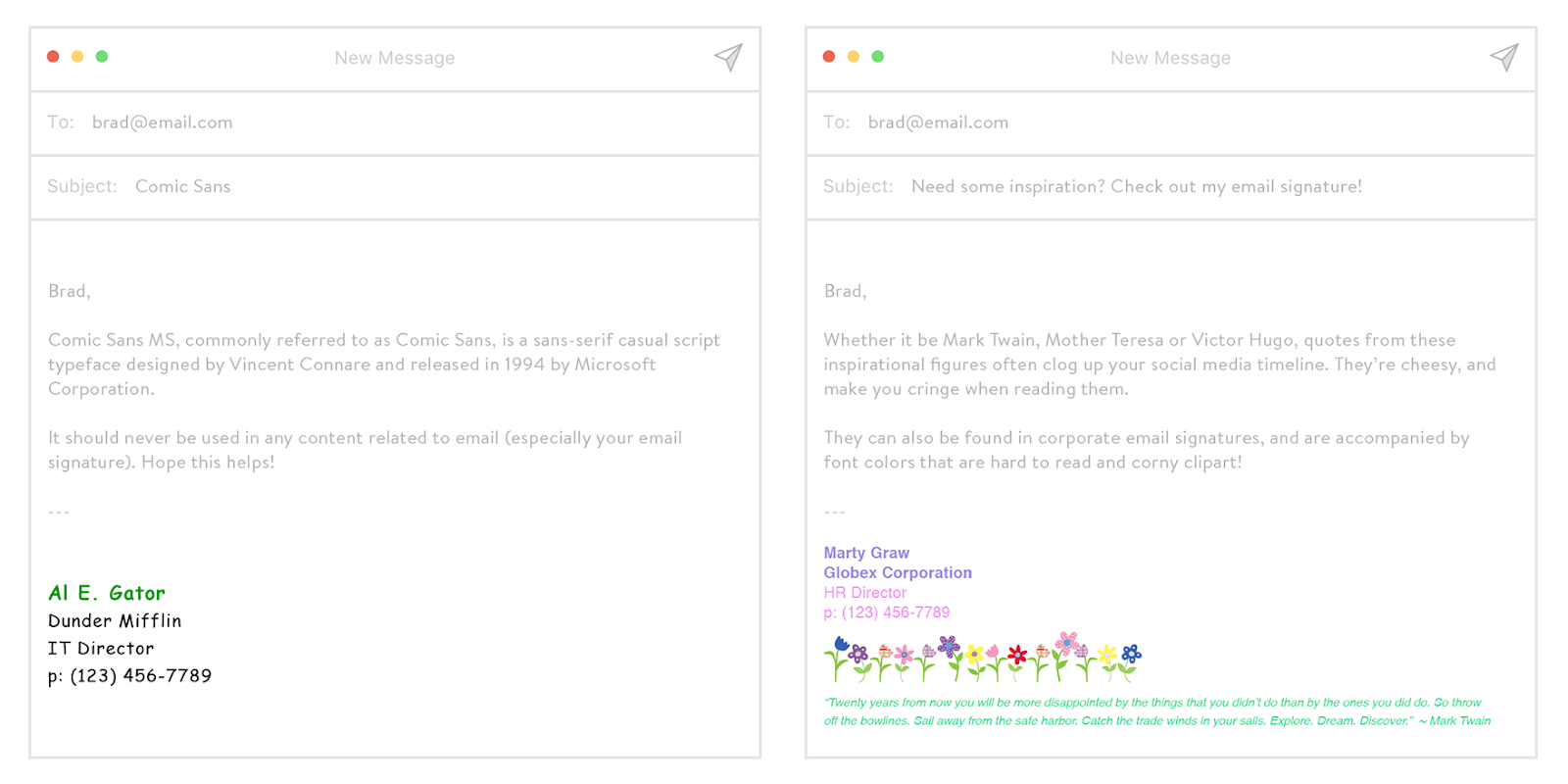 If a prospect can't immediately find a way to reach you by glancing at your email, then you aren't using the space right. Including contact information is key – you could even include a button inviting them to "schedule a call," linking to your scheduling tool. "One of the most effective ways in building emotional connections with customers is to prove that they are dealing with an actual person and not just a nameless, faceless corporation," writes John Rampton for Forbes. Personalize each signature with an avatar photo of yourself and social media icons—showing that there's a real human behind the email can make the recipient more inclined to read and respond.
Example 2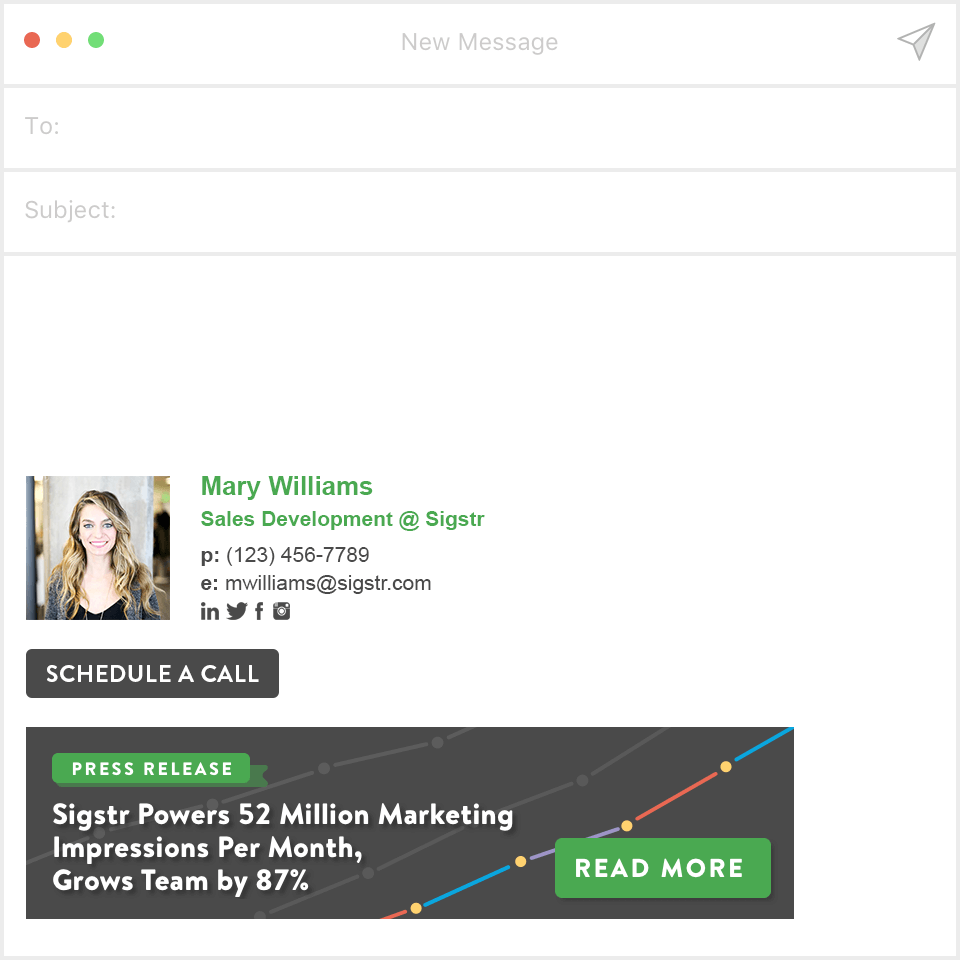 2. Drive Engagement
When a recipient opens your email, you have the chance to draw their eyes immediately to an important message. Eye-tracking tests and analysis show that an attention-grabbing email signature banner will draw the view of the reader within 3 seconds – that is a huge opportunity to differentiate yourself from wall-of-text emails that might be skimmed over. The call-to-action at the end of your email signature can reinforce or supplement the body text of your email – making that messaging really pop.
Use a banner with a simple "Request a Demo" CTA, or ask them to sign up for a free trial. Think about how many impressions – and clicks – a captivating offer appended to every single sent email will achieve.
Example 3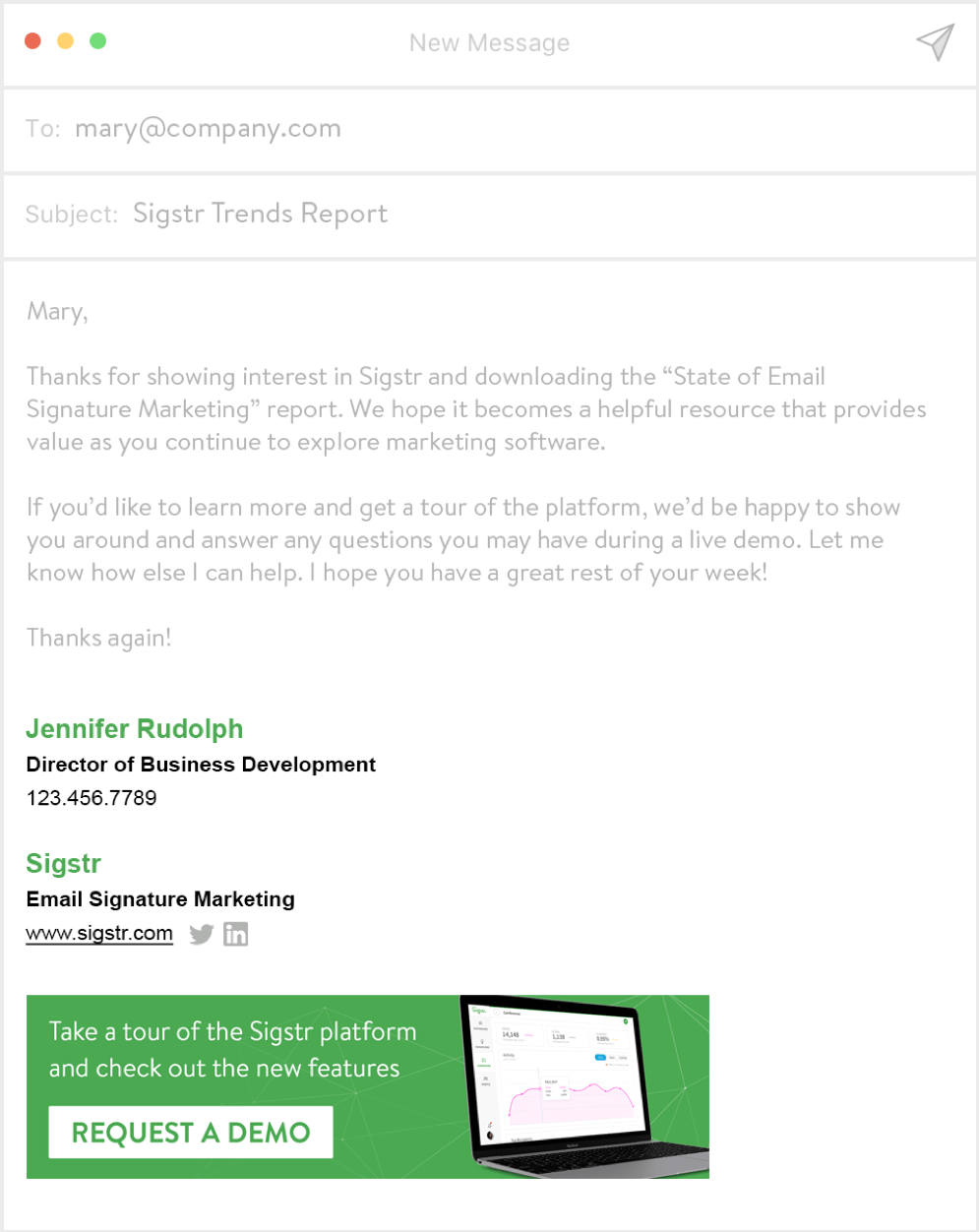 Show off what people are saying about you – promote reviews or ratings to increase trust from your prospects and communicate value.
Example 4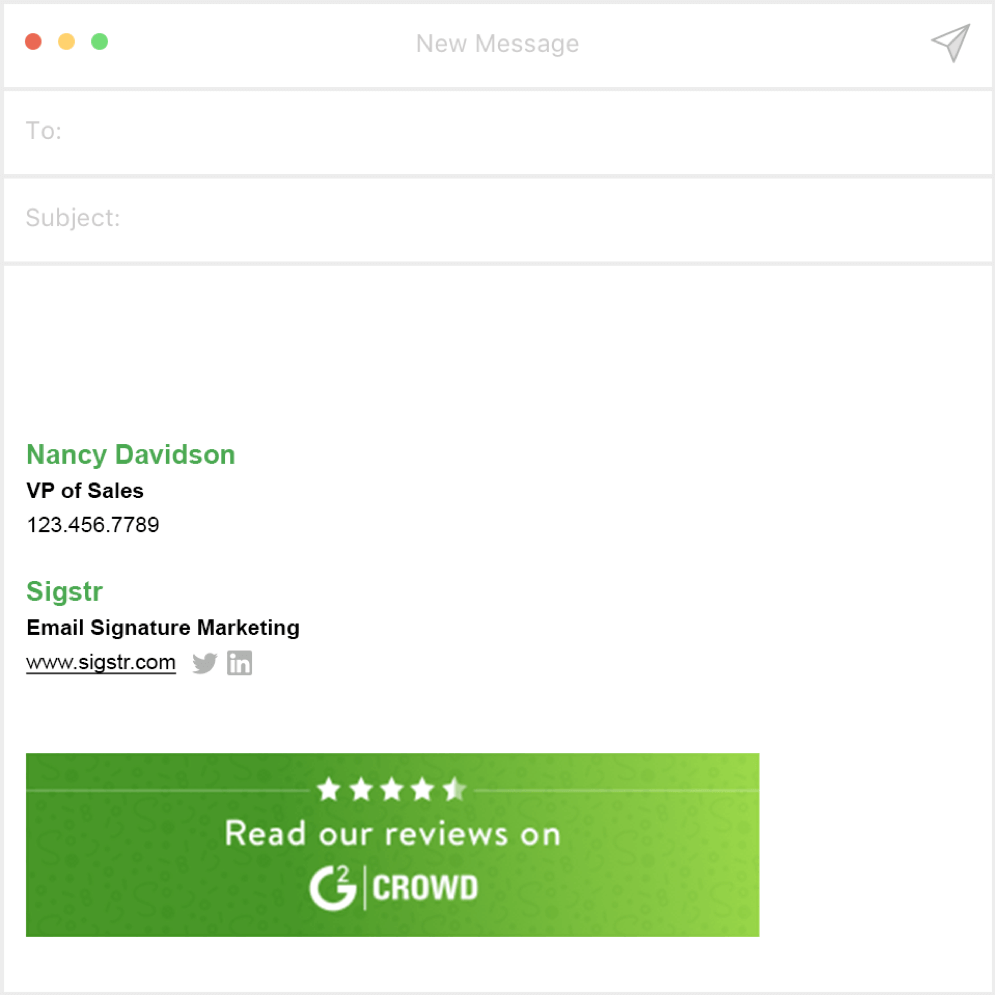 In need of new event promotion ideas? Believe it or not, your company email signature can become a leading source of registrations. Rotate out the banner before, during, and after the event to always be giving the latest information for a prospect to register, tune in, or review what happened.
Example 5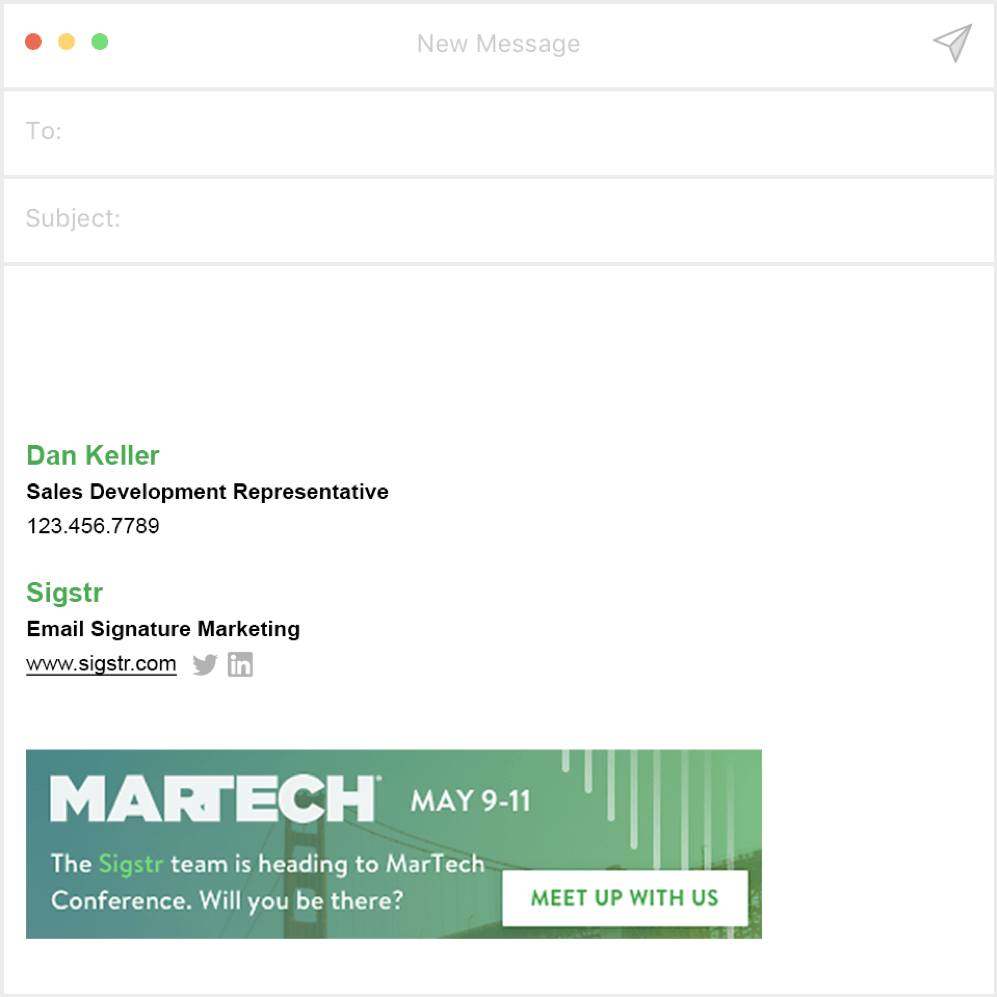 3. Add Value with Relevant Content
When you're reaching out to someone cold, it's important that you're providing value for them. An email full of asks will get you nowhere – showing how you can help will allow you to be taken seriously. Ebooks, whitepapers, webinars, and case studies offer a chance to not only be helpful, but establish you and your company as a leader in your industry. Where better to promote this type of content than in everyday email communications?
Invite recipients to download a piece of content that would benefit them in their specific role. Delivering value immediately will differentiate you from other emails hitting their inbox.
Example 6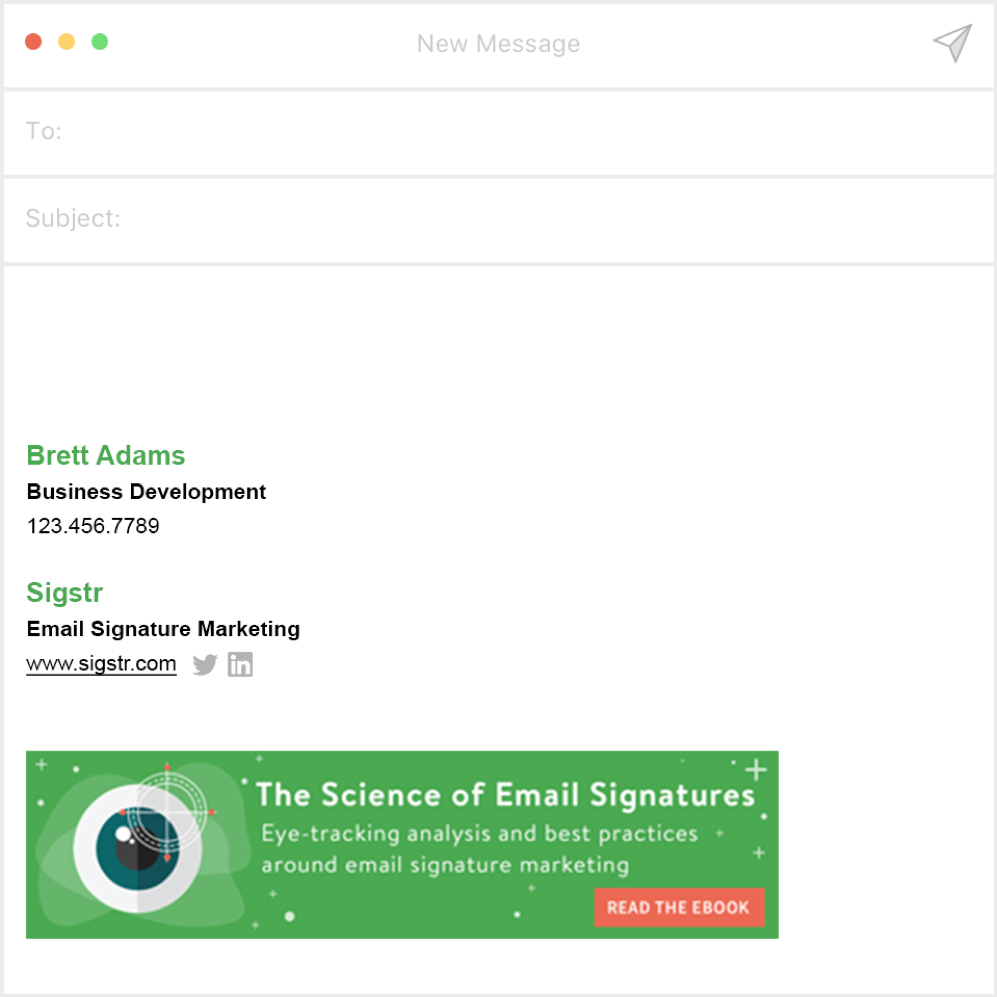 Webinar promotion ideas are endless with email signature marketing. Link the call-to-action banner to an optimized landing page to showcase exactly what value the webinar can deliver.
Example 7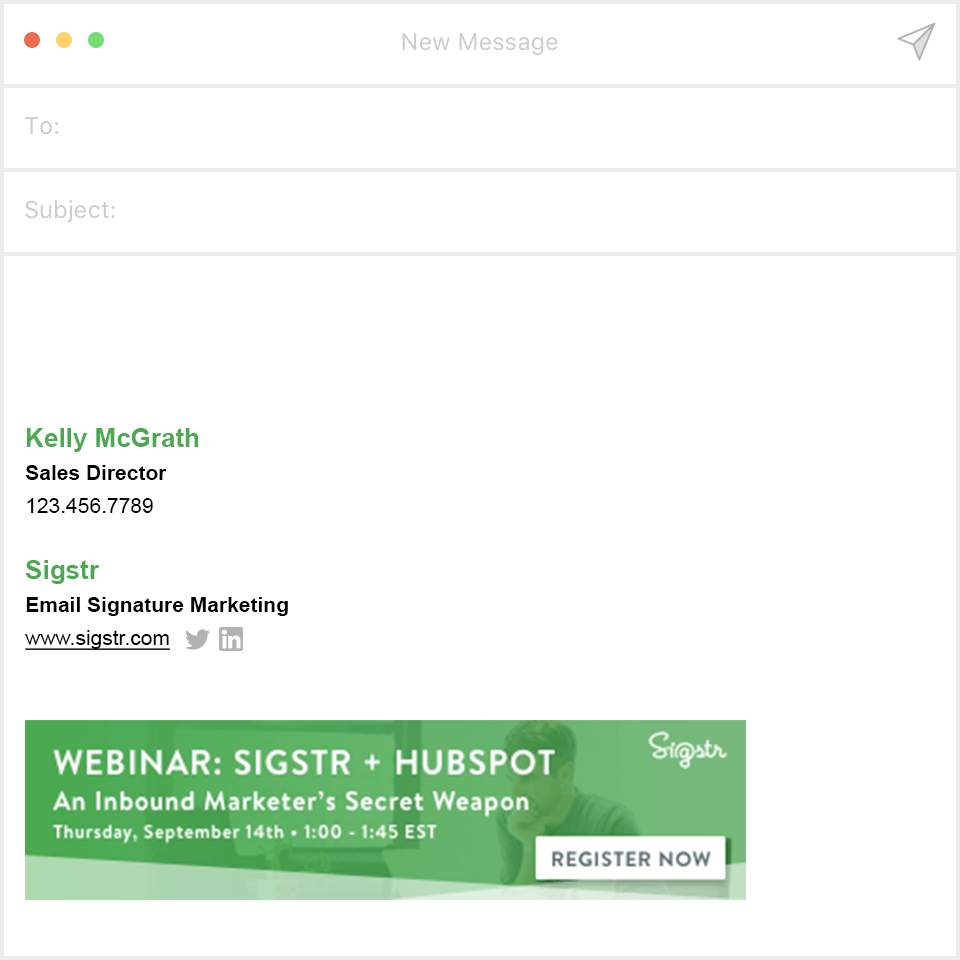 4. Personalize Effectively
Personalization in prospecting emails is a no-brainer in theory, but it's difficult to implement across hundreds – or thousands – of emails. You don't want to serve the same content to all different personas, so using different campaign banners to target each persona separately with relevant content is a great way to ensure you're providing value to the email recipient.
For larger sales teams, an email signature marketing platform can help guarantee that you're targeting efficiently and effectively in every sent email. For example, including a case study that is specific and relevant to a particular prospect will show how your product or service provides value to their niche industry.
Example 8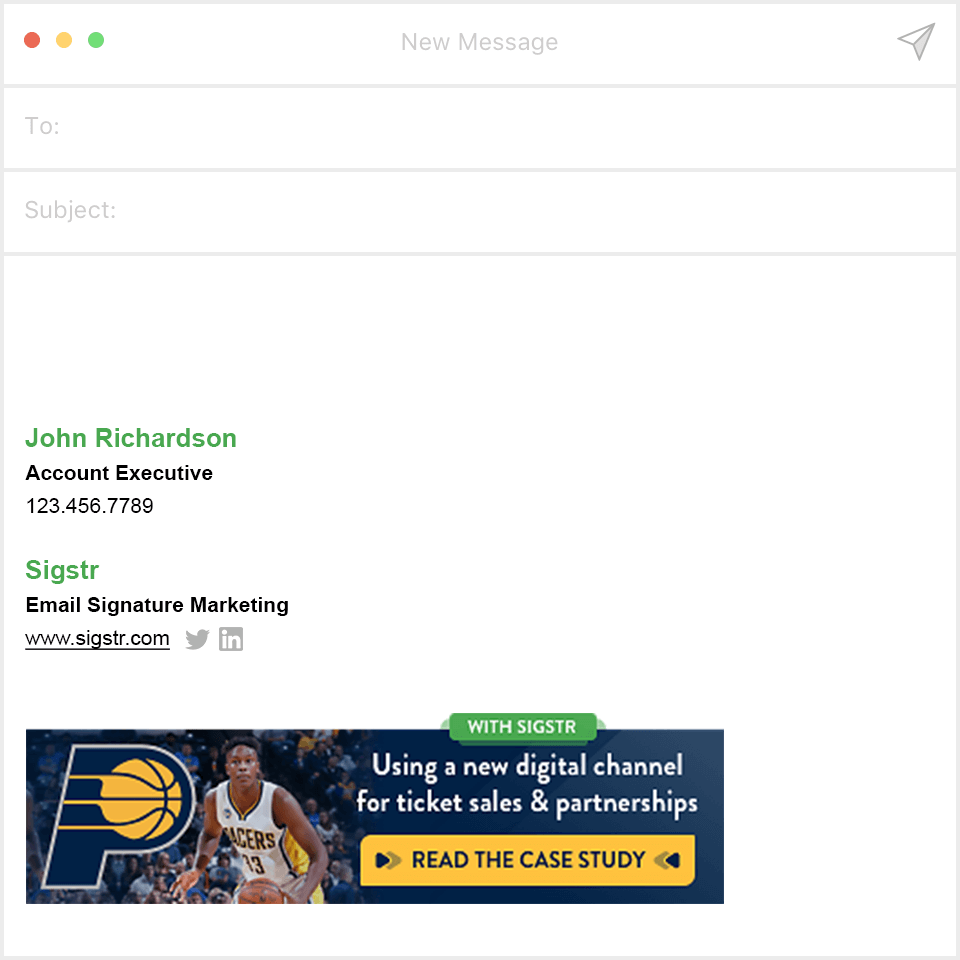 Incorporating email signature marketing into your email outreach provides value for your team and the recipient. If you're not currently optimizing your own email signatures for outreach, it's like you're leaving a billboard on the side of the highway blank. Make yourself stand out from the noise while being relevant and helpful. Every single email you send will contain this piece of real estate, so it's imperative that you're intentional with how you use it.
A well-crafted email signature helps advertise your product to the right audience, at the right time, with the optimal level of trust. Because a standardized email signature can be used across your whole organization whenever someone sends an email, this can create thousands of sales opportunities every day – for free!
5. Track Your Signatures' Performance
Email signature marketing is not just about adding a footer to your emails. It is a whole separate channel that has its performance you need to track and optimize campaigns accordingly.
79% of marketers who regularly use email signatures claim that number of clicks is the most important metric. Truly, impressions only indicate if the email is opened and scrolled fully. But a click-through rate shows how efficient an email signature campaign is.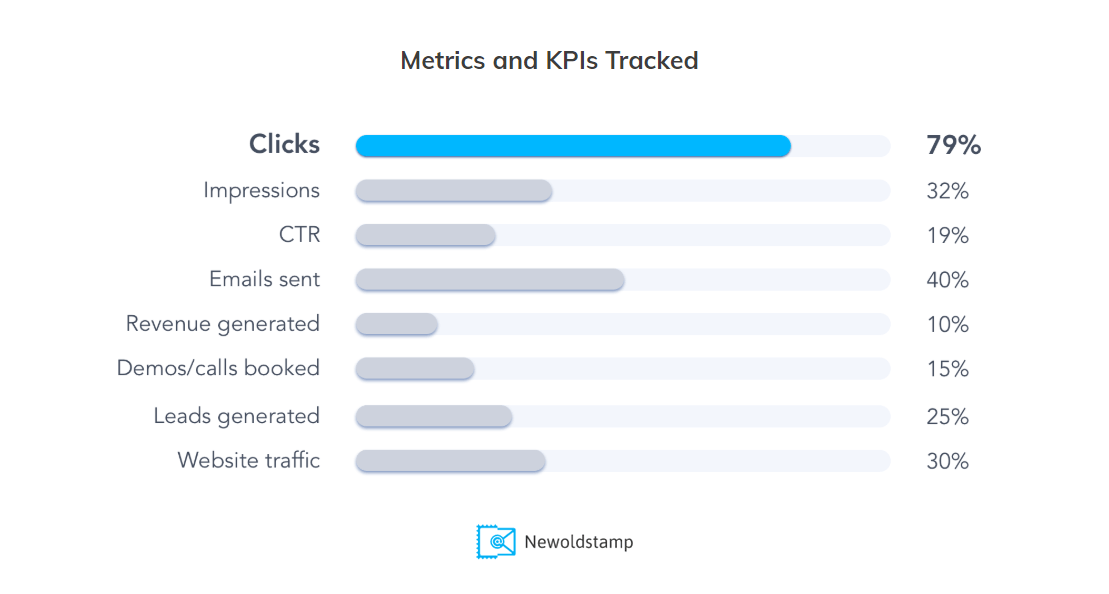 Usually, general elements in a signature don't make much difference. Things like a photo or contact information cannot affect the decision to click a link much.
Email signature banners, on the other hand, may differ by the tiniest detail but bring drastically diverse results. By tracking the performance of each banner your company uses, you can learn:
What your customers want the most
How far they have reached in the purchase funnel
What services people find most useful
Actually, this list can go on for long. The thing is, email signature marketing allows you to use all the benefits of a data-driven approach if you track the stats.
6. Use Email Signature Banner Campaigns
To further promote the idea of data-driven marketing, scheduling email signature banner campaigns may be an essential step in gathering data. The banner is surely the most important part of a signature that people pay the most attention to.
By scheduling banners to change according to your marketing campaigns, you implement email signature marketing into your whole customer acquisition process. You also automate content promotion.
Example 9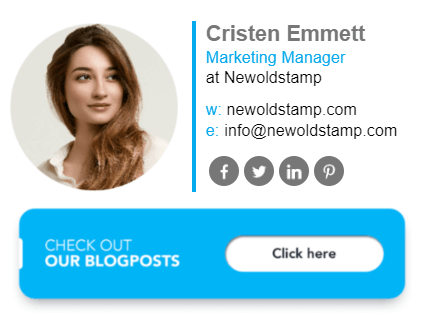 Here's a list of the best email signature generators.
Best Email Signature Generators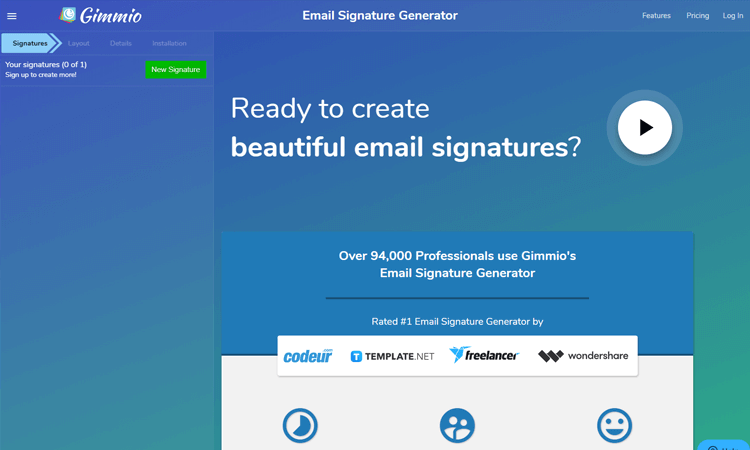 Gimmio (formerly known as ZippySig) is one of the most versatile email signature generators for salespeople with over 45 free email signature templates available to use. You can choose from a wide variety of fonts, adjust spacing, add as many images, social icons, and banners as you like using the super powerful layout control. This means you can produce quality HTML email signatures ridiculously quick. It's also compatible with a wide range of email clients and CRM's making this generator the must-have for salespeople. Once you've created the first signature, you can create hundreds more really quickly using the same layout. Easy-peasy.
Pros:
A wide selection of templates (even for free users)
Highly customizable layouts
Easy creation and distribution of multiple signatures
Character size checker for your email signature
Accessible minified HTML code
Cons:
Unable to upload custom fonts and pre-made HTML templates
No pre-made banners/buttons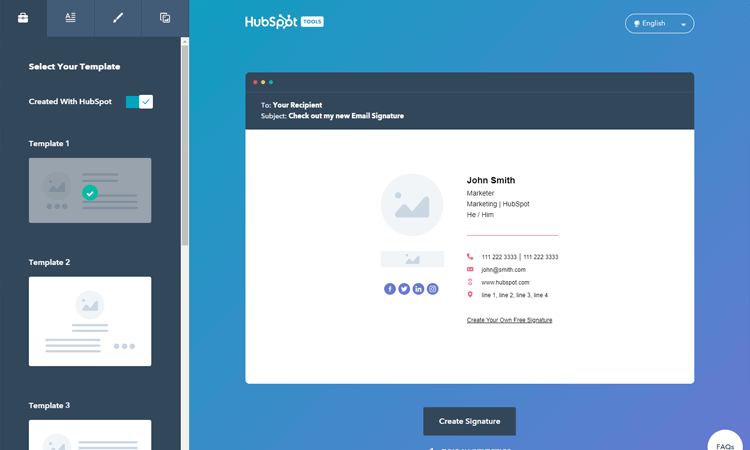 HubSpot is a free tool that allows you to create quality email signatures while being very user-friendly. No need to worry about your layout or information placement as their templates have been optimized to look great while also providing functionality. This tool may be simple, but it gets the job done. What more can you ask for?
Pros:
Great-looking user interface
Straightforward process
Compatible with a host of email applications
Good-looking output
Cons:
Extremely limited templates
Very limited layout control
Offers limited customization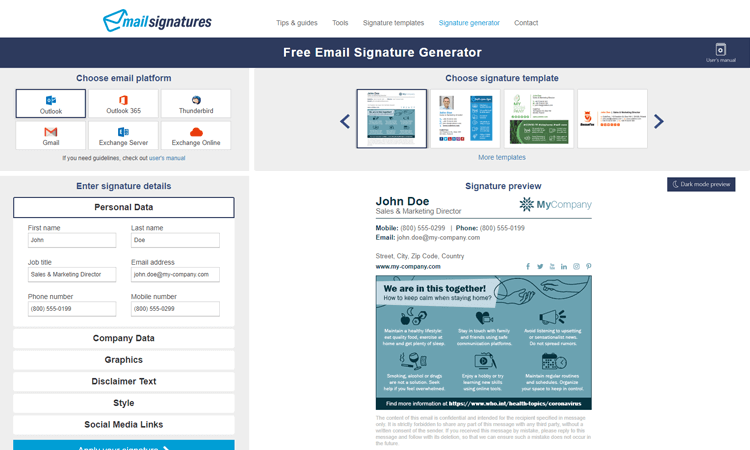 As one of the longest operating best email signature generators on this list, you can trust Mail-Signatures to get the job done. With its straightforward interface and a wide variety of templates to choose from, creating an email signature is rarely this simple. Despite not being as advanced or customizable as other signature generators, it is still one of the most reliable ones you can find. And it's absolutely free, which means even a salesman on the tightest of budgets can use it.
Pros:
Absolutely free
Straightforward user interface
A very wide selection of templates
Supports Dark Mode
Cons:
Images need to be hosted
Templates completely dictate the signature layout
Very limited font styles
Limited compatibility (relative to other generators)
4. DesignHill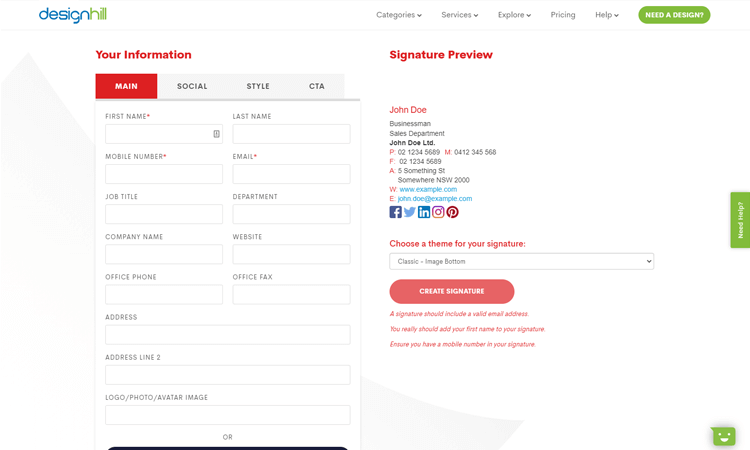 If you are looking for a simple, easy, and free way of creating your email signature that is compatible with all leading email service providers, DesignHill is the one for you. Just select your preferred template, input all essential information, upload your photo or logo, choose your desired color scheme, and you are good to go. With its clean and well-designed email signatures, you no longer need to worry about "how it looks" and "is it reliable".
Pros:
Absolutely free
Easy-to-use interface
Clean-looking designs
Call-to-action add-on
Cons:
No ability to save your signature
Need to answer a survey before downloading your signature
Little to no layout control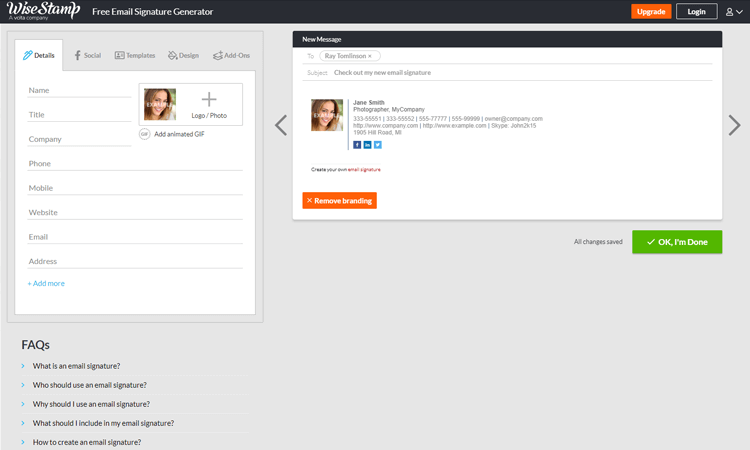 WiseStamp offers a very straightforward way of creating your email signatures. You can add anything you want to your signature with just a few taps on your keyboard and a quick click on the mouse. Along with its variety of add-ons and social icons, you can customize your template to create the design that fits you or your business. The beauty of WiseStamp is that it also offers a centralized system that allows easy management of email signatures for larger companies by automatically injecting signatures into outgoing emails. This is what makes it one of the best email signature generators on this list.
Pros:
Straightforward user interface
Multiple add-on options
Analytics feature
Ability to change template color
Unlimited signatures
Cons:
Very limited features for free users
Limited layout control
Template dependent (even for the paid version)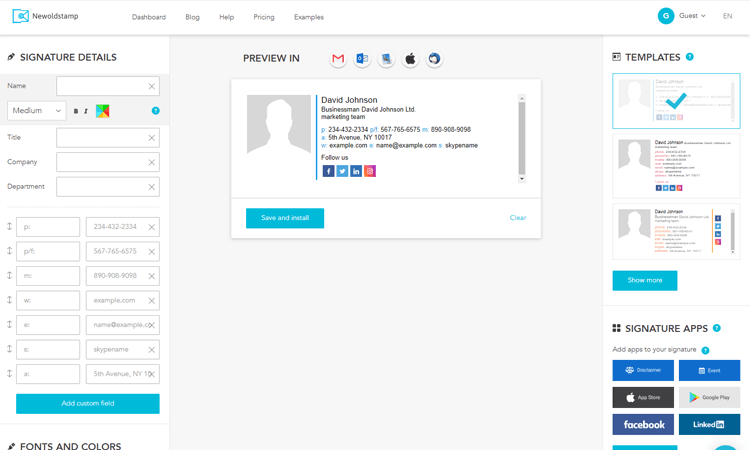 If you need a quick fix for your email signature, then Newoldstamp is a good choice. It has several features that allow you to create standout email signatures without too much hassle. With its simplified user interface and controls, it's very user-friendly and easy to pick up even for the non-tech savvy salespeople out there.
Pros:
Simplified user interface for ease of use
Drag and drop feature
Decent selection of customization options
Cons:
Limited templates for free users
Layouts are generally template-dependent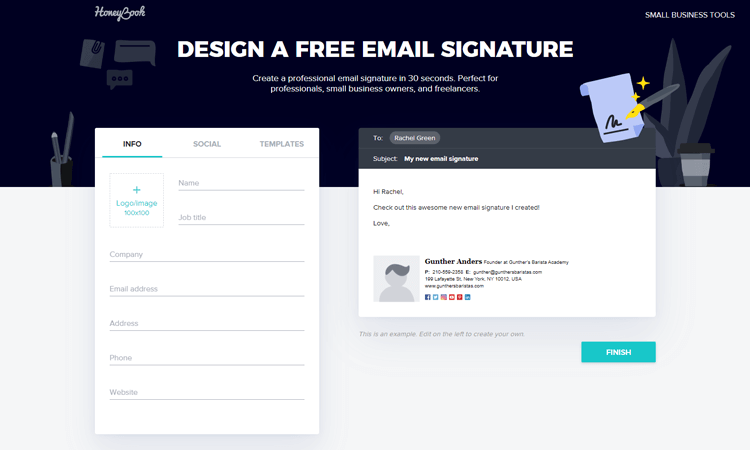 HoneyBook is one of the many email signature generators where you can't save your signatures. But don't let that stop you. All you need to do is pick your template, provide the essential information and you're done just like that. With this sort of simplicity, you won't lose much time by not being able to save your signatures.
Pros:
Absolutely free
Simple and straightforward
Clean looking templates
Cons:
A very limited number of templates
Extremely limited customization options
No add-ons (like banners, CTAs, etc.)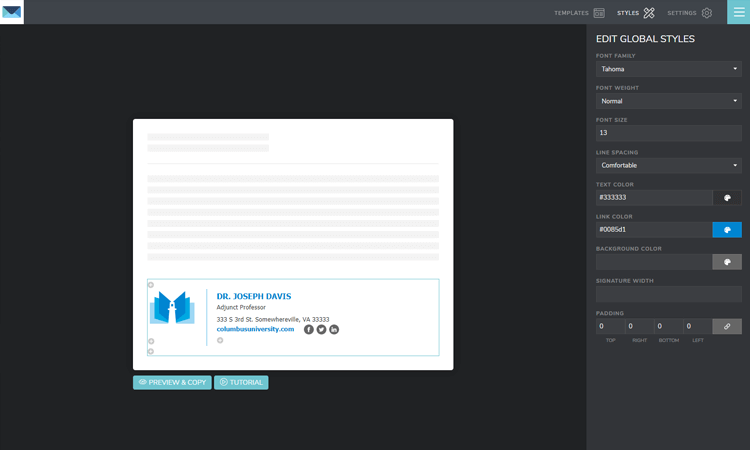 Signature.email uses a simple visual editor that is easy to navigate (great for those who dislike multiple tabs) and grants you easy access to your signature's overall format through a single tab. You can even share your signature's link to your colleagues so they can fill in their information and have uniform email signatures.
Pros:
Easy-to-use interface
Drag and drop preview interface
Great control over font properties and layout color
Automatic resizing for uploaded images
Shareable download link for group signatures
Cons:
Limited fonts
Chosen font applies to all text in the template
Uploading images is only available for the paid version
Group signatures are filled out individually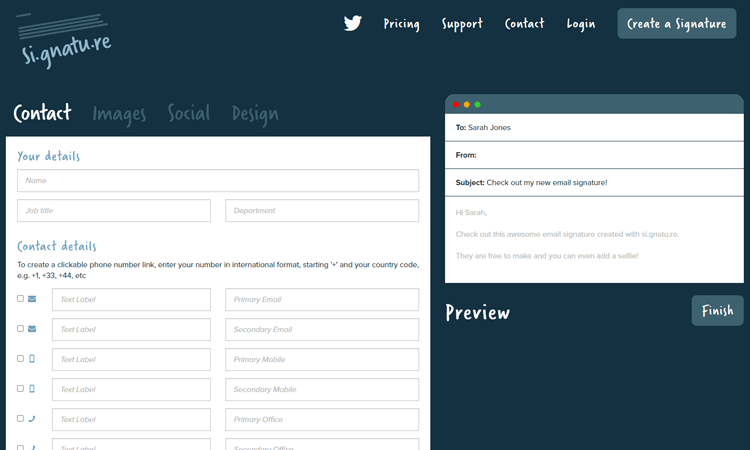 Si.gnatu.re is an easy-to-pick-up tool that provides you a great way of creating and customizing your email signatures. With its straightforward controls, range of customization options, and a save feature to boot, you can definitely lean on this tool for your email signature needs. You can even create and store multiple signatures for your colleagues if need be (with a once-off purchase), making this one of the most desirable and best email signature generators available.
Pros:
Offers a good range of customization options
Straightforward design controls
Save feature
One-off payment options
Unrestricted editing
Cons:
The free version has a 30-day edit window
Has a bit of a learning curve
Limited layout control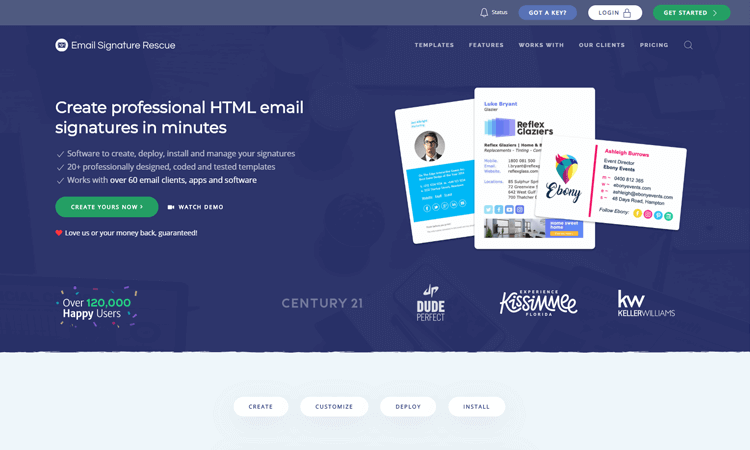 Email Signature Rescue offers very good customization options, a one-account management and distribution system, compatibility with almost every email application and device, and a software-assisted installation process. This Australian based email signature tool offers some serious bang for buck!
Pros:
Very good customization options
One account to manage and distribute multiple signatures
Analytics feature
Compatible with a wide range of email applications and devices
Software-assisted installation
Cons:
No free version (7-day full money-back guarantee)
Limited layout control
Slight learning curve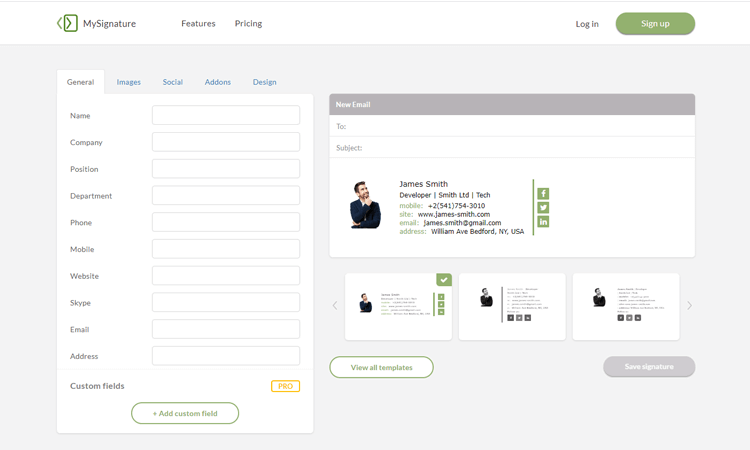 This email signature creator offers a very easy and simple way of making email signatures without needing to be tech-savvy. The email signatures created by this tool are optimized for many devices and are compatible with most of the popular email clients used today. The PRO version also comes with a dashboard as an easy way to manage and distribute email signatures. What's not to love?
Pros:
Easy-to-follow user interface
Simple and clean-looking templates
Ability to add a banner and a wide range of social icons
The dashboard allows easy management and distribution
Cons:
Limited templates and add-ons (even for the PRO version)
Very limited layout control
Limited customization options
Very few email signature generators are as impressive as Exclaimer. It is a Cloud-based solution for managing and implementing email signatures for Office 365, Exchange, Outlook, and G Suite. With its excellent layout control, straightforward drag and drop editor, and centralized management system, it promises to deliver an easy and reliable solution for your email signature needs.
Pros:
Drag and drop signature editor
Excellent layout control and customization
Centralized management system
Great for Office 365, Exchange, Outlook, and G Suite
Cons:
A fairly high learning curve
Subscription is separate for each email system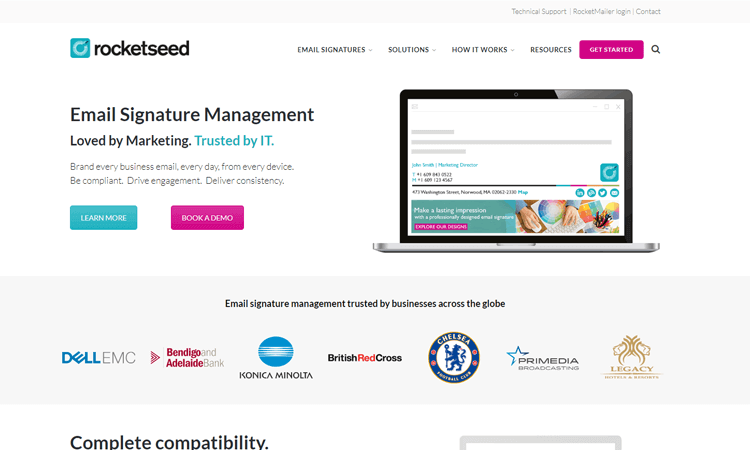 Rocketseed is one of the very few email signature tools out there that can be integrated into Active Directory. This gives it a very unique feature that automatically updates email signature information based on changes in Active Directory. It also integrates securely with on-premise, Cloud, or hybrid email servers and is optimized for all major email platforms creating a very consistent brand for your company. Talk about hassle-free.
Pros:
Compatible with Active Directory
Automatically updates signatures through Active Directory
Centralized Control
Powerful email banner campaign
Cons:
No free version (Demo only)
Need to contact their sales team for account set up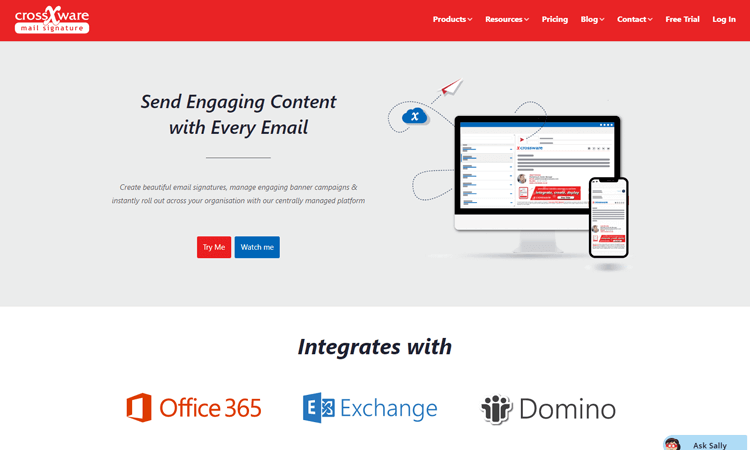 Being one of the "Admin-style" email signature tools out there, it allows you to create great, consistent email signatures while also being able to control how they can (and should) be used. With its admin functions and ability to create optional signature elements, it takes the meaning of "managing" to a whole new level. It's great for larger teams!
Pros:
Creation of main signature and signature blocks (optional elements)
Excellent layout control
Allows HTML coding and editing
Various admin functions
Creation of email rules for general/specific situations
Compatibility with Domino mail servers
Cons:
No free version (Demo only)
A fairly high learning curve
No auto-save feature when designing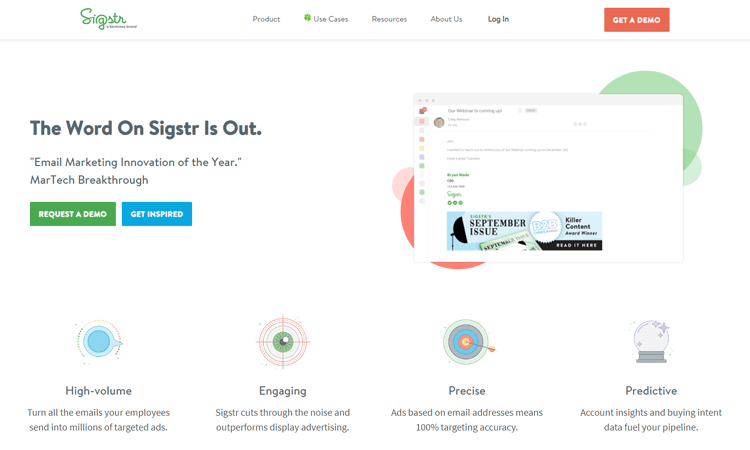 Sigstr is an email signature generator tool that has a centralized system and allows hassle-free updates to your email signatures. It offers a fairly easy email signature design interface that allows the design of clean looking layouts. It also has signature analytics that helps monitor your CTA effectiveness, which is a welcome addition for any salesperson.
Pros:
Point-and-click and text-based editor
Centralized management system
Automatically updates changes to signatures
Signature analytics tracker
Mostly suitable for bigger teams
Cons:
No free version (Demo only)
A bit of a learning curve
FAQs
How do I create a professional email signature?
Think about the information you want to include and the actions you want the recipient to take. Keep your signature clean and easy to read, but make it attractive so that it draws attention. Stay true to your brand voice and make it as easy as possible for the recipient to identify you and get in contact.
What is a good signature for email?
An email signature should combine a personal touch with good branding. You want your brand to be immediately identifiable, but at the same time, the recipient needs to feel like they're talking to a human, not just a faceless account within a company. Include important links to your website and social media profiles so it's easy for the recipient to learn more about you, and don't be afraid to include a call to action.
How do I create a signature in Gmail?
Open Gmail in your browser, select the settings tab in the top-right corner, then select "see all settings". Scroll down to "signatures" and select create new. Name your new signature, and in the box, edit your email signature by adding text, images, and links.
How can I create a signature in Outlook?
To add a new signature in Outlook, open a new message and select "signature." Under the "select signature to edit" tab, select "new," and enter a name in the "New Signature" dialog box. Compose your signature in the "edit signature" box and add all the elements you need.
Wrap Up
Something as simple as an email signature with a call-to-action can greatly increase the number of incoming sales leads (which cost you nothing). If you don't already have an email signature, take a look through this list of the best email signature generators and try them out yourself! Most of them are free to try so you can get a feel for all their features and what they've got to offer.