How Mailshake Helped Pure Prime Solutions Grow by Transforming Customer Behavior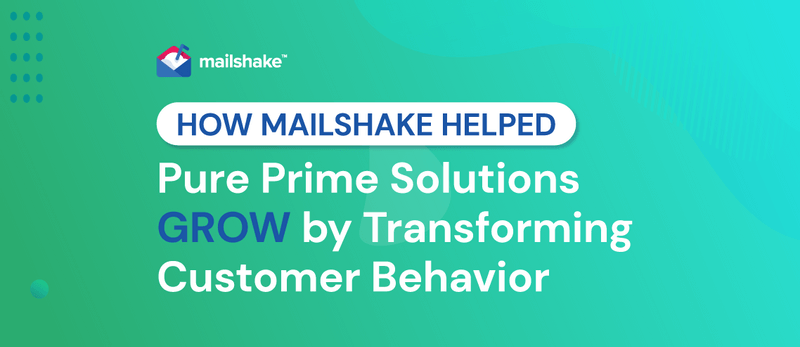 Pure Prime Solutions provides end-to-end engineering and design expertise to clients, including OEMs and producers, in a variety of industries.
As a business owner though, it is not enough to know how to implement solutions to people's problems – you've got to find ways of letting the right people know what it is that you do. That's why Pure Prime Solutions president, Nick Duff turned to Mailshake.
With the tools to reach out to his target audience, he's been able to change the habits of an industry and position his business as the solution to real-life problems.
How Does Someone Find You If They Don't Know There's a Solution to Their Problem?
Inbound marketing is an amazing tool for businesses, but it has its limitations. You need people to recognize their pain points and know there might be a solution to search for, but that's not always the case.
So how do people find you if they don't know they have a problem? What if they know they have a problem but don't know that a solution to that problem exists?
The answer is outbound marketing – but how do you find potential clients and deliver your message that these businesses have a problem and there is a solution?
For Nick, he turned to Mailshake because it allowed him "to reach out to people and show them a different way of doing things."
Not just any outreach will do though. As Nick notes, "engineers… in their DNA, they're skeptical, they're a 'prove me,' they're a 'show me.' It's really hard to sell a service… because it's not a tangible asset."
To accomplish this, and grab the attention of busy engineers across the country, he needed something that was adaptable, omni-channel, and able to personalize his message.
Mailshake gave Nick this platform, but as any engineer knows, a tool doesn't do the work on its own – it needs a skilled operator behind it. As someone who loves to consume information, he set about perfecting his marketing (this is where Mailshake's Cold Email Academy and Cold Email Masterclass come in handy), and he used Mailshake's features so well that he regularly gets responses saying how much people loved his email.
Not bad for a cold email!
Engineering Principles Applied to Marketing
As a mechanical engineer, the simulation-driven design process is at the core of what Nick does, and he approaches marketing in the same way. He understands that it's a continual process of building, testing results, and collecting feedback, and he finds that Mailshake's solutions fit perfectly with this.
Using A/B testing, Nick has been able to streamline his approach, making sure that he spaces out his communications to get the highest possible response rate.
With a deep knowledge of his audience, he understands that people in this industry are extremely busy, so they may want to hear about new opportunities but don't want to be bombarded with emails every day. This knowledge, combined with A/B testing, allowed Nick to find the perfect balance for his sequences, keeping people up to date without hassling them.
Nick also makes use of Mailshake's support to ensure that he's getting the most out of the platform, remarking that "[Mailshake's] team is great, all those people in customer service are awesome."
This has resulted in Pure Prime Solutions utilizing Mailshake's omnichannel capabilities (phone, email, social) to the maximum, achieving some brilliant results.
"It's working extremely well, we're very happy with how it works."
Get In Early and Often and Build a Relationship
One word we often hear from businesses that perform exceptionally well with outbound marketing is "relationships." Selling isn't always about pushing the sale, it's about creating a relationship and helping the customer to solve a problem.
Nick discusses the need to "get in early and often… to talk to them (prospects), build relationships, and make them aware there's a solution for them" and he's been able to do this to great effect with Mailshake:
Campaigns with a 14% reply rate with leads coming back with meaningful questions and opening the door to building the relationship.
With an omnichannel approach, few people are slipping through the net.
Leads segmented to allow for more personalized communication in the future.
Continues to fine-tune his campaigns and optimize what he's doing.
The relationship may not start with a sale, it may start with the prospect saying "come back to me in a year," but it's the beginning of a relationship. Nick will then schedule a follow-up through Mailshake and continue to build the relationship further down the line.
Sales success doesn't always happen overnight. Often it's about creating multiple touchpoints and with features like Lead Catcher and Social Outreach, Mailshake makes this much easier to achieve.
A Relationship Building Platform
As Nick notes, "changing habits and behaviors is hard," but it starts with building relationships, and that's what Mailshake allows you to do.
You may be bringing a completely new idea to the world, but as long as you have the ability to reach your target audience, and the tools to unlock your creativity, then you have a platform to create change.
Nick has been able to bring new ideas to engineering by reaching out and building relationships, and has seen great results. To see how Mailshake can help your business, reach out to schedule a demo.