How To Write Winning Sales Proposals That Get Signed Right Away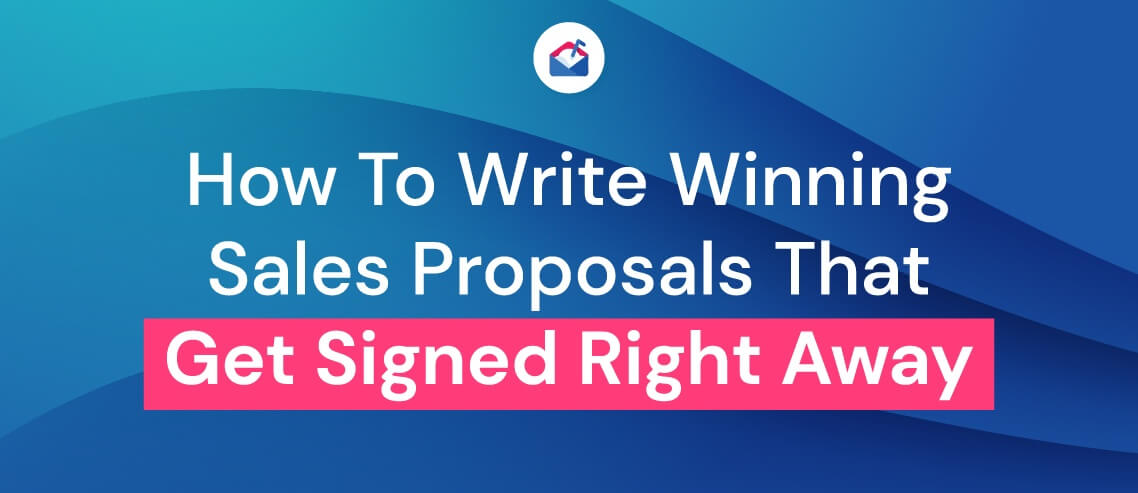 A sales proposal can make or mar a sale, irrespective of the niche or industry your business belongs to. One common trend we noticed is the perception of crafting winning sales proposals. Contrary to popular opinions, sales proposals are easier to craft. Your proposal needs one key element, and you are good to go: show the potential client that you're the perfect person/company to do the job, and you're good to go!
As mentioned above, there isn't a best-kept secret to it, but there are proven and tested strategies for writing convincing sales proposals that win the hearts and businesses of your clients.
In this article, you'll learn:
What a sales proposal is
How to format and structure your sales proposal
Five proven strategies for writing a winning sales proposal
What is a sales proposal?
A sales proposal is a document that explains a company's product or services to a potential customer to educate them and generate interest. They're also referred to as executive summaries, project proposals, or business proposals.
Sales proposals are used by sales consultants, agencies, sales teams, and other individuals looking to get an idea in front of a client for consideration. Sometimes, they're combined with a brief but detailed demo (usually with videos) to explain the benefits of the product or service to the potential customer.
Keep in mind that an excellent sales proposal should contain three important characteristics:
Value
A well-written sales proposal should educate prospective buyers about a product, service, or even idea. A prospect might only be aware of some of their needs. This is the perfect opportunity to demonstrate your expertise and find the core of what they truly need.
Persuasion
It should convince the potential buyer that you're the best person to deliver the job, not a competitor.
ROI
Like every investor looking to know what's in it for them when investing in a business, a good sales proposal should justify a reasonable return on investment—in simple and understandable English.
For any salesperson looking to land a sale, a winning sales proposal should achieve the following results:
Proves that you understand the client's motivations and spotlights the value you bring to the client.
Positions you as a partner and not as a salesperson looking to boost their bottom line.
Removes attention from the product or service you are selling, redirects the prospect's attention to your proposed solution, and paints a picture of the desired outcome
Shows your unique value proposition without confusing the customer. Here, you want to avoid cliché or boilerplate product descriptions like "our state-of-the-art product will help you automate emails," and replace it with something along the lines of "Our outreach platform can connect with more prospects, book more meetings, and generate more sales" or "With Mailshake's outreach solution, you can contact thousands of prospects all at once with personalized email campaigns, fully automated follow-ups, maximized deliverability, and proven templates."
Inspires them to take action by giving them all the information they need to make a purchase. This includes budget, payment plans, other deliverables, and the next steps to take from the proposal to purchase.
Simply put, a winning sales proposal should take your prospects on a visual journey that shows them the challenges they're facing and how your product will solve them.
How to format and structure your sales proposal
The best way to structure your sales proposal is to draft an outline that clearly addresses the customer journey—right from the target persona to identifying their pain points and the winning solution.
A properly formatted and structured sales proposal should include the following:
1. Introduction
An introduction is like a handshake. It sets the precedence for you to introduce your business, your team, and your product/service. Also, include a description of the prospect and their business. Show that you have a thorough understanding of the client's needs and include some social proof and testimonials to demonstrate success.
While a good rule of thumb is to keep the message warm, you shouldn't use over-solicitous statements such as "we are extremely grateful for…" either.
2. Summary
Describe the challenges the prospect is facing, explain the potential issues that will happen if the problem continues to persist, and highlight how your product or service will solve that problem and set them up for success. Here, you can use the PAS formula:
P (Pain) – Identify your prospect's pain points or challenges.
A (Agitate) – Stir up the problem to strike a nerve/agitate to the point of discomfort.
S (Solve) – Offer them a way out (of the hardship) by delivering a solution.
3. Market Research
Conduct proper market research to not only your prospects and their businesses but the market and their competitors too.
4. Benefits
This is your window of opportunity to show the prospect the value of what you're selling to them. Do your research well and know the language your prospect likes. You'd most likely bore or lose a potential paying customer if you wrote in conservative English while they liked conversational writing.
5. Deliverables
Share the objectives, milestones, and timelines to your approach.
6. Pricing
This is one of the first things every prospect looks at when reading a proposal. Also, remember to give several options for the product or service provided.
Pro Tip: While it's okay to have a standard sales proposal template, tweak each sales proposal to meet each client, their needs, and industry.
5 proven strategies for writing a winning sales proposal
A winning proposal might take a huge chunk of your time to draft, but its rewards outweigh the time spent. How do you get a busy executive or company founder to set aside pressing issues and read your proposal? The answer? You write a proposal that identifies and solves his problems, and not one that recites your product's features and benefits.
These five proven steps teach you all you need to know to elevate your sales game.
1. Know what the client really wants
When you ask a prospect what they want, they might likely give generic answers such as website redesign, a new website, or email automation. When you dig deeper during discovery calls, you might be surprised to discover that email automation could mean generating qualified leads or that website redesign wasn't the real problem, but getting conversions from their existing website.
Before you draft a sales proposal, ask your prospects about their true needs for your services. The reasons they give you may be different from what they told you initially. This is the type of information to add to a winning sales proposal. When you highlight their real pain points instead of an irrelevant SEO or website design, you make their lives easier and gain their trust and loyalty.
2. Be brief
Time is of the essence here. The longer a sales proposal, the lower the chances of sparking a prospect's interest. Keeping it short and simple is the way to go since people have short attention spans.
How short should a sales proposal be?
The typical length for a sales proposal is between 8 and 20 pages. And while some experts suggest keeping it extremely short within a page or two, we advise that you tailor your sales proposal to meet the client, their needs, and your offer. No two businesses are the same!
Edit your text ruthlessly by removing passive words, trimming where necessary, or removing altogether. The key is to present a stronger, succinct, and persuasive proposal your prospect cannot refuse.
3. Focus on solving their problems
Selling isn't about focusing on your company or the product/service it offers. It's about your prospects and their challenges. Quite frankly, customers don't care about who you are or what you sell; they care about how you can make their lives better.
Identifying your customer's pain points and tying the benefits of your offers is a sure-fire way to get their attention rather than rattling off a list of features and benefits or your company's mission, vision, and values.
4. Use copywriting hacks
Copywriting strategies aren't limited to websites, billboards, landing pages, ads, and other marketing materials. They can be used in sales proposals to arouse a prospect's curiosity, engage, and close a sale. Copywriting tips for crafting a winning sales proposal include:
Use storytelling, making sure the introduction, middle, and conclusion weave naturally into each other.
Improve legibility with bullet points and headings, and break text into short paragraphs.
Use active words in place of passive words. For example, replace "We are looking to help you triple revenue results" with "We can triple your current revenue."
Use visuals (graphic design, images, infographics, charts, and graphs) to support your points.
Use (long) words where necessary and remove unnecessary text.
5. Discuss pricing and be straightforward about it
As a freelancer for over five years, I can single handedly tell you that cost can make or break a deal. Discussing the budget before writing the sales proposal ensures you and the prospect are on the same page. There's nothing as painful as getting "No, we cannot afford this at the moment" after investing time into creating the document.
Don't forget to give them different options for pricing. I recommend giving three packages from high to low (a popular option is Bronze, Silver, and Gold OR Basic, Standard, and Premium) and break down the cost to show the value they're getting.
Finally, tap into their emotions by making the prospect feel like they're not wasting money: the goal is to make them feel like they're investing, rather than spending/wasting money. You can also add one or two testimonials from previous clients you've helped. Ditch "cost" or "pricing," and use "Investment," "ROI," or "Return on Investment" instead.
Wrapping Up
Sales proposals are underutilized for sales enablement, even though data shows that 47% of proposals close a sale. Writing a sales proposal helps you acquire a new customer or sell to existing ones.
So, whether you're a beginner or veteran salesperson, these tips can help you avoid costly mistakes, promote your company's capabilities, and get you a big, fat yes from a customer.
P.S. Don't forget to follow up two or three days after sending in the sales proposal. This reminds the prospect to review the document with their team and stay at the top of their minds.