Accelerate Newsletter: Bring your Sales Career to the Next Level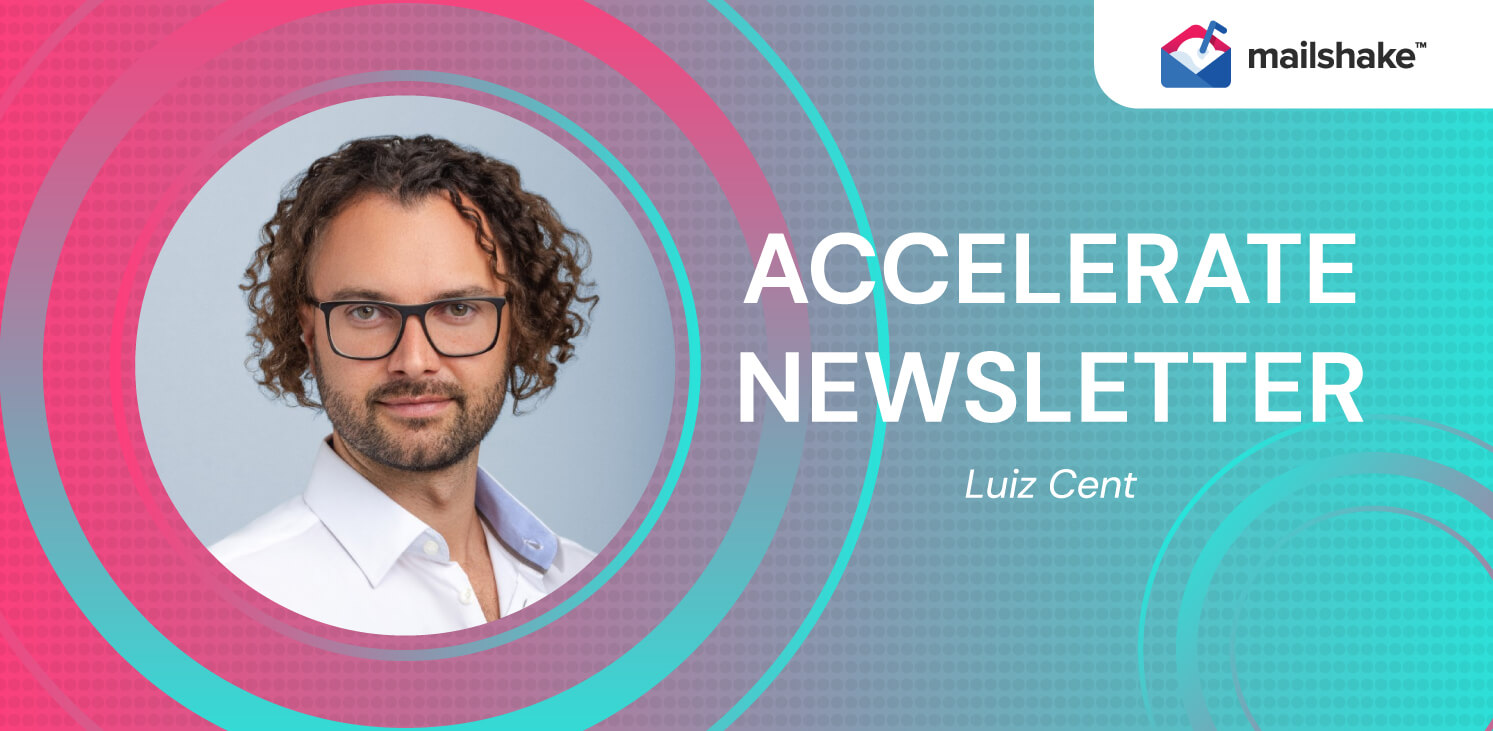 You might have subscribed to many newsletters in the past. But there are 2 problems that I've come across with most newsletters out there.
One, they are not curated by an expert. Many companies just throw together a bunch of links to articles and call it a day.
Second, they don't contain actionable content. Since they're randomly throwing together a bunch of links without any guidance from an expert, most companies send out fluff in the name of newsletters.
To tackle both of these problems, we at Mailshake have decided to launch the Accelerate Newsletter. It's a weekly email newsletter curated by me. Who am I? I'm Luiz Cent, the Head of Sales at Mailshake!
My goal is to send out actionable content that our subscribers can use to close more deals and accelerate their sales career.
So if you're looking for a newsletter that's actually going to hold your hand and help you close more deals, then make sure to subscribe to our Accelerate Newsletter.
Who can benefit from Accelerate Newsletter?
The Accelerate Newsletter is designed for sales professionals who want to close more deals and accelerate their sales career.
You can benefit from our newsletter if you're a:
Sales Development Representative
Business Development Representative
Account Executive
Sales Manager
VP of Sales
Even if you don't fall into one of these categories, you can still benefit from the newsletter as long as you're responsible for generating revenue in some capacity.
The newsletter will discuss topics related to sales leadership, sales operations, account executives, SDRs, and hiring and managing sales teams.
If these topics interest you, make sure to subscribe to our newsletter today. You'll receive one highly actionable article for each day of the week plus bonus content as Luiz's Pick!
Meet Luiz Cent?
Of course, you might be wondering who I am and why you should listen to me.
Well, I'm the Head of Sales here at Mailshake. I've been in the sales and marketing industry for over 12 years and have worked in a wide range of roles.
I joined Mailshake in 2018 as the Head of Customer Success, transitioned to Head of Sales and Customer Success, and am now working as the Head of Sales.
As the Head of Sales at Mailshake, I have recruited, hired, and trained our inbound sales team, which has been vital to our success.
The efforts of me and my team have also led to a 100% YoY growth in sales, which alone is enough reason why you should sign up for this newsletter.
But if that doesn't impress you, I have also hired sales training coaches to take our team's close rate to an impressive 73%.
I've also developed a culture of coaching at Mailshake, which revolves around sales training coaches, daily call reviews, and call coaching software. My passion for coaching and helping sales professionals has made me one of the most respected leaders in our company (or so I'm told 🙂 ).
So if you want content coming directly from someone with that level of experience (both in sales and sales coaching), Accelerate Newsletter is the way to go.