13 Best Email Deliverability Tools in 2023
13 Best Email Deliverability Tools in 2023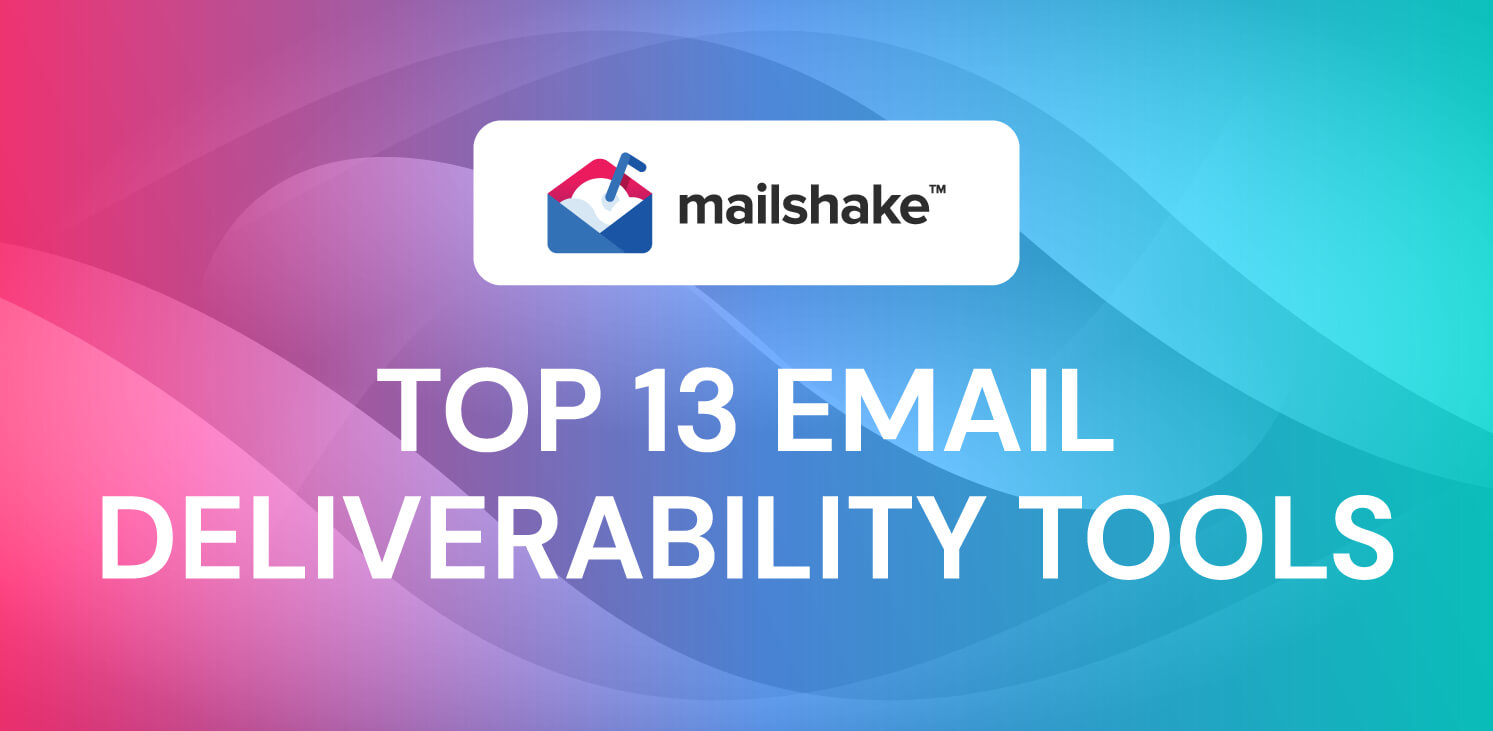 Recent data paints a startling picture – one in five business emails never reach their intended recipients.
In this digital age where email remains one of the most effective ways for businesses to reach their customers directly, it's critical that your emails are actually delivered. And while content, design, and strategy are essential, they mean little if your emails don't even see the light of day.
That's why email deliverability tools are so important. They provide a wide range of features that help ensure your emails escape the spam folder.
Let's look at why you need one of these services as well as what each offers.
Why Do You Need an Email Deliverability Tool?
As the name suggests, email deliverability tools ensure your emails reach the intended recipient. Without them, the chances of your emails getting stuck in the spam folder — or not being delivered at all — are much higher.
Here are all the reasons you need an email deliverability tool for:
Monitoring sender reputation: They manage and improve your reputation with Internet Service Providers (ISPs), reducing the risk of your domain being marked as spam.
Compliance: They ensure adherence to regulations like GDPR and the CAN-SPAM Act. This keeps you from legal trouble.
Cleaning mail lists: They remove inactive, invalid, and duplicate email addresses from your mailing lists, so your marketing efforts don't go wasted.
Providing analytics: They offer insights into email engagement, helping optimize campaigns.
Automating rate throttling: They control the email send rate to avoid triggering spam filters, which is crucial for new or low-reputation senders.
Analyzing for spammy content: They scan emails for potential spam triggers.
Avoiding spam folders: By monitoring your sender reputation, cleaning your mailing lists, and optimizing content for deliverability, your emails are more likely to end up in the primary inbox — which is where they belong!
With that out of the way, let's look at the top 13 email deliverability tools of 2023.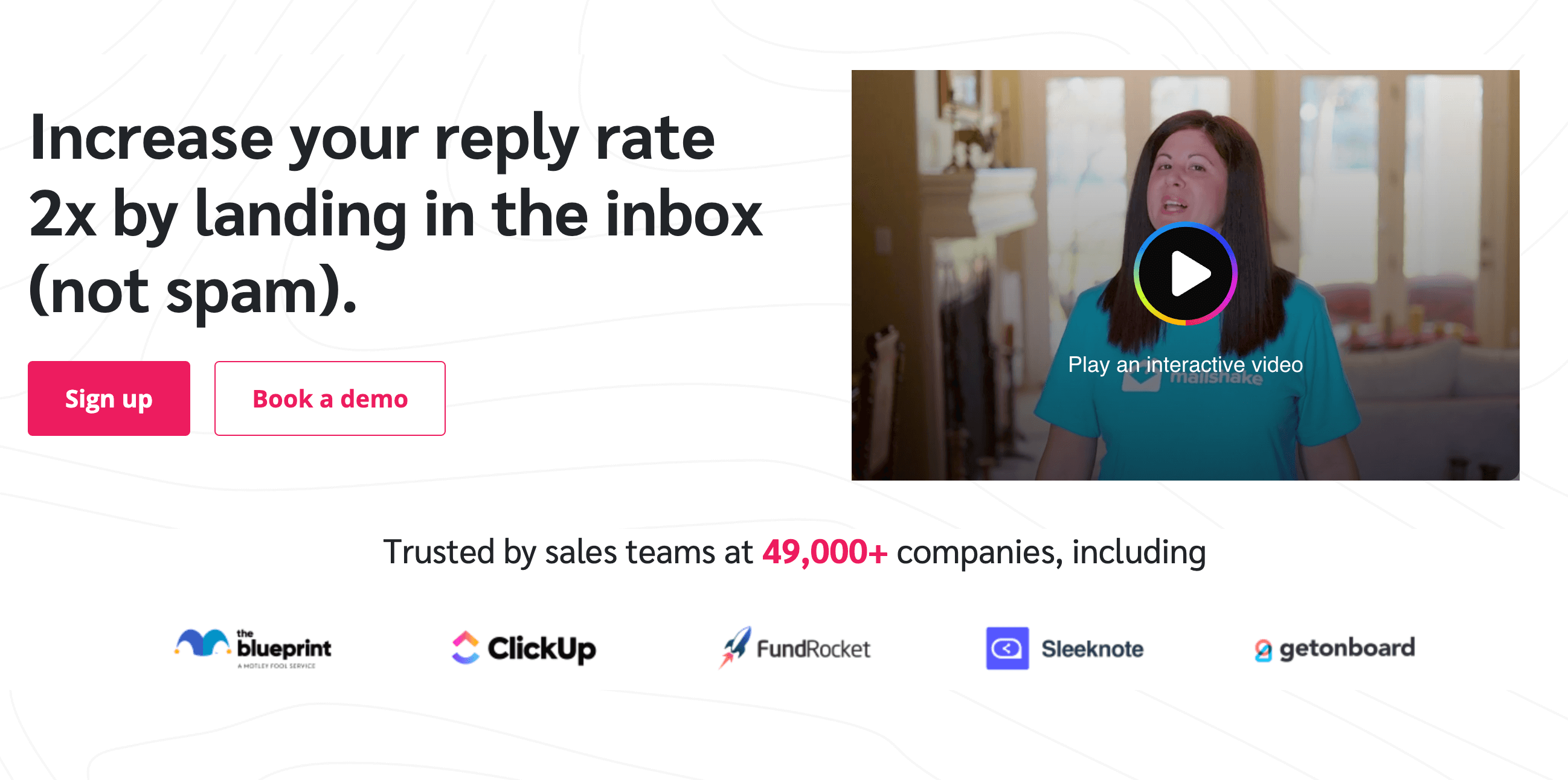 Mailshake is a powerful sales engagement and email outreach platform, designed mainly for sales professionals, marketers, and startups.
It offers a range of tools to improve your email deliverability. These include an assistant for seamless domain setup, email warm-up services, email validation, and comprehensive analytics.
A notable feature of Mailshake is its intuitive email analyzer. It provides targeted suggestions to enhance not only your email deliverability but also the readability of your content.
Customer Ratings
G2 Rating: 4.7/5 stars based on 235 reviews
Capterra Rating: 4.6/5 stars based on 106 reviews
Pricing
The Email Outreach plan costs $59/user/month for 5k recipients per campaign. The Sales Engagement plan is $99/user/month for up to 10k recipients per campaign.
2. Warmup Inbox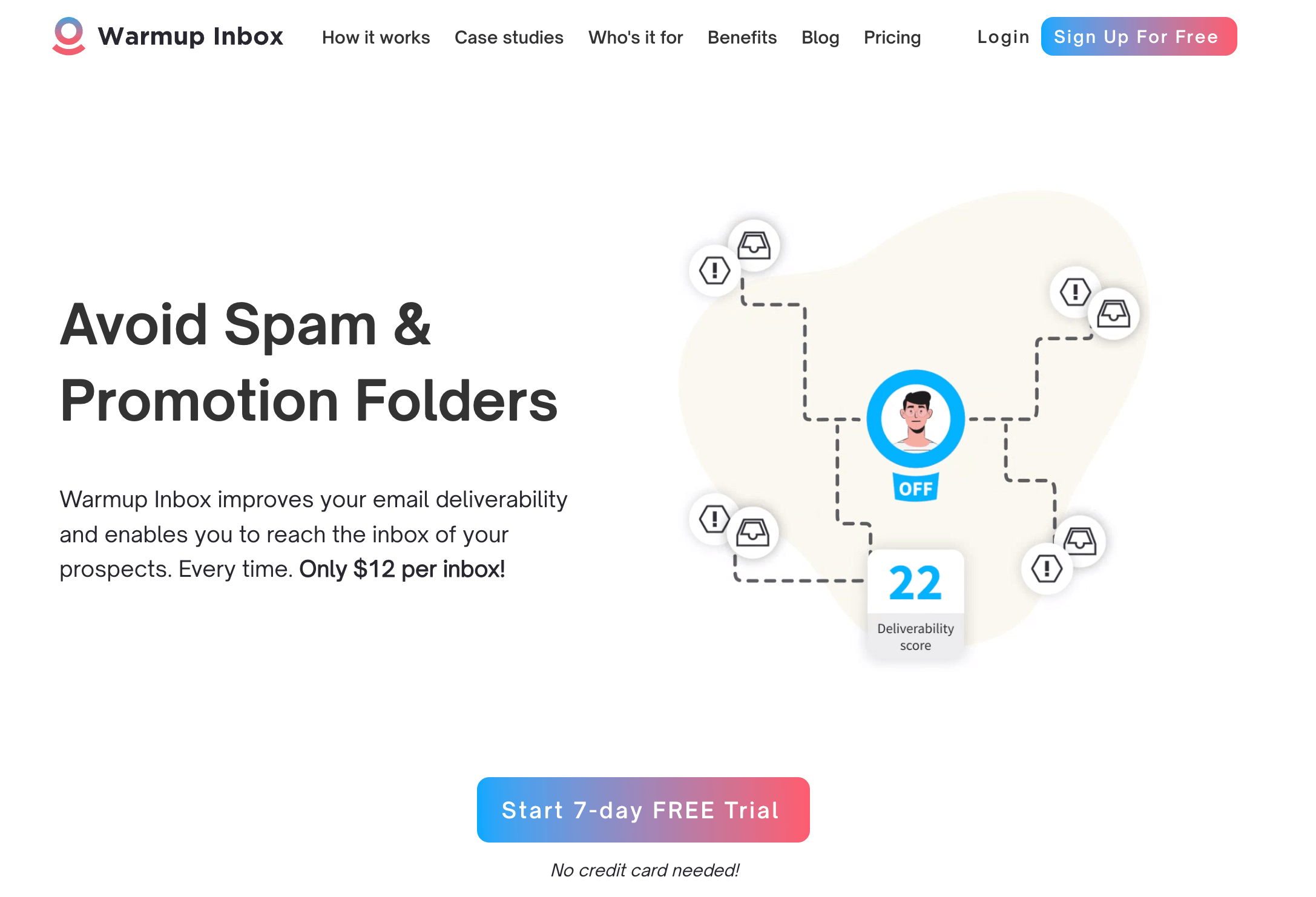 Warmup Inbox improves email deliverability by leveraging an automated network of over 20,000 real inboxes that interact with each other. Your warm up emails are sent to these inboxes, where they are replied to, marked as important, and removed from spam.
This process enhances your domain's reputation and signals to email providers that your domain is trustworthy and legitimate.
Customer Ratings
G2 Rating: 4.7/5 stars based on 5 reviews
Capterra Rating: 4.5/5 stars based on 10 reviews
Pricing
The Basic plan is $15/month for 75 daily warm-up emails, the Pro plan is $39/month for 250, and the Max plan is $70/month for 1000.
3. GlockApps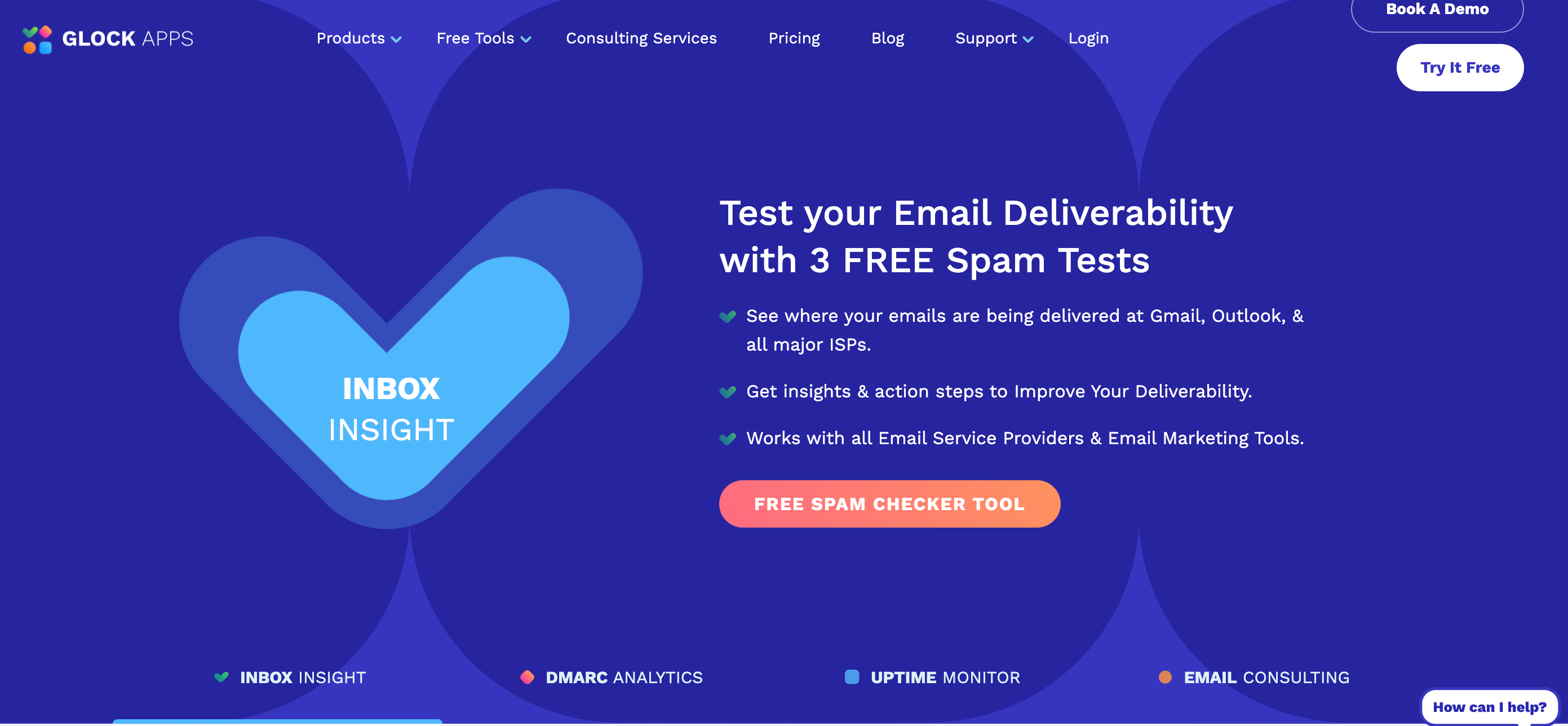 GlockApps offers a powerful trio of features designed to enhance your email deliverability.
First in line is an email spam checker. It assesses the likelihood of your email reaching your prospect's inbox and offers valuable suggestions for improvement.
Next is the DMARC analyzer tool, which discards any emails lacking proper authentication technologies.
Finally, the Uptime and Blacklisting monitor keeps an eye on the health of your SPF, DKIM, and DMARC records while also sending you an alert if your domain gets blacklisted.
Customer Ratings
G2 Rating: 4.3/5 stars based on 13 reviews
Capterra Rating: 4.8/5 stars based on 37 reviews
Pricing
The Personal plan is free with 3 email spam checks. The Basic plan offers 3,600 checks and an uptime monitor at $59/month, while the Business plan costs $99/month.
4. NeverBounce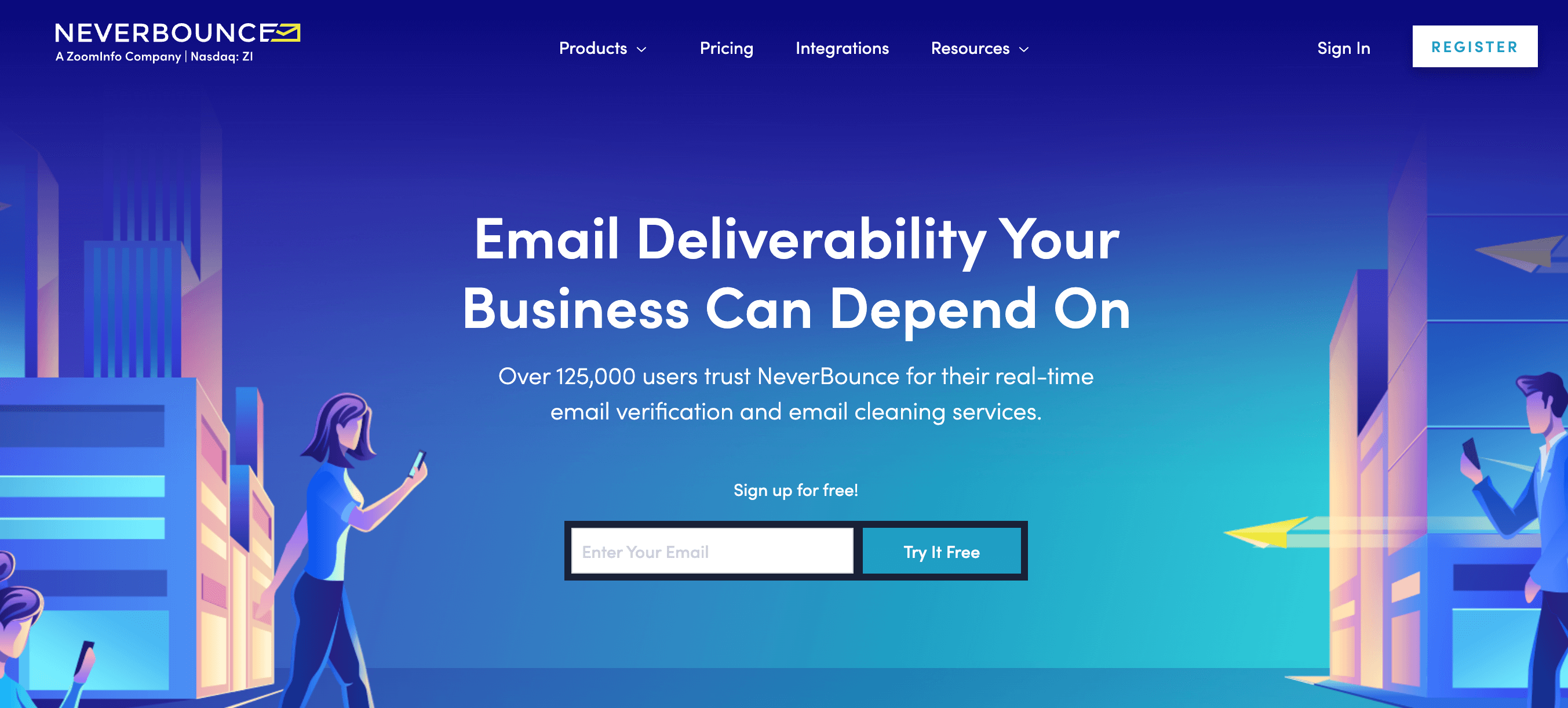 Founded in 2014, NeverBounce provides a solution to a major problem faced by email marketers — the risk of sending emails to unverified addresses. It solves this issue by validating your email lists in real-time, ensuring that all emails are valid and deliverable. They also offer a bulk list-cleaning service for larger mailing lists.
Customer Ratings
G2 Rating: 4.4/5 stars based on 134 reviews
Capterra Rating: 4.4/5 stars based on 41 reviews
Pricing
NeverBounce offers a pay-as-you-go model starting at $0.008 per email for bulk list cleaning.
5. MailMonitor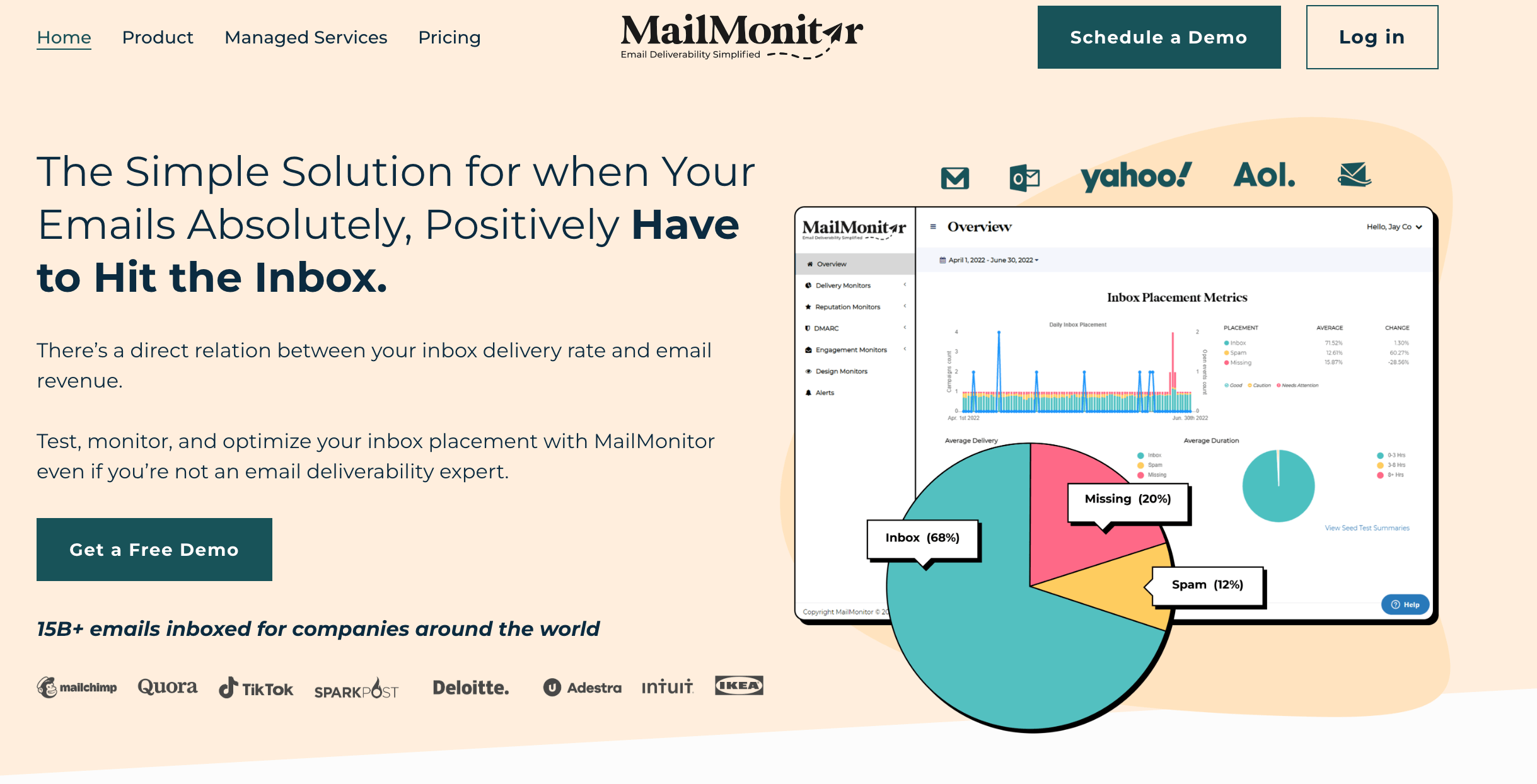 MailMonitor provides a way to foresee where your email will land before sending it. You can leverage its inbox placement feature to gain valuable insights into how your email may perform across different ISPs and devices before it leaves your outbox.
This helps you identify any potential issues that may affect your email's deliverability, allowing you to fix them beforehand.
MailMonitor also offers a spam filter test feature that analyzes your email for spam triggers and delivers detailed reports on how to improve your content for maximum deliverability.
Customer Ratings
G2 Rating: 4.8/5 stars based on 6 reviews
Capterra Rating: 5/5 stars based on 20 reviews
Pricing
The Starter plan is $49/month for basic features.You can also get a personalized quote for the Advanced plan.
6. Netcore Email API (formerly Pepipost)
The Netcore Email API serves as a cloud-based delivery engine that ensures your emails, particularly transactional and triggered ones, reach their intended inboxes efficiently and reliably.
Think of the Netcore Email API as your personal digital mail carrier. Just as you would hand a letter to your postman to deliver it, you entrust your emails to the Netcore Email API. It then ensures that your message reaches the primary inbox reliably and efficiently.
Customer Ratings
G2 Rating: 4.4/5 stars based on 443 reviews
Capterra Rating: 4.3/5 stars based on 39 reviews
Pricing
Netcore Email API's pricing starts at $17.5 for 150,000 emails/month and goes up to $311.5 for 2,000,000 emails/month.
7. SMTP2GO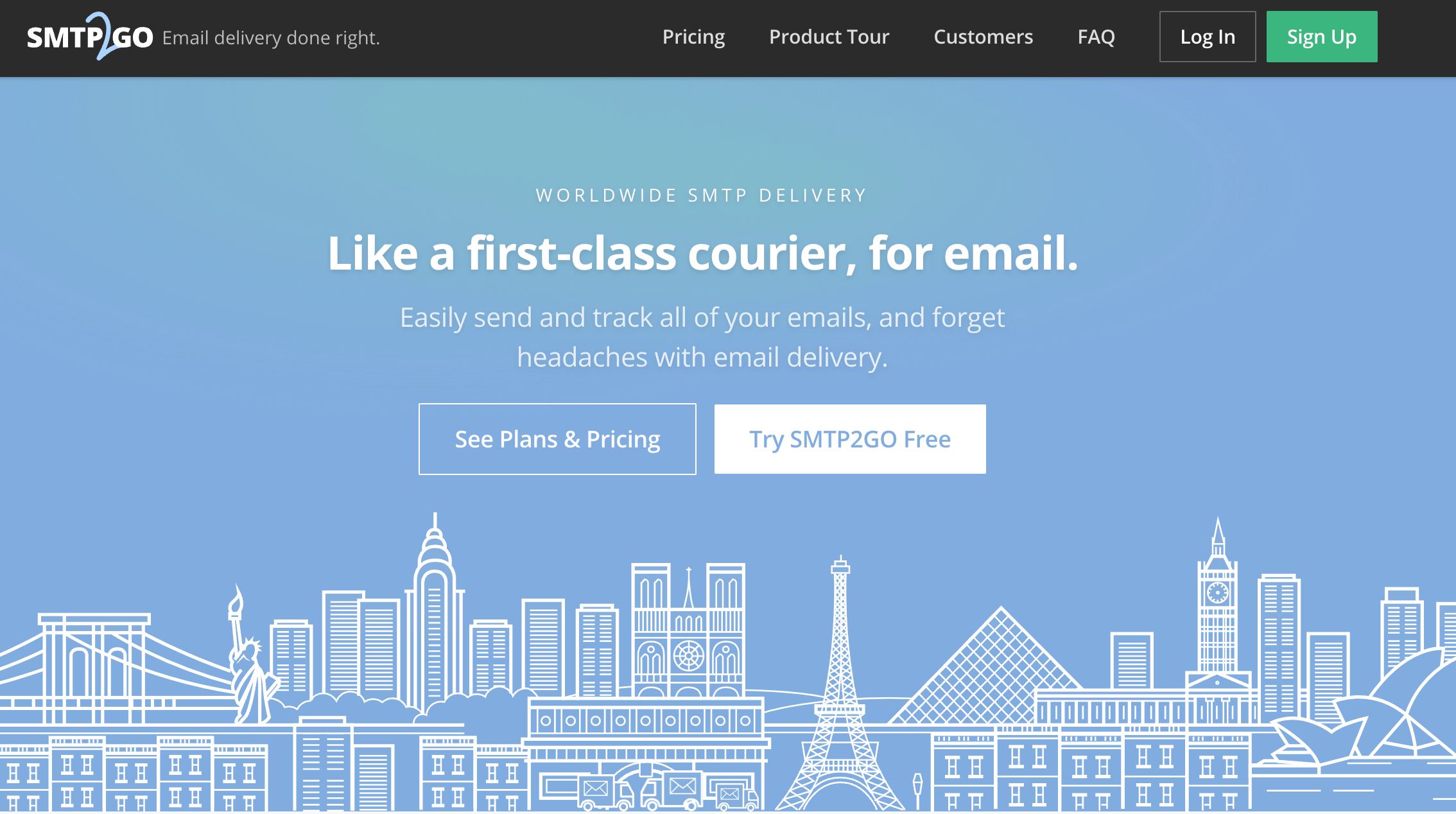 SMTP2GO is yet another first-class courier service for your emails.
It offers an SMTP relay service that enables you to send emails through their servers, ensuring delivery and minimizing the risk of being marked as spam.
It also provides detailed analytics on email opens, clicks, bounces, and unsubscribes, all presented in easy-to-understand visual reports.
Moreover, SMTP2GO automatically handles domain authentications such as SPF and DKIM.
Customer Ratings
G2 Rating: 4.7/5 stars based on 215 reviews
Capterra Rating: 4.9/5 stars based on 157 reviews
Pricing
The Starter plan is $15/month for essential features and 40,000 emails. The Professional plan is $75/month with advanced reporting and 100,000 emails. Custom plans are also available.
8. Constant Contact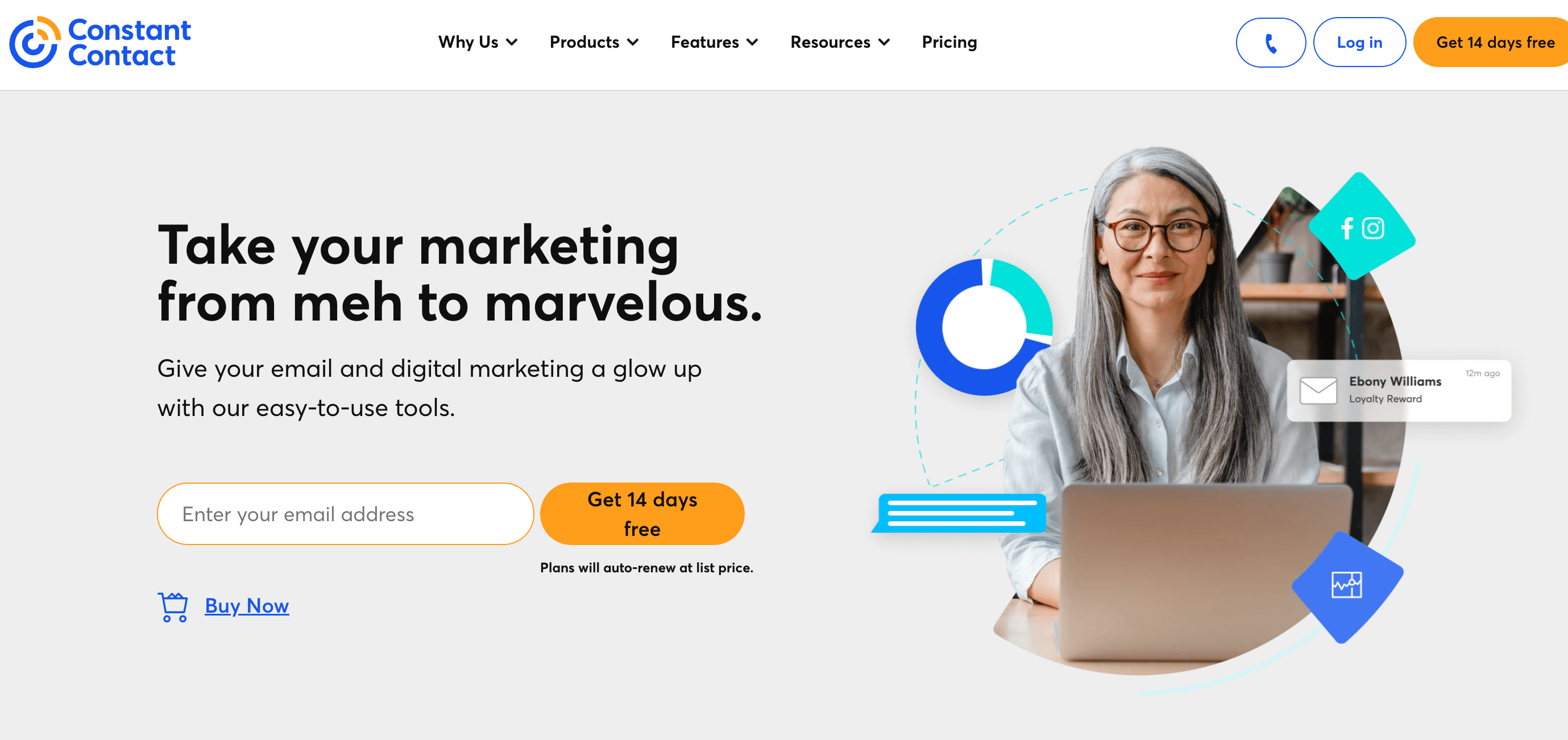 Constant Contact is an email marketing tool that helps small businesses and nonprofits create professional-looking emails, manage contact lists, track results, and more.
Constant Contact offers a variety of features for better deliverability, such as real-time account reputation monitoring, automated list cleaning, and feedback analysis from all major email providers. It also authenticates your outgoing mail using SPF and DKIM, further bolstering your credibility.
Customer Ratings
G2 Rating: 4/5 stars based on 5,699 reviews
Capterra Rating: 4.3/5 stars based on 2,558 reviews
Pricing
The Lite Package is $12/month with basic tools. Standard is $35/month with added features. Premium is $80/month with advanced features and a Google Ads manager.
9. Folderly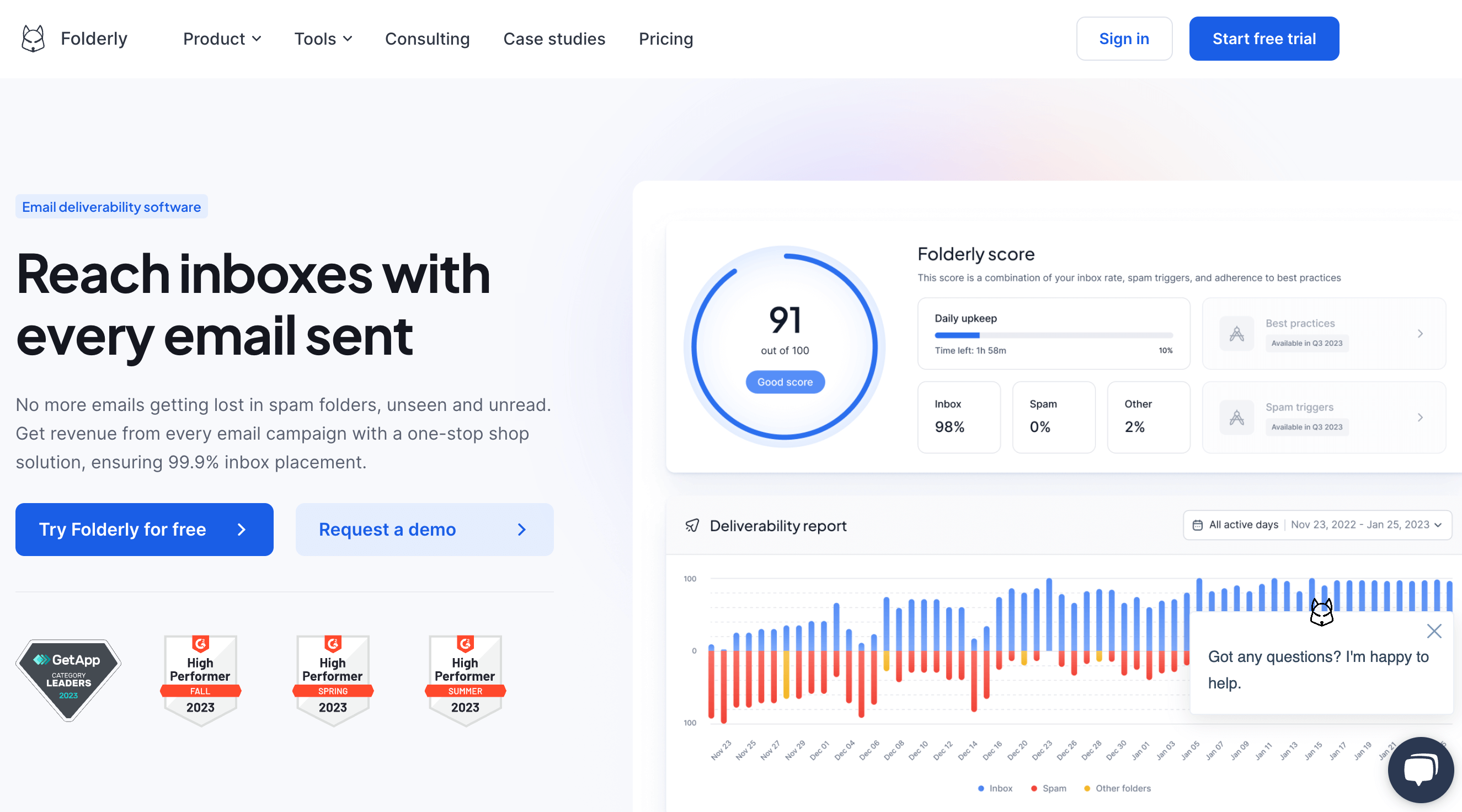 Boasting an impressive 100% deliverability rate, Folderly is an AI-driven one-stop solution designed to fulfill all your email deliverability needs.
The tool swiftly assesses your email placement and domain upon connection to your inbox, identifying any urgent issues that require attention. It also assigns a score to your domain, providing a clear overview of your email performance.
Going ahead, Folderly smoothly integrates with most email service providers, includes a built-in spam checker, and provides team management tools for better collaboration and efficiency.
Customer Ratings
G2 Rating: 4.9/5 stars based on 81 reviews
Capterra Rating: 4.8/5 stars based on 35 reviews
Pricing
You can choose the Cold Email plan at $200 per mailbox monthly or select a custom Email Marketing plan.
10. Mxtoolbox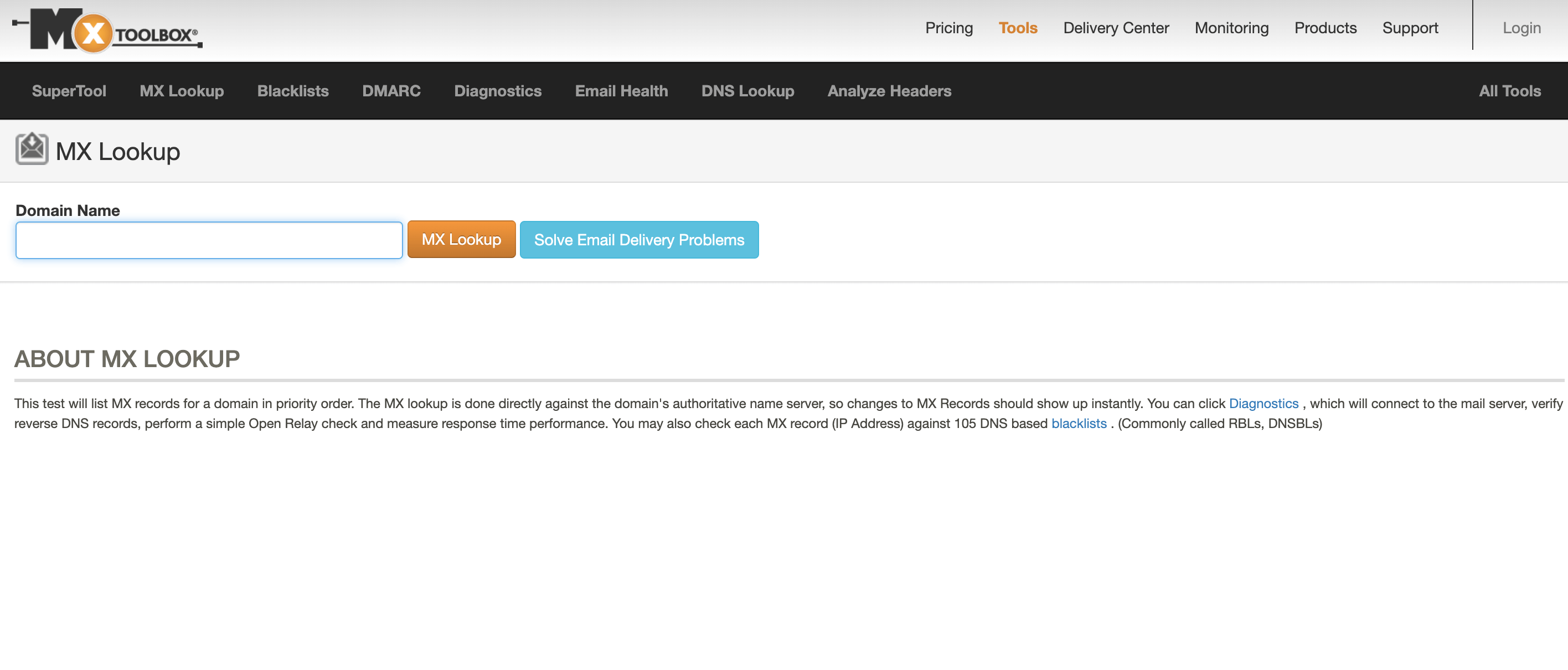 Mxtoolbox is a comprehensive suite of tools, each designed to enhance a different aspect of email deliverability.
An excellent example is their Blacklist Check feature. It checks whether your IP address or domain is blacklisted, which could negatively impact your email deliverability.
Other features include DMARC Lookup, Email Health Report, SPF and DKIM authentication checker, DNS Lookup, Spam Analyzer, and an Email Bounceback Analyzer.
Customer Ratings
G2 Rating: 3.9/5 stars based on 20 reviews
Capterra Rating: –
Pricing
Mxtoolbox provides free blacklist monitoring. The $129/month and $399/month plans support 500K and 5M emails respectively.
11. SendForensics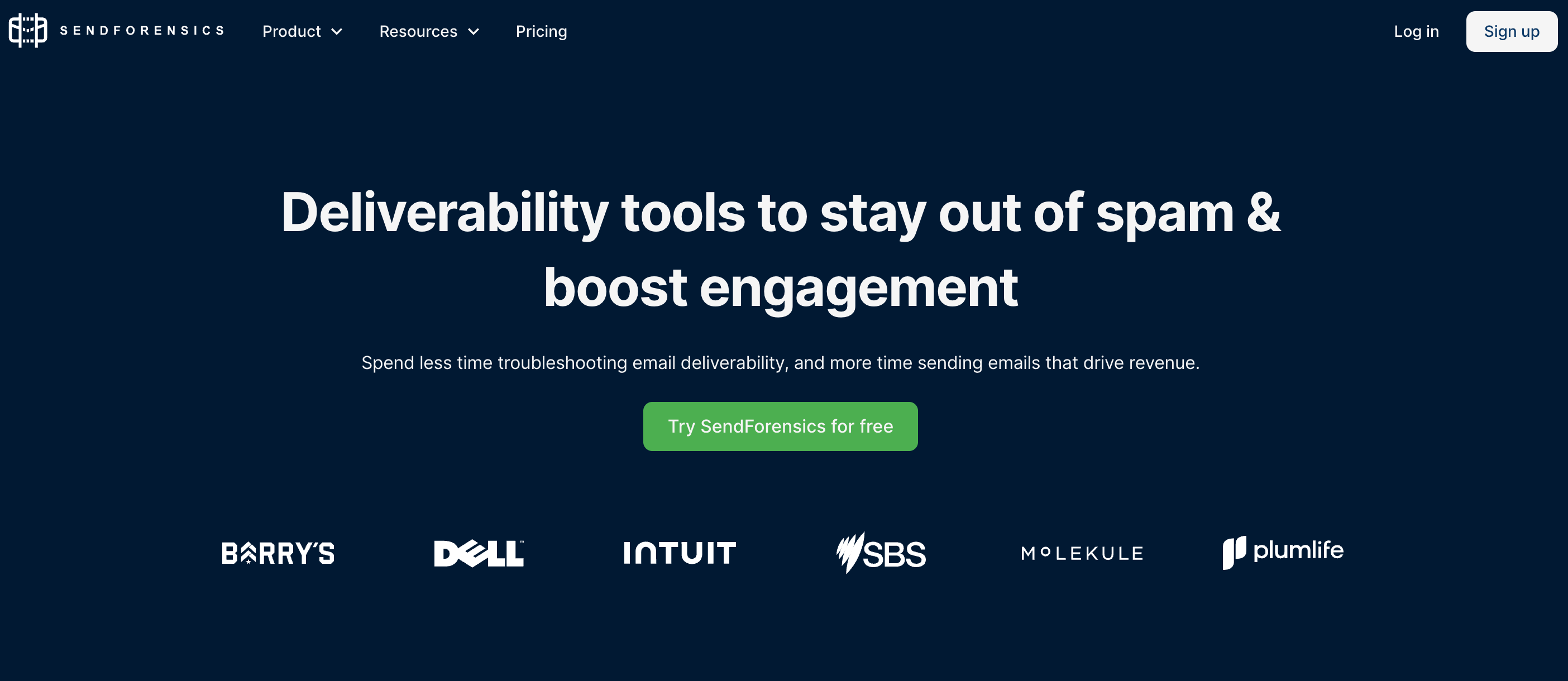 SendForensics provides a forensic analysis of your email deliverability. It examines your sender reputation, email placement, engagement performance, and conversion rates to give you an in-depth understanding of your email deliverability condition.
SendForensics also tackles hidden infrastructure issues affecting email deliverability by conducting rDNS tests and thoroughly inspecting received chains.
Customer Ratings
G2 Rating: 3.8/5 stars based on 3 reviews
Capterra Rating: 4.3/5 stars based on 3 reviews
Pricing
SendForensics offers:
Brand plan at $39/month with 2 domains and 100k DMARC reports
Company plan at $63/month for 5 domains
Agency plan at $159/month
Enterprise plan at $279/month
12. Saleshandy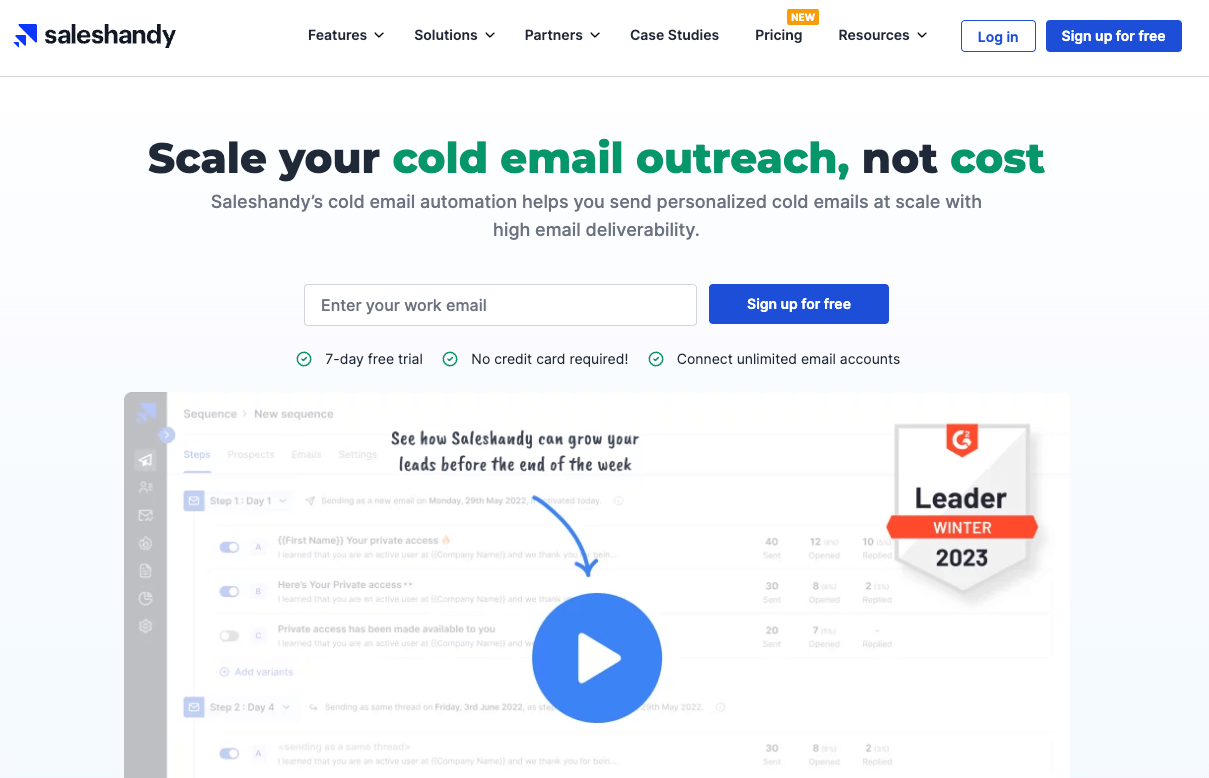 Saleshandy is a powerful tool designed to optimize your email marketing campaigns while also ensuring maximum email deliverability.
It employs a unique sender rotation technique where email sequences are distributed across multiple accounts to prevent your account from being flagged as spam.
Saleshandy also offers several other features aimed at boosting your deliverability. For instance, it provides an 'email health score' to assess your current email practices and a real-time writing assistant to help avoid spam triggers while crafting email copy.
Customer Ratings
G2 Rating: 4.6/5 stars based on 528 reviews
Capterra Rating: 4.5/5 stars based on 123 reviews
Pricing
Saleshandy offers:
Outreach Basic at $25/month for beginners
Outreach Pro at $74/month for 125k emails
Outreach Scale at $149/month for 250k emails
Outreach Scale Plus at $219/month for a dedicated success manager and 350k email limit
13. Mailchimp

The final tool on our list, Mailchimp, is mainly known as an email marketing hub. But it also excels in ensuring your emails land in your recipient's primary inbox.
Using advanced abuse-detection technology, Mailchimp consistently monitors your campaigns and provides feedback on any potential issues that could impact your deliverability rates.
It also authenticates emails using SPK, DKIM, and SenderID protocols before sending them, ensuring maximum email deliverability.
Customer Ratings
G2 Rating: 4.3/5 stars based on 12,375 reviews
Capterra Rating: 4.5/5 stars based on 16,429 reviews
Pricing
Mailchimp offers:
A free plan with basic features
Essentials at $6.50/month for 5k emails
Standard at $10/month with content optimizer
Premium at $175/month for unlimited users and 150k email limit
It's a Wrap!
That brings us to the end of our list of the 13 best email deliverability tools in 2023.
Remember, good email deliverability is crucial for any successful email campaign. By using these tools and constantly monitoring your email performance, you can ensure that your messages reach their intended audience consistently.
So, go ahead and experiment with these tools to find the perfect fit for your business needs. Happy emailing!