8 Best ZoomInfo Alternatives For 2023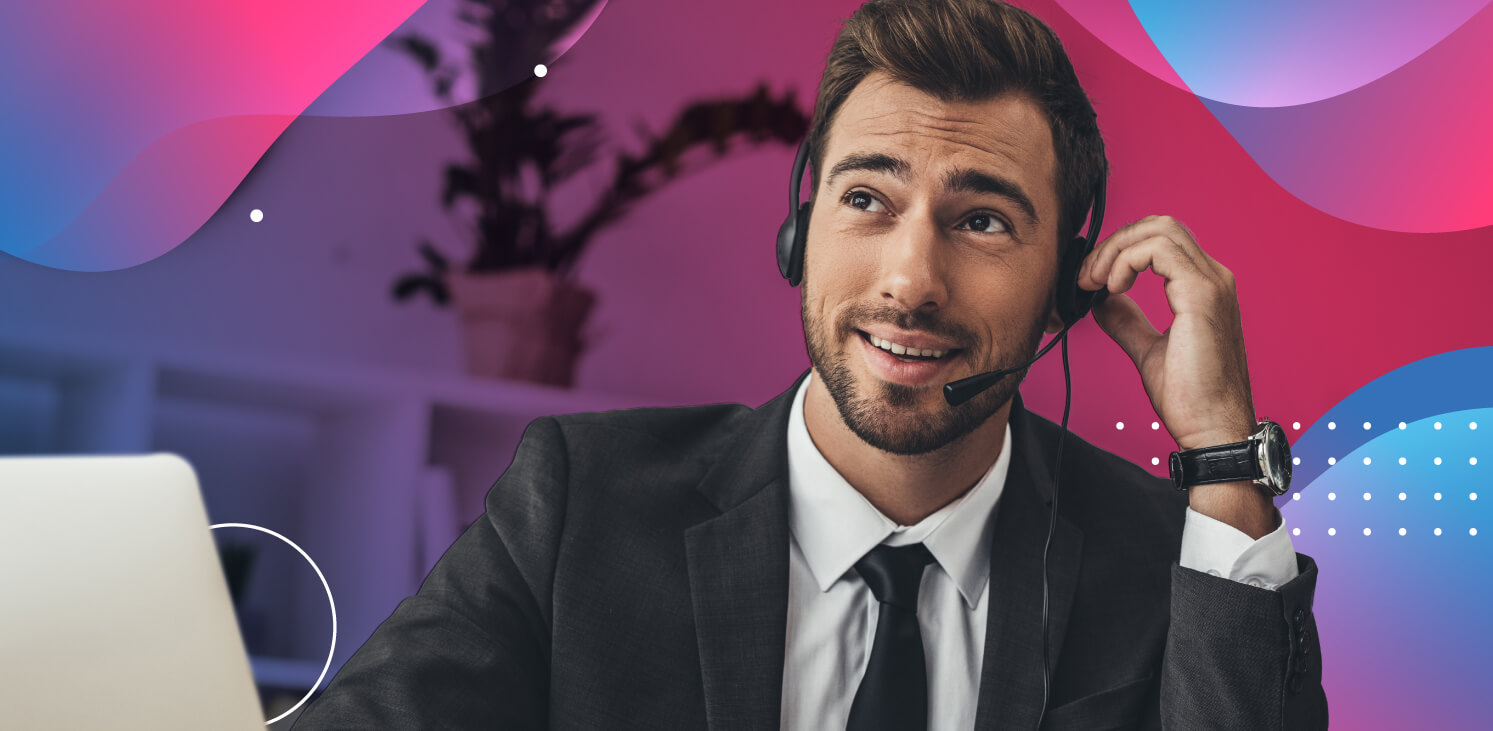 ZoomInfo is an excellent solution for gathering sales intelligence data. The platform has a diverse collection of profiles and contact details to help you make better decisions. But there's one big problem.
The average monthly fee for one person is $250. That's a risky investment — even for well-established firms.
So, if you're just getting started and want to access consumer data without emptying your pocket, check out these eight affordable ZoomInfo alternatives.
8 ZoomInfo Alternatives To Consider in 2023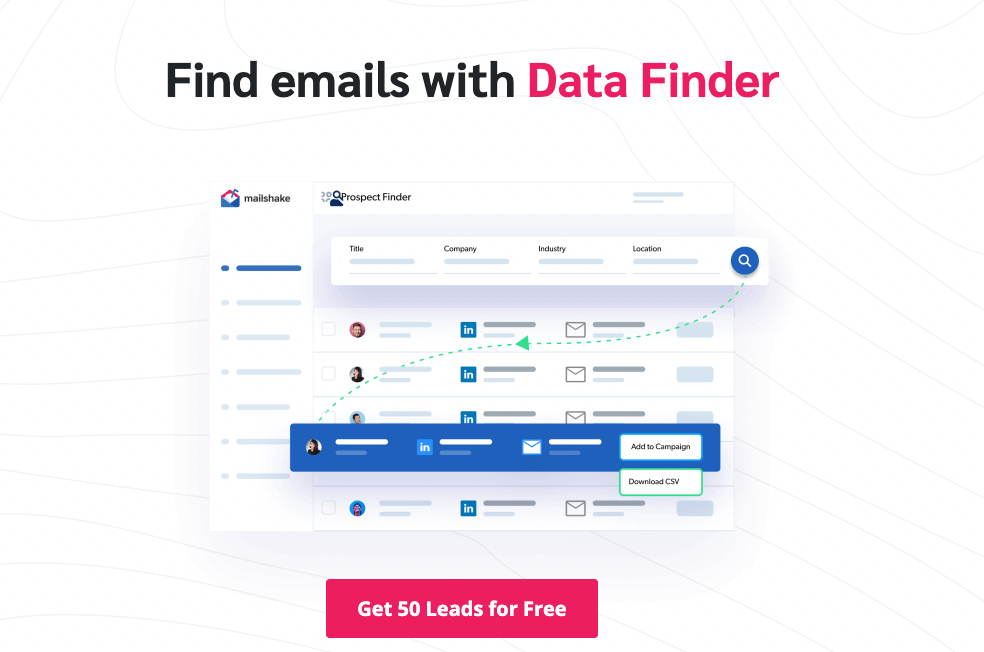 G2 Rating: 4.7/5 (229 reviews)
Capterra Rating: 4.7/5 (104 reviews)
Mailshake is a sales engagement software designed to track emails and automate the cold outreach process. It also features several built-in tools that help your emails land in the right prospect's inbox and increase reply rates by 2x.
One of these tools is the Data Finder. It has an easy-to-use search filter, which lets you find leads based on their role, location, and company. The resultant information is presented in a simple and easy-to-understand manner.
This makes it much better to use than ZoomInfo, especially if you're new to the cold emailing world.
Main Features:
Easy search filters to help you work faster
Cold outreach automation to help you save time
Accurate database to maximize the impact of your efforts
50 leads for FREE so you can try the tool before investing in it
Integrations with 33 other popular tools — such as Pipedrive and Calendly — so you can continue using your tech stack for greater productivity
Pricing: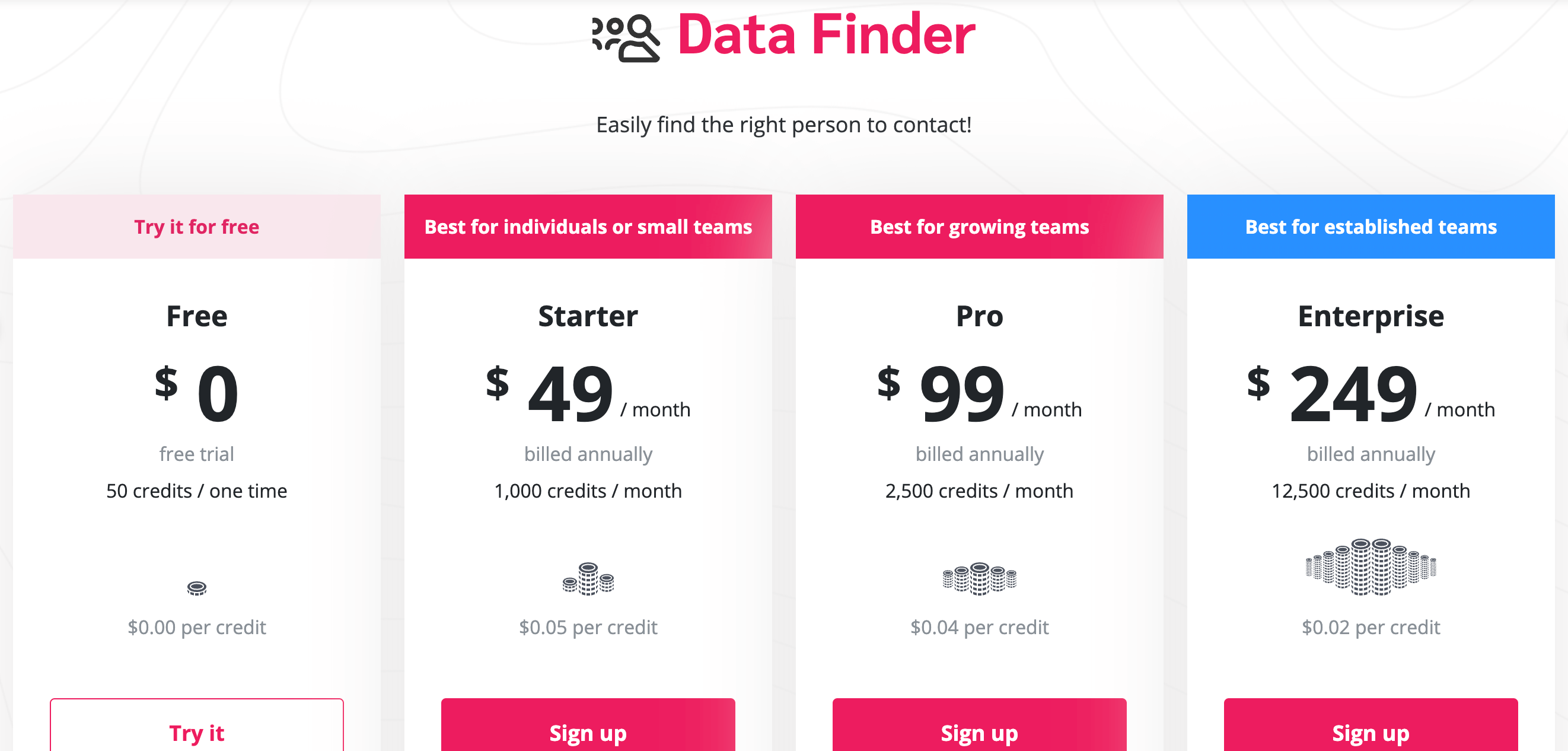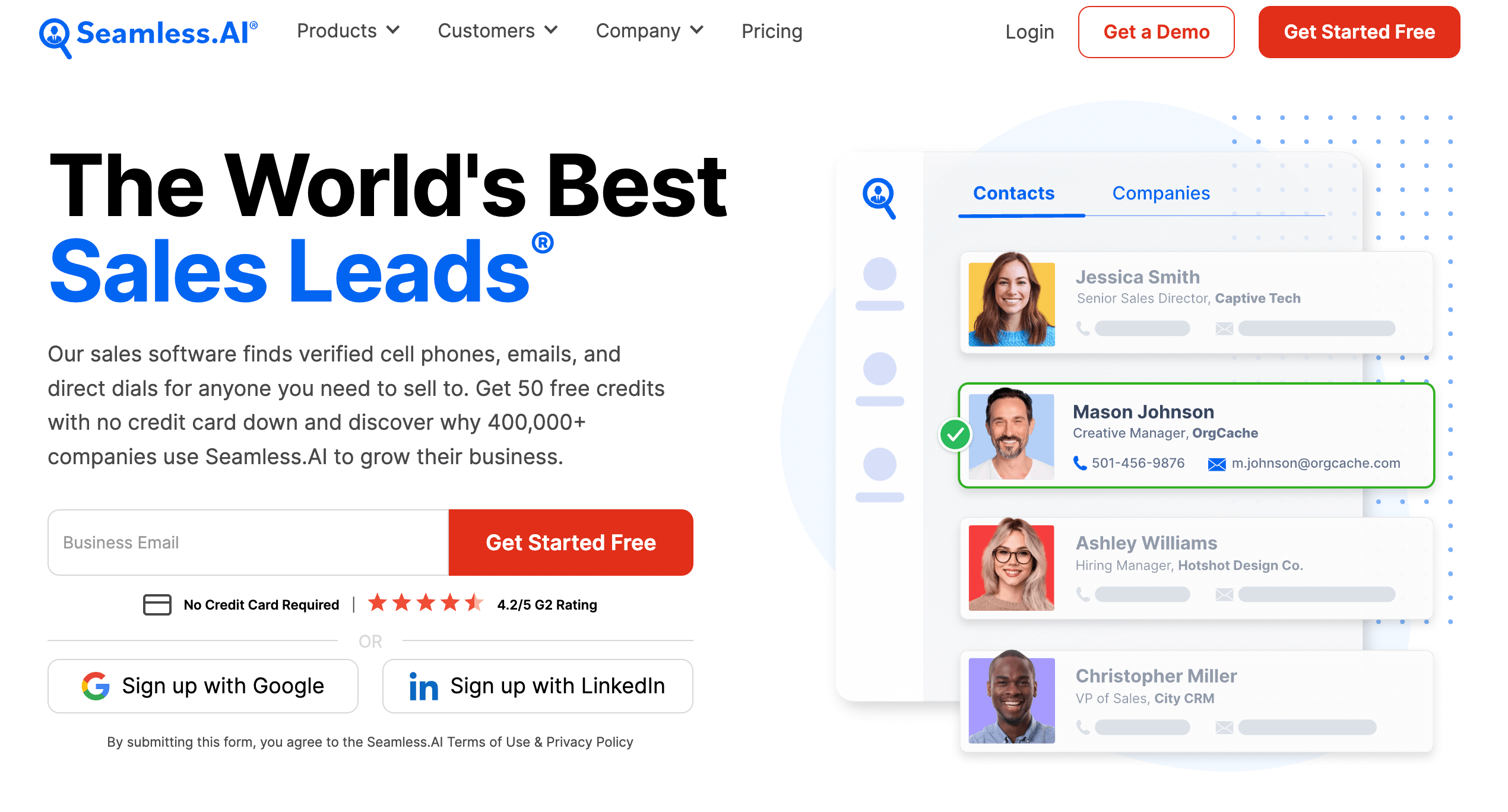 G2 Rating: 4.2/5 (991 reviews)
Capterra Rating: 3.8/5 (131 reviews)
Seamless.ai isn't a database like ZoomInfo. Instead, it is a real-time search engine that uses artificial intelligence to scan the internet and find the latest information about your prospects. It also verifies the data to ensure accuracy and validity.
What's more, if you don't have the time to build prospect lists from scratch, this sales prospecting tool can be really useful. It automates the process by finding the right prospects and building a leads list.
Main Features:
Free first 50 credits
Real-time search engine
A handy Chrome extension
An AI copywriting tool to help you save time on messaging
Pricing: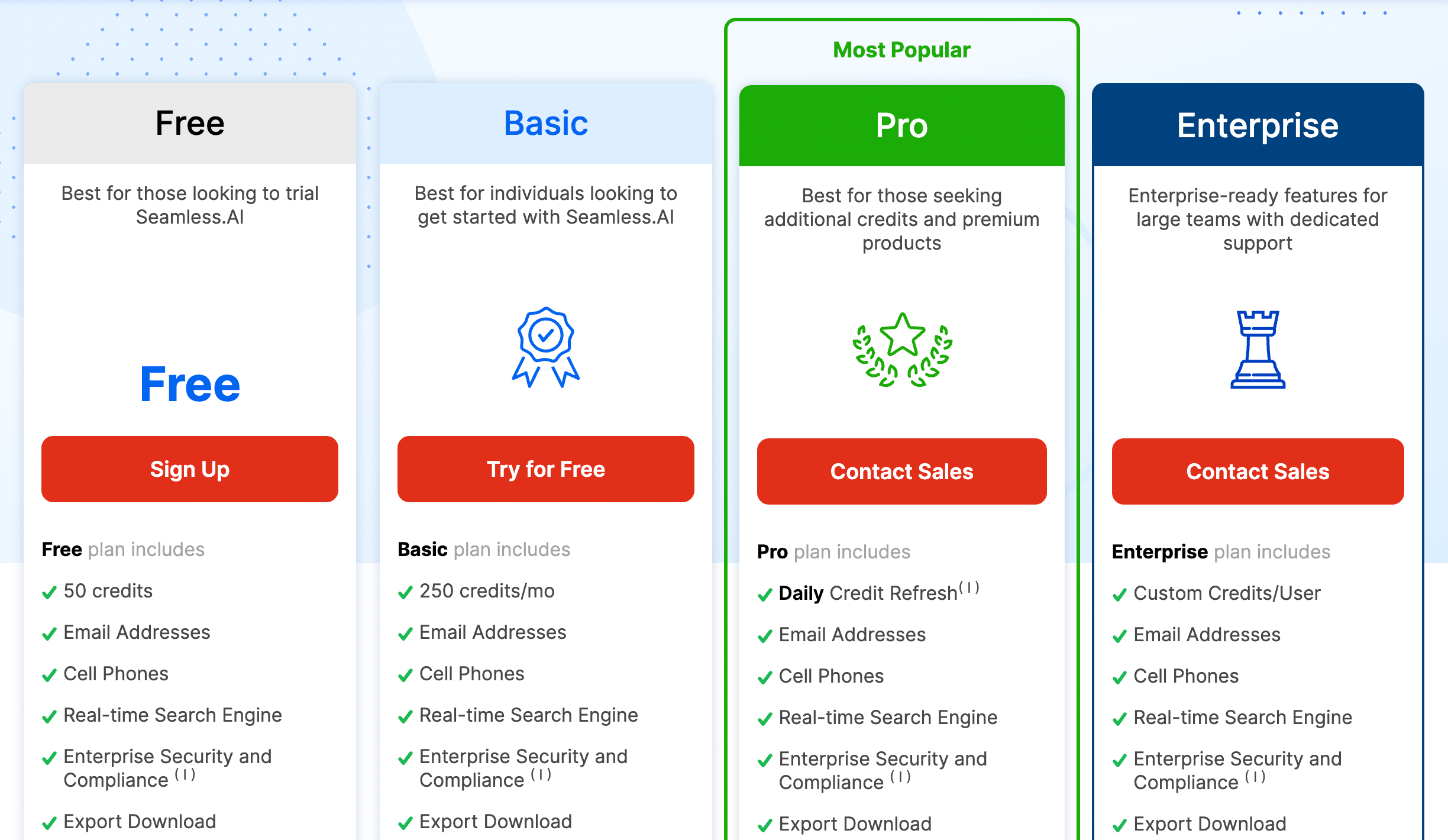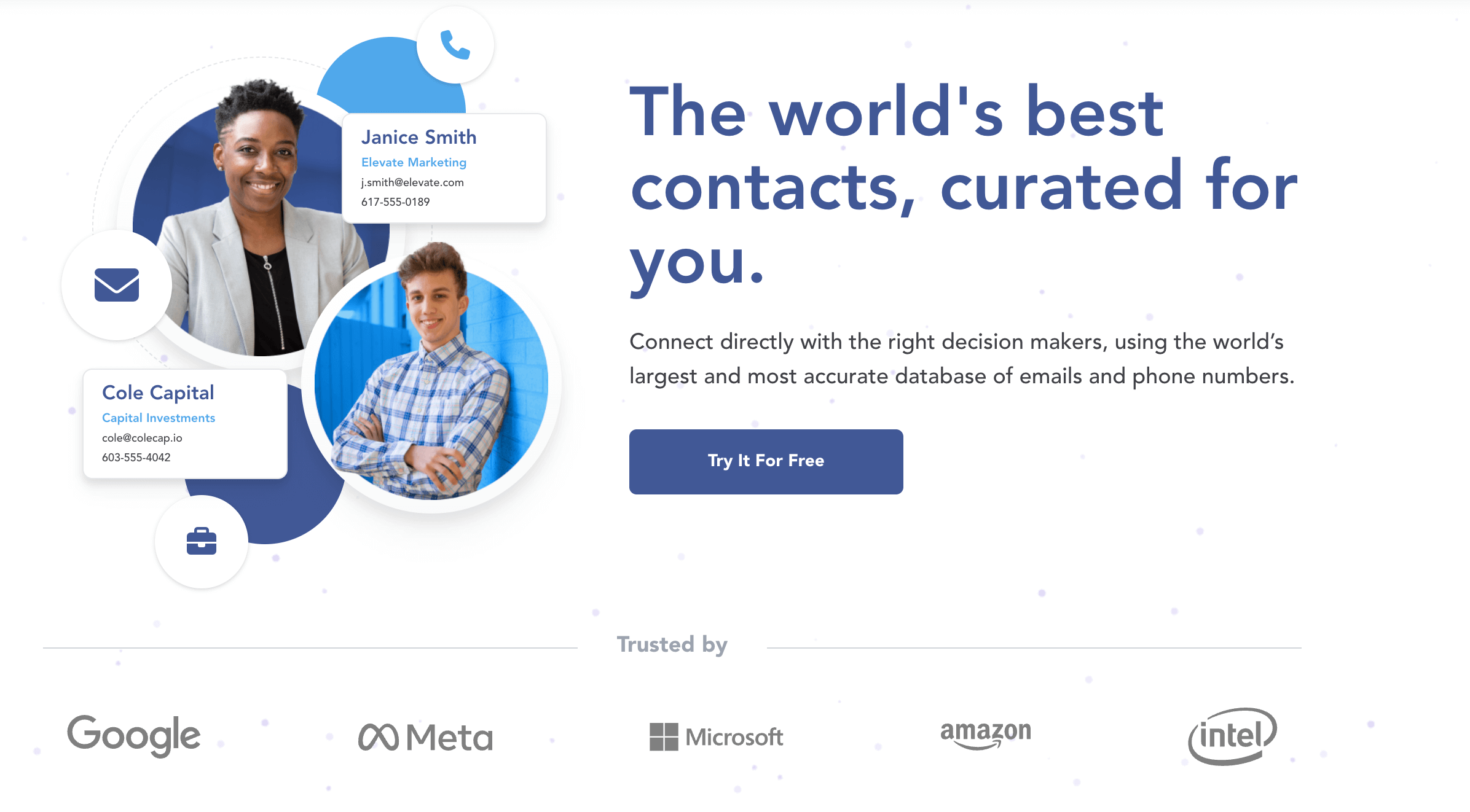 G2 Rating: 4.5/5 (600 reviews)
Capterra Rating: 4.2/5 (125 reviews)
Rocket Reach has an advanced database with 700 million personal and 35 million company data profiles. Plus, its precise search engine filters let you find the ideal prospects within seconds. You can search for them based on title, location, industry, and much more.
Once you have obtained the results, a single click allows you to export thousands of profiles on your desired medium. And unlike ZoomInfo, you don't have to understand the technicalities of a complicated SalesOS.
Main Features:
Advanced search filter
A useful Chrome extension
API to connect it with other tools
Integration with other popular tools such as Hubspot and Salesforce
Bulk downloads, where you can download thousands of prospects that meet your target criteria instantly
Pricing: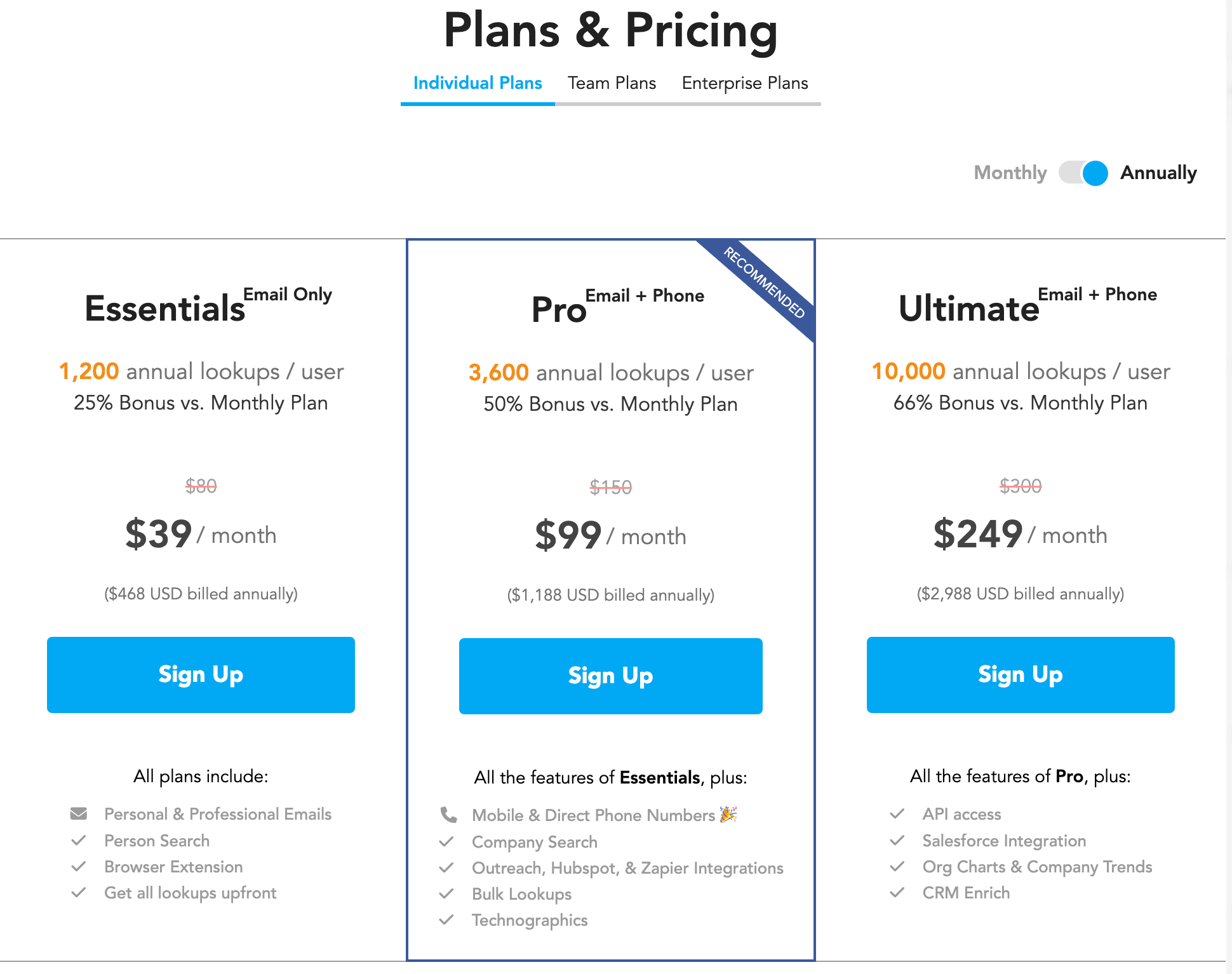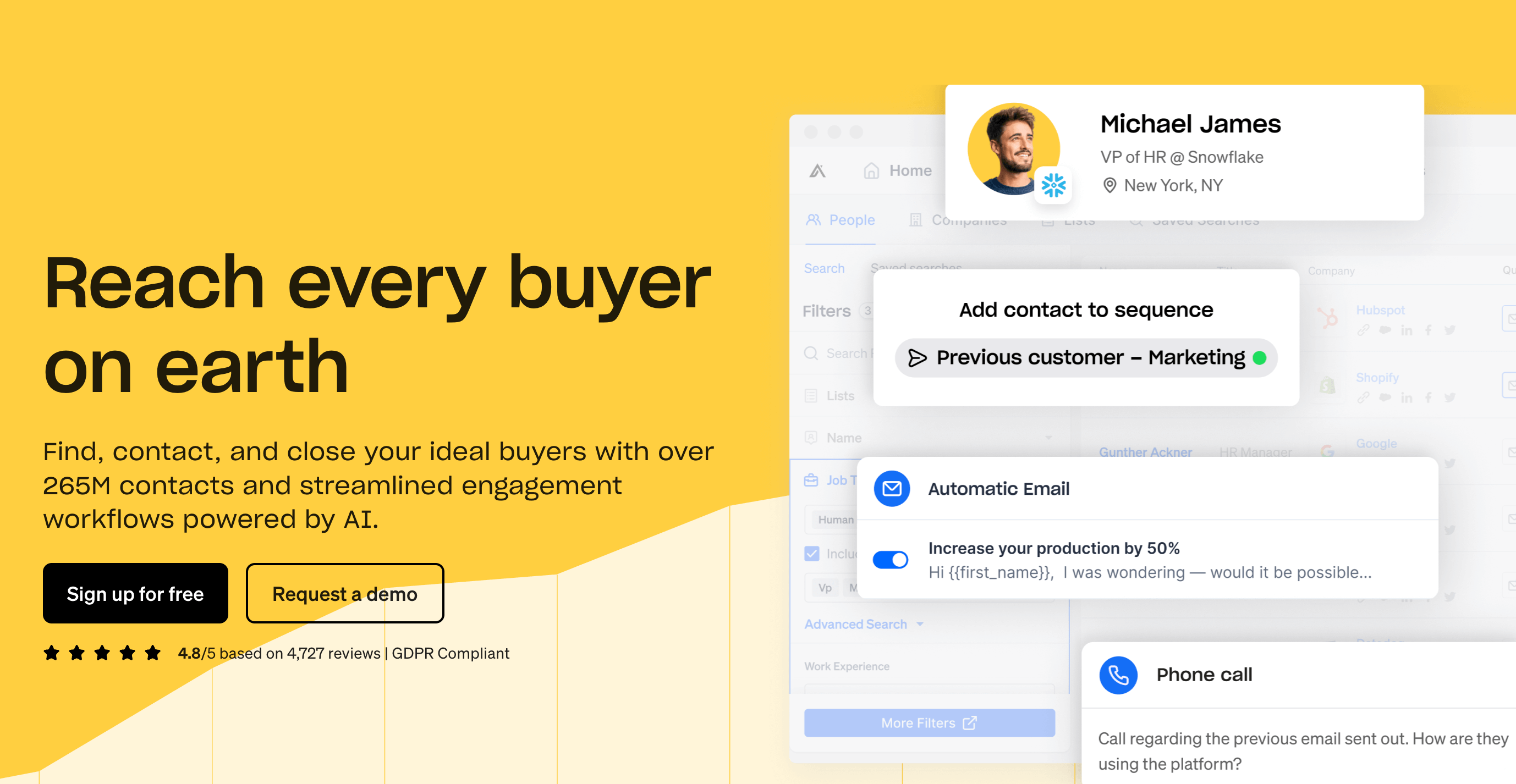 G2 Rating: 4.8/5 (4910 reviews)
Capterra Rating: 4.6/5 (312 reviews)
ZoomInfo prides itself on offering 220 million active contacts to its customers. While this makes it one of the biggest databases out there, it is certainly not as large as Apollo's 260+ million B2B contacts database!
The platform also has the option to personalize emails, automate LinkedIn messages, and even automate the complete sales funnel. This helps maximize productivity and lets you focus more on the selling aspect of the process.
Main Features:
A huge database (even bigger than ZoomInfo's collection)
Email personalization
LinkedIn automation
Whole funnel automation
Pricing: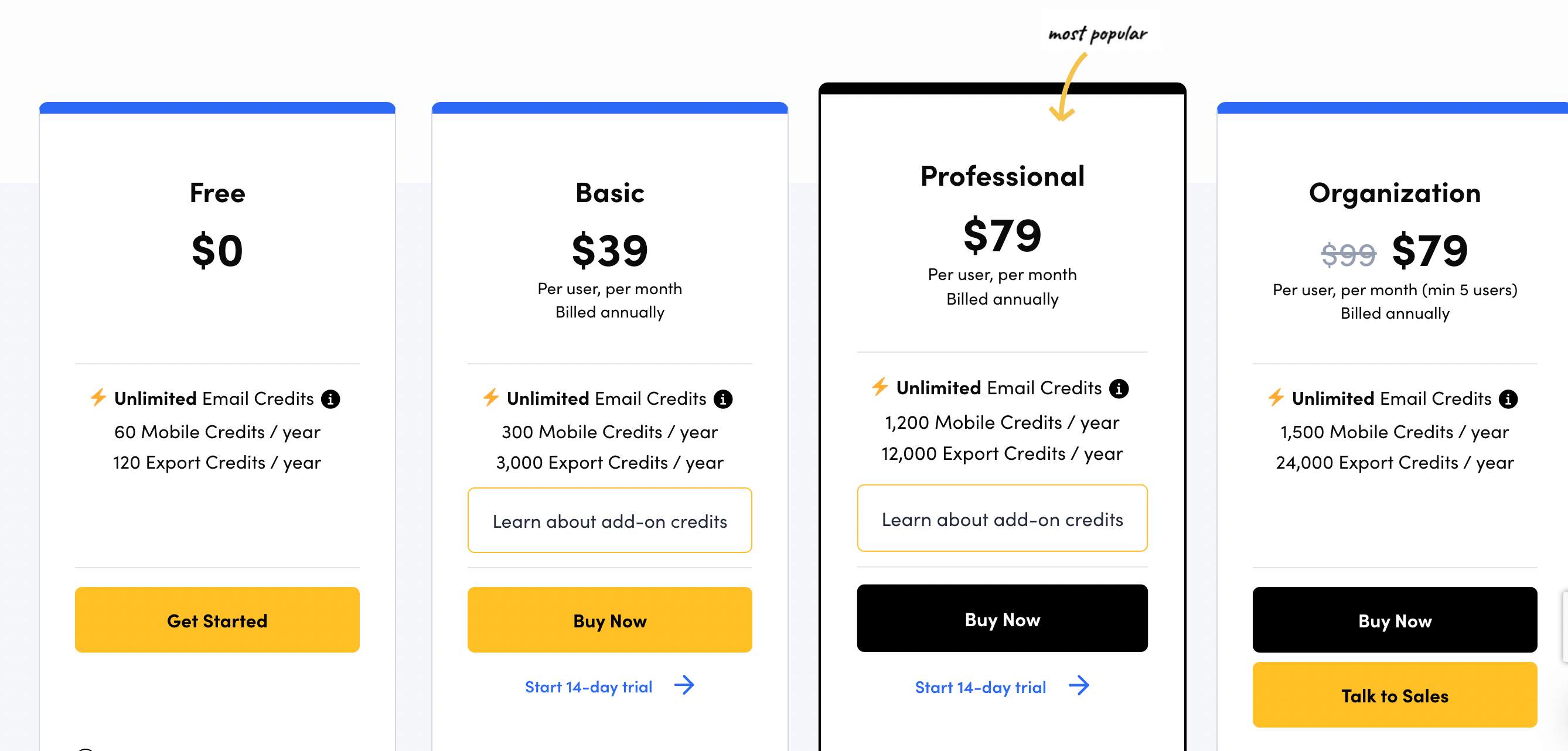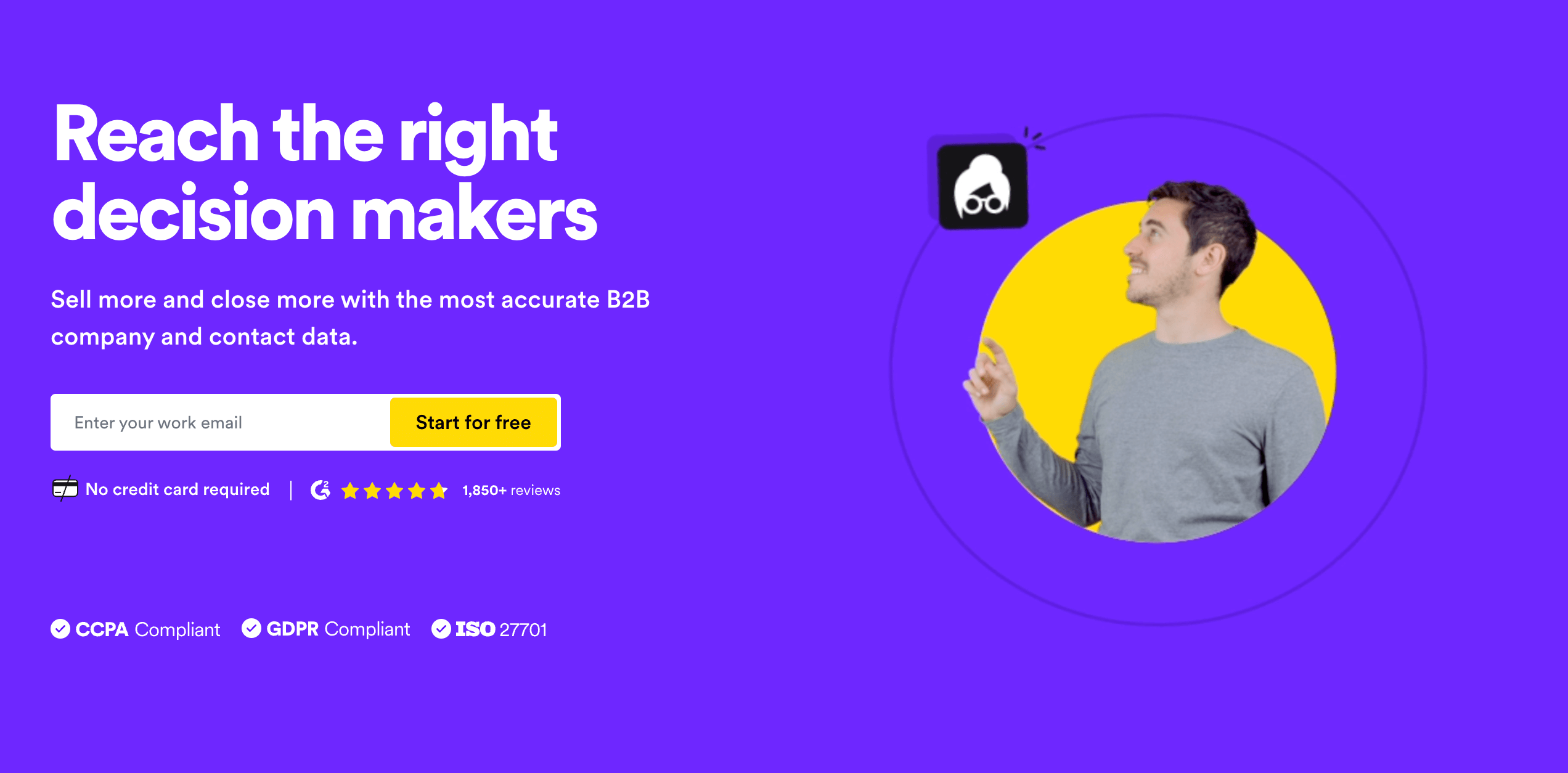 G2 Rating: 4.3/5 (1349 reviews)
Capterra Rating: 4.1/5 (343 reviews)
Lusha's database is extensive, accurate, and high-quality. But what sets this amazing platform apart from ZoomInfo is its ability to filter contacts based on their intent. It gives company intent scores and current interests to help you focus on the right prospects.
There is also a job change filter and a technology filter to explore better opportunities. Lusha further makes things easier by offering an API and a Chrome extension.
Main Features:
A useful API key
Prospect data based on intent
Export bulk lists to any tool
Enrich Salesforce data to get rid of missing or poor data points
A useful Chrome extension to help you get contact data on any company website
Pricing: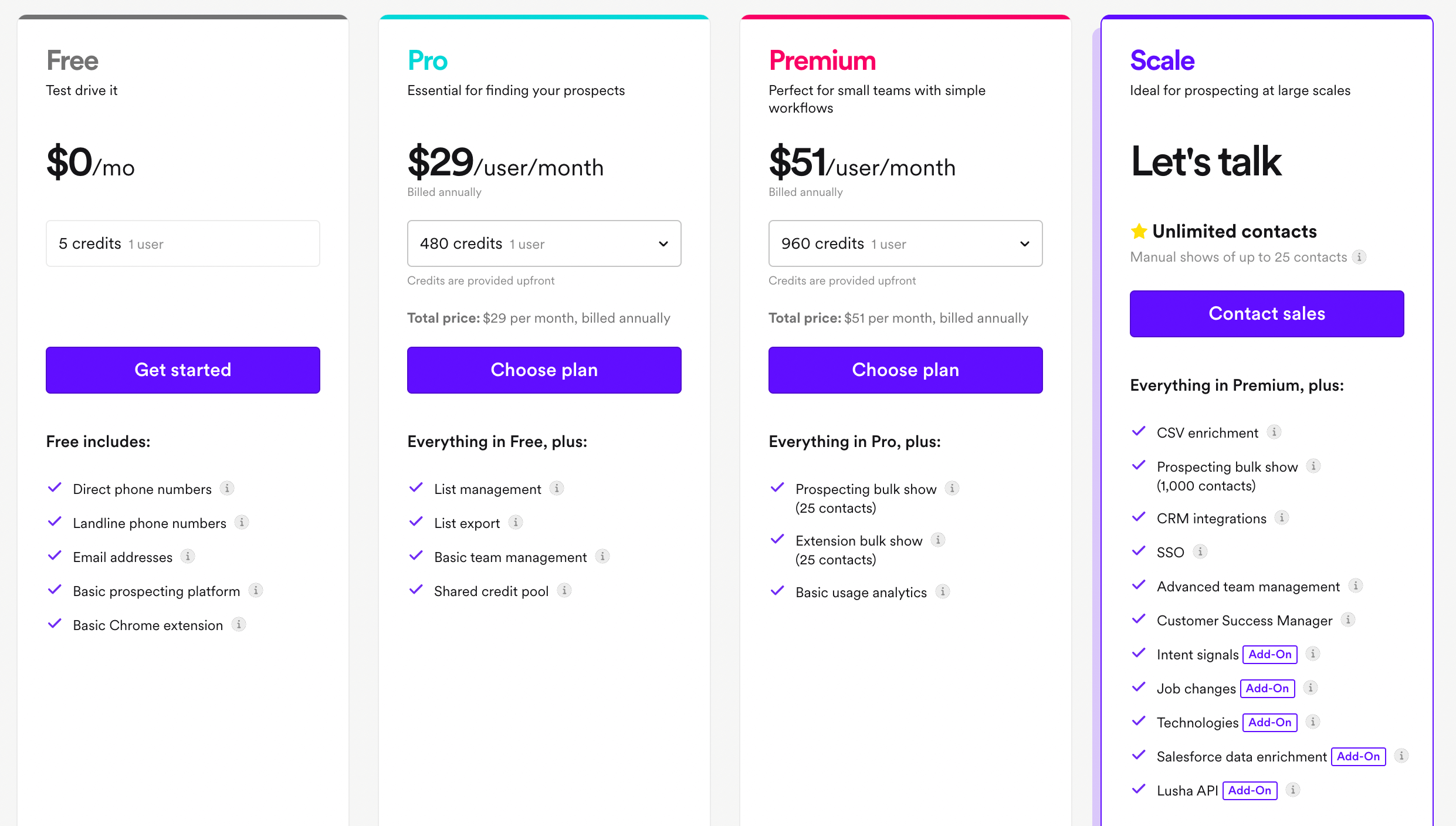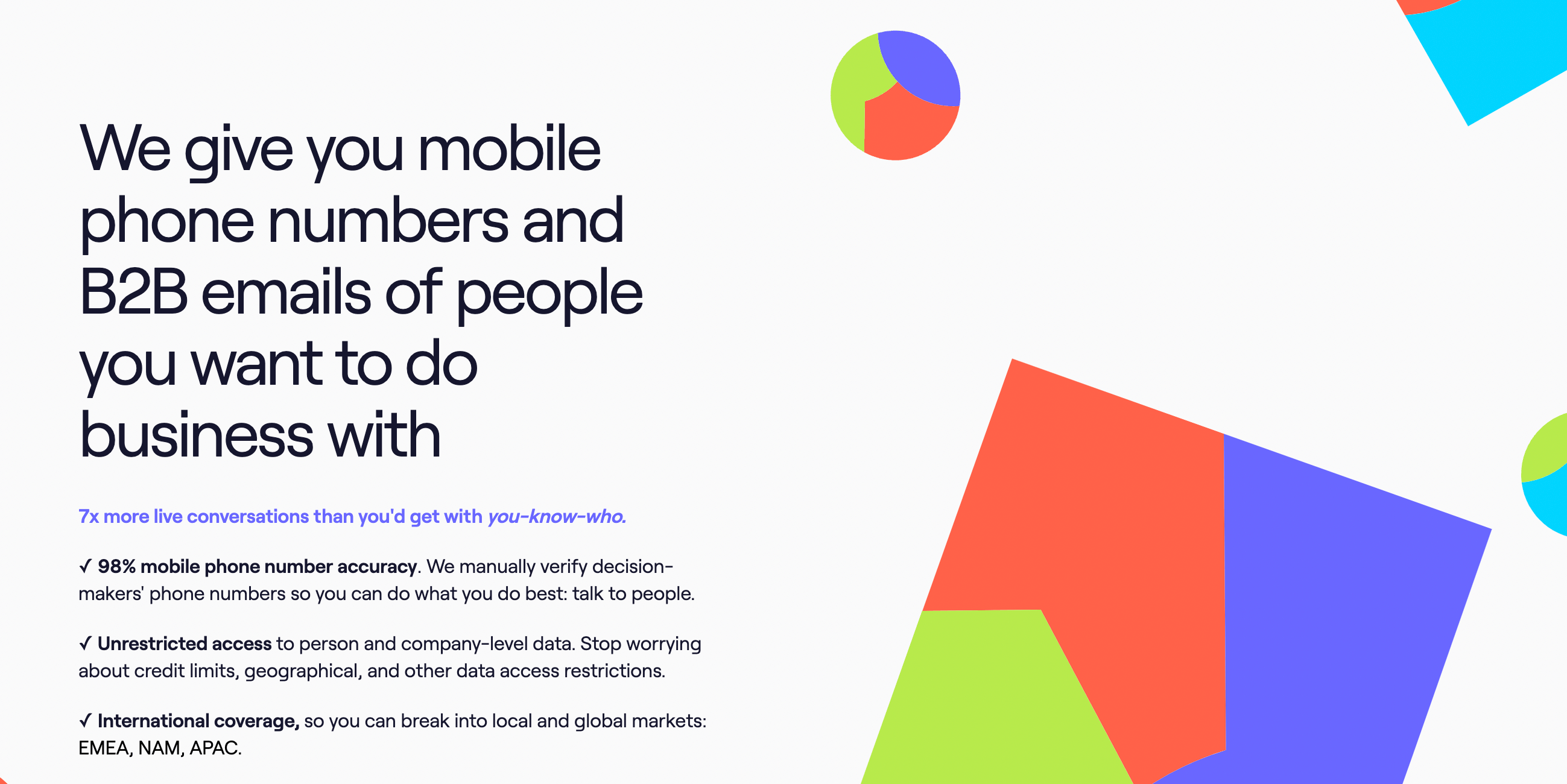 G2 Rating: 4.7/5 (416 reviews)
Capterra Rating: 4.3/5 (27 reviews)
Cognism takes sales intelligence data collection to the next level. It manually checks all the mobile phone numbers in its database to ensure accuracy and validity. This guarantees none of your cold outreach attempts are a waste of time.
The data is also GDPR and CCPA-compliant, which keeps you in a legally safe position (Zoominfo does not do that). What's more, Cognism offers unrestricted access to prospect data. You can learn about their location, company, and much more without stressing about credit limits.
Main Features:
98% mobile number accuracy
Unrestricted access to data
International coverage to help you break into new markets
GDPR and CCPA compliance
Easy integration with other tools like Salesforce and Hubspot
Pricing:
You'll have to request a quote from Cognism for pricing.

G2 Rating: 4.6/5 (46 reviews)
Capterra Rating: 4.3/5 (14 reviews)
Voila Norbert is the ultimate email-finding tool that you must have for your cold outreach campaigns. It is the most accurate email-finder on the market today and offers a robust database of helpful contacts.
In addition, it offers two helpful features that every marketer could use — email verification and enrichment.
Email verification allows you to ensure emails that you've found elsewhere on the internet are indeed legit. And enrichment offers you additional data — such as social media accounts — associated with an email address. This helps you personalize your messages and improve the chances of getting a response.
Main Features:
Free 50 verified email addresses
Pay-per-email verification and enrichment
A free API key
A 77% accuracy rate, which is the highest on the market right now
Pricing: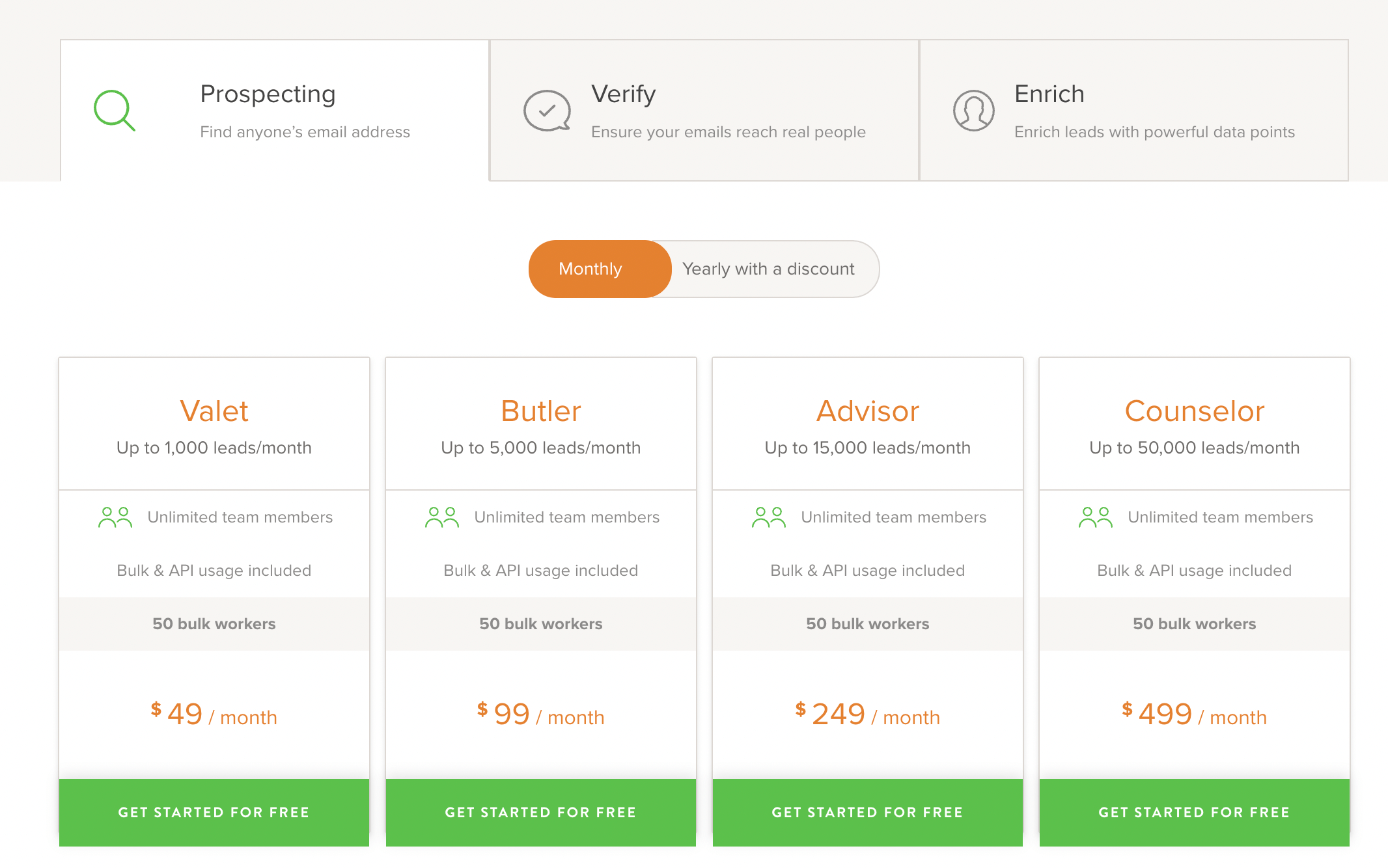 G2 Rating: 4.5/5 (396 reviews)
Capterra Rating: 4.6/5 (60 reviews)
Lead 411 features a simple interface and a variety of search filters to help you make the most out of your prospecting journey. It not only offers accurate information, but also growth intent-based results.
This means you can find whether companies with a certain ICP are hiring, receiving funds, or expanding in general. These are growth indicators that can help you select the best prospects for building profitable relationships.
Main Features:
Growth intent data
A variety of filters to make searching for the right prospects easier
Email/SMS automation
Chrome extension & API
Pricing: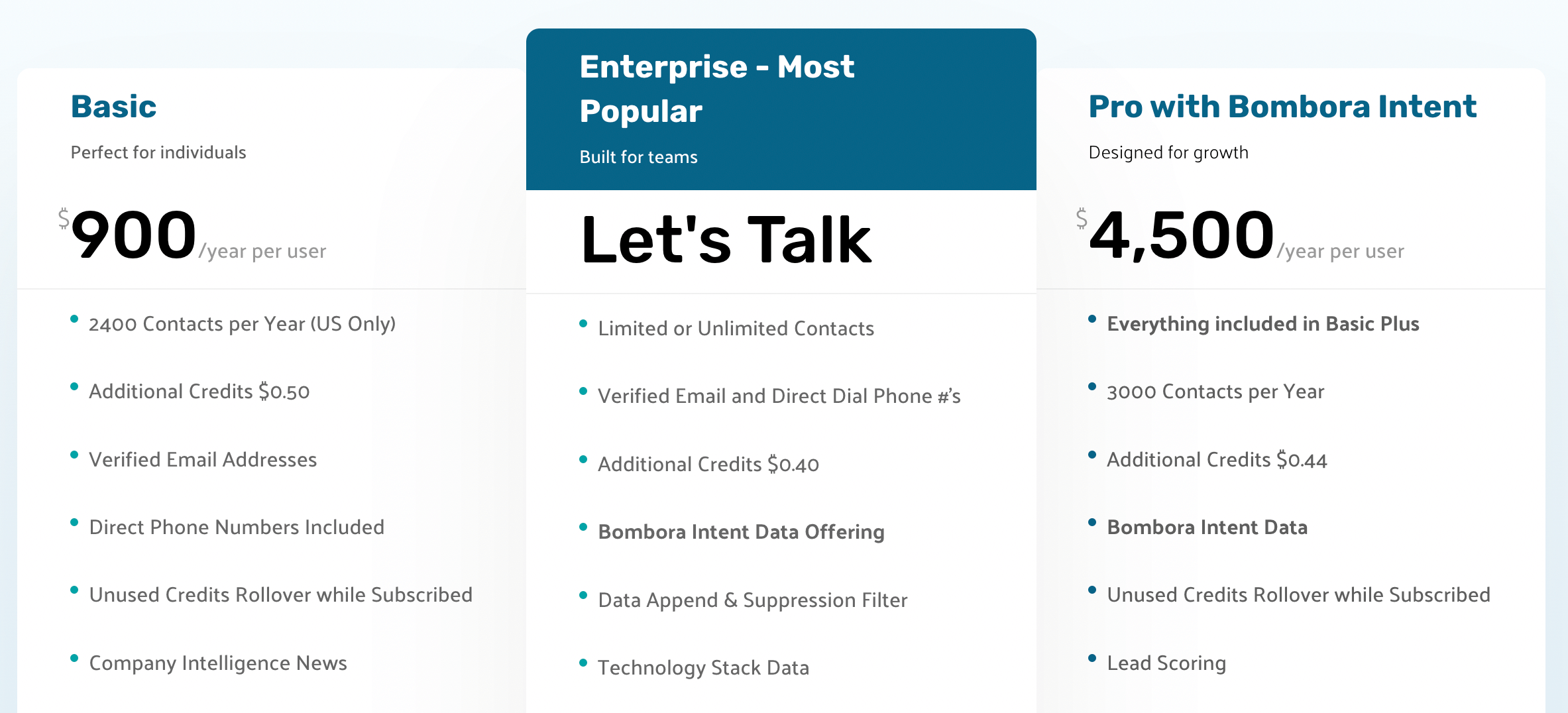 Summary
All in all, if you want to make data-based, strategic decisions for your company, you must have a good sales intelligence platform.
We have already discussed the top 8 ZoomInfo alternatives that offer high-quality data at affordable rates.
But if there is another tool that you may have tried and find worthy of a place on this list, feel free to let us know via email. We'd love to know your thoughts!