How Kevin Miller Uses Mailshake to Promote Better and Generate Hundreds of Customer Reviews
How Kevin Miller Uses Mailshake to Promote Better and Generate Hundreds of Customer Reviews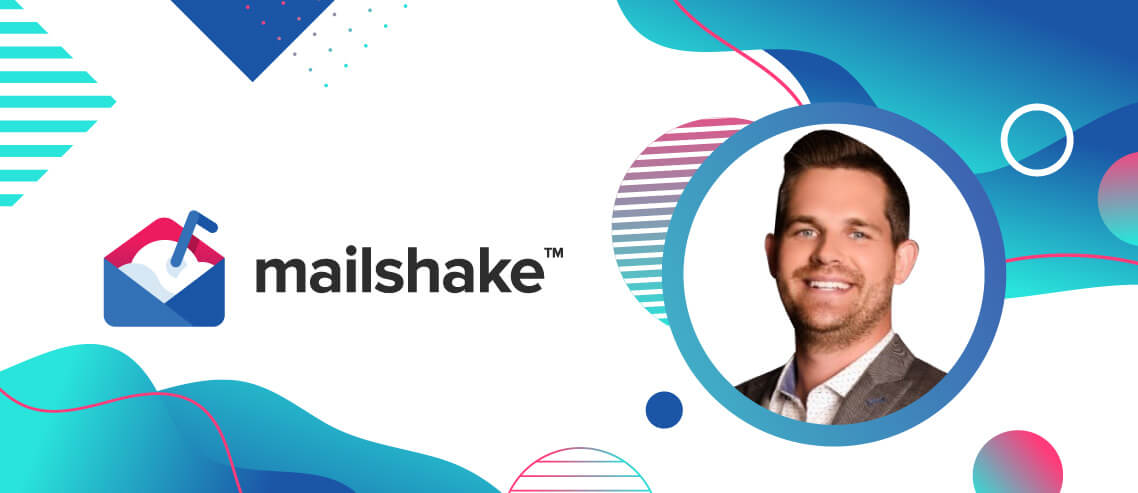 Kevin Miller knows a thing or two about digital marketing.
He was previously the Director of Growth at Spire, and spent over two years at Google, working with SMBs and high-potential clients to grow their business and maximize their reach online. While there, he was consistently in the top 5% of North American performers.
In his current role as Director of Growth at Open Listings, he's focused on content marketing and link-building for the company.
But that focus led to the realization that he had a problem: because of the success of content marketing and link-building, everyone else was focused on those things, too; and the competition was stiff. It was increasingly hard to stand out and get noticed through content and links alone.
What Kevin needed was a unique way to combine those two tactics and whip up a digital strategy that would earn accolades and attention.
After some searching, the answer he found was two-fold:
Better promote and share the content you have. Most of us typically spend too much on creating new stuff, and not enough on promoting old stuff. Derek Halpern suggests a jaw-dropping 80/20 ratio: spend 80% of your time promoting, and only 20% of it on creation. Why? It's easier and more effective to get more eyes on you and your existing content than it is to constantly be creating new pieces.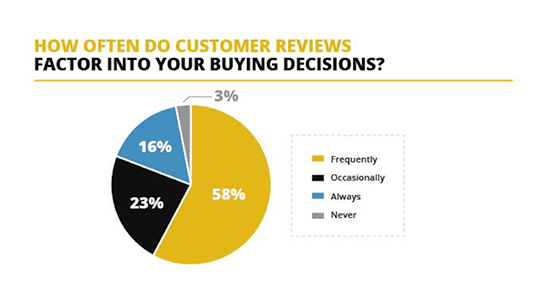 2. User reviews. It's no real secret that customer reviews are crucial to online success these days, but too many aren't giving them the time or attention they deserve. 97% of consumers say that customer reviews influence their purchase decisions, and 88% trust them as much as a personal recommendation from a friend or family member.
Kevin recognized and believed in the significance of both, so he went looking for ways to streamline and combine everything into one central workflow.
And he found it all with Mailshake.
The Mailshake Appeal
Before taking a closer look at how Kevin uses Mailshake for specific tasks, I asked him what it was about the tool that most appealed to him at first.
In a word: simplicity. "The more complex providers demand too much time to set up, to build in the logic, and get going," explains Kevin.
He was looking for a solution that was straightforward and easy to use for outreach, that would quickly integrate with Gmail, and that could deploy basic but effective emails. He wanted to use it specifically to: 1) send out emails for link-building, promotion, or soliciting reviews, 2) schedule automatic follow-ups, and 3) A/B test everything to find out what worked best in each case.
Mailshake checked all those boxes.
Mailshake and Guest Posting
Kevin also quickly realized that Mailshake could work perfectly for content promotion and link-building via guest posting on other sites.
He could spread brand awareness, better share his content, and get quality links to improve SEO and organic traffic (thereby getting more eyes on his stuff), to say nothing of the 'borrowed' traffic those links would bring from the authority and related sites he posted on.
Kevin has a strict rule about only contacting blogs that he follows in real life. That way, he can genuinely personalize the subject and first few lines – how long he's been a subscriber, some recent posts that he enjoyed and/or thought could have been improved with the addition of X – to deliver an irresistible message.
By only focusing on blogs in his space with some sort of professional relevance, Kevin has found success. "Take Credible, for example," he says. "They're a student-loan debt refinancing service about to expand into home mortgages, and one example of a new guest posting relationship I'm developing. They might post about how refinancing could lower someone's debt-to-income ratio for a better mortgage when they're looking to buy a home. I followed them first, noticed some commercial content overlap and similar audience (millennial first-time buyers), and reached out via Mailshake."
Kevin is able to do this outreach efficiently by taking advantage of Mailshake's templates and keeping part of each email the same no matter the recipient: who he is, and an introduction to Open Listings. "The templates save a ton of time," he says. "I'm only adding about 25% personalized content. The middle is the stock version, and it can be quickly duplicated for guest-blogging outreach."
Kevin says overall, guest posting outreach is more about relationship than volume; and Mailshake allows him to nurture and expand those relationships whenever he sees an opportunity.
Mailshake and User Reviews
As good as Mailshake is for guest posting outreach, the number one reason Kevin uses and loves it is to generate customer reviews.
"Customer reviews are absolute gold." ~Kevin Miller
A diehard advocate for the power of reviews and ratings, Kevin has been using them as a key tactic for years. And with good reason: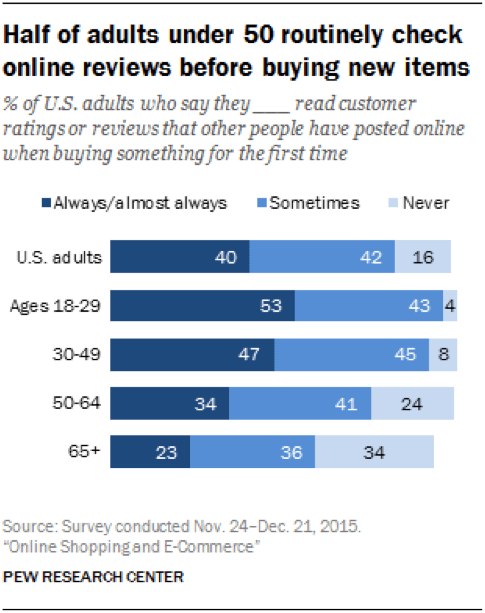 As a source of information for products and services, reviews rank as the most trusted alongside family/friends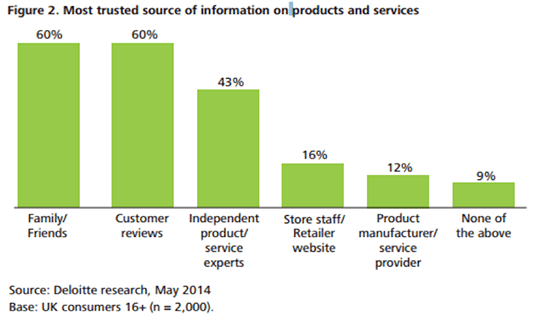 Kevin has used Mailshake to generate customer reviews at several companies with tremendous success. While working at Spire – a wearable device primarily sold on Amazon – he wanted to improve the number of reviews and overall star-rating on that site.
A greater number of 4 or higher stars equals more organic visibility, more voice, and ultimately, more sales. "I used Delighted for internal reviews, and I'd sort through about 100 or so each week to collect 'promoters' (those offering a great review)," explains Kevin. "I'd download and input their email addresses into Mailshake, create a basic two-email drip campaign with the subject line "Can You Do Me a Favor?", expressed our gratitude, and welcomed them to the Spire community."
But simply asking for reviews doesn't automatically mean you'll get them. It's all in the approach.
In the emails, Kevin explained that they were a small start-up working hard to improve and expand. He asked recipients if they'd be willing to leave an Amazon review, and included a link within the email that took them directly to the review page to eliminate any remaining friction. That was it. Real. Honest. Human.
A gentle reminder automatically went out 3 days later if they hadn't already clicked. "I thought this changed the entire landscape of our image online," Kevin says. "We went from 300 reviews when I started to 1600 in about a year."
As good as that setup worked for him, it's even simpler now. Marketers can use Zapier to go straight from Delighted to Mailshake with no additional steps in between.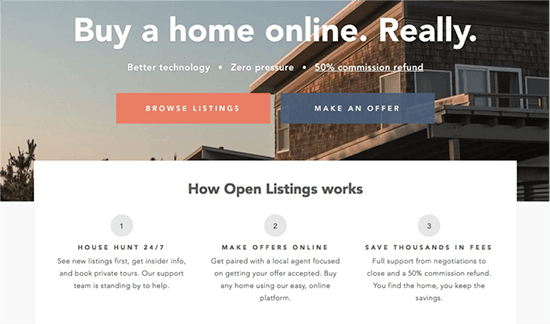 Kevin has been at Open Listings since July. It's an all-in-one homebuying app that gives users the knowledge, tools, and support to confidently buy any home and get a 50% commission refund, which can cover a significant portion of a buyer's down payment and/or closing costs. "We let buyers find, tour, and buy homes using an entirely online process that's been optimized for buyers in competitive markets," Kevin explains.
Their blog promotes itself as "Your Key to Home Buying," and covers a wide variety of related and relevant topics for those looking to purchase a property.
Much like he did at Spire, Kevin wanted to bulk up the user reviews on the brand's Facebook Page. It was already generating a great deal of traffic and interest – with a built-in target audience, engagement, and interaction – but he knew that many visitors were coming to the page looking for reviews. It's the social proof that influences more than anything else.
And so, he turned again to his customer review generation machine: Mailshake. Using the same strategy – the two-email campaign, the "Can You Do Me a Favor?" subject line, and a direct link to their Facebook Page review section – he's managed to quickly get nearly 100 reviews on the page, and an average rating of 4.5 stars for the service.
"To have that with Mailshake, and automate – set it and forget it – has been great. All we need is for time to pass." ~Kevin Miller
His simple system is made all the more powerful by using a top-notch product that is far cheaper but no less powerful than other solutions out there.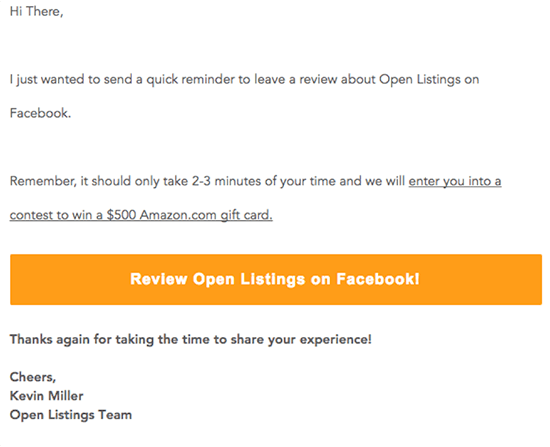 "I feel that all around, Mailshake is the most efficient tool for me to be using." ~Kevin Miller
Mailshake has worked for Kevin Miller and over 11,000 customers just like him. We've sent over 17.6 million emails asking for reviews, a guest post, a share, a subscribe, a sale, and more.
We've done it for them, and we can do it for you. See how easy cold – or warm – email should be.