How SaaSMQL Helps Clients Earn Millions in Revenue with Cold Outreach and Direct Mail
How SaaSMQL Helps Clients Earn Millions in Revenue with Cold Outreach and Direct Mail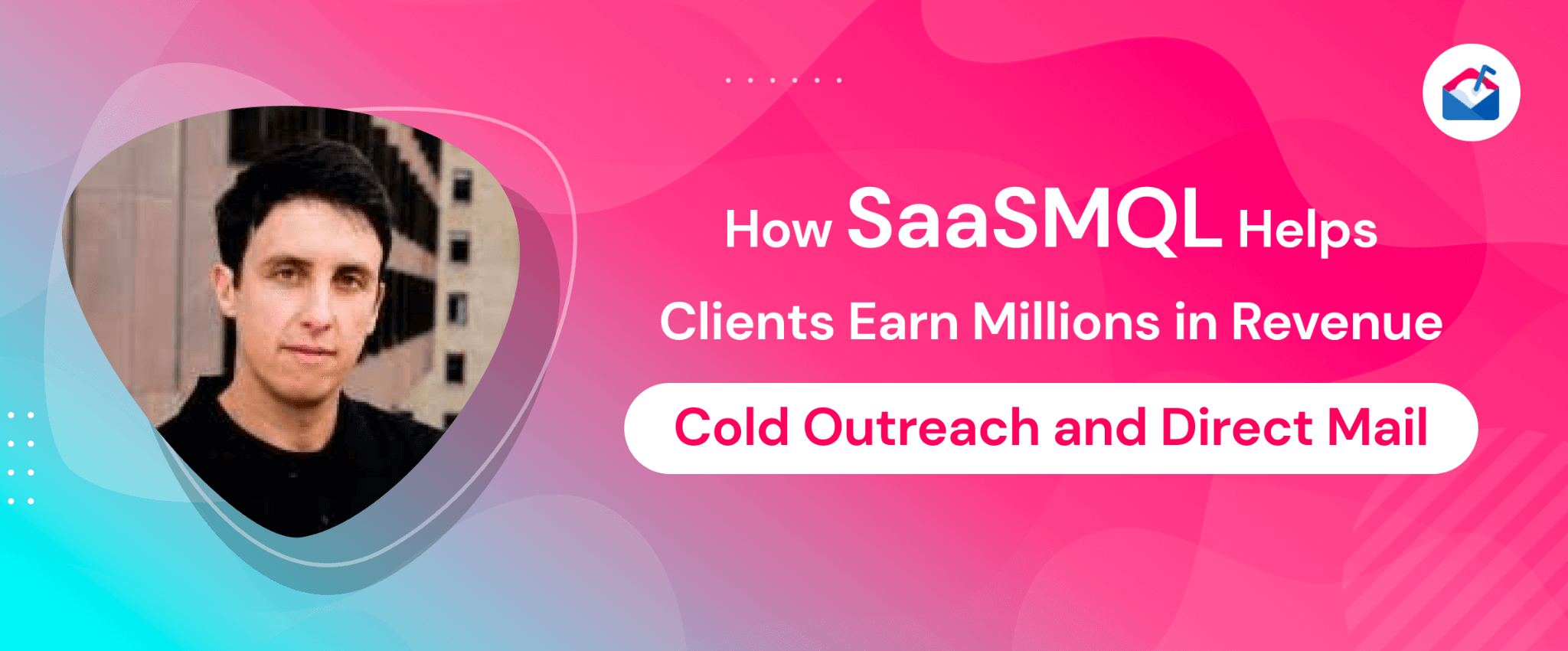 Everyone loves receiving gifts. With the help of Mailshake, SaaSMQL has been able to incorporate the power of direct mail into their email outreach campaigns, and the results have made a huge difference to their clients.
This approach earns SaaSMQL's clients millions of dollars in extra revenue, but what's the secret behind this success? We spoke to SaaSMQL's Founder & CEO Franco Caporale to find out.
We Believe You're the Right Person
One of the key ideas behind SaaSMQL's success is that they're only sending emails to prospects they believe are the right people from the right company. Once they get their message in front of these people, "they're going to be excited, and they're going to want to engage with us."
This is an essential first step for any successful email campaign. You've got to put the work into creating targeted lists. When you know you're reaching people who can benefit from your emails, as in the case of SaaSMQL, then you've got a great starting position.
Engagement is everything—it's going to help with deliverability and it's going to lead to a return on investment. When you're consistently reaching the right people, your engagement levels will go up exponentially.
The Physical Connected to the Digital
We have a tendency to treat the digital and physical spheres very differently. In reality, there's a single person who exists in both spheres, so why not bring them together with your marketing?
Marketing can cross the divide and this is something SaaSMQL has had a lot of success with.
They've created a multi-touch, multi-channel system that engages people in the digital and physical world.
Someone might see an ad on LinkedIn, download a whitepaper, and then enter into an email sequence, at the end of the sequence they're sent a package, after which they might be put back into another email sequence.
When you're reaching people on so many channels – social media, your website, email, a package that arrives at their door—you're impossible to ignore.
As long as your list is targeted, you're offering value and being respectful of people's privacy, then this can have an amazing impact.
Tried Every Solution That's Available
It's not possible to run such a sophisticated sequence without a lot of automation.
When you've got lots of clients, all with hundreds of leads, you can't manually manage each interaction. SaaSMQL had tried every solution available to make this system work, but it wasn't until they discovered Mailshake that they found the level of automation and useful integrations (in this case, Zapier) they needed.
They also loved the fact that agencies had the option to run multiple client accounts without having to log in and out—something the big providers didn't enable.
This meant that SaaSMQL could maximize Mailshake's features for each of their clients, all from one central platform. They could quickly access specific reports, making it easy to pull key data and present it to the client.
As Franco says, "Having the right solution is crucial." And that's exactly what he found in Mailshake.
Connecting the Workflow
SaaSMQL's outreach isn't just about email—it's specifically designed to engage prospects in many different ways. However, email is the key element in that it links everything together.
Everything links back through Mailshake.
You can't just send a package to someone's door (unidentified boxes aren't a great seller). Instead, you've got to put the hard yards in first, get noticed, and open the door to the relationship.
The same thing is true after the prospect has received the package. That's not the end of the story. You need to keep communicating, keep progressing the relationship, and ultimately, take it across the line.
The goal is to "combine them all together (the touchpoints), and create engagement across the channels—that's when we're going to have the results."
Mailshake might just be one part of the workflow but it's the part that connects everything together.
What a Person Would Send to Another Person
So, what makes SaaSMQL's emails successful?
As you'll find in many of our case studies, it's about authenticity and being human. If you don't put the effort into understanding the recipient, then it's going to be immediately obvious. You should be looking to send natural, human emails, and part of this is personalizing the content to the person reading it.
With cold email, there's always a balance to be struck between finding a way to stand out and keeping things simple. There is room to be creative, particularly with things like subject lines, but remember, it's important to be concise and respect the recipient's time.
Franco puts it nicely when he describes SaaSMQL's approach to emails: "What a person would send to another person: simple, direct." It's uncomplicated, but it's effective.
Worth $1 Million a Month to Some Clients
For any marketing campaign, the proof is in the results. You can come up with complicated flows, automate every last detail of your outreach, and spend hours researching targets, but ultimately, it's about the action you inspire.
SaaSMQL's system is a fine art.
Not only does it get their clients noticed, but it gets people to take action. With the help of Mailshake, some of their campaigns earn their clients over $1 million a month in annual recurring revenue.
The power of outreach is immense—you've just got to develop the systems that allow you to optimize your performance. This is where features like Mailshake's A/B testing are so crucial—there are lots of parts to outreach, and each step needs to be optimized to maximize value.
Conclusion
SaaSMQL has developed an outreach system that runs like clockwork. It works for its business, and it works for its clients.
The ideas within this system can work for businesses just like yours.
Yes, you will tweak it and put your own take on it, but with the right tools, it can help you land valuable new customers. Everyone can create detailed prospect lists, offer value through human emails, and create multi-touch campaigns.
With Mailshake's Cold Email Masterclass, Cold Email Academy, and library of blog posts, we're not just here to give you tools, but also the knowledge and support you need to implement them.
SaaSMQL provides a brilliant example of how you can use outreach to grow your business, and it's something you can replicate with the help of Mailshake.