15 Best Employee Scheduling Software Tools (Free & Paid)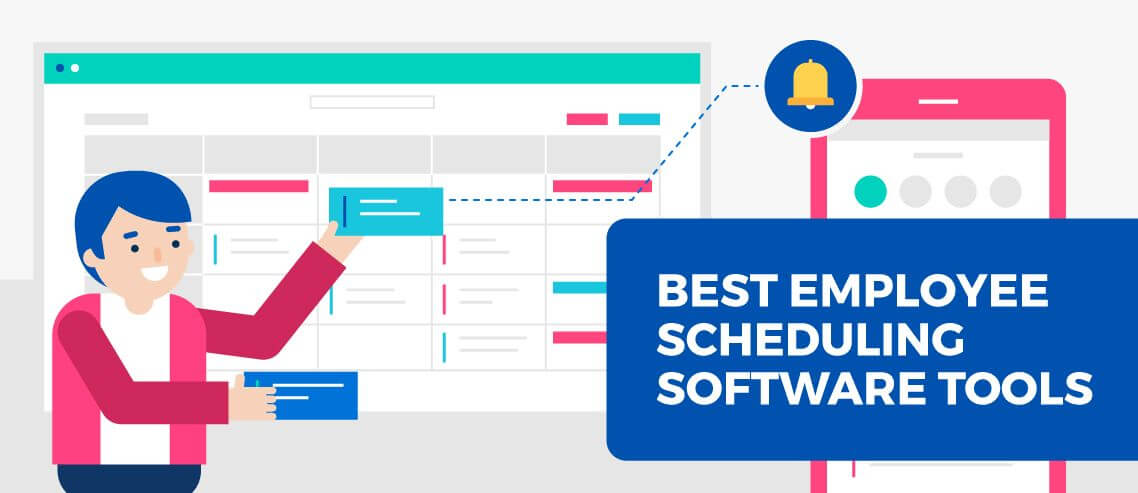 As the world continues to shift toward digital, new tools have sprung up to facilitate every aspect of business, from accounting to advertising to employee scheduling.
If you're an employer, you've likely found yourself wondering if there's an easier way to schedule your employees. While using pen and paper or spreadsheets definitely works, nowadays there are much more efficient avenues to consider.
Here, we're going to lay out some of your options for employee scheduling software tools. We'll cover 15 of the best tools on the market and what makes them unique. By the end of this guide, you should have a good idea of which tool is the best fit for your needs.
Characteristics of the Best Employee Scheduling Software Tools
Before we dive into the details of each individual tool, let's get a broader overview of what you should be looking for in an employee scheduling tool. This will help you make sense of how each tool fits into the larger market landscape.
User interface: No one wants to stare at an ugly UI – it lowers worker morale and makes everything much less enjoyable. Plus, some UIs are so difficult to navigate that they can decrease productivity. Make sure that whatever software you choose, the UI is pleasant and intuitive.
Price: Unfortunately, money isn't unlimited, and businesses always need to work within their budgets. While some of the higher-end options may seem appealing, make sure that you're not going overboard and spending money where you don't need to.
Scheduling features: Today's scheduling tools offer a wide variety of different features, like shift swap requests, drag-and-drop schedulers, and automated scheduling. Carefully look through each of the offerings and take note of what features are most important to you.
Analysis tools: Some scheduling tools provide in-depth labor cost analysis features that can help you maximize your ROI and improve worker efficiency. Not all tools include this.
HR and payroll tools: Some of the tools we're covering are HR and payroll suites that include scheduling features. For many businesses, this can be overkill, so keep your needs in mind while reading through this guide.
Top 15 Employee Scheduling Software Tools
Now that you have a basic understanding of what employee scheduling tools can offer, let's take a look at some of the best options available on the market right now.
1. ZoomShift
Website: zoomshift.com
Pricing: Starts at $2 per active team member/month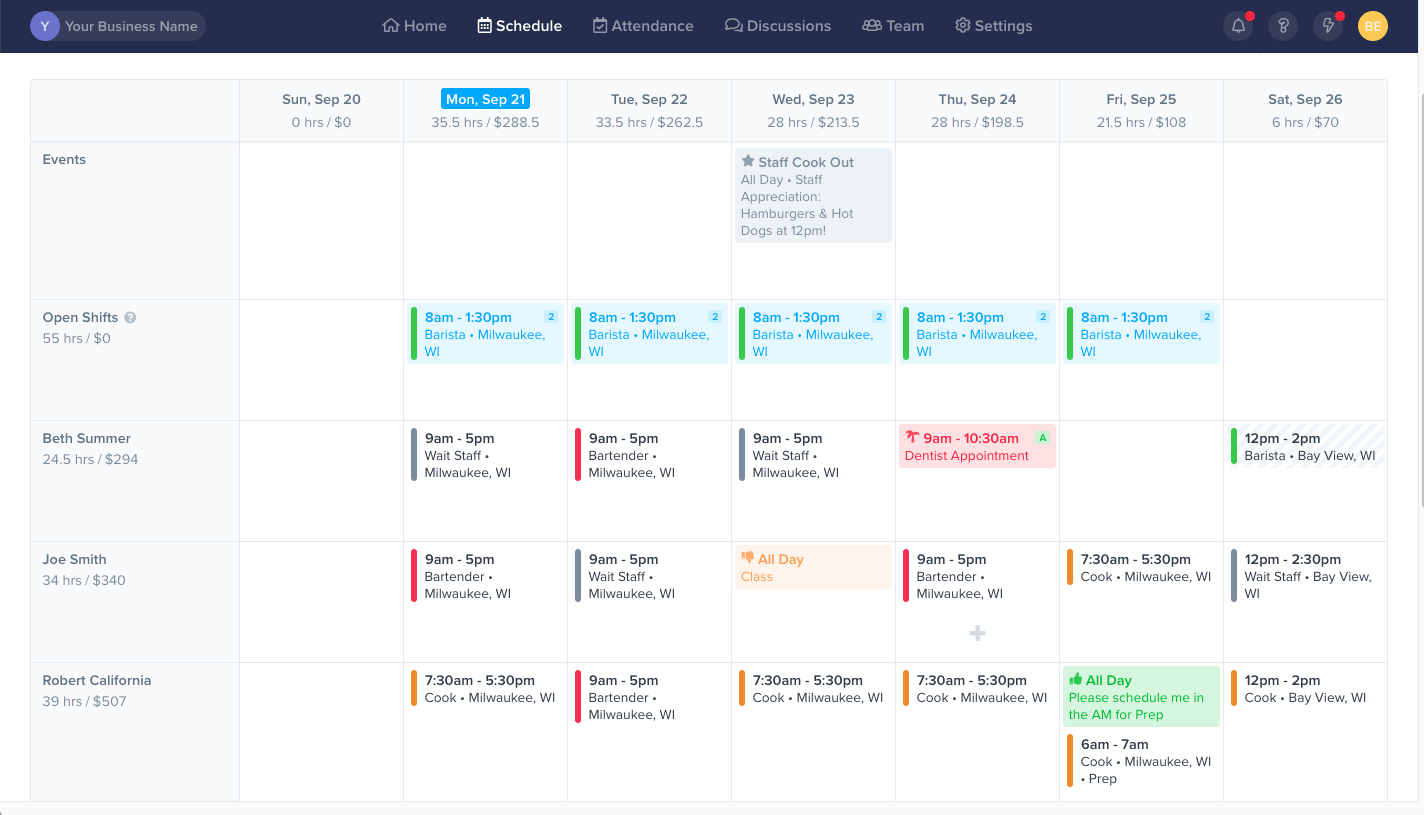 ZoomShift is a robust tool that facilitates team communication, time tracking, and scheduling. Employers can add shifts to the calendar, which updates in real-time to ensure that team members are always on the same page.
Plus, the ZoomShift mobile app allows employers and employees to take all of the software's capabilities on-the-go and make changes from anywhere. Using ZoomShift, employers can automatically send out shift reminders via SMS, email, and push notifications to improve employee accountability and reduce errors.
ZoomShift also makes it easy for employees to request new shifts, ask for time off, and swap shifts with other employees. The Shift Swap feature helps employees communicate with their coworkers to fill shifts when a team member has another obligation. Managers can require approval for shift swaps, or let employees work it out completely autonomously.
In addition, the GPS Time Clock feature helps ensure that employees are clocking in from the right location, at the right time. Managers can choose to be alerted of any invalid clock-ins so they can stay on top of their team at all times.
2. Deputy
Website: deputy.com
Pricing: Starts at $2.50 per user/month

Deputy's combination of in-depth analytics and unique scheduling features make it a top player in the space. One of Deputy's main features is the ability to import schedules from spreadsheets and personnel information from other tools like Gusto, Oracle NetSuite OneWorld, and Quickbooks.
Additionally, Deputy provides useful cost analysis tools that help employers decide which staff member will be the most cost-efficient choice for a particular shift. It also includes a stress profile, which helps managers stay mindful of overworked employees when making schedules. This can reduce the incidence of the dreaded "clopening" (when an employee is scheduled to close one night and then open the next morning), which can negatively affect employee morale.
3. When I Work
Website: wheniwork.com
Pricing: Starts at $0 per user/month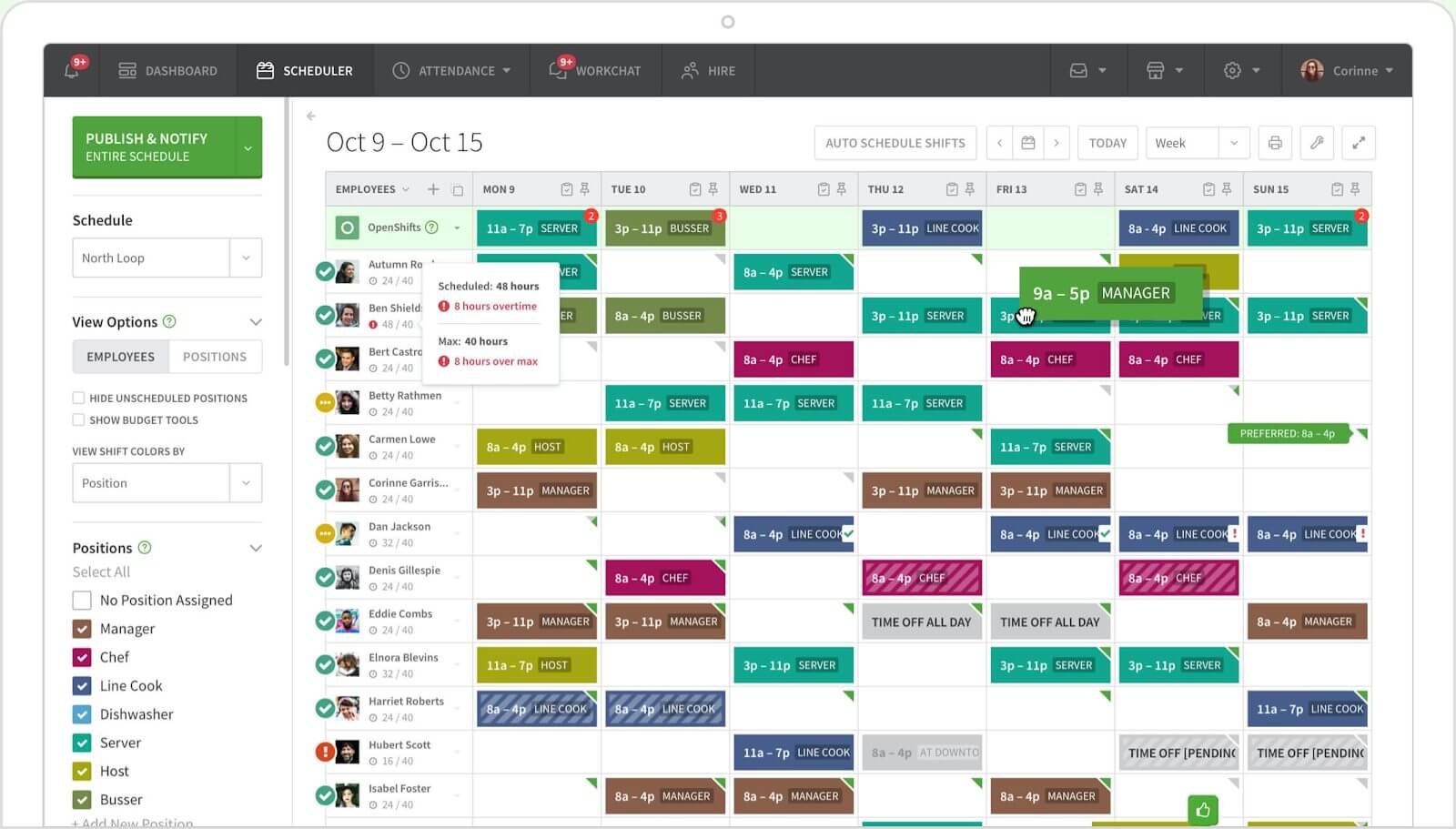 When I Work is a mobile-friendly platform with an intuitive user interface that helps improve the employee scheduling process. While it can't import employee data like Deputy can, it does allow employees to fill in their information on their own, which can speed up setup times.
When I Work puts a lot of the scheduling process into the employees' hands. For example, employees can select the times they're available to work and swap shifts with other coworkers with or without manager approval, depending on the settings.
Like Deputy, it provides labor cost analytics to help maximize efficiency from an ROI perspective. You can also use When I Work's API to connect with a POS (point of sale) or payroll software.
4. Google Sheets
Website: google.com/sheets/about
Price: Free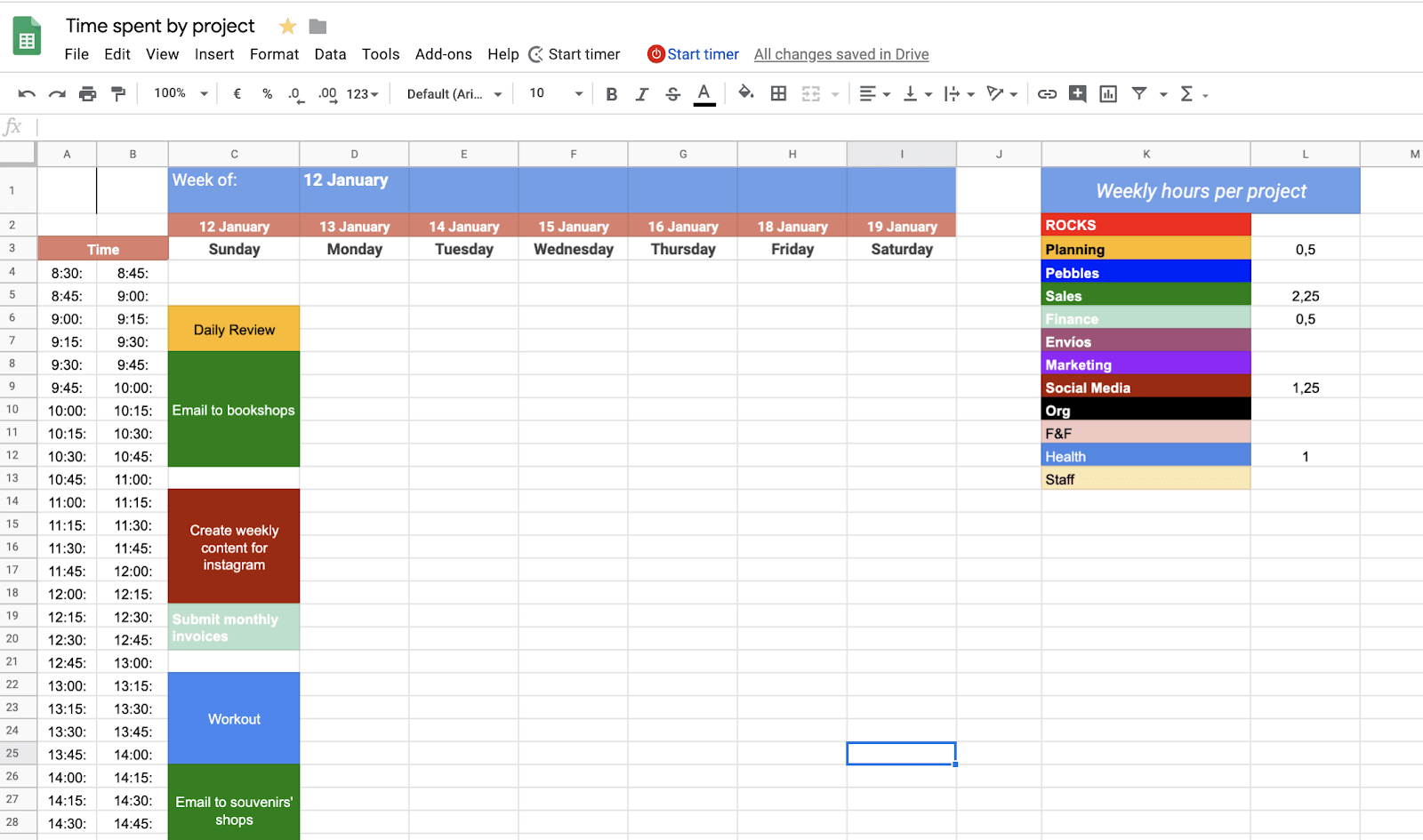 Google Sheets isn't specifically designed for employee scheduling, but it deserves a spot in this list as it's completely free, very flexible, and most managers and employees will already have some experience with it.
Google Sheets is simply a spreadsheet program. However, unlike Excel, it's cloud-based, so changes update in real-time. That means that you won't run into issues with employees looking at older versions of the schedule and missing shifts or showing up to the wrong ones.
Overall, Google Sheets may be an adequate solution for teams with only a few employees that can't afford to spend any extra money on a scheduling tool. It's not designed for scheduling, but it will get the job done in a pinch.
5. Google Docs
Website: google.com/docs/about
Price: Free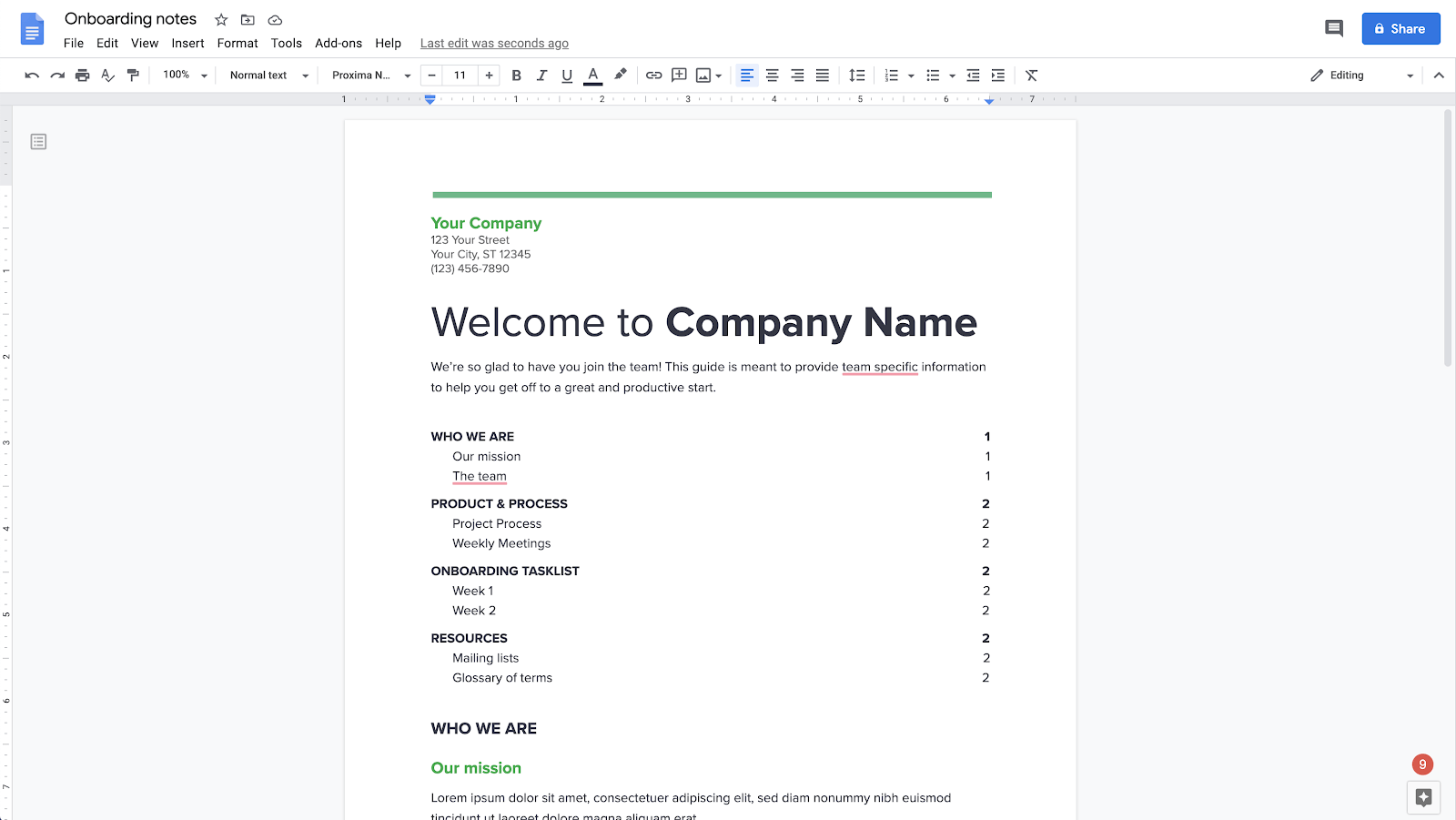 Like Google Sheets, Docs provides a free, cloud-based way to schedule employees. The only difference is that Docs is a word processor, not a spreadsheet. As a result, you won't have the added flexibility of writing code to expand its functionality.
Google Docs also updates in real-time so that everyone can stay on the same page. It's essentially just one step up from paper and pencil scheduling, and doesn't provide too many benefits.
6. Google Calendar
Website: calendar.google.com/calendar
Pricing: Free
Like Docs and Sheets, Calendar is a free program that lets you schedule employees using a calendar. Compared to the other two Google products, however, Calendar can also send email notifications to alert employees about shifts.
Overall, it's a bit better suited to scheduling (it is a calendar, after all), but it doesn't provide all the useful features that a dedicated scheduling tool can. Still, for the very low price of free, it's an option worth considering if you're on a tight budget.
7. Planday
Website: planday.com
Pricing: Starts at $2 per user/month
Planday is a cloud-based scheduling tool that offers a timeclock, shift planner, shift work calendar, and work schedule. One of Planday's most useful features is its in-schedule financial reporting.
This allows employers to see payroll costs, hours worked, and the percentage of revenue paid in salaries directly from the schedule view. Planday also allows employers to create compliance settings, which will send alerts when a schedule is infringing on compliance rules.
8. Shiftboard
Website: shiftboard.com
Pricing: Unknown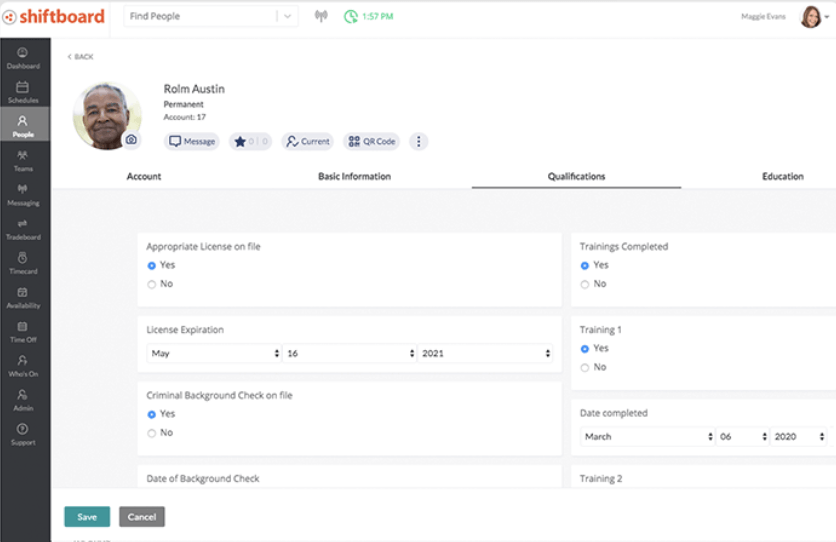 One of Shiftboard's best features is its user interface – most of it is incredibly clean and well-organized, which makes using the tool a pleasant experience. However, the calendar view is a bit cramped and messy, so administrators may not have as good of an experience with Shiftboard as employees will.
Like Deputy, Shiftboard can import employee data from Excel, which speeds up onboarding. It also has a subsection for pending applications, which can make hiring new employees easier.
9. Chat Apps (WhatsApp, Messenger)
Website: Various
Pricing: Free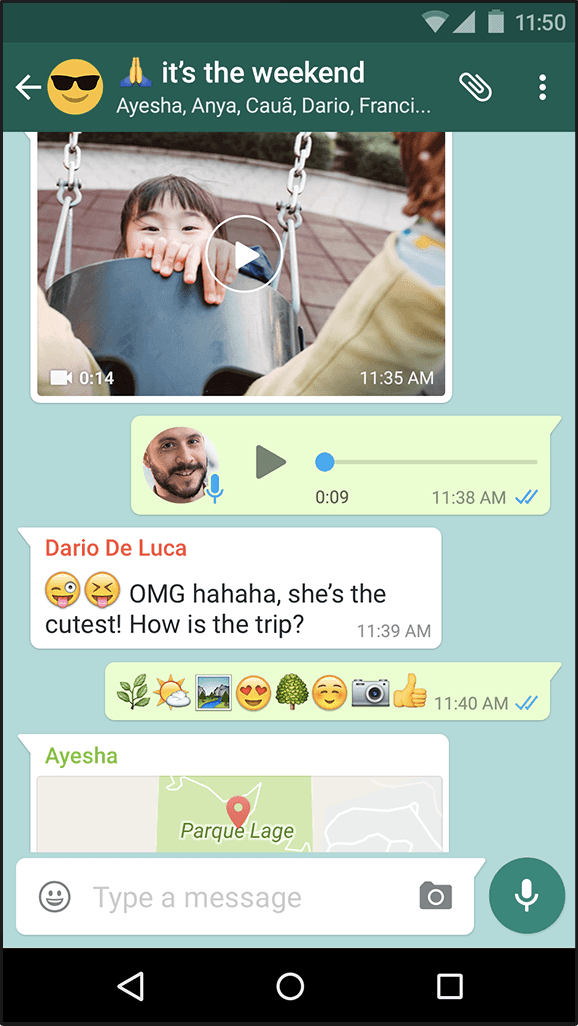 Chat apps, like WhatsApp, Messenger, and Telegram, aren't designed for scheduling, but many businesses use them successfully for that purpose. They're not the best tools for the job, but they can be used to schedule employees for free.
However, while the non-existent price tag is definitely appealing, you may end up losing money from human error. Chat Apps can't update schedules in real-time like other tools, so you're relying on employees and managers to manually keep track of schedules and update employees accordingly. If you have a small team, this can work well, but it can be a logistical nightmare for larger companies.
10. Asana
Website: asana.com
Pricing: Starts at $0/month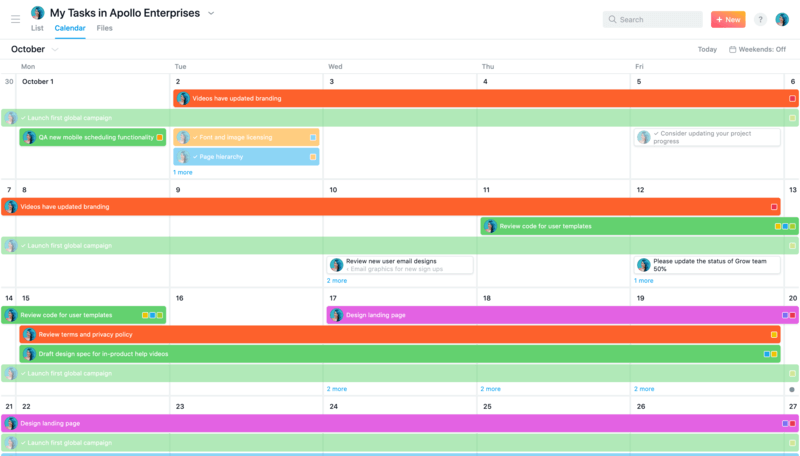 Asana is another tool that, while not designed for employee scheduling, can be jerry-rigged to do it quite well.
At its core, Asana is a project management tool. To use it for employee scheduling, you can set up tasks that correspond to shifts and assign different employees to them. Asana can then send out emails to alert staff members of approaching shifts, and employees can comment on tasks to communicate with each other.
Teams that are already using Asana or similar software may want to consider this option. However, Asana doesn't provide any additional features for shift swaps, labor cost analysis, or anything else that's directly related to employee scheduling.
11. Humanity
Website: humanity.com
Pricing: Starts at $3 per user/month with an $80/month minimum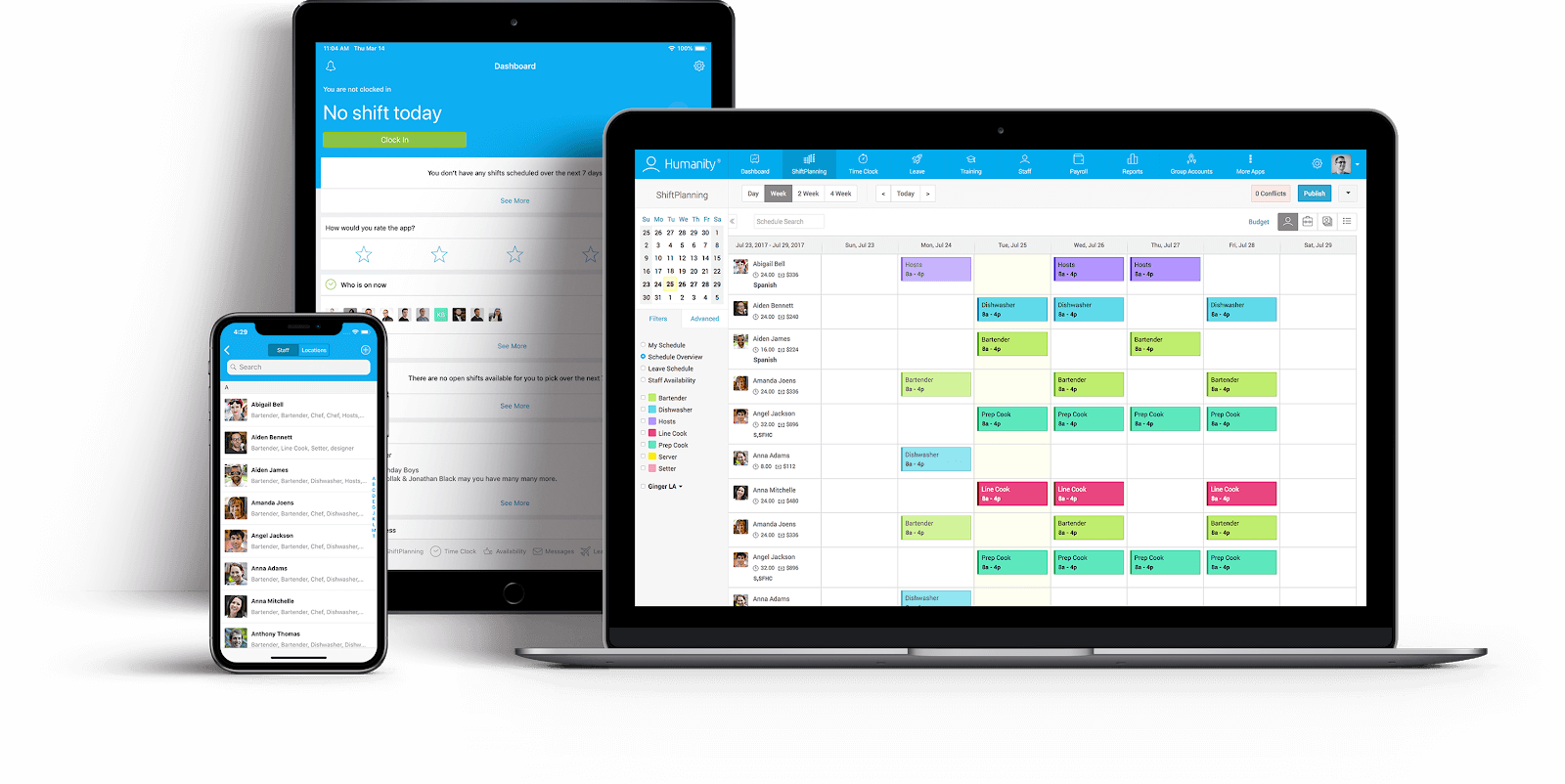 Humanity is one of the best choices for businesses that are already using HR or POS tools in their day-to-day operations. It integrates with many industry-standard tools and also offers an API so that expert users can make their own integrations.
The tool allows employers to schedule, onboard, and update employees. Two unique features of the platform are its sales forecasts and automated scheduling. Humanity pulls data from POS software to analyze how many employees need to be working to maximize sales.
To automate schedules, employers input shift data and requirements, and Humanity matches it against sales forecasts to create an optimized schedule. However, employers interested in using this feature will need to pay an additional fee.
12. Sling
Website: getsling.com
Pricing: Free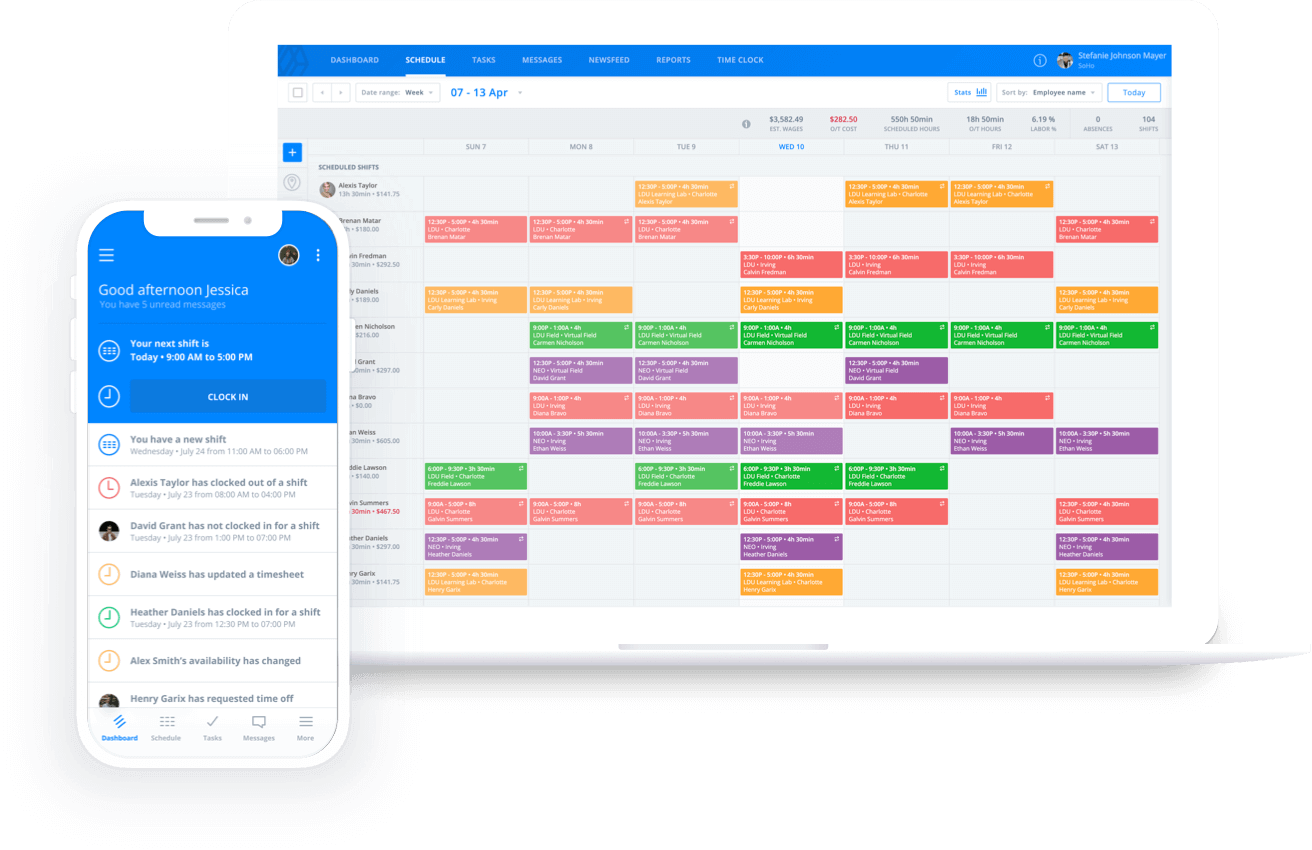 Sling is a leading employee scheduling tool that's trusted by companies like Amazon, Subway, and The UPS Store. Perhaps the most impressive thing about Sling is that the main features of the tool are available for free.
Indeed, for the low price of $0 per month, employers have access to shift scheduling, shift requests, shift offers, shift alarms, time off requests, and many other features for an unlimited number of users.
However, more advanced features, like geofencing, overtime tracking, Google Calendar synchronization, and shift swaps, are only available on paid plans. Overall, Sling is a good way to test the waters before making a sizable monetary investment in a scheduling tool.
13. Kronos Workforce Ready
Website: kronos.com/products/workforce-ready-suite
Pricing: Starts at $6 per employee/month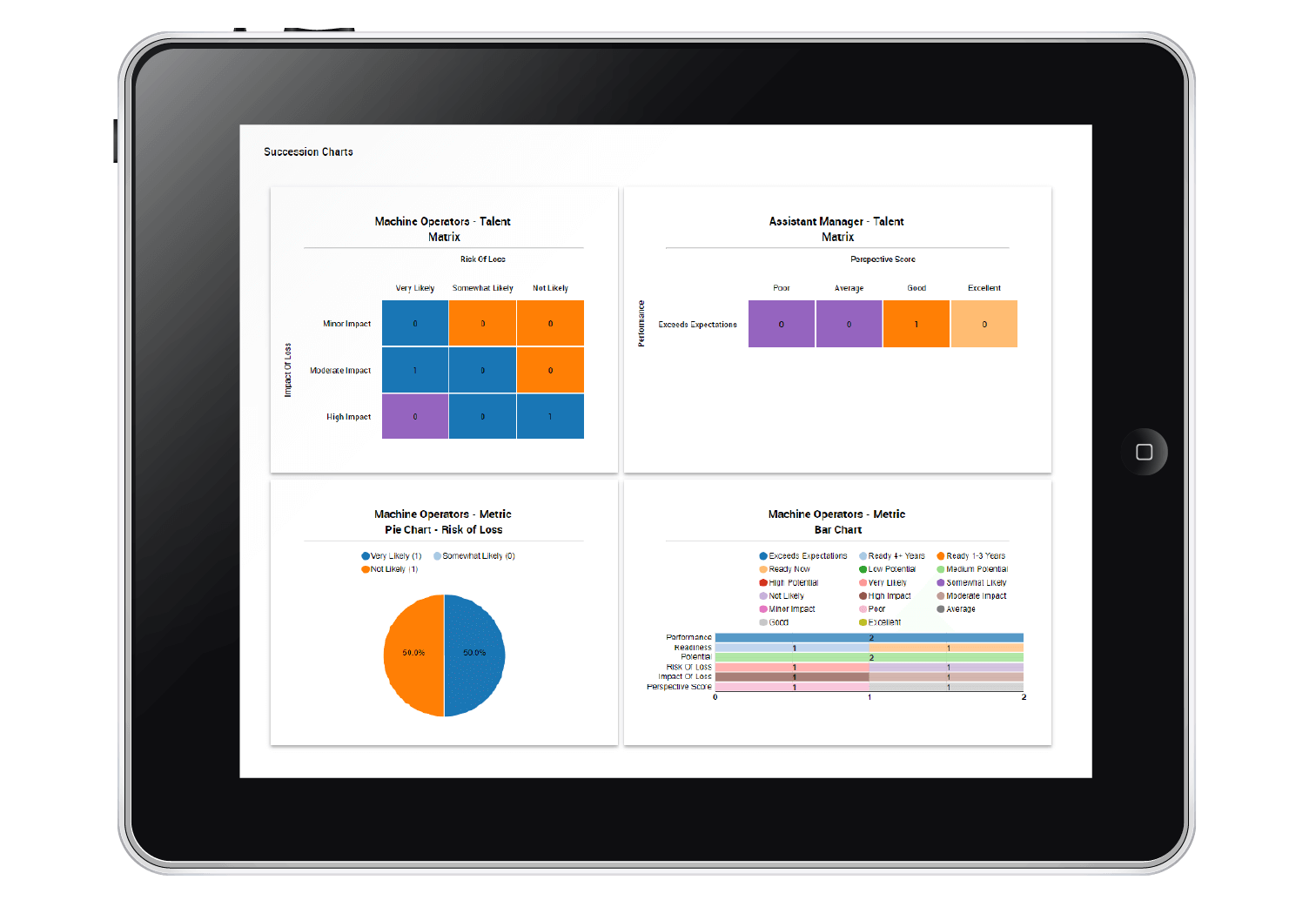 Kronos Workforce Ready is an HR solution. While Kronos states that it's designed for SMBs, its feature set speaks to a focus on larger businesses and enterprises. Indeed, many small business owners will feel lost wading through the extensive features.
While Kronos provides an all-encompassing HR platform, it also offers a scheduling tool as part of the suite or as a standalone tool. One of its best features is the Schedule Settings, which allows you to run multiple schedules with different rules (lunch breaks, maximum number of shifts, etc.), all without interfering with each other.
Unfortunately, Kronos doesn't include a chat feature to facilitate employee communication.
14. APS OnLine
Website: apspayroll.com
Pricing: $3 per employee/month for scheduling only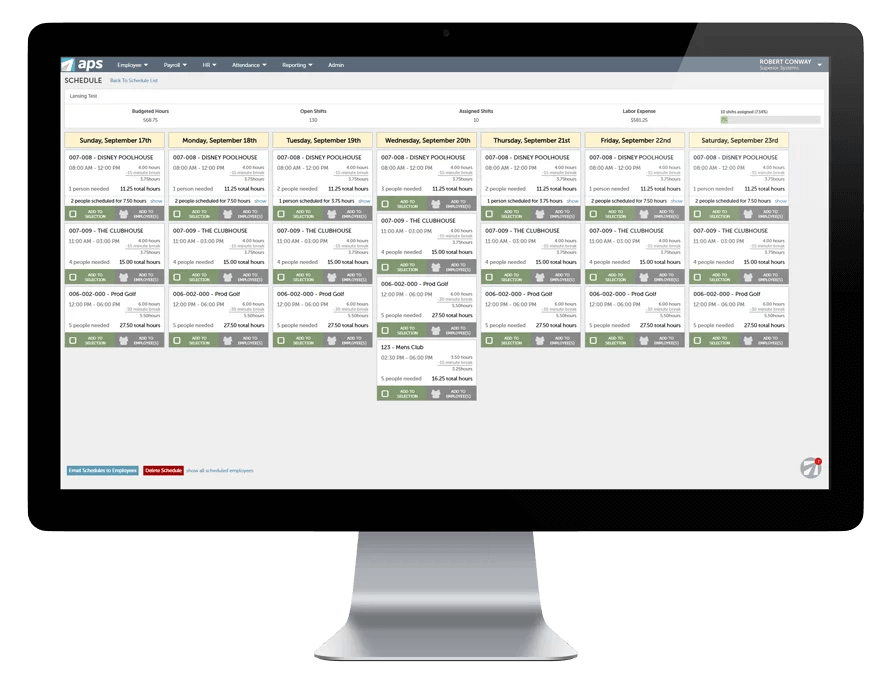 APS OnLine is an HR, payroll, and scheduling software aimed at businesses with between 100 and 3,000 employees. Many small businesses will find it overkill (especially considering its high price of $5 per user per month), but if you need a solution that takes care of all three of these tasks, it's an option worth considering.
If you want to keep a close tab on your employees, APS's Attendance Setup feature can let you configure advanced settings for clocking-in and clocking-out. For example, you can opt to receive an alert if an employee clocks-in five minutes late. However, the platform's aesthetic is rather bleak and gray, which will not make it a hit among employees.
15. HotSchedules
Website: fourth.com
Pricing: Starts at $49/month for one location and up to 30 users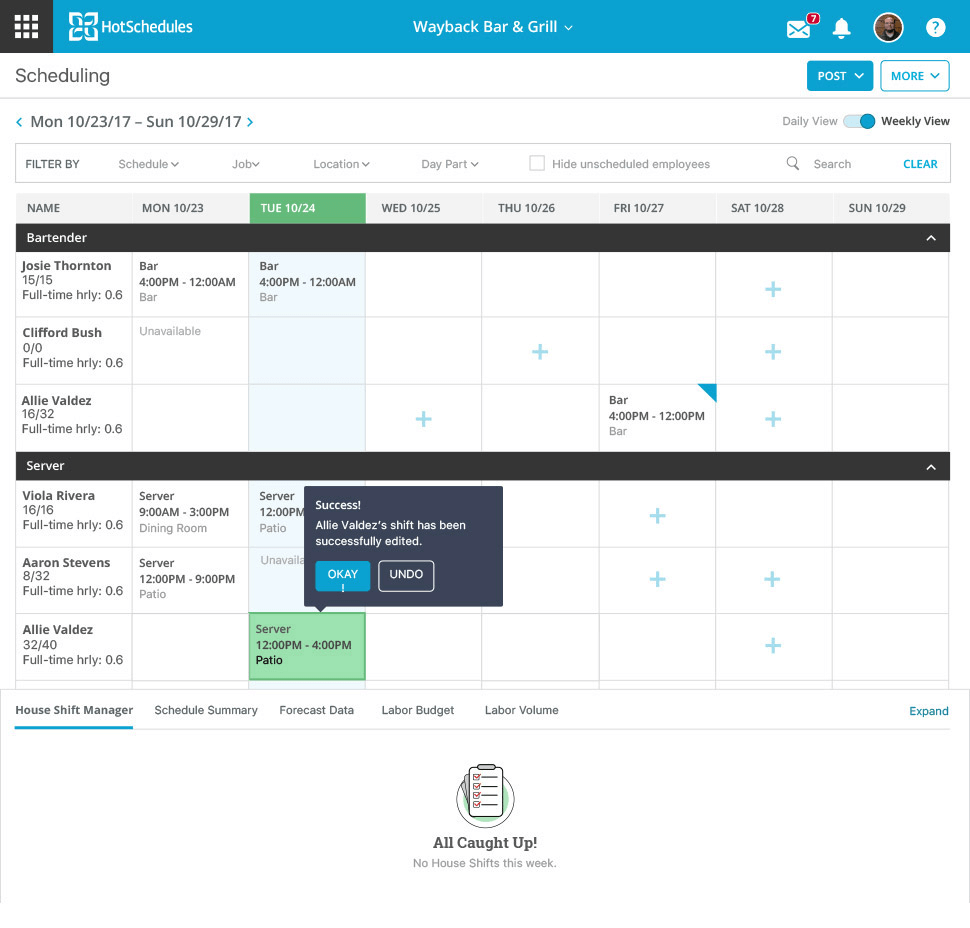 Unlike some of the other tools we've looked into, HotSchedules is entirely focused on employee scheduling, which makes it a great choice for businesses that need scheduling tools without a ton of payroll and HR features as well.
It's particularly well-suited for teams that rely on their mobile phones instead of desktops. This makes it a perfect choice for restaurants, retail stores, and other businesses where employees are on their feet. In fact, there's a suite of add-on software available that's specifically tailored to restaurants and hospitality businesses.
Plus, HotSchedules is one of the few platforms that provides real-time updates on costs and other metrics. However, the desktop UI is a bit lackluster.
The Bottom Line
With so many employee scheduling tools to choose from, employers have no excuse to continue using inefficient and outdated scheduling methods. At best, they're an extra hassle, and at worst, they lose money.
This list should give you a solid starting point to begin your search. While researching so many options can seem daunting, the results of your efforts will be well worth it.