How Los Altos Advisors Uses Mailshake to Save Time
How Los Altos Advisors Uses Mailshake to Save Time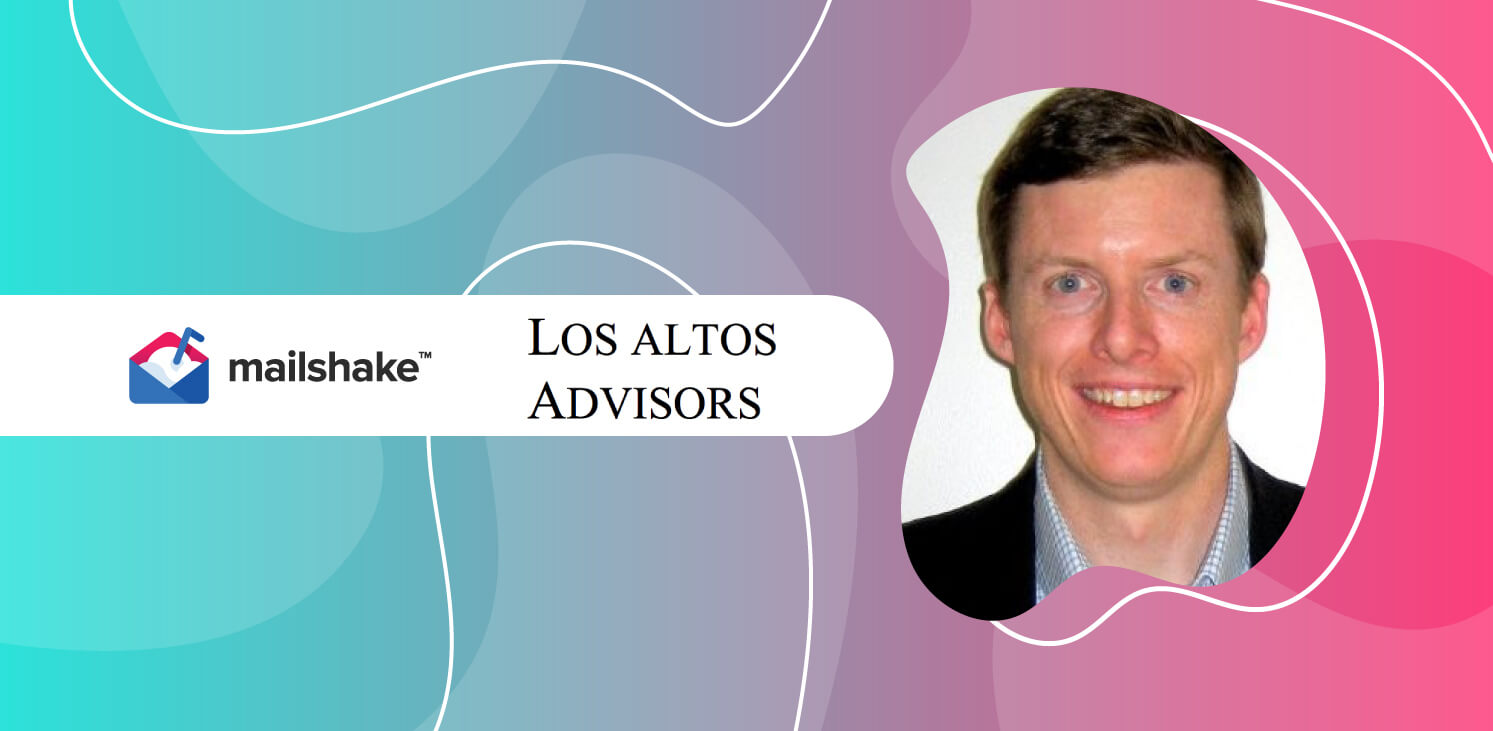 This is the story of John Heltzel, a Fractional VP of Business Development, who doesn't care about email numbers.
John runs Los Altos Advisors, where he works with Silicon Valley startups. He helps businesses get off the ground by bagging some of their first customers and partners. John relies heavily on email for reaching out to people.
But why doesn't he care about what his open and reply rates are? And why does he love Mailshake so much?
Read on to learn what we discovered!
Los Altos Advisors Journey with Mailshake
So, first things first. John told us he uses Mailshake for reaching out to people — such as investors — in Silicon Valley and updating them about the latest startups he's working with.
John is well-connected to many people in the business world but he admits that they're not really aware what he's up to these days. So he tries to build on his relationships, reaches out to business people, and see whether they can help the startup he's working with.
It's interesting to note that unlike most of our customers, John doesn't use Mailshake for "cold" emailing. That's because almost everyone he emails using our tool knows him personally — so they're not really cold leads that he needs to warm up.
This is why we value John so much — he's a living example of how Mailshake is not just a cold outreach tool but also a platform that can bring immense value to the people who you already know.
John revealed that before using Mailshake, he would type and send hundreds of emails manually. And as you can imagine, that took a lot of time (and typing). Plus, those emails had an "unsubscribe" button at the end, which made them seem like spammy, promotional messages coming from a Silicon Valley salesman.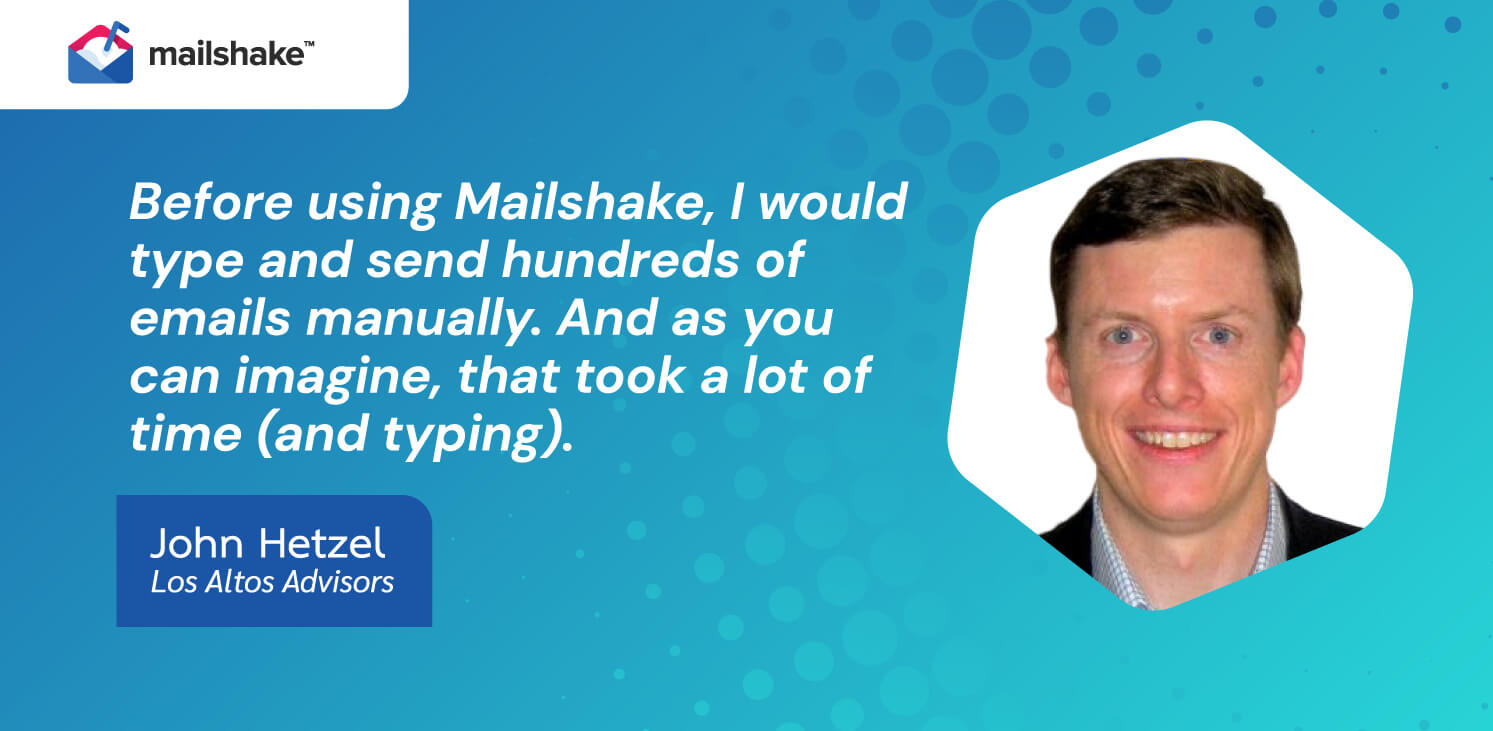 On the other hand, Mailshake sent emails without the "unsubscribe" button, which John believes made his messages more "human". And although very minor, this change actually helped improve John's response rates.
But that's not the only Mailshake feature John loves. He told us other Mailshake features he likes include:
Ease-of-use: Up to 70% of online businesses that fail do so because they're difficult to use. This is why we strive to ensure that Mailshake is as frictionless to incorporate in your daily workflow as possible. For someone as busy as John, it's easy to imagine how this became a major selling point for Mailshake.
Email personalization: John uses Mailshake to reach out to people he already somehow knows. This is why he can't really send robotic emails without risking his relationships. Enter Mailshake's mail merge feature, which lets him personalize the same email for each prospect in his list. Experian suggests personalized emails deliver 6 times higher transaction rates — and John knows this!
Email list cleaner: Mailshake's  or email validation feature is part of its email deliverability tools. It classifies each email in your list based on its bounce risk, and removes any with an unacceptably high risk. This keeps your reputation intact and your emails away from the spam folder. John loves the fact that this capability is built right into Mailshake so he doesn't need to use a separate tool for it. Again, it's all about making things easy.
John also mentioned he likes the way Mailshake displays easy-to-understand stats — like open and response rates — for each campaign. This lets him have a bird's eye view of how his emails are performing (until the day he decided to turn off tracking).
John's numbers and why he doesn't care about them
So, what do John's numbers look like? Before he turned off tracking, he achieved open rates between 60% and 70%, while reply rates hovered around 15%-20%. This might not seem impressive to you, but it's important to remember the type of people John is reaching out to — super-busy business professionals in Silicon Valley.
Interestingly, John had a 100% open rate for some partners. Again, this is because they knew him, had a good relationship with him, and wanted to at least read what he had to say.

This is why John believes that the email game is all about reputation. And it's also the reason why he doesn't care about email numbers — he is reaching out to people he has good relationships with and providing value to them. So as long as he has a good reputation in Silicon Valley, he can keep leveraging it instead of relying on sending out a large number of emails and micro-tracking open and reply rates.
It's also a great learning point for new marketers out there. Instead of sending out email bombs to a large number of people, see if you can first leverage your reputation and tap into your own network to get things going. If you don't have a reputation of your own yet, you can always leverage someone else's (such as your CEO).
John's tips for ace-ing emails
We're going to end this case-study with 3 golden email tips from John:
1. Make sure your ask is easy: John's CTA is a Calendly link that his prospects can use to book a meeting with him. This lets prospects easily view the time slots he's available in and book one. There's no back-and-forth about the best time to meet.
2. Keep your emails short: You've probably heard this a million times before. That's because it works! John likes to keep his emails "short and sweet" because his prospects don't have the time to read entire stories.
3. Sometimes, it's okay not to follow-up: If John's prospects don't reply to his emails, he respects the fact that they're not interested and moves on. But again, this is because he is reaching out to acquaintances (and not cold leads). If your business depends on cold outreach, we do recommend following up (and make it easy to do so).
The Takeaway
Remember, the secret to a 100% open rate is leveraging existing relationships. Of course, that's not always possible, but it's something useful to keep in mind. We hope this was a fun read and you learned a thing or two from John's experience with Mailshake.