MixMax: Review, Competitors, and Alternatives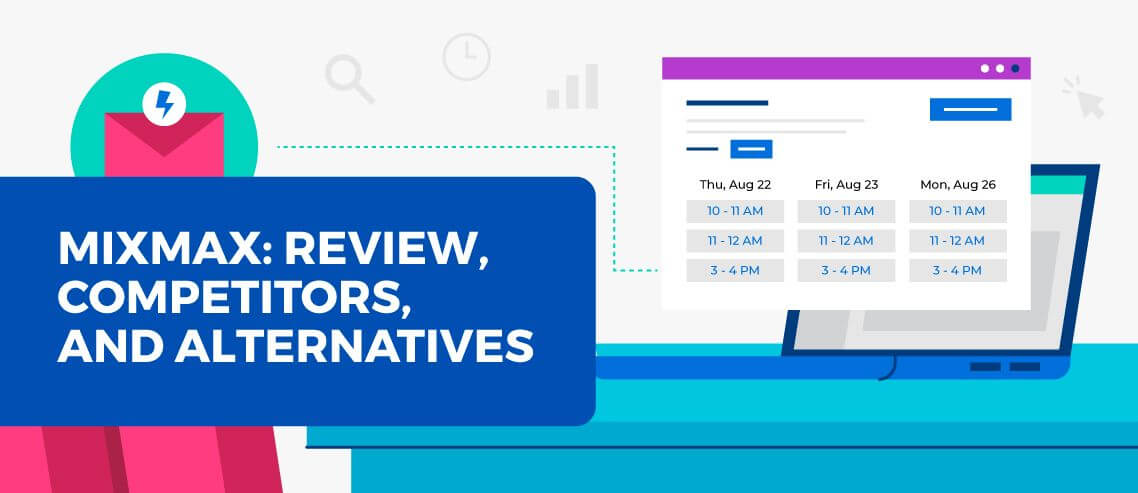 MixMax is a Gmail extension that includes productivity features for sales reps, entrepreneurs, recruiting professionals, operations pros, and customer success representatives, among others.
Unlike other similar tools, its focus is a bit more broad and isn't concentrated solely on sales.
Some of its primary features include email tracking, automated email sequences, meeting scheduling tools, and embedded polls and surveys.
While it offers many of the same features as other platforms like Mailshake or Salesloft, it isn't meant to be a direct competitor. Instead, it's designed to be a productivity enhancer for small and growing teams, not a full-blown enterprise sales platform.
To this point, MixMax offers three paid plans (as well as a free plan), with the highest level dedicated to "growing teams."
However, MixMax is trusted by a few well-known organizations in the SaaS space, including Canva and Typeform.
Overall, it can be a useful addition to a more fully-featured sales enablement platform and a good starting place for fledgling teams, but it is not designed to be a replacement for a higher-level tool.
MixMax Core Features
MixMax offers six core features:
Calendar sharing: MixMax allows users to share their calendars with others so that they can more easily schedule and book meetings, much like Calendly's offering. This can cut down on some of the back and forth that's so easy to slip into when scheduling meetings via traditional methods. Instead, you can share your calendar and your contact can choose an open timeslot to meet.
Polls and surveys: With MixMax, you can send polls and surveys directly in the body of your emails. When a recipient responds, their response will be recorded in a unified database. That way, you don't have to copy and paste the text yourself – it's all automated so you won't lose any responses or waste time with menial tasks.
Email tracking: This Gmail extension displays which of your recipients viewed your emails. It also displays which locations they viewed them from as well as what devices they used.
Automation: MixMax helps you create automated sequences of emails and other tasks. For example, you can create an automated email sequence with follow-up emails scheduled for a week after your first email. You can also add InMail follow ups to the mix as well.
Integrations: MixMax syncs with popular tools, like Salesforce, Pipedrive, Zoom, and Dropbox, so that you can keep your work streamlined and unified.
What People Don't Like About MixMax
Although MixMax generally has very good reviews (4.6/5 on G2), it's not without its flaws. Some of the most common complaints are that it's too expensive, while other users report that the interface is not user friendly and that they encounter too many bugs.
Poor customer service is another common complaint, which is never ideal but can be especially frustrating if the product often glitches.
Other users have noted that reporting features are frustrating and hard to use, which is one of the most important and valuable aspects of a tool like MixMax. Additionally, some of these features have been made irrelevant thanks to GDPR, which protects against some types of email tracking.
Mailshake: Your #1 MixMax Alternative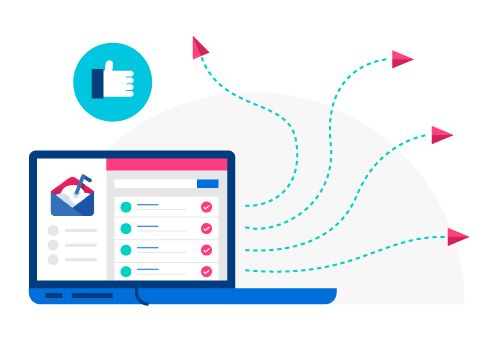 Mixmax is a great light-weight tool to help with tasks related to managing and sending emails from your inbox.
However, if you're trying to send larger campaigns to many recipients, Mailshake is a much better option for several reasons:
Mailshake is a standalone web app dedicated to making it easy to perform personalized outreach at scale
Mailshake integrates with more of your tech stack
Mailshake customer success is available whenever you need it to help you with the platform and with your cold outreach strategy in general
More features for bulk campaigns
As an app that's separate from your Gmail or Outlook inbox, Mailshake has a number of advantages over Mixmax.
First, you can manage and reply to leads from within Mailshake with Lead Catcher. This allows you to keep the work you do on outreach campaigns separate from your inbox. It also helps you stay focused on just the folks who reply and are interested in your offer, and easily get rid of autoresponders, bounces, unsubscribes, and folks who aren't interested.
Additionally, Mailshake keeps your campaigns on track by:
Identifying out-of-office auto-responses
Blacklisting emails that bounce, so you don't accidentally email them again
Blacklisting folks who unsubscribe by catching people who reply with phrases like "remove me" or "unsubscribe"
Mailshake also helps reduce your bounce rate by identifying emails that are likely to bounce, before you send your campaign, and giving you the option to remove them from your campaign.
Finally, you can improve the results on your campaigns by A/B testing subject lines, body copy, and even entire sequences.
The bottom line is that Mailshake is a platform dedicated to automating your cold outreach. Mixmax has some features that help you do that as well, but is missing some core functionality that makes Mailshake much more powerful.
More direct and 3rd party integrations
Mixmax has a few key direct integrations, but is missing many more that make it difficult to make Mixmax a part of your tech stack.
First, Mixmax does not integrate with Zapier. That means that the only integrations they have are the few tools that they integrate directly with. Mailshake integrates with Zapier, which means you can connect Mailshake to thousands of apps, even if we don't have a direct integration.
Mixmax integrates directly with Salesforce and Pipedrive, neither of which are available to their first two pricing plans. Mailshake directly integrates with Salesforce, Hubspot, and Pipedrive, all of which are available to any Mailshake customer on any plan.
Mailshake also directly integrates with two other popular sales tools: Calendly and Vidyard. Our direct Calendly integration allows you to connect lead tracking within Mailshake to when a prospect books a meeting with your Calendly link.
Best-in-class customer support
A quick check of Mailshake's G2 reviews will show one thing: our customer support and success teams are the best in the industry.
We host twice-weekly office hours, available to any customer, to hop on and get their questions answered about the Mailshake product, or their outreach strategy.
For customers on our annual or sales engagement plans, we offer a one-hour, one-on-one onboarding session with our customer success team to help you get your account set up and your strategy off the ground.
We give specific feedback on campaign copy to maximize deliverability and engagement, and work with 3rd parties to provide professional copywriting and campaign strategy support.
5 More MixMax Alternatives
If Mailshake doesn't seem to fit your needs, don't worry. There are plenty of other alternatives in the market, and while Mailshake is certainly the most powerful, here are 5 more considerations to make: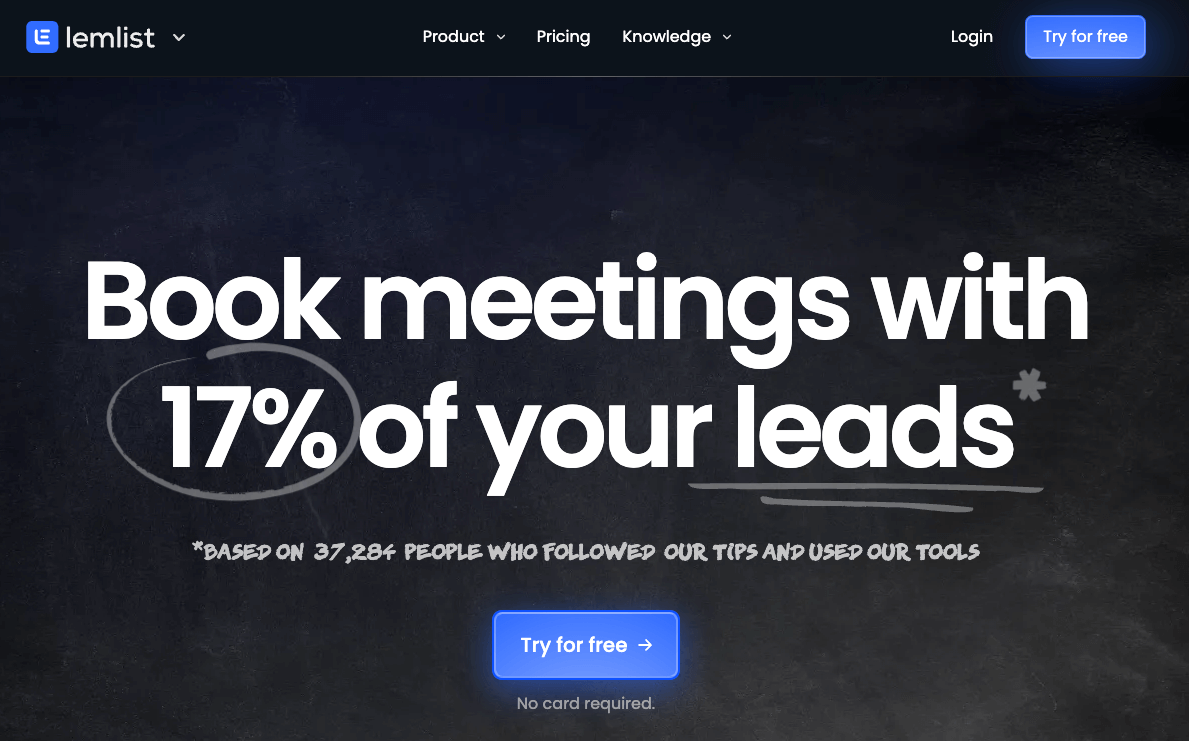 G2 Rating – 4.1/5 (143 reviews)
Capterra Rating – 4.6/5 (362 reviews)
Founded in December 2017, Lemlist is an email automation and cold outreach tool similar to MixMax. It has lately gained massive popularity amongst small startup teams and content creators because of the following features:
Easy email personalization
Automated personalized follow-ups & email sequences
A wide range of integrations
The best aspect of Lemlist in comparison to MixMax is the degree of personalization it offers. Unlike MixMax, you can link the tool to a CSV file containing lead information like name, company name, email address, and even images. It would then replace all of these details in a pre-made email template with each recipient's specific data. The images, in particular, make the email appear more personalized and targeted.
Lemlist also offers a built-in email verification tool that helps you avoid invalid addresses. This feature is not available in MixMax, and it is a huge time-saver and a valuable asset for any marketer.
However, Lemlist does not support email attachments. And this is an area where MixMax wins. As for customer support, both MixMax and Lemlist have mixed reviews about customer service. Some people were catered to thoroughly, while some couldn't get in touch with the support team of either tool. So, if you're looking for a MixMax alternative with an active support team, onto the next section!
Pricing
In terms of pricing, Lemlist is slightly more expensive as compared to MixMax. Here's a glimpse of Lemlist's pricing plans. You get a 19% discount if you pay yearly.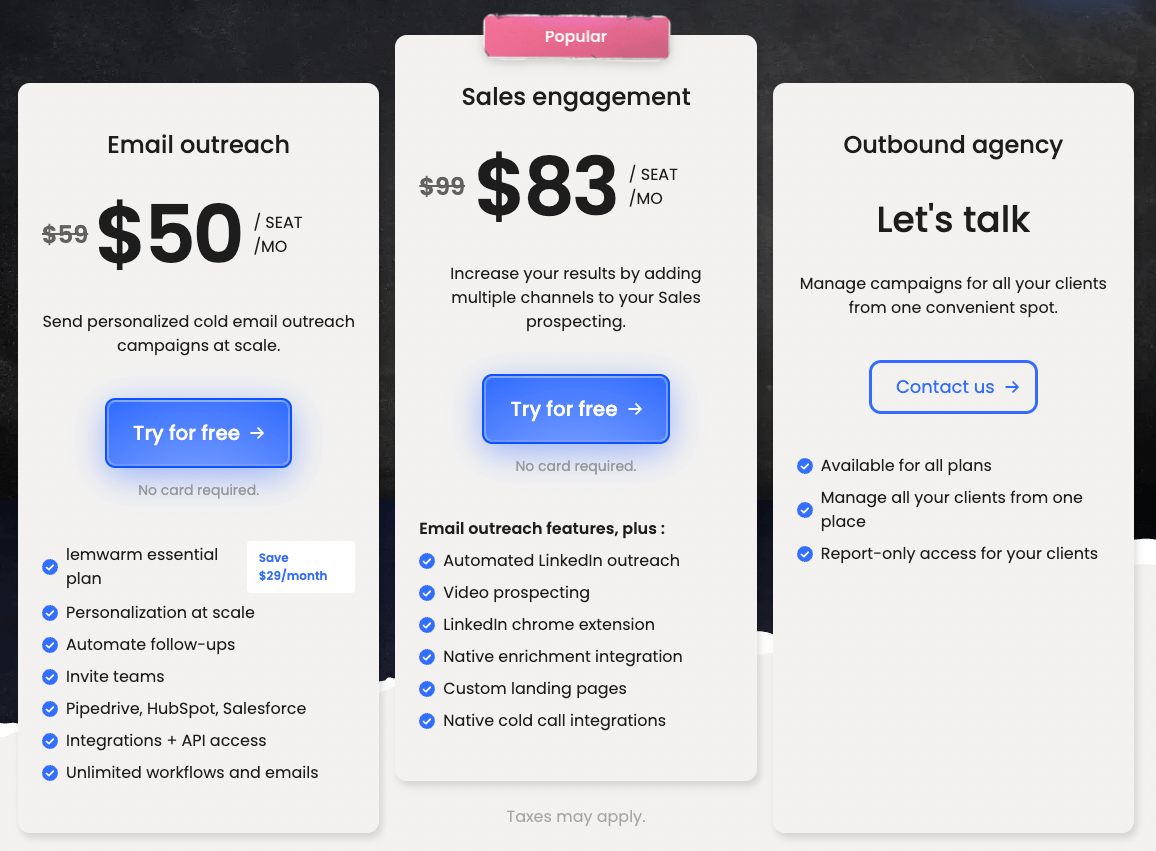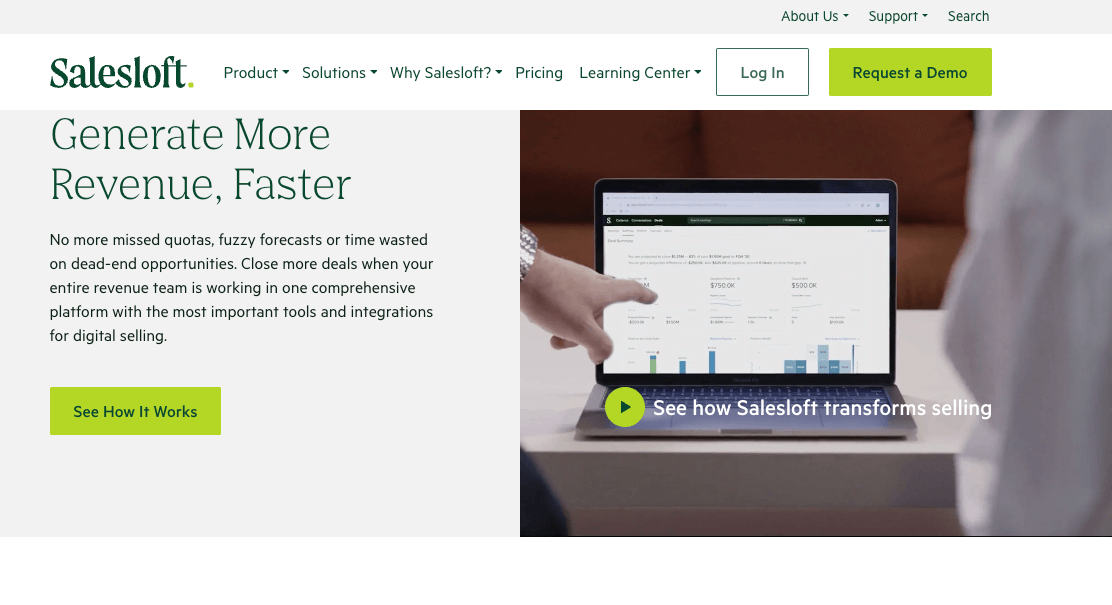 G2 Rating – 4.5/5 (3,444 reviews)
Capterra Rating – 4.3/5 (197 reviews)
SalesLoft is an all-embracing sales engagement platform. It allows you to automate sales outreach and track your team's activities, providing you with valuable insights into your sales process. MixMax, on the other hand, focuses more on email productivity with features such as email scheduling and templates. So, it's basically a perfect MixMax alternative if you seek an all-in-one sales solution to supercharge your cold outreach campaigns.
Apart from offering sales-related features, Salesloft also excels at personalization similar to Lemlist. For example, one of SalesLoft's personalization features is the email personalization score. Using this, you can track if the following things have been changed for each recipient in a particular audience segment:
Number of words used
Alignment of text
Changes in snippets
Change in salutation
Textual changes
SalesLoft may not automate an email sequence, but it allows you to measure such precise details about each email sent from your company.
Pricing
SalesLoft is a bit secretive about its pricing — you'll have to request a demo to find out what it costs.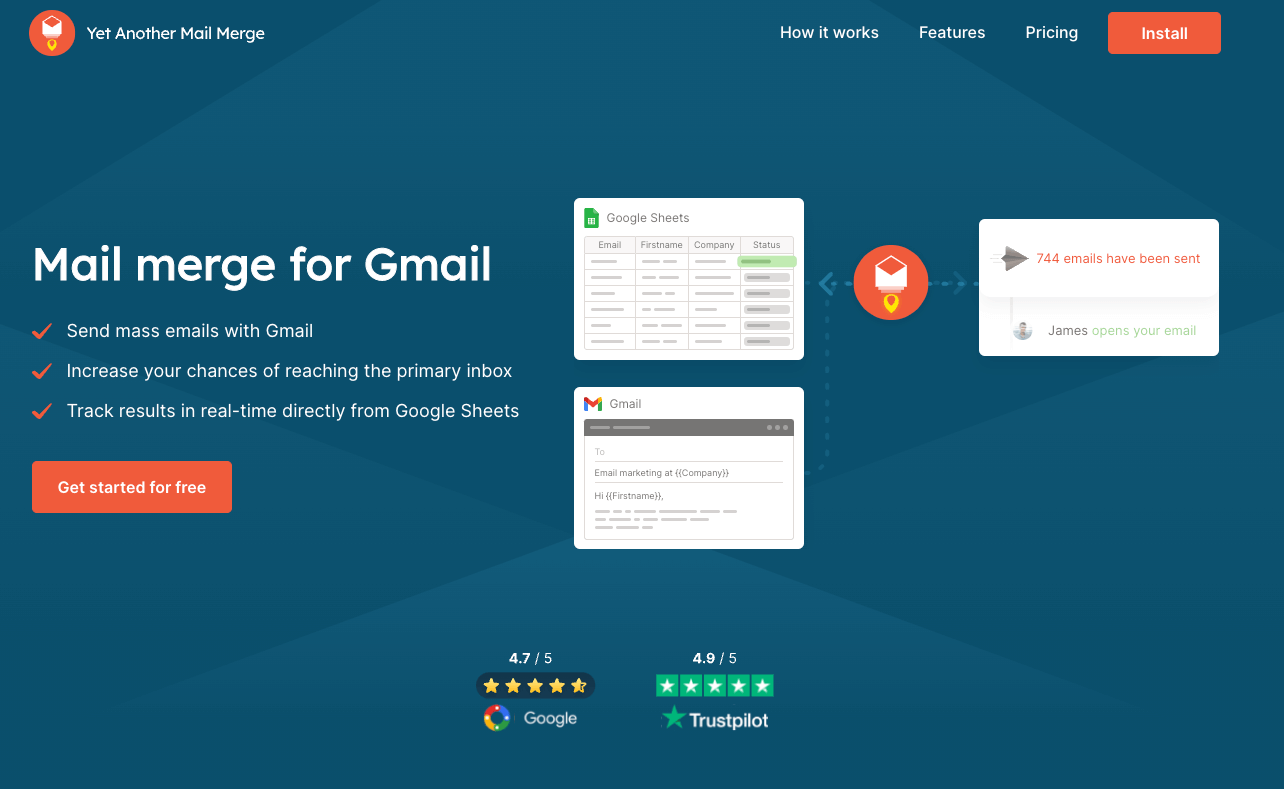 G2 Rating – 4.2/5 (76 reviews)
Capterra Rating – 4.6/5 (38 reviews)
YAMM stands for Yet Another Mail Merge. As the name implies, this tool enables you to send personalized emails in bulk. It was launched back in 2014 and happens to be one of the most trusted email productivity tools.
In terms of functionality, YAMM is simpler than MixMax. It does not offer any sales engagement features or sequence personalization. Instead, this simple tool integrates with your GSuite and allows you to send bulk emails by linking Gmail and Google Sheets.
In other words, if you have the details of all your prospects listed in a Google Sheet, you can use YAMM to link the sheet to your Gmail and schedule bulk personalized emails. It also allows you to track basic essential metrics like open rates and bounce rates.
YAMM also offers a simpler and more user-friendly interface than MixMax, which makes it a good choice for beginners who are new to email automation.
Pricing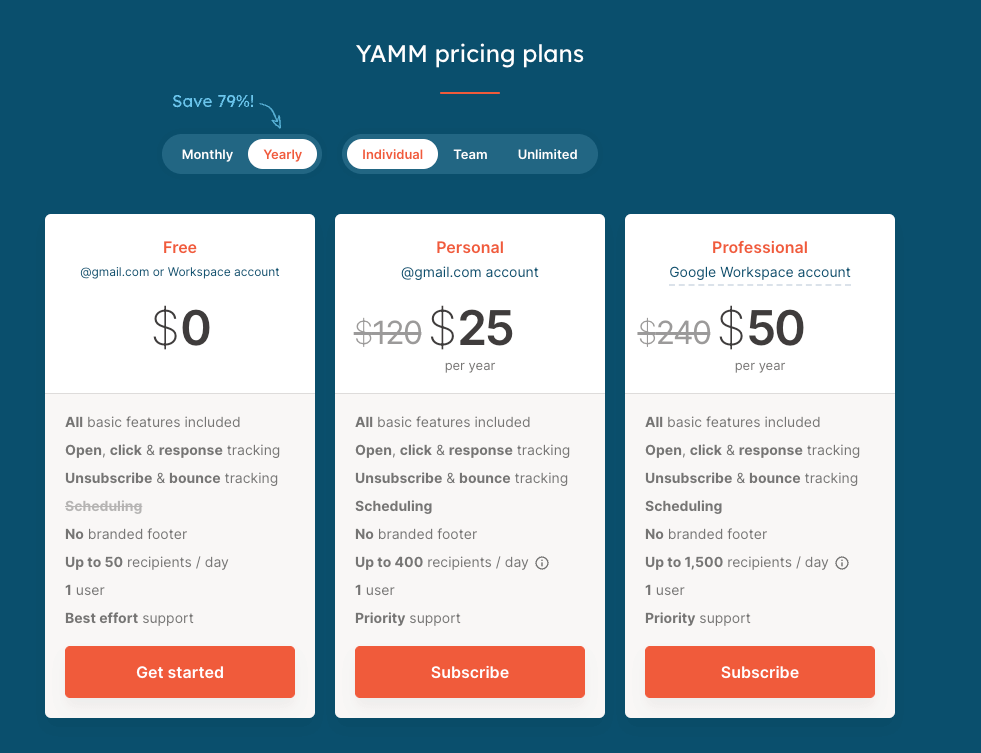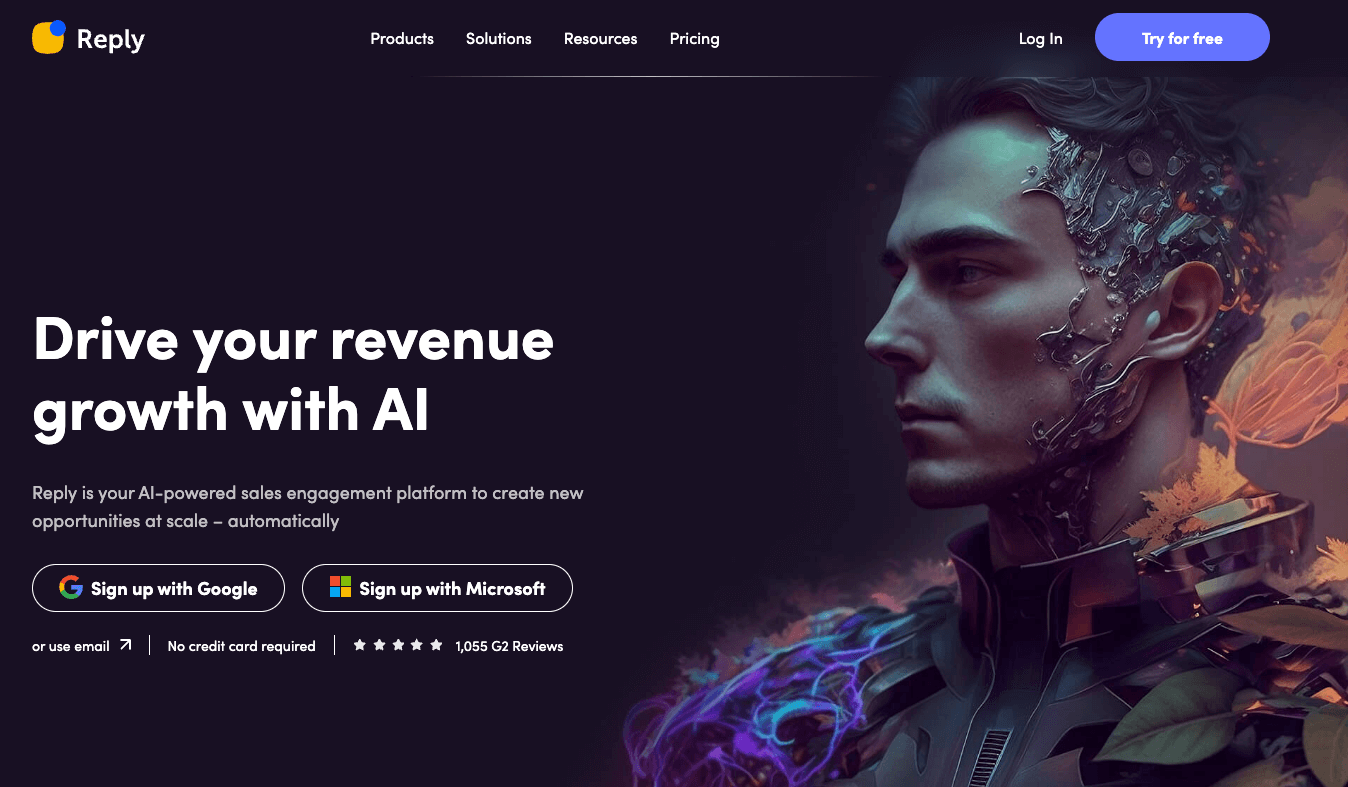 G2 Rating – 4.6/5 (1062 reviews)
Capterra Rating – 4.6/5 (362 reviews)
If you have a large team (i.e., 50+ members) and you're looking to upgrade to an all-in-one sales engagement platform, Reply.io might be a great option. This means the tool is very similar to SalesLoft. But Reply.io is a better choice if easy team management is your prime concern, while SalesLoft is a better choice if precise analytics and data-backed decisions are your main needs.
Here's a detailed insight into Reply.io's key features:
Analytics: Open rates, link activity, and attachment activity.
Customizations: Email platform integration, email scheduling, notifications, email categorization, and templates.
Integrated workflows: Task management, email tracking/automation, and CRM integration.
Repeatability and reportability: Content management, workflow management, workflow performance, and sales coaching & insights.
As you can see, Reply.io offers greater functionality than MixMax. Plus, Reply.io's reportability features are much more comprehensive and detailed as compared to MixMax.
Pricing
Reply.io offers a free plan for email search and data. But if you want to avail of its sales engagement features, you'll want to consider one of the following plans: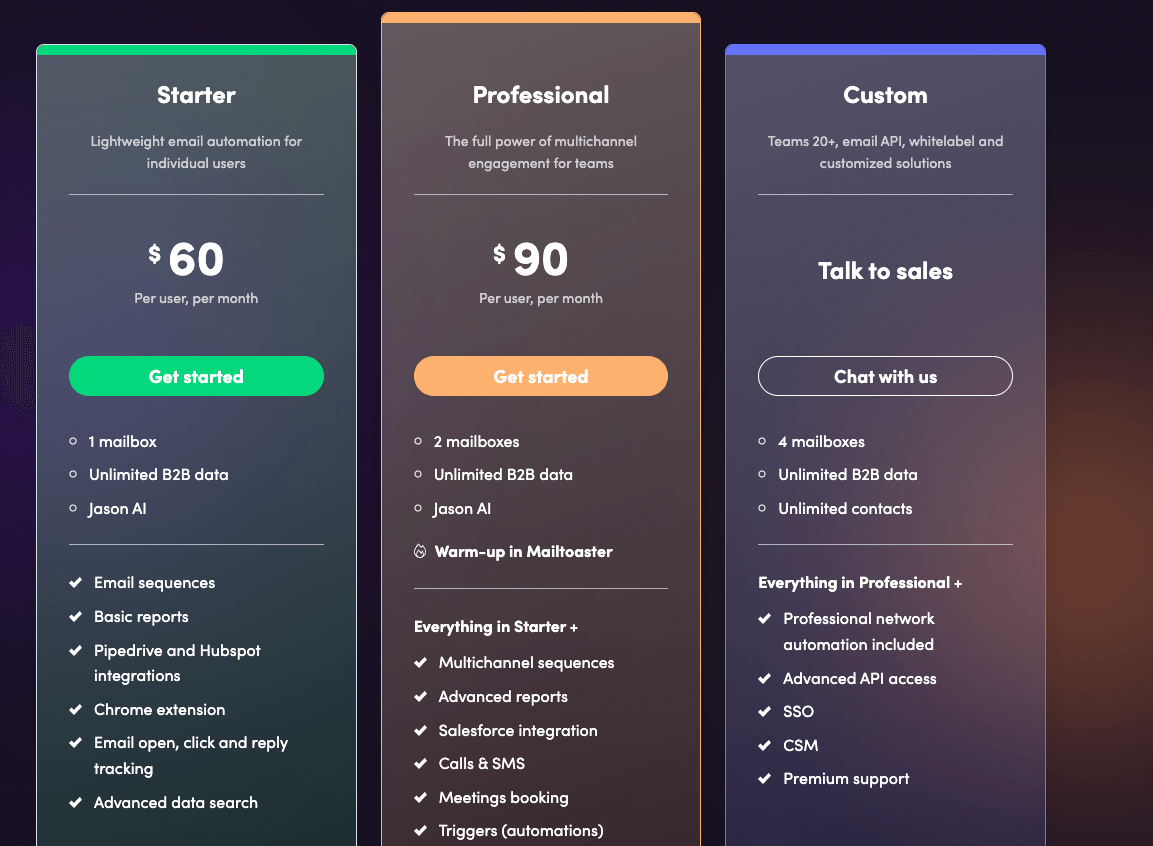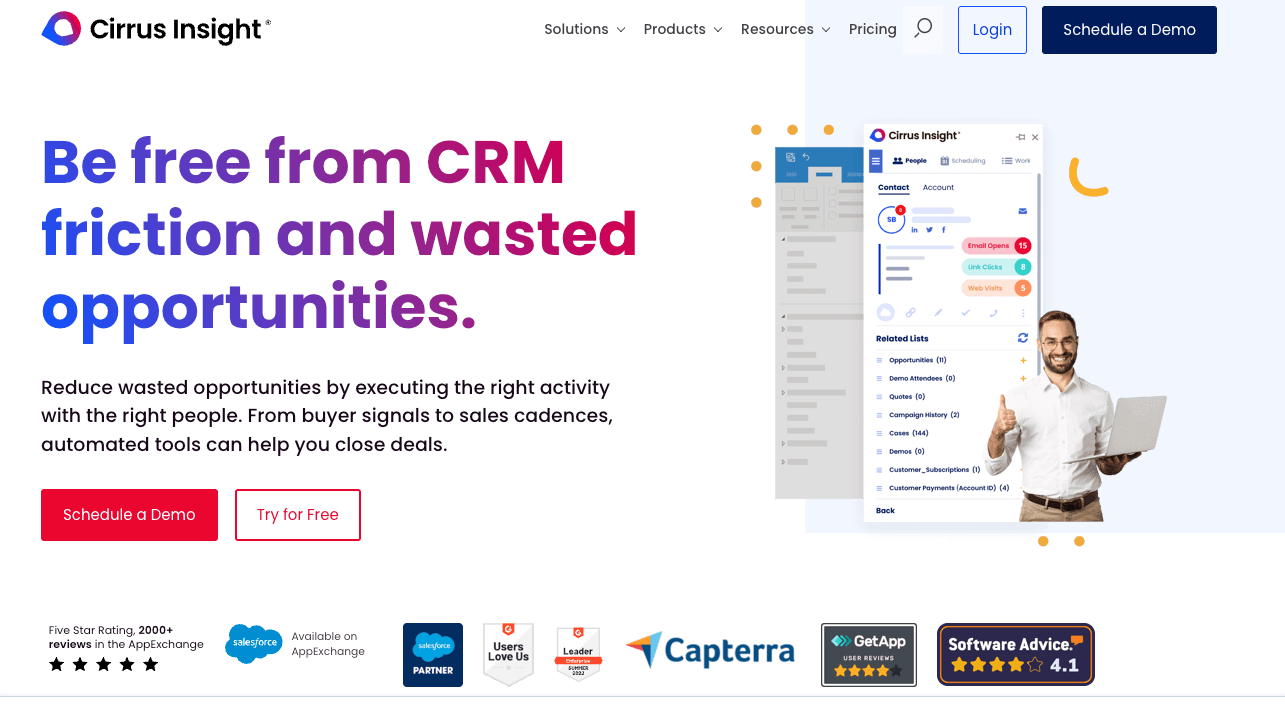 G2 Rating – 4.2/5 (1357 reviews)
Capterra Rating – 4.1/5 (108 reviews)
Cirrus Insights is also a great MixMax alternative for growing teams. It offers everything from email automation to lead generation. And it's intelligent enough to monitor your inbox and automatically send relevant emails to leads in Salesforce records!
But the most prominent advantage of Cirrus Insights over MixMax is its CRM integration capabilities. Cirrus Insights integrates seamlessly with popular CRMs such as Salesforce, Microsoft Dynamics, and SugarCRM. Thus, it allows you to manage your email and sales data in one place. MixMax also integrates with some CRMs, but not as many as Cirrus Insights.
What's more, Cirrus Insights offers some unique features that MixMax does not have, such as the ability to create and edit Salesforce records directly from your inbox and a meeting scheduler that syncs with your calendar. Additionally, Cirrus Insights has a mobile app that allows you to manage your emails and CRM data on the go.
Pricing
Cirrus Insights does not offer a free plan like MixMax. But its paid plans start at a lower price point than MixMax's plans.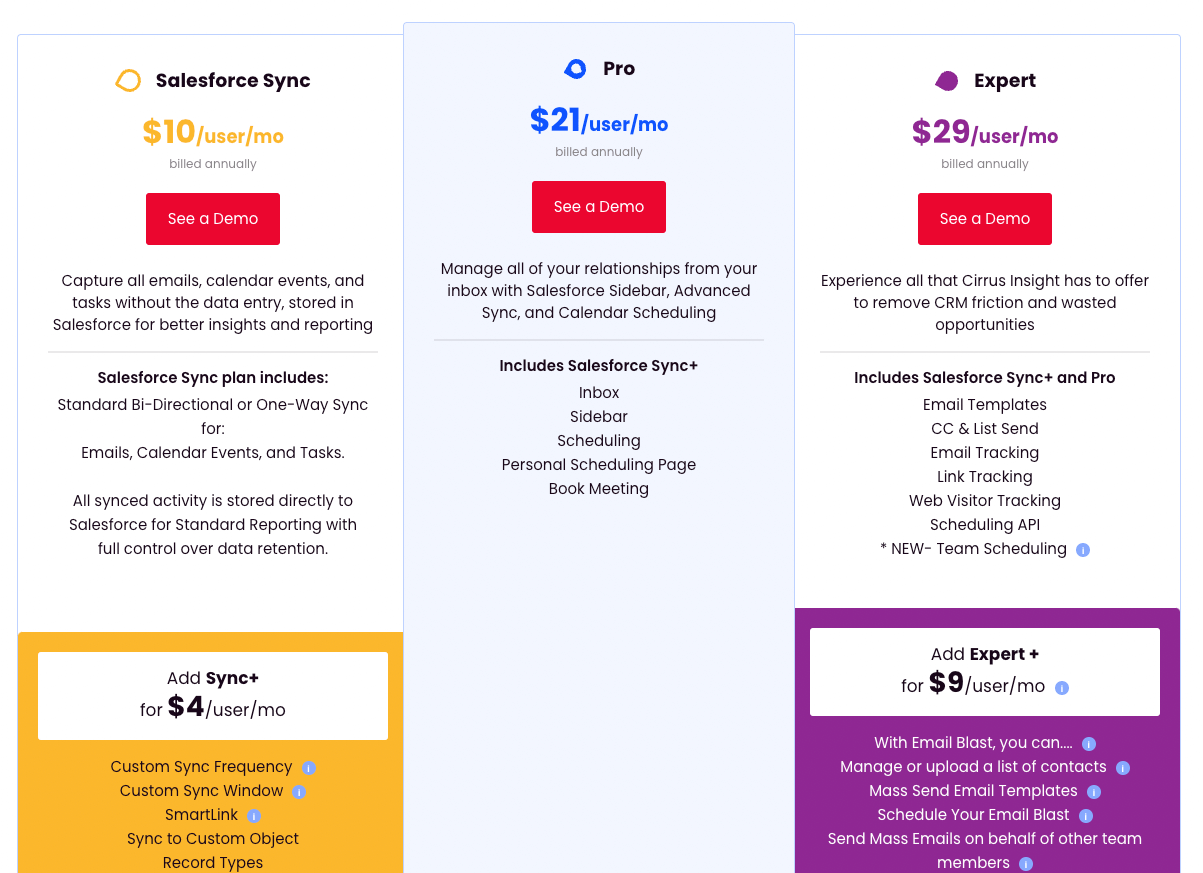 The Bottom Line
Mixmax is a great product for people looking for a lightweight inbox add-on and early stage email automation.
For most people, however, Mailshake:
Has much more powerful mail merge features
Integrates with your whole tech stack
Offers best-in-class customer success