How Pangolia Uses Mailshake for Affiliate Partnerships Success
How Pangolia Uses Mailshake for Affiliate Partnerships Success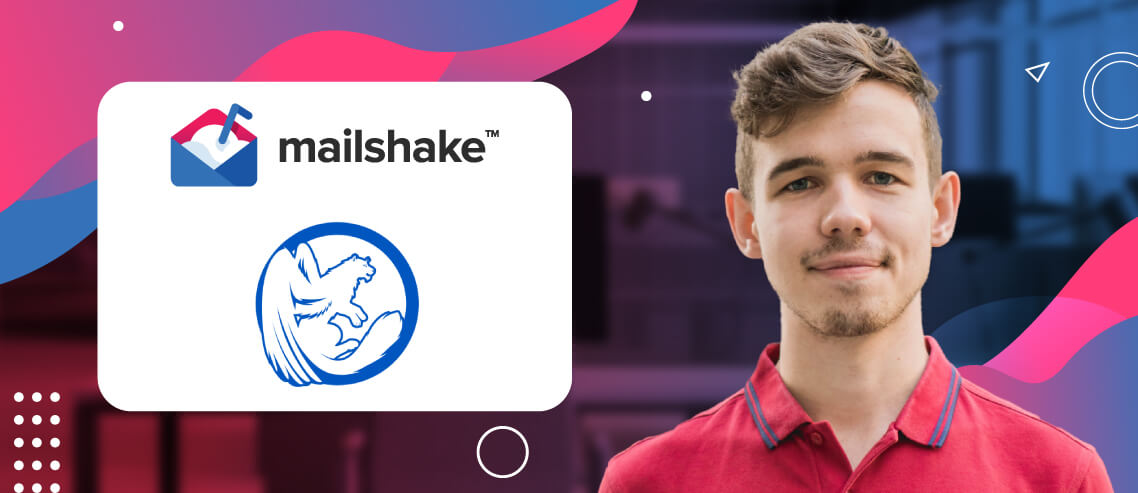 Pangolia is an authority in the pet world that owns digital media sites like PetKeen and Hepper. Their goal is to help pet owners and pets live their best lives, so they work with professional vets to create authoritative and accurate pet content, covering everything from cats and dogs to reptiles.
But simply helping others doesn't make for a very profitable business, so Pangolia also earns affiliate commissions by partnering up with other pet businesses. This not only helps them make money (7 figures in this case), but also allows them to bring the best products and resources to their audience.
Now, initially, affiliate outreach was painful, slow, and inefficient for Pangolia. They were:
Doing everything manually
Failing to personalize their emails
Using basic and messy spreadsheets
Losing potential partnerships by not following up
Enter Mailshake! We helped Pangolia overcome all of these problems and take their affiliate partnerships over the 7-figure mark.
So we reached out to their CEO — Simon Treulle — to learn why they chose Mailshake (out of all the tools on the market) and how they used it to achieve this feat.
Read ahead to learn how Mailshake took Pangolia's affiliate partnerships past the 7-figure mark and — if you pay attention — how it might do the same for you!
Why Pangolia Chose Mailshake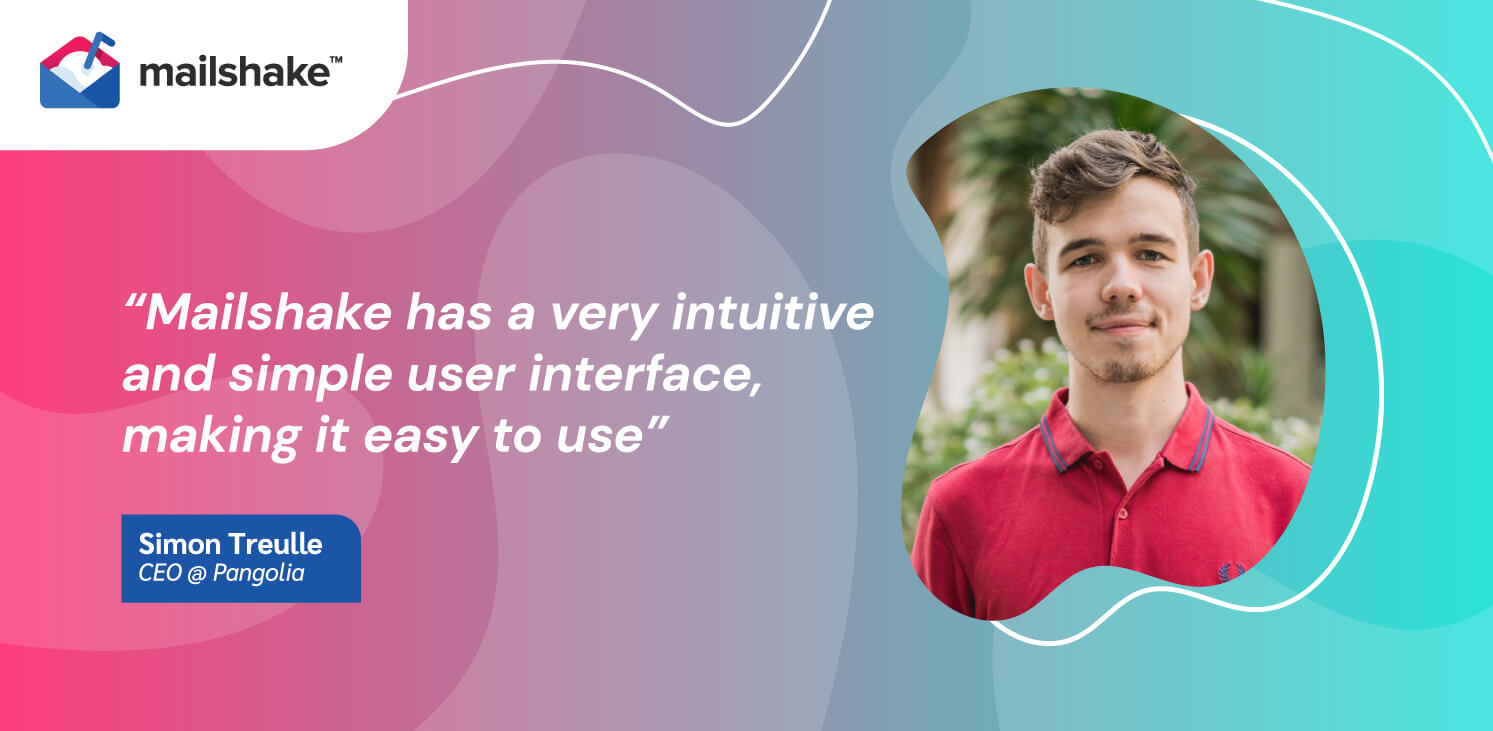 This was the first thing we were interested in knowing. Simon revealed that he had tested multiple tools before settling for Mailshake, and here's why he did so:
Mailshake has a very intuitive and simple user interface, making it easy to use.
It is not overloaded with obscure and impractical features — it has only those features that are needed to turn your outreach into success.
It reports only the most important metrics when it comes to outreach, allowing you to easily track your progress and make appropriate changes.
Mailshake is super easy to integrate with Google Workspace email accounts, which are highly reputable and very less likely to get marked as spam.
It only takes a few minutes to set up an email campaign with Mailshake.
According to Simon, all of these features synced perfectly with one of Pangolia's main ethos — "keep it stupidly simple".
He also revealed that, "If we didn't have a tool like Mailshake – we would have 8 people instead of the 3 team members doing outreach today".
In essence, the ease of use and lack of friction that you get with Mailshake is what sold it to Pangolia. But what exactly did they do to secure 7-figure affiliate partnerships? We've spilled the beans in the next section.
4 Steps That Pangolia Uses To Secure Lucrative Affiliate Partnerships
Pangolia uses Mailshake in a simple but effective 4-step workflow to help them secure long-term, meaningful, and highly profitable affiliate partnerships.
Step 1: Find the Right Prospects
There are 2 ways Pangolia does this:
Find out the companies, products, and services their audience is talking about
Figure out who their competitors are partnering up with
Once they have a list of companies, they use an email finder like Hunter.io to find email addresses of the people working in each company.
But here's what they do differently than other companies — they get very specific with who they are reaching out to within a company.
Their goal is to connect with the right person, which is someone like a partnerships manager or a marketing executive.
Simon believes you're more likely to get a reply from the same company if you reach out to someone relevant than — for example — customer support.
Step 2: Clean up email lists using Mailshake's List Cleaning feature
Once Pangolia has a list of email addresses they want to contact, they import their spreadsheet into Mailshake. Mailshake makes it very easy to do this, so it's not even a real "step".
But once the addresses are inside Mailshake, Pangolia cleans it up using our List Cleaning feature. This feature is powered by Voila Norbert — the most accurate email finding tool in the market today — and is available within Mailshake's interface.
It basically weeds out any invalid — or inactive — email addresses that your list might contain, which has two benefits:
You don't your efforts on email addresses that don't exist
Your email deliverability rates don't take a hit and your future emails don't land in the spam folder
In addition to cleaning out their lists, Pangolia also uses only Google Workspace email accounts to send emails. That's because they're highly reputable, increasing Pangolia's deliverability even further.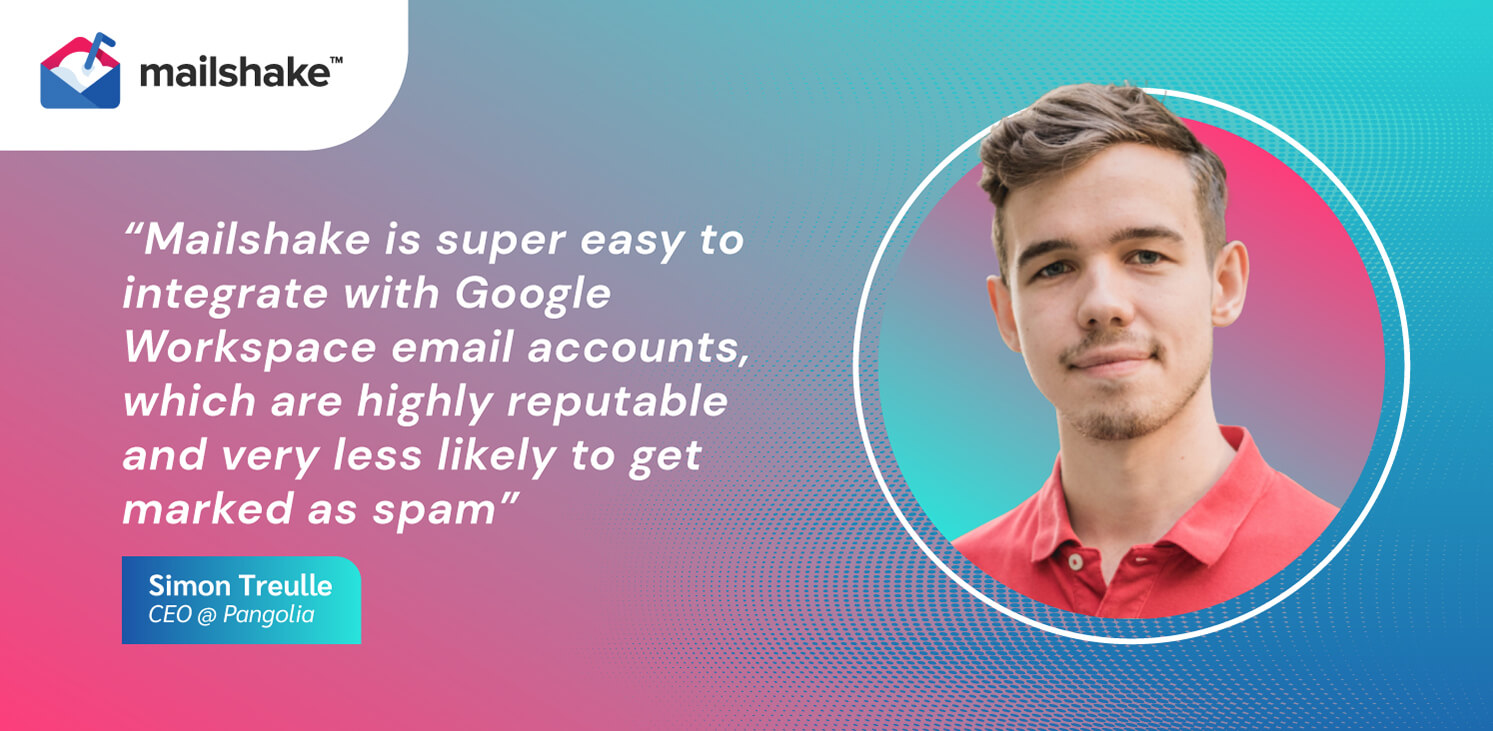 Step 3: Send Personalized Emails
Once they've cleaned up their lists, Pangolia starts sending out personalized emails to their prospects.
Simon reveals that they like to keep their emails short, happy, and personalized at Pangolia. They address their recipients by their names and make sure to compliment the product or service they're trying to build a partnership around.
Here is an example of Pangolia's outreach emails:
You can see how Mailshake automatically fills the "name" and "product" fields using the email spreadsheet you import into it. This saves you countless hours writing each email manually, and can increase your response rate by 250%.
Step 4: Follow Up
Data suggests that it takes an average of 8 touch points before you close a deal. But in Pangolia's case, 2 follow ups seems to be the magic number, which they schedule after 7 and 14 days of the initial email.
Of course, Mailshake proves useful here as well, as it allows you to schedule and send follow ups without any hassle.
Interestingly, Simon endorses Mailshake's guide on writing follow up emails, which has helped his company improve their follow up game.
Finally, Simon likes to keep an eye on all of his campaigns using Mailshake's Campaigns Overview feature, which divides your campaigns into 3 categories:
This gives him a bird's eye view of what's going on and allows him to continuously improve his outreach strategy.
Before Mailshake, Pangolia was using basic (and messy) spreadsheets to keep a track of their campaigns which — as you can imagine — didn't go too well.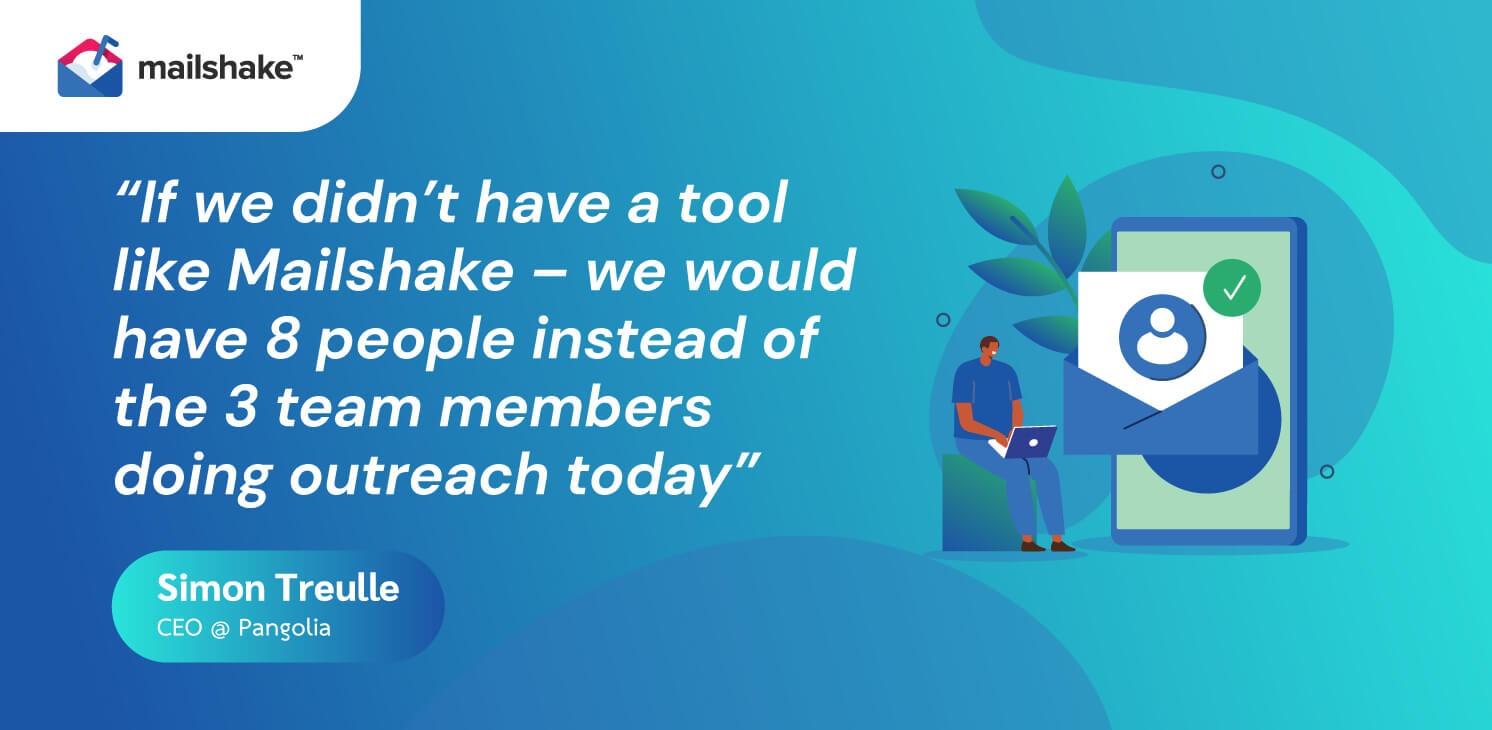 Final words
So there you have it — 4 simple Mailshake features that took Pangolia's affiliate outreach to the next level:
List Cleaning
Mail Merge (which lets you personalize emails)
Scheduled Follow Ups
Campaigns Overview
Just make sure to use these features correctly when trying to improve your email outreach, and you'll be set up for success. Nothing extra, nothing complicated!