The Complete Dialer Guide for 2023
You've got targets your cold-call team needs to meet, but they just don't seem able to reach them on a regular basis. Your team is working their hardest, but you may not have the processes in place that will allow them to succeed.
Cold calling is often an inefficient process.
Time is lost dialing numbers, waiting to connect, and listening to voicemail messages. All of this lost time can be reduced though, and power dialers are one option that businesses turn to.
What Is a Power Dialer?
A power dialer is a system that automatically dials numbers on a contact list in order to find leads for your rep to speak to. This saves your sales rep from having to type in a new contact number after every call.
Many power dialers will connect through your CRM, accessing your contact lists and dialing the numbers when the agent is ready. With power dialers, the rep is always on the line, so prospects are connected to someone as soon as they pick up. The system waits until each call is completed before proceeding to the next.
As the rep is connected, they will get a pop-up with the customer's information, giving them a brief background and personal details. However, it doesn't afford much time to create a personalized approach to each customer, so it's a solution that's often better suited to cold calls where a fixed script is used.
What Is an Auto Dialer?
An auto dialer is a device or piece of software that stores and automatically dials numbers. Often, it will play a pre-recorded message when the recipient picks up, but it can also connect them through to a live agent.
It's commonly used in call centers and among sales teams to help reps get through their call lists more quickly. However, there are strict regulations surrounding the use of auto dialers, so if you're thinking of using them in your business, it's important to make sure you understand the relevant state and federal laws.
Making outbound calls can be very time-consuming. You spend time dialing numbers, waiting to connect, and waiting on voicemail machines, which is inefficient. Auto dialers are one way to make outbound calls more efficient, helping to improve ROI.
What's the Difference Between a Power Dialer and an Auto Dialer?
Power dialers automate the dialing process before handing the call off to a sales rep. An auto dialer, on the other hand, automates the entire process, playing an automated message rather than connecting the lead to a sales rep.
It's important to note that there are many restrictions on the use of auto dialers, so if you intend to use any form of sales dialer, it's important that you understand the regulations in your local area.
However, personalization is a huge part of marketing and sales, which is why many businesses find the power dialer to be an effective tool. Power dialers leave the talking to a human sales rep, which allows for greater personalization.
When you can personalize your messages and make them relevant to the person at the other end of the phone, it's likely to result in a better conversion rate.
Introducing Mailshake's Power Dialer
Speed is important for outbound sales, but it isn't everything. Power dialers allow you to get through a list very quickly, but they don't easily allow for the level of personalization that modern marketing often requires.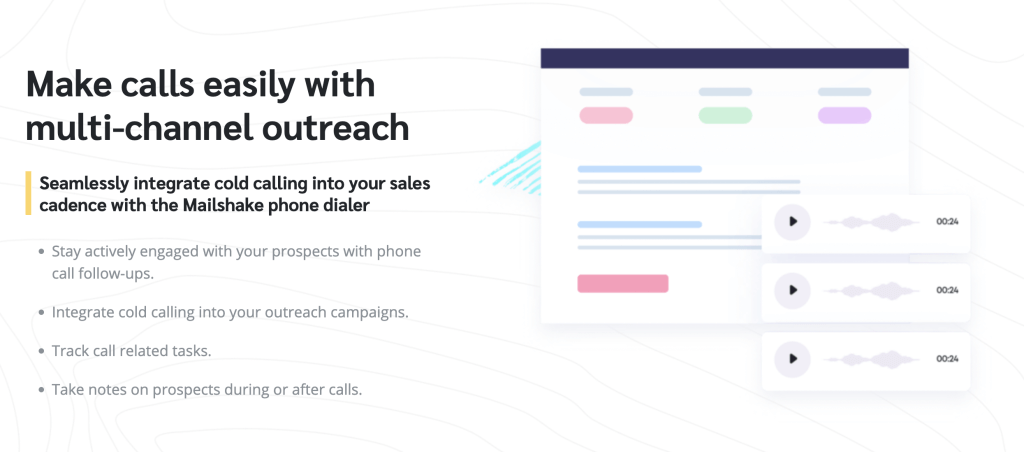 With Mailshake's dialer, your sales reps have a huge amount of information at their fingertips, they have more time to plan out their conversations. This leads to higher quality calls and more conversions.
You need your teams to work quickly, but they also have to be in control of the process if they're going to bring some personalization to the call. With Mailshake, you've still got a dialer to get you through your lists quickly, but you can also add extra personalization that's not easy to do with a power dialer.
When considering any type of sales dialer, always be sure to check local and federal laws and regulations before you get started.
Pros and Cons of a Power Dialer
There are many different options when it comes to sales dialers, so it's important that you choose the right one for your business and make sure that you don't end up paying for any features you don't need.
Here are some of the pros and cons of power dialers:
Pros
Power dialers are a quick and efficient way of getting through a dialing list. While they don't facilitate the highest level of personalization, they do allow agents to set their own dial rates, giving them a better chance to personalize their pitch than, say, predictive dialers.
In addition, always on the line when connected, so there's no delay when a prospect picks up.
Cons
A power dialer is something of a middle ground. It allows you to get through a good number of calls each day, but not as many as a predictive dialer. It also allows you a greater level of personalization than a predictive dialer, but still not at the level of other dialing options.
Reps don't get much time to understand the lead before they're connected, and this can lead to very surface-level conversations. This means power dialers won't be right for every business, and it depends on the kind of sales you're doing.
Pros and Cons of an Auto Dialer
Auto dialers are a popular tool in certain situations, but they also have their drawbacks. They allow businesses to reach a lot of people very quickly, but the level of personalization within those calls is very limited.
Pros
Can reach a huge number of people in a short space of time
They only connect calls when a prospect has shown interest (e.g. by picking up)
Very useful for conveying simple messages quickly (e.g. appointment reminder, cancellation, confirmation message)
Cons
They can be seen as spammy (many people don't like receiving automated messages)
There's a delay between the customer picking up and them being connected with an agent (this makes it clear it's a sales call, causing some people to hang up)
Their use is heavily regulated (i.e., in the US it's illegal to use auto dialers to call cell phone numbers)
What Is a Sales Dialer?
Where do your sales reps lose valuable time when making outbound calls?
For most businesses, it's locating the next lead's number and dialing it into the phone. It may only take 20 seconds, but when you add this up across hundreds of employees, making large volumes of calls over an entire year, it soon turns into a staggering amount of time.
Sales dialers reduce the amount of time wasted when making outbound calls by automatically dialing numbers instead of the employee dialing manually.
Outbound calling is very goal-oriented, and it needs to create leads and convert sales. This means that employees have quotas they work to hit, but the stats show many sales reps are struggling to meet these targets.
To allow your staff to hit their targets (and show the ROI in your outbound sales), you need to invest in the right tools, and for many businesses, this means introducing sales dialers.
How Do Sales Dialers Work?
Sales dialers generally connect through your CRM and import your contact list. The software will then go through the list and automatically dial numbers.
Different sales dialers offer slightly different features, allowing the reps to connect directly with prospects or leave a message, while some others use predictive technology.
Within the sales dialer umbrella, you will find four main options:
Preview Dialers – Allow the rep to preview the contact in the CRM before automatically dialing
Progressive/Power Dialers – Power dialers can call through a sales list one number at a time, automatically dialing the next number when the rep finishes the previous call
Automated Dialers – Auto dialers are similar to power dialers, but are often used to leave automated messages rather than connecting to an agent
Predictive Dialers – Use algorithms to screen out busy signals, disconnected phones, etc., and can call multiple numbers at a time, connecting active calls with the first available sales rep.
It's not just time spent dialing that hurts your team's efficiency – it's waiting to connect as well. Predictive dialers can help limit the amount of time lost due to people not picking up by dialing up to four numbers at a time. The first person to pick up will be put through to an available sales rep, meaning less time is spent waiting to connect.
What Is a Predictive Dialer?
A predictive dialer is a type of automated dialer designed to boost efficiency in call centers. It automatically dials through a call list, directing calls to agents as they become available, differentiating it from other sales dialers.
Using voice detection to recognize when someone has picked up the call, a predictive dialer ensures sales agents are spending more of their time speaking to prospects and less time waiting to connect.
This allows call centers to get through their contact lists much more quickly, spending more time speaking to prospects, and maximizing their return on investment.
What are the Limits of Predictive Dialers?
Predictive dialers are certainly efficient, but they also have their limitations.
One of the main problems with predictive dialers is there can be a long pause between the prospect picking up the call and them being connected to an agent. People can find this very annoying – after all, you're the one calling them.
This might mean your prospect is already less receptive to your message before the conversation has even started.
Another difficulty is that everything happens so quickly for the sales agents. While they may get some key information flash up on their screen when they are connected, they don't have the time and detailed information to personalize the call.
Personalization is such a big part of modern sales, so this can be a major drawback with predictive dialers.
When considering a predictive dialer you have to take this into account. It's important you get through your call lists, but at the same time, you've got to remember that high-quality calls lead to people taking action. This may be more difficult to achieve with a predictive dialer than other methods.
Why Mailshake's Sales Dialer is Better Than a Predictive Dialer
Mailshake's dialer is a better option than predictive dialers for many businesses because of its high level of personalization.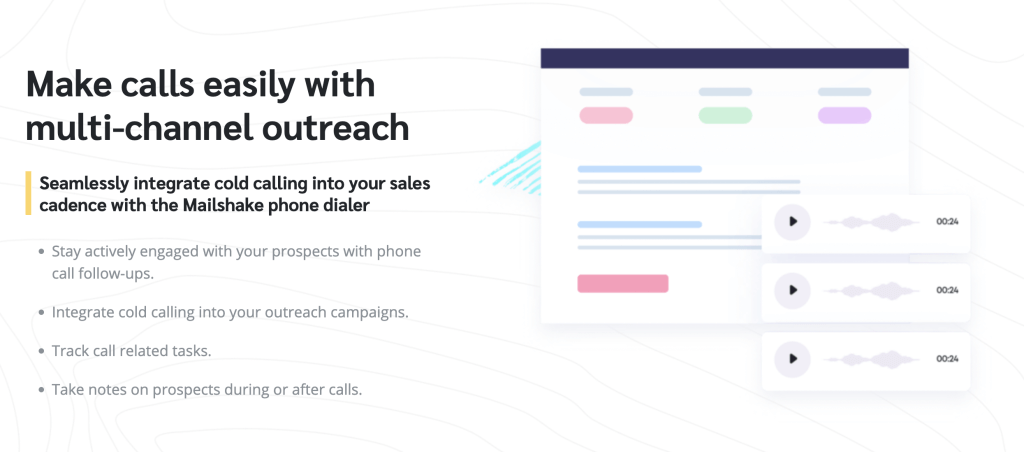 Rather than just connecting a sales agent with a prospect (at the last second), it gives you time to plan each interaction before initiating it. You have everything in one place, combining call, email, and social outreach to create more meaningful interactions with the customer.
Yes, time is important and you don't want to waste it waiting for people to pick up, but you've got to think about the quality of the calls as well. Many businesses are finding that Mailshake's dialer offers the best of both worlds, helping them to create more leads and close more sales.
Best Sales Dialer Software
There are lots of different sales dialers on the market, each with slightly different pricing and features.
Mailshake isn't just a sales dialer, it's a complete sales engagement tool. It brings your cold calls, email sequencing, and social outreach together to maximize the effectiveness of each channel.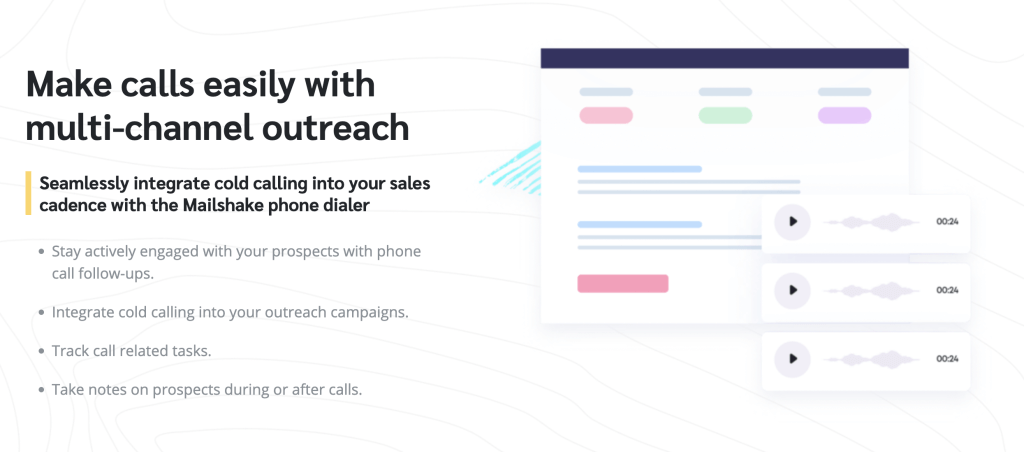 Some key features include:
One-click calling through your browser
Record calls and automatically sync them to your CRM
Take notes on prospects and call details
Control how you automate your dialing
A $99 per month plan gets you:
Phone dialer
Social selling
Create custom tasks
10k list-cleaning credits a month
10k recipients per campaign
Unlimited free dialer minutes in North America
Mailshake offers a holistic approach to cold outreach, giving you the tools to succeed in many different areas. There are also some great updates to the dialer in the pipeline, so keep an eye out for those.
Dialpad offers a convenient integration with your CRM and has a strong focus on the use of AI. Through speech coaching, it can give sales reps feedback on how they're performing, notifying them if they're speaking too slowly, quickly, or too much. It also uses speech intelligence to analyze the customer's responses, giving reps suggestions about the right things to say.
Features include:
Video conferencing, dialer, and SMS
Speech coaching
Post-call analytics
Objection handling
Voice intelligence
A standard $20 per month plan gets you:
Unlimited calling
Unlimited SMS and MMS
Call controls
Custom voicemail greeting
Voicemail transcriptions
Google and Office 365 integrations
Fax
Custom off-hours routing
PhoneBurner allows you to set up quickly and get straight to the business of making outbound calls. It offers 100% delay-free connections and two different ways to dial.
With easy CRM integration, it aims to streamline the entire call process, allowing your business to easily manage and nurture its leads.
Features include:
Two dialing modes (pause & preview, and power)
Integrates with your existing phone setup
Easy scalability
Smart search to quickly filter leads
Integrate with over 150 apps
A $149 per month per user plan gets you:
Unlimited power dialing
Voicemail drop
Email sending
Call tracking and analytics
Call recording
Call transfer
Smart lead distribution
Real-time reports and leaderboards
Natterbox is a dedicated voice solution for Salesforce. It seamlessly integrates with your Salesforce CRM to give you powerful automation. With local presence dialing, click to dial, and call queues, it aims to boost the efficiency of your reps and the experience of your customers.
Features include:
Intelligent IVR
Call disposition codes
Real-time call coaching
Click-to-dial
Voicemail
Call queues
Automatic call distributor
Local presence dialing
A $52 per month per user plan gets you:
IVR, ACD, and call routing
Click to dial
Screen pop
Voicemail drop
Call recording
Real-time coaching
Real-time dashboard
RingDNA allows you to perfect your workflows and eliminate the busywork from your outbound sales. With quick onboarding and helpful tools such as pre-recorded voicemails, it's designed to get your sales reps blasting through lists.
Features include:
Chrome extension
Easy integration with Salesforce
Local presence
Voicemail drop
Call recording
Call monitoring
For detailed pricing and to select the features your business needs, you'll need to reach out to the company directly.
Voicent offers you lots of different voice, SMS, and email options to suit your business. Choose between different packages, and complement them with add-ons such as appointment reminders, phone surveys, and Voicent CRM to get the most out of your outbound sales.
Features include:
Built-in CRM with auto-tracking
Cloud or on-premise solution
Dynamic call scripts
Call routing and forwarding
Call recording and whisper coaching
A basic predictive dialer plan costs $19 per month per user and includes:
Built-in CRM
Auto dialer
Predictive dialer
Progressive dialer
Preview dialer
2 voice channels
Best Power Dialer Software
There's a lot of different power dialer software to choose from, so which ones should you be looking at?
1. Aircall
Aircall's power dialer automatically grabs phone numbers from your prospect's website, adding them to your call queue.
With the dialing taken care of, your agents can quickly work their way through their listings, making use of screen-pops with information synced from Salesforce. Follow up with notes and tags in the Aircall app, and they will automatically sync to your CRM.
The basic package costs $35 per month per user.
2. CloudTalk
CloudTalk offers a simple-to-use interface that syncs with all your devices and services. With its click-to-call power dialer, it aims to limit downtime and enable your sales reps to have more meaningful conversations.
With the added benefit of live coaching, it's there to help you make sales and see a greater return on your investment.
Get set up with CloudTalk's starter package from $20 per month per user.
3. Grasshopper
Grasshopper brings the power dialer to your personal device by adding a business line. This is ideal if you're a small business and need to keep things simple and minimize costs.
This allows you to keep your work and personal number separate while accessing your business phone system from anywhere. Choose your own number and select a plan, and Grasshopper will seamlessly integrate with your business.
Get started with a Basic plan at $26 per month per user.
4. PhoneBurner
PhoneBurner allows you to connect through the cloud from anywhere, making it easy to set up your power dialer.
With two dialing modes, which it calls "fast" and "really fast," it gives you good flexibility and promises 100% delay-free connections. An intuitive CRM and intelligent features such as smart search, make it a good option for many businesses.
Get set up from $149 per month per user.
5. Five9
Five9's power dialer aims to put you in control, offering different dialing modes and allowing you to set your own calls-to-agent ratios.
With a number of different CRM integrations, campaign and list management, CTI screen pop, answering machine detection, and many other features it's a powerful tool for your business. Whether you're prospecting, qualifying, nurturing, or converting, it's got different features to help you achieve your goals.
To get started with Five9 enquire online.
6. CallHippo
CallHippo gives you a simple, easy-to-use power dialer that's designed to make your business more efficient. Import your contacts from a spreadsheet, start the campaign, and let the app keep dialing through the list for you.
With a host of different features including call conference, call transfer, and smart call forwarding, it's a quick way to improve the performance of your sales team.
Basic packages start at $14 per month per user, rising to $35 per user per month for the platinum package.
7. Dialer.ai
Dialer.ai offers a flexible package with good onboarding and support throughout. With a host of different features, including phone surveys, dynamic callerID, and text-to-speech, it can help your sales force get the most out of each call.
Pricing is based on the number of ports you require, with the basic package including 25 ports for $199 per month.