Sales Engagement Platforms: Definition, Examples, and Platforms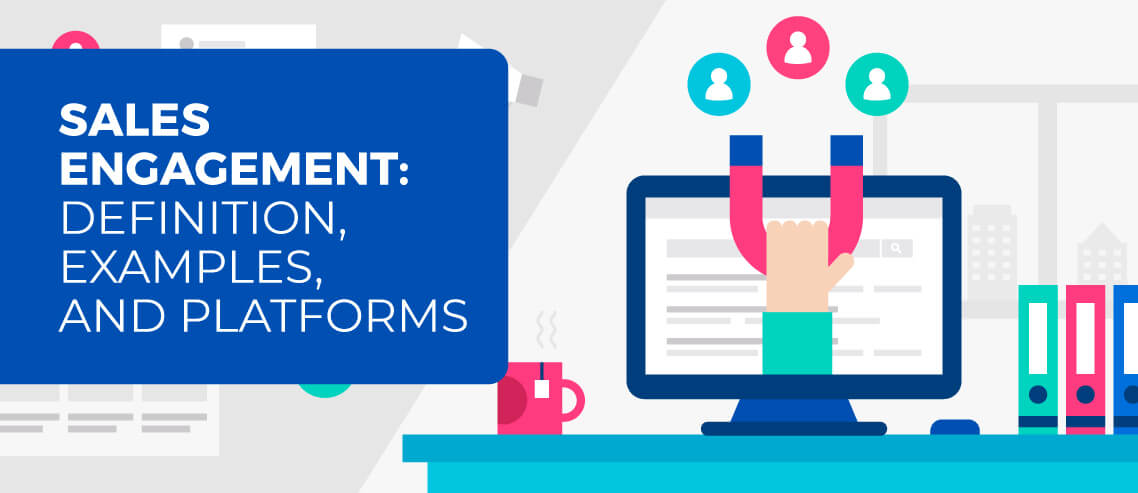 Engagement is key to modern sales. In a world of instant gratification, it's even more difficult to grab people's attention and hold it. This means sales engagement has to be a big focus for your business and sales engagement platforms can help with this.
Managing a big sales pipeline is complicated. You've got lots of leads all at different points in the funnel, so how can you make sure you're giving them the information and advice they need at each step of the journey?
The answer might be in your sales engagement platform.
What Is Sales Engagement?
Sales engagement refers to the interactions and exchanges that occur between sales reps and their prospects or customers.
It's the touchpoints that get your foot in the door, keep the conversation flowing, and ultimately lead to a sale. Sales engagement encompasses how you communicate, at what frequency, and the substance of your interactions.
These exchanges can be monetary or emotional, in-person or on a virtual platform. They could take the form of a long meeting or phone call, or simply attendance at a webinar or engagement with a chatbot.
Methods of sales engagement have shifted significantly in the past thirty years alone – salespeople used to rely more on traditional mail and door-to-door selling, for example. And they will inevitably continue to change as sales tactics and communication channels also evolve.
Whatever the form of sales engagement, however, it is always:
Geared toward relationship building
Personalized
Modern software now allows salespeople to track analytics around sales engagement as well – whether it's email response rates, top-performing sales channels, or how much time a prospect spent on a webinar.
However, sales engagement is not automation. It's about putting in the work to create genuine client relationships, and improving the quality and efficiency of your prospecting and conversion efforts through the power of real-time analytics.
Done right, sales engagement allows reps to understand the buyer journey and to jump in and provide support at the right times during this journey.
Top 5 Sales Engagement Platforms
When you're communicating with leads on a large scale it's difficult to identify what works and what doesn't. There's too much data to sift through manually and this means you might not be optimizing your processes.
A good sales engagement platform should effortlessly allow you to personalize your communications and build relationships, but it's also got to offer powerful insights. It's only when you can see the data and are able to test new strategies that you can begin to optimize your sales engagement.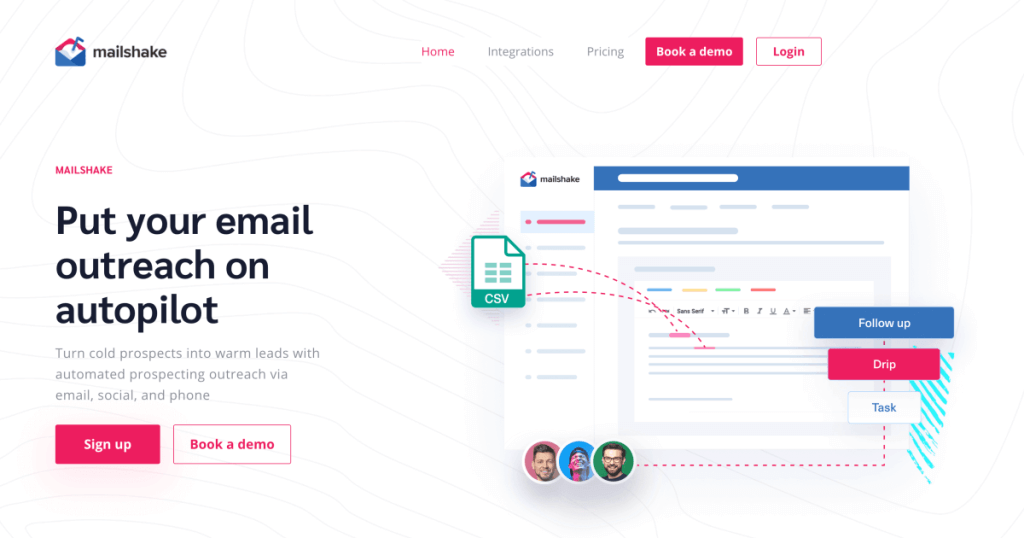 Mailshake is designed to help you put your sales outreach on autopilot. Send personalized cold emails at scale and take the first step towards building a relationship.
One of the most powerful features of Mailshake is its seamless A/B testing. As you're creating your email series, test different versions and see powerful insights to help you improve your engagement.
With hundreds of integrations to software like Salesforce, HubSpot, and Slack, you can build multiple touchpoints with your prospects and nurture them all the way through your sales funnel.
Automation allows you to engage leads until they become warm, at which point, you're able to jump in and take over manually.

Key Features:
Fully automated outreach – easily add personalization, pause drips when a lead replies, build sequences in minutes.
Powerful analytics – measure your campaign's performance in minute detail, see which part of your campaign is converting, and improve performance with A/B testing.
Lead Capture – Manage leads in a single click, get a complete overview of each lead's history, automatically send lead data to your CRM.
Multichannel Sequences – Incorporate LinkedIn and other social media to make your sales engagement truly multichannel.
Dialer – Add calls to your engagement with an automated dialer.
Pricing:
Email Outreach Plan: $44/user/month with an annual subscription ($59/user/month with a monthly subscription)
Sales Engagement Plan: $75/user/month with an annual subscription ($99/user/month with a monthly subscription)
All plans come with a 30-Day Guarantee
See more details here.
2. Outreach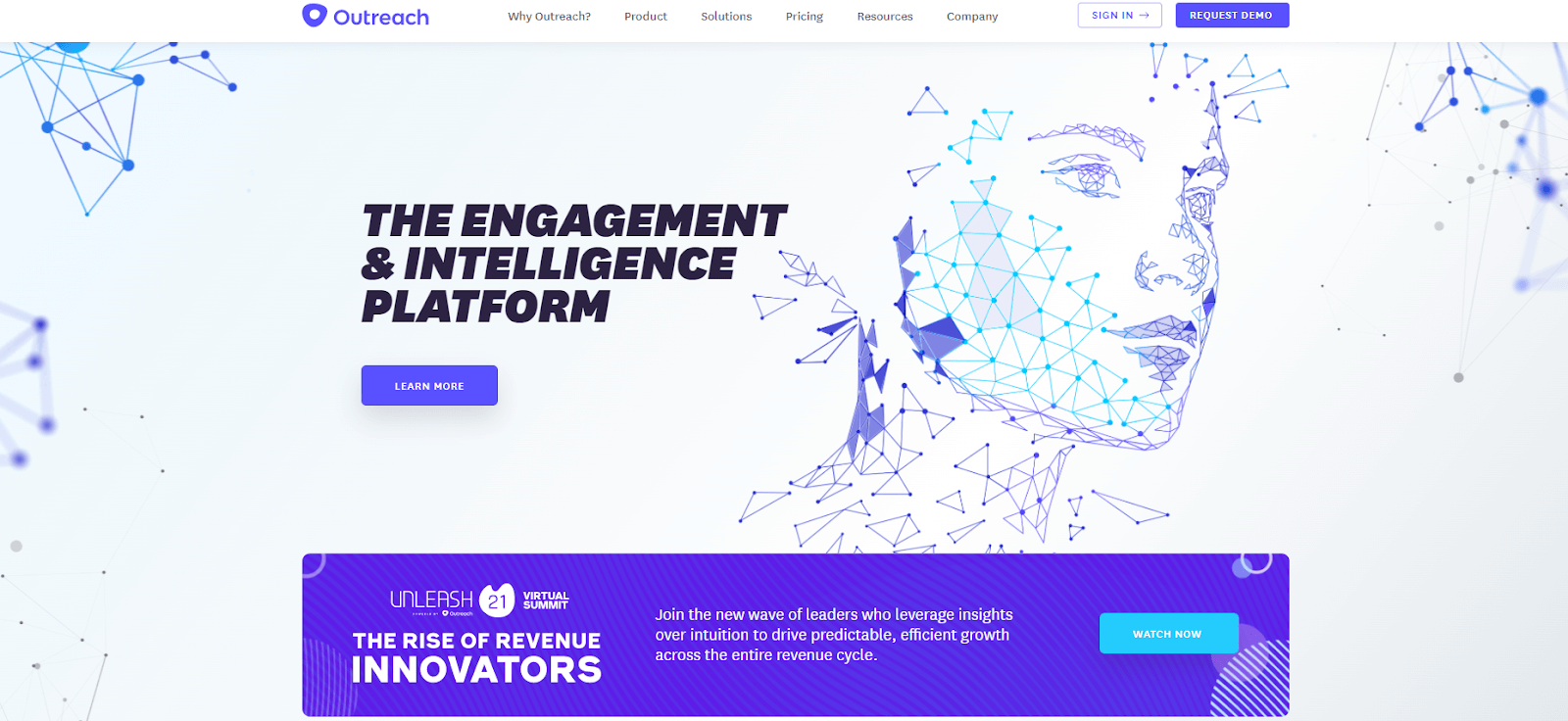 Outreach aims to empower businesses to achieve their true potential through streamlined sales engagement. It allows businesses to manage workflows and use real-time, actionable insights to deliver predictable growth. Outreach encourages a data-led approach to streamline sales engagement and boost revenue.
Key Features:
Email Sequences and Task Management – streamline day-to-day activities and accelerate deals.
AI-Driven Reports – Give salespeople the instant feedback they need to perfect their sales engagement.
Wide Range of Integrations – Sales dialer, CRM, meeting scheduler, social activity tracking.
Pricing:
Request pricing on the company website.
3. Groove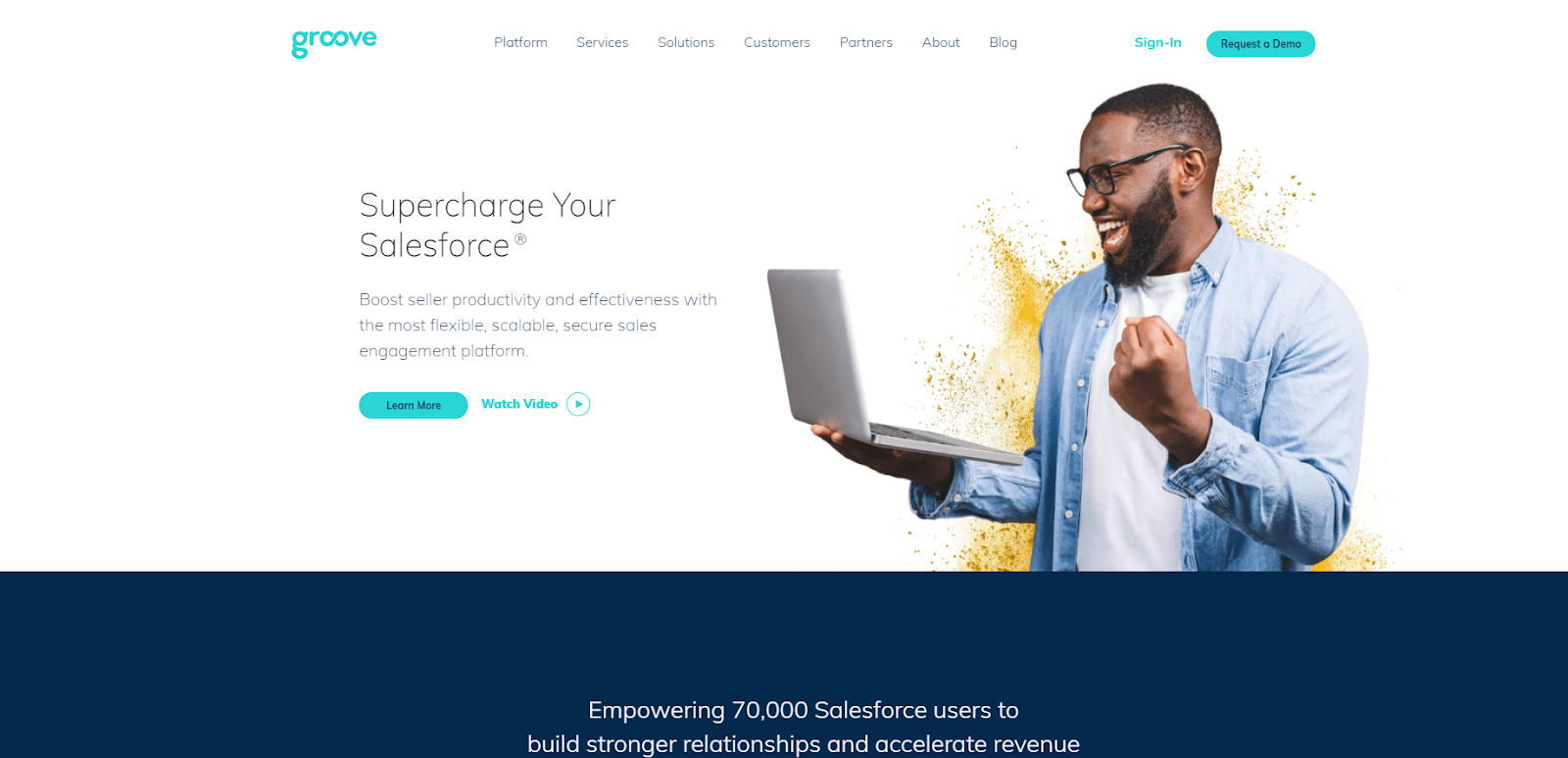 Groove promises to supercharge the sales engagement of Salesforce clients around the world. Its aim is to give sales reps 20% of their time back, provide a flexible platform that teams will love, and help you understand what's driving your business. With an autodialer, call logging, email tracking, campaign automation, and workflow management it has lots of features to help with your sales engagement.
Key Features:
Email, Calendar, and Activity Tracking – all of your activities automatically sync to Salesforce.
Multichannel Campaign Automation – Engage customers through different channels with automated flows.
Streamline Workflows – Assign tasks and automate workflows using real-time data.
Pricing:
Request pricing on the company website.
4. RingDNA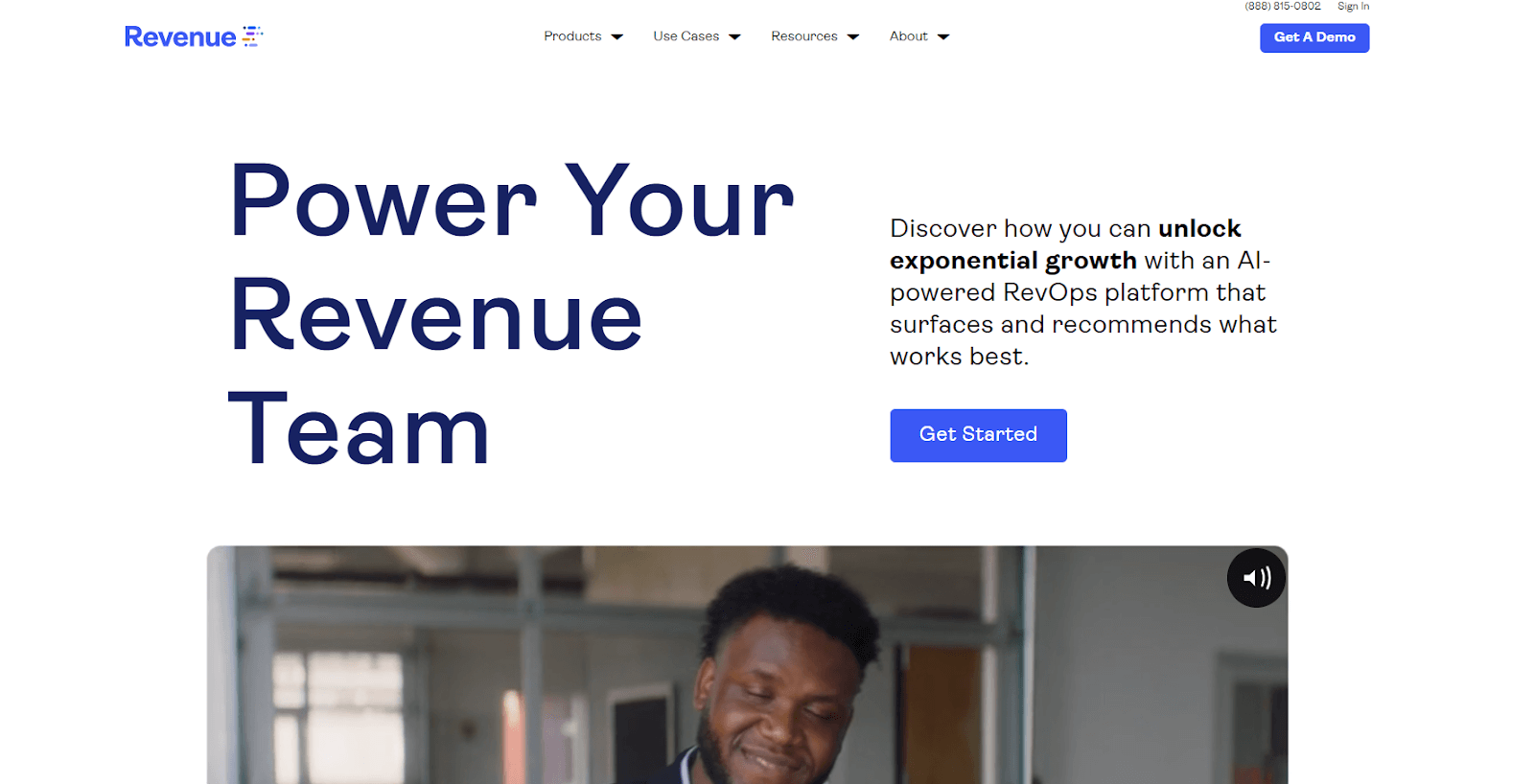 RingDNA uses intelligent insights to guide your team to revenue growth. Its tools analyze your activity and data capture, performance insights, and conversion intelligence to guide you through sales engagement and optimize performance. With its intelligent dialer, sales playbooks, and multichannel sequences, it gives you the tools to put those optimizations into practice.
Key Features:
Sales Dialer – streamline your cold calling and maximize each rep's time.
Conversation AI – transcribe and analyze each call with the power of AI.
Real-Time Call Guidance – Arm reps with critical information at the right moments.
Pricing:
Request pricing on the company website.
5. ZoomInfo Engage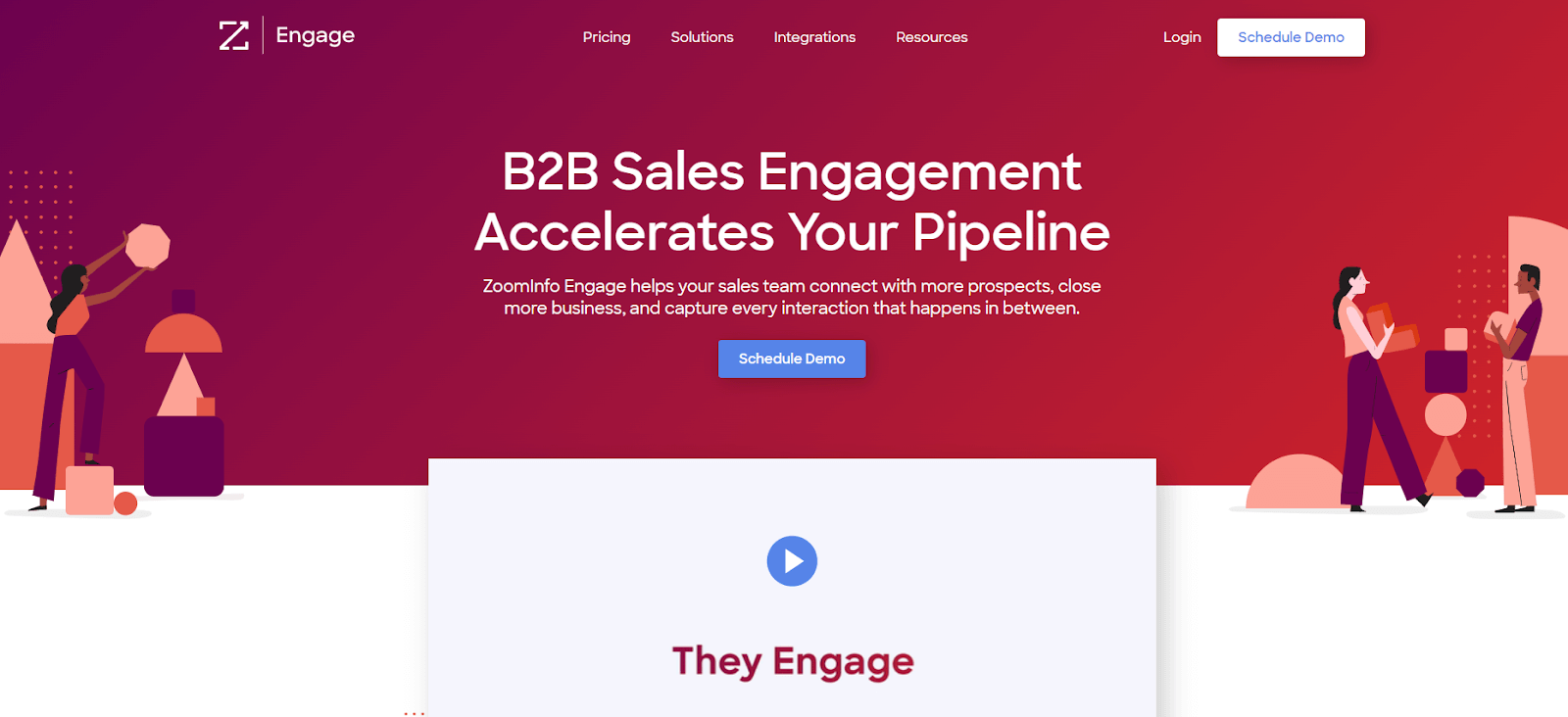 ZoomInfo Engage combines an automated sales dialer with email automation and sales task management to help streamline your sales engagement. This helps you to create more valuable touchpoints with prospects and maximize the time available to your sales reps. Create automated, multi-touch prospecting campaigns and convert more leads.
Key Features:
Email Sequencer – Create custom email campaigns with a built-in library of templates.
Sales Dialer – Build custom call lists, learn the best times for calling, and pre-record multiple voicemails.
Tasks – Effortlessly create and assign tasks to your team for improved productivity.
Pricing:
Request pricing on the company website.
What Are the Benefits of Sales Engagement Platforms?
The more high-quality touchpoints you can have with leads, the more likely they are to convert. The difficulty is, this process can be energy-intensive, and when you're working with a large sales pipeline, difficult to manage.
Modern technology offers the answer in the form of sales engagement platforms.
These platforms allow you to automate large parts of your engagement while still offering personalization. This allows you to identify the most promising leads and engage them on a deeper level.
The sales engagement platform you choose should make your outreach more efficient on all levels:
More personalized outreach
A more complete multi-channel approach
Easy identification of the most promising leads
Powerful insights to guide processes
Wide-ranging integrations to link your operations together
When your sales engagement platform does this, it's not only going to improve your engagement, but it's going to free up resources. These resources can be used to push the most important deals over the line and make a significant difference to your revenue.
Most businesses have unrealized potential when it comes to turning leads into customers. If you're trying to do everything manually, then it doesn't allow you to focus on the most important parts of revenue generation. The insights sales engagement platforms give you can make an immediate difference, allowing you to focus your efforts on the processes and leads that will make the biggest difference to your business.
Difference Between Sales Engagement and Sales Enablement
It's easy to get sales engagement confused with sales enablement. Although they're both important concepts that can make a big difference to your sales, they are quite different.
Sales enablement is concerned with ensuring you have the basic structure you need to make sales. For instance, an important part of sales enablement is making sure you recruit the right staff and give them the training they need to do their jobs well.
It boils down to four simple factors:
Ensuring you have the right employees
Giving them the training they need to hone their skills
Supplying them with the tools they need to do their jobs well
Evaluating these processes to see where they can be improved
Of course, this is important in sales engagement as well. You need good sales reps with the right software to streamline your approach. However, sales engagement is much more focused on the customer and how you create and manage touchpoints with them.
Sales enablement looks at this on a much more macro level, e.g. do you have the basic infrastructure, but sales engagement looks at customer interactions on a much more micro level. It causes you to ask questions such as:
What is the best channel to engage my lead on?
Which email CTA gets more response?
How do I improve my email open rates?
How can my sales reps focus more time on the hottest leads?
Sales enablement and sales engagement need to work together, but they deal with slightly different concepts.
Day-To-Day Sales Engagement Example
To reiterate, effective sales engagement campaigns are not easily transferred from one business/customer to another. It requires personalization, and an understanding of how your customer uses different platforms and prefers to be contacted.
With that said, here is a basic sales engagement cadence that leverages multiple channels. Use this as a starting point to build your own cadence.
Day 1 – Make your first call
Leave a vague voicemail with your first name and phone number requesting a call back at the prospect's convenience if they don't answer.
Day 2 – Send an email
Share a surprising statistic, relevant case study, article, or other content they may find useful.
Day 5 – Call again
Leave another voicemail if they don't answer.
Day 6 – Email again
Don't reference past attempts to reach out, just share more useful content or information. Try sending a relevant video this time to switch it up.
Day 11 – Call again
Once again, leave a voicemail if they don't answer.
Day 12 – Email again
Keep on sharing useful content and attempt to be a resource for them.
There are 6 touchpoints in this cadence, but you can continue with more across multiple channels until you get a response.
Sales engagement is an essential part of any successful sales strategy. With the right perspective and tools, it can be one of your most reliable, measurable, and scalable channels for generating leads.