Outreach.io Review, Competitors, and Alternatives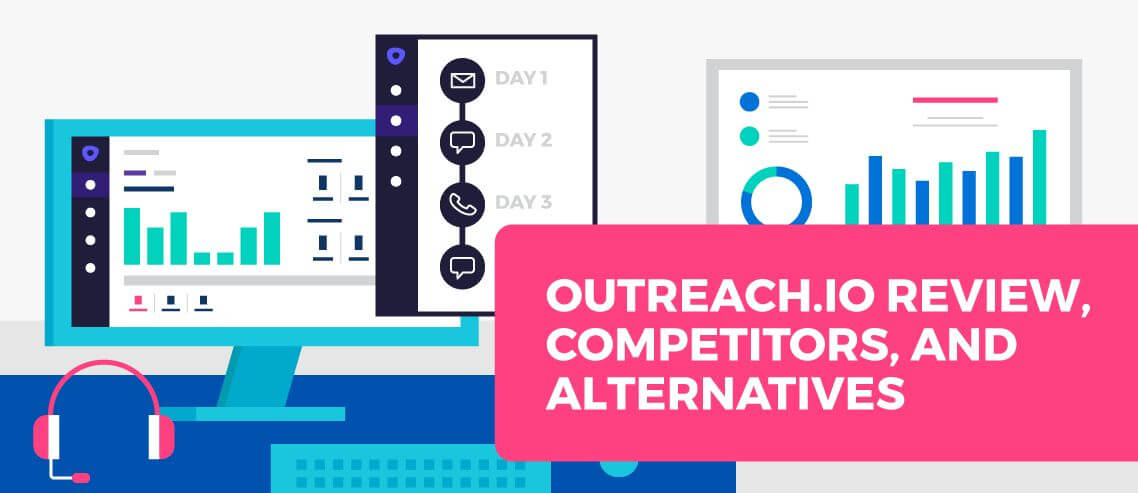 Outreach is a sales engagement platform that's designed to help businesses and sales teams close deals quicker, more consistently, and more predictably. The company was founded in 2011 and is currently based in Seattle.
As the name implies, it's a tool that primarily aims to improve outbound sales efforts, aka sales outreach, by facilitating faster engagements, making engagements more effective, improving scheduling, and optimizing coaching efforts.
Although Outreach's primary focus is outreach, it's not limited to outbound sales. Outreach can also be used for account-based sales, inbound sales, and even recruiting as well. The software is geared towards sales teams, not individuals, and focuses on meeting the needs of the remote sales world.
Outreach Core Features
The heart of Outreach lies in its scheduling feature, called sequences. The tool allows sales reps to plan out their strategy (sales sequence) on a per-client basis.
Outreach groups its feature set into four divisions:
Complete System of Action: Outreach gives sales reps the tools they need to communicate with their leads and customers. With Outreach, reps don't need to leave the software to make calls, send texts, and write emails. Everything is contained in the program with the sequence so that sales reps can make their way through their necessary multi-channel communications efficiently and with ease.
Always On Assistant: Outreach automatically provides key data and insights on the leads you're communicating with. That way, when a sales rep calls up a lead, they won't have to dig around for their file – it's always right there. Plus, Outreach automatically updates this information by pulling data from your CRM, email, and other tools.
AI & ML-Powered Insights: Outreach helps sales reps navigate deals by employing AI and machine learning-powered tools that draw actionable insights from communications data. For example, it can suggest that you pause a sequence based on certain behaviors and suggest text you might want to include in your emails.
Track Team Performance: Finally, Outreach helps managers keep track of their team's performance with in-depth analytics. Plus, it also allows teams to test out different messaging using split-testing to ensure that the right message is delivered to the right lead. Overall, this helps optimize sales efforts to make them as efficient as possible over time.
Other notable features included with Outreach include a sales dialer to make going through call lists easier, personalization capabilities for emails, and efficient outreach meeting booking.
Who Outreach Is For
Outreach can be used effectively by anyone in sales. However, it is specifically designed to meet the needs of six different personas:
Sales Development Reps (SDRs): Outreach's automation, AI, and ML-powered features help sales reps find exactly the right time to reach out to prospects and follow up. It aims to remove the guesswork from sales development efforts by utilizing data and ML models.
Closing Reps: Outreach helps closing reps put their administrative work on autopilot so that they can focus on closing deals. It aims to automate follow ups and improve hold rates for meetings.
Customer Success Managers: Through employing AI and ML technology, Outreach helps customer success managers save time and work more efficiently by automating many of their tasks.
Sales Management and Leadership: With Outreach's analytics, sales management and sales leadership can monitor and track the performance of their team. Plus, everything is input into the CRM, so accurate data is ensured across the board.
Sales Operations: Sales operations can use Outreach to optimize sales pipelines and improve upon existing integrations. The tool can help make sure that sales reps are sticking to the tried-and-true process your sales operation team has created.
Marketing: Outreach contains all the tools you need to manage personalized multi-channel marketing efforts. When they're ready to move on to sales, you can swap them over seamlessly. Using Outreach can also boost close rates by ensuring that every lead gets a sales touch.
Outreach.io Cons
As one of the biggest players in the sales engagement space, Outreach has thousands of customer reviews.
Digging through these reviews, you see two issues pop up consistently:
Outreach only does annual pricing contracts
There is a learning curve to getting the most out of Outreach, because it has many features that most users don't use.
Let's explore both of these.
Outreach Pricing
Outreach doesn't list its pricing on their website; they require a demo before sharing pricing details.
That said, at the time of this writing, Outreach costs $100/month, per user, which is about average for the highest-end plans for most sales engagement software.
However, Outreach does not do monthly pricing. All Outreach accounts must be purchased annually. So purchasing an Outreach account or adding a user to your team will cost $1,200, paid up-front.
Long Learning Curve Due to Many Features
For many companies, moving on to outreach is like moving to a new CRM. Your sales team will spend a lot of time in the platform, and it's built for large sales teams serving all types of markets.
For a tool that's so integral to a sales team's processes, companies often need to customize Outreach for their specific use-case and integrations.
And because there are so many features, many users say that the interface can be overwhelming, which makes the product itself difficult to use.
Larger sales teams often have a sales ops team that helps onboard and train new salespeople to their tech stack. But smaller or newer sales teams may not have a team prepared with formal Outreach training.
Mailshake: Your #1 Outreach Alternative
Outreach is a great solution for larger, more established sales teams, and funded startups with enough "cash in the bank" to cover the upfront annual contracts and implementation costs.
However, most sales teams don't need all the features and functionality that Outreach offers, and don't have the time (or interest) to spend weeks learning the ins and outs of a new platform.
For folks like this, Mailshake is a perfect alternative.
Mailshake has all the core features of Outreach, plus a few important advantages:
More flexible pricing options – plans start at $59/month per user, billed annually.
Much easier to get started and use
One-on-one customer success
Mailshake core features
If you're using Outreach to automate and scale your outbound sales efforts, Mailshake may have all the features you need.
Let's start with the primary Mailshake features:
Personalization, automatic follow-ups, and lead management
The most important part of a sales engagement platform are:
Outreach automation
The ability to manage prospects and turn them into leads
And this is where Mailshake thrives.
Check out this 5-minute video walking through how Mailshake makes it easy to build an outreach sequence.

With Mailshake, you can create a sequence of personalized emails and automated follow-ups, triggered or paused based on if a recipient opens, replies or clicks a link.
Set your emails to only send during weekdays and business hours, and maximize deliverability by automatically removing recipients who bounce or unsubscribe with trigger words like "remove me".
And when a prospect expresses interest in your offer, you can reply to them directly from Mailshake.
Keep track of every single interaction with a prospect, including opens, clicks, and even which touch point turned a prospect into a lead.
Take a look at this at the campaign or account level to see which messages are working and which ones need changing, and AB test emails, follow-ups, or entire campaigns to improve your effectiveness.
All this activity can be pushed to your CRM with our native Salesforce, Pipedrive, and Hubspot integrations, or with any other CRM via Zapier. New prospects can also be added to a Mailshake campaign.
And finally, the most effective outreach strategies go beyond email. With Mailshake, you can seamlessly integrate social selling and cold calling into your outreach sequence.
Add a "task" to connect with a prospect on social media phone call to any sequence, just like you would add a follow-up email.
When a sequence reaches that touch point, all your outstanding tasks will be grouped together, allowing you to power through LinkedIn messages or cold calls one after another.
For most salespeople and entrepreneurs doing cold outreach, Mailshake has everything you need to do effective, scalable outreach.
Pricing
Outreach requires a $1,200 upfront investment, per user, to get started. For many salespeople and business owners, this is prohibitively expensive.
Mailshake starts at $59/month, per user, billed annually. There is also a 30-day money-back guarantee. That means if you give Mailshake a try and it's not a fit, you can reach out to our team and get a full refund, no questions asked.
If you're interested in investing in a sales engagement platform, but not ready to pay several thousand dollars up front for you and your team, Mailshake is a great alternative.
One-on-One Customer Success
Mailshake's most popular "feature" isn't really a feature at all. A quick glance at our reviews on G2 will show a clear pattern; Mailshake customers love how our customer success team makes them better at cold outreach.
If you're new to cold outreach, or an experienced salesperson looking for feedback from an expert, our success team is here to help.
5 More Outreach.io Alternatives
So that was all about the best Outreach.io alternative — Mailshake. But if you'd like to explore more options before making a decision, here are 5 more alternatives to consider.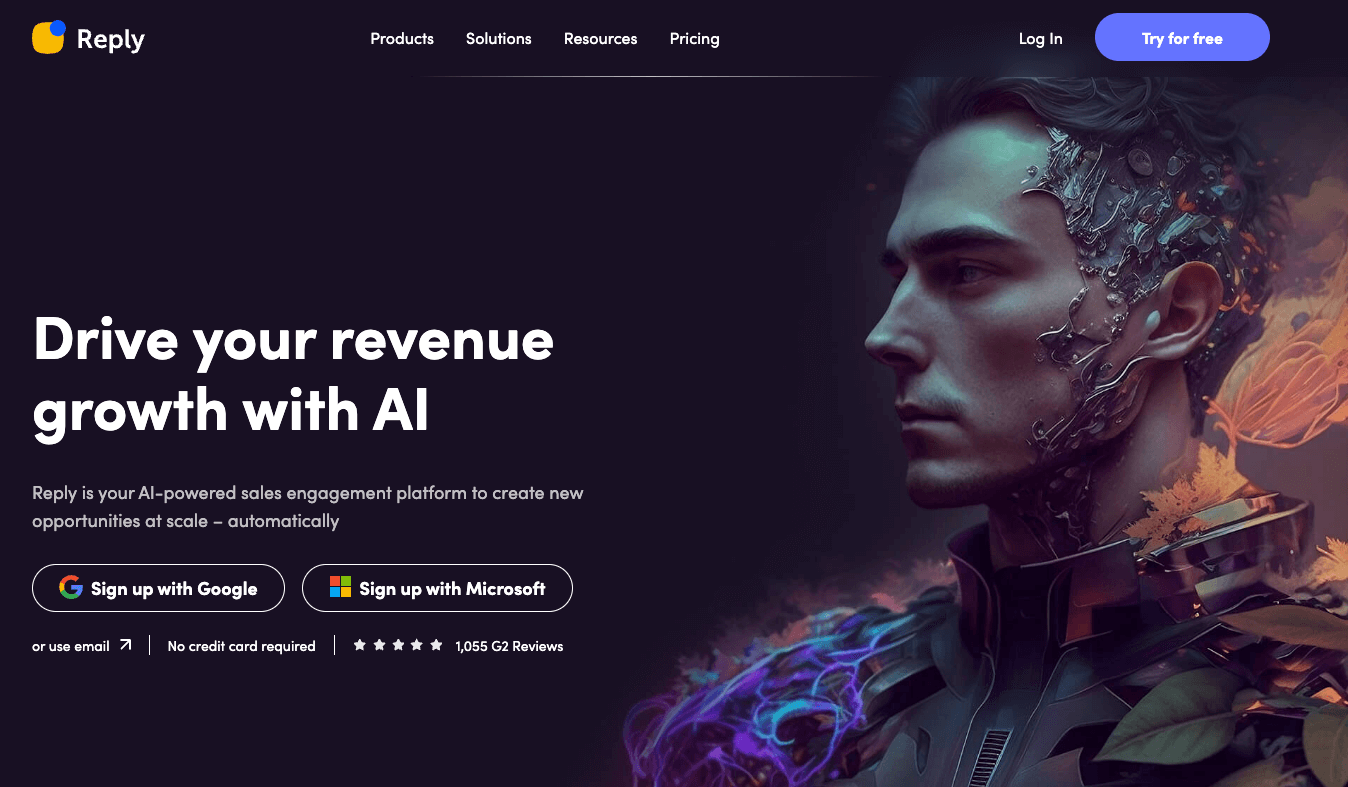 G2 Rating – 4.8/5 (1,082 reviews)
Capterra Rating – 4.6/5 (96 reviews)
Reply.io is an AI-powered sales engagement platform that provides features like email automation, contact management, sales intelligence, and analytics to help sales teams automate and streamline their outreach and follow-up processes.
The platform enables you to create and send personalized emails at scale, set up automated follow-up sequences, and track email engagement metrics such as open and reply rates. It also integrates with CRM tools like Salesforce and HubSpot, creating a seamless experience.
Here are some features of the platform:
Browser-based VoIP
Smart inbox categorization
Task management workflows
AI-powered email writing assistant
Sales coaching and reporting insights
Email warm-up, scheduling, and tracking
Email and phone number validation and sourcing
Multichannel sequences and messaging, e.g., WhatsApp, SMS, InMail
If you're looking to automate one-to-many communication, Reply.io is an excellent tool. It also provides lots of support if you're just starting out. But the deeper you get, the more poorly rated the support gets.
Plus, in comparison to Outreach, Reply.io is more time-consuming to set up and has a steeper learning curve. It also comes with marketing-specific features you might not use if you only use the platform for prospecting.
Reply.io Pricing
Reply.io offers three plans: Starter, Professional, and Custom. The Custom plan is for large teams with specific needs, so it's tailored for them. However, you can start with a 14-day free trial to check whether or not the platform is for you.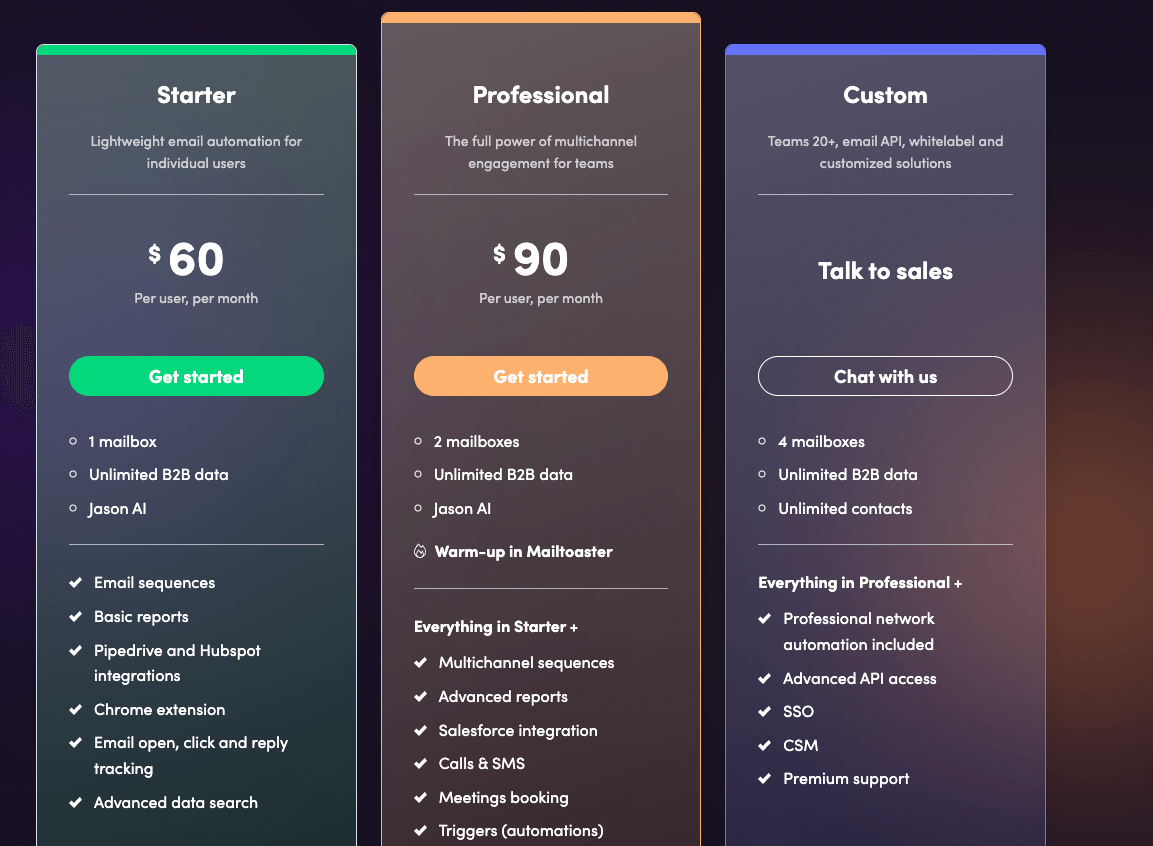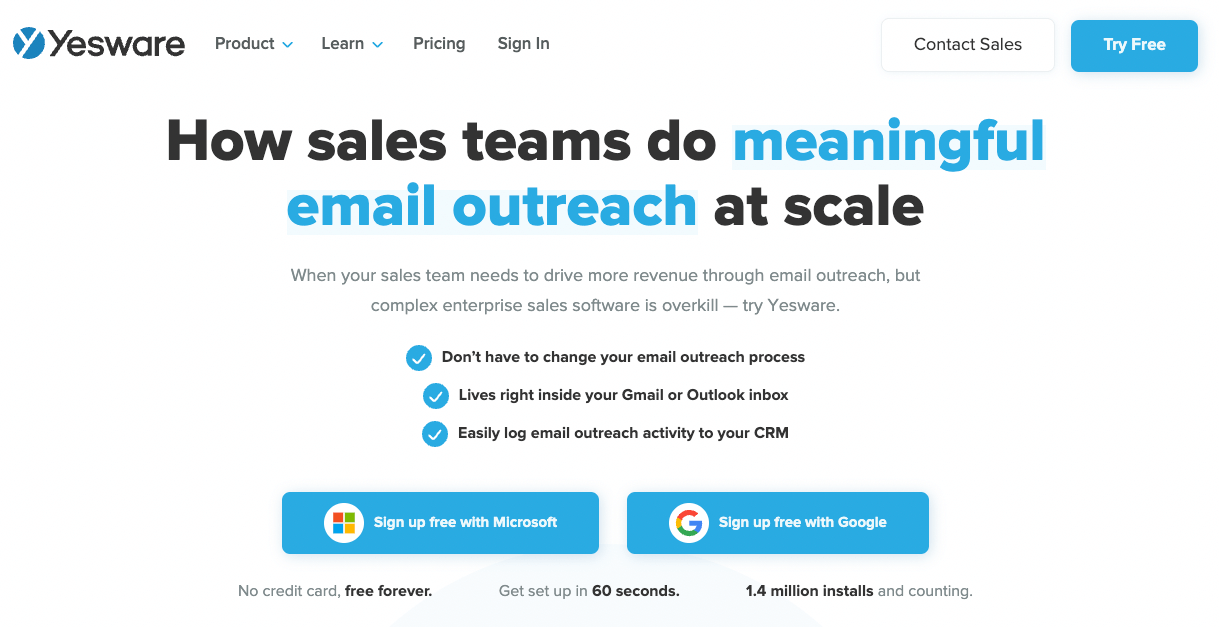 G2 Rating – 4.4/5 (798 reviews)
Capterra Rating – 4.3/5 (175 reviews)
Yesware is a sales productivity tool designed to streamline email communication and track engagement with prospects. It integrates with Gmail, Outlook, and Office 365 to provide insights into email performance.
The platform also enables you to send personalized email templates and track email opens, clicks, and replies in real time. It comes with the following features:
Shareable calendar links
Multi-channel campaign support
Meetings and opportunities and engagement history dashboards
Integrations with MS Teams, LinkedIn, Salesforce, Outlook, Gmail, and Zoom
Email scheduling, reminders, and follow-up sequences to help you stay organized
Analytics and reporting features enable you to understand how your outreach efforts are performing
If you're looking to automate and organize email prospecting and outreach, Yesware may be a great choice. It's easy to set up and navigate, has an easier learning curve, and is more affordable than Outreach, which can be a significant investment.
However, Yesware doesn't integrate with as many tools as Outreach and doesn't provide the granular insights that Outreach is known for. You also can't include attachments when you're sending mass emails on Yesware.
Yesware Pricing
The platform offers four pricing plans: Pro, Premium, Enterprise, and Custom. But you can register for the Free Forever plan to determine whether Yesware is what you're looking for.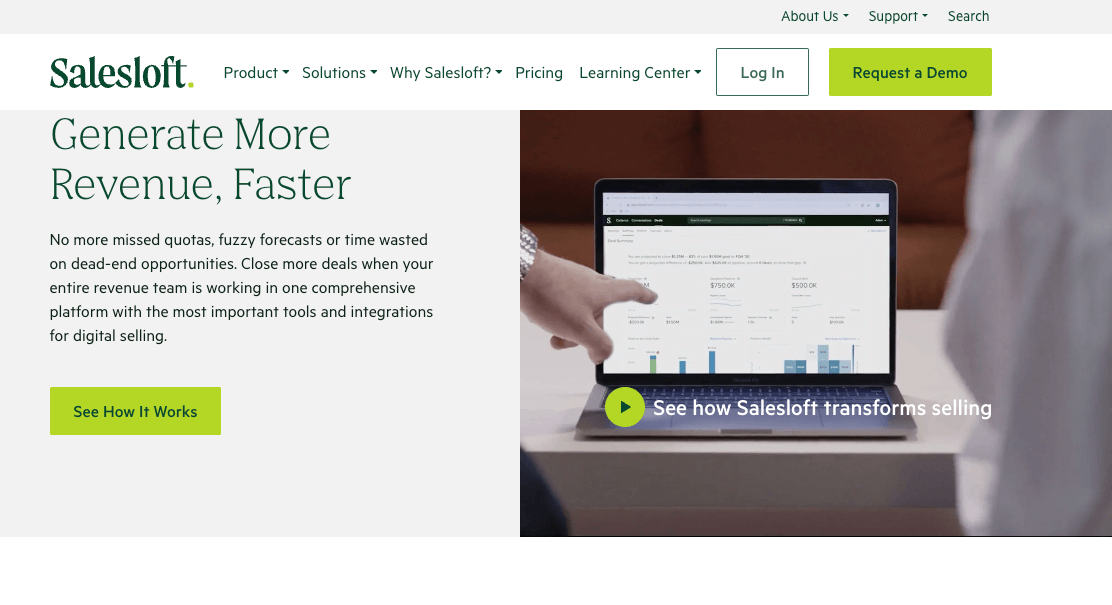 G2 Rating – 4.5/5 (3,441 reviews)
Capterra Rating – 4.3/5 (197 reviews)
Salesloft is a pioneer in the sales engagement category, offering advanced features that provide valuable insights. It excels in sales engagement capacity depth and integration capabilities, leaving most other options behind.
The platform's features include the following:
Sales enablement
Conversion intelligence
In-call coaching and coach-to-close workflows
One-click dialer and messenger with CRM sync
Granular analytics by cadence, account, or individual
Integrations with Salesforce, HubSpot, Gmail, Outlook, LinkedIn, etc.
Sales playbooks to bring new recruits up to speed and create personalized buyer experiences.
If you manage high-prospecting SDR teams and need detailed insights, Salesloft is an excellent solution, just like Outreach. However, the difficult learning curve, the need for admin support, and the sheer number of features mean adoption can be an issue.
So, if all you need is email tracking, Salesloft may be an unnecessary investment with features your team may never use.
Salesloft Pricing
Salesloft offers three pricing plans: Essentials, Advanced, and Premier. The pricing is customized for all three packages. However, you canrequest a demo to check how Salesloft works before investing.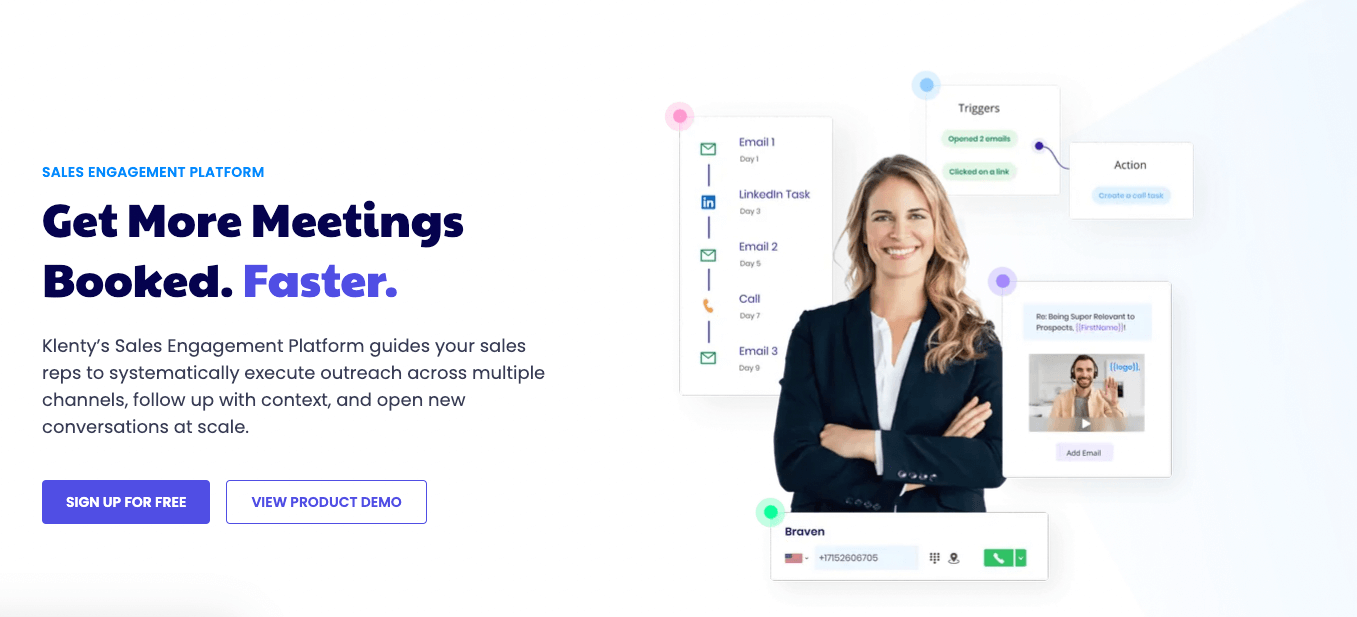 G2 Rating – 4.6/5 (260 reviews)
Capterra Rating – 4.6/5 (39 reviews)
Klenty is a sales engagement platform that allows you to create and send personalized emails at scale, set up automated follow-up sequences, and track email engagement metrics like open and reply rates.
The software also comes with features like:
LinkedIn automation, where you can automate your LinkedIn prospecting and outreach efforts
Phone dialer capabilities that help you make and receive calls directly from the platform
Email automation and personalized email templates
Contact management and analytics to improve your productivity
A/B testing, multiple medium senders, and bounce detection
Intent-based playbooks, liquid customizable email templates, and static placeholders
If you perform email outreach every day, Klenty will help you automate the process so you don't have to spend time doing the same thing. But if you need more features and granular reports, Outreach may be a better option.
Klenty Pricing
Klenty offers four pricing plans: Startup, Growth, Pro, and Enterprise. You can try each plan for 14 days to get a feel of what you'll get.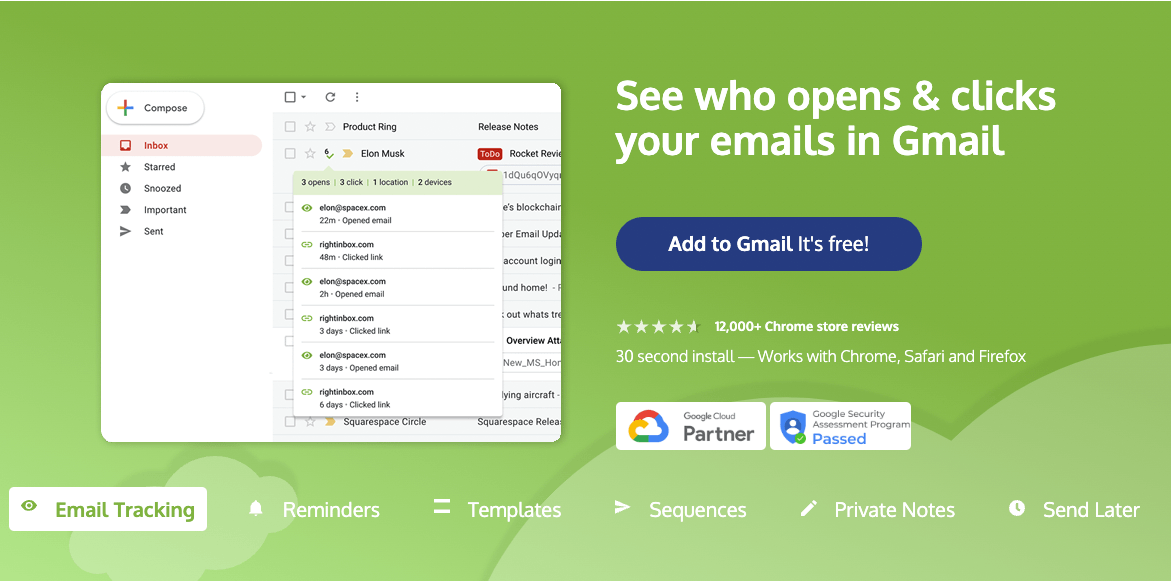 G2 Rating – 4.8/5 (5 reviews)
Capterra Rating – 4.3/5 (13 reviews)
Right Inbox is an email productivity tool designed to enhance the functionality of Gmail and Outlook. It can help you streamline your email communication and manage your inbox within one message system.
The platform comes with several features, such as:
Personalized templates
Automated follow-up reminders
Seamless integration with Gmail
Mass email scheduling and tracking
Open rate tracking and follow-up automation
Plus, just like Outreach, the tool lets you personalize your emails and make them however you want.
So, if you're looking to automate your email messages, Right Inbox has got you covered. But if you want marketing or prospecting features, Outreach will be a better option.
Right Inbox Pricing
Right Inbox offers three pricing plans — Free, Personal, and Professional — as follows: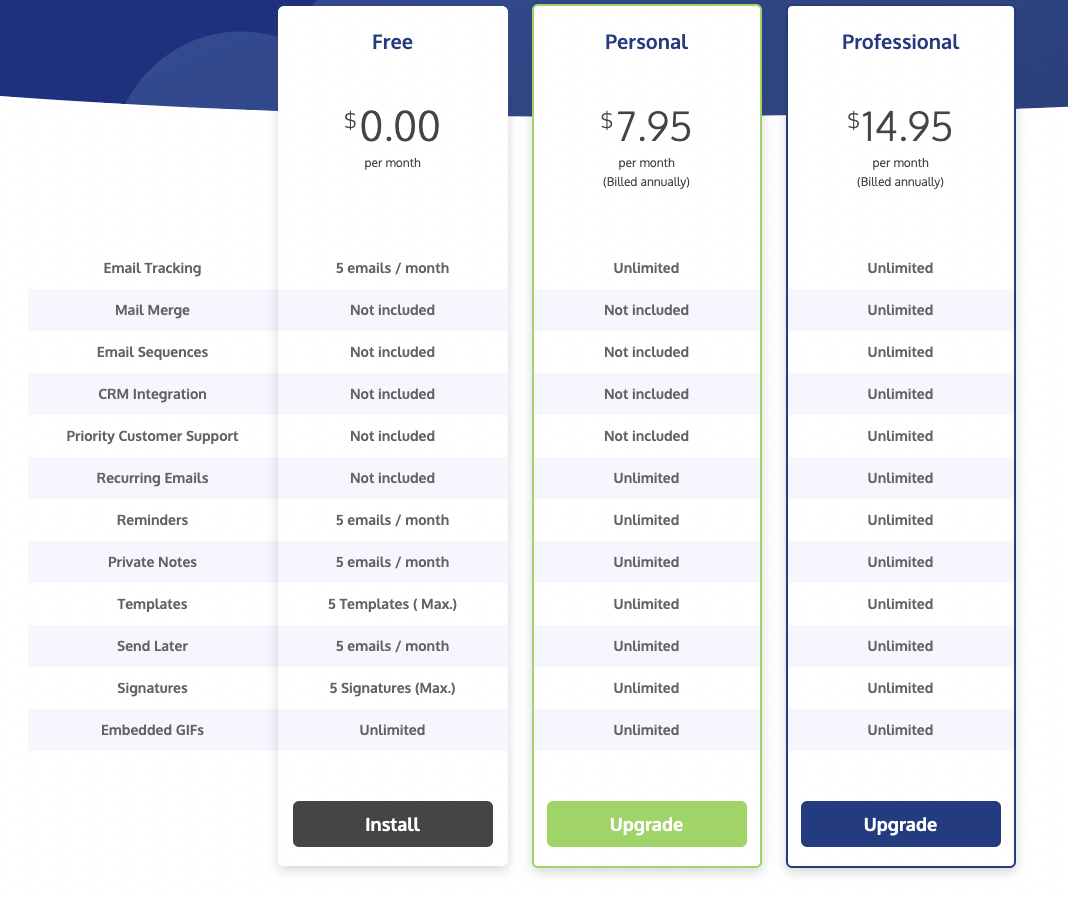 The Bottom Line
Outreach.io is a great product for established sales team ready to make a long-term commitment to outbound sales on a single platform.
For most sales teams, however, Mailshake:
Has all the features you need
Is much easier to use
Is cheaper.
Has more personalized and effective customer success