Sales Skills & Techniques Every Salesperson Needs to Master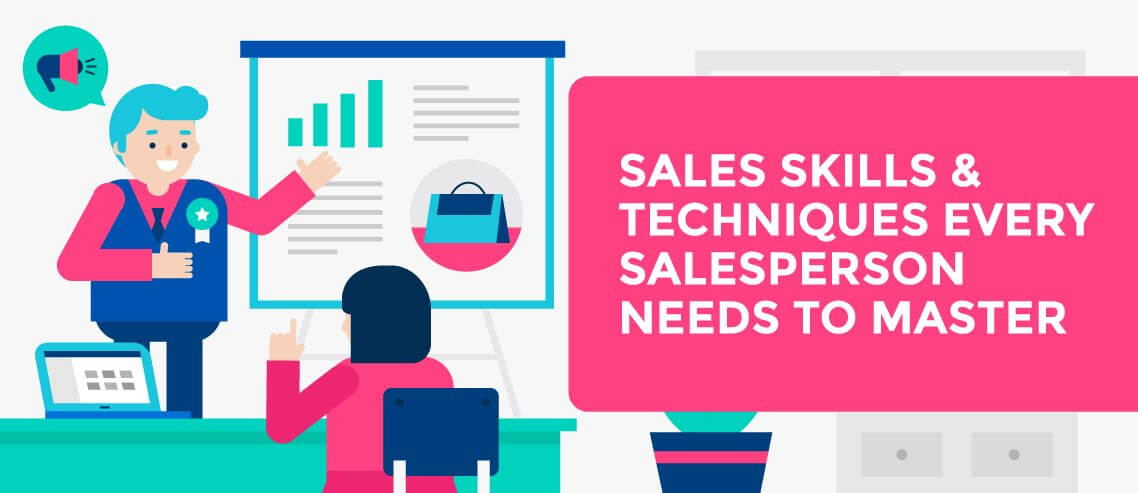 Statistics reporting on sales performance can seem pretty grim. For instance, consider that, according to data points compiled by Mailshake:
Less than 50% of initial prospects turn out to be a good fit.
58% of buyers state that sales meetings aren't valuable.
82% of B2B buyers think sales reps are unprepared.
But although some people may take these and related statistics to prove that winning at sales is an uphill battle, you can also choose to see them as an opportunity. If so many sales people out there get much of the process wrong, just think about what you can achieve by investing in your sales skills.
No matter what level your career is at, there's always room for improvement. Use the resources below to improve your sales skills – and the overall results you can drive by using them.
Types of selling
Personal Selling: Definition, Techniques, and Examples
Given the more widespread use of video conferencing, personal selling and its face-to-face meetings might seem irrelevant these days. But there are still plenty of situations that call for in-person meetings. Learn more about them here.
Relationship Selling: Definition, Techniques, and Examples
The opposite of transactional selling, relationship selling relies on connections forged between parties to drive sales. If you're a B2B salesperson or someone who sells high-ticket items over long sales cycles, you'll want to learn this strategy.
Consultative Selling: Definition, Techniques, and Examples
Consultative selling minimizes the risk of salespeople being perceived as pushy. When you take the time to fully understand your prospects' needs through a consultative approach, closing the deal on the right solution becomes much easier.
Why Feature-Benefit Selling Will Increase Your Sales
Making your mark in sales comes down to your ability to connect your solution's features with the benefits your prospects stand to receive from it. Learn how to leverage feature-benefit selling in this article by Daniela McVicker.
Sales techniques
15 Sales Closing Techniques: How to Close Your Next Sale
Seeing lackluster sales closing performance? Give any of these 15 time-tested techniques a try on your next deal.
The Anatomy of a Great Sales Pitch (With Examples)
Powerful sales pitches don't just happen. Instead, they're the result of several factors successfully coming together – each of which is described in further detail in this article from Mailshake's Sujan Patel.
Building Rapport on Remote Sales Presentations: 6 Steps for Creating Connection
As more people than ever before find themselves working from home, sales people face the new challenge of learning to build rapport on remote sales calls. If you're struggling to replace in-person conversations with digital alternatives, follow these six steps.
How to Leverage the Logrolling Technique in Sales Negotiations
Sales always involves some degree of give-and-take, but with the logrolling technique, you'll learn how to ensure your needs are met without compromising on your non-negotiables. Learn more in this interview with sales practitioner Whitney Sales.
How to Ask for Sales Referrals
Referrals can become some of your most powerful sales leads, but asking for them doesn't always come naturally. In this article, you'll discover how to build a sales referral workflow and how to make it as effective as possible.
13 Tools for Closing Deals Faster
Velocity matters in sales, as the faster you can close deals, the more deals you can close. If your sales are feeling a bit sluggish, check out these 13 tools to help you speed the process along.
Success in sales
What Is a Business Development Representative? (How BDRs Lift Sales)
If you're new to sales, you might not understand how different titles work together or what roles they play on sales teams. Here, contributor Lucia Piseddu offers a deep-dive into the important role of business development representative.
6 Sales Skills Anyone Can Learn to Be a Great Salesperson
Great sales people are made, not born. So whether you're new to the field or you've struggled with low performance in the past, practicing these six sales skills will help take your career from good to great.
How to Get Promoted From an SDR to Account Executive
Looking to advance in your sales career? If you're hoping to make the leap from sales development representative to account executive, these tips from David Dulany, sales development consultant and founder of Tenbound, may help.
30 Best Books on Sales (Recommended by Top Sales Professionals)
Leaders in every field – sales included – know that ongoing education is a must. Hone your sales skills with these 30 highly recommended books.
Sales Success: Start by Asking These 3 Questions
You're never going to hit your sales goals if you can't communicate what sets you and your solution apart. These three questions, shared by Jeff Bajorek, will teach you how to reach sales success by selling future outcomes.
How a Help-First Mindset Can Deliver Leads, Referrals, and Revenue
Sales doesn't have to be selfish. As Royce Louden, Business Development Manager at BookWerks, explains in this article, staying strictly educational and leveraging a "help-first mindset" can still drive big gains when used appropriately.
36 Motivational Sales Quotes to Inspire Your Team in 2020
Losing momentum? In need of a little inspiration? These 36 motivational sales quotes, compiled by Adam Enfroy, should help.
4 Compelling Reasons to Consider a Career in Sales
On the fence about whether or not a career in sales is right for you? This guest contribution by Susan A. Enns will give you four compelling reasons to consider making the leap into the field.
How to Break Out of a Sales Slump
Every salesperson will hit a slump at some point or another in their careers – it's what you do to get out of it that makes all the difference. Keep these tips in mind for when you face your next slump.
How to Nail a Sales Presentation
Sales presentations are deceptively complex. Although it's easy to throw together a few slides to accompany your pitch, delivering a truly compelling presentation is much harder. These tips from Kate Levan can help if your presentations could use some polish.
Habits of Successful Sales Professionals: What Not to Do
The web is full of tips on how to do sales well (as you can see from the list compiled here). But knowing what not to do is just as important. Author David Alexander Vipond addresses this important angle here.
How to Succeed on the Inside Sales Team of a Budding Tech Startup
Selling is almost universally difficult, but it's even harder when the public doesn't know or understand what you're selling. If you're on the inside sales team of a tech startup, take a look at this article by Grant Polachek.