Salesloft: Review, Competitors, and Alternatives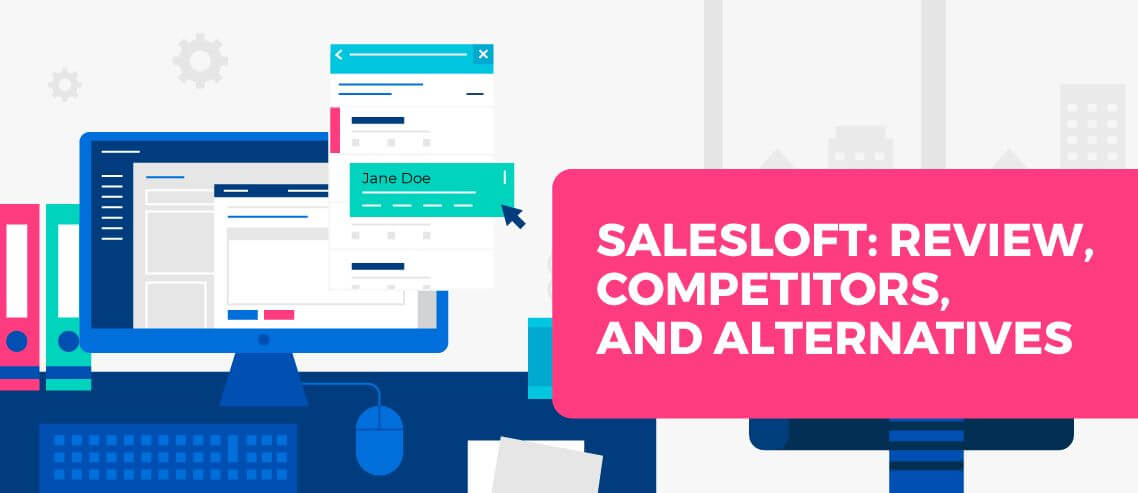 Salesloft is a sales engagement platform that's designed to facilitate sales activities.
Salesloft's main selling point is that it integrates prospecting, following up, analytics, cadences, and more into one unified platform. This helps sales representatives and leadership move seamlessly from one task to the next, whether it's managing a deal, reaching out to a prospect, or connecting with a lead.
The platform syncs usage data across all linked devices, so sales reps can pick up where they left off no matter where they are. This also makes it easier to collaborate across large teams – team members, especially leadership, can quickly check in to see how things are progressing through the Salesloft dashboard. Sales managers can also set tasks for members of their teams.
Additionally, Salesloft provides call recording and analysis features that can help with coaching and onboarding. Conversation intelligence, for example, uses AI to scan through reps' calls and pinpoints areas where they can improve.
Overall, Salesloft's strengths shine through particularly when it comes to teams, thanks to its collaboration features.
Salesloft Core Features
While Salesloft comes with dozens of different features, they can largely be broken down into five different products, each of which represents a distinct and useful feature set.
Cadence + Automation: Salesloft helps sales reps and leadership set up custom sales cadences and playbooks. When done right, this leads to more streamlined sales processes that can reduce close time. Sales reps can also automate certain tasks, like follow-up emails.
Dialer + Messenger: This product provides a sales dialer so that reps can make calls with a single click. It also offers a messenger feature, which can be used to send SMS messages. Salesloft includes a live coaching, which allows leadership to listen to ongoing conversations and whisper advice to reps without the prospect hearing.
Deals: Salesloft's deals product helps leadership forecast deal success with better accuracy. Leadership can use sales opportunity management tools, which allow them to see all their team members' deal flows and sales pipelines, and step in when necessary to redirect the cadences for deals that look like they may fall through. It can also automate reminders and messages to sales reps.
Conversations: This set includes call recording and conversation intelligence, a tool that uses AI to scan through recorded sales calls and pickout key turning points based on keywords and other indicators. Leadership can then use these insights to coach reps on how to improve or to build playlists of exemplary calls that team members can learn from.
Analytics and Reporting: Salesloft tracks data to provide actionable insights to leadership and sales reps. Sales managers can see what top performers are doing differently and build cadences around that data.
What People Don't Like About Salesloft
Salesloft is a popular product and has several awards – including the title of #1 leader in Sales Engagement for two years by G2 – to show for it. That said, there are several issues that users have with this product.
The biggest complaint from users is that the platform doesn't work as expected. There have been reports of sudden failures that take hours to fix, as well as features being abruptly removed from the platform.
Overall, performance and user-friendliness is a significant problem with quite a few users complaining that the product runs poorly or has a clunky interface. Some users also complain that the call quality is bad and that their leads can't hear them during calls, which is problematic for anyone who frequently cold calls prospects.
Finally, Salesloft can be prohibitively expensive for small and even medium-sized businesses. Salesloft requires a demo to see pricing, but their plans range from $75 – $125 per user, per month. However, they require annual contracts and a minimum of 3 users.
That means that new Salesoft customers can expect to pay a minimum of $2,700 up front for a year-long contract with Salesloft.
Mailshake: Your #1 Salesloft Alternative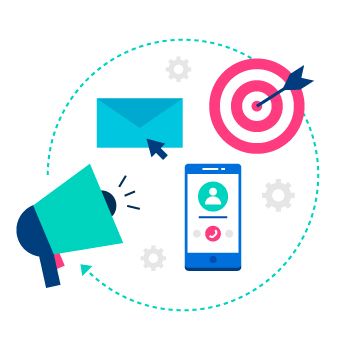 Salesloft is a great solution for larger, more established sales teams, and funded startups with enough "cash in the bank" to cover the upfront annual contracts and implementation costs.
However, most sales teams don't need all the features and functionality that Salesloft offers, and don't have the time (or interest) to spend weeks learning the ins and outs of a new platform.
For folks like this, Mailshake is a perfect alternative.
Mailshake has all the core features of Salesloft, plus a few important advantages:
More flexible pricing options – plans start at $58/month per user, billed annually.
Much easier to get started and use
One-on-one customer success
Mailshake core features
If you're using Salesloft to automate and scale your outbound sales efforts, Mailshake may have all the features you need.
Let's start with the primary Mailshake features.
Personalization, automatic follow-ups, and lead management
The most important part of a sales engagement platform are:
Outreach automation
The ability to manage prospects and turn them into leads
And this is where Mailshake thrives.
With Mailshake, you can create a sequence of personalized emails and automated follow-ups, triggered or paused based on if a recipient opens, replies or clicks a link.
Set your emails to only send during weekdays and business hours, and maximize deliverability by automatically removing recipients who bounce or unsubscribe with trigger words like "remove me".
And when a prospect expresses interest in your offer, you can reply to them directly from Mailshake.
Keep track of every single interaction with a prospect, including opens, clicks, and even which touch point turned a prospect into a lead.
Take a look at this at the campaign or account level to see which messages are working and which ones need changing, and AB test emails, follow-ups, or entire campaigns to improve your effectiveness.
All this activity can be pushed to your CRM with our native Salesforce, Pipedrive, and Hubspot integrations, or with any other CRM via Zapier. New prospects can also be added to a Mailshake campaign.
And finally, the most effective outreach strategies go beyond email. With Mailshake, you can seamlessly integrate social selling and cold calling into your outreach sequence.
Add a "task" to connect with a prospect on social media phone call to any sequence, just like you would add a follow-up email.
When a sequence reaches that touch point, all your outstanding tasks will be grouped together, allowing you to power through LinkedIn messages or cold calls one after another.
For most salespeople and entrepreneurs doing cold outreach, Mailshake has everything you need to do effective, scalable outreach.
Pricing
Salesloft requires a $2,700 upfront investment to get started. For many salespeople and business owners, this is prohibitively expensive.
Mailshake starts at $58/month, per user, billed annually. There is also a 30-day money-back guarantee. That means if you give Mailshake a try and it's not a fit, you can reach out to our team and get a full refund, no questions asked.
If you're interested in investing in a sales engagement platform, but not ready to pay several thousand dollars up front for you and your team, Mailshake is a great alternative.
One-on-One Customer Success
Mailshake's most popular "feature" isn't really a feature at all. A quick glance at our reviews on G2 will show a clear pattern; Mailshake customers love how our customer success team makes them better at cold outreach.
If you're new to cold outreach, or an experienced salesperson looking for feedback from an expert, our success team is here to help.
For teams with annual contracts or on the $99/month sales engagement plan, you'll receive a 1-hour onboarding session with our success team, to help get you started with the platform, and receive personalized feedback on your campaign copy and strategy.
We also offer one-hour live training and one-hour open office hours twice a week, where you can join and ask questions about the Mailshake platform, or get a live review of your campaign.
At the end of the day, your outreach will only be successful if your strategy is solid and your copy is effective. Our success team has helped thousands of customers do both.
5 More Salesloft Alternatives
If Mailshake doesn't seem to float your boat, don't fret. Here are 5 more Salesloft alternatives to consider before making a decision.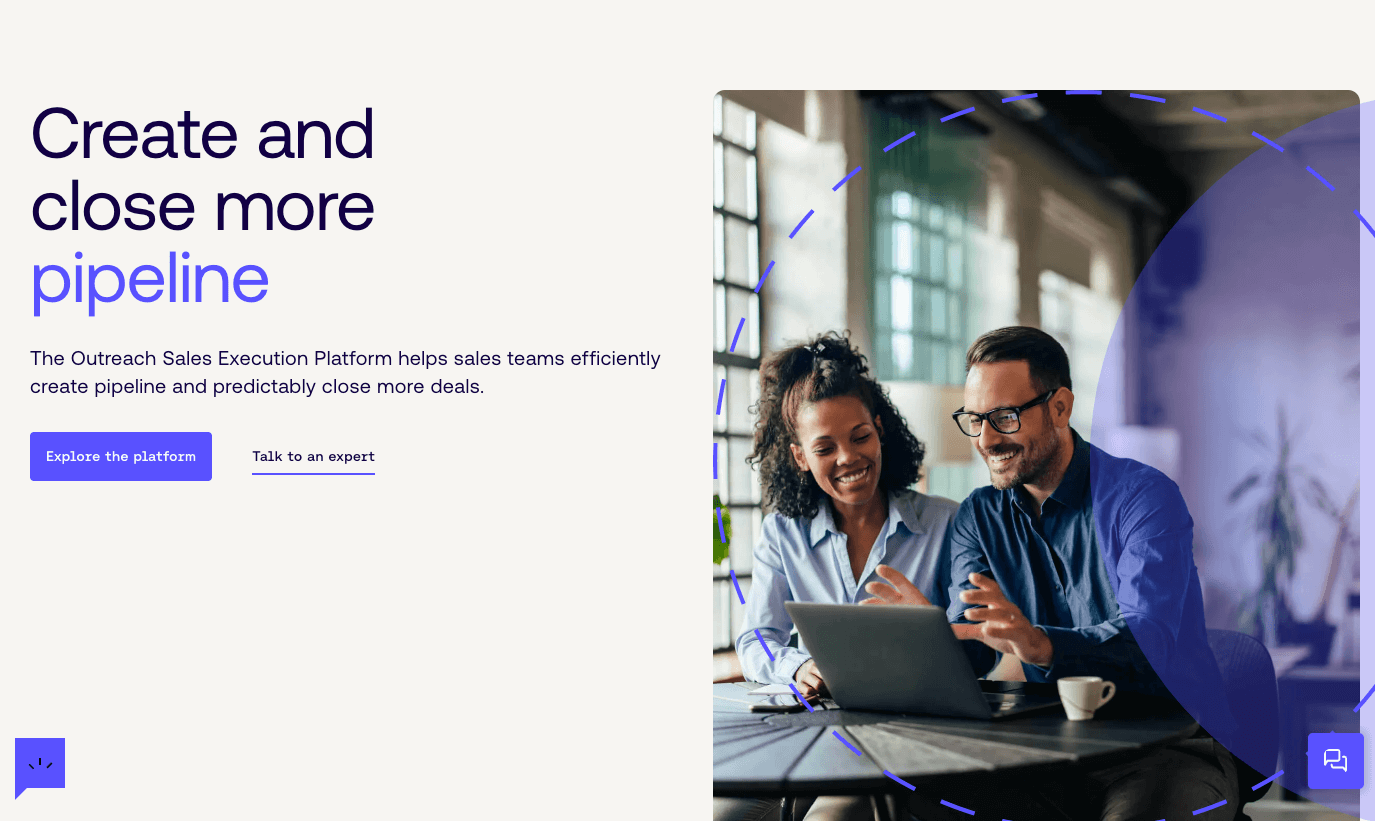 G2 Rating – 4.3/5 (3,108 reviews)
Capterra Rating – 4.4/5 (284 reviews)
Outreach.io is widely regarded as one of the top alternatives to Salesloft by sales leaders everywhere. Founded in 2014, it is also classified as a category leader in the sales field. Outreach aims to empower sales teams by equipping them with the content and tools they need to engage effectively with prospects.
It helps users in:
Reaching out to potential buyers
Creating automated sequences to generate leads
Improving sales performance using machine learning
Analyzing insights for better engagement
Integrating all sales tools and CRM activities in one place
The reason why Outreach is considered the top alternative to Salesloft is that it has very similar features — including CRM integration, extensive features for calls and emails, inbox integration, performance analytics, sales activity automation, and content, team, and workflow management.
The only exception is deployment differences. While Salesloft works on SaaS/Web/Cloud and iOS both, Outreach only works on SaaS/Web/Cloud. The platform also has a difficult-to-understand interface for new users and beginners often need to spend some time learning how to use it.
Pricing
Outreach.io doesn't have any pricing models published on its website. Instead, they provide custom quotes for single licenses, which can start at around $100 per month per user.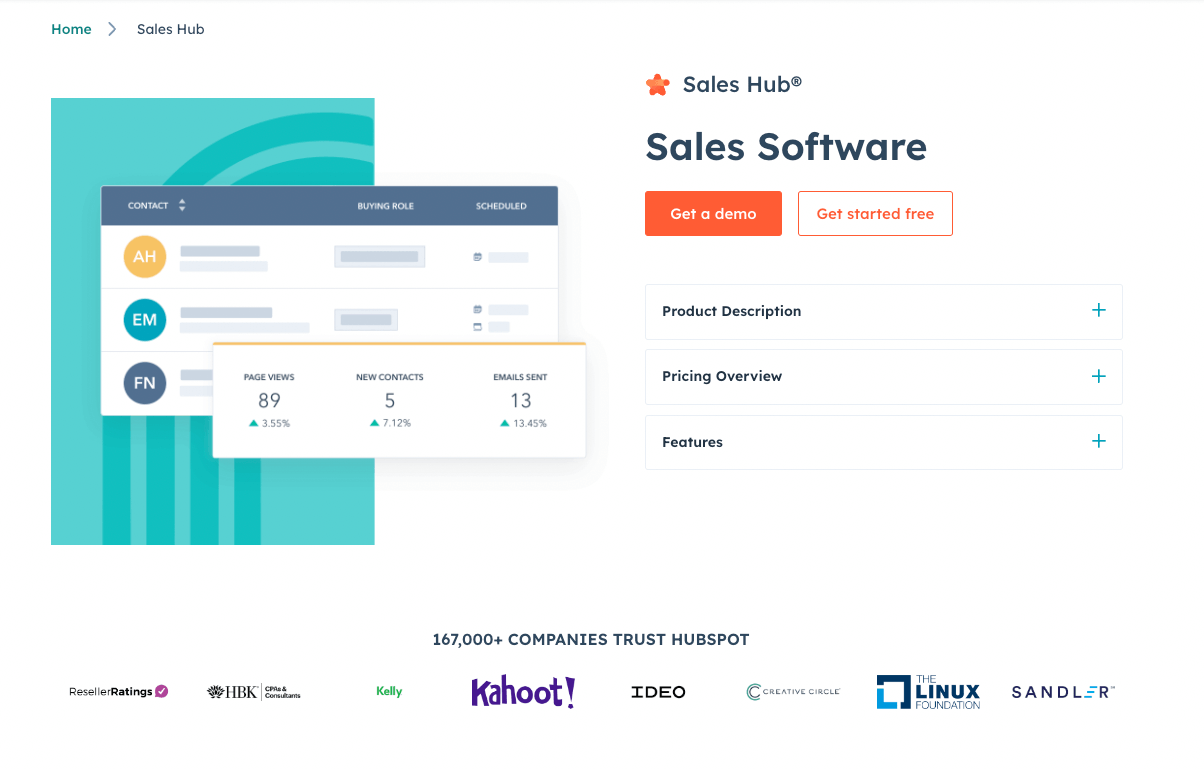 G2 Rating – 4.4/5 (10,114 reviews)
Capterra Rating – 4.5/5 (3666 reviews)
HubSpot is a popular CRM platform offering multiple products, one of which is the HubSpot Sales Hub. The Sales Hub is a popular alternative to Salesloft due to the many features it offers (precisely 39).
These features allow:
Scheduling appointments and meetings
Automating sales
Keeping track of all leads easily with deal stages
Improving performance with detailed business insights, sales analytics, and reporting
Management of workflow and team with collaboration features
Apart from this, it also offers a library of up to 5,000 email templates and conversation intelligence to improve sales performance. Other features include a call logging app, sales dialer, forecasting software, and deal tracking software.
Pricing
HubSpot Sales Hub offers four pricing plans. They also offer a free trial, which Salesloft does not offer. Here are the details of HubSpot's pricing plans: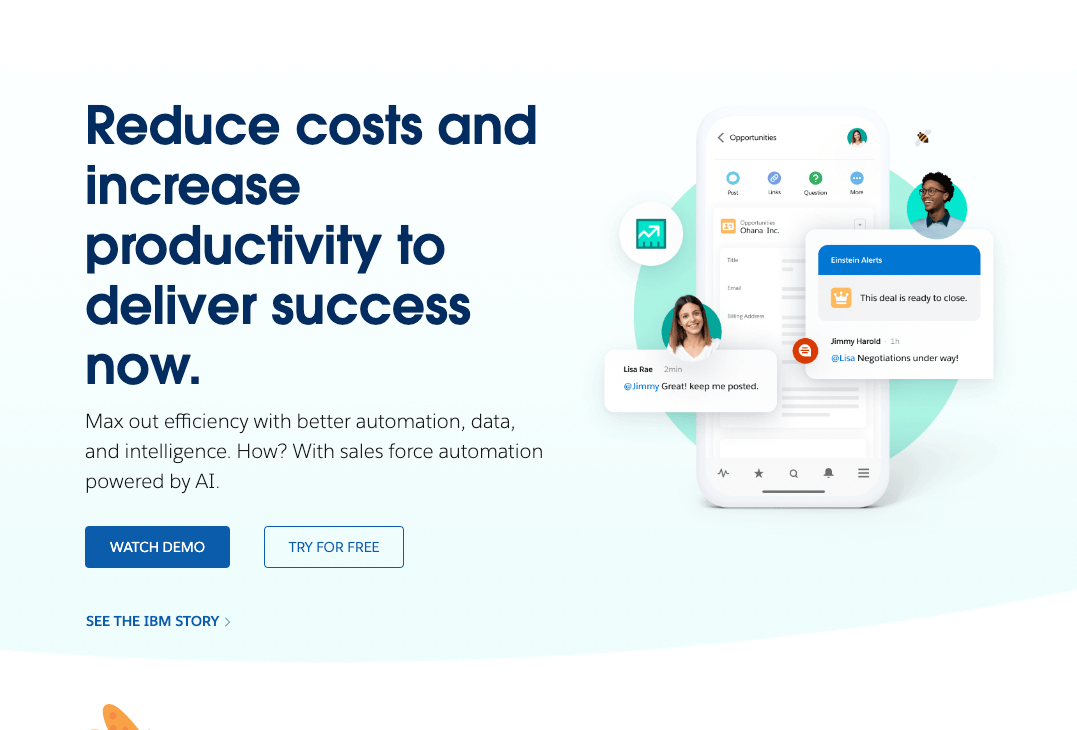 G2 Rating – 4.3/5 (13,630 reviews)
Capterra Rating – 4.4/5 (17584 reviews)
Third on the list is Salesforce Sales Cloud, which maximizes productivity by enabling organizations to manage end-to-end sales functions like entering product information and creating campaigns. The platform utilizes AI to help you sell faster and more efficiently and has been around since 1999.
Boasting a competitive CRM system, Salesforce offers easy management of campaigns, leads, accounts, contacts, cases, and opportunities. Some other features are sales forecasting, sales tracking software, multi-channel support, marketing automation, and sales lead management.
Pricing
Salesforce Sales Cloud offers four pricing tiers, starting at $25 per user per month and scaling up to $300 per user per month. You can upgrade at any time, and a free trial is available for all tiers.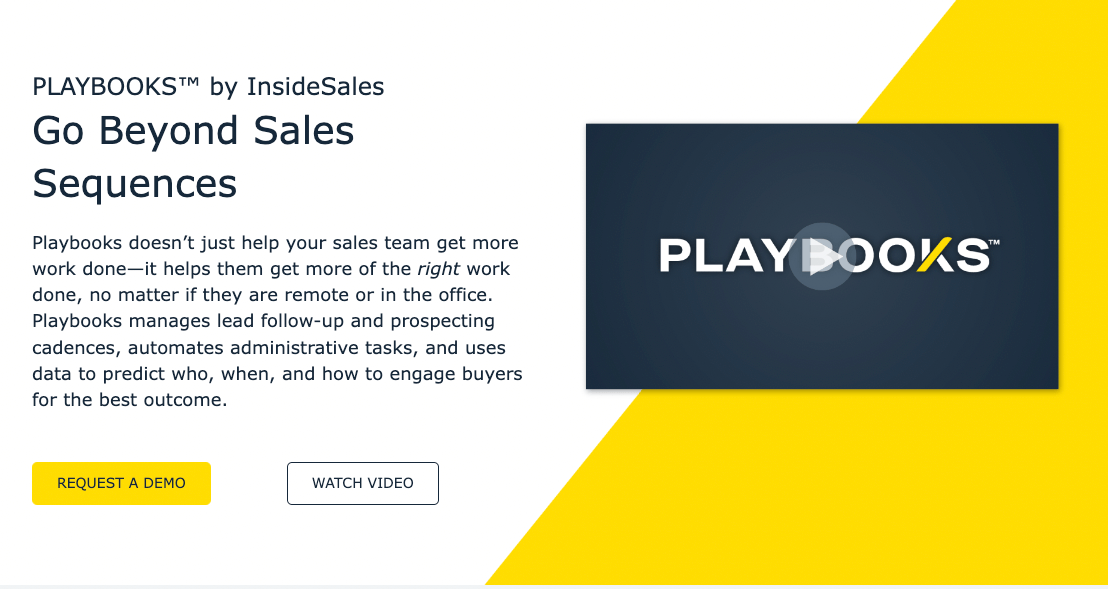 G2 Rating – 4.5/5 (616 reviews)
Capterra Rating – 3.5/5 (35 reviews)
Playbooks is a sales solution offered by InsideSales.com. InsideSales Playbooks is a fully integrated, AI-powered tool made to accelerate and increase sales.
Users can access InsideSales through web-based software or their Android native app. It offers most features usually found in sales management software like API, CRM and email integration, forecasting, data import/export, scheduling, call management, lead scoring, and integrations with other popular online tools. It also has a buyer intelligence feature, which fetches details about the prospect and helps you identify how to approach them.
However, InsideSales lacks complex features like lead, customer, and project management. It also does not have a multi-user system and is made for only teams.
Pricing
InsideSales does not mention pricing on its website but provides custom quotes. They also offer a free demo of the software. According to user claims, their team is super responsive.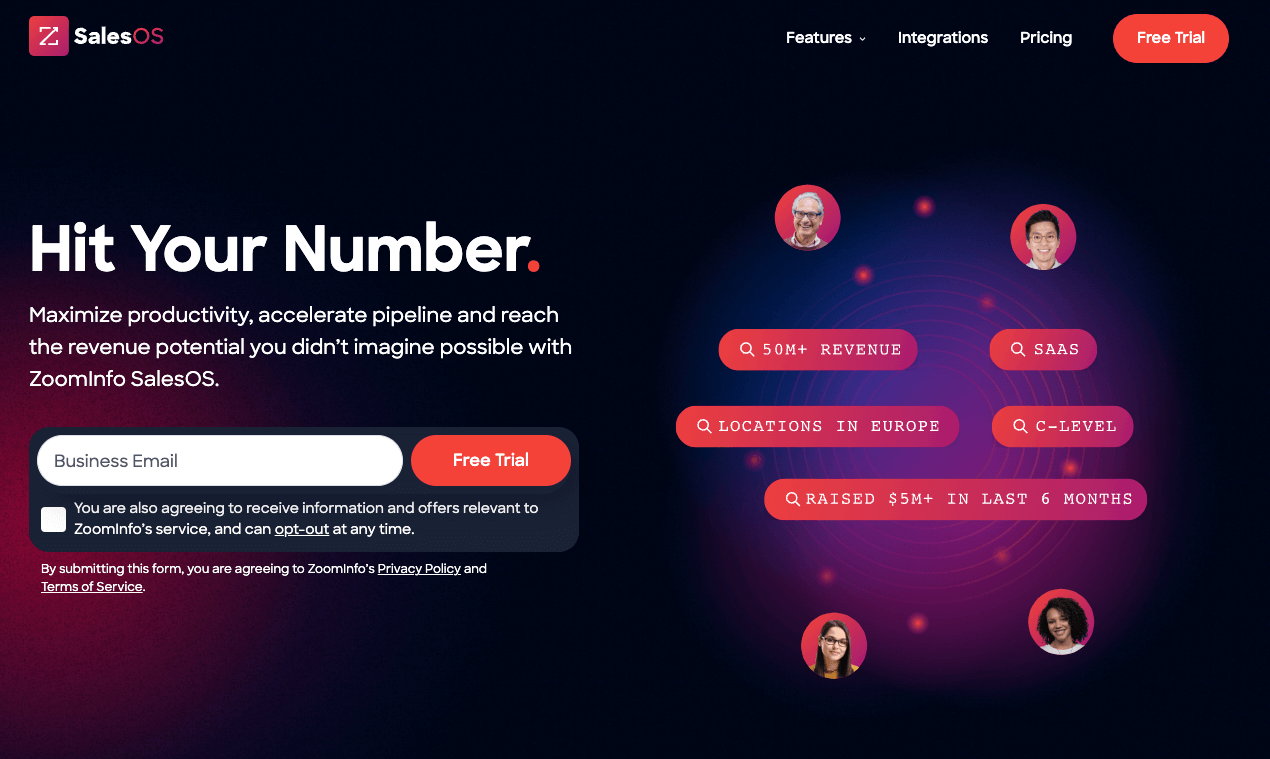 G2 Rating – 4.4/5 (6,401 reviews)
Capterra Rating – 4.2/5 (258 reviews)
Founded in the year 2000, SalesOS is a B2B sales prospecting software by ZoomInfo. When compared to Salesloft, SalesOS has a more user-friendly interface and is easier to set up and use. But most features offered by SalesOS are the same as Salesloft.
SalesOS enables organizations to hunt, research, contact, and pursue prospects. It also has a website visitor tracking feature. Other key features include email and call automation, workflow management, and lead generation. Finally, the tool offers a range of popular integrations, including Slack, HubSpot, Salesforce, and Salesloft.
Pricing
SalesOS offers three pricing plans to suit the needs of different businesses. However, they have not mentioned the prices of these three tiers on their website, meaning you'll have to request a quote.
The Bottom Line
Salesloft is a great product for established sales teams ready to make a long-term commitment to outbound sales on a single platform.
For most sales teams, however, Mailshake:
Has all the features you need
Is much easier to use
Has more personalized and effective customer success