How Scalestack Went from 0 to $500k in ARR in 1 Year with Better Data and Cold Email
How Scalestack Went from 0 to $500k in ARR in 1 Year with Better Data and Cold Email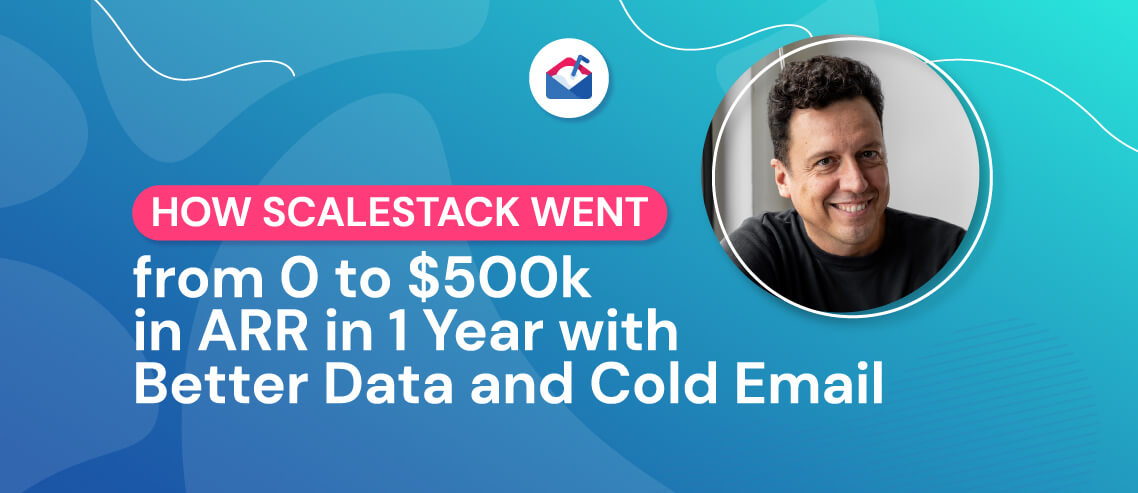 Scalestack, founded in 2020, is similar to a Zapier for B2B Sales Data: it creates optimized data workflows for its customers in order to help them find the right prospects and grow their revenues faster. In our first year since launch, Scalestack went from $0 to $500K in ARR, acquiring enterprise customers like MongoDB, IAC.com and NetApp, as well as startups like Rentroom, nFlux and Easol. The idea worked, and in the short 12 months (during a global pandemic), Scalestack learned a lot of lessons on what works and what doesn't. We used lots of tools, including our own, and used Mailshake to improve cold email.
Strategies to scale your startup
Quality data on your ICP helps you convert
When we launched Scalestack, one of the first things we did is isolate and test our ICP (Ideal Customer Profile). 
In order to develop a good product, you need to know who your users are and the core problems you can solve for them Once you define these things, you can avoid wasting time, your scarce resources, hurting your domain, and having prospects send you to spam or unsubscribe. The ICP helps us understand who to target first. It's essentially a hypothetical description of the type of company that would benefit the most from your product or service, and therefore be more likely to talk with you.  
Knowing your ICP will help you target your outreach, speak to their problems, and effectively provide a solution. Scalestack optimized from the very first sales outreach through understanding our ICP and using quality data from various sources. Obviously, we were lucky: we developed tools for connecting many different data sets. 
So, how do you build your ICP and with what data?  A straightforward place to start is geographical location. Is our ideal customer located in a particular country? Is there any country we don't want to sell to? This data will inform cultural norms, business climate, and your competitive market—so it's a great place to start.. 
Another important aspect is ICP's industry. What industry are they in and how does that influence your value proposition, their decision-making tree, and advancements in solution awareness and adoption? Don't forget that industries can be segmented too. 
Let's say, for example, that you're a software company that sells property management software. Naturally, you'll be targeting real estate companies. Yet, which real estate companies? Are they commercial real estate? Residential? Communities? What do these companies manage? Private homes? Student housing?  Being as specific as possible will further help you narrow into your value proposition and why you're reaching out to this ICP in the first place.
Contacting people with little or no interest in our products or services is a waste of time and energy for everyone involved. Of course, it's impossible to predetermine with absolute certainty if a person will be interested in what you have to say. However, there are proven methods and frameworks that help us have a solid idea about a potential lead's interest. When we came to that conclusion at Scalestack, we learned the importance of building strategic documents—in particular—a well-defined ICP: a collection of definitions that help us define who to target (and who to target first). Solid enough to guide our initial efforts and flexible enough to be updated with experience. The more specific we become on the ICP definition, the more our sales efforts will produce results. In order to be very specific, you need to have good data: quality data helps you increase the efficiency of your sales process, and eventually increase your win rate on deals. 
4 practical tools to make your outbound sales go smoothly 
We've created a shortlist of the top 4 tools and skill sets you need to develop to effectively convert on outbound campaigns.
1. Use copywriting software like Warmer.ai
Your copy is your message. Although sales teams are not traditionally trained on writing copy like marketers are, this is the translation of value. The message needs to be scannable, concise, coherent, and relevant.
2. Warm up your domain before starting with tools like Warm Up Your Email
Your domain should be considered sacred. Once you tarnish your domain's reputation, there's no going back. This is critical, especially if you're a new business with a relatively new domain. You don't want your emails hitting spam automatically, and so you need to warm up your domain to make your outreach just a little less cold.
3. Email personalization + cold email deployment tools like Mailshake
Your emails need to be personalized. Simple. Why? Because that makes them relevant to the individual receiving them. Otherwise, you're basically talking to yourself, about yourself. Make it about your prospect (that's the whole point, isn't it?). Using Mailshake in conjunction with Warmer.ai, you can have copy created for you automatically, so you don't have to do the heavy legwork of personalization.
4. Scheduling software like Chili Piper
Let's face it, no one likes playing email tag to find a time. Make it easy by giving prospects access directly to your calendar. If you've got the above 3 down, then prospects will be compelled to book a time with you. This is the easiest way to reduce the friction of finding time together.
The classic challenge here is to find the correct balance. An ideal scenario is to write relevant, super-specific cold emails our leads can relate to. The problem is, customization usually comes at the expense of scalability when we're not using any tools, and we can't have sales reps writing custom emails for every single lead they contact.

Fortunately, nowadays we have amazing tools at our disposal that can help us achieve a great level of automation without sacrificing customization, allowing us to contact people at scale with strong emails that convert. Our first months were spent writing very specific emails for each one of our leads, with not-so-exciting results. We wish we had found Mailshake sooner.
3 mistakes to avoid when scaling
Throughout our exciting Scalestack journey in the past year, we learned (sometimes the hard way) about typical mistakes that companies make in their B2B sales process. Obviously, there are many, but we want to focus here on three that we believe are key:

1.
Not investing time in automation
Sometimes we don't think about exploring better methods or tools—we just stick with what we know works fine. If we just knew that investing a little bit of time in setting up and exploring automation options would mean we can scale our efforts, we wouldn't hesitate. When freeing up our sales team's time, we managed to help them focus on value-add sales activities. To do so, it's advisable to spend some time dividing the sales process into smaller activities to understand which parts can be automated.
2. Overlooking LinkedIn's potential
It's hard to point in any direction other than LinkedIn when thinking about useful websites for salespeople. Everyone typically thinks about job postings and company profiles when thinking about this strong business network. When in reality, LinkedIn offers much more. With all its information and resources, it's the type of source you want to spend a fair amount of time with. But you need to do it right. When people learn about you or your business, what will they probably check out first? Your LinkedIn profile or company profile. If you want to find people that can represent interesting leads, where can you start? Again, LinkedIn. Spend time on setting up a great profile (and keeping it up-to-date), finding companies, and contacting them through InMail or direct messages can go a long way and help both with Sales and Marketing as well.
3. Thinking that sales is only about… selling
Of course generating revenue is one of the most important objectives of a sales team. But.. is that it? Over the course of our trajectory, we found something  that was clear to us: sales is about putting the correct solutions into the hands of people with the problems that we can solve. And we were right. Sales is not about convincing or persuading. Rather, it's about guiding to a common goal.. We have the duty to make our product team's hard work and dedication reach the hands of people with real pain points we can help with. Because of that, it is important to focus on understanding our leads. We should fit our wording and vocabulary in a way that we won't push them to buy, but rather help them see what value they can get from our solutions. We should also thoroughly study our leads and companies we talk with before jumping into calls with them. Understanding people drives the best results.

If you want to learn more about scaling your startup, we're hosting a webinar with Mailshake at 10am PT (12pm CT/1pm ET) on Thursday, October 7. I'll join Luiz Cent, Head of Sales at Mailshake, to discuss how our companies have achieved hypergrowth in their sales efforts—and how you can do it too.
On the webinar, we'll dive into several topics, including: 
1) How quality data helps you convert
2) Top tools to use in your outbound campaigns
3) What mistakes to avoid when sending cold email
4) How to build recurring revenues
5) How to build relationships with your customers and create upselling opportunities