How Builtfirst More Than Doubled it's Open Rate with Mailshake
How Builtfirst More Than Doubled it's Open Rate with Mailshake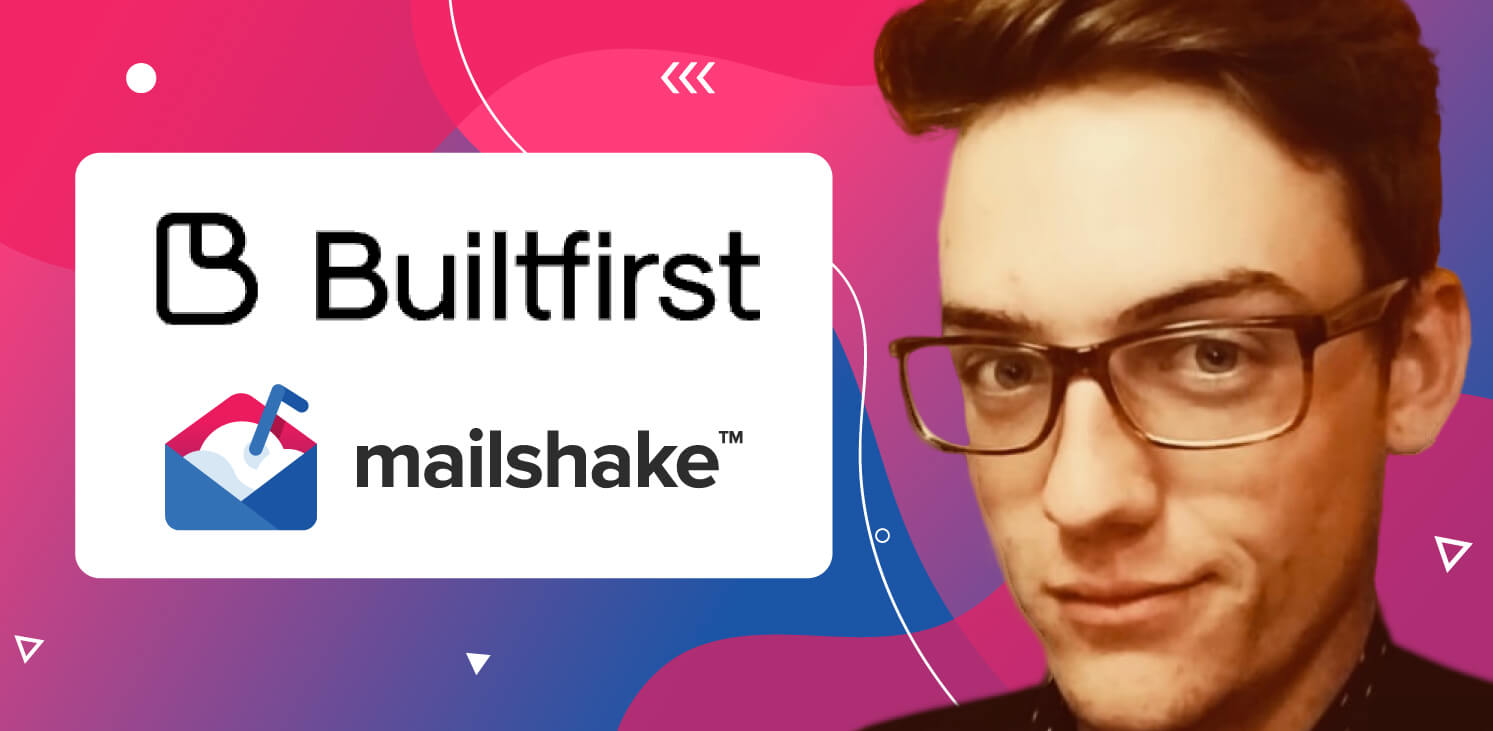 They say beauty lies in simplicity. And this case study is an excellent example of that.
We recently interviewed Luke Ruffing, who is a partnership executive at Builtfirst. He's responsible for running the full sales cycle and brings in Builtfirst's pipeline through email and cold calling.
He's also the co-founder of SalesCast, the podcast that gives quick & easy sales advice.
Just like many companies out there, Builfirst was suffering from the most common disease of the sales world — poor email open and reply rates.
But not anymore, thanks to two simple Mailshake features. So let's take a look at what they are and how they can help you take your email marketing to the next level.
Builtfirst Email Metrics: Before And After Using Mailshake
Metrics Before Mailshake
So how did Builtfirst's numbers look before they tried Mailshake? Luke revealed they were able to achieve only a 30% open rate and a 1% reply rate when they were using Apollo for outbound.
They were also using HubSpot for inbound at the same time and working with similar numbers — a 40-50% open rate and an 8-9% reply rate.
Now, you might think these numbers are already good enough. After all, the average email open rate across most industries is 21.33% and the generally accepted average reply rate is 1-5%.
But Luke wasn't satisfied. He believed these numbers were not enough to generate a pipeline that could sustain a $60,000 a month quota. Enter Mailshake.
Metrics After Mailshake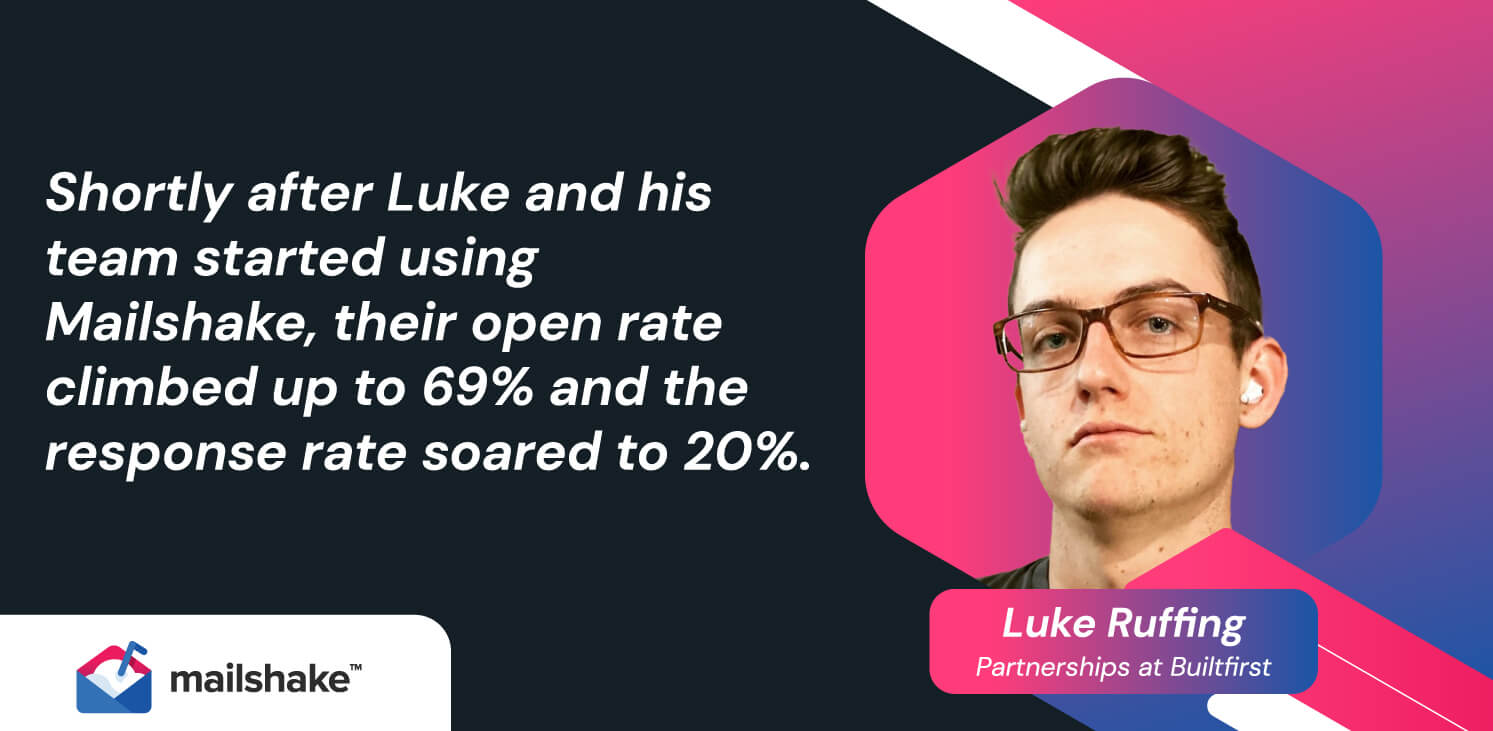 Shortly after Luke and his team started using Mailshake, their open rate climbed up to 69% and the response rate soared to 20%.
In addition, Luke was able to book 12 meetings out of the 150 people he contacted within the first month of using Mailshake. This was in contrast to 1-2 meetings he used to be able to book before.
Now, it's easy to think these changes needed a drastic overhaul of Builfirst's sales process. But in truth, nothing really changed except two simple Mailshake features.
Two Mailshake Features That Made A Difference
Time for the big reveal! The two Mailshake features that made all the difference for Builtfirst are email warm up and list cleaning. Let's take a look at how they work.
Mailshake Warm Up
At Mailshake, we like to start with the basics and work our way up. This is why we focus a lot on deliverability. After all, if your recipients don't see your email, how are they ever going to respond to them?
This is where our cold email deliverability tools come in, which are included with every Mailshake plan. Top of the list is the email warm up tool, which automatically sends emails from your email account, opens them, and replies to them. This ensures email providers don't flag you as a spammer and your emails keep landing in the primary inbox.
Mailshake will also check your domain for technical setups like DMARC, DKIM, and SPF records and notify you about any problems with your email deliverability configuration.
Interestingly, Luke also approaches email outreach the way we do. He pointed out that front-end technicalities like A/B testing and copywriting won't be of any use if your emails keep landing in the spam folder, which we think is right on point!
Mailshake List Cleaning
The second feature that helped Builtfirst hit those numbers is list cleaning (or list validation as we call it). This is also a part of our deliverability toolset and is included in every plan.
In a nutshell, Mailshake classifies each email address based on its bounce risk. It then removes any email addresses with a high bounce risk from your list, so your email sender score doesn't take a hit.
Again, this is crucial for maintaining good deliverability, which we (and Luke) think is the foundation of a successful email outreach campaign.
Bonus: Mailshake's Email Training
In addition to the two features described above, Luke also mentioned a third "feature" that helped him improve his campaigns. Although this isn't exactly a Mailshake feature, helping customers with deliverability and email copy is one of our core offerings.  The Cold Email Masterclass is also a great resource for customers starting out with their email outreach.
Good deliverability will make your emails land in the primary inbox. But if you want them to also land in the reader's heart (and make them take action), they better be pretty darn good. This is why the Mailshake team worked closely with Luke and helped him adjust his email copy. We particularly focused on improving his calls to action and made them easier to respond to.
For example, instead of asking for a Zoom call, we first decided to ask prospects if they'd like some stats on a topic of interest. As Luke puts it, this was easier to say yes or no to and added "an additional layer of value before asking for time". Once again, simple but effective.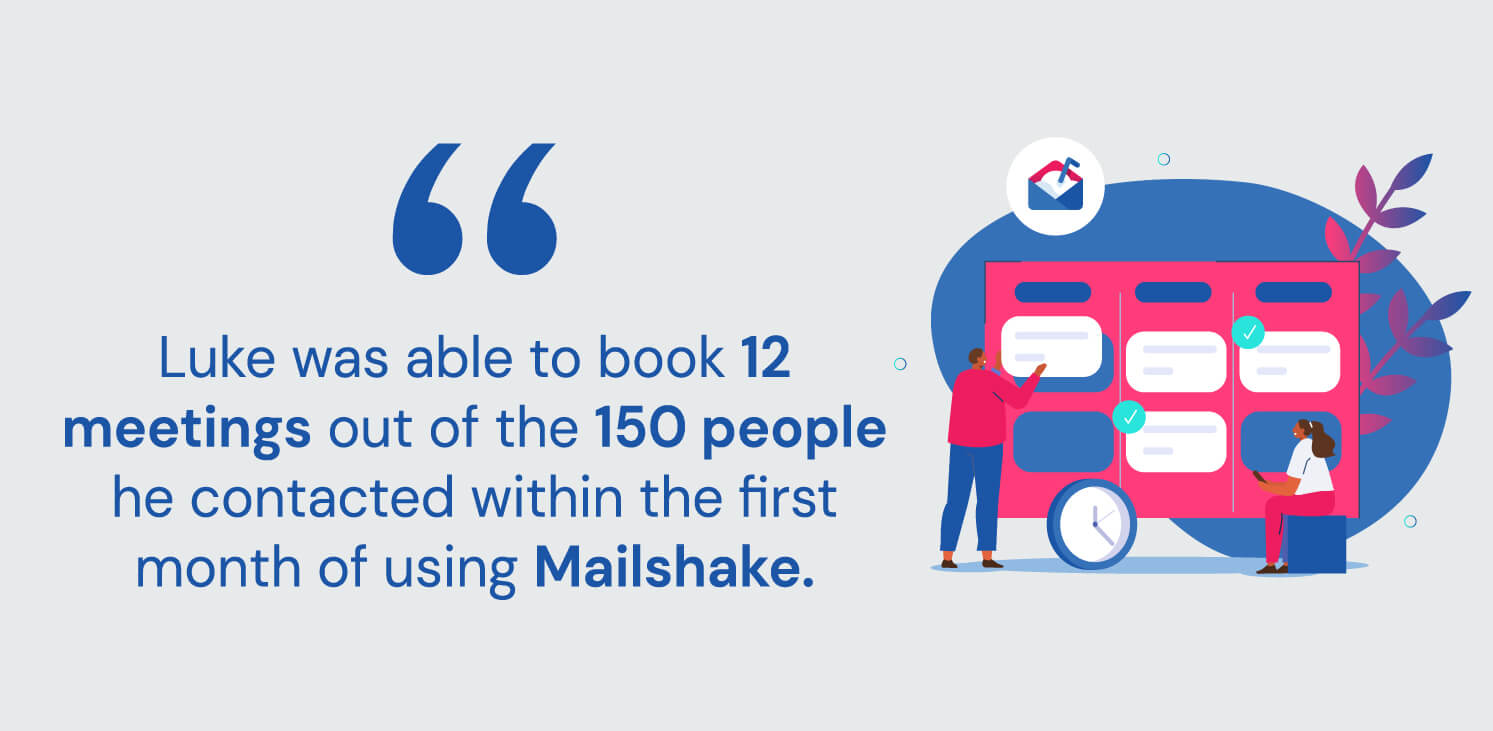 Builtfirst's Typical Sequence: An Interesting Approach
It would be wrong to say that Mailshake is the only reason behind Builtfirst's success. That's because they have a very interesting and effective sequence.
They focus on one problem at a time and send emails related to only that problem in a week. Luke calls this "a lot of short spears". The next week, they come up with another client problem they can solve and send emails related to that.
Builtfirst combines this approach with what Luke calls "The Triple" — which includes a LinkedIn view, a comment on a piece of content the prospect created, and a phone call. Luke does all of this within 5 minutes of each other and he believes it's a good way to let prospects know they're being prospected. This yields a quick yes or no from the prospect and allows Luke to focus on only those who are interested.
If that sounds interesting to you, you might want to check out our just-released LinkedIn Automation feature that helps you automate LinkedIn messages, profile views, and connection requests to harvest the power of omnichannel outreach.
The Takeaway
If there are three points you want to take away from this, they should be deliverability, deliverability, and deliverability.
Remember, it's the foundation of a good email campaign and it takes only simple measures — like email warm up and list cleaning — to ensure you get it right.