Tuesday Teardown: Sales Sequences Reviewed by Experts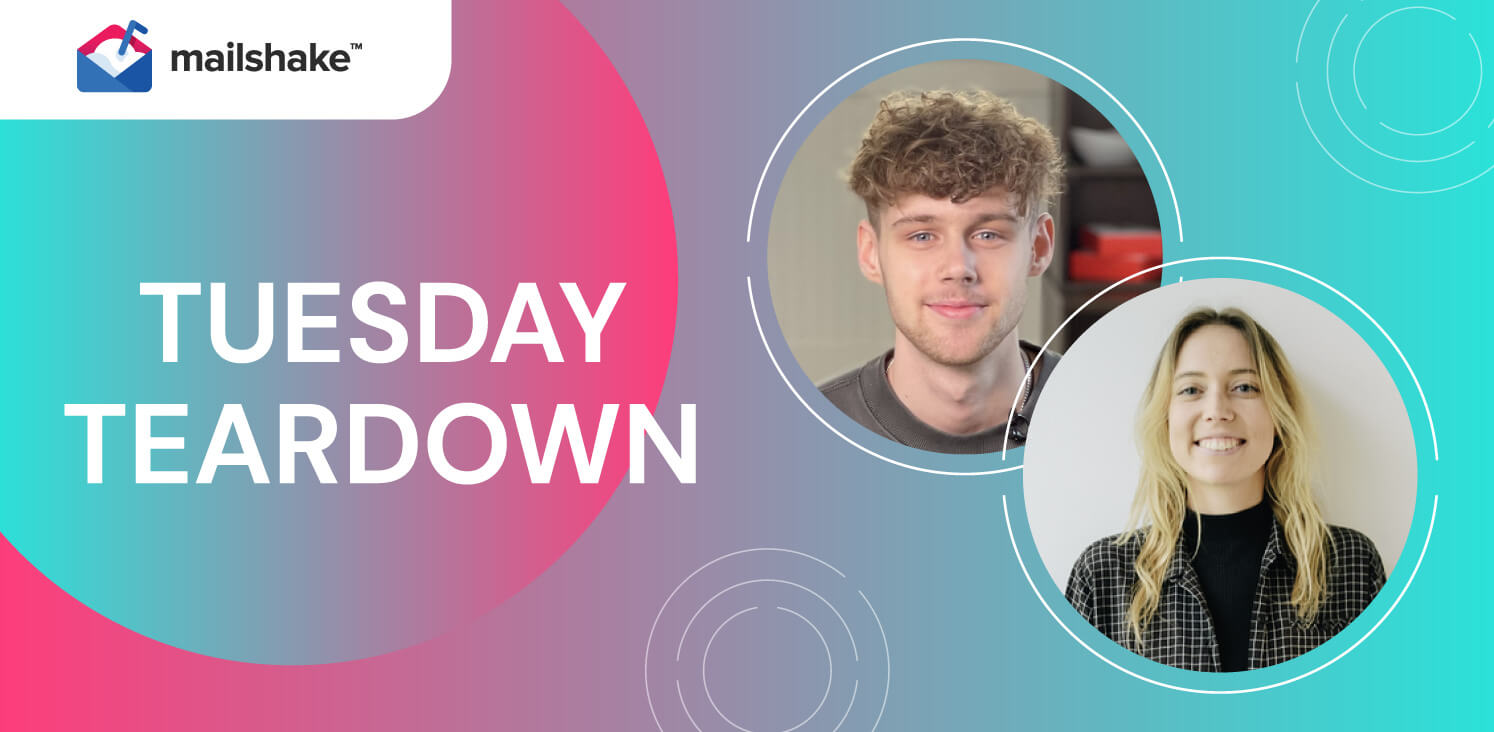 No sales rep wants to make a mistake in their messaging. It can cost you big time in terms of deals closed and reputation.
But with so many sequences to create and send out, it can be difficult to take a step back and determine if you're going in the right direction.
That's where Teardown comes in. At Mailshake, we strive to help sales teams and professionals improve their marketing messages and get better results.
To further our efforts in this regard, we're launching Tuesday Teardown.
Teardown will be a 20-minute LinkedIn Live session 12:30 pm every Tuesday EST, where two of the most experienced sales professionals at Mailshake will review your omnichannel marketing cadences to reduce your learning curve and make your messaging error-free.
But just how "expert" our experts are, you ask? Let's find out!
Introducing our experts Jed and Maggie
Teardown will be run by Jed and Maggie, who will be reviewing the sequences you send in.
Jed is the Head of Outbound Sales at Mailshake (he built our outbound team from scratch!) and Maggie is our sales evangelist.
Jed, joined Mailshake 6 months ago. But don't let that deceive you when it comes to his sales and marketing experience. Interestingly, Jed stumbled upon his first sales role at the young age of 14, when he was working as a detailer at a carwash.
In 2019, he took a leap of faith and moved across the country to apprentice at a startup called PandaDoc. 2 years later, he scaled his team from 3 SDRs to 18 SDRs and 2 team leads, helping PandaDoc achieve a billion-dollar evaluation. He shares the strategies he's used to bag this success through The Practical Prospecting Newsletter.
Our other expert, Maggie joined our company in 2020 as an SDR. And within the small span of two years, she got promoted twice — first to an AE and then to the sales evangelist. She has presented over a 1000 demos at Mailshake and has an impressive closing rate of 40%.
She believes the key to succeeding in sales today is humanizing automation. So if you're interested in learning more about how you can use Mailshake to automate your sales process and improve your results, be sure to tune in to Tuesday Teardowns! Sign Up Here
How can you participate in Teardown?
If you want your work to get reviewed by Maggie and Jed, simply email your cadence to maggie@mailshake.com.
Each Teardown session will begin with 5 minutes of intro and sales outreach facts, followed by 10 minutes of reviewing your cadences. This will be followed by 5 minutes of talking about one key takeaway that you should take from the session.
Of course, you don't have to send in a cadence to benefit from Teardown. You can simply watch the session and learn from the mistakes (and successes) of others.
So make sure to tune into our LinkedIn Live sessions on our official LinkedIn page at 12:30 pm every Tuesday. We're looking forward to seeing you there!