The 50 Best Sales Books To Read in 2023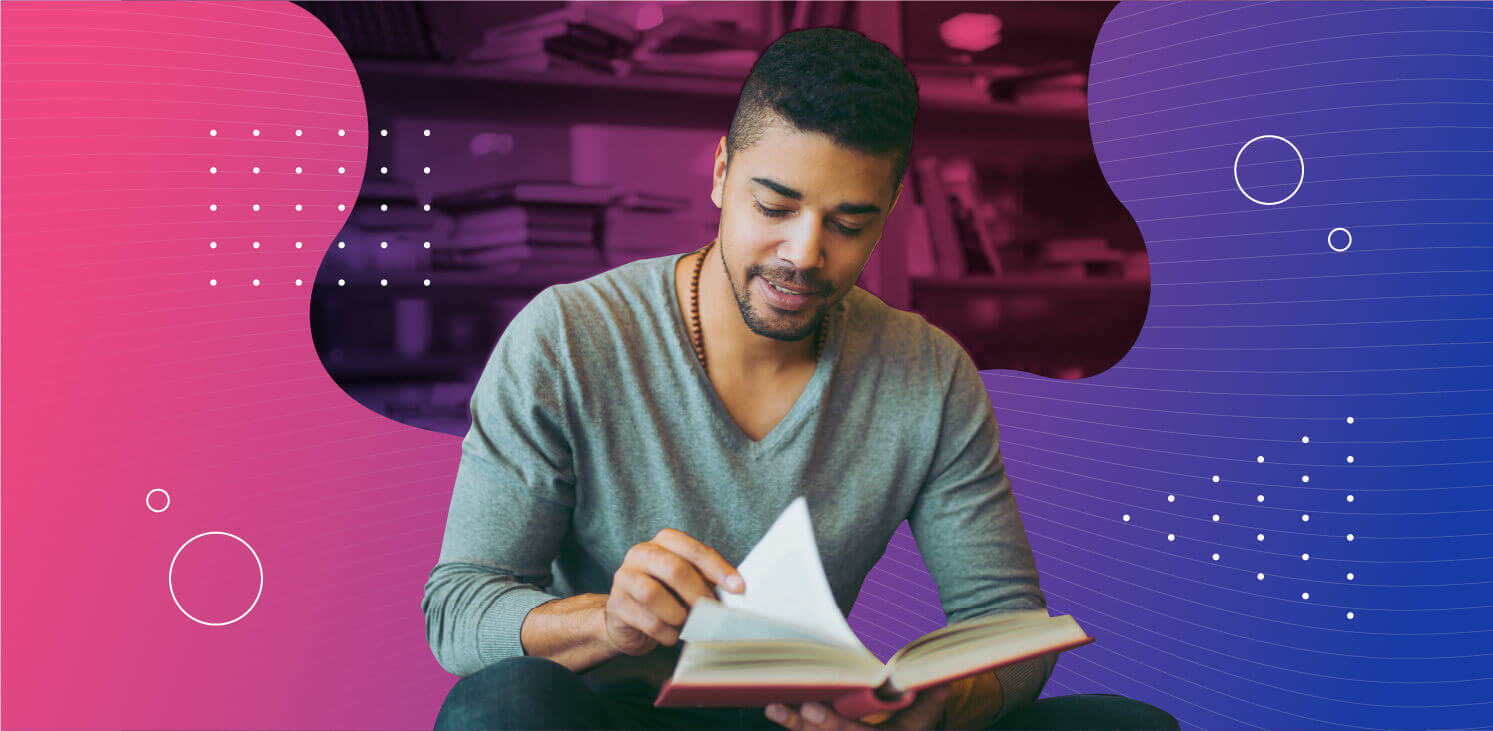 If you're looking for the best books on sales and marketing, you know how hard it is to pick a truly valuable book that stands out from the rest. 
So the question is…
What are sales professionals reading to stay on top of their game? What are the tactics they're talking about and adopting to improve their results?
To find out, I went straight to the source. I asked some of the top salespeople in the industry — VPs, coaches, closers, and developers — for some of the best books on selling, best sales psychology books, and guides to brush up on sales strategy. Keep reading to learn what they recommend as the absolute best sales books for anyone in the sales and marketing industries.
Author: Oren Klaff
Category: Sales Strategy
A good friend and consummate salesperson recommended this one to me because it transformed how he interacts with people — whether he's actively selling or not. The S.T.R.O.N.G. Method taught in this book helps you identify hurdles to selling and tips for reading subtle shifts in power during meetings. If you want to regain control of the agenda and flow of your meetings, this sales book is a must-read.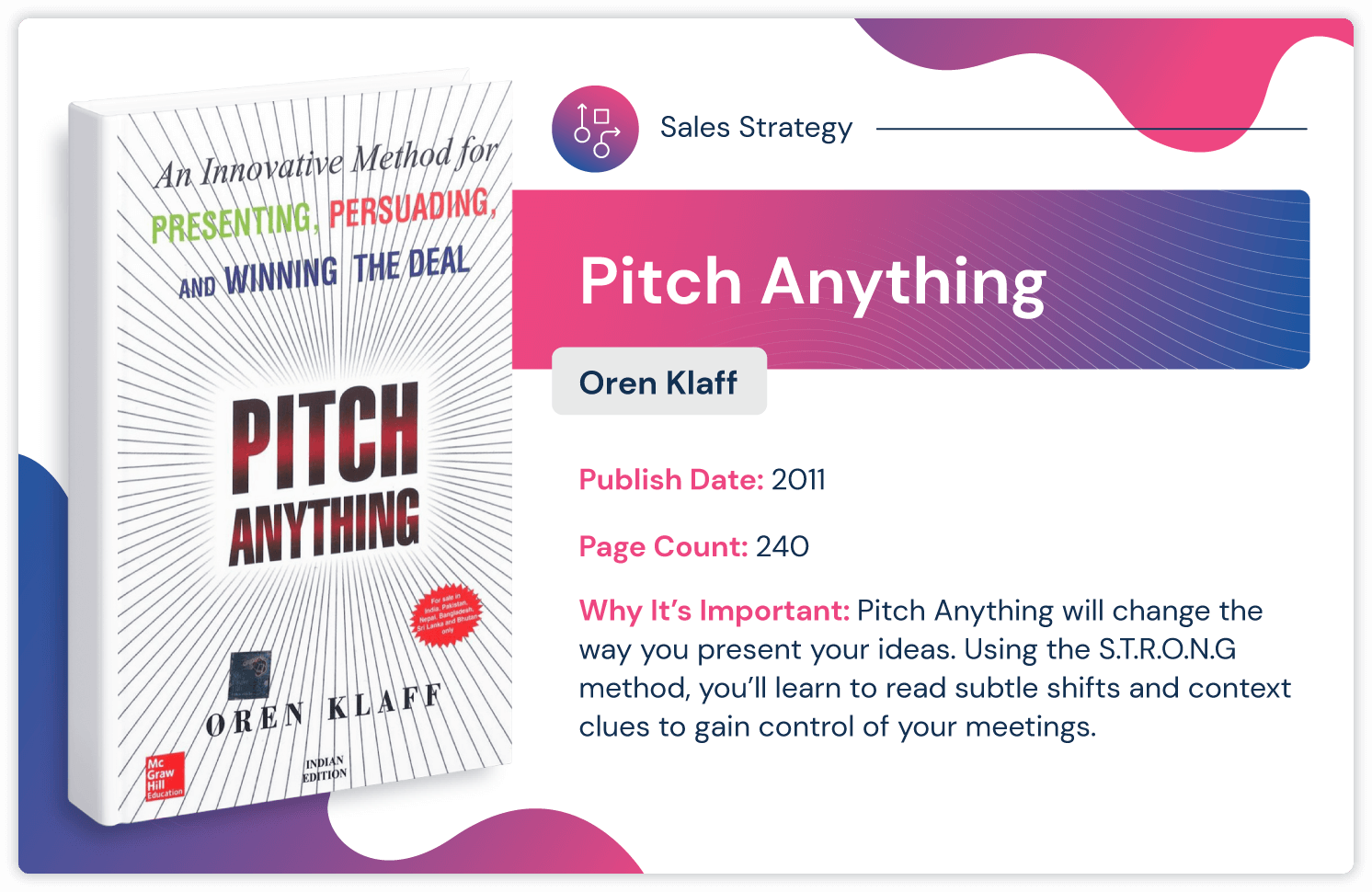 Author: Mark Roberge
Category: Sales Strategy
Lucia Piseddu, founder of the BD School, describes this book as "enlightening." It gives a scalable, predictable approach to grow revenue and build a winning sales team. It's the same methodology Roberge used to lead HubSpot to acquire and retain the company's first 10,000 customers across more than 60 countries. In other words, it's a proven process that makes sales predictable. 
Authors: Aaron Ross and Marylou Tyler
Category: Sales Strategy
If you're after predictable sales (and who isn't?), you'll definitely agree with Dmitry Chervonyi when he says that this is the "sales Bible" for his sales team. This isn't another manual on making cold calls or closing deals. Discover the 7 deadly sales blunders you must avoid, as well as the outbound sales approach that helped Salesforce add $100 million ARR.
Authors: Marylou Tyler and Jeremey Donovan
Category: Sales Strategy
This is one of my favorites. It's an easy-to-read and easy-to-apply guide to develop a solid, sustainable pipeline for B2B sales. This book shows you how to target and track your ideal prospects, optimize contact acquisition, continually improve performance, and hit your revenue goals quickly, efficiently, and predictably. 
Authors: Matthew Dixon and Brent Adamson
Category: Sales Strategy
This book is going to challenge everything you thought you knew about sales. The premise? That relationship-building is a flawed approach. Instead, you need to take control of the sale, reframing customer expectations and delivering a distinctive purchase experience that leads to loyalty and growth. Here, you'll learn how to become the Challenger sales rep who drives a new level of results.
Authors: Brent Adamson, Matthew Dixon, Pat Spenner, and Nick Toman
Category: Sales Strategy
The authors of The Challenger Sale didn't sit on their laurels after releasing their findings about the Challenger seller. They continued their research and found that being a Challenger isn't enough. You also need to challenge the right people, particularly in today's complex multi-stakeholder deals. This book helps you identify the hidden influencer and gives you a blueprint for engaging and equipping them to challenge their organization from within.
Author: Anthony Iannarino
Category: Sales Strategy
According to David Breshears, this book is "critical strategic and tactical advice for transitioning sales from a blue ocean to a highly competitive market." Sometimes, to win the deal, you have to steal customers away from your competition — but you have to be able to do that without losing trust. This book shows you how to create a long-term competitive advantage that you can sustain.
Author: Chris Voss
Category: Sales Strategy
Written by a former FBI international hostage negotiator, this book helps you navigate high-stakes negotiations as if your life depended on it. Voss shares 9 counterintuitive principles that take emotional intelligence and intuition to the next level. Use them to become more persuasive in every aspect of your life. Michael Cavopol says this one is "VERY good." And Daniel Episcope, Sales Engineer at DialSource, calls this, "One of my all-time favorites!"
Author: Grant Cardone
Category: Sales Strategy
Paul Gordon tells me this is his all-time favorite sales book. It takes you beyond the normal degrees of action — namely, no action, retreat, or normal action — by describing a 4th degree, known as massive action. To achieve extreme success, says Cardone, you need to take massive action. This book tells you how, so you easily achieve your goals.
Author: Neil Rackham
Category: Sales Strategy
Essential reading for anyone involved in selling or managing a sales force. Here, you'll learn why traditional sales methods don't work for large sales. You'll let real-world examples, graphics, and case studies aimed to help you produce record-breaking high-end sales performance.
Author: Todd Caponi
Category: Sales Strategy
To build trust and dramatically reduce buyer skepticism, you need to do the opposite of what most sales courses tell you to do. As counterintuitive as it may seem, leading with your flaws can give you a faster close and higher win rates. The key? Transparency and unexpected honesty. 
Author: Mike Weinberg
Category: Sales Strategy
This book is a blunt wake-up call to salespeople who are chasing bright shiny solutions — and refocuses your attention on a proven approach that actually drives results. Get past the noise, and bring back the sanity. Weinberg gives you proven, powerful principles that help you master the fundamentals of selling. 
Author: John Hall
Category: Sales Strategy
"Spoke to my Sales/marketing/business owner soul," said Amy Volas. In this step-by-step guide, you'll learn how to use content to keep your brand front and center in the minds of decision-makers who matter. Business is always about relationships, about a human connection. This book will help you position yourself for success by staying top of mind.
Author: Kelvin Dorsey
Category: Sales Strategy
Written for novice and seasoned online marketers, this sales book will help you improve your online marketing sales strategy. You'll learn actionable sales tactics, such as the "steal the market" method used by General Motors' Alfred P. Sloan, tricks to turn nos into yeses effortlessly, the Earnest Hemingway sales method, and more.
Author: Lee B. Salz
Category: Sales Strategy
Sales Differentiation provides 19 simple ideas to help you close deals while maintaining profitability. The key? How you sell, not just what you sell, makes all the difference. Read Sales Differentiation to learn how to knock out the competition, build profitable relationships, and win deals at the price you want. 
Author: Jeb Blount
Category: Sales Strategy
This book explains the why and how behind the most important activity in sales and business development — prospecting. Learn the secrets, techniques, tips, and position yourself to fill your pipeline with an endless stream of high-quality opportunities.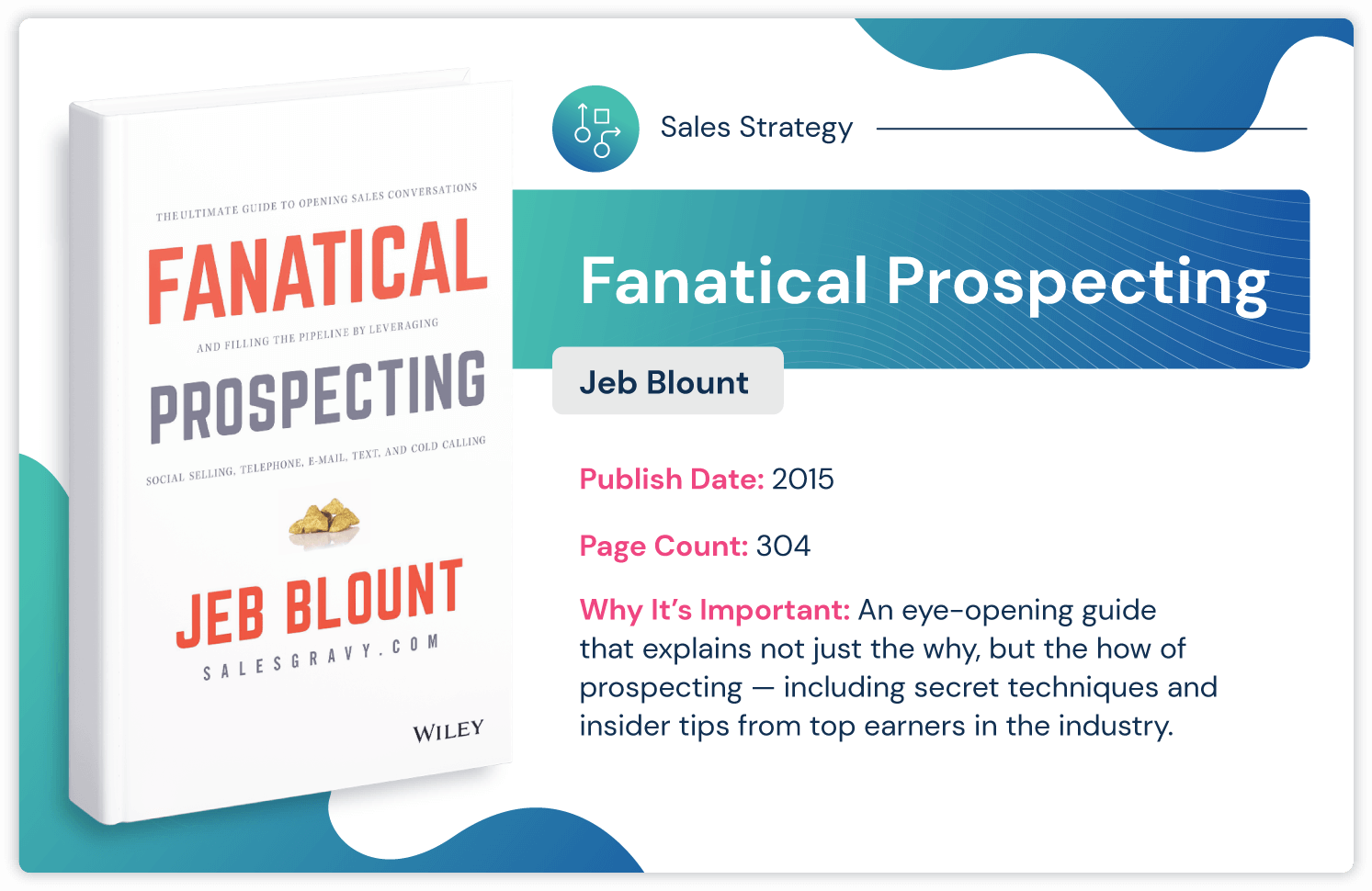 Author: Anthony Parinello
Category: Sales Strategy
This book gives you one-on-one support to catapult your sales career, catapult your earnings, and shock your sales manager. You'll learn how to stop wasting time, reduce rejections, and work insanely hard for small sales. On the flip side, you'll learn how to boost your sales up to 65%, cut your sales cycle in half, and get 120% more add-on business from your existing customers. 
Author: Jeb Blount
Category: Sales Strategy
A response to the changing sales landscape brought on by the pandemic, this book is a guide to embracing the new normal of virtual selling. Jeb Blount, author of several renowned sales books like "Fanatical Prospecting," walks us through everything from direct messaging to video conferences. You'll learn how to blend these virtual communication channels efficiently to boost your productivity, stay competitive, and wow prospects. 
Author: Jeb Blount
Category: Sales Strategy
Inked focuses on the game of negotiation to take your skills to the next level. Today's buyers have a leg up on salespeople because they have more power than ever before — including more knowledge and more influence over the purchasing process. INKED gives you the strategic and tactical foundation needed to become an effective sales negotiator. 
Author: Alex Goldfayne
Category: Sales Strategy
Pick Up the Phone and Sell is for salespeople who want to increase the quality of their sales calls. This book outlines how to build healthy sales habits to nix phone anxiety and grow your business. Learn how to open your sales calls with the right flow and close more deals.
Author: Mike Weinberg
Category: Sales Strategy
No matter how strong your customer retention is, your business ultimately relies on customer acquisition. New Sales Simplified provides a tried-and-true formula for cold prospecting, nurturing, and closing deals. It's loaded with methods to teach you how to deliver a compelling sales story and leverage the power of various channels like social media, email, and even voicemail.
Author: Jeffrey Gitomer
Category: Sales Strategy
The Little Red Book of Selling is full of bite-sized information you need to succeed. Learn the "why" behind buying decisions, the "how" to make sales in the moment, and reference these tricks quickly when making a sale. Gitomer covers the bases of perfecting your sales methods, from the self-evaluation assessment to the "dos" and "don'ts" of sales. Every salesperson should have a copy of this book on their bookshelves.
Author: Jill Konrath
Category: Sales Strategy
Agile Selling brings you up to speed quickly by leveraging the best sales strategies to begin selling. This book helps you develop an adaptable attitude to persevere under tricky selling circumstances. Learn tips to aid situational credibility with potential or current clients on the fly. 
Authors: Doug Fletcher and Tom McMakin
Category: Sales Strategy
How Clients Buy is the ultimate guide to selling your service. This book teaches you to differentiate whether a client is ready to close or if you should delay your pitch. Gain practical insight into how to drive connections, build rapport, and close the deal. 
Author: Keith Eades
Category: Sales Strategy
The New Solution Selling is an integrated, customized approach that enhances both individual productivity and organizational return on investment. This book acknowledges the significant changes in sales over the past ten years and how they influenced sales tactics. Get versed in the techniques used by top performers for prospecting and obtain the tools needed to increase the quality of sales prospects.
Author: Jason Jordan
Category: Sales Management
Cracking the Sales Management Code is an innovative book for sales executives and managers who want to positively influence the performance of their sales teams. Jordan shares best practice strategies to identify and apply the crucial actions and indicators that create business success. You'll enjoy fresh research into how world-class sales leaders evaluate and manage their sellers.
Author: Mike Weinberg
Category: Sales Management
"Loved it," reported Amy Volas. Here, Weinberg tells it straight, calling out the mistakes that plague the best-intentioned sales managers. Stop undermining the performance of your employees. Learn how to implement a simple framework for sales leadership, foster a high-performance sales culture, and other valuable strategies for leveling up your sales team.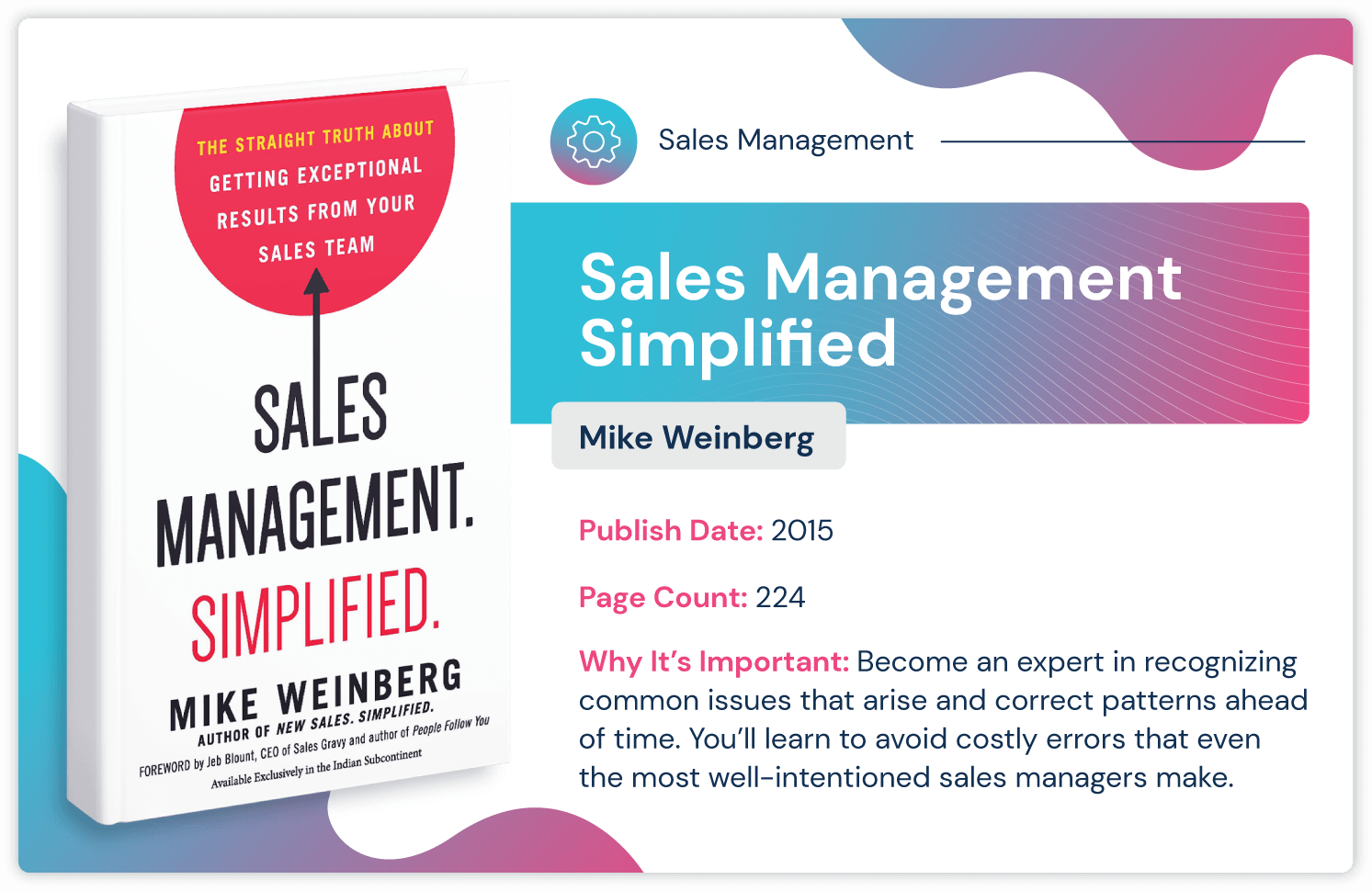 Author: Trish Bertuzzi
Category: Sales Management
B2B success is strongly tied to a healthy sales pipeline. Trish Bertuzzi's three decades of useful, practical expertise are condensed in this book. Align your sales development model and buyer's journey while learning how to better lead your sales development teams.
Author: Brené Brown
Category: Sales Management
Although Dare to Lead isn't exclusive to sales management, it's a must-read for any new sales manager. Brown explains that titles, position, and exercising authority are not factors of being a great leader. Dare to Lead empowers sales managers to act with curiosity, ask the right questions, and collaborate with others to lead with humility and foster the growing potential of your team. 
Author: Joelle K. Jay
Category: Sales Management
Not truly a sales book, this is still essential reading for anyone in leadership or positions of influence. This book includes the same exercises and worksheets Jay uses while coaching high-level executives to level up their leadership skills. Jay teaches you to find your edge, obtain clarity, concentrate, take action, and increase your knowledge — while explaining how these are tangible, actionable strategies for successful leaders. 
Authors: Manny Medina, Max Altschuler, Mark Kosoglow
Category: Sales Management
If you want to build the top of the funnel and generate qualified leads, you need to create connections, generate attention and interest, and create a buying opportunity. You need to master sales engagement. In this book, you'll get insider secrets for humanizing sales, applying A/B testing, and taking your sales process to the next level with a modern sales engagement strategy.
Author: Simon Sinek
Category: Sales Management
Why do some people or organizations achieve more innovation, more influence, and higher profits? It's all about why they do what they do. Sinek details a radical principle: people only buy into a product, service, movement, or idea when they understand the "why" behind it. Learn the framework for finding your why and how to rally those who believe.
Author: Brian Tracy
Category: Sales Psychology
Learning to control your emotions during a sale is no easy feat, and you can learn much quicker by using the tips in The Psychology of Selling. Learn to gamify selling, conquer self-doubt, and get over rejection anxiety.
Author: David Hoffeld
Category: Sales Psychology
The Science of Selling takes research from social psychology, neuroscience, and behavioral economics to understand what prevents prospects from saying "yes." Uncover how to get past objections, secure the gradual commitments that result in a sale, and nurture prospects throughout the process.
Author: Robert Cialdini 
Category: Sales Psychology
Based on psychological concepts that guide human behavior, Influence: Science and Practice teaches you to secure small-scale agreements that result in a sale. Become well versed in six popular sales strategies: reciprocation, consistency, social evidence, liking, authority, and scarcity.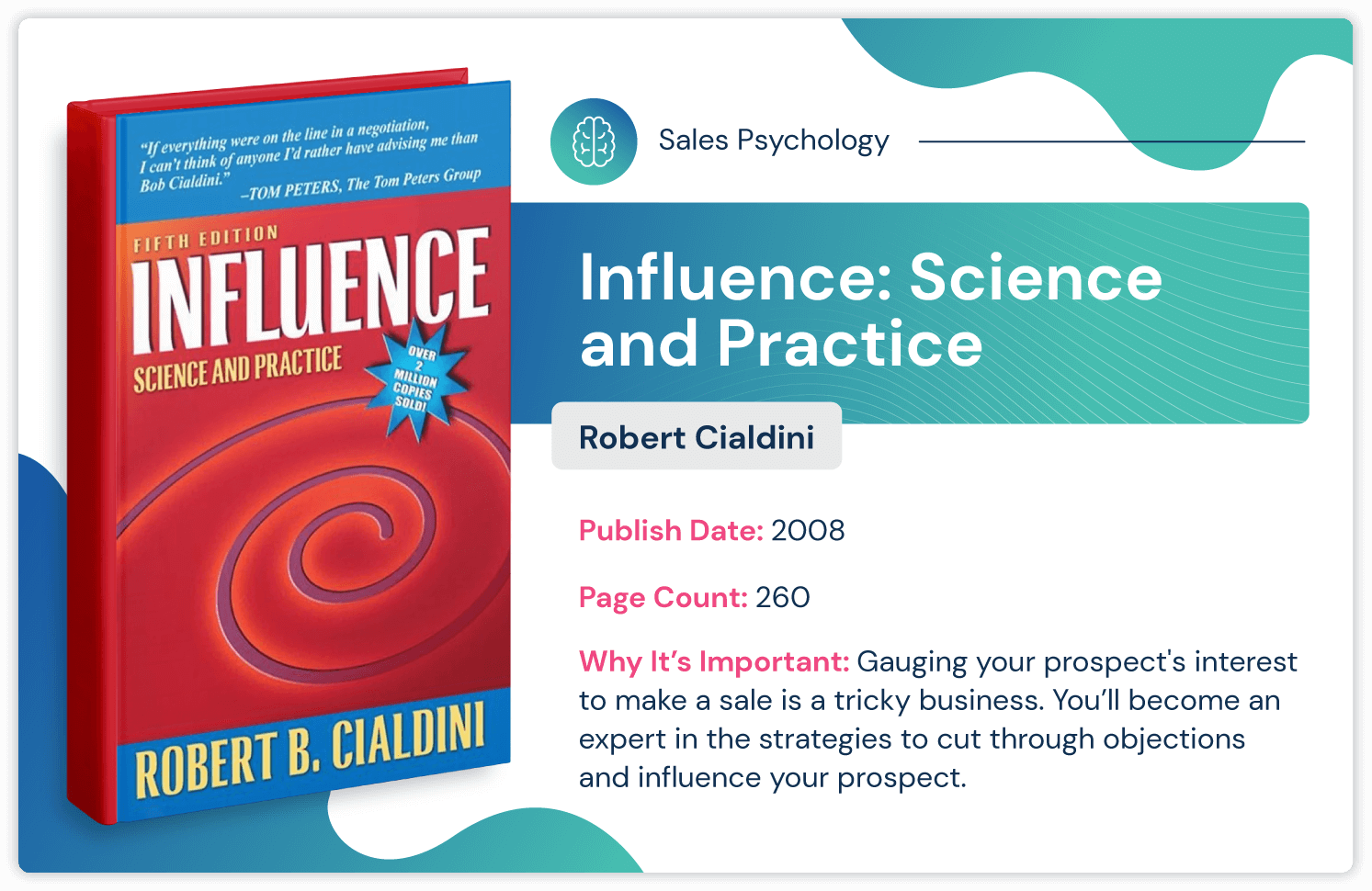 Author: Richard Bayon
Category: Sales Psychology
Ditch the overplayed words associated with selling and uncover more unique ways to highlight your product or service. With Words That Sell, learn to expand your vocabulary while making a sale in person, by mail, or online.
Author: Jeff Thull
Category: Complex Sales
When the stakes are high, you need a way to stand out and win. For that, professional customer guidance is key. In this book, you'll learn a value-based approach to removing customers' internal barriers and position yourself as the most credible solution. One reviewer called this "The essential read for any organization looking to transform their business for long-term, value-driven growth."
Author: Jeb Blount
Category: Complex Sales
Technology gives buyers more information, more choices, and more control over the sales process than ever before. To overcome, you need to leverage a new psychology of selling — Sales EQ — to effectively influence buying decisions. Here, Blount gives you insights, tools, and frameworks to reach ultra-high performance and earnings with any sales process, industry, or deal complexity.
Author: Jill Konrath
Category: Complex Sales
This is a classic, but it's still relevant for anyone selling to enterprise organizations. Use these tried-and-true tactics to acquire key clients, shorten your sales cycle, and win more deals.
Author: Napoleon Hill
Category: Sales Mindset and Inspiration
Originally printed in March 1937, Think and Grow Rich has stood the test of time and is a go-to guide to achieving sales success. Hill leans into the experiences of millionaires from his period, including Andrew Carnegie, Thomas Edison, and Henry Ford. Learn from some of the greatest salespeople by unearthing the mindset that granted their success. 
Author: Dale Carnegie
Category: Sales Mindset and Inspiration
This is a true classic that was recommended by several people. Be aware, it's been updated (see below) with tactics for the digital age. According to James Crisp, the updates were needed but the original is still his favorite. I believe it. In this (original) version, you get foundational principles for making people like you, winning them to your way of thinking, changing people without creating resentment, and more. Not necessarily a sales book, this is still one of the best sales books of all time. These are timeless tips that will be relevant for generations to come.
Author: Dale Carnegie
Category: Sales Mindset and Inspiration
An update to the classic How to Win Friends and Influence People, this book reboots Carnegie's original success principles to tame the complexities of modern times. Learn how to communicate diplomatically and tactfully, leverage an online network, amplify your message, optimize the power of digital tools, and more. 
Authors: Loran Nordgren and David Schonthal
Category: Sales Mindset and Inspiration
It's human nature to resist change. The Human Element highlights the frictions that arise when someone tries to influence another person. This book will teach you to focus on psychology to address objections from an emotional standpoint rather than recite what's appealing about an idea. This book encourages marketers, innovators, executives, salespeople, and anyone else in business to validate their idea from an emotional standpoint.
Author: Grant Cardone
Category: Sales Mindset and Inspiration
Sell or Be Sold breaks down the methods and strategies you need to become an expert at selling in any situation. You will learn how to deal with rejection, salvage bad situations, shorten sales cycles, and ensure your sales success. 
Author: Marc Benioff
Category: Sales Mindset and Inspiration
Learn how the founder of Salesforce, Marc Benioff, went from starting a business in a rented apartment to becoming the brain behind the largest software company in under a decade. Marc explains how his company prevailed through economic downturns and other obstacles. Learn how to stand out, innovate, and accelerate your growth even in unfavorable economic conditions.
Author: Lisa Earle McLeod
Category: Sales Mindset and Inspiration
Selling With Noble Purpose is for those who want to do work that satisfies their soul. This book explains how truly believing in the product or services you sell benefits the person on the other side of the table.
Author: Jordan Belfort
Category: Sales Mindset and Inspiration
Jordan Belfort is the original Wolf of Wall Street, played by Leonardo DiCaprio in the eponymous movie. Here, Belfort opens his playbook and pulls back the curtain on the step-by-step system he used to create massive wealth for himself, his clients, and his sales teams. Crack the code on how to persuade anyone to do anything.
Author: Daniel H. Pink
Category: Sales Mindset and Inspiration
Pink uses social science to offer fresh (and counterintuitive) insights into the craft of selling — like extraverts don't actually make the best salespeople, and giving people an "out" can be more effective than persuasive power. Learn 6 new alternatives to the elevator pitch, 3 rules to understand other people's perspectives, 5 frames that clear up your message, and insights that transform how you operate professionally and personally.
Author: Jeff Olson
Category: Sales Mindset and Inspiration

The original edition of this book explored how you can create powerful results from simple daily activities, using the tools that are already within you. This 8th-anniversary edition shares the obvious next step: using the Slight Edge to achieve happiness and the ripple effect.
Author: Stephan Schiffman
Category: Sales Mindset and Inspiration
The 25 Sales Habits of Highly Successful Salespeople is a great introductory book for novice salespeople. By understanding the habits of successful salespeople, Schiffman explains how you can nurture your own successful sales habits. This book workshops industry examples so you can learn what you should do in various selling situations.
Conclusion
Whether you're a budding sales rep or an experienced sales manager, it's important to stay ahead of the curve to continue honing your sales skills. Pick up a couple of these top sales book gems to hone your selling skillset today. 
With this many touchpoints in the sales process, salespeople need to focus on the human element of closing deals. Optimize your sales process by automating your lead pipeline so you have more time to focus on closing deals.