How ClickUp Uses Mailshake for Email Outreach
How ClickUp Uses Mailshake for Email Outreach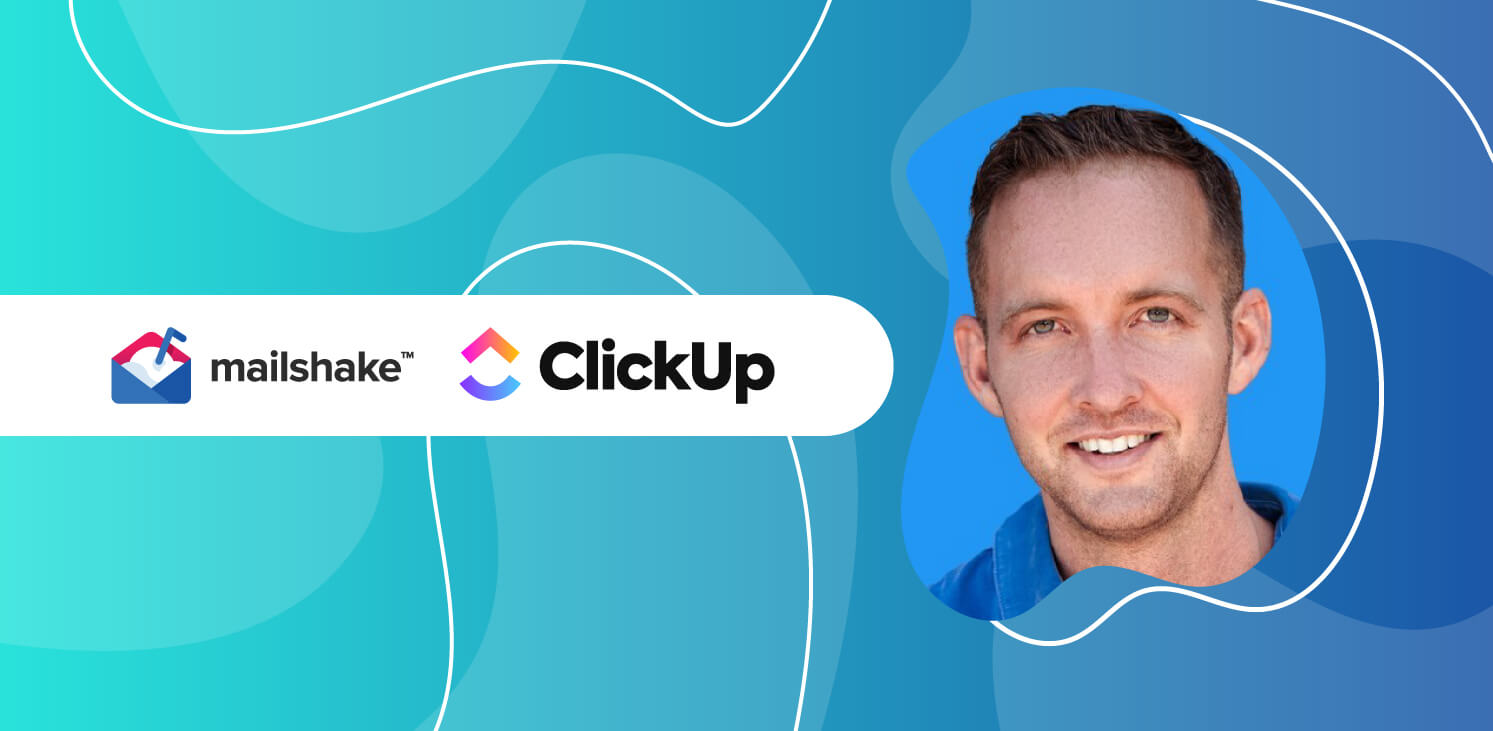 The first step is always the hardest. And so is getting your first 100 customers when you're entering a market as competitive as SaaS.
You're new in the game and potential customers know nothing about your company, which means you have to rely heavily on cold outreach.
Now, data suggests that it takes an average of 8 cold calling attempts to reach a prospect. To make things worse, you need around 5 follow-ups after the initial contact to close a sale.
This is what ClickUp's founder Chris did — but he did it with a twist. He abandoned phone calls, personalized and segmented his email outreach, and got his company its first 100 customers to get things going.
Introducing Chris
Chris Cunningham is currently the head of influencer marketing at ClickUp. He's also a founding member of the company and served as its first sales representative.
ClickUp is essentially a project management tool, where teams can collaborate on projects. It's similar to the likes of Asana and Trello, which are pretty well-established in this industry.
So as you can imagine, getting the first 100 customers in this niche must have been really difficult for ClickUp. So how did they do it? Let's find out.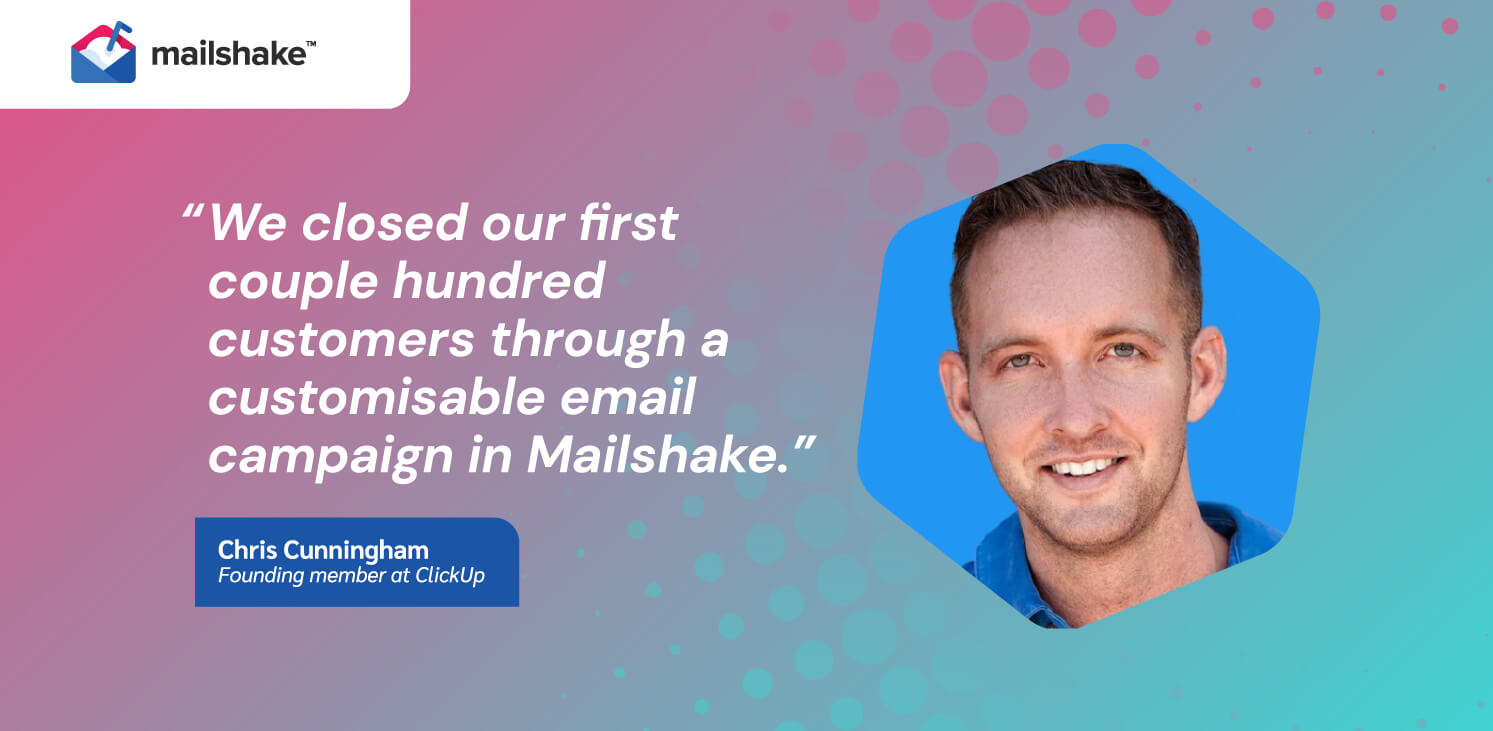 ClickUp's Strategy and How Mailshake Helped
Many new companies start their outreach campaigns blindly. They have no data (and often experience) that they can build on, which leads to failure. In fact, 92% SaaS startups fail within the first three years of their operation.
Chris knew the traditional cold outreach was not going to work in this niche, so he decided to take a slightly different route. Instead of reaching out blindly, Chris developed a system that allowed him to identify bad reviews for competitors like Asana and Trello.
He then reached out to people who were unsatisfied with these services, and asked them if they'd like to try a better alternative — ClickUp. This is where Mailshake came in — Chris set up a highly personalized and segmented campaign to reach out to unsatisfied customers of his competitors.
He didn't send the same email to everyone. Instead, he used Mailshake to segment his list by company. People who were unsatisfied with Asana, for example, received a slightly different message than those who were having problems with Trello.
And what were the results, you ask? Well, he managed to achieve double-digit response rates and open rates between 70%-80%.
Now, keep in mind that this was still cold outreach. That's because the people Chris was reaching out to knew nothing about him or his company. However, because he targeted a highly specific group (unsatisfied customers) and used Mailshake to personalize and segment his campaigns, the results were way above average.
To put the results into perspective, the average response rate for cold outreach is 1%! And the average open rate for cold emails is around 44%.
You can see how Chris' campaigns surpassed the average rates by a huge margin.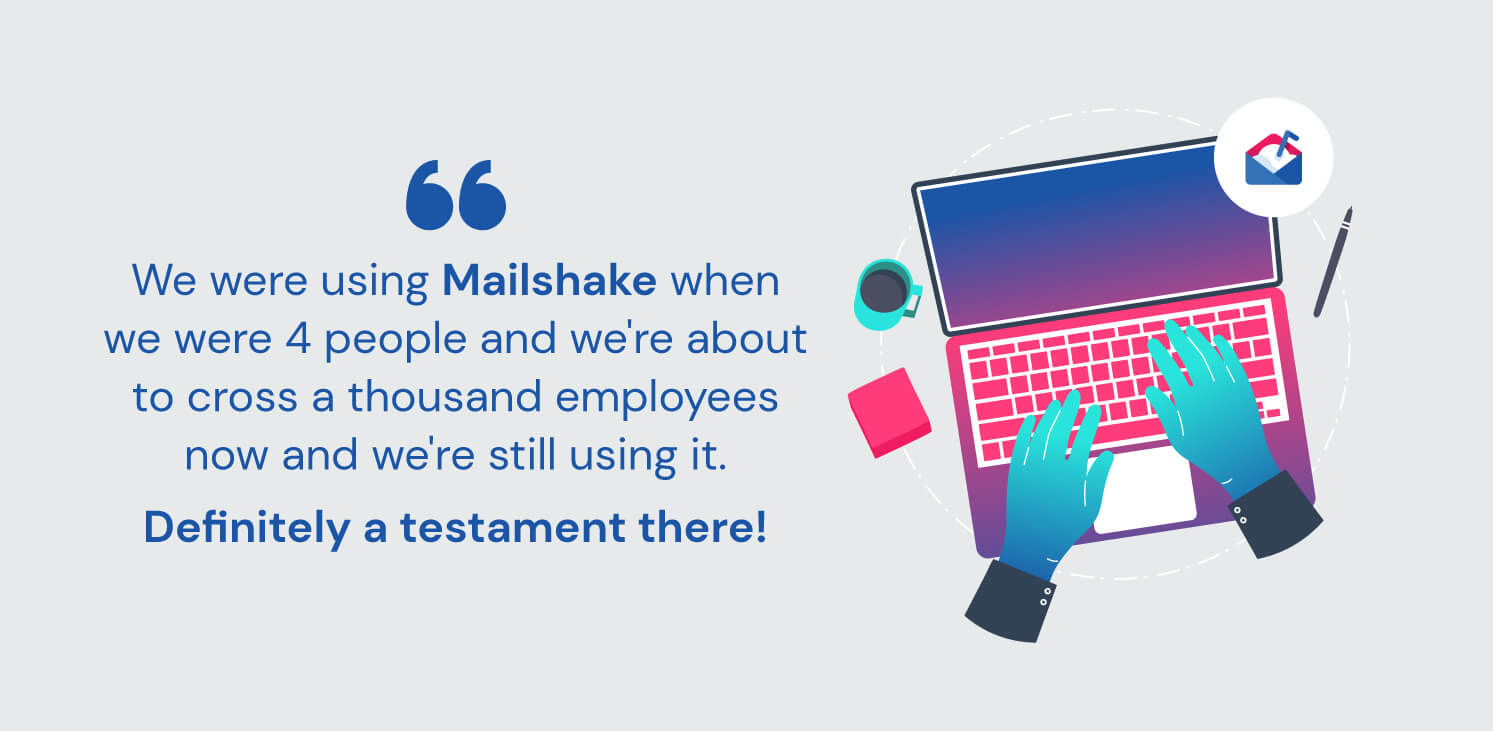 Mailshake's Current Use at ClickUp
Once ClickUp got their first 100 customers, business started flowing and they no longer needed Mailshake for cold outreach.
But since their initial email outreach strategy was so successful, it was hard for them to abandon Mailshake completely.
So they decided to use it to expand their affiliate and link building programs. The idea is essentially the same — they find and reach out to affiliates working for their competitors and try to offer them a better deal.

Once again, they're reaching out to a highly specific group of people and personalizing their email campaigns to achieve good results. It's a simple but effective strategy. As Chris puts it, "We didn't have the need for something crazy complex. We wanted something understood and could (be) set up (easily)."
So how does ClickUp personalize their email campaigns to make them a success? Read the next section to find out.
The 3 Elements of a Successful Email Campaign
Before we discuss Chris' opinion on the elements of a successful email campaign, it's important to mention his experience as a digital marketer.
Prior to ClickUp, Chris worked as the Vice President of Business Development at Elevator Studio.
Elevator is a leading influencer marketing company that spends over 60 million on influencer posts each year. He has also worked in marketing roles prior to working at Elevator, with the point being that he has a great understanding of human psychology when it comes to marketing and sales.
In Chris' opinion, the three essential elements of a successful email campaign are:
Reach out to your prospects like a human being. This involves keeping your emails simple, addressing your prospects by their name, and avoiding the use of pretentious language. You want to reach out like a friend, "not like some crazy massive company with images and all that". As Chris puts it, "If you look at a lot of our campaigns, they sound like a human. They're not robotic. And again, the reason why I love Mailshake so much is (because) it's easy to set those up to look simple, not over the top."
Open with a compliment. You might think this is something a sleazy salesman does, but it has to do with personalization. When you compliment your prospect on something they did (like a recent article they wrote or a video they created), it tells them you've taken the time out to research them and you're not just emailing people blindly.
Make your message precise. Many companies write long, winding emails only to leave their readers confused at the end. At ClickUp, Chris likes to keep his emails short and precise. He says, "We just say hey, I understand you're an X, I understand you do this. Here's an outcome and why".
Mailshake Features That Can Help You Run a Successful Campaign
So what are some Mailshake features that can help you run a successful email campaign like ClickUp? Here are 3 of the most important ones:
1. Mail merge. As we've discussed, personalization is a big part of turning your campaigns into a success. With mail merge, you can add text — such as names and compliments — and links personalized to each recipient, making your emails more effective than generic campaigns.
2. Proven email templates. We've seen how Chris used an extremely simple template for his campaign. It goes like this:
Hey,
I understand you're an X
I understand you do this
Here's an outcome we can help you with and why
We've got plenty of similar, proven email templates to help you improve your response rates.
3. Powerful integrations. Of course, there is a lot more that goes into an email outreach campaign than simply setting up an automated sequence. Mailshake seamlessly integrates with 33 other sales tools to make the entire process much faster. For example, the Facebook integration lets you sync leads you find via Facebook Lead Ads to Mailshake.
Final Thoughts
So as you can see, email outreach doesn't have to be complex, especially when you're trying to get your first 100 customers.
Chris used a simple but effective strategy to demonstrate this, which you can use to get things going for your company as well.
Just remember to reach out like a human, personalize and segment your campaigns, and keep your emails short and sweet. Good luck!