LinkedIn Prospecting: Best Practices & Messaging Examples
LinkedIn Prospecting: Best Practices & Messaging Examples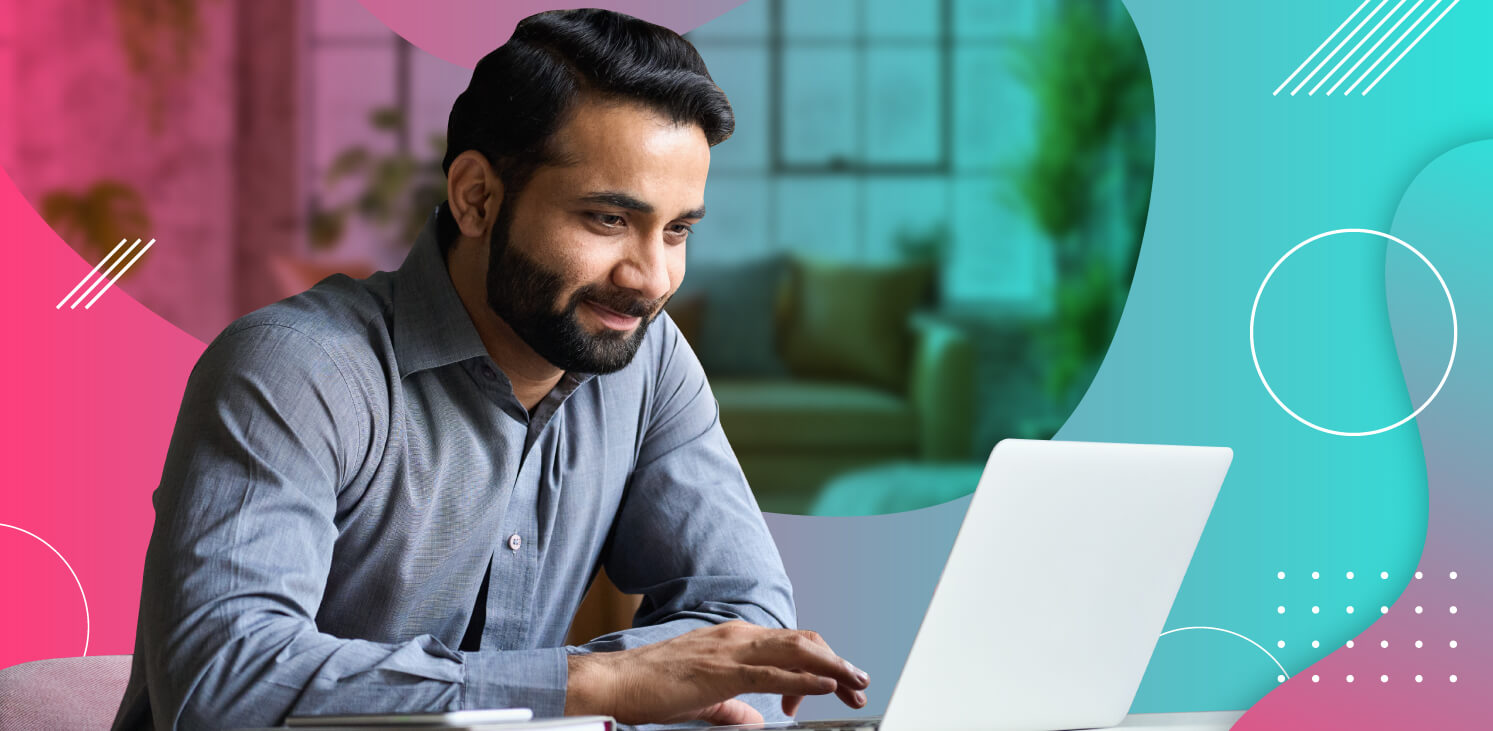 LinkedIn is a gold mine of prospect information for sales and outreach. But the platform is so vast, it can be hard to know where to begin. It can also be daunting if you prefer a low-key approach and don't want to be seen as aggressive or "salesy."
If you find yourself hesitating, it's essential to remember that LinkedIn is a professional network where individuals seek connections and build relationships. Engaging in inbound sales is a natural part of fostering professional relationships, and users on the platform anticipate and even welcome such approaches. In fact, statistics reveal that "50% of B2B buyers rely on LinkedIn when making purchase decisions."
Even so, there are dos and don'ts when it comes to prospecting on LinkedIn. Even though people are anticipating LinkedIn prospecting, you can still annoy them if you don't do it right – and annoyed prospects are not viable prospects.
Cold Prospecting vs. Value Bombing
Cold prospecting and "value bombing" are two alternate ways of approaching people you don't personally know on LinkedIn.
Cold prospecting is the modern equivalent of cold calling. It means contacting a person you don't know to (tastefully) tell them more about your services. It has a bit of a bad reputation, but if you choose the right targets and the right approach, you can still see good results.
Others say the way to go is value bombing – contacting someone you don't know purely to offer them something of value without expecting anything in return. It establishes trust and familiarity, which can provide a good basis for a professional relationship down the road.
There is no clear consensus on which approach is better, so the best idea is to aim for somewhere in the middle and take advantage of any open doors along the way.
Regardless of the approach you take, you should still follow these 13 best practices for sending cold prospecting messages on LinkedIn. Adopt the ones that work best for you, and be sure that when you prospect for new business, you're on the good side of both your prospective new clients and the platform itself.

LinkedIn Cold Message Best Practices
1. Polish Your Profile
Before you even think about approaching someone, edit your own profile to make sure that once you do start attracting attention, it will have the desired outcome. Writing in the first person adds authenticity and believability to your profile. Word your bio and other profile messages to clearly explain exactly how your services are likely to help a potential client.
You can do this by thinking about "connecting the dots" when you write – show visitors how the services you offer can lead to the improvements they want in their business. Avoid talking about your skills in a generic way, or they won't understand how negotiation training, for example, might help them land bigger deals.
Take these 7 steps to make sure you have an active, optimized LinkedIn profile:
1. Have a professional headshot taken.
Skip the funny pictures – according to LinkedIn data, profiles with photos get 21x more views and 36x more messages.
2. Write a killer headline.
Learn how to optimize your LinkedIn headline: tailor it to your audience, include your value proposition, use your prospect's language and avoid hyperbole.
3. Write a short and sweet – yet impactful – bio.
According to Hootsuite, keep the following four pieces of information in mind: include what you're passionate about, what brought you to the business, what you do in your current role and what your company does.
4. Publish original content to your profile.
To take full advantage of the recency heuristic and halo effect described by Fisher, update your profile regularly with interesting, original content. If you aren't sure what to write, think about the questions your prospects ask you most frequently. Write up your answers in a helpful, non-commercial way to establish your authority within your field.
5. Share content from your Groups and your connections.
If you're short on time (or aren't a confident writer), you can achieve many of the same effects by sharing content from the Groups you participate in or the people you're connected with. Sharing the content of prospects you're trying to connect with has the added bonus of turning a cold contact into a warmer lead.
6. Turn off LinkedIn's setting that allows you to view others' profiles anonymously.
That way, your name will appear on prospect's profiles before you do your cold outreach to them.
7.Request endorsements, but carefully.
Endorsements are clearly valuable, but don't spam all of your connections with requests. Instead, wait until you've built relationships and established your value before you ask. If your requests aren't panning out, many LinkedIn users find that you need to give endorsements to get them.
2. Beef Up Your Pulse Portfolio
Consider writing for LinkedIn Pulse, the in-network blogging platform. In addition to adding depth and interest to your profile (articles you've written show up there), it can also help establish your professional reputation and expertise. It also brings new eyes to your profile without the need for active prospecting.
3. Think About Going Premium
It's not an insignificant investment, but upgrading to LinkedIn's premium tier can be helpful. There are four options to choose from – Career, Business, Sales, and Hiring – and each offers slightly different benefits. People who are serious about prospecting will be most interested in the options that offer improved search features, more InMail messages, and better lead management tools, like Business and Sales.
4. Pick a Definitive Outreach Method
If you're serious about using LinkedIn to grow your business, you may want to research a definitive outreach method. These methods are usually connected to a LinkedIn "guru," and will provide you with a step-by-step prospecting process. It's essentially "trust hacking," which theoretically will lead to an easier time capturing leads.
The LINK Method, for example, is a 5-step process popularized by social media expert Melanie Dodaro, while lead generation expert Mirna Bacun sells a LinkedIn profile funnel she claims will help you prospect on autopilot. They're not for everyone, but there might just be one that clicks with you.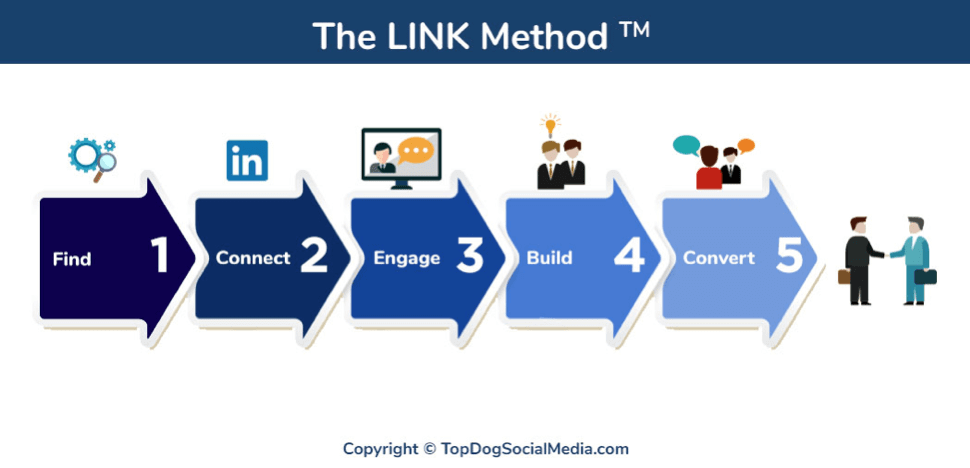 5. Learn to Use Search More Effectively
Even without the search superpowers of a Premium account, the LinkedIn search function is pretty advanced. You'd do well to take a few minutes to figure out how to get the most from it. It supports Boolean strings and filters, and using both properly will increase the quality of the results you get.
In your research, you may also come across tools to automate LinkedIn search. Some will spark your interest, but remember that they're against LinkedIn's terms of service, so use them at your own risk.
6. Use Search Alerts
A better option is to use LinkedIn's search alerts. If you've used any other kind of search alert, you'll be able to set these up quickly. Conduct the search you need (the more specific, the better) and click the "Create search alert" option in the box to the right of the search results. LinkedIn will then send you a digest of any new results for that search on a weekly basis.

7. Leverage Alumni Search
The LinkedIn alumni search is most useful if you went to a large university. The idea is to find people you don't know, but with whom you have something in common. Ideally, this will result in "warmer" prospects. Talking with fellow alumni can be a big bonding point for some people, so try searching for prospects this way and use it as a stepping stone to new connections.
8. Browse the People Who Interact With Your Profile
Once you start your outreach and prospecting activities, you'll notice an increased number of people looking at your profile. They may not be the people you were thinking of targeting, but there's a good chance they'll be a close match. If the viewer is in your target segment, reach out – it can't hurt.
9. Make Use of "People Also Viewed"
Always check out the people listed under People Also Viewed to the right of your profile homepage. These people are unlikely to be prospects, but they might be competitors, and, as such, are worth taking a look at to see if they're leveraging any profile-boosting tricks you might have missed.
10. Join Groups
Joining LinkedIn Groups isn't a decision to be made lightly. Some of them are exceedingly hard nuts to crack, and the most active are already full of people trying to do exactly the same thing you want to do. Even so, take a look and you might find one that isn't oversaturated that you can leverage.
To get the most from Groups, treat them as you would any other forum. Be open, friendly, and offer great advice without the expectation of getting anything in return. Much like contributing to Quora or a Facebook group, the idea is that you build up trust and a reputation for quality; then, when the time comes, you'll be top-of-mind when group members need something you can provide.
11. Use InMail Wisely
LinkedIn InMail is (in)famous for providing ample evidence of how not to do outreach. Take heed and make sure that your emails are strategic, polite, and respect accepted InMail etiquette. Among the worst sins are copy-pasting mass emails, going for the sale on the first contact, and confusing LinkedIn with a dating network.
12. Sync With a CRM
Once you've found your LinkedIn rhythm, there's a good chance you'll see an increased number of warm leads coming from the platform. Make sure to have a system in place to capture and process these leads, rather than letting them fizzle out or disappear.
For many official LinkedIn/CRM syncs, you'll need a LinkedIn Sales Navigator account, but once you have one, you'll be able to connect a significant number of systems to the platform. If you don't have a Premium account, you'll have to monitor the connection manually, which is hard work but can be done. Either way, it's more than worth it to ensure your hard work on LinkedIn actively forms part of your new client funnel.
13. Think About Technological Help
If you're really focused on getting the most out of LinkedIn, sooner or later you'll probably consider looking into technological help. There are loads of tools out there designed to expedite various LinkedIn functions.
At the same time, you should also read LinkedIn's terms of service, as the platform has plenty of rules on the subject. It's wise not to do anything that goes against these terms, nor is it advisable to automate entire processes, like sending InMails or searching.
Still, there are plenty of smaller tools that LinkedIn doesn't disapprove of that can help with more specific aspects of prospecting on the platform. These include information scrapers that help put details into a handy database format, add-ons that provide extra information about contacts, and tools that help your InMail messages, rather than doing the job for you.
14. Try LinkedIn Voice Messages
LinkedIn voice messages is relatively new on the scene, and not a feature many salespeople are taking advantage of.
That's what makes it a great opportunity; it's not (yet) a saturated channel, which will make it easier for you to stand out from the crowd.
In the Mailshake Sales Prospecting Summit, Morgan Ingram of JBarrows shared his "10-30-10" approach to LinkedIn Voice Messages that earns him a 20% meetings-booked rate on his cold outreach.

Your Approach
The overall approach you take to prospecting on LinkedIn will largely be dictated by how much time you have available.
Given that most people have a limited amount of time for outreach, you may want to incorporate your LinkedIn prospecting into your overall outreach and marketing plan. After all, you need to make sure your actions on LinkedIn are as carefully measured and strategized as your other efforts.
Where appropriate, bring other departments into your outreach, as well. If you're using a centralized CRM or there's a risk that the sales team is looking at similar prospects, for example, it makes sense to coordinate efforts so individual people or companies don't feel hounded by inadvertent doubling-up.
Get Started
To get started, evaluate whether or not now is a good time to get a Premium account, while simultaneously polishing your profile and perhaps deciding on a Pulse strategy.
Until you gain confidence with the platform, practice your approaches on people you connect with from other parts of your life, rather than doing active prospecting. Once you're feeling more comfortable, make a small prospect list and begin to work your way through it, perfecting aspects like searching and InMail as you go.
What LinkedIn messages should I never send?
Fortunately, it's pretty easy to avoid pitch slapping. Just make sure you never do any of the following:
Sending the default connection request
First impressions count, and you only get to make them once. So why would you ever use LinkedIn's default connection message?
If you're asking someone to commit a chunk of their budget to the product or solution you're selling, the very least you can do is make a little effort when reaching out to them for the first time.
Relying on the default connection request is the exact opposite of that. It marks you out as a lazy salesperson who doesn't care enough about the interaction to craft a personalized, engaging message. Simply put, it gives prospects no incentive to accept or respond.
Sending a sales pitch for your product or service
According to research from CSO Insights, three-quarters of B2B sales to new customers take at least four months to close, while almost half take seven or more months. It's hardly surprising. Decision-making processes are becoming ever-more complex and products are becoming increasingly sophisticated.
All of which means the chances of closing the deal with a single LinkedIn message are next to zero. Even if your product was 100% free for life, most businesses would still want to find out more before they started using it.
Yet despite this, many reps still persist with the outdated approach of sending an immediate sales pitch through a LinkedIn message. When it inevitably fails, they move on to the next prospect and do the exact same thing.
All they're doing is burning through prospect lists and damaging their company's reputation.
Asking for more than you're prepared to give
Another common "pitch slap" is for a rep to ask for a recommendation from one of their current connections.
The logic here is at least relatively sound, with HubSpot discovering that word of mouth and customer recommendations are the top two sources of new business referrals.
However, while it's completely reasonable to ask a longstanding customer for a recommendation, it definitely isn't reasonable to reach out to someone you barely know and ask them to put their neck on the line for you.
A good rule of thumb is: if you're not prepared to recommend a person because you don't know enough about them, don't ask them to do the same for you.
Treating LinkedIn as a dating site
According to Pew Research, 5% of men and 16% of women have been sexually harassed online, rising to 11% and 33% respectively among under-35s.
Sexual harassment is unacceptable in any context and on any platform, and LinkedIn is definitely not an exception. Yet there are countless articles recounting the experiences of LinkedIn users – predominantly young women – who have received inappropriate messages via the social networking site.
While this should go without saying, LinkedIn is a professional networking platform, not a dating site. It's never appropriate to comment on someone's appearance, even if you think you're "just being nice". Don't do it.
With a little practice, you should find that it's relatively simple to set up a routine that adds fresh new prospects to your funnel on a consistent and frequent basis.
Your B2B buyers live on LinkedIn. So it's crucial that you're incorporating LinkedIn outreach into your sales sequences. To help you scale your LinkedIn outreach, Mailshake will soon be adding LinkedIn automation features that will simplify the process so you can connect with more prospects.
Why LinkedIn tasks?
You're already automating your email sequences, but LinkedIn is often a better place to connect with prospects than a crowded inbox. So we want to make it easy to automate your LinkedIn outreach as well. That way you can grow your network and become better at social selling. Adding LinkedIn tasks is the first step toward future LinkedIn automation within Mailshake.
What LinkedIn functionality is available today?
If you're on a Sales Engagement plan, you can now add the following LinkedIn tasks to your Mailshake sequences:
Message – Start a conversation with a prospect
Connection Request – Invite a prospect to connect
Follow/Unfollow – Start or stop following a prospect
View Profile – View a prospect's LinkedIn profile
These LinkedIn tasks will show up in your Open Tasks for you to complete when you get to that step in your sequence.
How do I get started?
If you already have a Sales Engagement plan, simply go to any existing Mailshake campaign, click the plus sign, and select "LinkedIn" from the available options.

You'll then see a list of LinkedIn task options you can add to your Mailshake sequence.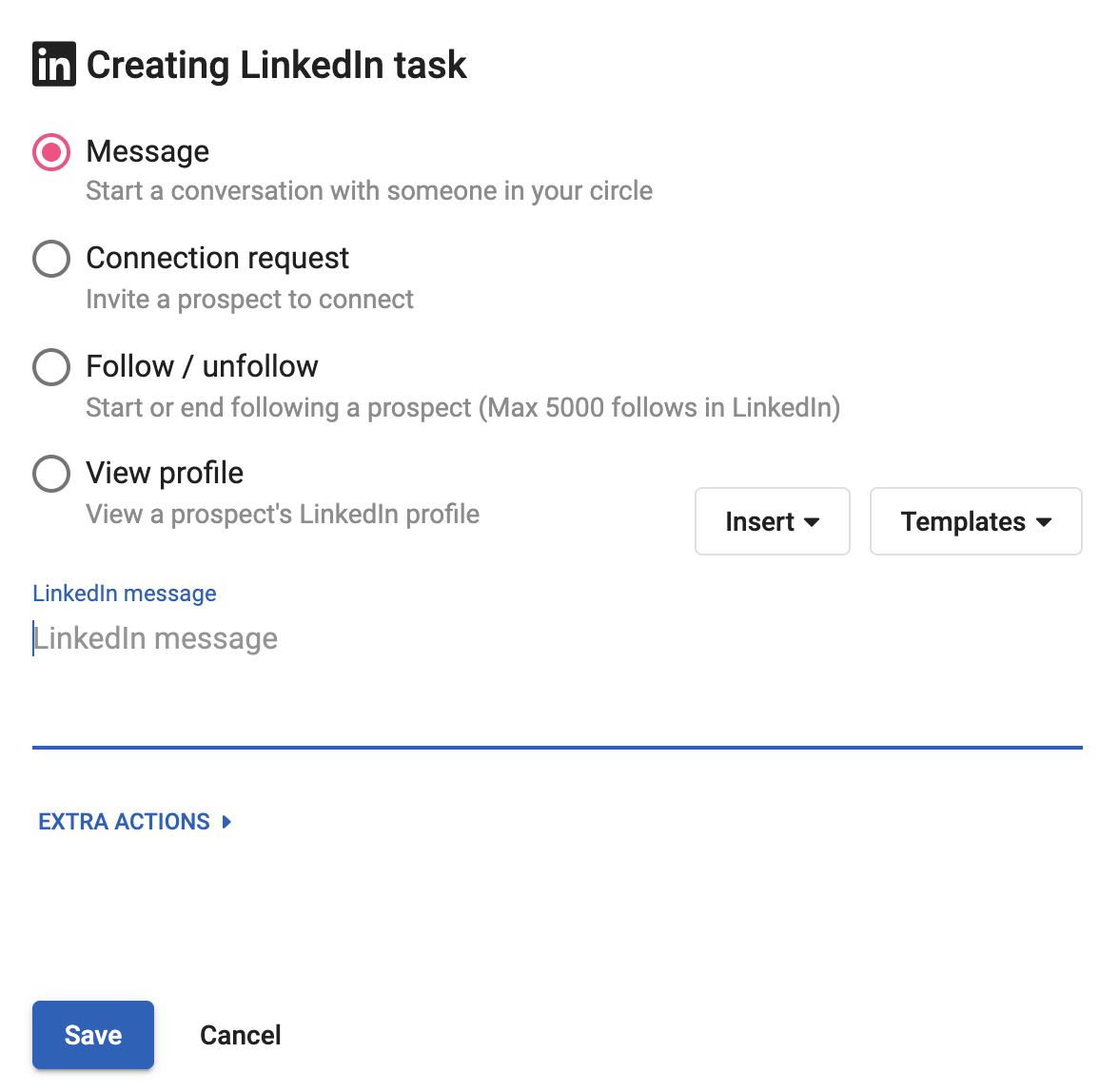 Once the LinkedIn tasks appear in your Open Tasks, you'll be able to copy any text with the click of a button and paste directly into LinkedIn.

This is the first step toward fully automated LinkedIn tasks within your Mailshake sequences.
Not on a Sales Engagement plan yet? If you're creating multitouch sequences across channels—email, phone, and LinkedIn—a Sales Engagement plan can help you scale your outreach.
Conclusion
It's easy to write a non-personalized LinkedIn sales message that speaks to the generic features and benefits of your product.
It's much harder to tailor that message to the specific needs of each individual prospect and give them a compelling reason to respond.
Give yourself the time to write great LinkedIn messages each and every time, and you'll definitely see better results.