Sales Team Management: 13 Tips to Manage Your Sales Team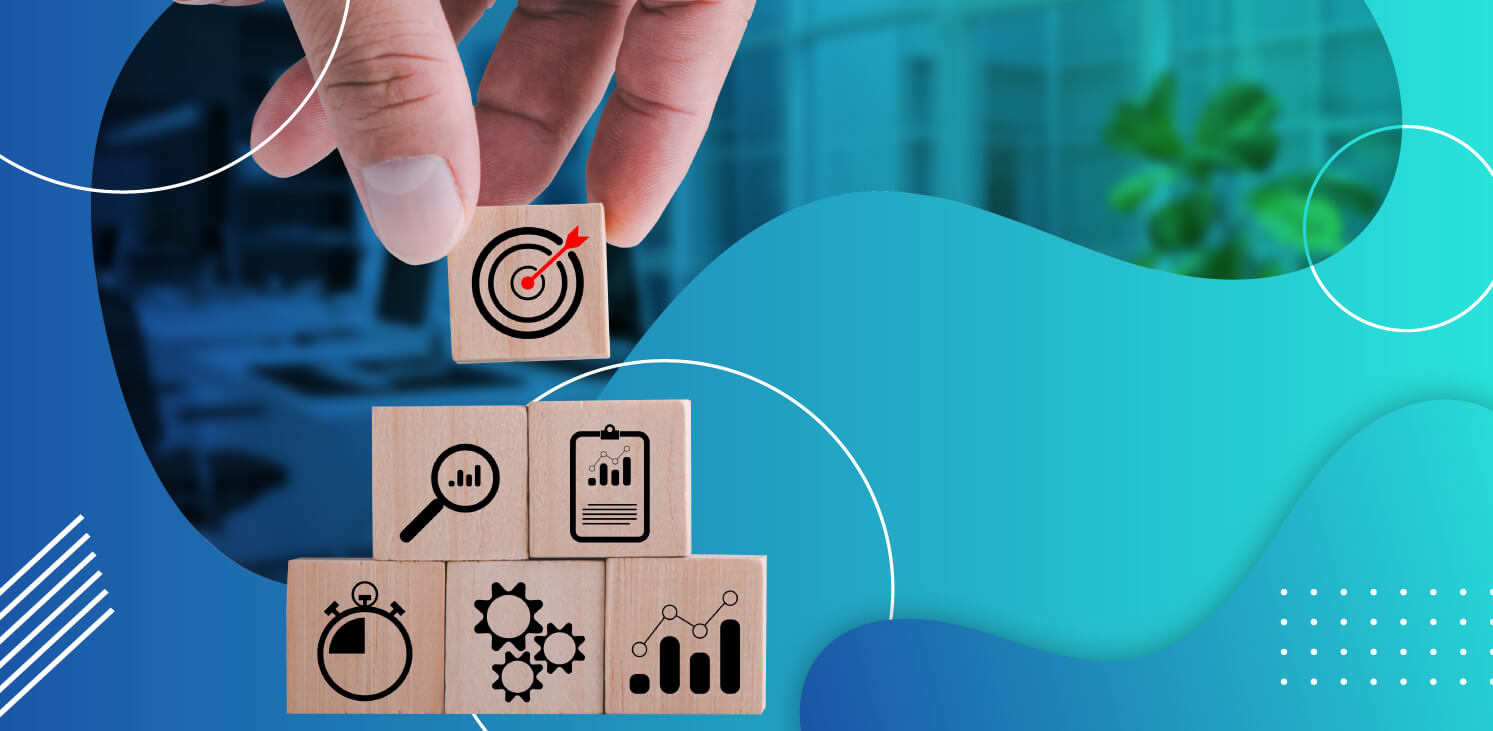 Managing a sales team is no easy feat, especially when you consider the importance of its role in your company's success. On top of monitoring quotas and meeting target metrics, you're also in charge of getting the right people on the bus, coaching them, and upholding team morale.
As the sales team leader, you have the potential to make or break your sales organization. The role comes with plenty of pressure, but by following sales team management best practices, you can set yourself and your team up for success.
1. Assessing the Infrastructure
Start with auditing your infrastructure for revenue growth. Shadow, observe, and evaluate both the people and the processes of the marketing, sales, and customer success departments to determine your revenue growth gaps.
For guidance on where to start with an audit and what to look for, download this free template (opt-in required).
The main components of your audit should focus on:
The tech stack that supports the entire customer journey
The compensation model for marketing, sales, and customer success
The step-by-step process and methodology for how work is completed
And of course, tracking data and measurements for the most critical metrics, key performance indicators, and key results areas
By the end of your audit, you should be able to answer critical questions to help you identify the gap between your current state and your desired future state. Be aware, if you want to know how to improve your sales team, this is key.
Business author Mary Grothe recommends sales leaders ask themselves the following seven questions.
7 questions for identifying performance gaps
1. Does our current tech stack automate as much of the revenue generation process as possible or are we knowingly asking team members to manually do work that could be automated because of cost or other reasons?
2. Does our compensation model only penalize the sales team for lack of performance or does our compensation model incentivize performance and results from the marketing and customer success departments as well?
3. Is our marketing and sales process aligned with our customer journey? Have we identified our ideal customer profile, are we speaking to them in our messaging and communicating how we solve their problems, resulting in urgency and desire to buy from us instead of our competitors?
4. Do we know where our prospects fall out of the funnel and can we pinpoint how to increase engagement and conversion rates from engagement to closed business?
5. Do we have the right roles internally to segment and support all stages of the revenue generation cycle or are we expecting our sales team to build their own prospect database, generate their own leads, qualify prospects, demo our product or service, close them, and support the relationship ongoing?
6. Do we have a culture of high-performance, accountability, transparency, and proactive communication? Do we encourage professional development, mentorship, and career progression?
7. Do we have the right people in the right roles? What does our historical data say about each person's ability to perform in their role? Are they consistent in both the leading and lagging indicators required for their role or do we need to make a change?

2. How to Hire for Sales
Once you've audited your infrastructure, it's time to look at hiring. But hiring for sales isn't always straightforward.
Why?
Most people in sales fail. They don't have the drive, they can't handle rejection, or they otherwise lack the "it" factors that make for a successful sales rep. Hardcore Closer's Ryan Stewman cites the 80/20 rule, arguing that 80% of people in sales either fail or are just barely making it. Even worse, he says his personal experience puts that ratio closer to 95/5.
This is a major challenge for sales leaders because it means that the majority of your current and future employees likely won't make it long-term with your company. In fact, turnover in sales is the highest of any industry. At a 27% average rate, it's more than double the average of the rest of the workforce.
Hiring for sales is unlike hiring for any other role. Many leaders make the mistake of hiring based on a proven track record. And that's important, but it doesn't guarantee the person will be able to sell effectively in your organization. Organizational fit is also critical, as each person in your organization affects the company culture, team morale, and the ecosystem at large.
As a sales leader, your role starts with hiring the right people. The best salesperson is one who is gifted in sales AND who can adapt to the way your company sells. Make sure your hiring process for sales reflects both of these priorities.
Mary suggests that once you've audited your infrastructure and historical data, you should begin to benchmark your sales reps and sales managers against the metrics that measure their effectiveness. Then determine what individual learning and development plans are required to boost their performance in their role.
The benchmarks should include their historical leading and lagging KPIs and other important data — but they should also include a subjective in-person analysis, she says.
Shadow each team member in their environment. Watch how they set up their day, prioritize, manage their time, handle urgent situations, prepare for sales meetings, execute the sales meetings, follow-through and follow-up on their sales meetings, and achieve results.
You want to improve your sales team's performance in three areas:
IQ skills such as product knowledge and industry knowledge
EQ skills such as emotional self-awareness, empathy, and assertiveness
BQ skills such as mental mindset, preparedness, and consistent effective execution of all tasks required to achieve performance
Once you've measured their effectiveness, prepare individual learning and development plans for each sales team member. Communicate the plan with each team member and gain buy-in. Then set a timeline and anticipated results.
Provide group and individual training and coaching. Pair team members with internal mentors. And encourage them to read books and take outside training courses that align with their areas for improvement.
RELATED: How to Set Effective Sales Goals for Your Sales Team
For non-performers, a well-written and mutually agreed upon 30-day Performance Improvement Plan (PIP) can help communicate the urgency of improvement. Backing up a PIP with a plan to help a rep succeed goes a long way.
Be aware, though, there are no shortcuts. If someone should be fired, developing a PIP to cover your tush isn't respectful. You're better off just letting them go, depending on your state's at-will employment labor laws.
If you find that you need to increase headcount or replace a team member, create a recruiting roadmap.
Mary recommends going about developing your roadmap using the following three steps.
Develop your ideal candidate matrix for each role, a job description, and a compelling job ad that accurately describes expectations and requirements for the role, as well as highlights why you're a great company to work for.
Use internal or external recruiting partners to directly source sales talent. Be wary of interviewing an unemployed salesperson or one who is actively seeking a new role. Unfortunately, the majority of those candidates have a reason why they're not successful that they'll typically mask or hide during the interview process. Don't let their past company's problem become your problem.
Follow her hiring methodology, RPAC, to avoid placing the wrong candidate.

Role Match
Proven Prior Achievement
Acumen
Culture Fit

Be clear and communicate your recruiting process and timeline with candidates, don't delay or take too long or you will lose them to other offers, and expect a counter from their current employer (that's when you know you found a top sales rep!)
3. Invest in Culture
Every company is defined by its culture, but the best companies are the ones that take a vested interest in how their culture impacts its employees.
In fact, according to one survey, company culture was ranked as the most important factor for sales job seekers, followed closely by management effectiveness. Surprisingly, base compensation was rated as the least important factor on the list.
Most sales leaders know that culture should be a priority, but many struggle with what a good sales culture looks and functions like. And it's true that "culture" is a vague concept. You can't measure culture like you do sales volume, opportunities, and conversions.
Mary explains that a cultural adjustment is often required in order to effectively promote high performance. A high-performing sales culture is shaped by the CEO, sales manager, or Head of Sales, for larger organizations.
She notes that high-performing sales organizations have cultures that consist of:
Constant feedback loops

Proactive communication

Praise and recognition

Fair and incentivizing

compensation and awards

No mercy for negativity, trash-talking, nay-sayers, and consistent under-performance

Self-accountability and guided-autonomy

Passion, enthusiasm, and pride for consistently doing good work and achieving results

A desire to win, fueled by hating to lose

Respect, integrity, and mentorship
The manager of the sales team sets the tone. If you let one person get away with one undesirable behavior even just one time, you've opened the door to that behavior. You've accepted it.
RELATED: 15 Non-Financial Sales Incentives to Motivate Your Sales Team
According to Mary, sales leaders must be cautious and consistent in their enforcement of policies, accountability, and performance. Don't make concessions for a salesperson; instead, understand how damaging it could be for the entire culture.
When bringing in sales trainers, first combine the results from your performance audit and poll your team so you can choose the most pressing topics that need to be covered.
Mary gives a great example of why this is so important: "From a former top sales rep's perspective, I hated when I had to sit through hours of sales training that didn't pertain to me, or when the trainer didn't understand my industry or my buyer."
She advises doing your homework when it comes to choosing sales trainers. They're an expensive investment if you don't create a plan for maximizing results before, during, and after working with them.
Work with them before training to ensure they understand what problem you're trying to solve by bringing them in and teach them the industry-specific terms and nuances they need to know in order to gain respect from your team.
Lastly, get enforcement tools from them. They should leave you with worksheets, management coaching sheets, links to the recorded sessions, future management reinforcement training, or other options.
The goal? To avoid a costly one-and-done training event… you know, the kind where you checked the box, did sales training, but nothing improved.
If you need to let someone go, don't wait. There is no reason to keep around non-performers who have been given a chance to succeed yet proved they can't be successful in your environment. Your team will thank you.
Here are a few common characteristics that can give you a starting point when it comes to culture.
Strong Leadership
Strong leadership is everything in sales. You might not be hopping on every call yourself, but your reputation is still always on the line.
Your sales reps are the ones dialing the phone and talking to prospects, but you're the one who is ultimately responsible for their success. When they aren't meeting quotas or they're making the same mistakes over and over again, you're the first person they'll ask for help – and they'll expect you to deliver.
Related: 7 Tips on Managing a Remote Inbound Sales Team You can Implement by Next Week
Career Growth Opportunities
Getting a steady paycheck isn't the only motivator for sales reps. Employees want to feel valuable in their role, which is what makes offering professional development opportunities so compelling. You benefit from this as well, as these trainings will help your reps pick up new skills and strategies that can boost their numbers.
Positive Environment
No one wants to come into a job that sucks the life out of them. Your team chose to work for your company. They want to feel inspired, empowered, and optimistic about that decision.
Plus, putting some effort into developing the right environment may take care of the hiring aspect for you. You'll get qualified candidates beating down your doors when word gets out from happy employees that YOUR company is the place to work.
4. Invest in Systems and Processes
Systematization is the secret to successful sales organizations. Good systems remove much of the guesswork for sales reps and can help newcomers ramp up production faster.
Systems also give team members a clear path to follow to remain productive throughout the day. One report notes that 64% of a sales rep's time is not spent on revenue-generating activities. Instead, they waste time looking for sales collateral, performing admin tasks, and catching up with co-workers. Systems won't stop your team members from indulging in water cooler conversations, but they can help reduce time spent unnecessarily on admin.
It's worth noting that whatever systems you create should make things easier for the rep, not just create more busywork. Sales reps have explicitly called out CRMs as one of their biggest frustrations, spending more than 9.1% of their time in their CRM, trying to manage tasks.
A new process is only as good as the people using it. When you implement a new process or system, it's important to gain buy-in from your reps so they'll readily adopt it. Show them how the process will benefit them, and provide plenty of training and onboarding until it becomes second nature.
5. Let Reps Play to Their Strengths
Good sales leaders have a natural ability to recognize others' talents, but great leaders will find ways to let them focus on their strengths.
For example, someone who excels at selling a particular product may be better off selling only that product, rather than trying to become your company's jack-of-all-trades. Focusing in this way allows them to get to know your product inside and out and become the resident expert on it within your organization.
Every salesperson can become an expert on something. When they're confident in their ability to sell, they help to create predictable, repeatable success for the company. Find out what interests them and what unique talents they bring to the role, then find a way to let them thrive.
6. Focus on Building Good Sales Habits
The most successful salespeople are those that practice good sales habits without fail. Their methods have become so ingrained in their routine that they don't have to think twice about doing them – and they continue to perform these habits because they know they work.
Managing a sales team requires you to help your reps not only build good habits, but also trust them to work.
One of the biggest sales habits you should focus on is establishing a sales cadence that'll hold your team accountable for their performance. Following a proven cadence will predict their success, and any deviations from that cadence could indicate why they didn't hit their sales targets.
Another priority should be setting follow-up goals and metrics. Some studies show that it takes up to 18 calls to connect with a buyer, but many sales reps give up after following up just once. Further, nearly 80% of all sales require five or more follow-up calls after a meeting. Teach your salespeople not to take silence or missed connections as an answer.
7. Forge Sales and Marketing Alignment
The digital era has reshaped the buyer's journey. These days, consumers want to research and explore solutions on their own before involving a sales rep. In fact, some sources note that, by the time buyers reach out to sales, they're already more than halfway through the sales cycle.
This a major shift from where we were just a few years ago. The buyer is in control of the process and empowered by mobile connectedness and on-demand information. As a result, sales organizations are being forced to change their approach to the way people buy.
Because of this pivot, marketing is playing a greater role in the buyer journey than it has in the past. There's a greater emphasis on the content they create and the audience they create it for. Salespeople essentially have less time to impact the customer, as they're entering the journey at a much later phase.
For these reasons, forging sales and marketing alignment has never been more important. Salespeople need to understand the marketing aspect and vice versa, so that marketing is generating leads that sales has a chance of selling. Make it a priority to work together with sales, paying particular attention to how you can support each other's goals.
8. Visibility Is Key
Monitoring performance isn't about making sales reps feel pressured. Rather, it should help leaders know where to direct their efforts. Sales leaders need visibility into what sales reps are doing so that they're better able to provide coaching and catch issues before they become problems. This places a level of accountability on the employee, but also gives them confidence that leaders are invested in their success.
Fortunately, there are different tools you can use to understand your sales team's activities. Getting ultra-specific on what your entire sales cadence looks like and what information you need at every stage can make it easier to decide between the hundreds of sales enablement and tracking tools you could use.
9. Track Metrics
Effective sales management also means looking at the right metrics that accurately depict your sales performance. These metrics are unique to you and will vary by organization, but most companies include the following data points to gain visibility into the sales cycle:
Time Spent Selling
Your sales rep's time is their most valuable asset. You have to know how they're spending it. Tracking this metric helps you to identify the biggest time-zapping activities that could be eating up your team members' schedules and giving them less time to sell.
Lead Response Time
How quickly are your reps following up with inbound leads? Research shows that leads that are contacted within five minutes are 100 times more likely to be reached and 21 times more likely to enter your sales cycle. Contact rate and lead quality significantly drop between five and 30 minutes after receiving the lead.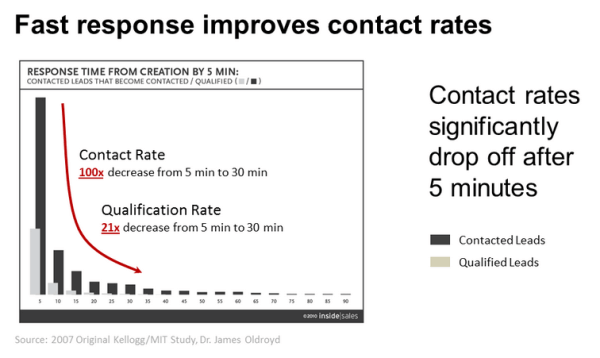 Drift performed research on 433 companies and found that more than half of companies didn't respond within five business days, while 7% responded within the first five minutes. Be the latter, not the former. You can use EmailAnalytics to automatically calculate your average response time (or your sales agents'). Once you can measure it, you can start improving it.
Opportunity Win Rate
Not all of your opportunities will result in wins, but you can aim to win bigger and lose smaller over time.
Your opportunity win rate is simply the number of sales divided by the number of opportunities in a given time frame. Tracking this metric over time will help you better predict your long-term win rate, set challenging yet attainable goals, and perform better sales forecasting for your organization's leaders.
Cost Per Acquisition
Sales come at a cost, and knowing how much you're spending to acquire customers can help you remain profitable. This metric is especially useful for new businesses that want to increase their valuation or scale quickly.
Customer Lifetime Value
Not all customers are worth the same amount to your organization, nor should their initial purchase value be all they ever bring to your organization. For these reasons, measure not only their customer lifetime value, but also note trends when their buying habits change so that you can intervene before they churn.
Effective sales leaders should feel comfortable knowing how to use these and other metrics to create valuable opportunities for their sales teams, as well as to identify patterns and trends so that they know where to adjust their process.
10. Never Underestimate the Power of Praise
Commissions aren't a substitute for rewards or recognition. Your top performers deserve to know they're doing more than turning the sales wheel.
Take the time to recognize top performers and major achievements. Help your reps set individual goals, and praise them when they clear them. Success is contagious. When you praise one person, the rest of your team will feel more motivated to meet their own goals.
11. Be the Leader You Always Needed
Managing a sales team shares many of the same challenges as sales itself. Yet the complexities of balancing skilled individuals with the organization's ecosystem takes a special person. Find your way as a sales leader by becoming the leader you always needed.
Prioritize the right people, develop a strong culture, and track everything. In time, the rest will fall into place.
12. Foster Continuous Learning
Training your sales reps once on their joining isn't enough. Chances are they'll forget 80% of what they've learnt within the first month. This is why it's essential to keep the learning process going and ensure that your sales reps are in a continuous loop of learning and development.
The best way to do this is by providing refresher courses, encouraging them to attend workshops or webinars, or even setting up online training programs for them.
Your aim should not be to only reinforce what was taught earlier, but also to help them stay up-to-date with the latest techniques, strategies, and technologies in the sales world.
This will not only ensure your reps are well-prepared for any situation, but it will also boost their confidence and help them improve their performance, resulting in higher sales numbers for your organization!
13. Encourage Collaboration and Teamwork
While sales can often be viewed as a competitive endeavor, fostering a sense of collaboration within your team can lead to greater overall success.
Here are 4 examples of how you can do that:
1. Knowledge Collaboration
Encourage your team members to share their individual knowledge and experiences with each other. As a head, you can lead by example by hosting weekly hangouts or meetings where everyone can come together and discuss topics that might be helpful in their sales pursuits.
According to a survey, sales reps who collaborated and shared their best practices achieved 82% of their sales quota, while sales reps who did not participate in knowledge sharing reached only 32%.
2. Success Stories
Celebrating success can be a great way to keep morale high and build a sense of camaraderie. Creating a forum where sales reps can share their successes, wins, challenges, and lessons learned is an excellent way for them to learn from each other.
3. Accountability Groups
Create a system of accountability amongst your team by having them form groups where they provide each other with support and feedback. This will help keep everyone motivated and on track to reach their individual goals.
4. Mentorship Programmes
Having senior sales reps mentor less experienced ones has numerous benefits. The more experienced reps can pass down their knowledge to newer members, the mentees can learn more quickly and gain insights into different techniques, and everyone is encouraged to work together.
Conclusion
Running a successful sales team requires a lot of time, effort, and dedication. As a leader, it's your responsibility to ensure that your team is on the right track and working effectively towards its goals.
Make sure you follow these tips and strategies and create an environment that helps boost both individual performance and overall team success.