How To Build a Strategic Sales Plan + 10 Examples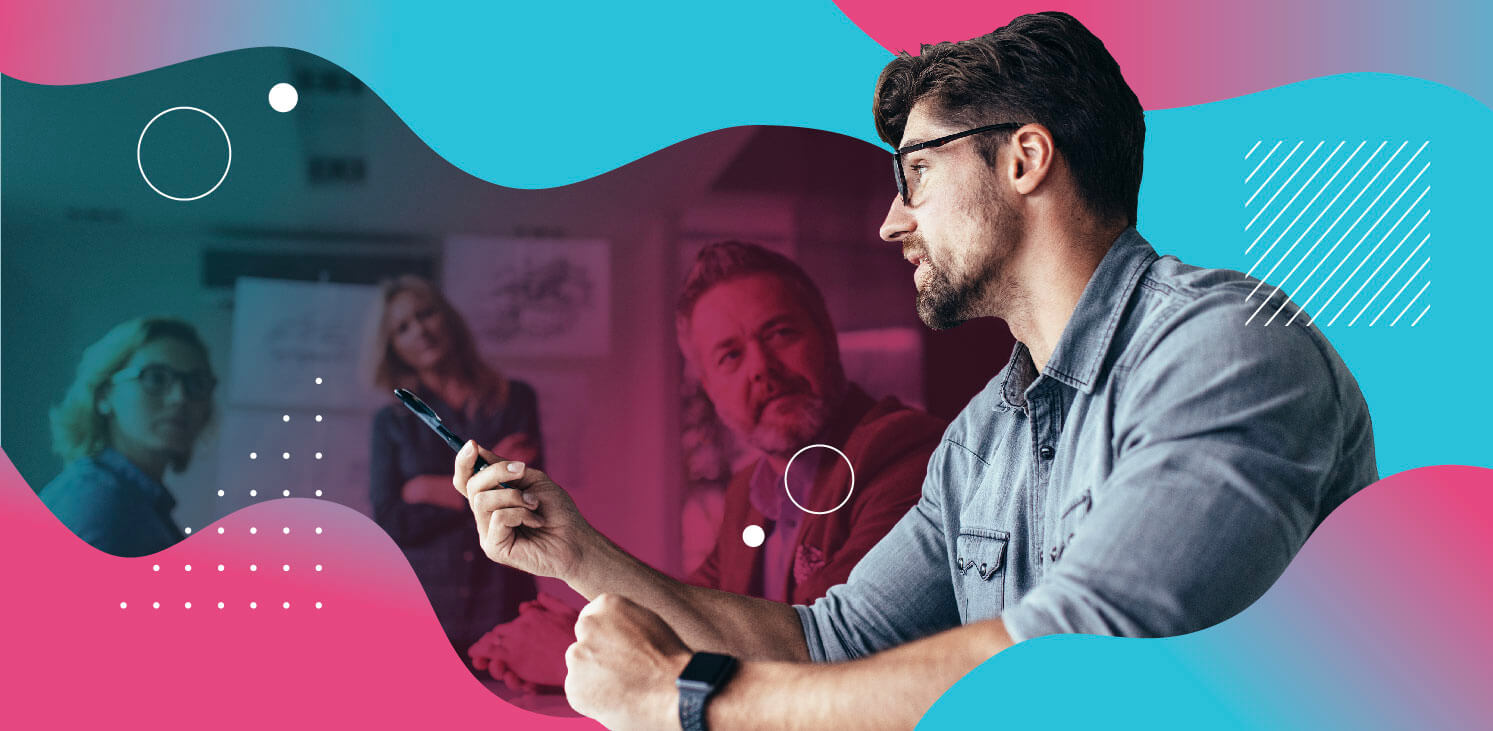 Every sales team has some sort of plan, even if it's just "sell more of the product/service that you're employed to sell."
A sales plan is a portfolio that includes a layout of your processes, target audience, objectives and tactics. It's used to guide your sales strategy and predict cost and returns. 
Yet without a codified sales plan, it can be difficult to give a sales team the motivation and purpose they need to successfully engage customers and continue to generate revenue.
Not having a sales plan that's written down and signed off on by stakeholders can lead to confusion around what sales reps should and shouldn't be doing, which can be demotivating.
It might seem daunting or time-consuming to put together an entire sales plan, but it doesn't need to be. Here's how to create a thorough sales plan in 10 simple steps. 
What Is a Sales Plan? 
A successful sales plan defines your target customers, business objectives, tactics, obstacles and processes. An effective plan will also include resources and strategies that are used to achieve target goals. It works similarly to a business plan in the way it's presented, but only focuses on your sales strategy. 
A sales plan should include the following three components: 
Ideas:

If you use specific business methodologies, you may choose to outline key principles and examples of them in action within your sales plan. An example could be conversation tactics when pitching your product to your target customer. 

Processes:

In order to streamline productivity and business strategy, you'll want to make sure your processes are defined within your sales plan. Your sales team should be able to refer to the sales plan when they're in need of direction. 

Tools and tactics:

The most effective sales plans include not only high-level business strategies, but also step-by-step approaches for your sales team to utilize. These tools can include key conversation pieces for your sales reps to use when pitching a product or content to close out a deal. 
Solidifying a sales plan is crucial for a strong business model. Taking the time to narrow in on the components above will set you and your business up for success down the road. 
Sales Planning Process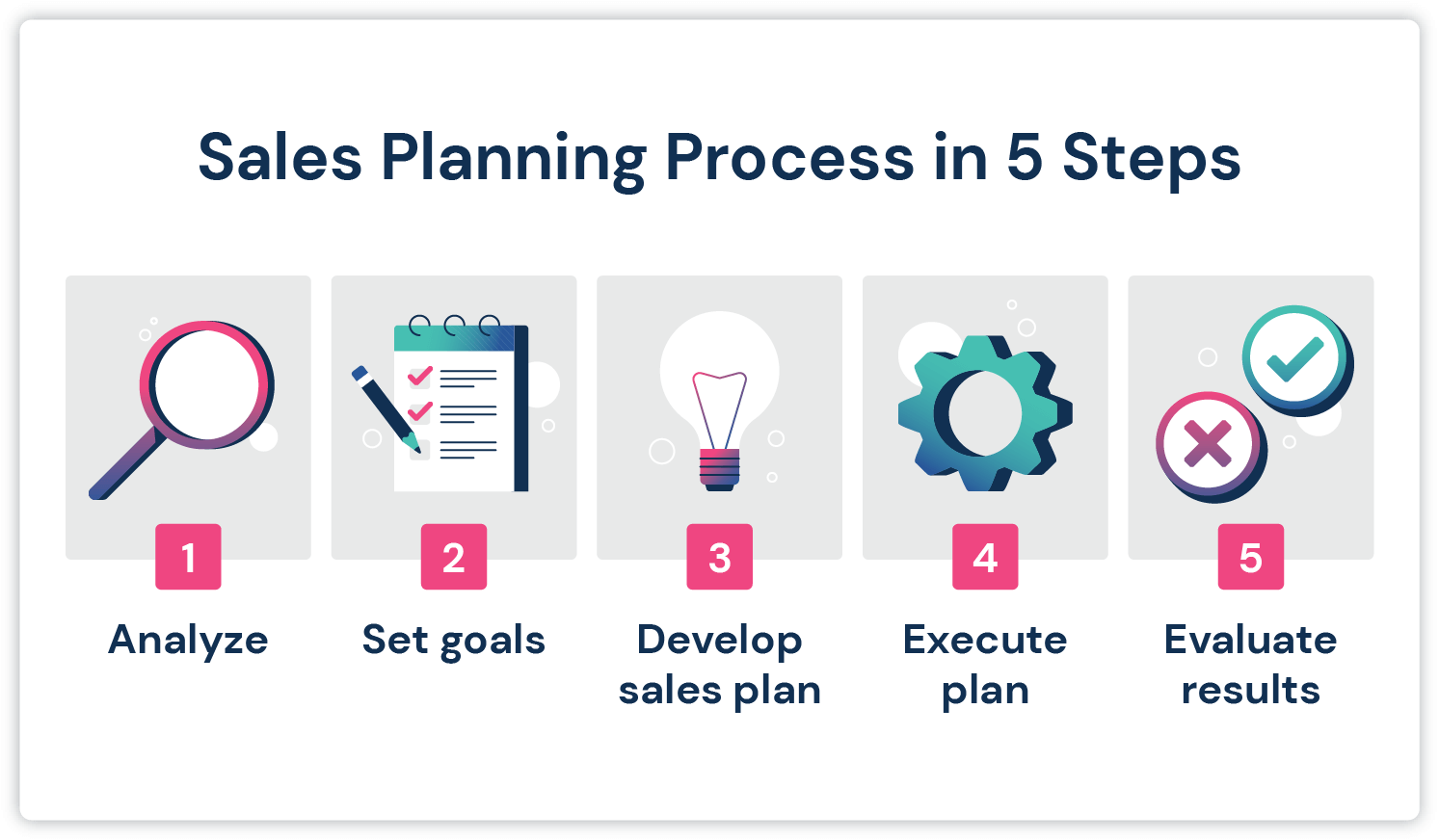 It's important to keep in mind that sales planning isn't just about creating a sales plan document. A sales plan should be a go-to item that's used every day by your team, rather than sitting on your desk collecting dust. Creating an effective sales plan requires high-level strategy.
You should: 
Decide on a timeline for your goals and tactics

Outline the context

Write out the company mission and values

Describe the target audience and product service positioning

Include sales resources

Draw out an overview of concurrent activities

Write an overview of your business road map

Outline your goals and KPIs

Outline an action plan

Create a budget 
 Below we dive into each of these steps to create your ideal sales plan. 
1. Decide on Your Timeline
Setting goals and outlining tactics is not going to be productive if you're not working toward a date by which you'll measure your efforts.
Determining the timeline of your sales plan should therefore be your number one consideration. When will you be ready to kick-start your plan, and when is a reasonable time to measure the outcomes of your plan against your SMART goals?
Remember that you need to give the plan a chance to make an impact, so this timeline shouldn't be too restrictive. However, you also want to make sure that you're flexible enough to adjust your plan if it's not producing the desired results.
Most sales plan timelines cover about a year, which may be segmented into four quarters and/or two halves to make it a little more manageable.
2. Outline the Context
Use the first page of your sales plan to outline the context in which the plan was created.
What is the current state of the organization? What are your challenges and pain points? What recent wins have you experienced?
Do you have tighter restrictions on cash flow, or does revenue appear to be growing exponentially? How is your sales team currently performing?
While you'll discuss your business plan and road map later in the document, you can also outline the long-term vision for your business in this section. For example, where do you want to see the business in five years?
Tip: Comparing the current situation with your vision will emphasize the gap between where you are now and where you need to be. 
3. Company Mission and Values
It's essential that you put your mission and values at the heart of your business. You need to incorporate them into every function – and this includes your sales plan.
Outlining your mission and values in your sales plan ensures that you remember what the company is striving for, and in turn helps ensure that your approach and tactics will support these objectives.
Remember: A strong brand mission and authentic values will help boost customer loyalty, brand reputation and, ultimately, sales.
4. Target Market and Product/Service Positioning
Next, you'll need to describe the market or markets that you're operating in.
What is your target market or industry? What research led you to conclude that this was the optimal market for you?
Who within this industry is your ideal customer? What are their characteristics? This could be a job title, geographical location or company size, for example. This information makes up your ideal customer profile.
If you've delved further into audience research and developed personas around your target market, then include them in here, too.
5. Sales Team and Resources
This step is simple: Make a list of your sales resources, beginning with a short description of each member of your sales team.
Include their name, job title, length of time at the company and, where appropriate, their salary. What are their strengths? How can they be utilized to help you hit your goals?
You should also include notes around the gaps in your sales team and whether you intend to recruit any new team members into these (or other) roles.
Tip: Communicate the time zones your team members work in to be mindful of designated work hours for scheduling meetings and deadlines. 
Then, list your other resources. These could be tools, software or access to other departments such as the marketing team – anything that you intend to use in the execution of your sales plan. This is a quick way to eliminate any tools or resources that you don't need.
6. Concurrent Activities
The next step in creating your sales plan involves providing an overview of non-sales activities that will be taking place during the implementation of your sales plan.
Any public marketing plans, upcoming product launches, or deals or discounts should be included, as should any relevant events. This will help you plan sales tactics around these activities and ensure that you're getting the most out of them.
7. Business Road Map
For this step, write up an overview of your business's overall road map, as well as the areas where sales activities can assist with or accelerate this plan. You'll need to collaborate with the CEO, managing director or board of directors in order to do this.
In most cases, the business will already have a road map that has been signed off on by stakeholders. It's the sales manager's job to develop a sales plan that not only complements this road map, but facilitates its goals. 
Tip: Highlight areas of the road map that should be touchpoints for the sales team. 
Ask yourself what your department will need to do at each point in the road map to hit these overarching company goals.
8. Sales Goals and KPIs
Another important part of the sales plan involves your sales goals and KPIs.
Outline each goal alongside the KPIs you'll use to measure it. Include a list of metrics you'll use to track these KPIs, as well as a deadline for when you project the goal will be achieved.
It's vital to make these goals tangible and measurable.
A bad example of a goal is as follows:
Goal 1: Increase sales across company's range of products and services.
A better goal would look something like:
Goal 1: Generate $500,000+ in revenue from new clients through purchases of X product by X date.
9. Action Plan
Now that you've laid out your goals, you need to explain how you will hit them.
Your action plan can be set out week by week, month by month, or quarter by quarter. Within each segment, you must list out all of the sales activities and tactics that you will deploy – and the deadlines and touchpoints along the way.
Tip: Organize your action plan by department – sales, business development and finance. 
While this is arguably the most complex part of the sales plan, this is where sales leaders are strongest. They know which approach will work best for their team, their company and their market.
10. Budget
Budgets vary from team to team and company to company, but whatever your situation, it's important to include your budget in your sales plan.
How are you going to account for the money spent on new hires, salaries, tech, tools and travel? Where the budget is tight, what are your priorities going to be, and what needs to be axed?
The budget section should make references back to your action plan and the sales team and resources page in order to explain the expenditures.
6 Strategic Sales Plan Examples 
You can create different types of strategic sales plans for your company, depending on how you want to structure your sales plan. Here are a few examples.   
Customer Profile 
A customer profile outlines your ideal customer for your service or product. It will usually include industry, background, attributes and decision-making factors.  
Creating a customer profile helps narrow in on the target customer your sales team should focus on while eliminating unproductive leads.  
Buyer's Guide
A buyer's guide is an informational sheet that describes your company's services or products, including benefits and features. This document is useful both for your sales team but also for a potential customer who requires more information on the product before purchasing. 
30-60-90-Day Plan
This plan is organized based on time periods. It includes outlines of goals, strategy and actionable steps in 30-day periods. This is a useful sales plan model for a new sales representative tracking progress during their first 90 days in the position or meeting quotas in a 90-day period. 
This type of sales plan is also ideal for businesses in periods of expansion or growth. It's helpful to minimize extra effort in onboarding processes. 
Market Expansion Plan
A market expansion plan clarifies target metrics and list of actions when moving into a new territory or market. This sales plan model is typically used with a target market that resides in a new geographical region. 
You'll want to include a profile of target customers, account distribution costs and even time zone differences between your sales representatives. 
Marketing-alignment Plan
Creating a marketing-alignment sales plan is useful if your organization has yet to align both your sales and marketing departments. The goal of the sales plan is finalizing your target customer personas and aligning them with your sales pitches and marketing messages. 
New Product/Service Plan 
If your organization is launching a new service or product, it's best to create a sales plan to track revenue and other growth metrics from the launch. You'll want to include sales strategy, competitive analyses and service or product sales positioning. 
Sales Plan Template
Looking for an easy template to use for your sales plan? We've created this simple template to help you organize your plan from top to bottom. Simply download the template and edit each slide based on its contents. 



Sales Plan Template 
4 Additional Sales Plan Templates
Here are some additional templates you can use to create your own unique sales plan. 
5 Tips for Creating a Sales Plan 
Now that you've seen and read through a few examples and a sales plan template, we'll cover some easy but useful tips to create a foolproof sales plan. 
Vary your sales plans:

First create a base sales plan that includes high-level goals, strategies and tactics. Then go more in depth on KPIs and metrics for each department, whether it's

outbound sales

or

business development

. 
Analyze industry trends:

Industry trends and data can easily help strengthen your sales approach. For example, if you're pitching your sales plan to a stakeholder, use current market trends and statistics to support why you believe your

sales strategies

will be effective in use. 
When Should You Implement a Strategic Sales Plan? 
Does your organization currently not have a sales plan in place that is used regularly? Are you noticing your organization is in need of structure and lacking productivity across departments? These are definite signs you should create and implement a sales plan. 
According to a LinkedIn sales statistic, the top sales tech sellers are using customer relationship management (CRM) tools (50%), sales intelligence (45%) and sales planning (42%).
Below are a few more indicators that you need an effective sales plan. 
To Launch a New Product or Campaign 
If you're planning to launch a new service or product in six months, you should have a concrete marketing and sales strategy plan to guarantee you'll see both short- and long-term success. 
The sales plan process shouldn't be hasty and rushed. Take the time to go over data and competitor analysis. Work with your team to create objectives and goals that everyone believes in. Your sales plan should be updated formally on a quarterly basis to be in line with industry trends and business efforts. 
To Increase Sales
If your team is looking to increase revenue and the number of closed sales, you may need to widen and define your target audience. A sales plan will help outline this target audience, along with planning out both sales and marketing strategies to reach more qualified prospects and increase your sales conversion rate. 
Now that you've seen sales plan examples and tips and tricks, the next step after creating your sales plan is to reach those ideal sales targets with Mailshake. Connect with leads and generate more sales with our simple but effective sales engagement platform.