What is B2B SaaS? 22 Companies to Watch in 2023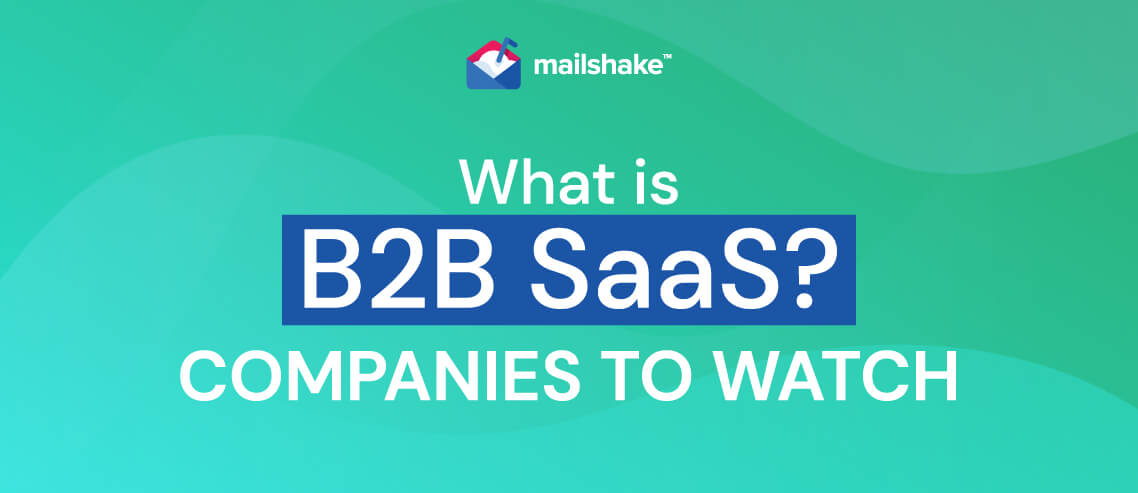 Over the past few years, the B2B SaaS space has cemented itself as a major force in the tech industry. Some of the bigger companies have become practically household names, at least as far as business is concerned.
If you're not familiar with B2B SaaS, you should be. Here, we're going to give you a briefing on what this space is all about and what major players you should be aware of.
What Is SaaS?
SaaS is a business and software distribution model that gained popularity over the past few years with the increased interest in cloud software.
The acronym stands for Software as a Service, which is a pretty accurate description of the model in itself. In short, customers pay for the software in the same way that they would normally pay for a service: based on their usage. In other words, instead of purchasing a piece of software in full, customers "rent" it or subscribe to it and can use it only during that specified period. Once their subscription ends, they lose access.
SaaS has become popular because it brings several benefits to both consumers and providers. Since most SaaS software is cloud-based, users can easily access it from any computer. The subscription model also reduces the initial financial commitment and barrier to entry — instead of shelling out $500 for a new program, users can simply pay a low monthly subscription fee to try it out and, if they like it, spread their payments out over time.
For providers, the model offers a more consistent revenue stream. Plus, it can raise software prices in the long run: a software that would cost $500 purchased when paid for upfront could end up generating much more if the user subscribes indefinitely (consider a one-time $500 fee vs $15/month for 40 months, which comes out to $600).
What Is B2B Saas?
B2B stands for business to business. It refers to companies that provide business tools to other businesses. B2B SaaS, then, simply refers to products that are distributed via a SaaS model and are designed for usage by businesses.
Typically, B2B SaaS products provide tools for marketing, customer relationship management (CRM), accounting, lead generation, sales, advertising, productivity, or similar business applications. This may come in the form of standalone software, a web app, or even a plugin for another application or web app.
Examples of B2B SaaS products include HubSpot, Salesforce, and Shopify. Google also has several B2B SaaS offerings, like Compute Engine, Anthos, and Cloud Run.
B2B startups often prefer a SaaS model because it allows them to stay agile in the face of a constantly shifting market landscape. Additionally, since SaaS companies often use cloud computing tech, it helps them more easily scale over time.
22 B2B SaaS Companies to Watch
Let's take a look at 22 SaaS companies that deserve your attention (in no particular order).
1. Slack
Slack is a communication tool that bills itself as "the smart alternative to email." It provides a direct messaging interface for teams and allows them to easily share files, organize and divide conversation into topics on separate channels, quickly search through chat history, and privately pin messages for future reference.
It's proven to be one of the fastest-growing tools on the market, and it's no surprise why: it's an extremely useful tool that makes team communication quick and easy.
There's also a native Slack integration with Mailshake if you're looking to connect it to your cold outreach campaigns.

2. Canva
Canva is a graphic design tool with a focus on providing an easy-to-use and intuitive user experience. Although Canva's features aren't as deep as competitors', like Photoshop or Illustrator, it makes up for this by allowing even the most inexperienced users to make professional-looking graphics.
Canva also provides many templates to choose from to jumpstart your designs, and team members can easily work with each other using Canva's collaboration tools.
3. Twilio
Twilio is technically classified as a CPaaS (Cloud communications Platform as a Service) company, but the overall model is basically the same.
It's a communications platform that allows businesses to communicate with their customers and audiences via multiple channels, such as text and voice calling. The platform can also be used to streamline internal operations.
For example, Twilio might be used to send out initial welcome texts once someone has signed up for a service. Similarly, it could be used to send automatic reminder texts about an upcoming appointment.
4. Lusha
At heart, Lusha is an email finder tool. That means that businesses use it to find contact information for leads and prospects. This information can then be used for sales.
Lusha also includes contact enrichment features as well as integrations with popular CRMs. It is a very useful tool to have in your stack, especially for sales teams.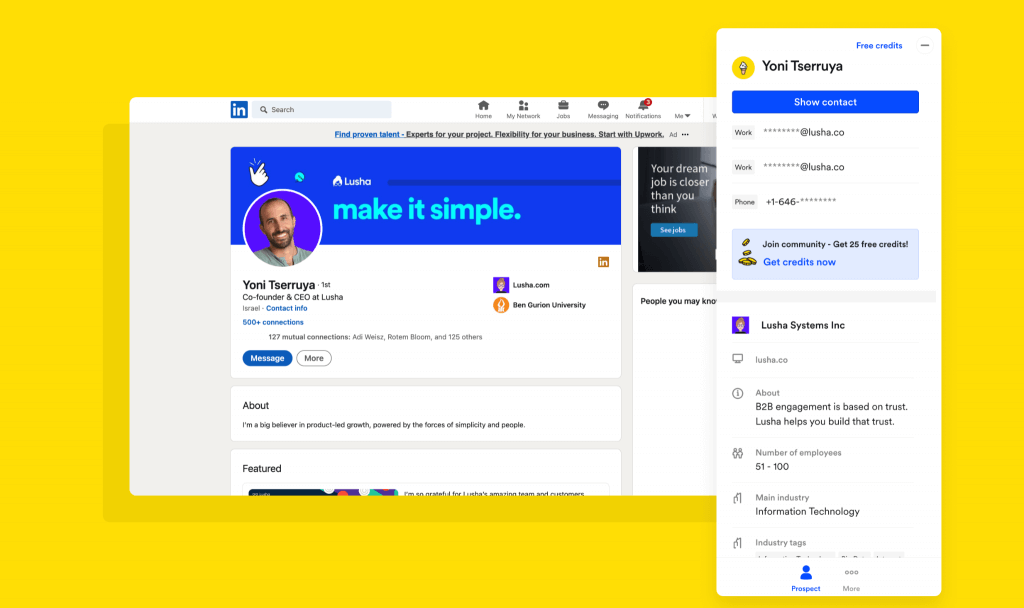 5. Lavender
Lavender is a sales email assistant that aims to help salespeople write better emails, faster. It works with Gmail, Outlook, Outreach, and SalesLoft.
The tool analyzes and grades sales emails that you're writing. It then offers suggestions on how to improve, like reducing fluff, simplifying your language, and more. Salespeople can use Lavender as a personal email coach to write more effective outreach communications.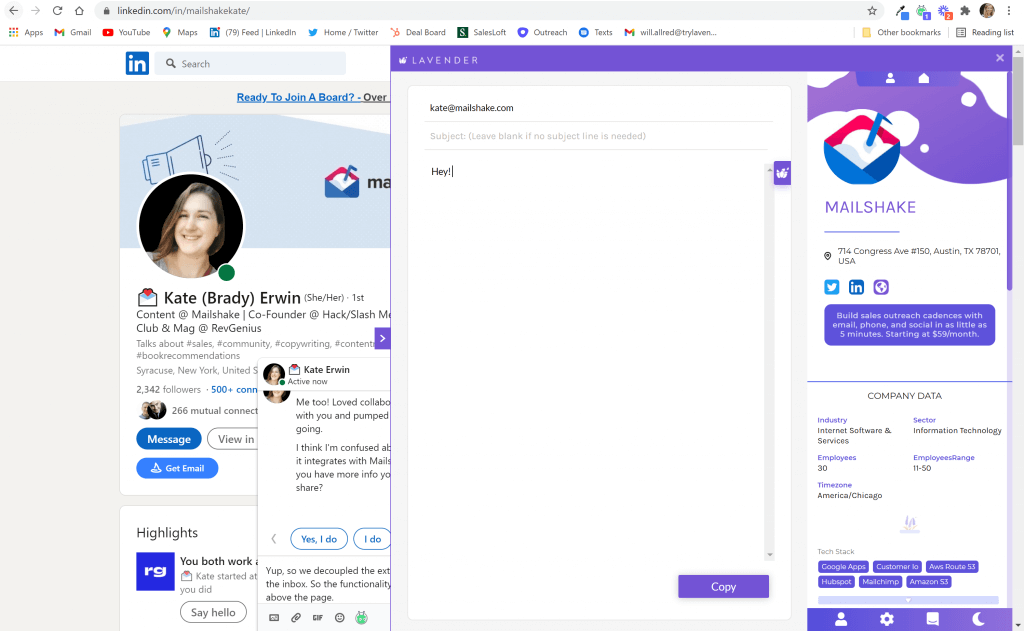 6. Dooly
Dooly is a SaaS tool that aims to make using another SaaS tool, Salesforce, more efficient.
In short, Dooly helps users update Salesforce faster. For example, it lets you add Salesforce fields to your meeting notes so you don't have to update Salesforce twice. It also lets you more quickly update pipeline status in Salesforce with its improved and streamlined user interface.
Plus, salespeople can also use Dooly's playbooks features to keep tabs on how to handle calls with specific leads and customers.
7. Sendoso
Salespeople can use Sendoso to send physical or electronic gifts to their B2B prospects. The process is simple: set up a communication pipeline using any platform you like. Then, when you're ready, use Sendoso to send them a gift of your choosing.
Sendoso allows for a huge amount of control over how your gift is packaged. You can choose all the packaging yourself and write the copy on the note that your lead will receive.
Our Co-Founder, Sujan Patel interviewed Sendoso's Co-Founder & CEO, Kris Rudeegraap, if you want to hear more about how to use direct mail in sales.
8. PandaDoc
Contracts can be a pain: all the legalese can give practically anyone a headache, and printing, signing, and scanning documents is extremely tedious.
PandaDoc helps eliminate these problems by providing a streamlined interface that businesses can use to send, edit, sign, and receive documents. Not only does PandaDoc make signing contracts easier with legally binding e-signatures, but it also provides tracking tools so you can always stay on top of your documents' statuses.
9. Chili Piper
Chili Piper is a SaaS tool that aims to make scheduling sales meetings faster and easier than ever. Salespeople can use Chili Piper to instantly start sales calls with leads that are ready to chat, or they can use it to provide a better scheduling experience for their leads.
With Chili Piper, leads can book meetings with one click using a calendar that shows available times — no back and forth emails required.
Chili Piper is a great way to automate your lead qualification process so you can create better inbound and outbound sales processes.
10. Salesforce
Salesforce was one of the first successful SaaS companies, and it is still a force to be reckoned with. It is one of the world's most popular CRMs — in fact, its stock ticker is CRM.
Even though Salesforce has been around since 1999, it still deserves attention. Thanks to its name recognition, it is expected to potentially make sustainable earnings above 20%.
Salesforce is also one of the CRMs that integrates natively with Mailshake.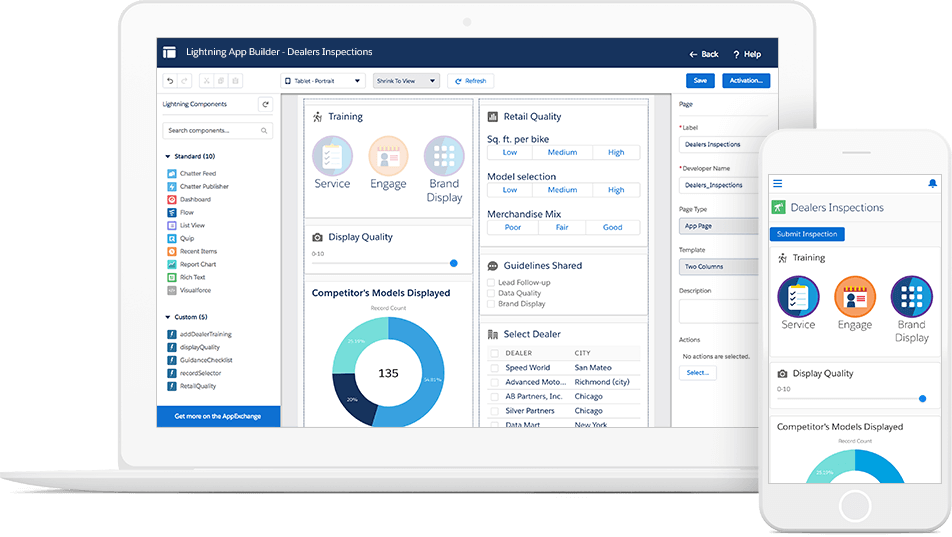 11. SurveyMonkey
As the name implies, SurveyMonkey is a tool that facilitates the creation of surveys. These surveys can be used to conduct market research, gauge customer satisfaction, or survey employee engagement.
Like Salesforce, it has been around since 1999, but it is still a very popular product. In 2018, it raised $180 million in its IPO, which indicates that public interest is still strong.
12. HubSpot
HubSpot is another of the biggest players in the B2B SaaS space. It provides several products, including a CRM, sales tools, project management tools, a marketing package, and an operations software package.
HubSpot has made a name for itself thanks not only to its products but to its strong marketing campaigns as well. The company has become a thought leader in the space thanks to its educational offerings, which have put it in the spotlight.

13. ClickUp
ClickUp can be considered something of a next-gen productivity, planning, and project management tool. It offers users lots of flexibility to create their ideal workspaces and provides to-do lists, project management, time tracking, and streamlined screenshot and recording features.
One of ClickUp's key selling points is that it keeps everything in one place. When using ClickUp, you won't have to switch between apps for kanban boards, spreadsheets, and conversations — everything is easily within reach in the ClickUp interface.
14. Drift
Drift considers itself a revenue acceleration platform, but it's essentially a chatbot.
However, that doesn't diminish what Drift can do for you: it is a very deeply featured chatbot that can help you prioritize leads, reach them quickly, provide real-time personalization, and give you lots of insightful data into the conversations that your leads are having with Drift.
15. Gong
Gong is a SaaS company that offers what it refers to as Revenue Intelligence. This comprises three types of analytics: deal intelligence, people intelligence, and market intelligence.
In a nutshell, Gong captures information on your customer interactions, analyzes them, and then provides actionable, real-time insights that you can use to make more sales.
16. ZoomInfo
ZoomInfo is a unique, AI-curated database that businesses can use to find information about potential customers. It uses a proprietary machine-learning algorithm to gather its data from various sources and has strict criteria for when a piece of information can enter its database.
In 2020, ZoomInfo became a publicly traded company. Its IPO price shot up 62% within the first day, which is a promising sign for the company's future. (Not gonna lie, I bought some shares myself.)
17. Zendesk
Zendesk is a SaaS company that offers solutions for customer service. It also offers a sales platform, but its customer service offerings are more popular.
Many major companies, like Uber, Mailchimp, Tesco, and Siemens, use Zendesk, which speaks to its quality and industry acceptance. If you've ever talked with customer service via instant messaging, there's a good chance that you've already used Zendesk.
18. Monday.com
Monday.com is a work and project management platform with a twist — instead of forcing your company to conform with predesigned workflows, you can make your own to fit your needs. This offers a huge amount of flexibility. Combine that with automation, and you have a recipe for success.
Some of the biggest companies in the world, like Coca-Cola, Universal Studios, NBC, and Adobe, use Monday.com, so it's clear that it's a product of the highest caliber.
19. Snowflake
Snowflake offers cloud computing services. It primarily focuses on providing cloud-based data storage solutions, which is commonly referred to as data warehousing or DWaaS (Data Warehouse as a Service).
The company is considered important for breathing new life into this space and was ranked number one on Forbes' Cloud 100 list in 2019.
20. Okta
Okta is an identity management platform that provides secure authorization and login services for employees and customers. Essentially, Okta helps companies implement streamlined registration and login experiences for customers and identity protection for employees and workforces.
The company is publicly traded and trusted by brands like Albertsons, T-Mobile, Siemens, Nasdaq, and Hitachi.
21. Airtable
Airtable is essentially a spreadsheet on steroids. While it shares the same basic structure as typical spreadsheets, it allows users to add various file types to fields and customize their views to great extents. It also supports real-time collaboration and automation.
22. Mailshake
Mailshake provides sales engagement and automation tools that can help put your email outreach on autopilot. Features include automated follow-ups, personalized email campaigns, omnichannel outreach, and integrations with many popular tools.
G2 named Mailshake a Fall 2021 Leader, and it's trusted by over 40,000 customers.
Key Takeaways
B2B SaaS is a burgeoning tech space filled with many innovative companies. From project management to email outreach to data warehousing and beyond, all businesses should keep an eye on this field.