Inbound & Outbound Sales: Working Together to Win More Revenue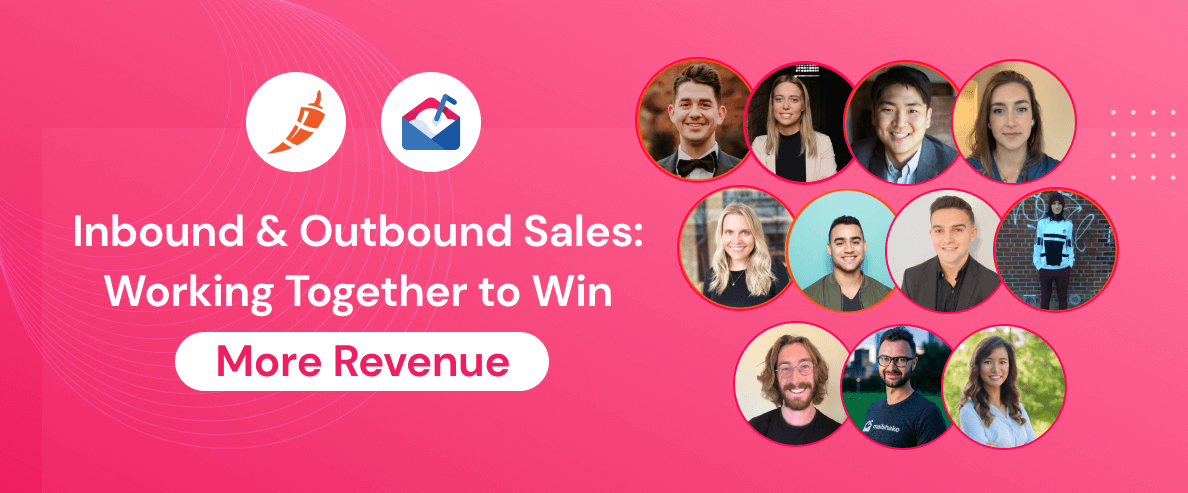 Blending inbound and outbound sales will help you achieve fast, lasting growth. But not every company truly has the time or resources to do a good job at both. To play it safe, many companies (including Mailshake) started with one or the other.
But there are ways to succeed at both inbound and outbound sales, even with limited resources. To show you how, we interviewed sales reps from Chili Piper and Mailshake. That way you can see what it takes to make inbound and outbound sales work and win more revenue.
What's the Difference Between Inbound & Outbound Sales?
Before we even get into how you blend inbound and outbound sales, it's important to get a clear sense of the strengths of each strategy.
Jack O'Byrne, SDR at Mailshake, puts it nicely:
"Inbound sales is important because it's where sales and marketing meet. It converts those warm leads that would otherwise get away. While outbound reaches those who, without people sitting on a phone, smiling and dialing, would never have heard of your company."
So inbound sales is all about leads that are already warmed up by your inbound marketing efforts while outbound sales is all about going in cold, helping you make the first impression with people who don't know you yet.
It's important to understand the difference because prospects (the people who don't know you very well) are different from leads (the people who have already shown interest).
"It's kind of like when you go to an event, right? And you don't know anyone," says Kaysie Wagoner, Account Executive at Mailshake, "All those people are gonna be called prospects until you actually have a conversation with one of them, then they become a lead and then once you have that initial spark, that's when you want to put them into a CRM tool and then build that relationship from there."
This context matters. Your sales reps need to know whether a lead is coming from inbound efforts and are pretty warmed up or if they're coming from outbound and only know about your company through cold emails. That way reps can take the appropriate next steps based on where the prospect currently stands.
Prequalify Inbound Leads So SDRs Can Focus on Outbound
Does qualifying inbound leads fall under the responsibilities of your sales development reps? If so, that may be why you feel like you don't have enough time to do outbound sales justice.
Many SDRs are wasting their valuable time calling inbound leads and trying to qualify them.
According to Will Hong, Sr. SDR at Chili Piper, it's typically up to the SDR to contact an inbound lead, qualify them, and put them on an AE's calendar. But automating the prequalification process can help free up SDRs to focus on more valuable work.
"A lot of times people need to automate the process so they can finally focus on outbound for the first time," says Alex Franco, Account Executive Team Lead at Chili Piper.
That way SDRs can focus on prospecting, sending cold emails, cold calling, conducting LinkedIn outreach, and all the other outbound tasks that will help you grow your pipeline.
The Chili Piper team seems to have that figured out. They use their software to prequalify inbound leads so their SDRs can focus the majority of their time on outbound sales.
"Inbound leads go directly to our AEs instead of SDRs so that frees us up to drive revenue from other sources instead of spending time chasing down inbound leads," says Will. "If it wasn't automated, I'd probably lose 30% of my day."
Realize That Outbound Sales May Take Longer to Close
Before conducting these interviews, I thought of inbound as a long-term play (because of all the marketing needed to bring leads in) and outbound as a quick(er) win.
But from a sales perspective, inbound is pretty instantaneous if you're doing it right. Because leads are raising their hands and asking you for a meeting. Outbound sales, on the other hand, takes a lot of nurturing from reps because prospects may not even know who you are.
According to Elizabeth Hibbard, Enterprise Account Executive at Chili Piper, "There's not a lot of warm touches happening so getting someone interested through outbound is more difficult than having someone be interested from an inbound lead."
Inbound should pretty much be a constant lead engine whereas outbound is your opportunity to make the first impression with people who may have never heard about you organically. That's why you need both.
"Inbound is going to be exponential growth every month. It's going to compound on top of itself," says Luiz Cent, Head of Sales at Mailshake. "Outbound is more linear growth. It's not like next year all of a sudden we have one rep that's closing 100 deals."
Use Inbound Lead Data to Inform Your Outbound Prospecting
Paying attention to the people who are raising their hands is a great way to figure out new targets for your outbound sequences.
On the Mailshake Team, we picked our outbound based on our inbound, according to Luiz. If you've figured out how to get the right people in the door through inbound, then you know exactly who to prospect next.
"Hyper-focus on all the leads that you've gotten from inbound and almost double down on them so you're creating your own target market instead of just waiting for leads to come in," says Maggie Blume, Account Executive at Mailshake.
Inbound is also a great way to discover whether or not the right people are finding you. Elizabeth from Chili Piper agrees that inbound is good from a learning standpoint. She says that if you're receiving a lot of inbounds that aren't a fit, it's a good time for marketing to reposition the product so you're actually getting the right leads in the door.
So if the right people aren't becoming inbound leads, that's your opportunity to share information with marketing so you can better sync up your efforts and get the right people on your site.
Don't Snooze on the Hand Raisers (aka Inbound Leads)
Inbound leads are the best. People are actually asking you for a meeting. What a dream! But if you don't respond quickly enough, those inbound leads could easily lower their hands.
"Get those people to your reps as quickly as possible when they have their hand raised."

– Christian Corbin, Account Executive at Chili Piper
Why? Because 50% of sales go to the vendor who responds first. Speed is crucial when it comes to inbound sales. And if your process is manual, you're going to lose that race.
"You're trying to get in touch with this person and they filled out the form, but while they fill out that form they're looking at three of your other competitors," says AJ Aminrazavi, Sr. SDR at Chili Piper.
If you're not fast enough, your competitors could win that revenue instead.
And getting back to inbound leads "shortly" is not fast enough. Because we live in a digital age where people expect to get what they want at the click of a button, not whenever you get around to it.
"After 5 minutes, they're no longer an inbound lead really," says Ashley Zagst, Account Executive at Chili Piper.
Five minutes?! Yup, we confirmed it. According to Vendasta, the odds of qualifying a lead decrease by 80% after 5 minutes.
Improve your lead response time by automating your inbound sales workflow. That way you're not neglecting those inbound leads and you'll easily win that revenue.
Automate Inbound & Outbound Sales as Much as Possible
Technology is here to help. Automate the robotic tasks so your sales team can focus on the human elements of selling. Plus, it'll make it easier to actually do both inbound and outbound sales in a way that's sustainable.
"Most companies start one way or the other and need a tool to help them develop the other channel."

– Alex Franco, Account Executive Team Lead at Chili Piper
We're obviously biased, but we recommend Chili Piper and Mailshake as a one-two punch to automate both inbound and outbound sales.
On the inbound sales side, Chili Piper automates prequalification and instantly books meetings on your behalf, improving your response time, doubling your conversion rates, and filling your pipeline with qualified leads.
For outbound sales, Mailshake lets you automate personalized outreach sequences so you can connect with prospects at scale while maintaining a personal touch.
And you can integrate Mailshake and Chili Piper via Zapier so you can automatically add information about your inbound leads to your outbound sales sequences.
Speaking of integrations, you can explore several other Chili Piper and Mailshake integrations so your sales reps have all the information they need on every type of lead you receive.
"We see the meetings rolling in through the integration with Slack," says Sydney Senior, SDR at Chili Piper, "So when a meeting is booked, everyone gets notified."
Win More Revenue with Chili Piper & Mailshake
To do both inbound and outbound sales, it helps to have help from automation. Chili Piper can automate your inbound sales process, while Mailshake can put outbound on autopilot. That way your sales team can succeed at both inbound and outbound sales and win more revenue.