How BrandStar's Marketers Generate Leads for Sales Using Mailshake
How BrandStar's Marketers Generate Leads for Sales Using Mailshake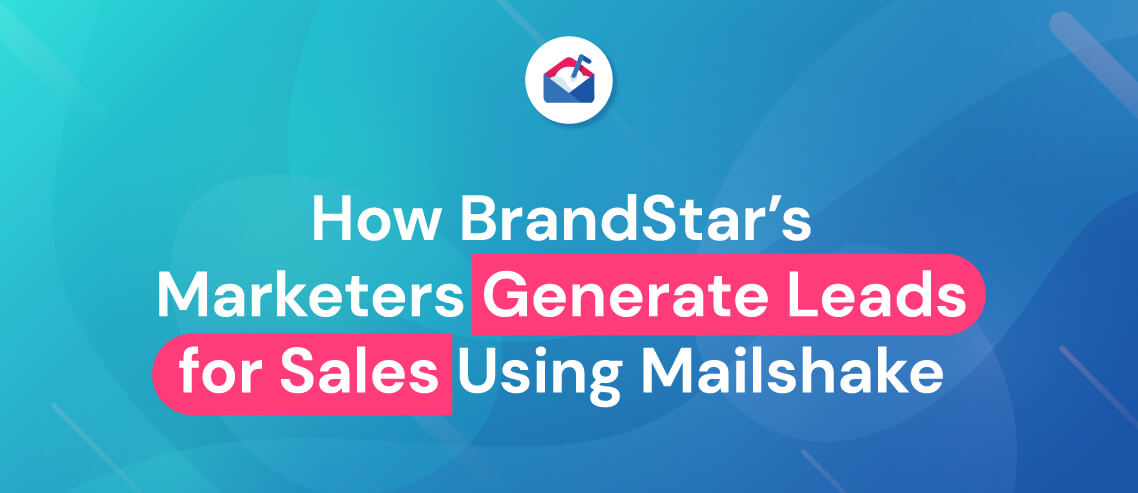 BrandStar is a content marketing and production company. They help companies of all sizes build brand awareness and drive sales through digital, broadcast, and print advertising.
Founded in 1994, the agency has helped over 10,000 emerging companies and Fortune 100 brands to reach and surpass their marketing objectives.
As with so many agencies, the methods it uses to drive growth for clients are highly sophisticated, but its own sales operation was quite the opposite. Relying heavily on cold outreach, its sales process was extremely manual and labor-intensive, with no easy way to scale beyond simply adding more reps.
Eric Goldstein, Director of Customer Engagement and Marketing Automation at BrandStar Tech, needed a solution. Specifically, he wanted a sales engagement tool he could control as a marketer to generate leads.
He chose Mailshake.
What Brought BrandStar to Mailshake?
To answer that question, it's important to understand more about where BrandStar started out.
As we've noted, the company's original sales process was highly manual and pretty outdated. In fact, it would have looked relatively old school in the mid-1990s, never mind today. One rep would look up contacts in the Yellow Pages then email them through Outreach. That was basically the whole process.
Thanks to the quality of BrandStar's product, that process actually worked pretty well. But the volume of communications was naturally limited by time.
When BrandStar first came to Eric, it was simply looking for more prospects to email. "My initial reaction was: 'That's kind of insane'," Eric explains. "They were doing this with no CRM or sales automation, they weren't using any tools or getting any reporting."
He quickly realized BrandStar desperately needed an email tool that could do two things:
Send sequenced emails on behalf of other people
Track the results
Eric had used other sales engagement tools – such as Mailchimp and Clickbank – in the past, with a focus on sending cold emails. While they worked to an extent, open rates were an issue, consistently running at around 5-7%. In short, those campaigns just weren't doing a good job of getting the message out.
Mailshake's key differentiator was that it allowed Eric to use a sales engagement tool as a marketer, giving him complete control of the content being sent out on behalf of multiple reps.
After getting buy-in from upper management, Eric set up a CRM on HubSpot, created two Mailshake accounts, and started running campaigns based on manually enriched lists he'd created, incorporating customized messaging based on specific research carried out by BrandStar reps.
This customization was crucial, Eric explains. "The more you can personalize and customize the emails to make them specific to the individual, the better your open and response rates will be. It helps make people understand the value of your product."
Finally, he'd found a solution that worked. The team was generating leads fast and sending out messages quickly to a relatively large audience.
Automation Enables a 30,000% Increase in Messages Sent
Sure, things were up and running. But Eric wasn't finished yet.
Even at this point, there was still too much manual involvement, so Eric worked with a variety of partners – Mailshake, HubSpot, and MethodData – to automate almost everything.
Now, once reps manually enrich the data in HubSpot, MethodData packages up all the leads and sends them through the Mailshake API into specific campaigns, which automatically push out four to five emails over the space of two to three weeks. The process looks like this:
A group of reps put together prospect lists, building all the "fuel" for each email campaign
This data is enriched by a couple other teams, which add customized information that feeds into the email copy
All that information is loaded into Mailshake for sequenced delivery
Any replies fall to a group tasked with setting up meetings
Finally, another team steps in once a meeting has been set up to close the deal
This new process was transformational. Whereas BrandStar had been sending about 1,000 emails a month when everything was running manually, now it can send as many as 10,000 in a single day – all tracked within Mailshake.
It's now BrandStar's core method of revenue generation. In fact, the process has been so successful, other functions within the company have replicated it. No wonder Eric describes Mailshake as a "very easy-to-implement, elegant way to get sequenced emails delivered."
Why Couldn't BrandStar Just Use HubSpot?
Let's deal with the elephant in the room.
BrandStar was already using the HubSpot CRM. Why couldn't it just do all its email outreach through HubSpot?
Or, to put it another way, why bother with Mailshake at all?
As far as Eric's concerned, it's a simple answer: HubSpot doesn't shine as a cold emailing tool.
It's well designed for a rep sending sequenced emails by themselves. From the perspective of a single rep who wants to be in total control of their own world, some of HubSpot's tools are more feature-rich than Mailshake's.
But that's not what Eric wanted or needed. As a marketer, he wanted a sales engagement tool that gave him total control of everything from his desk, without him needing to cascade information and new messaging to 14 different reps – some of whom were high school and college interns without any practical sales experience. Eric simply didn't have time to keep training them on how to use Mailshake.
He wanted to automate as much as possible so the reps could focus on enriching prospect data and handling all the leads that were coming back, rather than spending their time loading leads into a sales engagement tool and sending emails.
Those reps did all their work within HubSpot – they never logged into Mailshake at all.
Additionally, Eric was impressed with Mailshake's flexibility. It's easy to change templates and customize on the fly, adding and modifying sequenced emails that are already part of a live campaign. That's simply not the case with a lot of email automation tools. "With Mailshake, if I've sent out three emails, I can add a fourth to a sequence and it just works," Eric says. "It doesn't miss a beat."
Would Eric Change Anything About the Mailshake Campaign?
There's no such thing as the "perfect" prospecting campaign, and there are a couple things Eric would have done differently.
He needed to take the system down for about a week-and-a-half to do some list cleansing and delivery optimization because open rates had roughly halved from an initial level of 30-35%. After doing the work, those rates climbed back to around 25-30%, but Eric freely admits he should have done it first, starting the campaign slow and ramping up.
Start Generating Leads for Sales with Mailshake
If you want to start seeing the same success as BrandStar, it may be time to book a demo with our team. Mailshake can help you automate your cold outreach so you can spend more time on other activities – like winning the sale.