How Ashley Ryan Builds Authenticity at Scale With Mailshake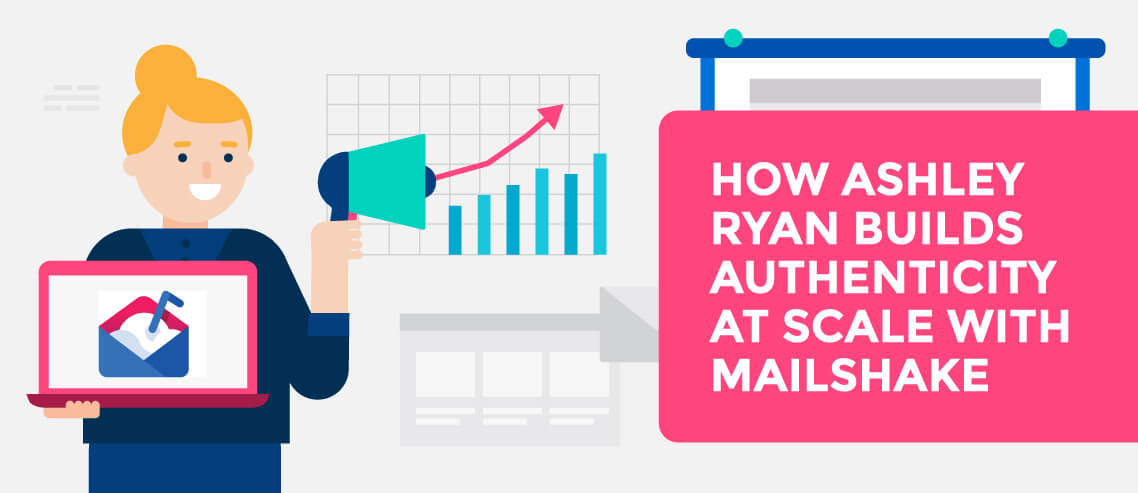 Brand authenticity is a key element of successful marketing, and Ashley Ryan knows this well. She expertly leverages authenticity in her business to differentiate her company and build stronger connections with prospects and clients.
As Founder and CEO of Her Smart Marketing, an agency focused on helping other female entrepreneurs grow their businesses, Ashley has built a wide and varied client base. She's worked with multiple Fortune 500 companies, and more than 95% of her clients had revenue growth of 100% or more, collectively generating more than $50 million from more than 200 successful marketing plans.
Ashley credits these impressive results to her unique marketing approach that not only gets her company noticed in an ultra-competitive field, but also sets an effective example that her clients can replicate. "If you present the image you want people to associate you with and can show prospects why you're the obvious choice, they'll already know you can help them because your own marketing is first-rate," she says.
She also credits Mailshake with much of her success. As a small business with big aspirations, Ashley knew that investing in the right email engagement platform could make all the difference in helping to create the right image and build her brand while staying top-of-mind with clients. Ashley says that between 30% to 40% of her business comes directly from Mailshake, bringing in over $100K in new business in 2018 alone.
Finding the Sweet Spot With Mailshake
Good follow-up is obviously critical for staying in front of leads and growing relationships; but like most small companies that want to scale, Ashley's limited resources didn't allow for the level of hands-on involvement needed to manually stay in touch with her prospects.
By leveraging Mailshake, she was able to automate her follow-up process by creating a no-guesswork email cadence, providing a more consistent experience to every prospect.
To further streamline and automate her email follow up, she uses Mailshake's templates to save time and remove the guesswork from crafting effective emails. She also takes advantage of available content and training resources, like blog posts and webinars, to get the most from the platform.
One of the biggest benefits for Ashley is that creating and sending her emails doesn't take a lot of time. By eliminating a significant portion of these hands-on follow-up tasks, she has more time to dedicate to revenue-generating activities.
Mailshake Prevents Warm Leads from Cooling Down
Like many marketers, Ashley relies heavily on LinkedIn and other social media platforms to find prospects, which is a time-consuming, labor-intensive process. Her main goal in using Mailshake is to remarket to her warm prospects at scale and prevent them from cooling down.
While nearly half of all salespeople will give up after the first follow-up email if they don't get a response, Ashley has found that following up five times or more is key.
"I have about nine emails total in my follow-up sequence strategy," she says. "I send an email right away when a prospect opts in, and then I follow Mailshake's recommendations for spacing my other emails."
Ashley acknowledges that a lot of companies are nervous about sending so many emails, but in her experience, it isn't an issue. She no longer sees sending multiple emails as harassing people – instead, she recognizes that people are just as busy as she is, and may need to receive multiple messages before they notice and respond.
To test this theory, she sent the following email:

The results were telling: most people never chose option number one. If recipients were truly feeling pressured or bothered, it would be logical to assume that they would opt out.
Channeling Creativity With Mailshake
Her Smart Marketing thrives on creativity, so it's no surprise that Ashley likes to try new things in her marketing. She frequently uses Mailshake's tracking and A/B testing features to experiment and make tweaks to her email sequences.
For example, Ashley repurposed a lengthy sales page into an email, and discovered that long copy works well for her business: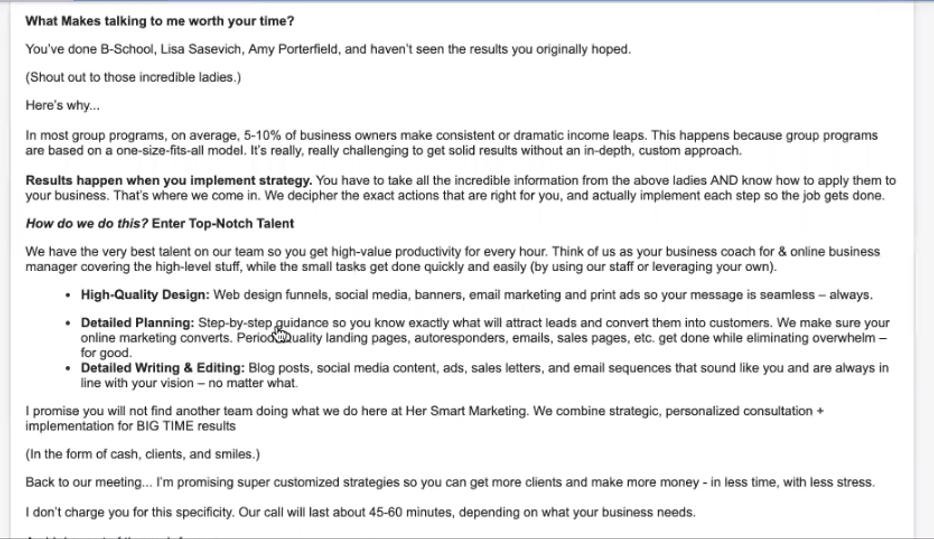 Being able to mix emails of different lengths and track the results has allowed Ashley to learn how to make her strategy more effective, and she's not hesitant to try something outside the norm.
"You only have a few minutes to 'wow' someone, and you have to push your own boundaries, your own creativity," she says. "That's what being authentic is all about."
How Mailshake Brings Clarity and Unity to Manual Marketing
For Ashley, building brand authenticity seems to come easy. But in order to grow at scale without sacrificing that personal touch, she needed a tool like Mailshake.
Many of Ashley's prospects come from her outreach and engagement on social media, which is largely a manual process. Ashley will friend leads on Facebook and reach out on LinkedIn, then initiate a 14-day engagement program of commenting on their posts and liking their content, all while manually tracking the relationship via spreadsheet.
Clearly, such a personalized relationship-building process doesn't allow much time for manual email follow-up, which is where Mailshake comes in.
At the end of the engagement strategy, Ashley adds her prospects to a Mailshake campaign sequence that will continue growing the relationship. She stays on their radar while she starts the process over with new prospects, bringing her marketing efforts full circle.
Measuring the Mailshake Impact
Ashley achieves authenticity in her brand by infusing personalization throughout her outreach, and Mailshake provides an effective, inexpensive way to do it. More than 50% of her prospects book consults from the opt-in email alone, proof that a personal touch can go a long way toward earning trust and credibility.
"When people think I'm emailing them, rather than an autoresponder, it's more intimate and effective," she explains. "They really think they're getting a personalized email from 'the president', and I don't have to worry about them receiving irrelevant emails based on the actions they take."
WIth approximately a third of her business coming directly from Mailshake, the platform has been an extremely beneficial one for Ashley, giving her a simple yet powerful way to book consults, stay in front of her prospects, and grow genuine relationships.
"I think the most important thing with Mailshake is that it allows you to be creative," she says. "You aren't forced to send the same old emails that everyone else is sending, and I can use my creativity to set myself apart, provide a better experience to my prospects, and really test what works well."
Mailshake has helped Ashley Ryan and more than 28,000 other customers send more than 170 million cold emails to book consults, stay top-of-mind, and build authenticity at scale.
We can do the same for you – discover how easy it is to put the power of email follow-up to work in your business.