The Best 18 Meeting Scheduling Apps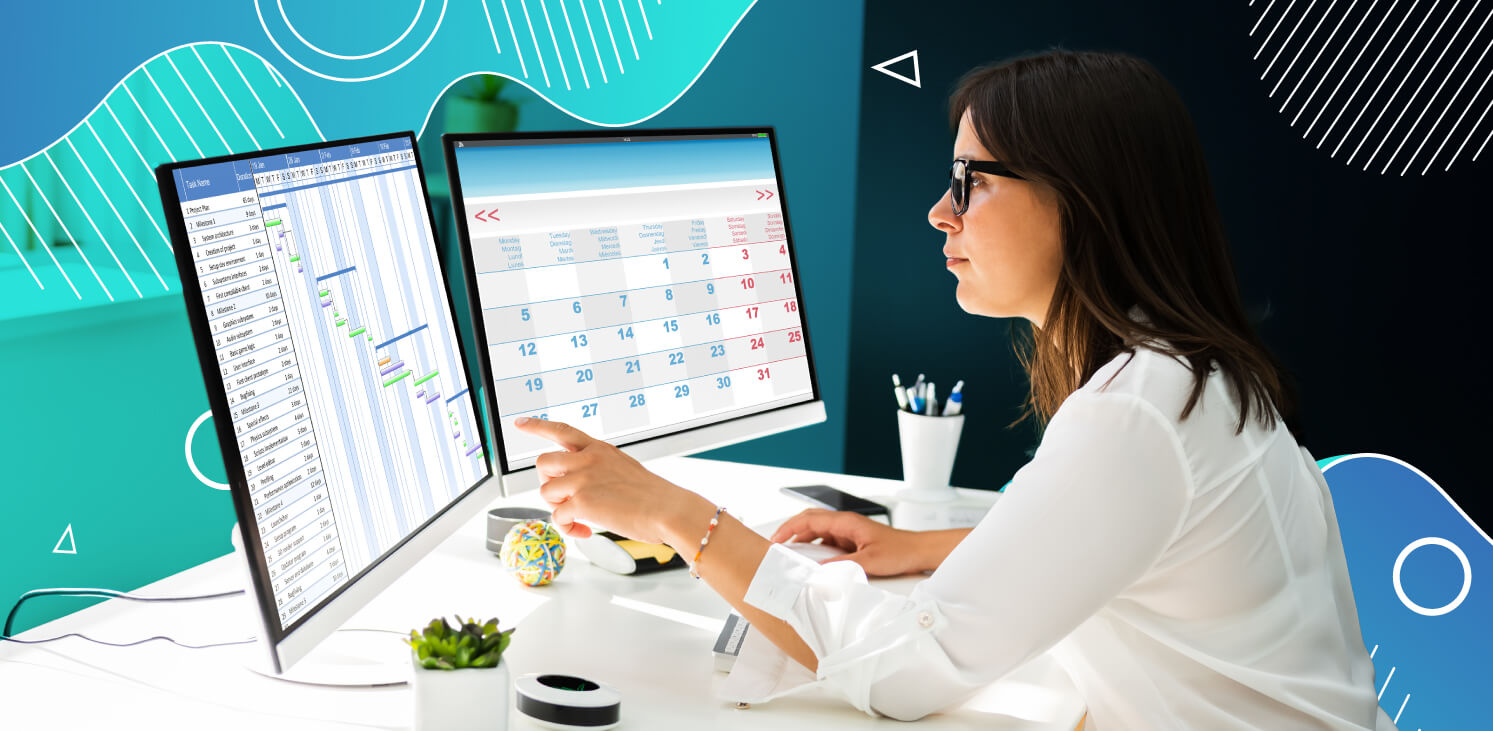 Meetings are a necessary evil of corporate life. From project catch-ups to brainstorming sessions, they serve as the lifeblood of business.
But organizing them? That's a whole other ball game. Finding a time that suits everyone can feel like herding cats. You're trying to align multiple schedules, sometimes across different time zones, with people who have vastly different daily routines. It's like trying to solve a Rubik's cube blindfolded.
In fact, arranging a business meeting with only 6-8 participants can take up to 30 minutes of your precious time.
But what if we were to tell you that there is a way you can do the same within 13 minutes?
That's right, modern scheduling apps are here to save the day. These handy tools have powerful features that can help you plan meetings with maximum efficiency and minimum effort.
And in this post, we've rounded up 18 of the best meeting scheduling apps that promise to replace the chaos with harmony.
Let's dive in!
The 7 Characteristics of the Best Meeting Scheduling Tools
A quick Google search of 'meeting scheduling tools' will give you 38,300,000 results at the time of writing. You're going to need to do some filtering to narrow it down. Here's what to look for.
Easy to Use
If the tool requires hours of additional training to use it, it's not user-friendly. Your colleagues and customers should be able to figure it out with minimal effort. It needs to be intuitive and simple. If not, move on.
Email Integration
We send and receive a lot of email. In fact, it's still the preferred communication channel for most professionals. It makes sense to find a scheduling tool that integrates seamlessly with it, adding to or changing your schedule automatically when new information arrives in your inbox.
Good Value
'Good' is, of course, a subjective term. Consider the cost of the tool in relation to the time, energy, and hassle it saves you on average. How much are X hours worth to you?
Customizable
Any tool you use should ideally reflect you and your brand – your colors, logos, taglines, and so on. This is particularly important if your customers will be using it to schedule time with you or your employees.
Cross-Platform
Android. Windows. iOS. Mac. We don't all use the same mobile devices or computers, so your scheduling tool should be available across all platforms. Don't leave anyone on the outside looking in.
Sharing and Syncing
To eliminate the endless cycle of back-and-forth, a scheduling tool needs to have dead-simple sharing and syncing across all devices. A change or request by one attendee should be immediately seen by all.
Integration Opportunities
Modern businesses use an average of 16 SaaS tools. Your meeting scheduling tool should integrate with most of them, including your calendar app, sales automation tools, and preferred CRM.
The Best 18 Meeting Scheduling Tools
Let's get to the list. Some of these are the big players you know, but there may be a few you aren't familiar with. All prices are per user unless otherwise specified.
AppointmentThing
Website: appointmentthing.com
Price: Free – $15/month (details)
Free Option: Yes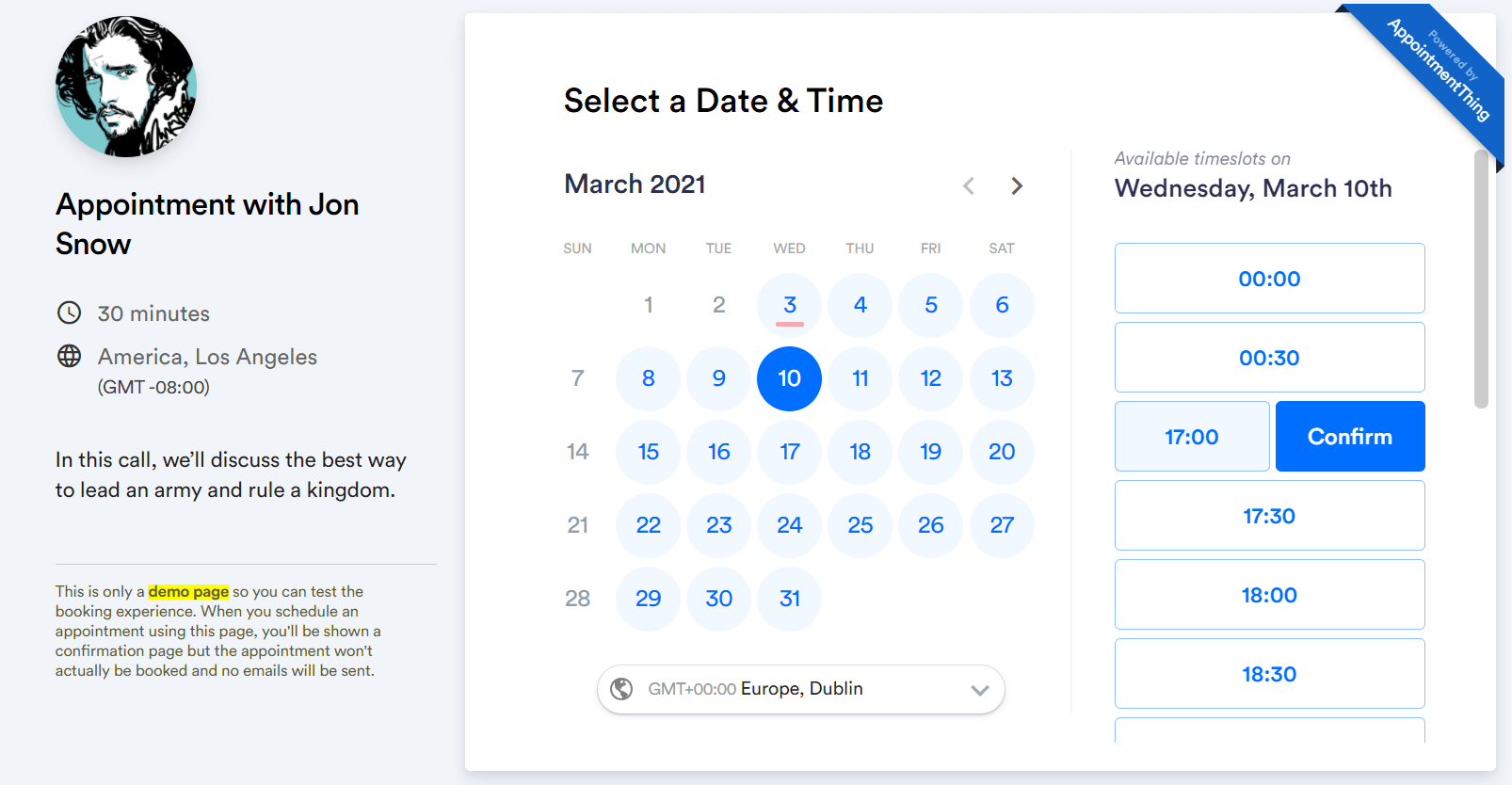 AppointmentThing is a an appointment scheduling tool that offers beautiful design and powerful functionality. They offer the ability to connect your calendar (Google, Outlook or Apple) as well as your video conferencing platform of choice (Zoom, Google Meet or GoToMeeting) to automatically create a unique link for each meeting.
AppointmentThing focuses on providing a brilliant end-user experience, as well as offering great features for you such as drag & drop availability setting, payment integrations and multiple sharing options like embeddable booking forms, adding times to emails and more. Set your availability to be booked for appointments using some simple rules and then it's as easy as sending your meeting link to your contacts. AppointmentThing will add the calendar invite automatically to both you and your attendee's calendars as will also send automated email reminders and calendar notifications to ensure everyone shows up on time.
Calendar
Website: www.calendar.com
Price: Basic plan is free; Pro plan is $10 per month for annual billing; Business plan is $12 per user per month for annual billing; Enterprise plan also available based on company size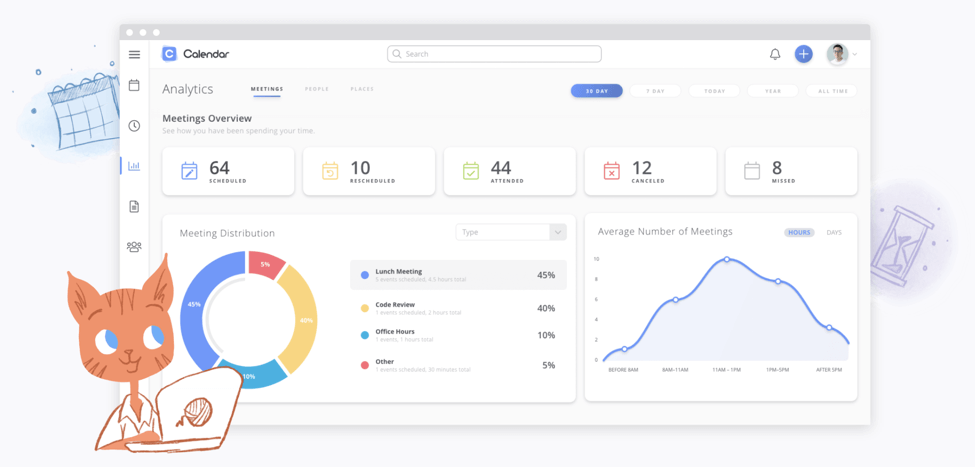 Available for Web, Android, and iOS use, the Calendar app offers smart scheduling, powered by its machine learning algorithm. The app learns your scheduling habits and can take over the tasks of inviting attendees and scheduling meetings and events on your calendar. You can also create events with just a few clicks. Once scheduled, manually or automatically, the event or meeting can be added to your calendar and anyone else who has confirmed.
Calendar works with Apple Calendar, Google Calendar, and Outlook as well as integrates with many business tools. These tools include email, sales tools, productivity platforms, and more. Other exceptional meeting features on the paid versions include meeting transcriptions and analytics that help you understand how you spend your time with people and in meetings by using your calendar's data.
Hubspot
Website: hubspot.com/products/sales/schedule-meeting
Price: Free
Free Option: Unlimited free use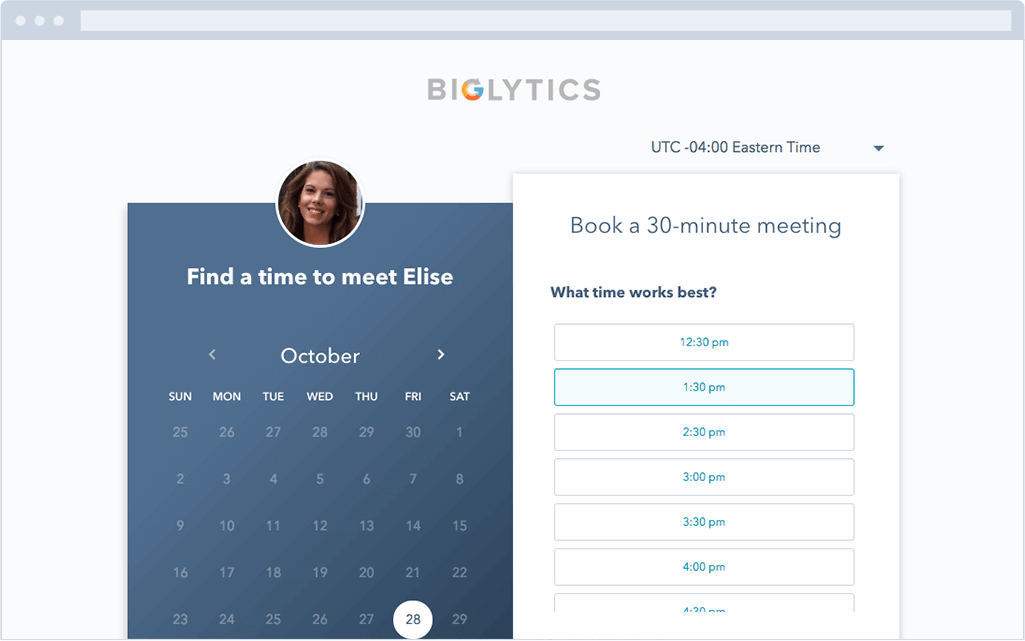 This free tool from HubSpot is designed to help users schedule appointments, without the back-and-forth emails.
It works by providing users with a personalized booking link they can share via email to invite people to view their availability and book time. When someone schedules a meeting, it will automatically be added to the users calendar.
Like most meeting tools out there, HubSpot Meetings integrates with Google Calendar and Office 365 Calendar, but what is special about it is that it also integrates with HubSpot CRM — which is 100% free forever.
For every new meeting, HubSpot CRM creates a new contact record that the user can track over time. This is a useful feature especially for those working in sales.
10to8
Website: 10to8.com
Price: Free – $50/month (details)
Free Option: Yes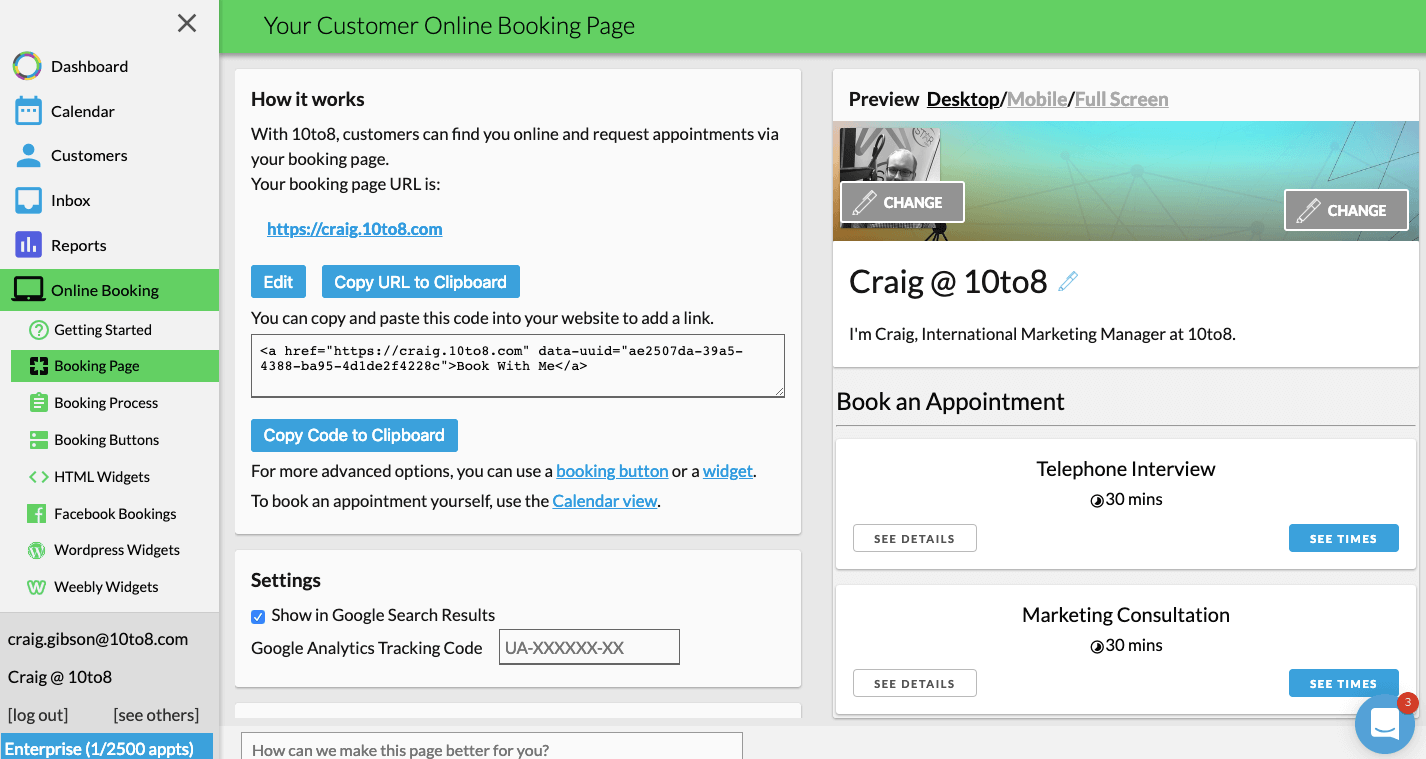 10to8's scheduling software is one of the more feature-rich softwares on the market. Automate smart SMS and email alerts for appointments to reduce the risk of missed appointments. You're also notified immediately of any changes or cancellations, which allows sales professionals time to quickly adjust their own availability for other clients.
Other noteworthy features include two-way chat integrated with your own calendar system. It ensures clear real-time message exchanges between you and your clients. The app integrates with and syncs your Google Calendar, Exchange, Outlook and iCal. New entries on your calendars are quickly synchronized on 10to8, giving you complete visibility across your schedules and appointments.
10to8 also integrates with over 500 other apps, including Zoom Video Conferencing, PipeDrive, and many popular CRM's.
Appointlet
Website: appointlet.com
Price: Free – $10/month (details)
Free option: Yes
Appointlet has been used by thousands of sales teams to qualify leads and book ongoing meetings with registered members. With powerful features like CRM and web conferencing integrations, your organization can optimize every step of the booking process. We provide custom urls and code snippets that can be copied and pasted into your website's codebase. Simply set up your account and share the booking link with customers to get started.
Appointlet also offers live customer support to help you along the way, along with a robust knowledge base, helpful blog articles and a video tutorial series to give you everything you need to succeed.
Bookafy
Website: bookafy.com
Price: Free – $11/month (details)
Free Option: Yes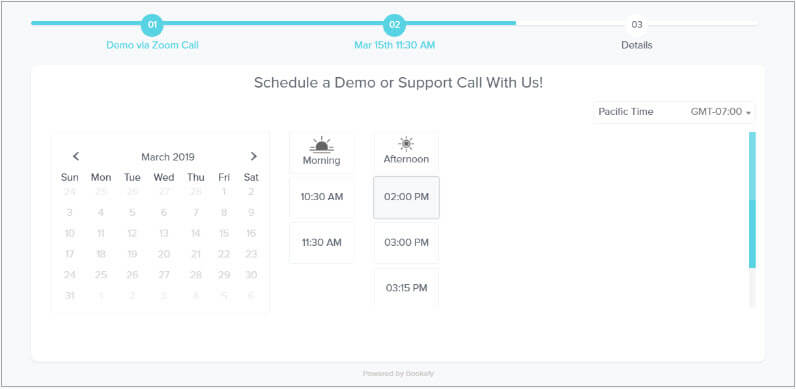 Bookafy automates the appointment booking experience by creating a CTA with skill-based routing, automatically sending confirmations and text reminders, generating and adding Zoom/GoToMeeting/24Sessions/Skype links to the emails and calendar downloads and automatically syncing client data with your CRM and Personal Calendar. Bookafy also gives each salesperson a branded booking page with their profile picture to add to email campaigns and signatures.
Bookafy threads the needle of having a robust product, that is simple to use with a beautiful UI. Bookafy has one of the most robust and flexible programs on the market, while still giving users and customers a beautiful booking experience.
Calendly
Website: calendly.com
Price: Free – $15/month (details)
Free Option: Yes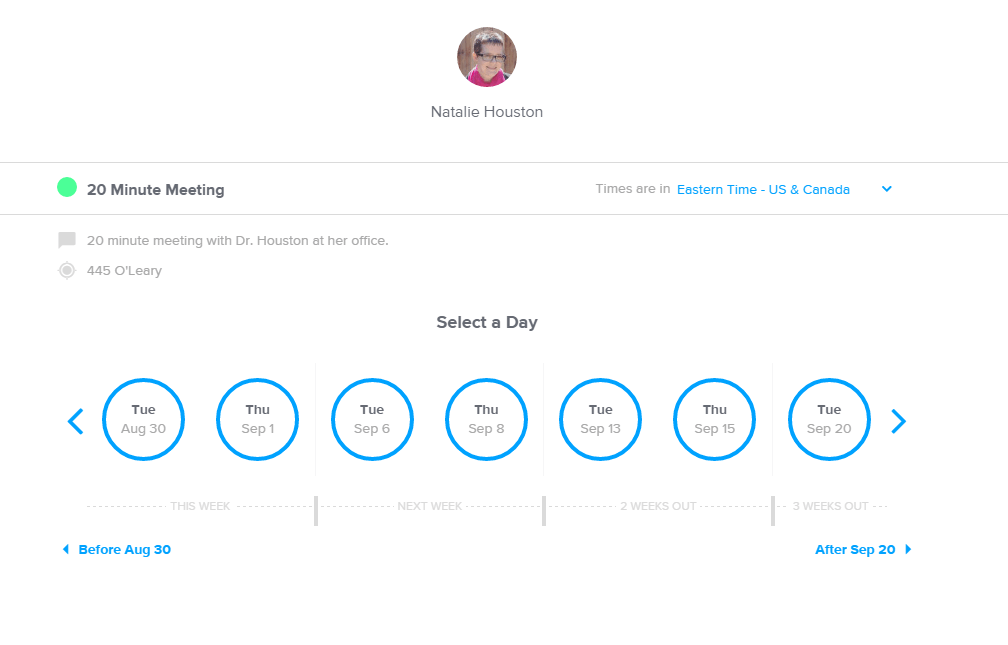 Calendly is the lowest-lift sales tool to increase your sales team's efficiency and your company's revenue by removing the back and forth of scheduling demos and other sales meetings.
As a salesperson, all you need to do is send a meeting link to your leads and Calendly takes care of the rest by showing your availability based on the rules you've created, sending an invite to you and your lead once the meeting is scheduled, and automating reminders and notifications to reduce no-show rates. Using round robin, leads are distributed automatically to schedule with the first available rep or based on equitable distribution. Calendly works seamlessly with your current tech stack, including Salesforce, Zoom, GoToMeeting and more.
Calendly's intuitive design and functionality takes the burden out of scheduling with leads for both the lead and the sales rep—providing leads with a world-class experience and getting demos on the calendar quickly.
Vyte
Website: vyte.in
Price: Free – $10/month (details)
Free Option: Yes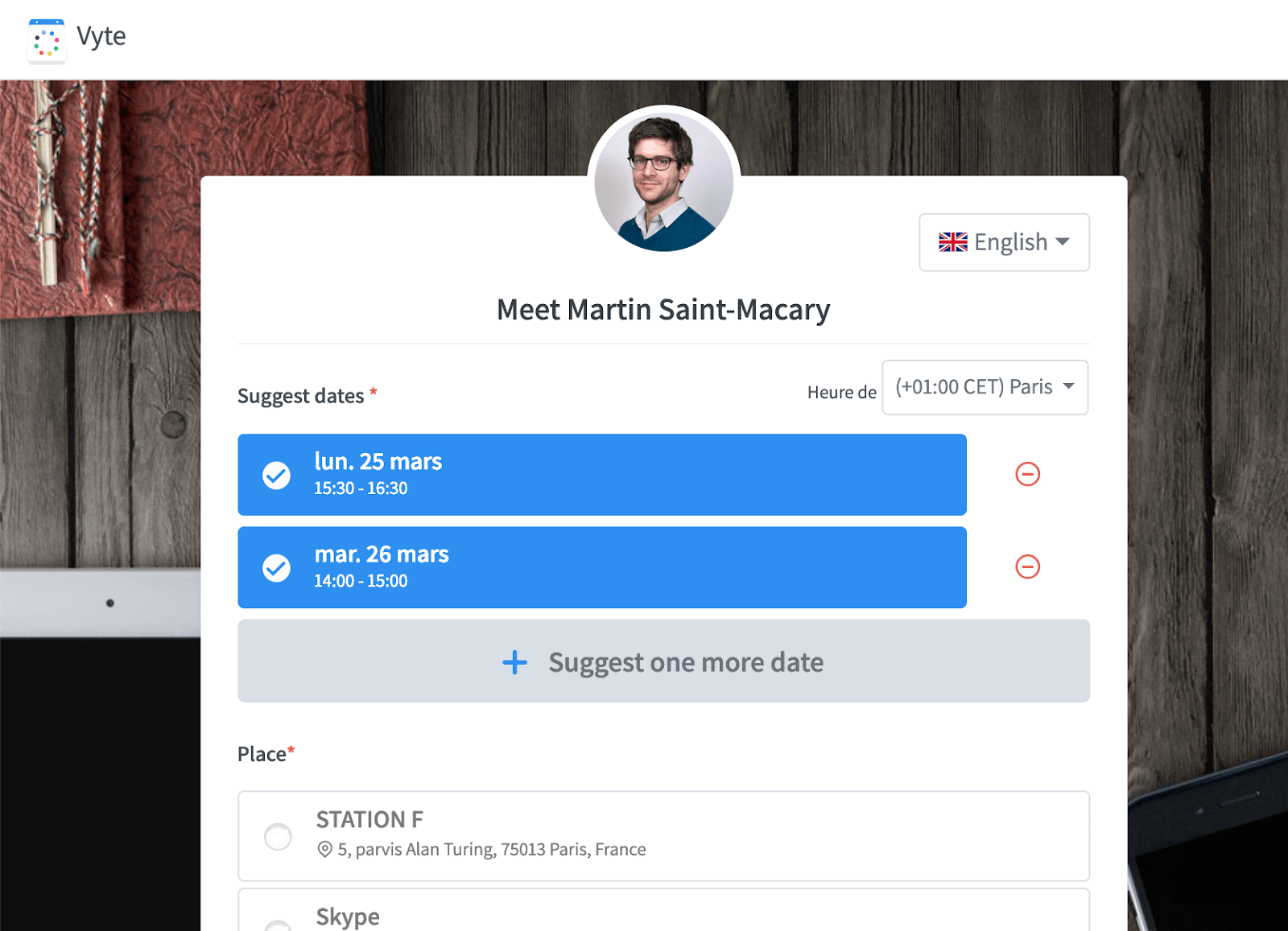 Vyte is an easy tool to let your customers book appointments directly in your calendar. Pick your link, set up your weekly availabilities, connect your calendar (Google, Microsoft Office 365 or Exchange) and start accepting appointments right away. Need to schedule group meetings with your clients? Vyte also has you covered.
Customers can book you directly or you can ask them to suggest several times and confirm the one that is most convenient for you for this particular meeting. Additionally, if you send Vyte links from email templates that have name and email (or even phone number and company) variables, they can be populated automatically so customers don't have to say who they are.
Chili Piper
Website: chilipiper.com
Price: $25 – $50/month, billed annually. Optional $200/month concierge (details)
Free Option: No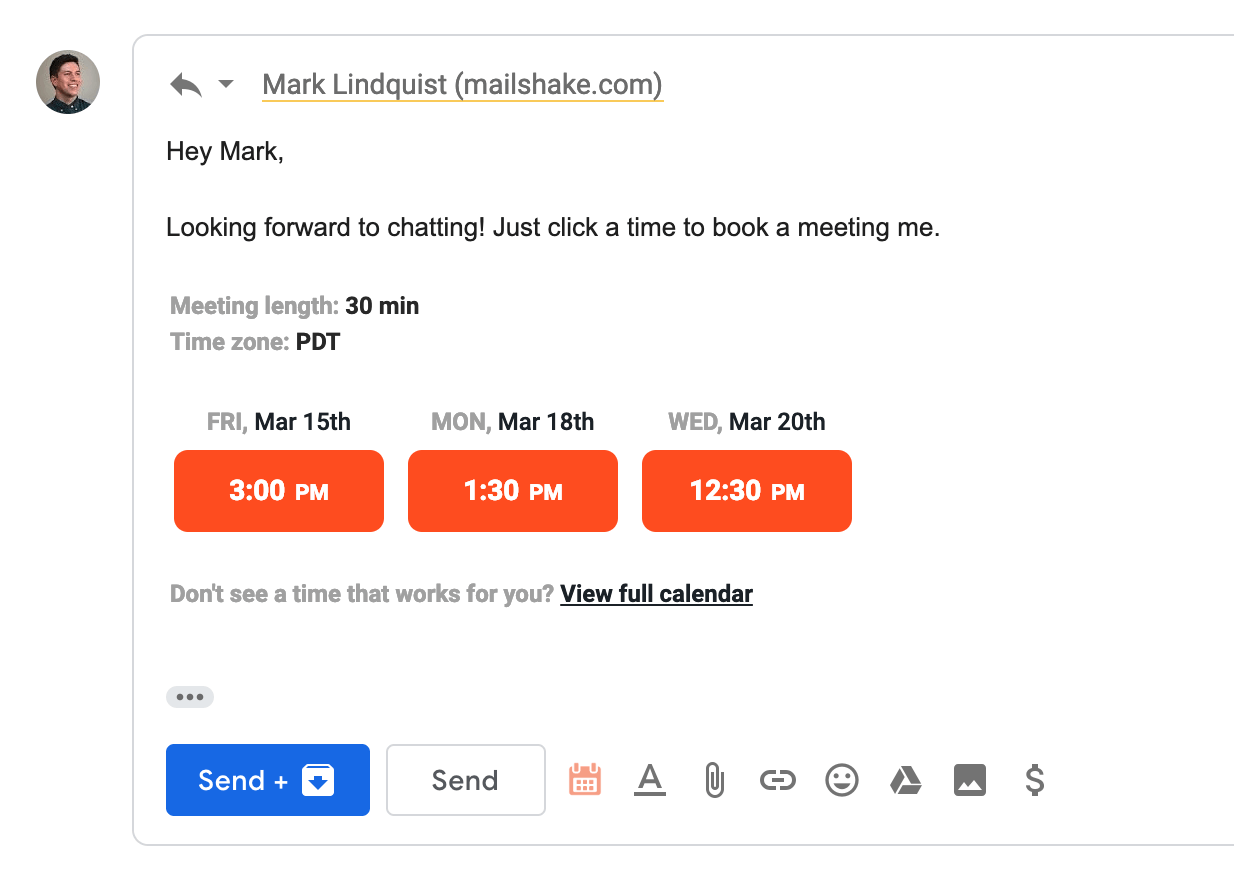 Chili Piper is a suite of advanced scheduling solutions for customer facing teams. With extensions in the most popular email clients, Salesforce, and SalesLoft, booking meetings is always just a few clicks away anywhere salespeople are working.
Since sales development reps (SDRs) will often handoff or distribute meetings to account executives (AEs), Chili Piper created a feature called queues. With queues, sales teams can put their AEs into groups based on the prospect's Salesforce data like company size or territory. So when an SDR books a meeting for an AE, Chili Piper will look up the prospect in Salesforce, decide which queue the prospect should go through, and then will automatically bring up the AE's availability for a meeting and take care of the meeting invites and reminders.
When a sales rep is booking a meeting over email, they can click the Chili Piper extension and Chili Piper will automatically look up the email address the SDR is writing an email to in Salesforce, determine which sales rep the meeting should go to (if for someone else), and bring up a calendar view of that rep's availability. From there, the sales rep can click on multiple times which are then inserted into the email, which makes it easy for their prospect to book a meeting in one click.
Cogsworth
Website: get.cogsworth.com
Price: $49/year, with optional additional paid feature add-ons (details)
Free Option: Free trial

Getting prospects on a call or into a meeting is an important step to closing a sale. With Cogsworth you setup your availability, create a service and send the link in your emails for your prospects or customers to book you. You can also translate your booking page into any language and ask your own questions using their simple form builder. Once you have an appointment, email and SMS reminders ensure that your prospect shows up.
Doodle
Website: doodle.com
Price: Free – $69/year (details)
Free option: Free for family & friends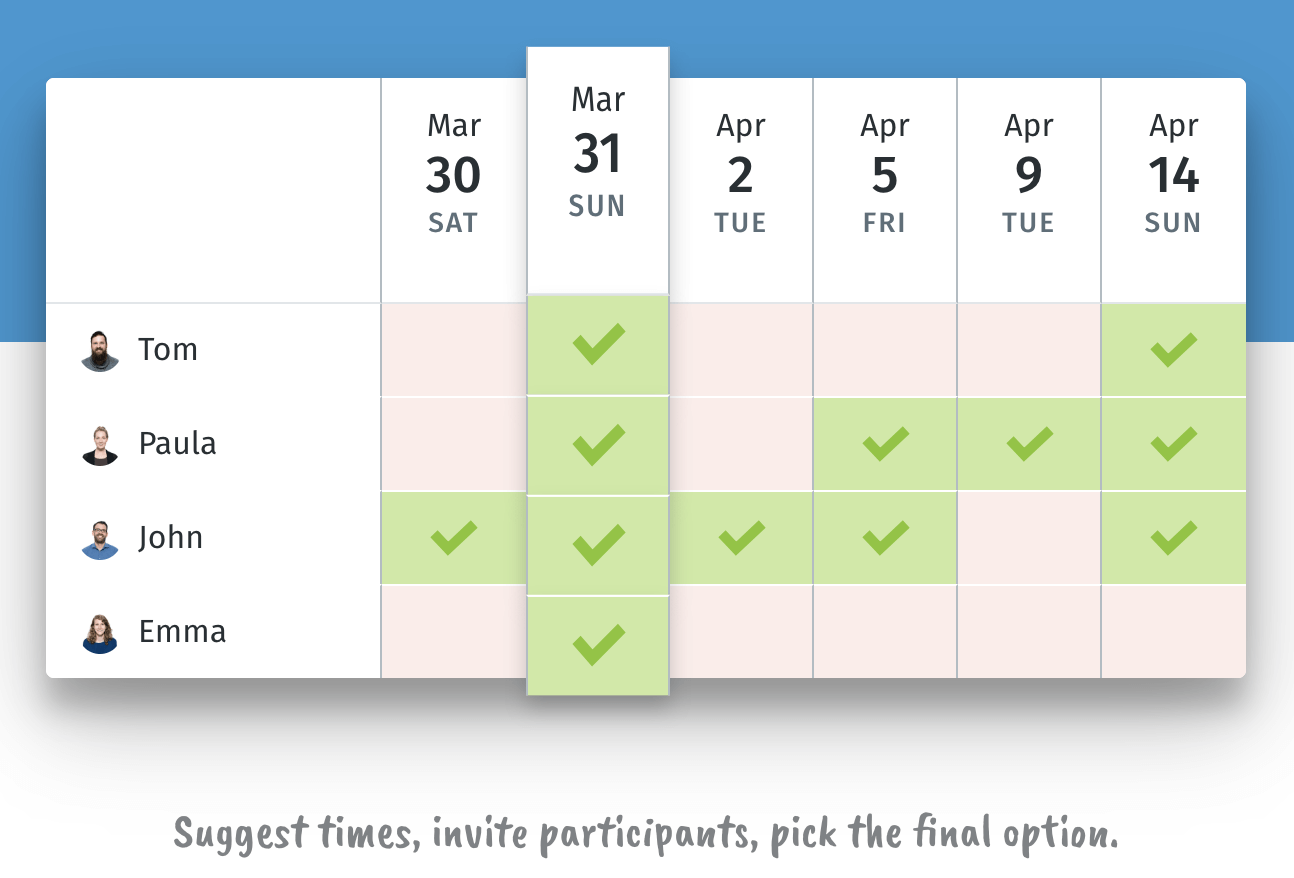 Doodle is a great tool for scheduling meetings among multiple stakeholders. The meeting-holder can suggest days and times and invite participants to choose which slots work for them. Once the availabilities are collected, you can choose the time slot that works best for everybody, and drop the event in on everyone's calendar automatically.
FreeBusy
Website: freebusy.io
Price: Free – $15/month, Enterprise level $16/month billed annually (details)
Free option: Yes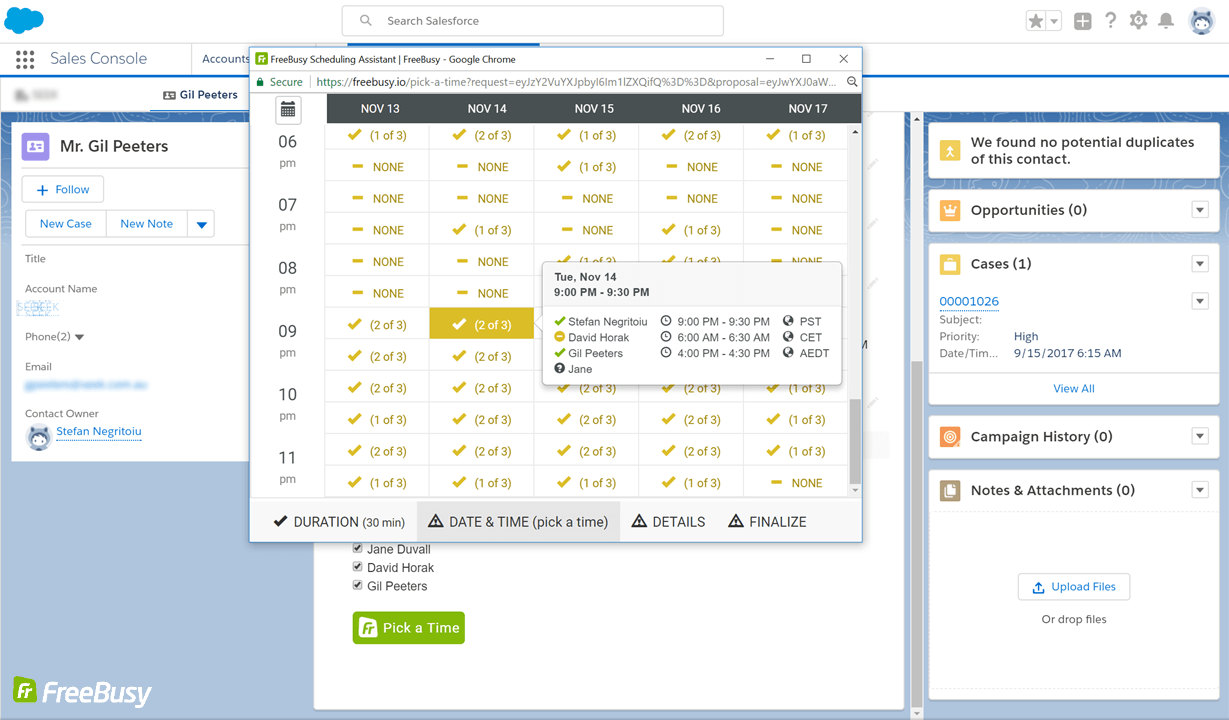 Every scheduling tool makes it easy to share your availability with a link for 1:1 meeting with a prospect. But what happens if the prospect wants to bring to the meeting more people from their side and is asking you to bring technical sales from your side and provide a screenshare? With FreeBusy you can find the time and schedule meetings with internal and external people in 60 seconds, not 2 days. And it integrates to your web conferencing to automatically create and add the conference call.
FreeBusy also allows you to create live meeting polls. You can preset everything about the meeting ahead of time, do the work of suggesting a few times to your prospect, and poll external participants to vote on preferred times while sharing availability for internal participants. Calendar changes for internal people will be reflected in the poll options in real-time and the poll will guide external participants toward other times.
MeetFox
Website: meetfox.com
Price: Free – $29/month (details)
Free Option: 15-day free trial, limited free forever option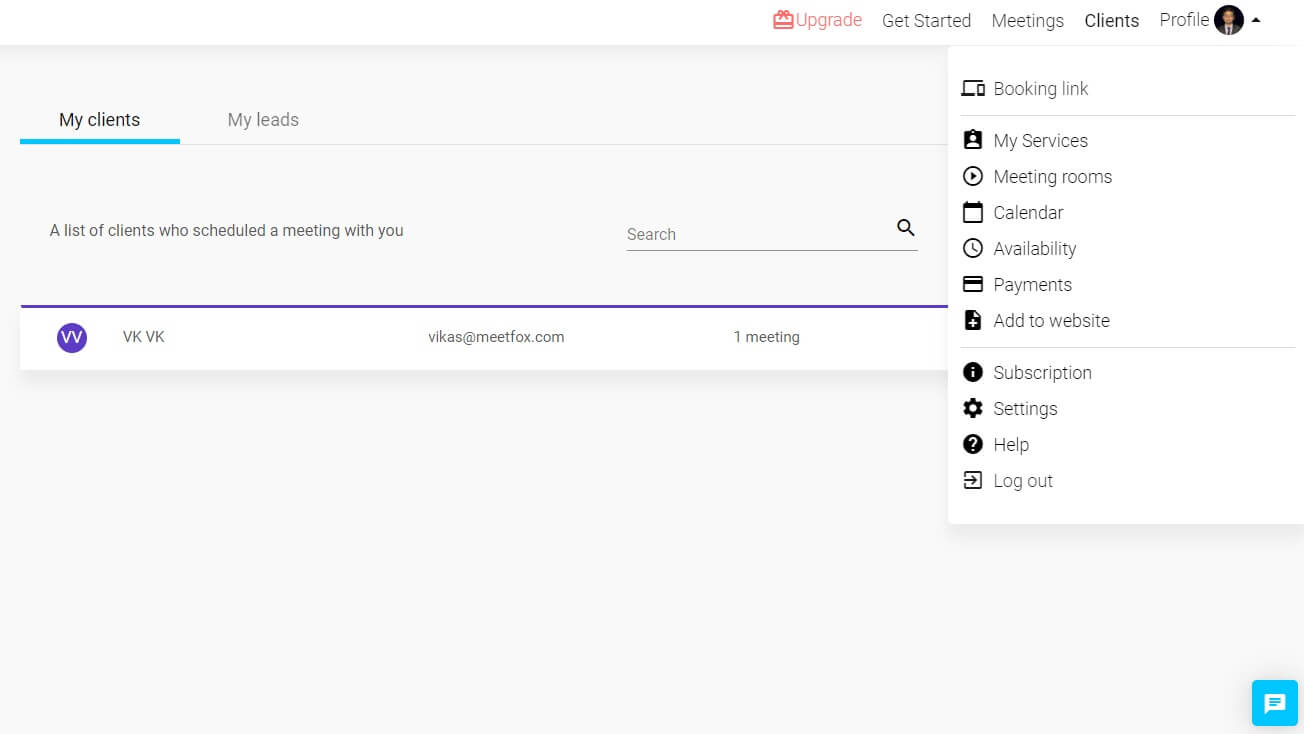 MeetFox is an online meeting tool used by over 10,000 consultants and freelancers to book meetings, video conferences, and accept payments. MeetFox provides a secure and reliable way to speak with clients and monetize meeting time.
MeetFox allows easy in-browser video conferencing (no downloads, PIN codes, or plug-ins). You can join a meeting from any device (in-browser compatibility). It supports screen sharing, file sharing, and chat. MeetFox also supports video & audio recording. On MeetFox, you can do a conference/group call with up to 16 participants.
OnSched
Website: onsched.com
Price: $39 – $79/month (details)
Free Option: 15-day free trial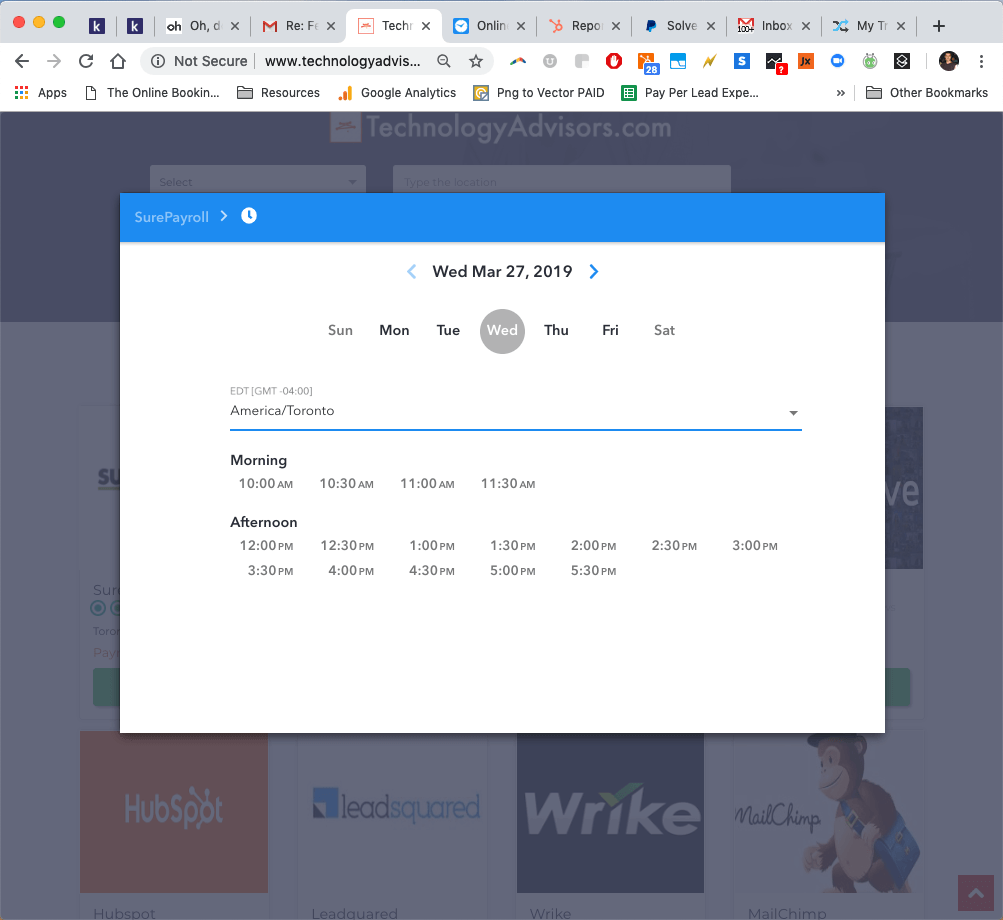 OnSched is a solution for booking for sales, that allows sales reps to get a full lead report including title, company, company size and 30+ other parameters every time a booking is made just based on an email address. Likewise, their API platform enables companies to integrate scheduling into their applications and marketplaces.
Pick
Website: pick.co
Price: $3/month (details)
Free option: No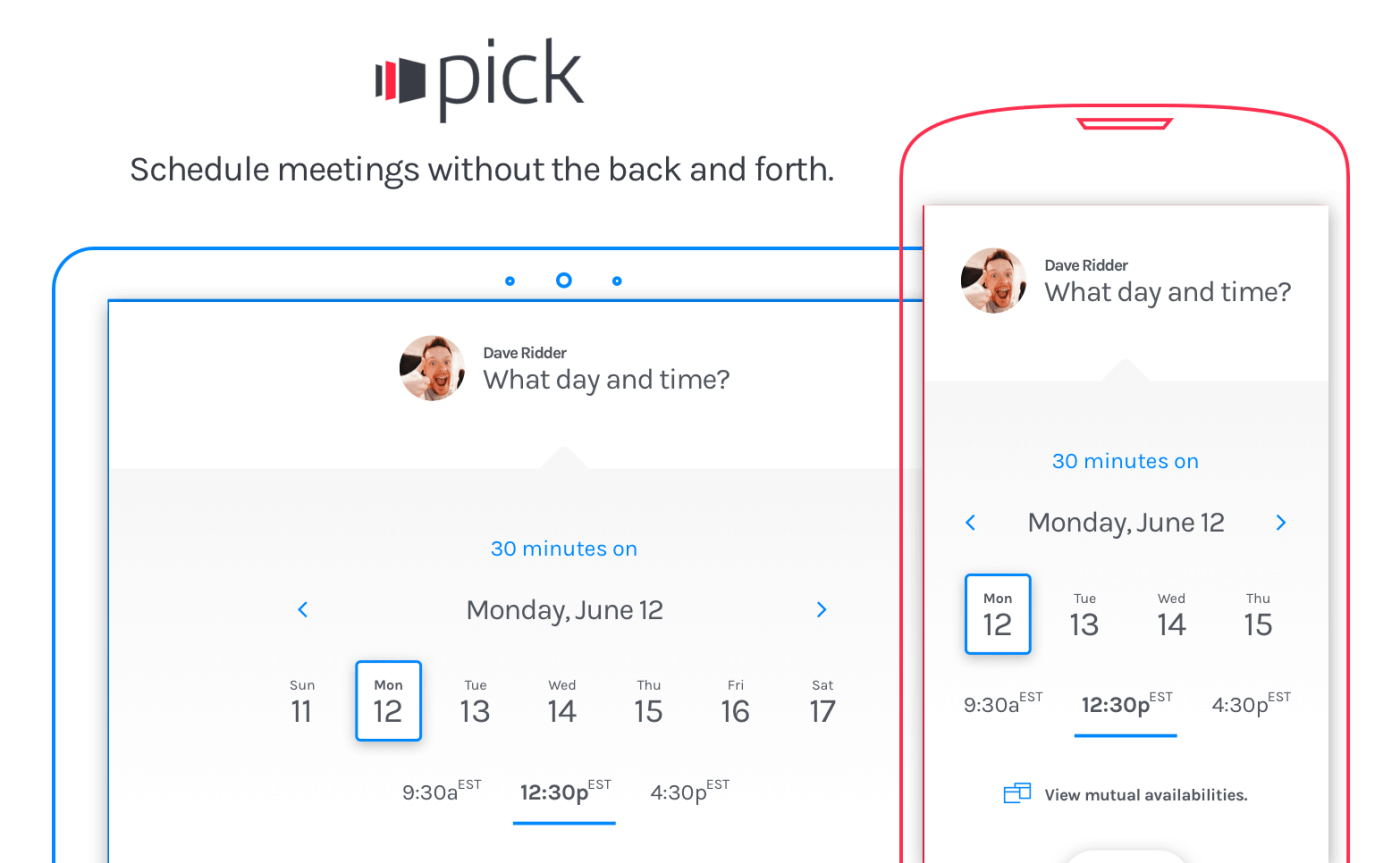 Pick is a super-simple tool designed to do one thing: make scheduling meetings as quick, easy and pain-free as possible.
All you need to do is set your availability, grab your custom URL, and share it with the person (or people) you want to set up a meeting with. Pick will then choose a time that works for everyone, send out invites, and automatically add details of the meeting to participants' calendars.
Setmore
Website: setmore.com
Price: Free – $89/month (details)
Free Option: Yes

Setmore allows you to automate the consultation and appointment process. List your services and empower leads and clients to self-book their appointments with you, anytime day or night, and send automatic reminders to make sure they keep their appointments. Manage your time better with a beautifully designed, organized calendar for web, iOS and Android.
Setmore is the ONLY online scheduling platform that includes Live Booking, an add-on live call answering and appointment booking service. Their Live Booking receptionists will answer calls for you and help clients book appointments to your calendar.
Setster
Website: setster.com
Price: $20/month – $300/month for 100 users (details)
Free option: Free trial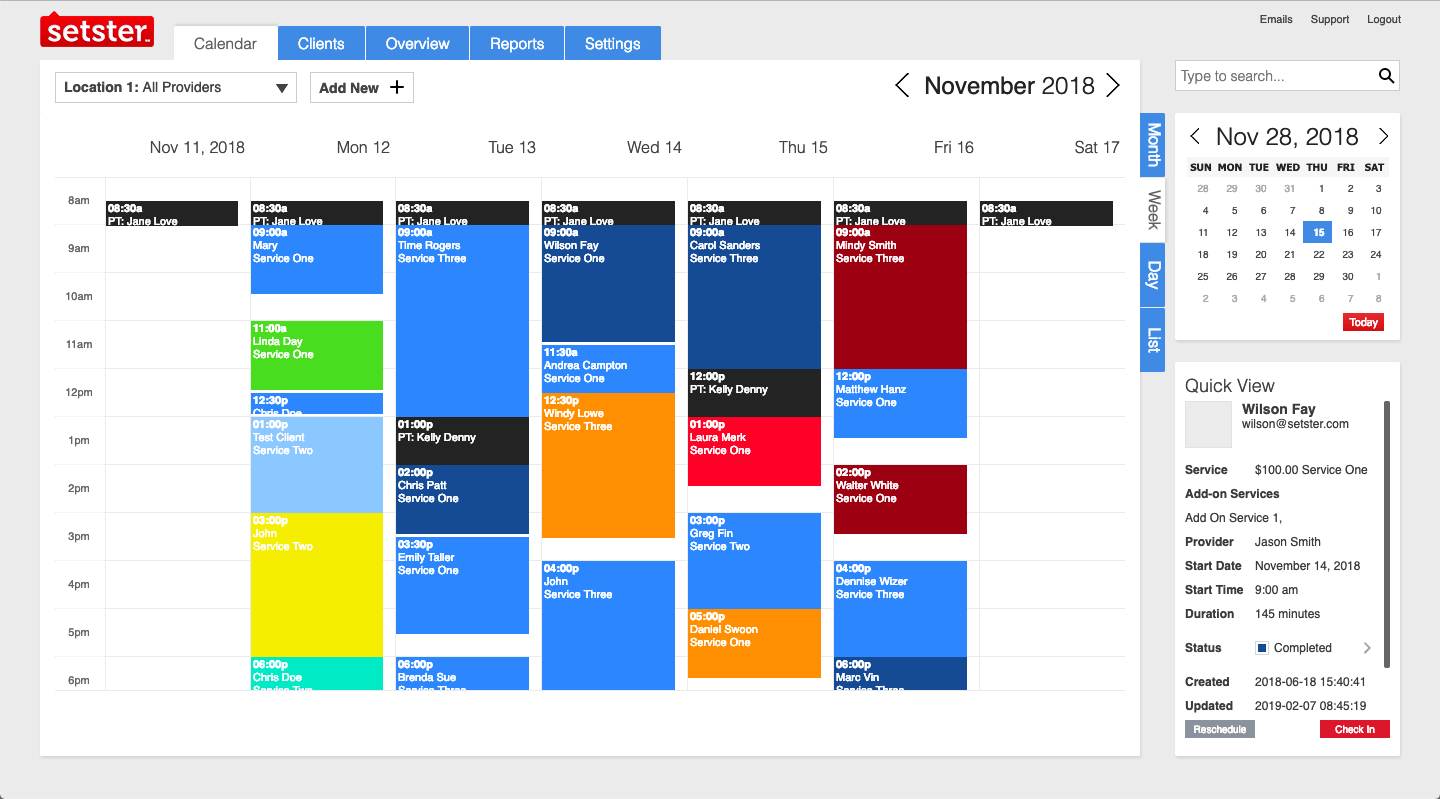 Setster is a cloud based, API first solution that offers all the customization and business rules needed to tackle complex appointment scheduling needs. Perfectly suited for larger sales departments with intricate scheduling needs, Setster is flexible in navigating large scale booking and seasonal influxes without compromising the customer experience or overall accuracy.
Setster focuses on the customized experience and offers a robust modern developer API to remotely manage and provision data, while offering a personalized and branded customer booking experience. Overall Setster seems to be a great fit for organizations concerned with user experience and scalability.
Super SaaS
Website: supersaas.com
Price: Free – $46/month, unlimited registered users, price levels based on number of past appointments kept and how many future appointments set (details)
Free Option: Yes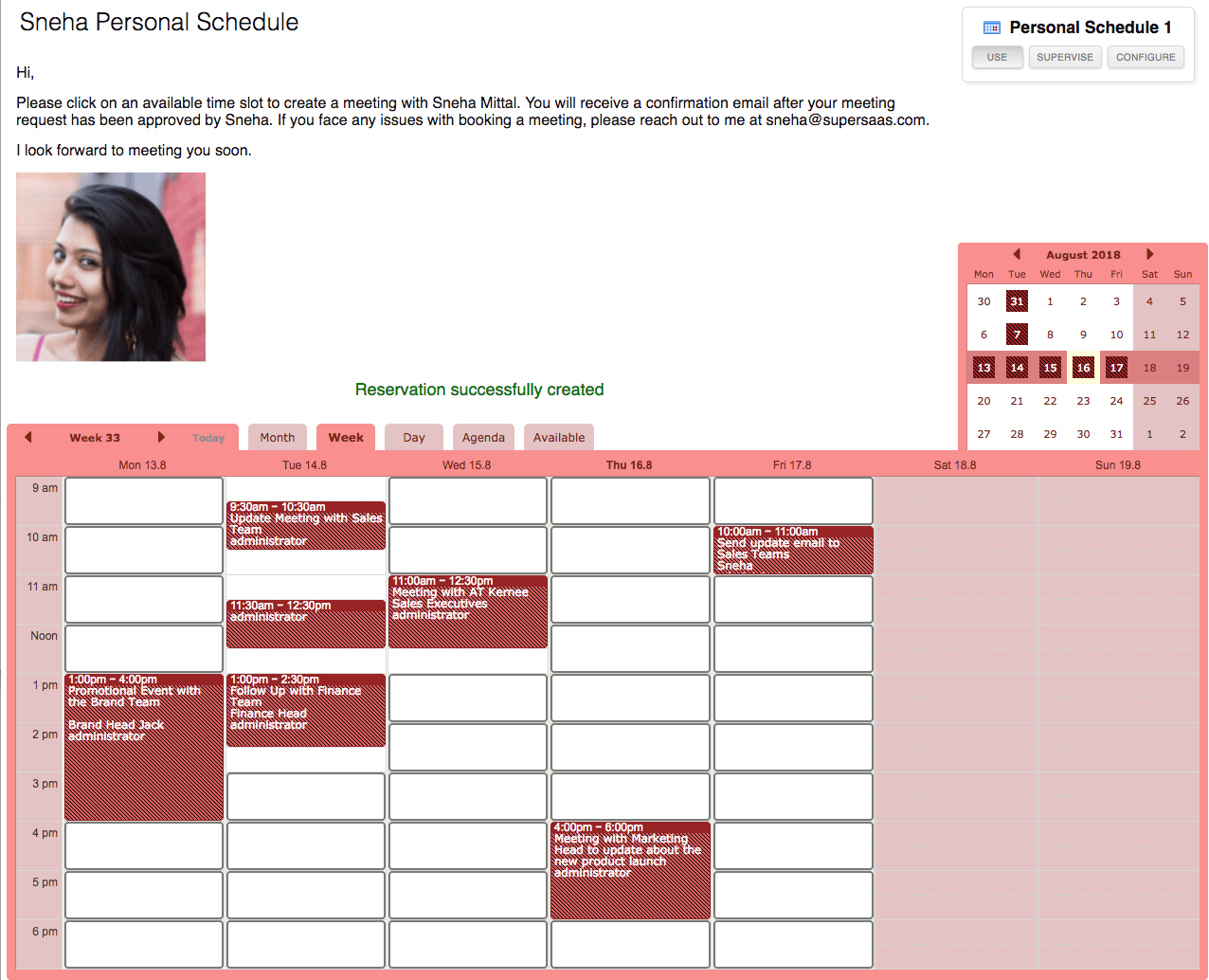 Super SaaS is unique in that it allows you to set up custom-duration time slots, offer unlimited types of predefined meeting slot durations, limit those slots for specific user groups, and completely customize your scheduling page with your brand colors and logo. You can also automatically add buffer times between meetings, set custom time events, and set recurring appointments and email/SMS follow-ups. The system is accessible in more than 34 languages and offers automatic time detection, so you can easily conduct business worldwide.
Their indefinite time trial plan allows you to test out all features (except sync with personal calendar which is limited to a 7-day trial) without any limitations.
SimplyMeet.me
Website: SimplyMeet.me
Price: Free – $10/month (details)
Free version: Yes
SimplyMeet.me is super easy to set up and manage. You start by connecting with your personal Google Cal, iCAL, Office 365 or other personal calendar to determine your availability. After that you set up the meetings that you want to offer your clients. The system then generates a personalized URL which you can name as you please. The client can then choose with whom they book, or if the "Round Robin" feature is used then it lets the client book with the first available employee
You can customise the look of your booking site so that it reflects your brand and then you can also add some questions upon the booking process if needed. With SimplyMeet.me you can have multiple meeting types which the client can then choose from. You can also send a secret booking link to a client, so that it does not appear on your booking site.
SimplyMeet.me offers a range of integrations so you can accept payments, offer video meetings via Zoom or Teams, send out email campaigns to clients via Zapier and Mailchimp or connect with Slack or your other favorite business tools.
SimplyMeet.me works perfectly for individuals as they can be on the Free Forever plan – so you only need to pay once you have more than 1 team member.
You Can Book Me
Website: youcanbook.me
Price: Free – $10/month (details)
Free Option: Yes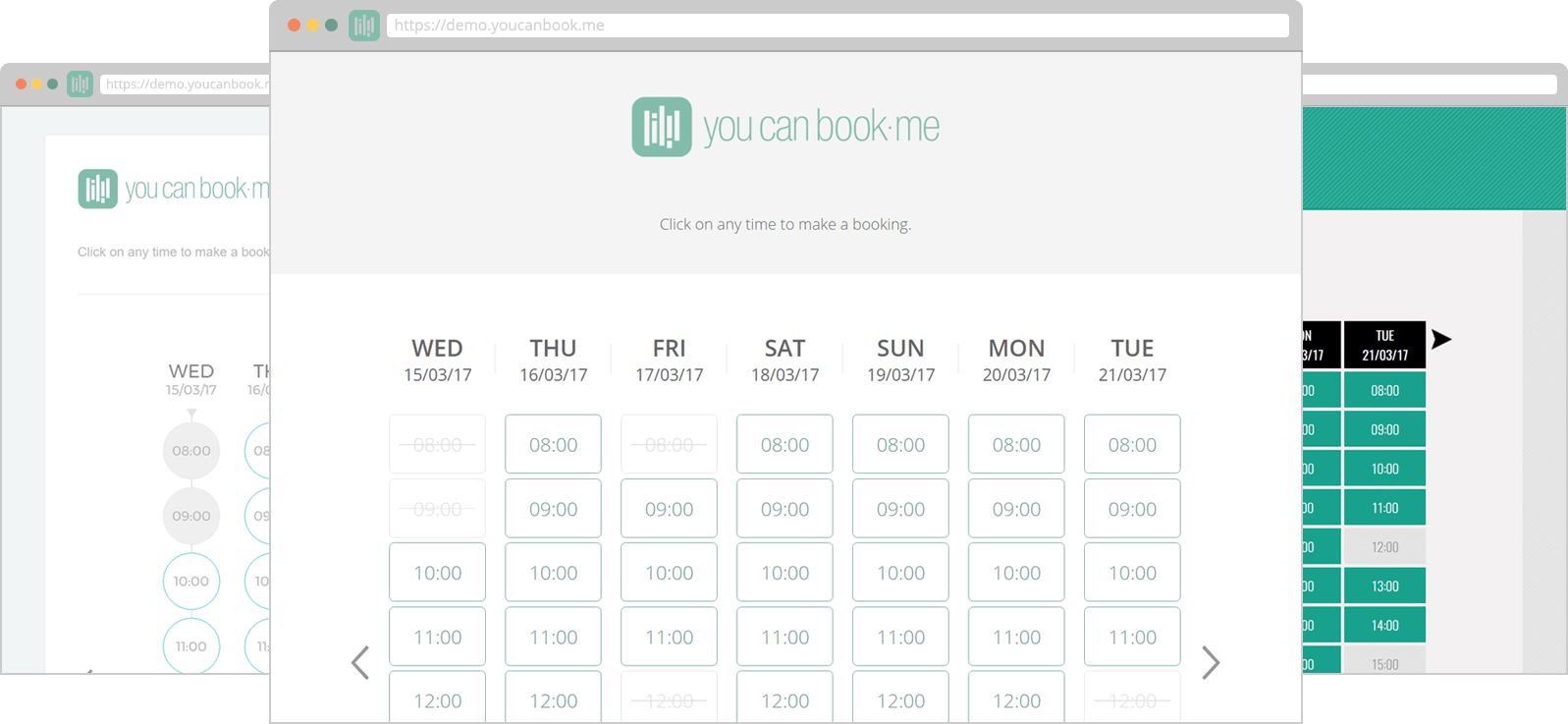 YouCanBook.me automates the process of setting up a call with a prospect and makes it easy for customers to book a time that suits them. You can customize your availability and personalize it for a VIP lead. It integrates with your calendar directly, you can manage pooled availability across your team for calls, you can set up different booking flows for each type of sales scenario. Booking pages can be embedded and customized to your brand.