13 Must-Have Sales Certifications for Your Team in 2023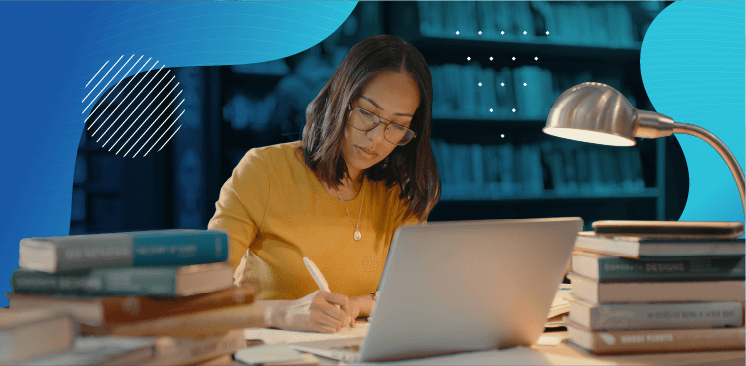 The sales landscape is constantly evolving as consumer preferences shift and technology advances – which means today's best sales strategies aren't what they were just a few years ago. If your team is still relying on antiquated practices to harness leads, you might as well be using carrier pigeons to communicate with your clients.
Luckily, there are ways to ensure your team is prepped on the latest sales techniques for continuing success. Enter: sales certifications. Sales certifications take proficiency to the next level by sharpening your team's skills, increasing their qualifications, and equipping them with new prospecting, negotiation, and customer service skills. In this article, we'll cover 13 best sales certifications to boost your team's performance.
Most Popular Sales Certifications
There are hundreds of sales certifications and training programs, covering everything from emerging sales engagement software to retail best practices. However, it's important to invest in an accreditation program your team will get the most benefit from.
Here's a quick breakdown of some of the most popular certifications:
Searching for a quick and effective certification program to sharpen up your entire team? Look no further than the National Association of Sales Professionals (NASP) sales training program. The CPSP certification is a comprehensive six-week online course designed to replace current practices that are costing you clients with new strategies to close deals faster and more consistently.
The curriculum covers the basic principles of sales and influence used by top professionals worldwide, including:
Eight proven styles of communication to create a personalized approach when speaking to clients and building trust
New strategies to expertly negotiate modern sales and guide your prospects through the buying process
How to boost confidence and stop sabotaging your own success
Candidates are required to complete a 20-30-minute activity each day (including weekends), followed by a final exam. Since this online sales certification is based on behavior and less on skills, renewal is not required. Not only is the CPSP one of the most recognized professional sales certifications in the industry, it's also one of the most affordable, costing just under $695 per candidate.
The Global Inside Sales Association's (AA-ISP) CISP certification is a rigorous 10-module course designed for intermediate sales professionals who want to up their game. The online course starts with a sales process review, then takes an in-depth dive into research and preparation, prospecting calls, objection handling, and more.
Candidates are expected to complete the course and the live sales call role-play exam within eight to 12 weeks, making it a bit more flexible than the CPSP certification. However, the CISP is more expensive, at $875 for AA-ISP members and $975 for nonmembers. Certification holders must also complete at least five continuing sales education (CSE) credits every year after the initial three-year certification period in order to renew the CISP.
Everyone could use a little sales refresher – even the head honcho. The Certified Sales Executive (CSE) accreditation by Sales and Marketing Executives International (SMEI) challenges executives and sales leaders to:
Examine how sales and marketing strategies fit into an overall business strategy
Master new and effective

 

sales leadership

 

approaches
Identify and confront common ethical and practical issues faced by sales managers
Leverage training techniques and team-building activities to strengthen team relationships and development.
This online course consists of 15 chapters and quizzes to prepare you for the certification exam that must be completed within one year of your application date. The accreditation costs $989 for the course, $150 for the final exam, and $95 for the annual renewal fee, though SMEI members can save nearly $300 on the course and $50 on renewal fees.
A team is only as good as its leader, and the relationships you build with your subordinates can significantly impact their performance. The Certified Professional Sales Leader (CPSL) certification – another top sales certification offered by NASP – helps presidents, managers, directors, and other sales professionals moving into leadership roles develop their full potential.
Like the CPSP, the CPSL certification focuses on altering behavior and habits to transform candidates into top sales leaders. This six-week online course covers topics like:
Adapting your communication strategy to influence your team instead of demanding them to sell
Utilizing modern empowering leadership strategies to promote team synergy and improve performance
Integrating the social and emotional needs of your team into your leadership process
The CPSL certification requires candidates to complete a 20-30-minute activity each day (including weekends), followed by a final exam. Recertification is not required. For just $795, this course is a great opportunity to develop the skills needed to lead a high-performing sales team.
The National Retail Federation (NRF) Foundation's RISE Up certification program provides fundamental customer service and sales skills for entry-level employees to strengthen their resumes and increase their chances of landing a job in retail. The program is separated into four entry-level accreditations – those pursuing a career in retail sales will want to complete the Customer Service and Sales Certified Specialist certification.
This accreditation will help learners master must-know customer service and sales skills, such as:
Understanding the customer life cycle
Developing effective strategies to engage and influence customers
Assessing customer mindsets, behaviors, and needs to close a sale
Best practices for building a solid resume and navigating job searches
Learners can finish this dynamic five-module certification online in as few as 14 hours, with the ability to complete the training at their own pace. And at $125, this retail sales certificate program is well worth the money and time spent.
6. Best for International Teams:
SPIN Selling
Based on one of the most iconic and widely used sales methodologies in the world, SPIN selling – an online or in-person training certification provided by Huthwaite International – is designed for sales professionals and leaders looking to improve sales success and deliver consistent results.
Although SPIN selling was developed over 40 years ago, nearly a third of today's Forbes 100 top companies continue to use this strategy to drive sales. The SPIN selling method is built around four key sales questions, each essential to completing the sales process:
Situation:

 

questions about the customer's current situation
Problem:

 

questions about the customer's difficulties or dissatisfactions
Implication:

 

questions about the consequences or implications of the customer's problems
Need-payoff:

 

questions that explore the importance of the customer solving the problem
These questions guide the conversation away from the salesperson or product to prioritize the customer's needs, enhancing communication with potential customers and delivering real value. However, mastering the SPIN selling strategy requires intensive training, application, and commitment. Huthwaite International offers virtual, in-person, and digital training that can be tailored to your team's experience and skill level.
"Challengers" are salespeople who don't just focus on building customer relationships, but on finding ways to push customers to take action. Challenger offers Challenger Certified Trainer programs to help professionals establish credibility, build trust, and show customers the opportunities they've missed while their decision lies in limbo.
While Challenger does offer eLearning and hybrid options, your team might benefit more from its own in-house Challenger trainer. If you're looking for an alternative to outsourcing resources, an in-house Challenger trainer can provide lessons and workshops tailored to your business using the Challenger methodology. After completing the Challenger Certified Trainer program, the trainee is licensed to facilitate Challenger's foundational selling workshop within the organization.
To become a Challenger Certified Trainer, participants must complete a seven-module online course followed by a one-hour assessment and eight-hour Challenge Yourself workshop.
HubSpot Academy offers a variety of classes and certifications specializing in sales, marketing, and HubSpot CRM software. While all the courses are top-tier, their Inbound Sales Certification is best for participants looking to sharpen their skills in generating quality leads and conducting successful sales calls.
This six-lesson online course was developed with inbound, marketing, and sales professionals in mind, whether they use HubSpot software or not. With six lessons, 15 in-depth videos, and four course quizzes, participants will learn:
The core foundations of

 

inbound marketing and sales
How to utilize the inbound methodology and the flywheel model to grow their business
How to set business goals and develop buyer personas to tailor their approach to sales
HubSpot's free certification trainings are available in multiple languages, including Spanish, Japanese, and French, and cover topics like social media marketing, revenue operations, and everything in between.
Other Sales Certifications Worth Noting
Benefits of Being Certified in Sales
Getting your team certified in sales is an opportunity to set yourselves apart from others in an incredibly competitive industry. When potential clients, customers, or partners see that your people are accredited, their credibility – and, therefore, sales – increase exponentially.
Some of the perks of earning a sales certification include:
Skill verification:

 

Certifications prove you can walk the walk and not just talk the talk. This is especially important as best sales practices can change over time.
Growth and development opportunities:

 

If your employees take the time to hone their sales strategies and leadership skills through accreditation, they're proving they have what it takes for that promotion or high-level job.
Knowledge enhancement:

 

Customer values are shifting, and it's crucial for sales professionals to stay on top of current trends and models. Participating in ongoing certification courses can help your team develop modern and effective strategies to generate leads and close deals.
Employer recognition:

 

Employers like seeing candidates who recognize that mastering their craft is a continuous process. This appreciation could come in the form of a much-deserved promotion, higher-level projects, or even a raise.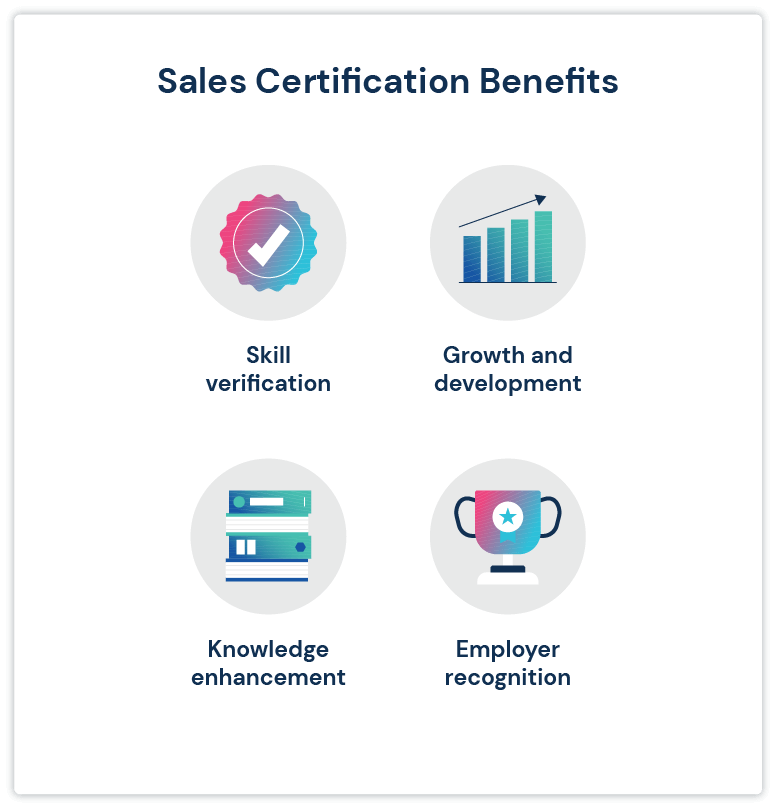 Advance Your Team's Knowledge With the Right Sales Certifications
Nearly 72% of sales leaders acknowledge they need to upskill their sales teams – and a sales certification could be the solution. Whether you're invested in enhancing your cold email strategy or lead generation techniques, there's likely an accreditation course available to take your team to the next level.