15 Top Sales Podcasts Every Salesperson Should Listen To in 2023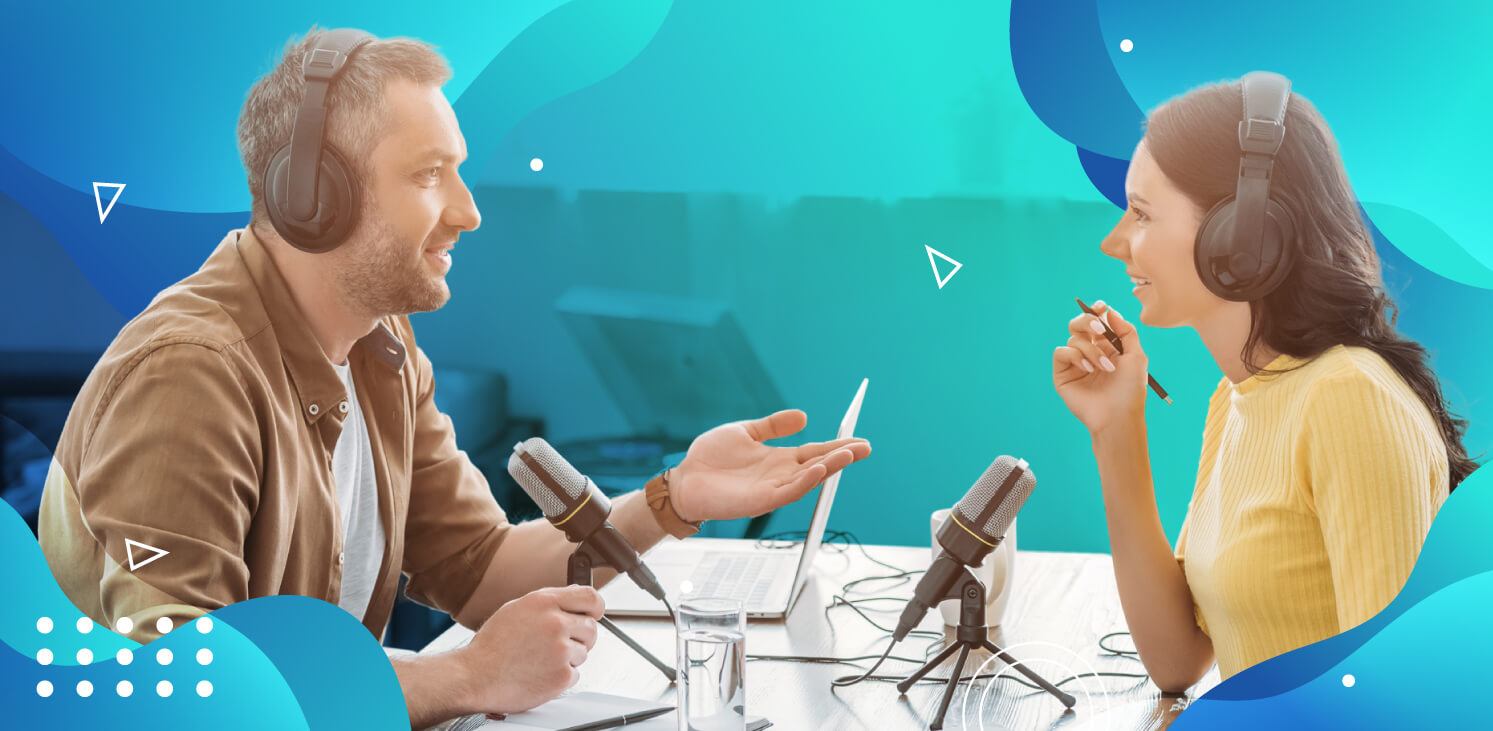 There is a podcast out there for virtually every topic or interest, and sales is no exception.
Podcasts offer a great way to turn your downtime into a professional development opportunity, but with an estimated 850,000 podcasts and over 30 million episodes out there, it can be hard to figure out which ones are worth your time.
To help cut through the noise, here are the 15 top sales podcasts that deserve a spot on your listening list:
According to Sales Gravy, its podcast holds the title of "World's Most Downloaded Sales Podcast," so it should come as no surprise that it's made it onto our list.
The podcast is hosted by Jeb Blount, the author of People Buy You and an internationally recognized sales expert. Some of the topics Jeb covers include how to use text messages in your management process and how to conquer your fear of rejection.
Recommended Episodes
Why You Suck at Prospecting and What to Do About It
4 Principles of Effective Sales Conversations
Discovery and the Art of the Close
The Practical Prospecting Podcast from Mailshake comes second on this list. In this podcast they share practical tips on how to improve your outbound methods. Jed & Sujan the hosts, provide you with actionable steps that you can use to boost your outbound productivity and success.
This podcast is especially useful for SDRs and outbound teams but anyone interested in sales will benefit from this.
Recommended Episodes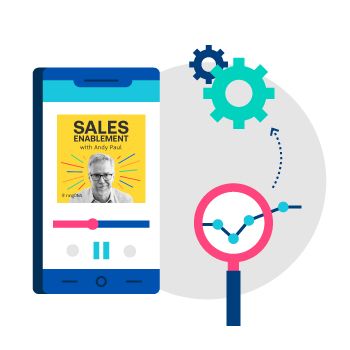 Hosted by Andy Paul, the RingDNA Sales Enablement Podcast features interviews and conversations with top B2B sales leaders that provide thoughtful insights into the skills and technologies needed to succeed in the modern sales environment.
Andy Paul is the author of two award-winning books on sales and has experience consulting with some of the world's leading businesses. He brings his expertise and experience to the table in this valuable and informative podcast, recent guests of which include Kevin Davis, Tyler Lessard, and Mike Weinberg.
Recommended Episodes
The Science of Success, with Eric Barker
Develop the Habits That Can Change Your Life. With Marshall Goldsmith
Selling and Marketing: A New Approach, with Kimberlee Slavik
As you can likely guess from the name, SaaStr is all about SaaS. The podcast covers tips and insights that SaaS professionals can put to use to accelerate their growth in this competitive space – and although it isn't exclusively about sales, it's worth a listen by any salesperson in the SaaS space.
Recommended Episodes
Box's Aaron Levie on The 3 Stages of Company Scaling, Why Most Enterprise Software Is 'Dumb' & The Future For Enterprise Software with Artificial Intelligence
Scaling From A 50 to a 500 Person Company with Mark Geene, CEO @ Cloud Elements
Why The Best SaaS Companies Are Founder Led and Taking Adobe From $40m to $1bn with Russell Fujioka, US President @ Xero
Like SaaStr, the James Altucher Show doesn't limit itself to sales topics, but almost everything it covers applies to sales in one way or another.
In the show, James Altucher, a hedge fund manager and entrepreneur who's founded over 20 different companies, interviews leaders in fields as varied as comedy, physics, and business.
Recent episodes have covered how to read people, how to be more persuasive, and the best negotiation strategies.
Recommended Episodes
Robert Cialdini: 7 Techniques To Influence Anyone Of Anything
Ryan Holiday: Competition is For Losers: Invent Your Own Category
Jen Sincero: You Are a Badass at Making Money
Like the James Altucher Show, the Tim Ferriss Show – which has been rated the #1 business podcast out of all Apple podcasts and has been selected as the top business podcast by readers of Fortune's Term Sheet – covers a wide variety of topics.
The show's host, Tim Ferriss, is an entrepreneur and the well-known author of several books, including The 4-Hour Workweek. Past guests have included Dr. Jane Goodall, Maria Sharapova, and Malcom Gladwell, and although topics aren't exclusive to sales or business, there's still plenty to gain for professionals in these fields.
Recommended Episodes
Jamie Foxx on Workout Routines, Success Habits, and Untold Hollywood Stories
Tony Robbins – On Achievement Versus Fulfillment
Jocko Willink on Discipline, Leadership, and Overcoming Doubt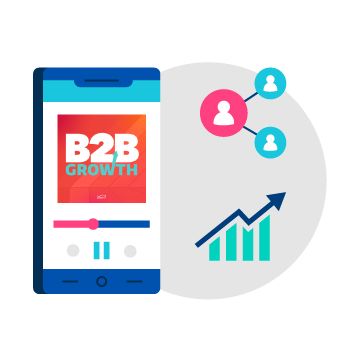 B2B Growth Show is a podcast intended for marketers and those involved in the B2B space, with new episodes released several times each week.
Although it's self-described as a podcast for marketers, many of its episodes are sales-focused. Within the past month alone, episodes have discussed how to put people first in your sales process, how to accelerate sales with honesty, and how to make sales and marketing work together to drive growth.
Recommended Episodes
#Prospecting 2: Ultimate Prospecting Showdown: Old School vs New School w/ Rex Biberston, Randy Riemersma and Ken Lundin
Leveraging Relationships to Grow From $0 to $32MM+ in Just 3 Years w/ Rachel Wexler
Why You Could Be Missing 50% of B2B Buyers w/ Jenny Stanley
Conversations with Women In Sales is an important podcast that speaks to the experiences of an underrepresented demographic in sales: women.
The show was originally hosted by Barb Giamanco; since her passing in May 2020, the show has been hosted by Lori Richardson, with all episodes dedicated to Barb. Guests on the show are all women, and topics have included teaching sales at the university level, mental health in sales, and how to lead through community building.
Recommended Episodes
Turning Relationships Into Revenue w/ Christine Zmuda
Selling with Confidence w/ Lauren Bailey
When Sales Opportunities Don't Go as Expected w/ Mary Lombardo
Your Sales MBA Podcast is hosted by Jeff Hoffman and CeCe Aparo and provides expert insight into dealing with very specific sales situations.
For example, the pair have discussed how to sell to a nervous buyer, how to handle no-shows, how to get contracts back faster, and how to prevent customer churn.
Recommended Episodes
Pitch Perfect: How to Craft and Deliver a Pitch That Works.
Ghost Story: Why are my prospects ignoring me?
Are You My Champion? Finding Your Champion and Closing the Deal
The Sales Evangelist is a podcast focused on providing sales people with the clear tips and training needed to increase their income and reach their full potential.
The host, Donald Kelly, speaks from his own experience. Originally starting as an underperforming and undertrained sales rep, Kelly eventually received the training he needed to become successful in his role.
The show consists largely of interviews with sales experts and entrepreneurs, including Jeffrey Gitomer, Bob Burg, and Jill Konrath. Recent topics have included how to maximize your productivity while working remotely, reasons many sales reps don't hit their goals, and why direct mail is the new email.
Recommended Episodes
The Art & Science of Pitching Anything to Anyone!
Jeffrey Gitomer – Setting Goals & Developing a Sales Mindset
Don't Be Too Desperate
For most people, failure is a scary thing – it represents the end of the road, a personal weakness, or some other obstacle that they can't overcome.
But as host Megan Bruneau points out, failure isn't something to be feared. It's often the catalyst for real success.
This podcast takes a closer look at stories of failure and how they eventually led to success. It's a unique show that helps listeners practice the art of finding value in things that seem inherently negative – certainly a great skill for sales people to develop.
Recommended Episodes
Mark Sisson on Risk-Taking, Resilience, and the Failure That Cost Him $1m
How Failure Helped Me "Thrive": Gunnar Lovelace of Thrive Market
CEO of Bleacher Report on Founding With Friends & Big Egos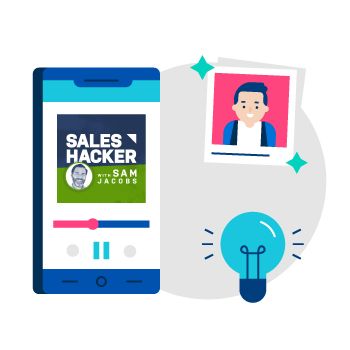 Sales Hacker is a weekly podcast that offers actionable sales tips and insights every Tuesday. It has been running since April 2018 and has released over 130 episodes to date.
The podcast focuses specifically on the B2B space and typically features interviews with guests who have experience in the area. Many of the episodes share the stories of successful entrepreneurs and salespeople, as well as the advice they have to offer to listeners.
Recommended Episodes
How to Move from Feature Selling to Gap Selling w/ Keenan
The Fundamentals of Challenger Selling with Challenger Author, Brent Adamson
From VP Sales back to Individual Contributor: Learnings and Experiences w/ Ryan Lallier
Sell Or Die is hosted by Jeffrey Gitomer – mentioned earlier in this list – and Jennifer Gluckow. Episodes consist of talks by Jeffrey and Jennifer, as well as interviews with leaders in the business and sales spheres.
Recent topics include how fear can affect your business, how to turn virtual connections into paying customers, and the key to running a successful webinar.
Recommended Episodes
Your Cold Emails Need to be Better. Jason Bay is Here to Help You
The Sales Power of Your Story with Celinne Da Costa
Predictive Sales: Stop Gambling with Your Future
The Ziglar Show focuses on professional development in general, although many episodes cover sales in particular.
The show is hosted by Kevin Miller, who picks the brains of business leaders on topics as diverse as sales, business development, and even faith.
It's rated highly and it has over 800 episodes, so there's a lot to dig into if you find yourself getting value out of it.
Recent episodes include "The Strategy of Optimism," "What Most Threatens Your Joy? with Janie Seltzer," and "How to Figure Out What You Truly Want."
Recommended Episodes
How hobbies and friends can help you avoid burnout – Habits with Carey Nieuwhof
Are your current circumstances a result of your personal choices?
Ben Hardy – Why willpower doesn't work
Make it Happen Mondays is a sales podcast hosted by John Barrows, a B2B sales trainer and the founder of JBarrows Consulting. Every Monday, John delivers tips that salespeople can use to quantifiably improve their sales skills, often through conversations with other leading B2B experts and professionals.
Recent topics include how to make use of personalization at scale, the entrepreneurial path, and how to use humor in the sales process.
Recommended Episodes
Questioning Skills
Mindset of an SDR Hosted by Morgan
Negotiations and Procurement with Mark Raffan the Negotiations Ninja
Finally, In The Arena – not to be confused with the government podcast of the same name – is a sales podcast hosted by Anthony Iannarino.
Though the last episode of the podcast was released in September 2019, there are still plenty of great episodes to sort through. Former guests have included major names like Seth Godin and Mike Weinberg. Some episodes are interviews, while others consist entirely of Ian's personal thoughts.
Recommended Episodes
Mike Weinberg Simplifies Sales Management
The Sales Mindset Of A Top Salesperson, with Lee Bartlett
Tiffani Bova on Sales Optimization, The Buyer's Journey, and Expanding Into New Markets
Listening to podcasts is a great way to work learning into your routine tasks. Give these 15 sales podcasts a try if you're looking to up your sales game in 2023.